While Ikea [1] furniture is stylish and the prices on point, the designs can often look generic . . . until they're hacked! Using the blank slate of Ikea's most popular pieces, here are 20 DIYs that transform the simple into the stylish. Whether it be revamping a coffee table or turning a desk into a bar cart, these projects can easily save you big bucks on home decor.
Source: Style Me Pretty [2], Kristi Murphy [3], Hither and Thither [4]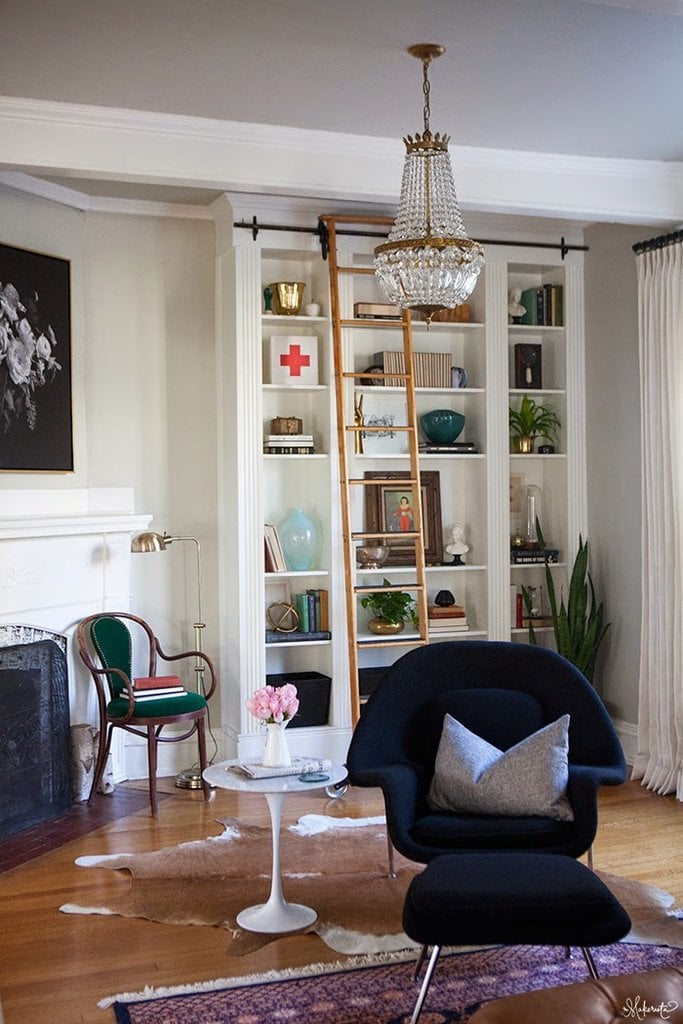 With tasteful crown molding and a sliding library ladder, this sleek built-in [8] by The Makerista [9] has all the tell-tale signs of a big-budget project, except for the steep price tag. It's made up of three Ikea Billy bookcases, some add-on trim, and the handiwork of a carpenter! How mind-blowingly resourceful is that?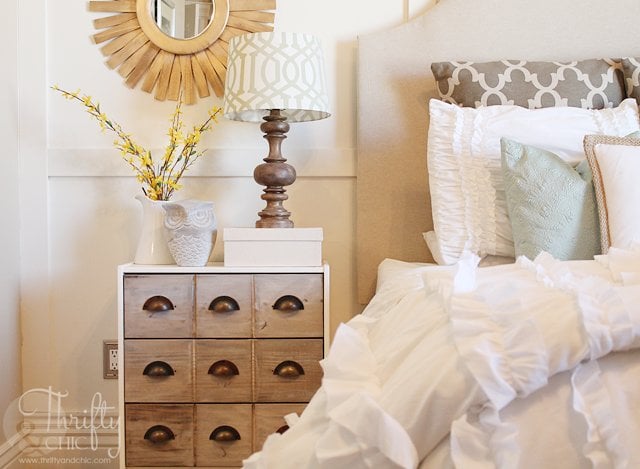 Leave it to Thrifty & Chic [10] blogger Alicia to transform Ikea's Rast chest [11]
into a vintage-inspired apothecary cabinet. If you're looking for a way to add more storage to your bedroom, replace your small nightstands with Ikea's three-drawer Rast cabinets, but not without a little makeover first!
Source: Thrifty & Chic [12]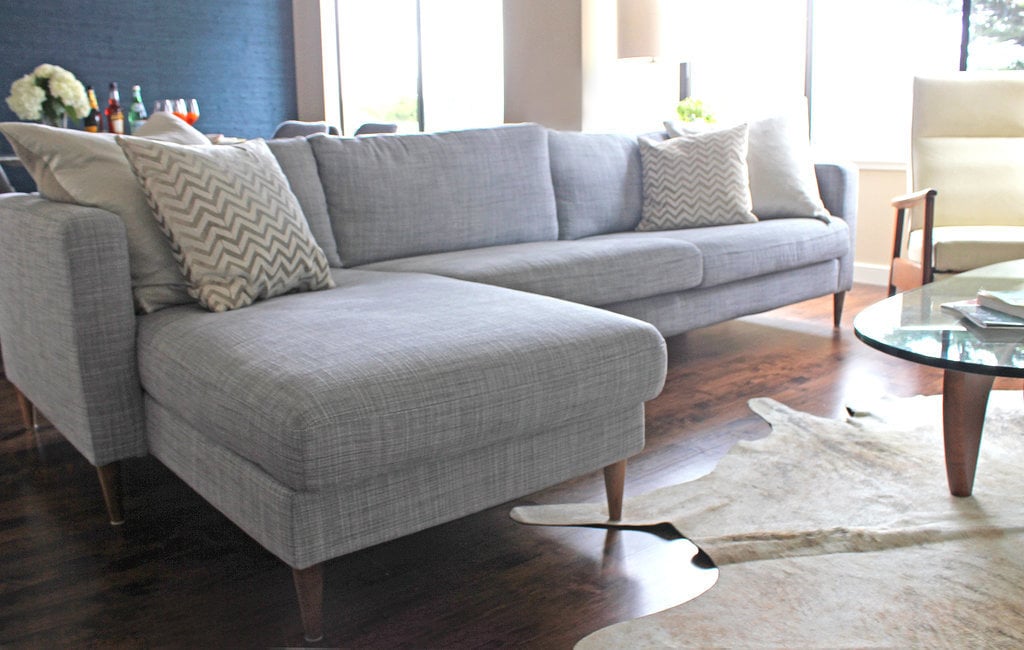 For this sofa makeover [13], there's no cutting, painting, or gluing involved! All you need to do is replace the original legs on an Ikea couch with new ones (found here [14]) for a more expensive, midcentury look.
Photo: Lisette Mejia
If you love the look of modern dressers, this DIY [15] is for you. In three easy steps, you can transform Ikea's Tarva dresser [16] into what looks like a $1,600 piece [17]!
Photo: Lauren Turner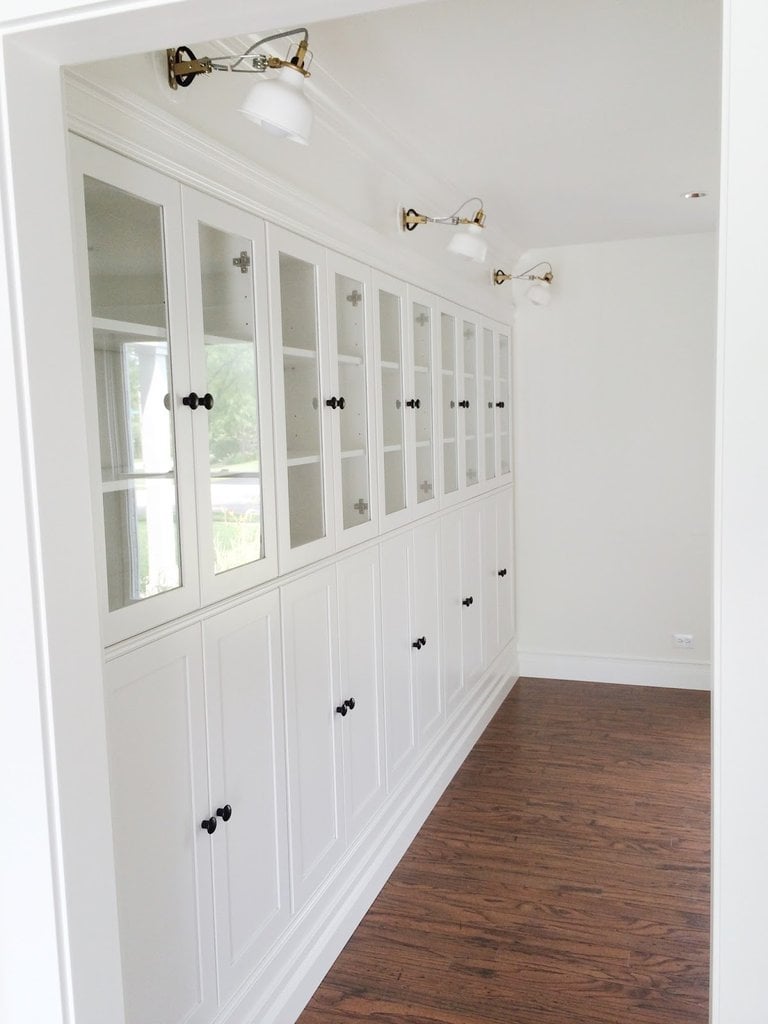 If it's storage you're craving, try this Avery Street Design [18] blogger's tutorial for creating perfectly polished built-ins from Ikea bookcases and cabinets [19].
Source: Avery Street Design [20]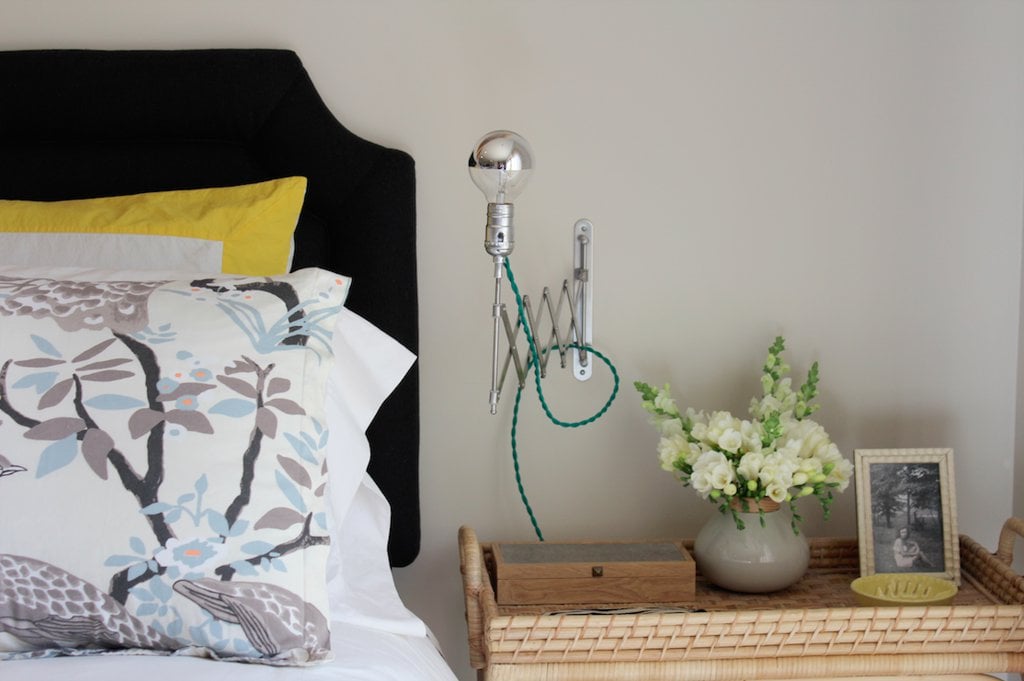 If you've been pining for a pair of accordion sconces, you'll want to head to the bathroom department of Ikea. Turns out, Ikea's Frack mirror [21] ($5) makes the perfect base for a DIY [22] sconce! Check out Daniel Kanter's tutorial [23] to get the down low on this easy project!
Source: Angela Elias [24]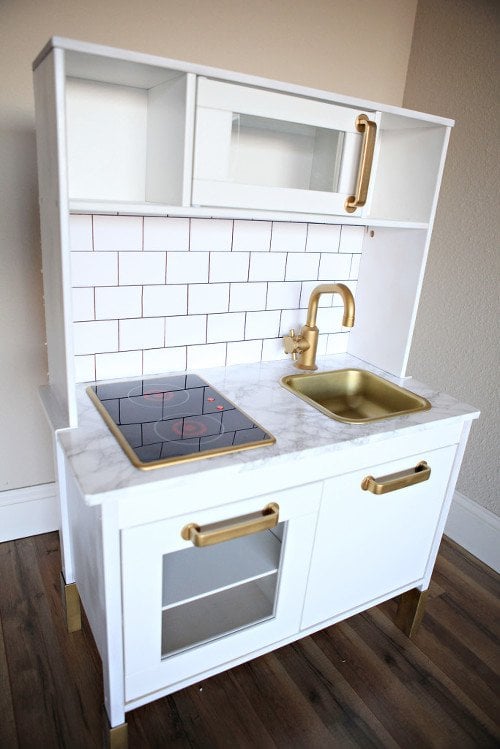 As if Ikea's play kitchen [25] ($100) wasn't cute enough, blogger Jenny Collier [26] took the child's toy to the next level with a few ingenious designer-grade hacks. The resulting play kitchen is every child's — and parent's — dream. Visit Jenny Collier's blog [27] for the full tutorial and more images.
Source: Jenny Collier [28]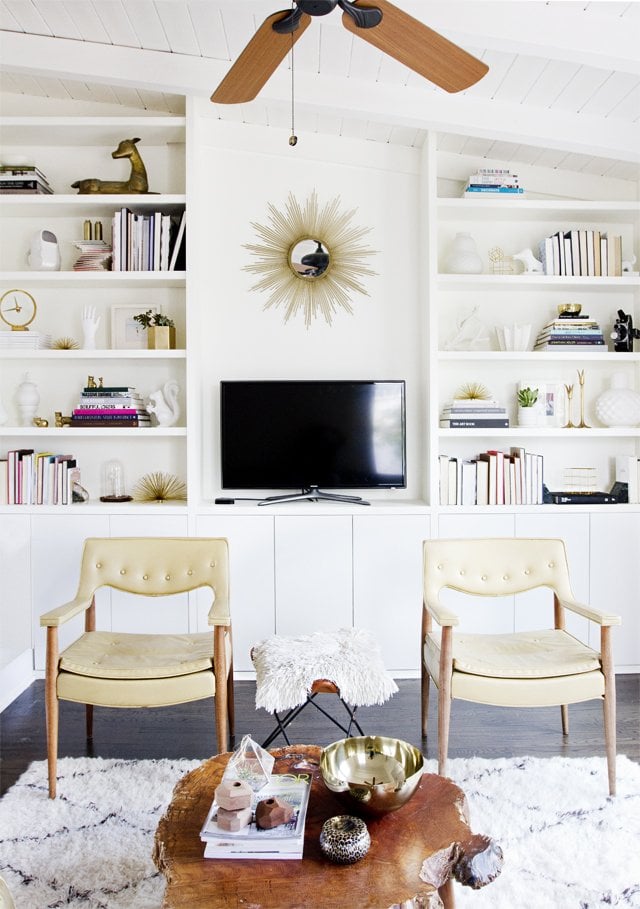 To create a customized entertainment center on the cheap, blogger Sarah Sherman Samuel used a bunch of Ikea kitchen cabinets as the base for her DIY built-in storage system [29].
Source: Sarah Sherman Samuel [30]
Gold makes everything better, especially in a DIY [31]. With some spray paint, this Ikea desk [32] got a metallic overhaul, providing the office with a cohesive look.
Source: Dream Green DIY [33]
This coffee table is the perfect example of how versatile Ikea furniture is. With spray paint and painter's tape, a blank canvas can be turned into a pretty, gold-painted coffee table [34].
Source: Kristi Murphy [35]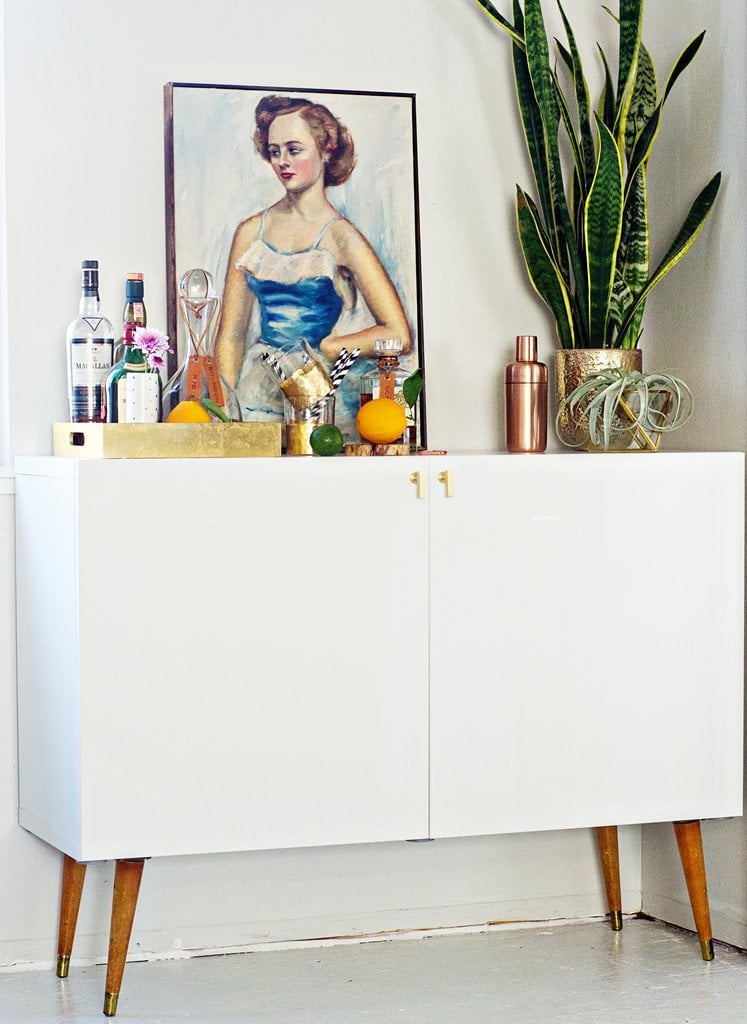 This Brittany Makes [36] blogger managed to transform inexpensive Ikea cabinets into a swanky bar [37] with retro appeal. Wait until you see the inside of the bar cabinet!
Source: Brittany Makes [38]
If you're a sucker for the dining room bench trend, you'll fall even harder for dining banquettes. This Cape 27 [39] blogger was able to tack on extra storage to her dining room seating by creating this cozy banquette made from Ikea cabinets [40].
Source: Cape 27 [41]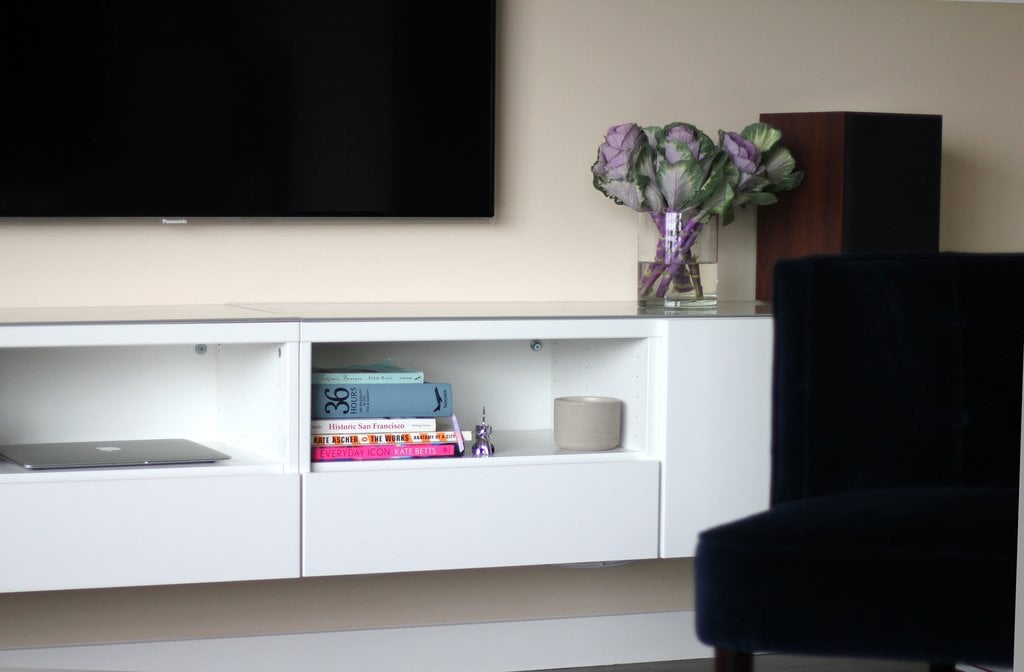 Thanks to the Swedish superstore savior, you can DIY [42] your own media center with the Besta unit [43]. The floating element and slick white-gloss finish help it sink into the wall, giving the impression of more space. Check out how to make this media console yours for only $230 here [44]!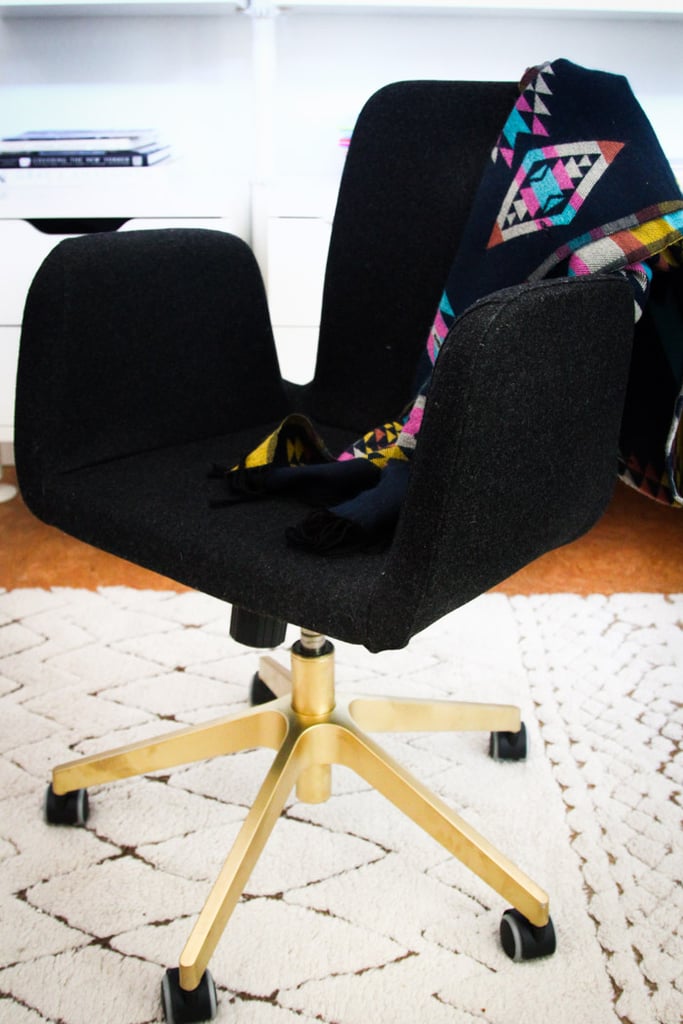 Comfortable, modern, and affordable, an Ikea chair can be the perfect addition to any home office. For a custom look, try spray-painting the base gold before assembling. All you have to do is follow this simple spray-paint tutorial [45]!
Source: Hither and Thither [46]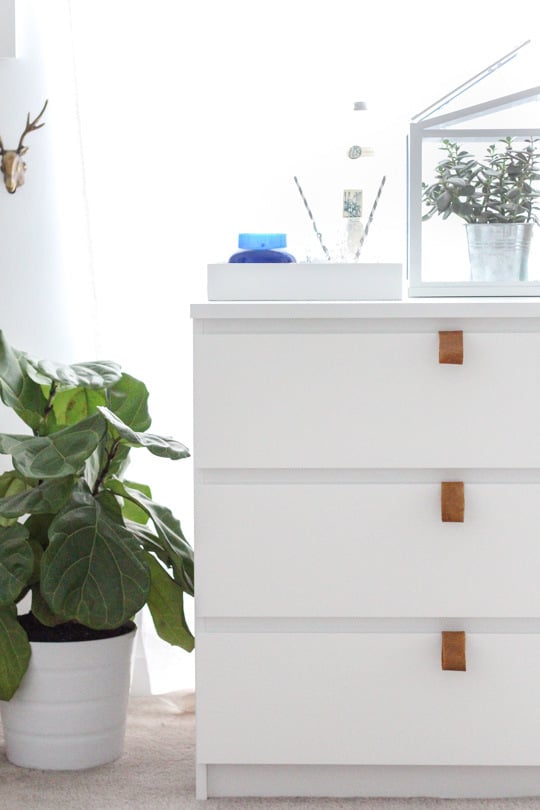 It's hard to believe that this dresser is from Ikea. Following this leather pull tutorial [47], strips of leather can become a stylish upgrade for only $10!
Source: Sugar and Cloth [48]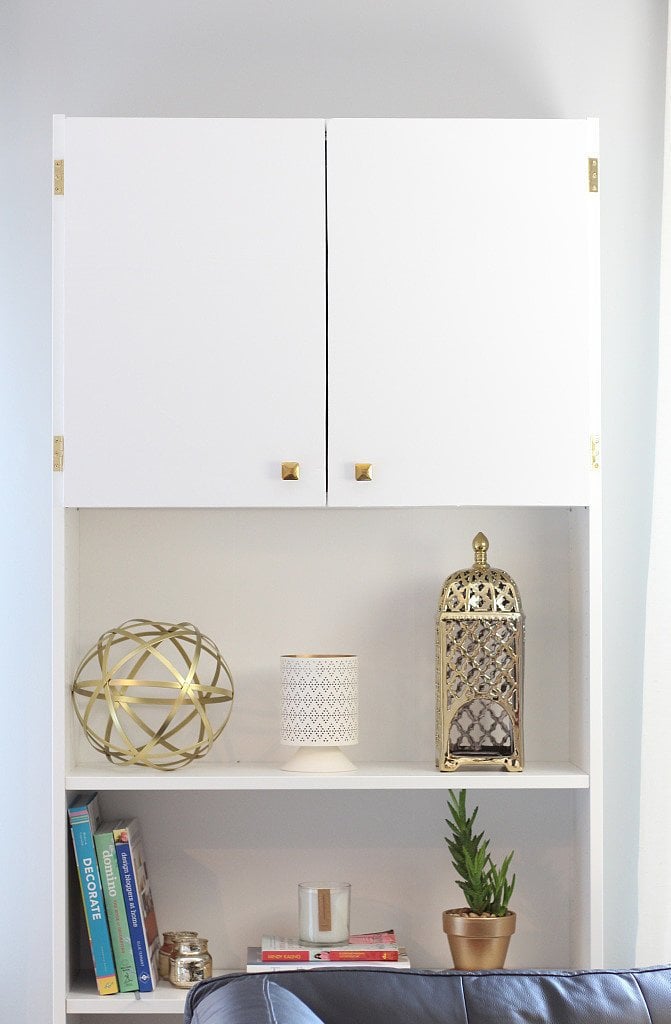 AC wall units are one of those eyesores that many just accept, but this Design Evolving [49] blogger came up with a better idea. She used an Ikea shelf and cabinets to camouflage her AC wall unit [50]. When it's in use, she just opens the cabinet doors. So smart!
Source: Design Evolving [51]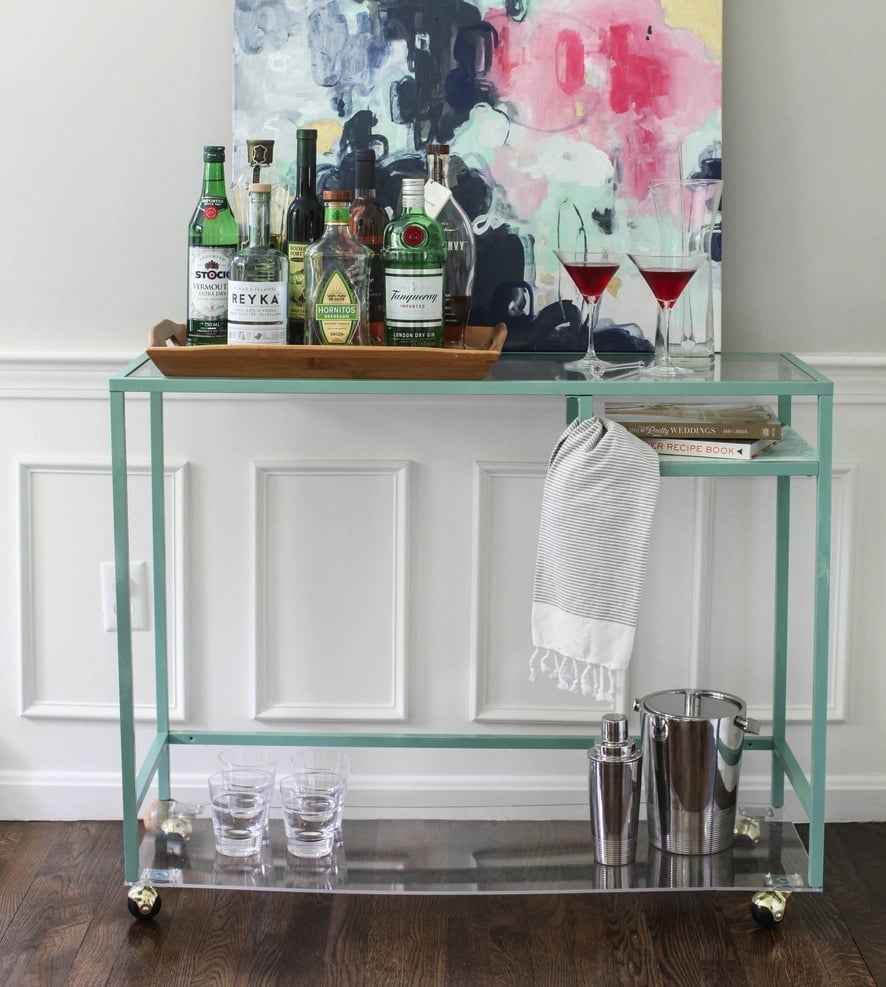 Bar carts can cost you big bucks, unless you hack it. Using an Ikea laptop table and an acrylic sheet, this bar cart tutorial [52] made a very standard piece perfect for entertaining.
Source: Style Me Pretty [53]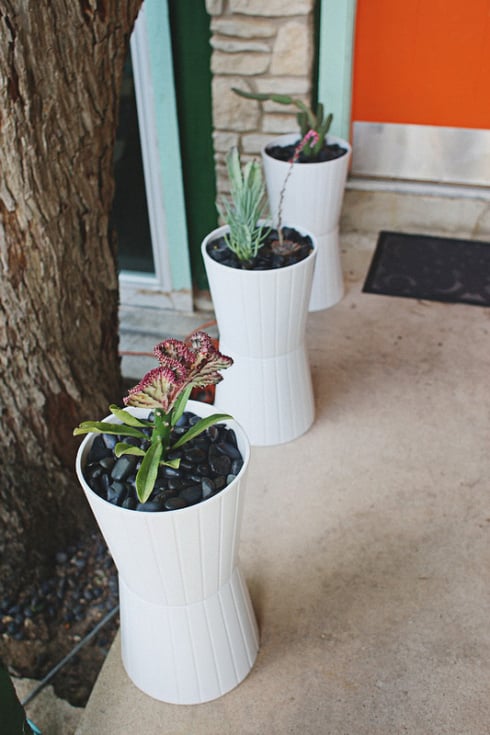 For an easy garden update, try this stacked planter DIY [54]. Putting two Ikea planters together (each about $2!), you can give your patio a midcentury-modern look for less.
Source: Brady Bunch Remodel [55]
Trendy and versatile, poufs can be a great addition to almost any space, but they're expensive. Using fabric and an Ikea cube, this ottoman DIY [56] cost $40, not $300!
Source: Kristi Murphy [57]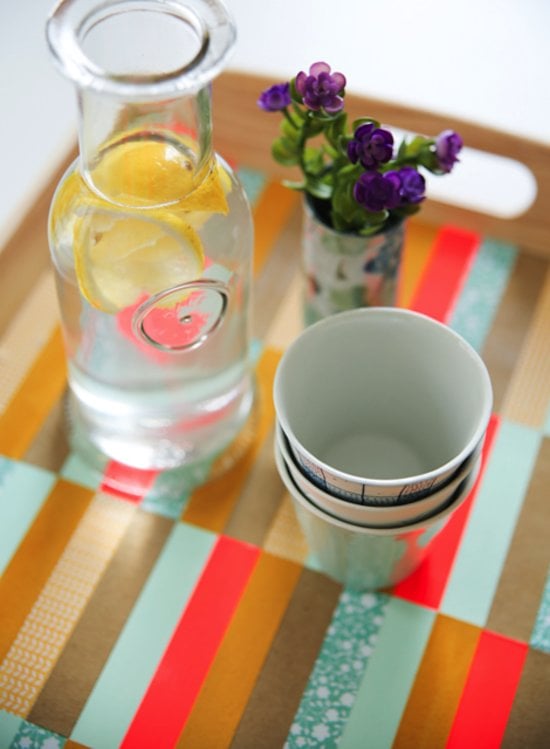 Trays have endless uses, making them a no-fail gift for both the entertainer and the design-lover. Sure, you could buy a tray [58], but this paper-strip DIY [59] is easy and customizable.
Photo by Fellow Fellow [60] via Say Yes to Hoboken [61]