This Just In: Domino Readers' Choice Winner
This Just In: Domino Readers' Choice Winner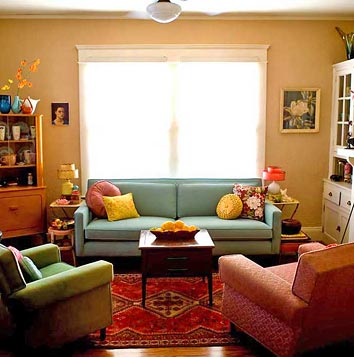 1
This Just In: Domino Readers' Choice Winner
Lara from Atlanta, Georgia, is the winner of Domino's Readers' Choice Award! While there were many great homes featured in the contest, I have to agree that this one is a gem.

To see more pictures of the house, and to hear what Lara has to say about her house, just read more.
Lara writes,
I love whimsy. I love color. I love vintage design. And at heart, I am a hunter. I love finding some discarded treasure, whether it be at a flea market, estate sale or eBay. I live for a good bargain and have a keen sense of knowing the value of things. I'm not above mixing old with new, like my retro-inspired couch by Crate & Barrel. It fits perfectly with all my actual vintage furniture. To me, great design is about having a good eye for those special pieces and then knowing how to put it all together. Oh and a little about me, I am a photographer and moved from NY to Atlanta just five years ago.
Congrats to the winner, and to all of the other wonderful homes that we got to peek into during this contest!
Latest Home