If there's one thing that gets a bad rap in design, it's the studio apartment. Often a rental with very little in the way of space, studios must do it all without room to spare. While it is a tall order, we found a place that does it just right. Tucked away in the Upper West Side of Manhattan, this studio is just as relaxing as it is energizing. Keeping rental restrictions and their client Jamie's laid-back style in mind, designers Lindsay Boswell and Ali Levin of LABLstudio [1] created an urban oasis filled with ideas that anyone would sacrifice square footage for.
Mixing earthy and glamorous touches, this "hidden gem" evolved into a room suitable for sleeping, living, and entertaining. Getting creative with the space, Boswell and Levin incorporated unexpected pops of color using removable wallpaper [2] and made sure every piece served a variety of purposes. The result proves that size isn't everything! Keep reading for a full studio tour and Lindsay and Ali's favorite tricks for decking out a small space.
Photo by Matthew Williams [3] via LABLstudio [4]
POPSUGAR Home: How do you create a space for both living and entertaining, especially in a studio?
LABLstudio: In studio apartments, it's really important to make sure that you carve out distinct areas for sleeping, living, and entertaining, even if they're all in the same room. Whenever possible we like to make sure there is a proper living area (i.e., a sofa, side table, coffee table), as well as a place where you can sit, eat, or work. Sometimes this means sacrificing some of the "bedroom" to make for a larger "living and entertaining" area.
Photo by Matthew Williams [5] via LABLstudio [6]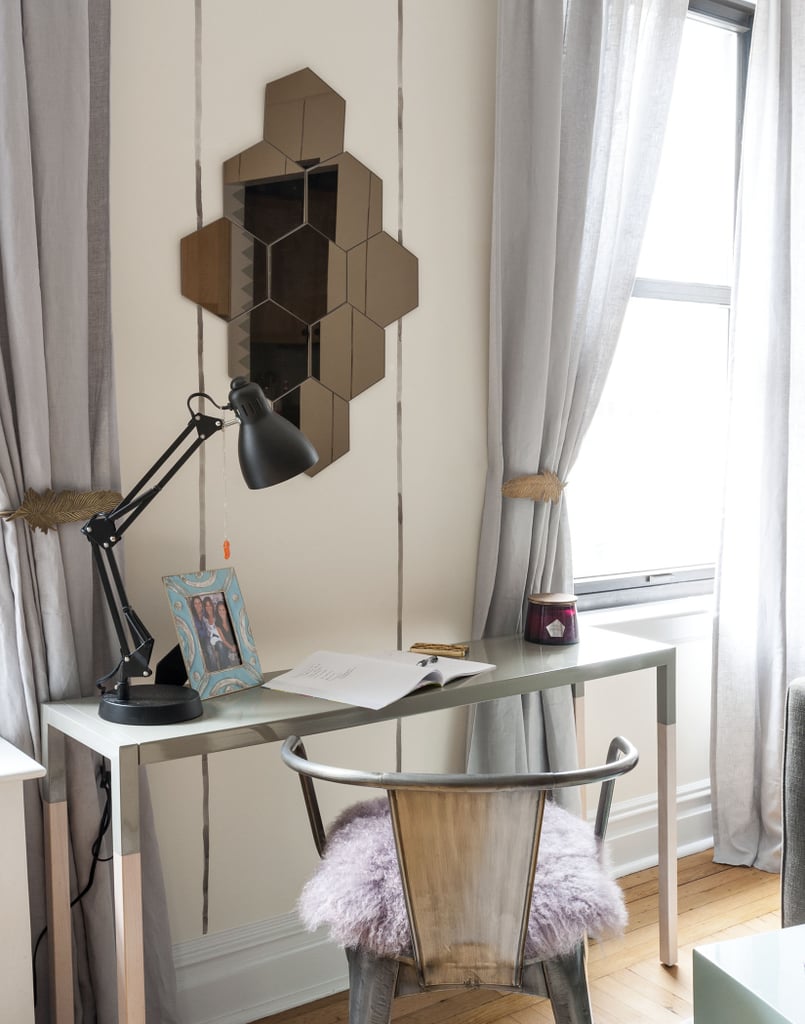 PS: How do you make a studio livable without looking cluttered?
LS: Make sure that all of your main pieces serve multiple purposes. For example, the console that we placed between the windows doubles as a place where two people can comfortably dine, a place where Jamie can sit with her laptop, and a place where she can put her makeup on in the morning.
Photo by Matthew Williams [7] via LABLstudio [8]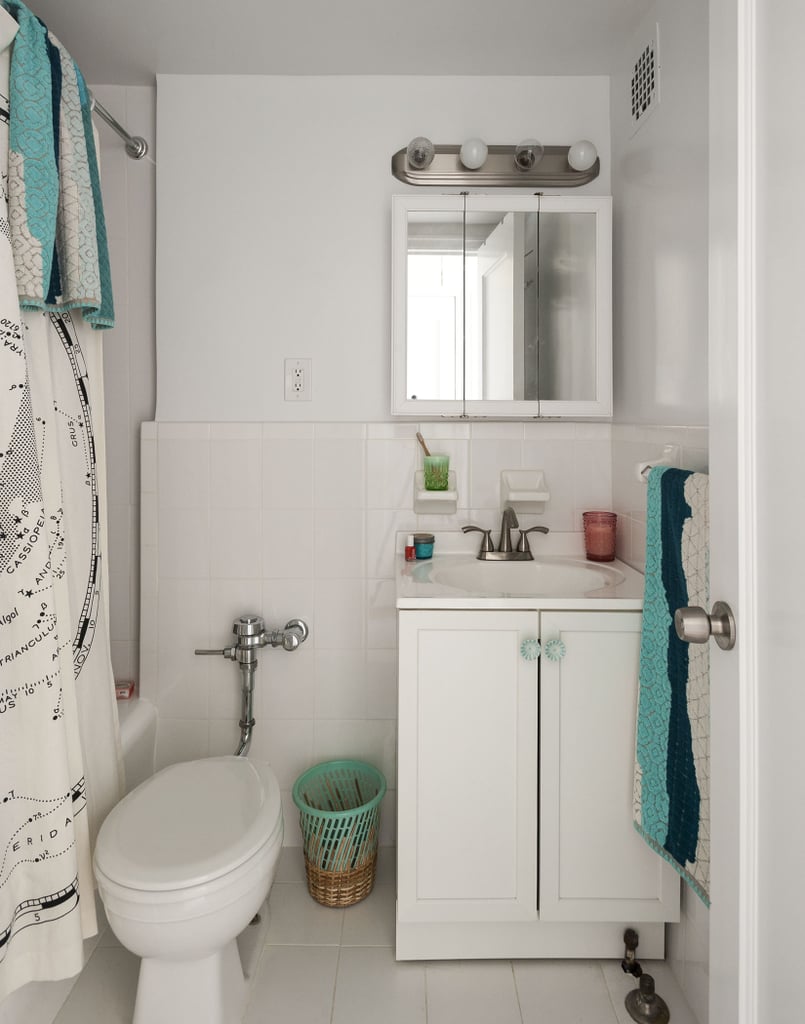 Similar to the living space, the bathroom uses pops of color to reflect the apartment's earthy, glam vibe. For a personal touch, the designers even switched out the vanity knobs.
Photo by Matthew Williams [9] via LABLstudio [10]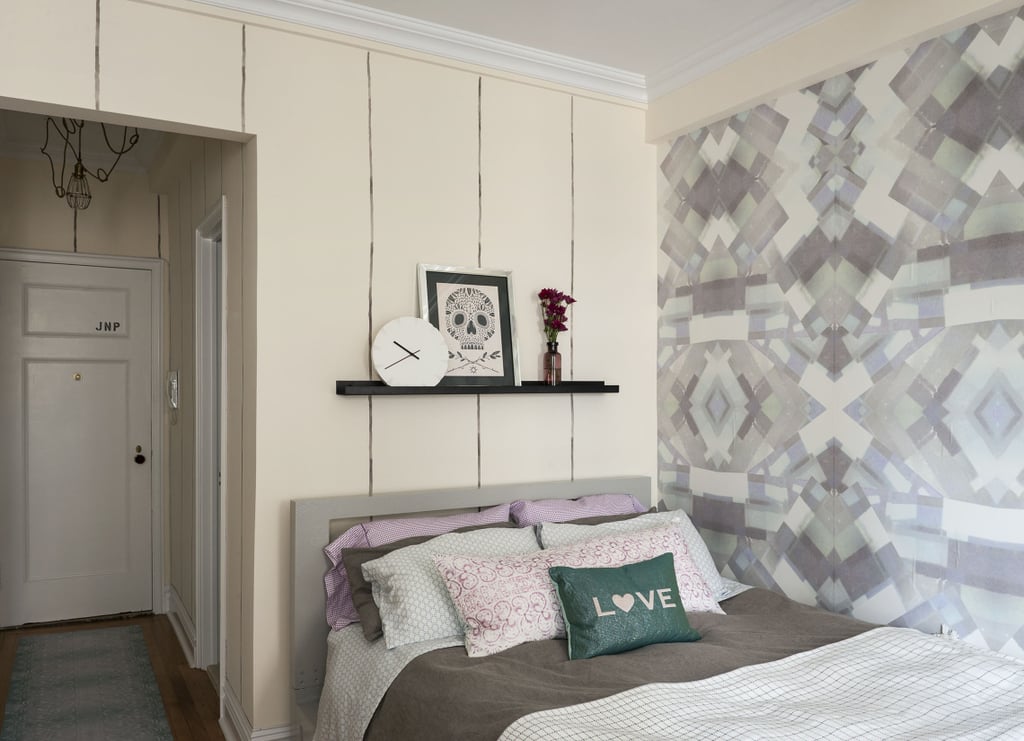 PS: We love the wall art. How did you do that? It is from your Femme and Gem collection [11]?
LS: The one wall (next to the bed) is wallpapered in our "Gemma" print [12](in Sapphire) from our "Femme and Gem" collection. It's removable, and you can hang it yourself! For the other walls, we hand painted watercolor pinstripes to add personality and to tie everything together.
Photo by Matthew Williams [13] via LABLstudio [14]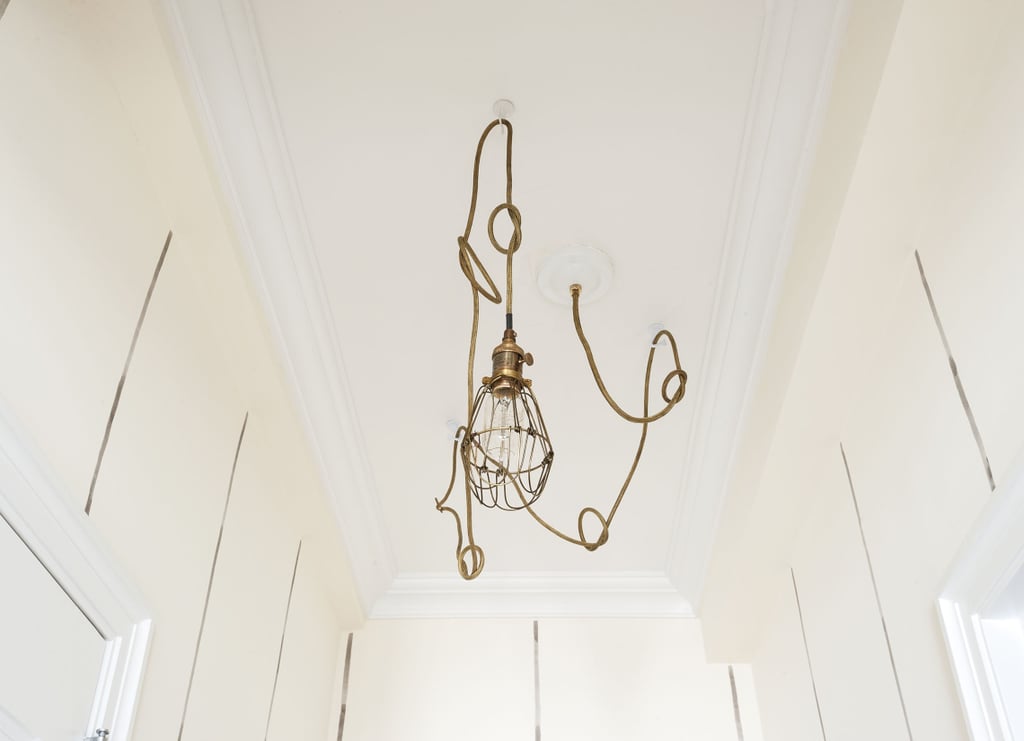 The entryway is proof rental lighting doesn't have to be boring. For an industrial touch, you can find a similar light fixture [15] here.
Photo by Matthew Williams [16] via LABLstudio [17]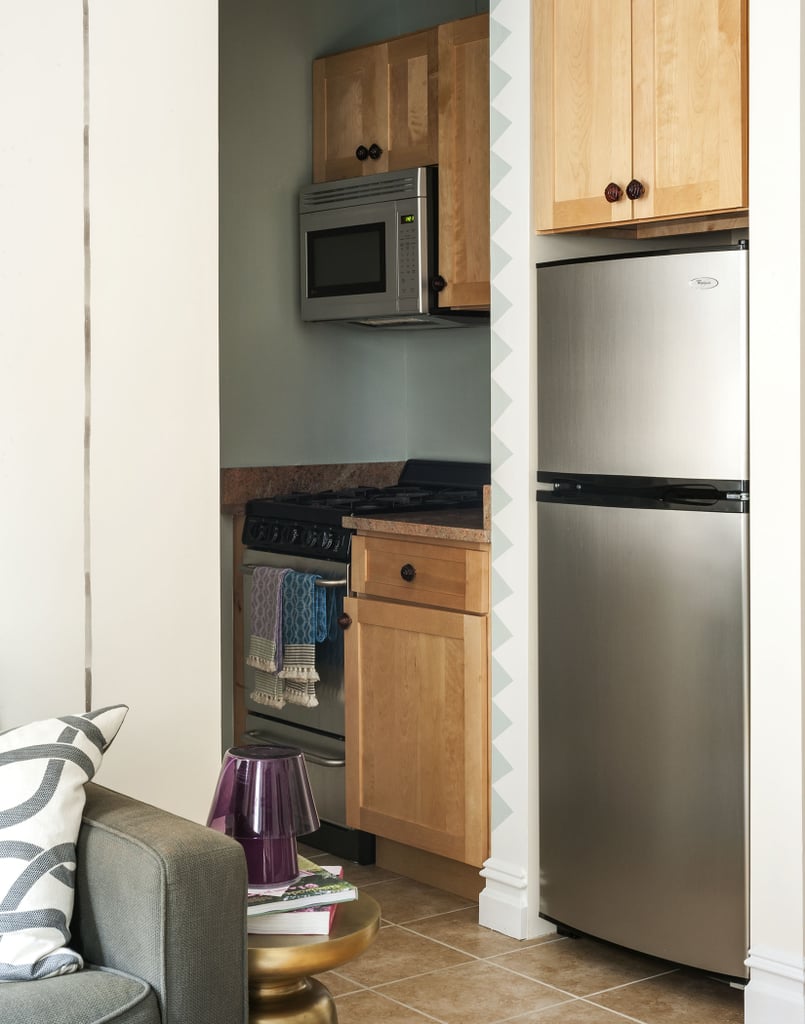 LS: The goal was to give Jamie a cool place to call home — a space that was relaxing yet energizing and a space that reflected her personality. We tried to make the apartment feel as large as possible and use fun and unexpected pops of magenta and purple throughout.
Photo by Matthew Williams [18] via LABLstudio [19]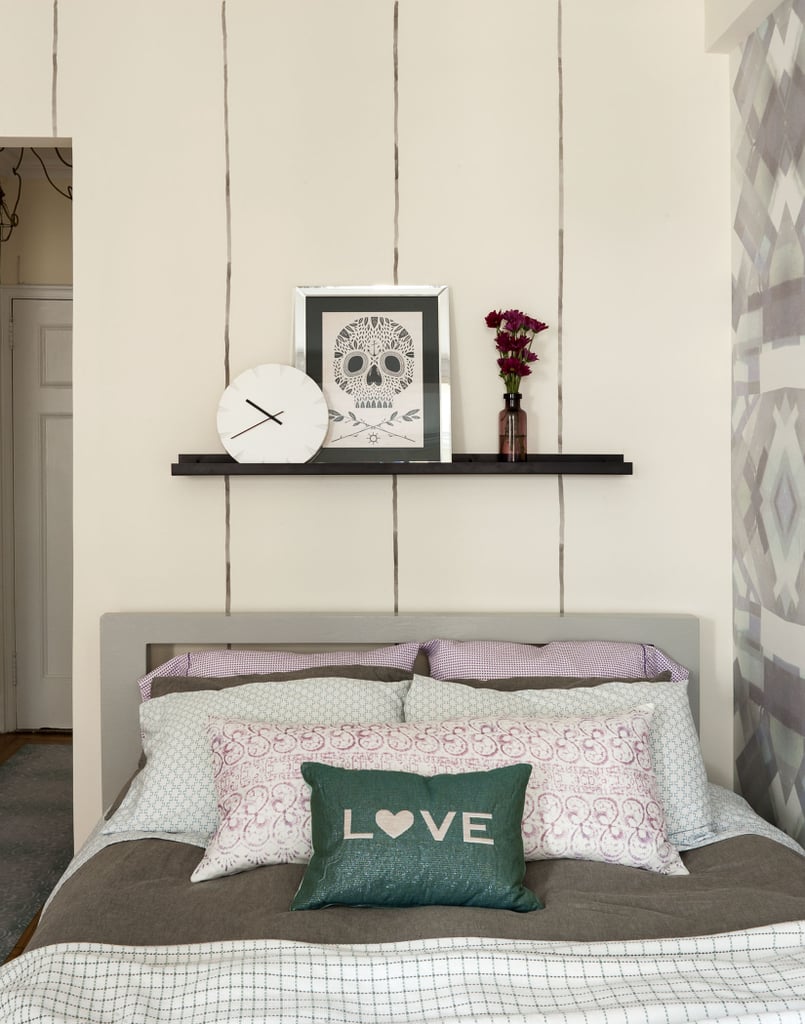 LS: In this apartment, we opted to place the bed in the corner and mount a shelf on the wall rather than a bedside table. This allowed for a larger living and entertaining space. If you make the bed the priority, the apartment ends up feeling like a bedroom rather than a real place where you can hang out with friends and entertain.
Photo by Matthew Williams [20] via LABLstudio [21]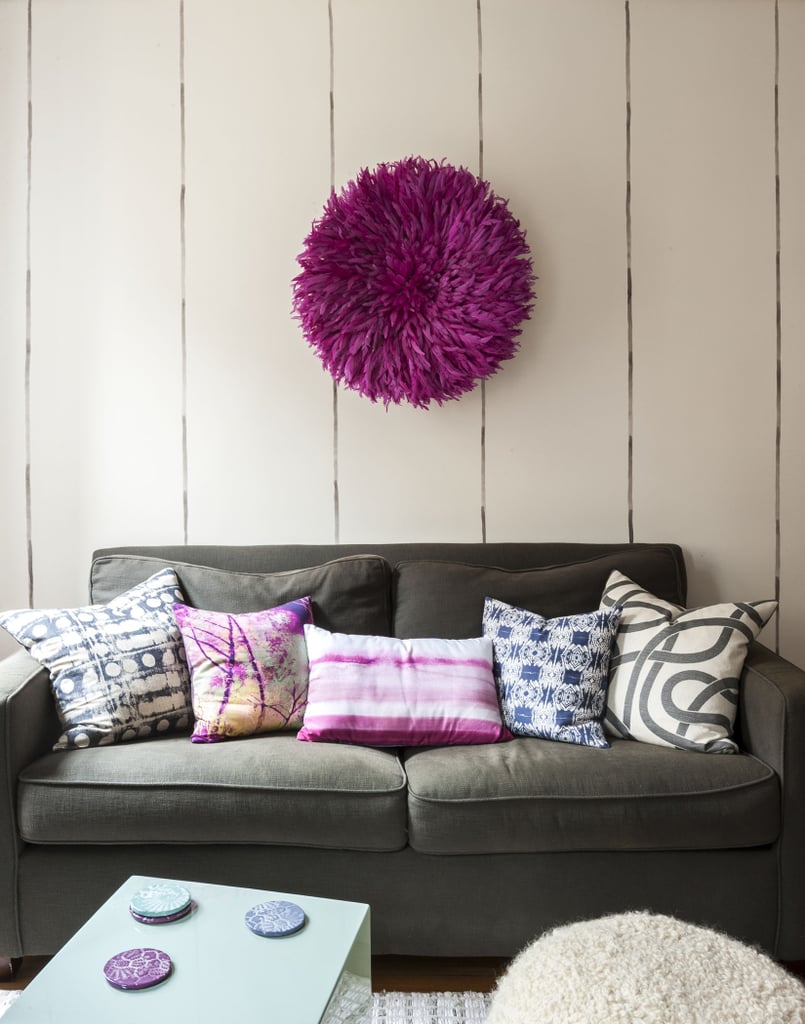 To maximize space, Ali and Lindsay choose side and coffee tables that double as stools for additional seating. To add personality, they hung a magenta juju (African feather headdress) above the sofa.
Photo by Matthew Williams [22] via LABLstudio [23]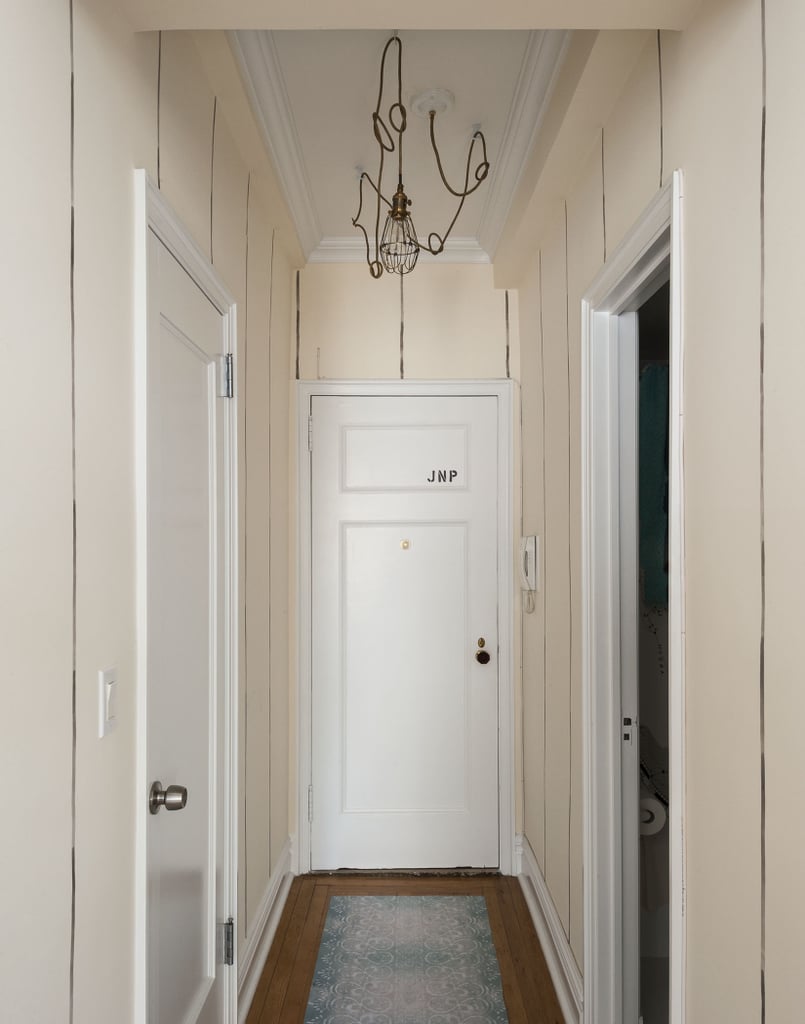 PS: Any tips for renters looking to add a personal touch?
LS: Do not be afraid to paint your walls or hang some wallpaper! So many people who rent end up leaving their walls bright white. If you keep all of your walls this color, your place will look like a rental and not like a home. There are so many removable wallpaper options out there to personalize your space. Get your hands dirty and paint or hang the paper yourself — make a day of it, invite a friend or two over to help, and open a bottle of wine!
Photo by Matthew Williams [24] via LABLstudio [25]
PS: What is one piece of advice you could give city dwellers?
LS: Living in a big city can be hectic and overwhelming at times, and it's important to make your apartment feel like a real home, especially if you rent. Good design doesn't have to cost you a lot of money or take up a lot of your time. These days, there are a lot of affordable design options out there.
Photo by Matthew Williams [26] via LABLstudio [27]
---
Links:
[1] http://www.lablstudio.com/
[2] http://www.lablstudio.com/#!/cfcs
[3] http://www.matthewwilliamsphotographer.com/
[4] http://www.lablstudio.com/
[5] http://www.matthewwilliamsphotographer.com/
[6] http://www.lablstudio.com/
[7] http://www.matthewwilliamsphotographer.com/
[8] http://www.lablstudio.com/
[9] http://www.matthewwilliamsphotographer.com/
[10] http://www.lablstudio.com/
[11] http://www.lablstudio.com/#!the-femme--gem-collection/c1tr7
[12] http://www.lablstudio.com/#!gemma---sapphire/zoom/c1tr7/image1j0b
[13] http://www.matthewwilliamsphotographer.com/
[14] http://www.lablstudio.com/
[15] http://www.shopstyle.com/item/pottery-barn-ceiling-lighting-pb-classic-pendant-caged/434089827
[16] http://www.matthewwilliamsphotographer.com/
[17] http://www.lablstudio.com/
[18] http://www.matthewwilliamsphotographer.com/
[19] http://www.lablstudio.com/
[20] http://www.matthewwilliamsphotographer.com/
[21] http://www.lablstudio.com/
[22] http://www.matthewwilliamsphotographer.com/
[23] http://www.lablstudio.com/
[24] http://www.matthewwilliamsphotographer.com/
[25] http://www.lablstudio.com/
[26] http://www.matthewwilliamsphotographer.com/
[27] http://www.lablstudio.com/

---