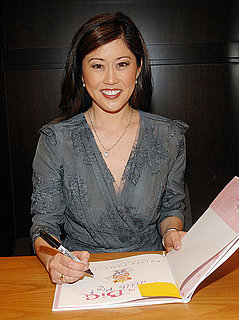 This sponsored post was written by Olympic skater Kristi Yamaguchi.
As a professional athlete, keeping my body in tip-top shape was my number one priority. Now that I'm a mother, my number one priority is making sure my kids are happy and healthy, which means my fitness routine can sometimes take a backseat. In fact, before my time on Dancing With the Stars, I hadn't been in a gym in almost three years. That experience rekindled my love of fitness and inspired me to look for more ways to fit exercise into my life. With summer travel season just around the corner, it's even more important that I get my body in shape without sacrificing time spent with my family on vacation.
I've found that an exercise DVD can be just the ticket, which is why I created Kristi Yamaguchi: Power Workout. It is an easy way to get a quick workout in while my daughters are off playing. Here are a few of my favorite moves to get your muscles moving and heart pumping:
Grapevine Step-Touch
An easy move to warm up!
Start with your feet together and move your right foot one step to the right. Step your left foot behind your right foot, then step your right foot to the right one more time. Bring your left foot together with your right foot, then step your left foot once to the left, and bring your right foot together. Repeat from the beginning with the opposite foot. Got it?