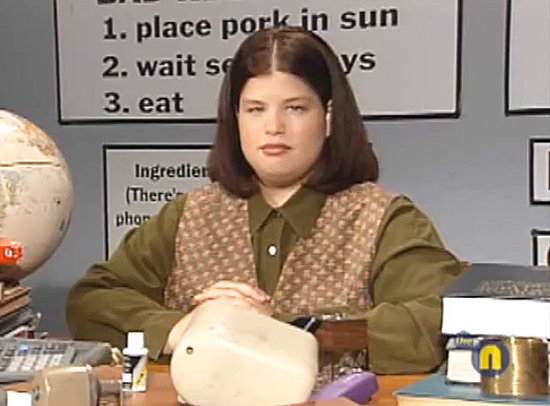 With this week's news that the '90s game show Where in the World Is Carmen Sandiego? may be returning to PBS, we got to thinking about another favorite show from the era: All That. There's one regular sketch from the the '90s kids' answer to SNL that's sure to withstand the test of time — "Vital Information For Your Everyday Life," starring Lori Beth Denberg. Lori's completely random, sometimes useful, and generally hilarious advice still holds true today. Let's take a look at how we can apply her vital information to our love lives.
Dating Etiquette
"At fine restaurants, it's considered rude to butter yourself."
"If you're on a first date with somebody, never stick your finger in their spaghetti, twirl it, and holler, 'Lookie, date, I'm makin' sketti circles!'"
"If you're telling a guy a story and he starts to choke, don't say, 'Look, dude, I'm right in the middle of my story.'"
Breakups
"Breaking up is hard to do. Breaking a dozen eggs with a sledgehammer is fun."
"Revenge is sweet — not as sweet as 10 pounds of sugar!"
"All is fair in love and war. All is smelly in a closet full of baboons."