The Mindy Project's second season promises to raise the stakes in more ways than one when it returns tonight, and when we visited the set of the Fox comedy earlier this Summer, we got an accidental sneak peek at one major plot twist. Warning: spoilers ahead!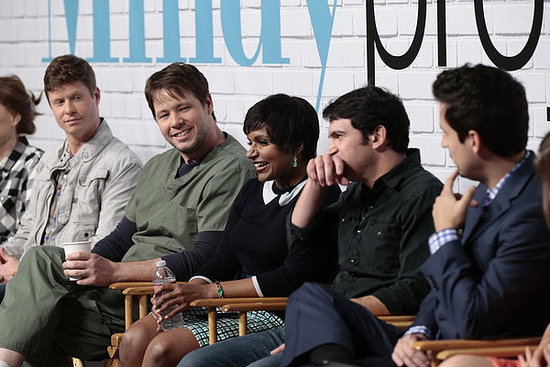 Following a panel with Mindy Kaling, the cast, and head writers, we got a tour of Mindy Lahiri's apartment, where we noticed a wedding banner, white balloons, and a cake congratulating Mindy and Casey (played by Anders Holm). After realizing that the cat was out of the bag, Kaling 'fessed up that there will be a wedding between the two characters in the season premiere but also hinted that it will be short-lived or somehow unsuccessful — earlier, she mentioned Mindy will cope with being "single again" this season. Beyond the wedding, here are four other reasons we'll be tuning into the Fox comedy's sophomore season:
Guest stars galore — James Franco is the latest boldfaced name to guest-star on the series — he was at work as Dr. Paul Leotard as recently as last week — but we'll also see plenty of familiar faces drop by this year. Happy Endings alum Adam Pally, who is easily one of the funniest sitcom talents out there, will appear as a fratty-but-Dartmouth-educated guy. Mindy also revealed that guest stars Bill Hader, Chloë Sevigny, and, of course, Anders Holm will all be returning to the show. Better yet? All three will appear in one episode together! For an added bonus, we'll also get a musical appearance by The National during a festival-themed episode. Mindy joked that the setting is the last place we'd find her in real life: "I hate live music."

For the rest of our list, just read more.