Day three of WonderCon had me sitting down with the cast of Breaking In, the upcoming comedy from Fox premiering April 6 at 9:30 p.m. Airing after American Idol, the show is bound to do pretty well for itself, but I think it's the funny characters, hilarious situations, and total geek cred that will make the show a hit. Christian Slater (who needs no introduction), Odelle Annable (Cloverfield), Bret Harrison (V), and Alphonso McAuley (Pride) star, and after talking with them about working together, office comedies, and tech toys, I found five reasons geeks should tune in. Check it out below.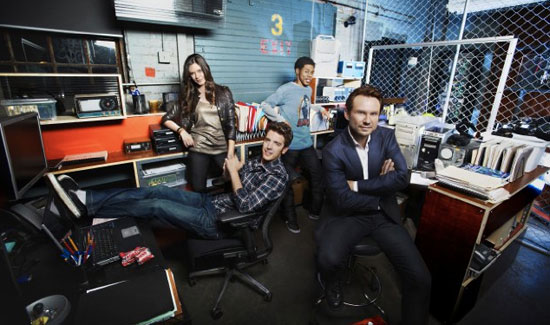 The writers — The writers of Breaking In are totally legit in their geek cred. Adam F. Goldberg wrote Fanboys and Revenge of the Nerds among others, while Seth Gordon directed such nerdy films as The King of Kong: A Fistful of Quarters, and lent his geeky touch to episodes of The Office and Modern Family. So you know all those geek culture references you find riddled inside the Breaking In trailer are coming from the right place.
Geek culture nuggets — Breaking In is about a high-tech security firm that uses all kinds of technology — from computer software to gadgets — to make clients more secure. Of course, they "test" a client's current security systems by hacking in first, which sets the stage for lots of gadget and tech references. But more than that, there's even an episode where the team has to deliver a copy of (fictional) "Goonies 2: The Legend of Sloth" to a ComicCon like event. Costumes are donned, hilarity ensues, it's sure to entertain.
See the rest of the list after the jump.