If the Color Run hasn't already come to your city, it's probably in the works. This popular 5K is sort of like a crayon box exploding. As participants make their way through the course, they pass through six different color stations — blue, green, pink, purple, yellow, and orange — where volunteers throw colored powder onto runners. As you can probably already tell, this is a fun run that welcomes all ages and athletic ability; but just because it's fun doesn't mean there shouldn't be some prep involved. After running it for ourselves, here are some insider tips on how to prep and what to expect when doing a Color Run!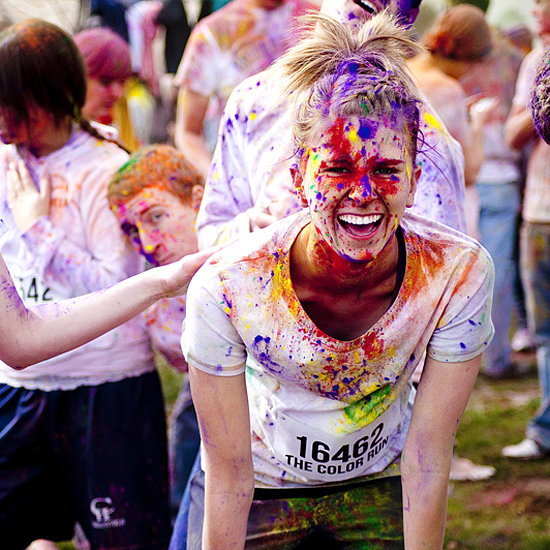 You don't need to be a runner: The Color Run is a beginner's dream: it's not timed, families and children are welcome, and there's a designated walking lane. Serious runners, take note: unless you are part of the lead pack or especially good at dodging crowds, you probably won't be able to run for time. During our run, the sheer amount of participants coupled with the stop-and-go color stations and the small size of the running lane made it difficult to consistently run any faster than an 11-minute mile. If you've never run continuously prior to the event, this is a great pace for a beginner runner. If you'd like to try and run the entire course, get started on a Couch to 5K plan at least two months before the Color Run.
The earlier, the better: With more than 10,000 entrants, it counts to be early when it comes to the Color Run. Because registration fees increase as the day of the event draws near, make sure to sign up early (registration starts around $45). The week of the Color Run, pick up your bib packet in advance; otherwise, expect to be waiting in a long line when you arrive the day of the run. For those who are hoping to set a new PR, show up a few hours before the start in order to position yourself in the lead pack. If not, you'll be stuck behind thousands of people you'll later have to maneuver around once you make it past the starting line. But really, this run is not about going fast — take your time and enjoy the experience!
Find out whether or not that color comes out and even more tips after the break!