Starlets were out in force last night to celebrate Nylon's special TV issue. 90210's AnnaLynne McCord and Shenae Grimes posed on the carpet, as did Melrose Place's Jenna Dewan. Anna Paquin is the magazine's cover girl, and she was the center of attention as she chatted with her fiance and True Blood costar Stephen Moyer. While his next project is the vampire movie Priest with Cam Gigandet, Stephen and Anna gave an interview appearing in the upcoming issue about their HBO show and their views on nudity and sex. Here's more: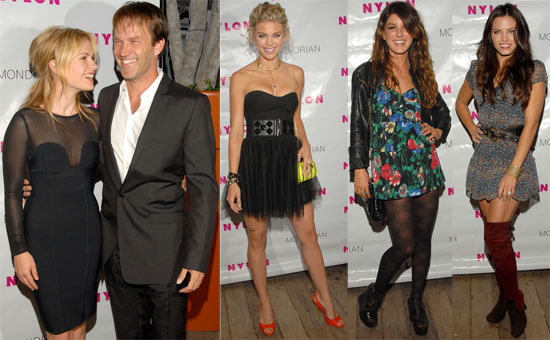 Anna on her nude True Blood scenes: "I don't think a naked body is particularly shocking or interesting. . . . It's not the culture I was raised in. I was not brought up in the United States. I don't share the [attitude] that you can have graphic violence, but — God forbid — you see someone's nipples."
Anna on going blonde for her role: "I don't look like a Barbie doll, and probably never will. People are incredibly literal in how they view you. You have dark hair and pale skin? You must be brooding. The second you dye your hair blonde and get a spray tan, people treat you as if you're a bit stupider and happier. Suddenly, it's like you're hot and sexy."
To read what Stephen had to say about vampire sex and see lots more photos including Kristin Cavallari, Jason Trawick, Kevin Connolly, and Benji Madden, just read more