All of the new DVD releases hit stores (and Netflix) on Tuesdays. So each week in What to Netflix: New DVD Tuesday, I sort through the best of the batch and tell you what to add to your queue. Besides the movies below, you can also find the Diego Luna and Gael Garcia Bernal soccer charmer Rudo y Cursi, as well as TV shows Californication: Season 2 and House: Season 5.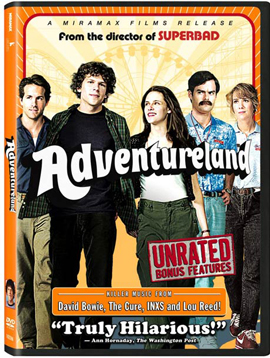 Adventureland
This nostalgic coming-of-age comedy stars Jesse Eisenberg and angsty starlet-du-jour
Kristen Stewart
as co-workers and romantic prospects in an '80s-era theme park.
I loved
director Greg Mottola's tender depiction of a frustrating but hopeful time in one guy's life. It's got more heart than the director's previous effort,
Superbad
, but just as many laughs.
The DVD extras include deleted scenes, a making-of featurette, cast commentary, and a feature music selection that lets you select scenes by picking the soundtrack song.

88%
Check out two other comedies out on DVD today when you read more