I've already gotten to tell you what I think about rock biopic The Runaways, with Kristen Stewart and Dakota Fanning, but now it's time to hear from the stars and the others behind the scenes of the movie. Pop chatted up Kristen Stewart on the red carpet in NYC, but we also have some choice words from its inspiration Joan Jett, costar Michael Shannon, and director Floria Sigismondi.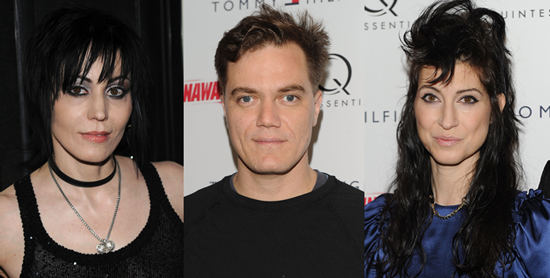 Joan Jett on the message of the film: Ultimately, to follow your dreams. That good old cliché of following your dreams, because I really feel that people beat down other people's dreams constantly. I see it a lot with writers, when I talk to them about this. I guess a lot of writers must be told, "You'll never make money that way, get a real job!" A lot of writers want to write . . . To me, I just think it's really important to try and follow your dream. And if for some reason life takes you a different way, then at least you made an attempt.
Joan on first meeting Kristen: I met her last New Year's Eve. She came up to see a gig and I kind of just dumped on her about The Runaways for several hours and asked her if she was going to cut her hair. She said yes, and I had great faith that she was going to be able to pull this off because she seemed very dedicated and genuine and authentic. We had a few weeks before filming started to spend some time, and she picked my brain.
To read Michael Shannon and Floria Sigismondi's thoughts, just read more