Here's a post from our partners at InStyle.com! Every week, we bring you the best shoppable fashion and lifestyle stories from the editors at InStyle.com, including this post about the latest in convenience shopping.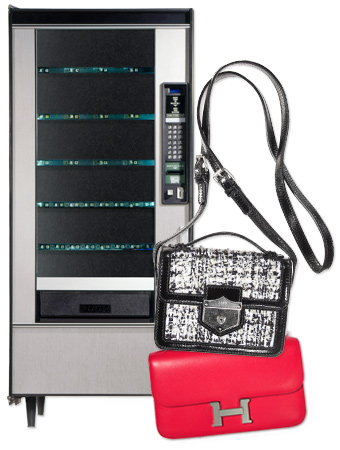 Vending machines have come a long way since their early days as snack and beverage machines, and they have definitely upgraded! Instead of your usual Snickers and Twix bars, you can now vend for your most coveted designer handbags, thanks to a vending machine that was recently spotted stocked with some of Fall's newest minibags, from
Alexander McQueen
and
Dior
to Hermès, and with just the punch of the two- to three-digit code, your brand-new designer bag will drop to your hands. But this isn't the first time we've seen a vending machine offering goodies that weren't candy-wrapped. There have been machines filled with everything from Rollasole's foldable flats to electronics like iPads and iPods and even bras. Beauty brands have also jumped on board with the trend, including
Sephora
and, just recently, Benefit Cosmetics and the travel-size product retailer 3FLOZ, which have popped up in several airports in the US. So, tell us in the comments below: what do you think of this fashion and beauty vending machine trend?
For more fashion and style from InStyle.com, here are more great stories.
30 On-Trend Accessories Under $150
Editor-Tested: Sephora's Pantone Color IQ Tool Gave Us a Perfect Foundation Match
Our Top 11 Tweed and Houndstooth Pieces