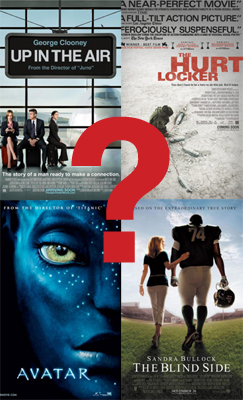 Four? Seven? All 10? We were recently taking our own tally at Sugar HQ, and several editors have been trying to squeeze in last-minute
viewing parties
of the
Oscar
nominees they've missed out on before tonight's big award gets handed out.
But what about you? Hopefully, by now you've already seen the ones most likely to win, but take my poll, and tell me how many you've seen. Here's the full list of titles to refresh your memory: Up, Avatar, The Hurt Locker, The Blind Side, An Education, Inglourious Basterds, A Serious Man, District 9, Precious, and Up in the Air.
And don't forget to tune in later as I'll be blogging live during the ceremony. I can't wait!