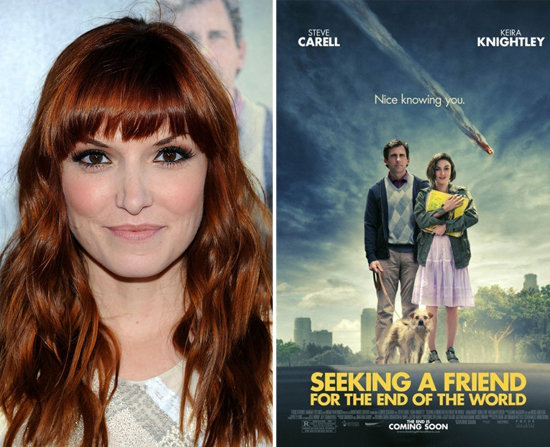 Seeking a Friend For the End of the World hits theaters Friday, and it will mark the beginning of Lorene Scafaria's directorial career. The Nick and Norah's Infinite Playlist screenwriter decided to take on a more finite subject matter — namely an impending apocalypse and inevitable mortality — in Seeking a Friend, which she both wrote and directed, a first for her. It stars Steve Carell (Dodge) and Keira Knightley (Penny) as neighbors who end up spending the end days together searching for Dodge's high school sweetheart. I sat down with the 34-year-old filmmaker to talk about women in Hollywood, how she would react to an apocalypse, and how her then-boyfriend Adam Brody, who plays Keira Knightley's boyfriend in the movie, helped her with the script. Read my interview with Lorene now.
TrèsSugar: Do you think Hollywood could use more female screenwriters? And now as a director, do you think women bring a different perspective to that role?
Lorene Scafaria: I like to think for this story itself being a woman, who maybe has a ticking clock in her head in a different way than a man, helps. But, I'm really not sure why there are so few female directors especially. At least in my world, there are a lot of female screenwriters, and they do bring a sensitivity to their work and their characters. I think it's shifting. Maybe someday it won't even be a question.
TS: Did any female friends or screenwriters in your life read this script or give you input or feedback on it?
LS: They did, especially Dana Fox, who's one of my best friends. She helped a lot. It's funny actually. Adam Brody is the person who helped me the most with this script, from beginning to end. So I did have that male perspective in there, which was nice.
TS: Right. Considering it has a male lead.
LS: Yeah, he was actually the person who helped the most from the script to the soundtrack actually.
TS: How did he feel about his character?
LS: I think he liked his character. That was fun because I love the idea that he's known most for playing the dream boyfriend. I thought well, this would be fun to put you as the worst possible boyfriend ever, and so we had a lot of fun crafting that and forcing him to grow his beard for three months. The terrible, terrible beard — we called it a smeared. That was a lot of fun to see him in that part.
TS: The characters have different reactions to the ticking clock. Some are in denial, some drink a lot. What do you think your reaction would be?