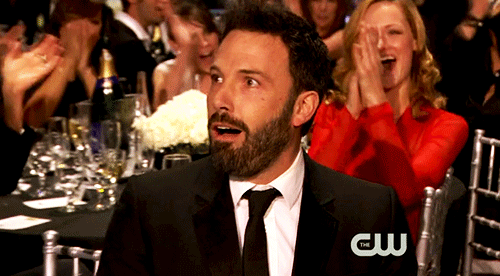 News that Ben Affleck will play Batman in the Man of Steel sequel has been the source of some serious backlash, but we're convinced that Ben will nail his role as Bruce Wayne. Don't believe us? Drawing on his onscreen experience, his proven talents, and his real-life roles as dad and director, we're sharing 11 reasons why Ben Affleck will be a Batman to remember:
1. He Has Superhero Experience . . .
Ben made his superhero debut back in 2003 when he donned a red latex suit for Daredevil, and he suited up again in 2006 for Hollywoodland as George Reeves, one of the actors who played Superman.
2. . . . But He's Come a Long Way Since Daredevil
OK, so maybe Daredevil wasn't the most successful superhero film, but that movie came out 10 years ago. (And, for the record, so did Gigli.) Over the past decade, Ben has raised his acting game, taking on impressive roles for films like Argo and The Town, and it's time we accept the fact that he has a solid A-list career now. Which brings us to our next point . . .
3. He's Spent Time Behind the Camera
Now that Ben has sat in the director's chair for multiple movies, he's proven that he's a well-rounded storyteller. Truth is, he showed that from the get-go with Good Will Hunting, and he clearly knows what it takes to make a good, compelling film, so we can expect that he'll bring those insights to the set as Batman, too.
4. He's Not So Bad Looking
Handsome? Check. So, you know, there's that — and no Batman would be complete without it.
Keep reading for more reasons Ben will make a great Batman.