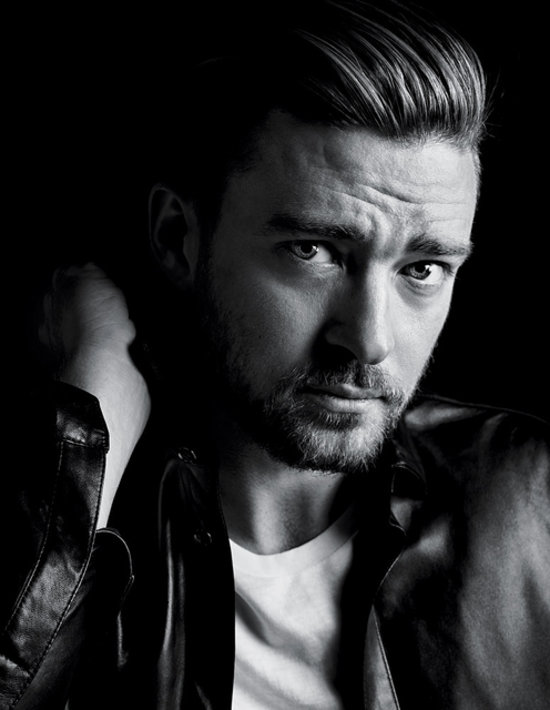 It's safe to say that 2013 has been a good year for Justin Timberlake, and in a new feature from T, The New York Times Style Magazine, the singer/actor talks music, film, and how he's changed throughout his career. Earlier this year, Justin returned to the music scene with the release of The 20/20 Experience and the Legends of the Summer tour with Jay Z, and he's now preparing for the Sept. 30 release of The 20/20 Experience Part 2. Meanwhile, he also appears in two movies this year — Runner, Runner opposite Ben Affleck and Inside Llewyn Davis, where he plays a '60s musician. Most recently, Justin's career came full circle with his VMAs performance, which featured a reunion with his former boy band, *NSYNC, and a medley of hits from his solo albums. In the midst of his busy year, Justin sat down with T and opened up about the industry, the new album, performing, how he feels about dubstep, and more:
On growing up in the industry: "I'm 32. I know that I'm still young, but I've been in this business two-thirds of my life and you just learn that some things are accepted the way you hope and some aren't."
On his 2013 return to music: "If you can answer the question of why you're doing it, it's the right thing to do. To answer the question 'Why?' for the first time in my career, is: because I wanted to."
On the release of The 20/20 Experience: "You get to this point, which I've done in the last five or six years, where you become less worried about success and failure."
On The 20/20 Experience Part 1 compared to Part 2: "If you could imagine you're 16 and she's everything you thought. She's Marilyn Monroe and then you meet her older sister; everything that's dark and wrong about her at that age is why you become infatuated with her."
On living in the gray area: "I'm sure there's some self-help cheese-ball book about the gray area, but I've been having this conversation with my friends who are all about the same age and I'm saying, 'Y'know, life doesn't happen in black and white.' The gray area is where you become an adult . . . the medium temperature, the gray area, the place between black and white. That's the place where life happens."
Keep reading for more quotes from Justin.