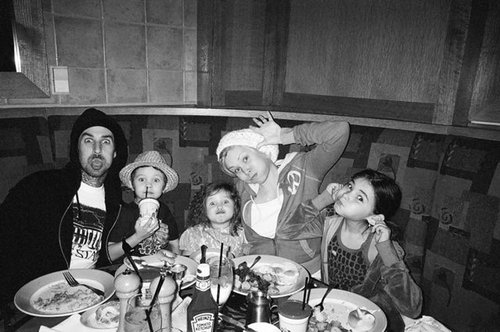 Perhaps she is best known as the ex-wife of rocker Travis Barker, or one might connect the blond bombshell to her Playboy past, but to her three children, she is simply mommy. Shanna Moakler entered the spotlight at a young age as a model at age 15 and grew into pageant life, where she was crowned Miss USA in 1995. Now it is her children who are number one in her life. Celebrity Baby Scoop recently sat down with the mama and delved into motherhood, her career, and life with ex-hubby Travis Barker. Here's more:
On how motherhood has changed her and what she finds most rewarding and challenging:
Motherhood changed me in so many ways. I look at the world different. I was a young mother, and a single mother quickly. I am constantly striving to be a better person for my children, for my family. I want to give them the opportunities I didn't have . . . Having three kids, I find the most challenging part is just making sure I take the time to individually nurture their different needs. They actually work very well together and I've made sure that they have a mutual respect for one another and their ages. I really try to make time to sit with each one daily, talk to them, see how they are feeling. Coming from a divorced home, I want my children to know they are loved. I want to breed confidence and I want them to know how to work through life's challenges; alone and together . . . The most rewarding part is seeing them grow and develop into these beautiful personalities and people. There is nothing like when your babies tell you they love you!
On coparenting with ex-husband Travis while living apart:
Travis and I are lucky, we live very close to each other. So, yes, we try very hard to work with each other per our schedules and co-parent [situation]. We are both very hands on and our children come first. Always have . . . Travis is a morning person and loves driving the kids to school. I am a night owl and prefer to take on the bath times and homework, etc.
On the paparazzi and her children:
I make a major point to stay away from paparazzi spots. Sadly, by doing this, I have been criticized as not being a good mother as I am just not 'seen' with them as much as my ex is. I find it sad that being considered a good mother meant I had to parade my children around Robertson and Malibu. I have chosen to pass . . . Sometimes paps do scare my children and other times not. I have allowed the cameras into my home, I let them see me when I go out with friends. They have covered my marriage and I think it ruined my marriage . . . There is one part of my life that I don't share with anyone and that is my family and children. I don't need the public or my ex to tell me I am a good mother. I am a great mother!
To see what the busy mommy has to say about her career, child beauty pageants, and her past nude modeling days, just read more