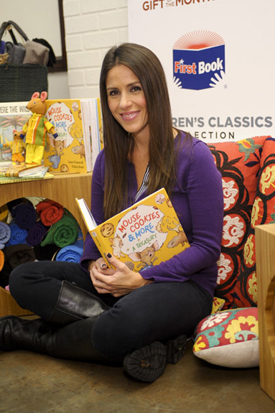 Has social media become the new village it takes to raise a child? For many mamas, the
anonymous world of the Internet
has replaced the traditional community our own mothers turned to for advice on bringing up baby.
It's certainly the case for Soleil Moon Frye. The actress, wife, and mom of two, Poet, 5, Jagger, 3, felt lost after giving birth, as if someone had forgotten to hand her the mom manual. She turned to Twitter and Facebook to share her frustrations and ask her questions, quickly building a loyal following of new moms feeling the same way. I spoke with Soleil about the recent phenomenon and how it helped her form the idea for her upcoming book, Happy Chaos. Here are some highlights:
On why she turned to social media in the first place: "I talked to friends about different things and questions I had. But more than anything, I really did feel so lost. And I would literally have been calling my mom and my friends every five seconds. Because I had no clue what was going on."
On what the Internet was providing new moms: "I would go onto blogs and I would see the mom sitting and cutting the vegetables so perfectly. Everything I saw made it look so easy, and I (thought) 'OK am I the only one that finds this so hard? Am I the only one that falls on her face when walking out the door? Or forgets the diaper bag at home? Or has the explosion in the car with the diaper?' These parents are making it look so easy!"
Keep reading to see what kind of response Soleil received online, and how it will fit in her book.