Todd Lowe plays sweetheart Terry Bellefleur on True Blood and yesterday we chatted with him at Kari Feinstein's Emmy Style Lounge in Beverly Hills. The actor shared his amazement at the paparazzi madness surrounding Anna and Stephen's wedding last weekend and told us about his special gift for the newlyweds. While the show's resident nice guy insisted that he's sworn to secrecy on the upcoming finale, he did weigh in on what's to come next season and whether he might be the next male castmember to go shirtless. Here's more: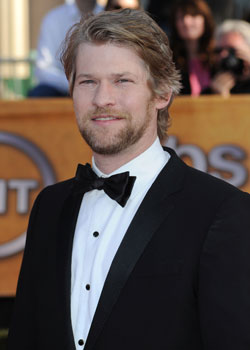 PopSugar: This was a big weekend for Anna and Stephen. Were you at the wedding?
Todd Lowe: I did! I have a band and my band played there. . . my playing for them was my gift. . . This was my first time dealing with paparazzi in helicopters and boats. We saw them down standing on the beach and we thought they were surfers waiting for the right tide, and it's like, no, they all have cameras with amazing, high-powered lenses.
PS: All the men on True Blood are in such great shape. How do you stay fit with the shooting schedule?
TL: I don't. I'm not one of those guys. I mean, I'm not like Ryan and Joe and Mechad.
PS: So you're not foreseeing any naked scenes for Terry?
TL: No. I mean, the pressure's on for guys. The bar has been raised for the standard of male beauty, but I always say that Terry was a Marine, and he hasn't done a push-up or sit-up since basic training, and he's fine with it.
For more from our interview with Todd, just read more