In addition to the following releases, Chasing Madoff is also available.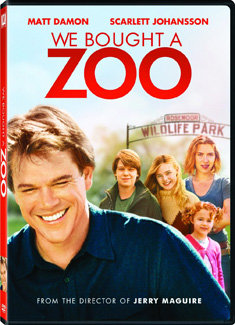 Directed by Cameron Crowe, We Bought a Zoo stars Matt Damon as Benjamin Mee, a father who literally buys a zoo in hopes of making a fresh start for his family after the death of his wife. As one might imagine, the process doesn't go quite as smoothly as Benjamin, his kids, or the head zookeeper (Scarlett Johansson) hope. The story is a bit sappy but the acting is great, especially from Damon and the young stars playing his children. Deleted scenes come with the DVD.
Set at the height of the first World War, Steven Spielberg presents an incredible story about a boy (Jeremy Irvine) who is forced to sell his beloved horse. The horse is passed to different owners, and while we wait for it to be reunited with its owner, we are able to see them both grow in the face of the horrendous war. The film was nominated for six Oscars, and it's a perfectly balanced drama for horse enthusiasts and film buffs alike. DVD extras include an exploration of the set and look of War Horse with the film's creative team.
One more DVD to check out when you read more