The PopSugar 100 is in full swing, and several famous and fashionable ladies are already front-runners in the race for your celebrity style favorite. The current top five includes mainstays on best-dressed lists, like Anne Hathaway, as well as some relative newcomers, like Kate Middleton. Take a look at the trendsetters who are in the lead, and remember, it's not too late to switch things up! You can help determine who takes the title by creating your top 10 list and sharing it with your friends on Facebook. It's easy, so start by clicking below and following the simple instructions to make your vote count.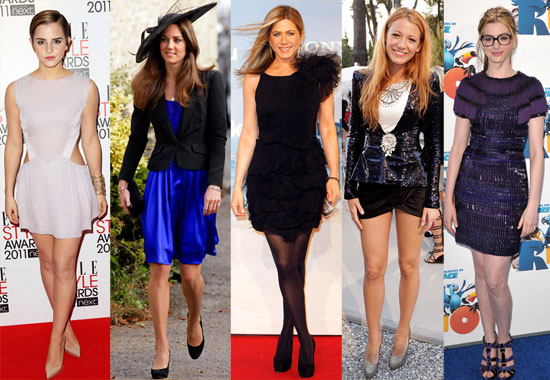 Jennifer Aniston

— Jennifer Aniston has cemented her stylish status since her early days on Friends. When she's not working, she favors casual and cool tank tops and jeans that reveal her toned physique. She gets glamorous for the red carpet, choosing classic dresses that let her

natural beauty

shine. Given Jennifer's strong showing in other PopSugar 100 categories, it's likely she could overtake the other leading ladies before voting closes!

Anne Hathaway

— Anne made a whopping eight costume changes as a host of the Academy Awards this year. The actress even wore a custom tuxedo during her big night on stage! Anne loves to take risks with couture creations by Armani Prive and Gucci, and she's not afraid to accessorize with a truly must-have accessory — her glasses! Anne's glam, girl-next-door look has made her one of your standout stylesetters, putting her at No. 4 on the list.

Blake Lively

— Millions tune in to see what Serena will wear each week on Gossip Girl, and off screen, Blake Lively has become an equally admired fashion plate. She's a muse to Chanel designer Karl Lagerfeld and also counts shoe designer Christian Louboutin among her friends. The leggy actress, No. 3 on your list, loves to incorporate sequins and feathers into her red-carpet rotation. She even prefers putting outfits together herself rather than use a stylist, making her look truly one-of-a-kind.
To see who currently tops the list, just read more