Celebrity Quotes on Sex Scenes
Shia LaBeouf and More Stars Get Intimate About Shooting Sex Scenes
Like us on Facebook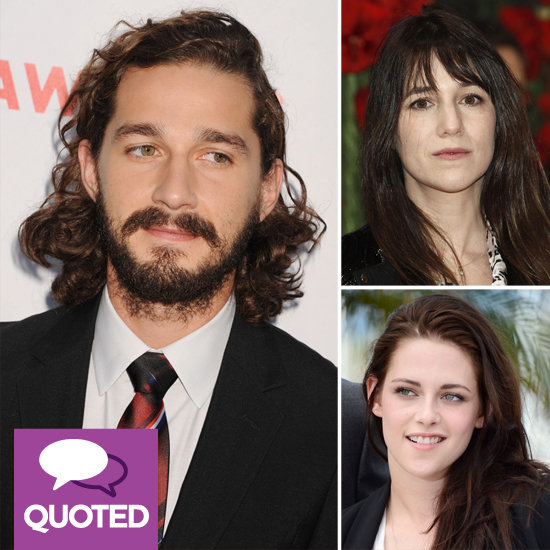 1
Shia LaBeouf and More Stars Get Intimate About Shooting Sex Scenes
Shia LaBeouf stars in Lawless, out tomorrow, about bootleggers in the Depression era, but he really breaks the rules in his upcoming film Nymphomaniac, in which he has "unsimulated" sex on screen — yes, that means the real deal. Shia told MTV, "It is what you think it is. There's a disclaimer at the top of the script that basically says, we're doing it for real. And anything that is 'illegal' will be shot in blurred images. But other than that, everything is happening." His costars Charlotte Gainsbourg and Willem Dafoe may be offering their advice, since they both appeared in another film with unsimulated sex, Antichrist.
While real sex on screen is the exception, not the rule, plenty of other sexy celebs have practiced their acting skills between the sheets. Even Leonardo DiCaprio is rumored to be baring all in illicit sex scenes in his Scorsese flick The Wolf of Wall Street. In Kristen Stewart's latest project, On the Road, she really pushes the sexual boundaries by going topless, having a threesome, engaging in "road head," and manually stimulating her male costars. On the sex scenes, she said, "I love pushing and I love scaring myself. To watch a genuine [sexual] experience on screen is so much more interesting than when you see the tape holding up the pasties . . . As long as you're being really honest, there's nothing ever to be ashamed of."
Many actors and actresses — like Lena Dunham — say that onscreen sex isn't quite as enjoyable as the real deal, but some stars get really into it. Amanda Seyfried told W magazine she's a big fan of sex scenes. Amanda said, "Jennifer's Body is my favorite movie that I've done . . . They had an extreme close-up of [Megan Fox and my] tongues, and I'm telling you, the thing about the scene is that it's actually really sexy. For a young girl to say that about her own sex scene — it must be because it's special. I think Megan and I kissed really well together. We have similar kissing styles and it worked."
From spanking to slobber to ripped pillows, get the first-hand experiences of shooting a sex scene from some of Hollywood's sexiest stars.
Latest Love