Do You Think You're Good at Media Multitasking?
Do You Think You're Good at Media Multitasking?
Like us on Facebook
If you do, that might mean you suck at it.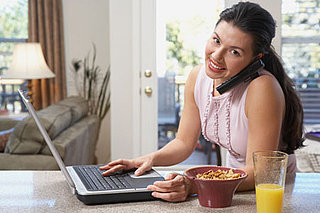 Although we hear all the time that women are better at multitasking than men, a new study says that regardless of gender, media multitaskers (those who simultaneously use their computers, watch TV or text on their phones, for example) aren't as good at doing several things at once as they think they are.
The study was initiated when researchers asked themselves what it was about "high multitaskers" that allowed them to do what they do so well. But in experiments designed to test the two groups' attention and memories, the group that defined themselves as consumers of multiple media did worse than the lower multitaskers. Ironically, it was the low multitaskers who were convinced they weren't going to be good at doing several things at once.
"The shocking discovery of this research," says Professor Clifford Nass of Stanford, "is that high multitaskers are lousy at everything that's necessary for multitasking." Now researchers want to know whether or not it's people with low multitasking skills who are drawn to multitasking, or if perhaps their jobs dull their ability to be good at it.
Do you think you're good at media multitasking?