French Women Would Rather Smoke Cigarettes Than Get Fat
Some French Women Would Rather Smoke Than Get Fat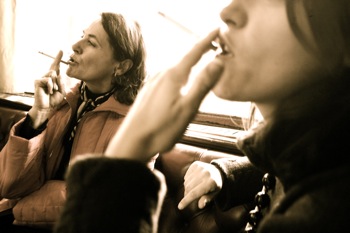 French women don't get fat, but you don't want to steal one of their secrets to staying slim. As more French men quit cigarettes, French women continue to light up, citing fears that quitting would lead to weight gain. Today, The Daily Beast explains, more French women die from lung cancer than ever before, and it may soon be their number one cause of death.
French antitobacco ads are targeting women, pointing them to a website that helps smokers gain less weight once they quit. The antismoking camp must fight decades of marketing to French women. Smoking used to be considered vulgar and unfeminine, but beginning in the 1940s, tobacco companies successfully sold cigarettes to women with language of emancipation and equality, much like they still do today.
Obesity is likely just as deadly as smoking, but quitting causes a person to gain only an average of four to nine pounds within a year of stopping. Plus, in an ironic twist, long-term smoking typically causes a person to gain weight over time. So putting out the smokes might make French women feel sexier in their lingerie anyway.