Michael Fassbender is one fassinating actor. We first set our sights on the sexy Irishman when he bared it all as a sex addict in Shame. Then he spanked Keira Knightley [1] as psychiatrist Carl Jung in A Dangerous Method and he's done more than one striptease in magazine photo shoots over the last few years. Did we mention he speaks fluent German and looks just as sexy playing Steve Jobs [2] as he does playing Macbeth [3]? Besides his devilish grin and proclivity toward playing naughty bad boys, here are a few of the many reasons Michael Fassbender is on our sexy radar.
He's Humble About His Sexual Appeal
In his 2013 GQ cover story [4], Michael told the magazine that women just like him because he's famous. He said, "You become a lot more successful in terms of, like, talking to a girl. She's all of a sudden more interested in me. I know that, like, three years ago, she would've walked away after two sentences left my mouth. I remember I was sitting at this table at this thing, and I was talking to this girl. I was like, 'God, I am so boring right now.' But she was like, 'That's so interesting!' I was like, 'You know what? Five years ago, this would not have been interesting.'"
He also told Elle UK [5] that he's "not oblivious" to the female attention, but "It's not like I think I've become more charming or good-looking overnight."
It's Been Confirmed That He Makes Your Clothes Fall Off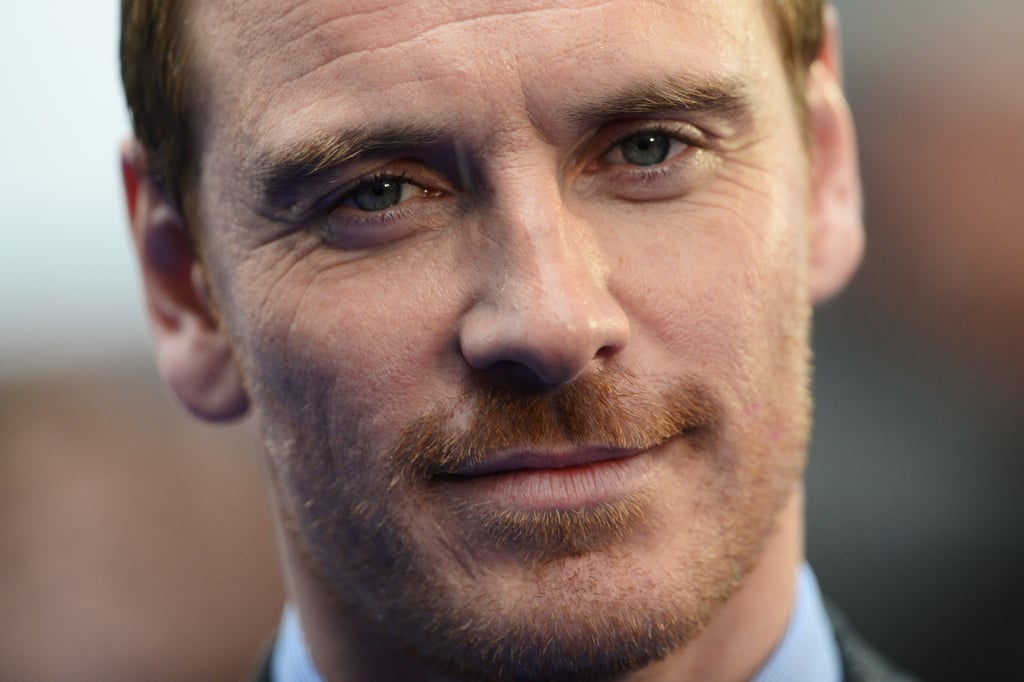 His 12 Years a Slave costar Sarah Paulson said [6], "He just looks at you, and you want to take your clothes off. Let me just say this — once he kissed me on the mouth to say hello, and I almost fainted."
He's Shameless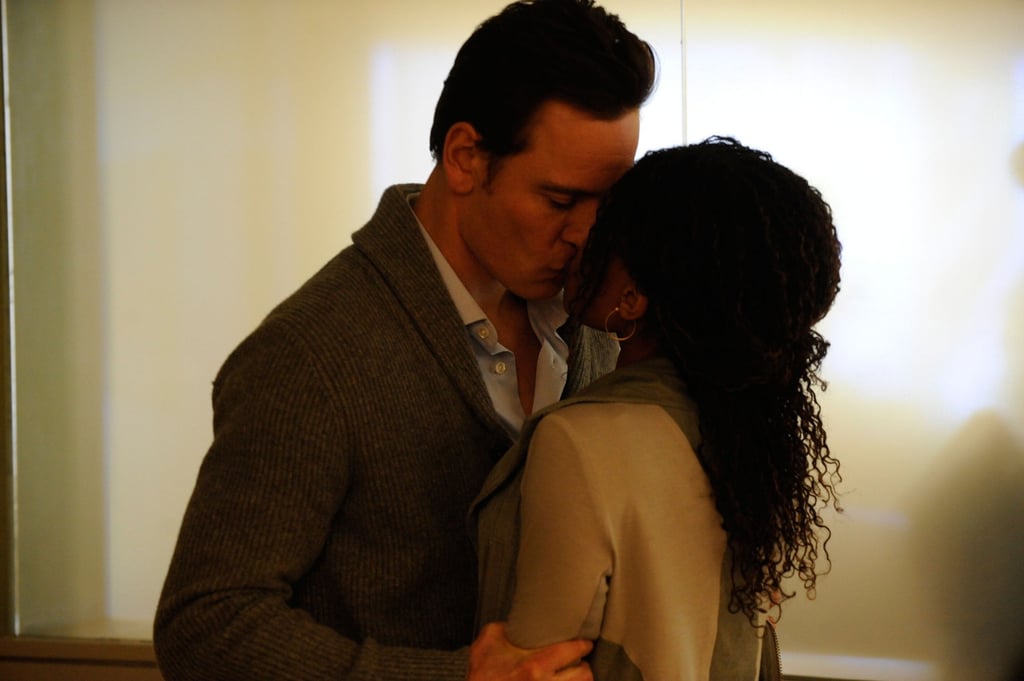 Michael exposes himself in more ways than one in his role as a sex addict in Shame [7]. He goes full frontal in the NC-17 flick, and his powerful performance earned him plenty of accolades, including the best actor prize at the Venice Film Festival and a Golden Globe nomination [8].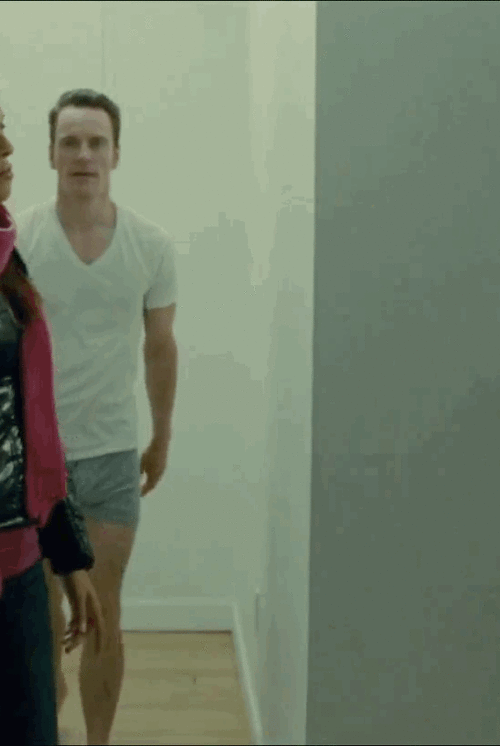 Ahem.
He's Not Afraid to Heat Up Editorials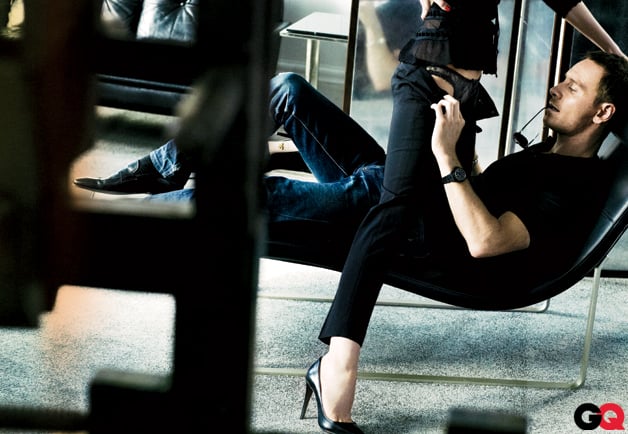 In his 2012 interview with GQ [9], Michael's tame and honest interview is sprinkled with hot and gripping pics of him and a model in various states of undress.
But that's nothing compared to his hot, hot, hot NSFW photo shoot in Obsession magazine [10], in which he's completely naked.
And his T Magazine cover shoot [11] . . . we're speechless.
He Jokes With His Costars
Speaking of steamy editorials . . . Michael and Charlize Theron's W shoot [12] is positively sweat-inducing. But despite the sultry shots, Michael keeps things cheeky with his Prometheus costar. On which is harder to do, a death scene or a sex scene:
Charlize: "It depends on who you're doing the sex scene with. I don't have issues being naked. . . . That sounds very slutty."
Michael: "Kind of. I didn't want to say anything, but yes."
He's Self-Effacing About His Looks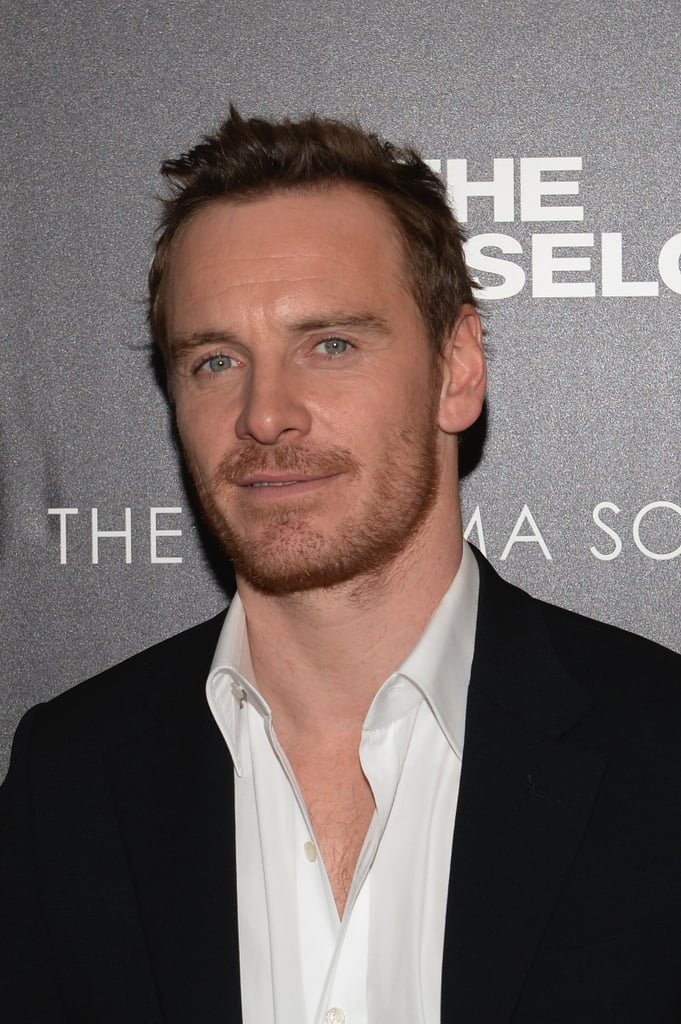 Michael told Elle UK [13], "I've never really thought of myself as good-looking. I think of myself as, you know, all right. I used to have bad acne as a teenager, so all of this is a bonus now, the fact that I don't have pimples anymore. And my hair was also, you know, unfortunate. I had really long hair. I mean, I tied it back most of the time, but I had all these frizzy bits coming off the top, and whenever I let the hair down, it went like this [indicates big, bushy frizz]."
He Gets Along With Our Girl Crush J Law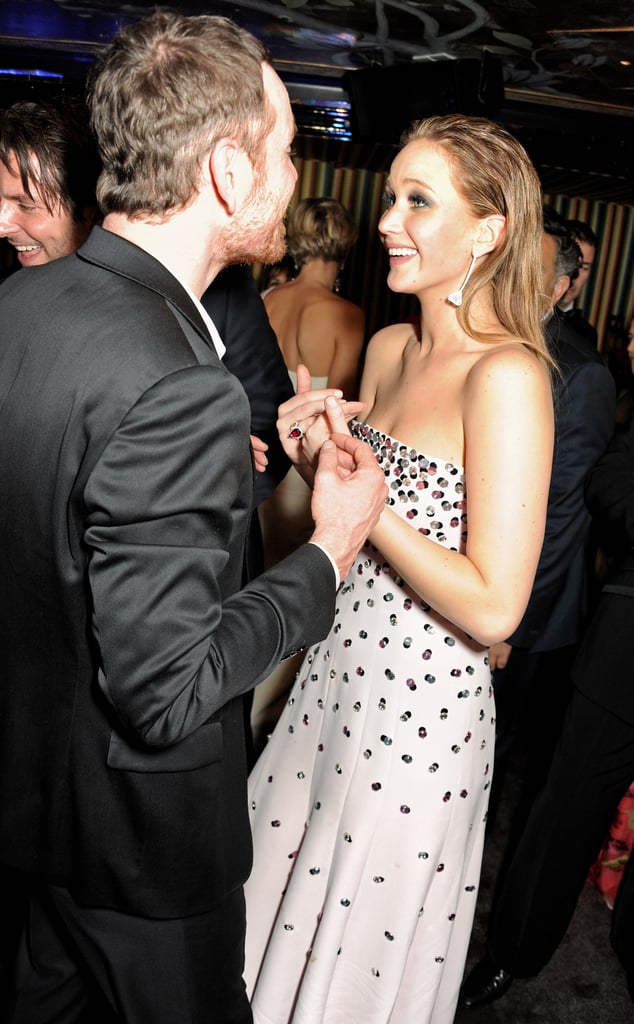 If there's an actress we could be as in love with as Fassbender, it would be Jennifer Lawrence [14]. So you can imagine our delight to see the X-Men costars interact so adorably at a BAFTAs afterparty.
He's a Family Man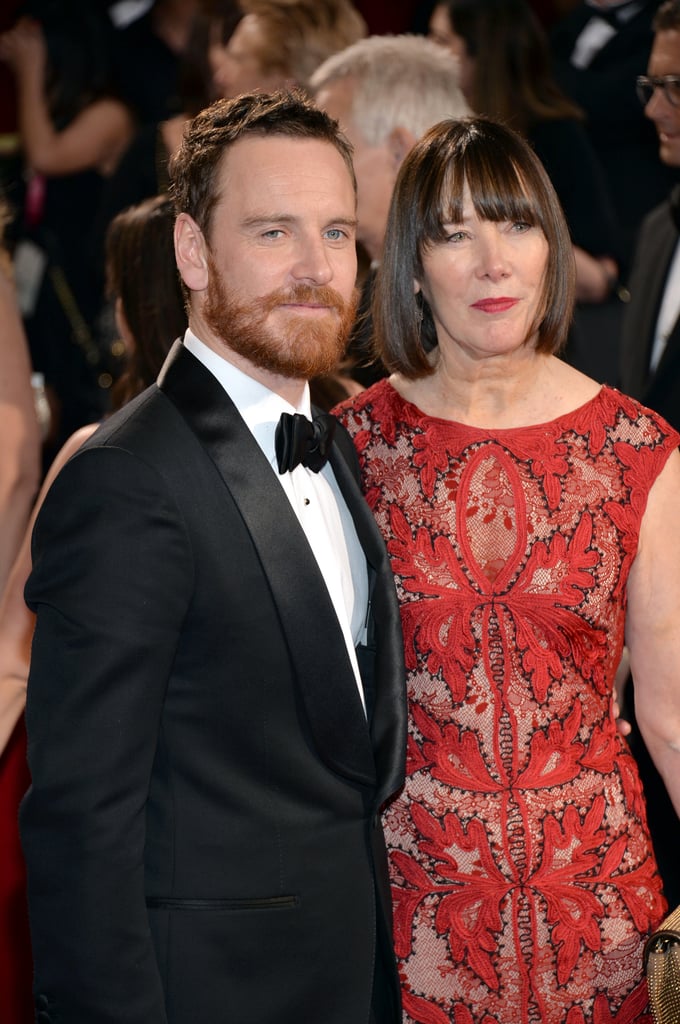 In 2012, Michael Fassbender told The Hollywood Reporter [15] that if he was nominated for an Oscar, his mom would be his date! "It would just be a bonus, but of course I would take my mom down the red carpet," he said. And guess what? He kept his word and brought his mom, Adele, as his date to last year's Oscars!
George Is a Fan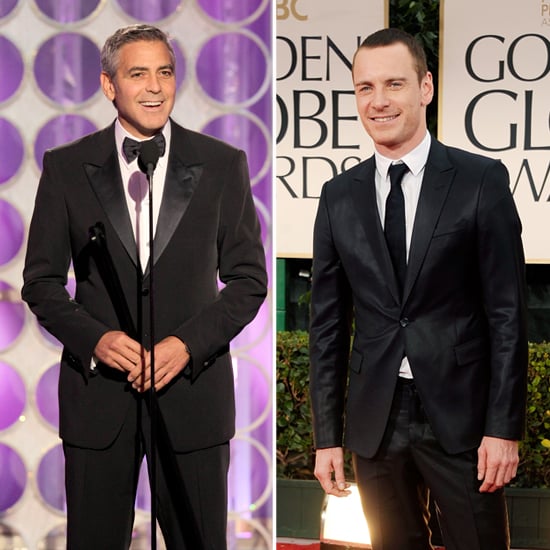 At the 2012 Golden Globes, George Clooney [16] beat out Michael for the best actor in a drama award, but he gave him quite the compliment. He thanked Michael for taking on the full-frontal responsibility, then added that the Shame actor could play golf with his, ahem, manhood.
He Doesn't Take Himself (or Nudity) Too Seriously
In W Magazine [17], Michael Fassbender showed off the goods and joked about all his onscreen nudity. He said, "From the start of my career, I've been naked. My first job was a commercial for SAS airlines. In the spot, I wake up in a pink room next to a beautiful blonde girl and get out of bed naked. From that point forward, it's been in all of my contracts: He must be naked in this film." We aren't complaining! Watch the commercial on POPSUGAR Entertainment [18].
He Could Be the Next James Bond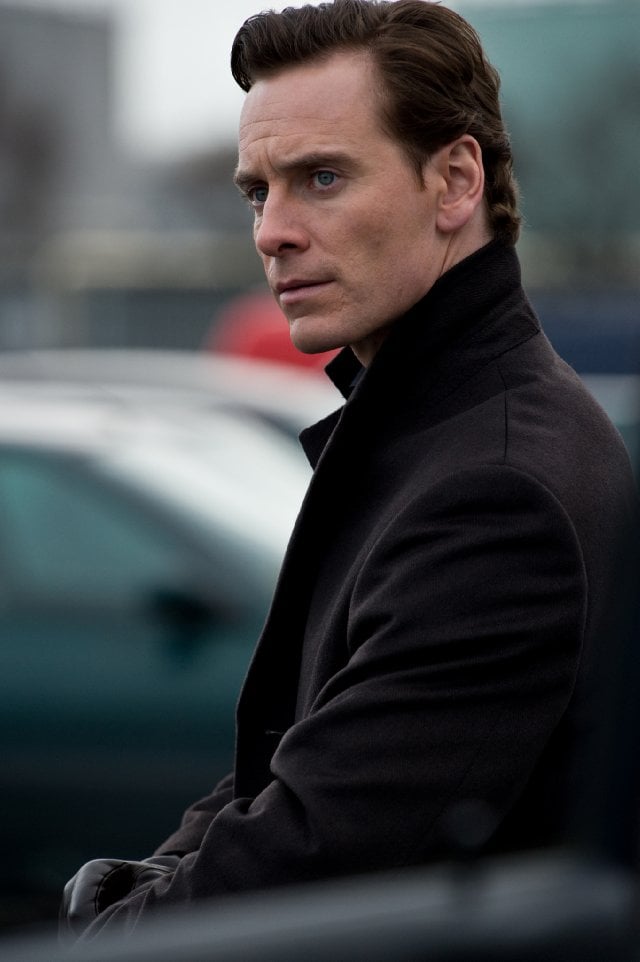 Michael's called a mix between James Bond and Peter Sellers in The Hollywood Reporter [19], which may be hinting at the rumors that Michael will take over for Daniel Craig [20] as the next James Bond. We even get to see him briefly as a version of the famous British spy when he plays an MI6 agent in Haywire.
He Looks Freaking Good Next to Cars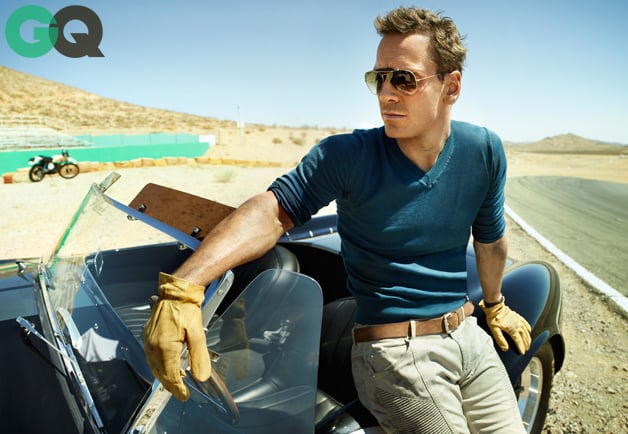 Michael's 203 GQ cover story [21] featured some steamy photos. Mama like.
He's Hot in Period Pieces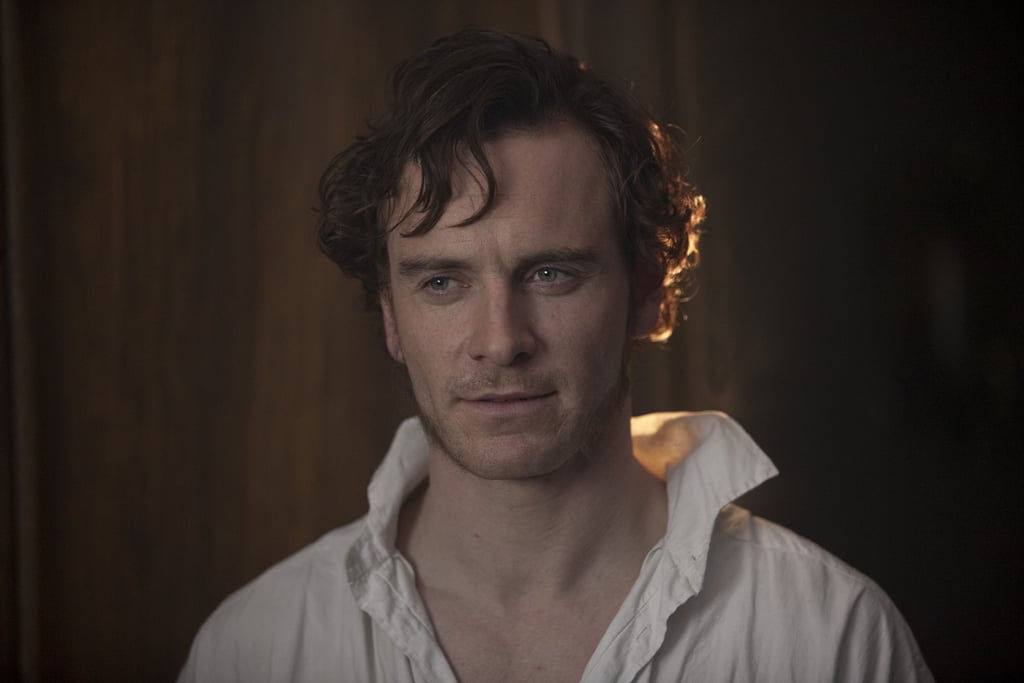 Michael played the Jane Eyre leading man, Mr. Rochester, to brooding, period-piece perfection. And he even admitted to hoping his mom and sister approved of his performance of the iconic role [22]. We'll take Fassy in mutton chops and Victorian-era chaps any day.
He's Mature About Nudity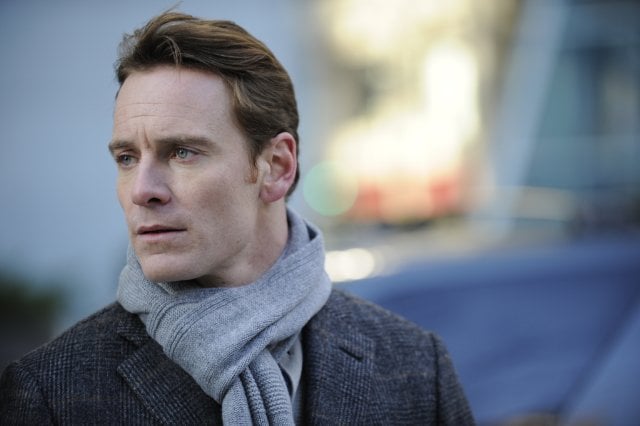 In Michael Fassbender's 2012 NPR interview [23], he discusses how he got through all the nudity and sex scenes in Shame. He said, "[In one sequence] you kind of see everything combined — the need for the hit, the desperation, the self-loathing, the lust — so that helped me get over the embarrassment of being naked and performing these compromising positions." He's also said director Steve McQueen gave him the trick for getting through the scenes: to remember, we're all going to die one day.
He's Admitted to Watching Porn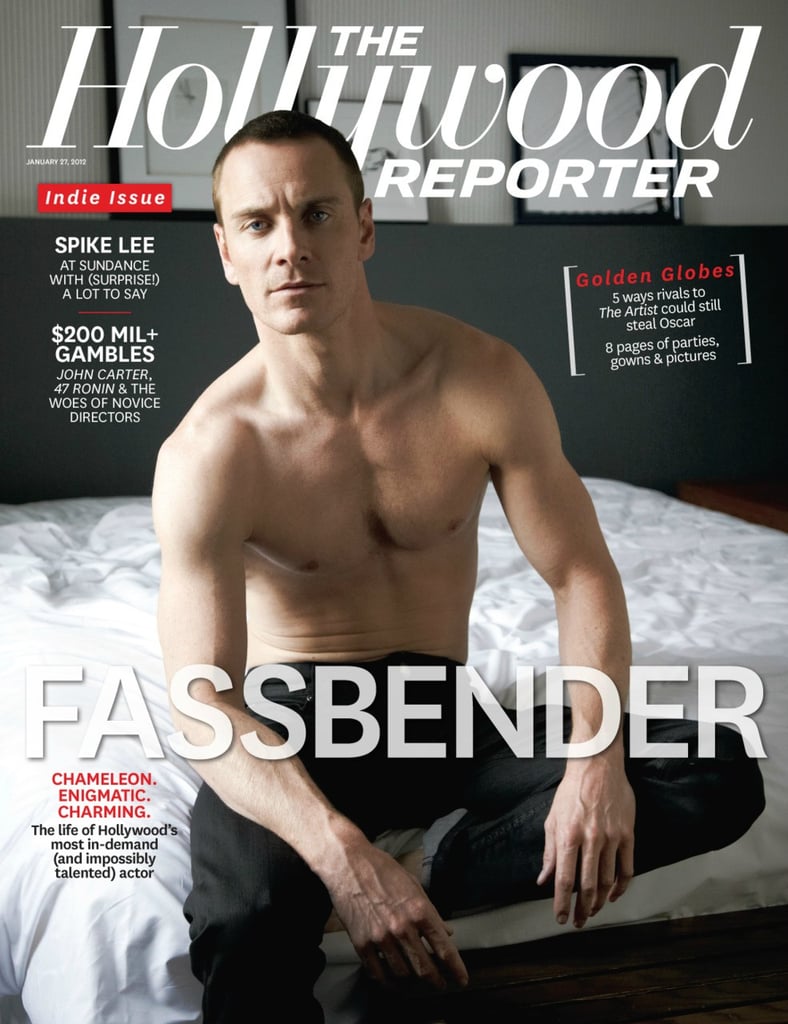 Michael Fassbender talked porn in his NPR interview [24], saying, "I've watched porn, yeah. I suppose the difference between my teenage porn experiences and today . . . is this sort of access. When I was 15 and trying to get to the top shelf without being caught and then having to muster up the courage to get to the counter to pay for whatever it was — magazine or DVD — you have to deal with the shame there and then. Now, you're a couple of clicks away and there's millions of options." We love a guy who isn't afraid to open up about sex.
He's Grounded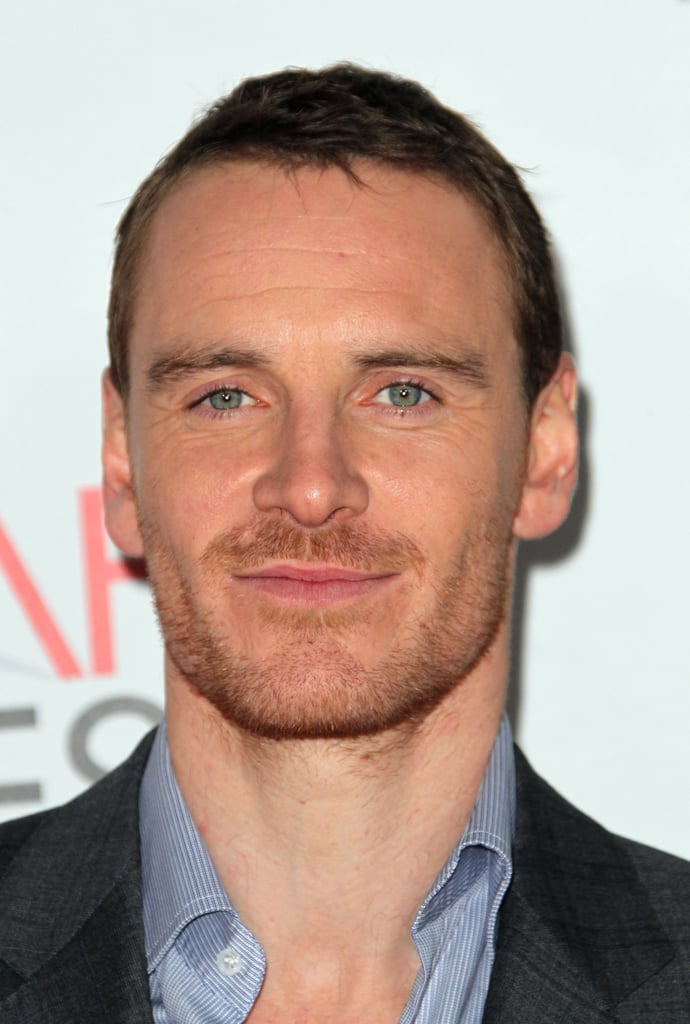 Michael always comes across as down-to-earth in interviews, describing his younger years working for the family restaurant — West End House in Killarney, Ireland — and how appreciative he is for his opportunities in life.
He's Up For a Good Spanking
Michael and Keira Knightley have a sexy spanking scene in A Dangerous Method, but silly Keira wanted it to be fake! Who turns down a spanking from Michael Fassbender? He also has an inappropriate spanking scene in Fish Tank with the 15-year-old daughter of his onscreen girlfriend. [25]
He Can Pull Off Facial Hair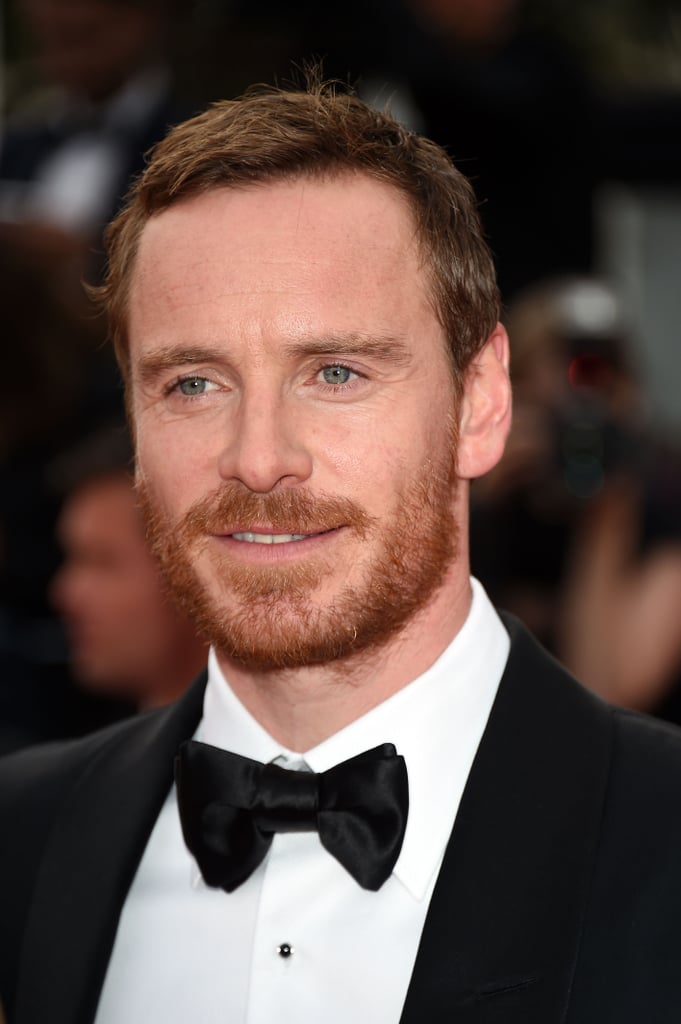 Not all hot guys can pull off beards and mustaches, but we think Michael looks just as dreamy with some scruff as he does without it.
Or Look Hot Clean-Shaven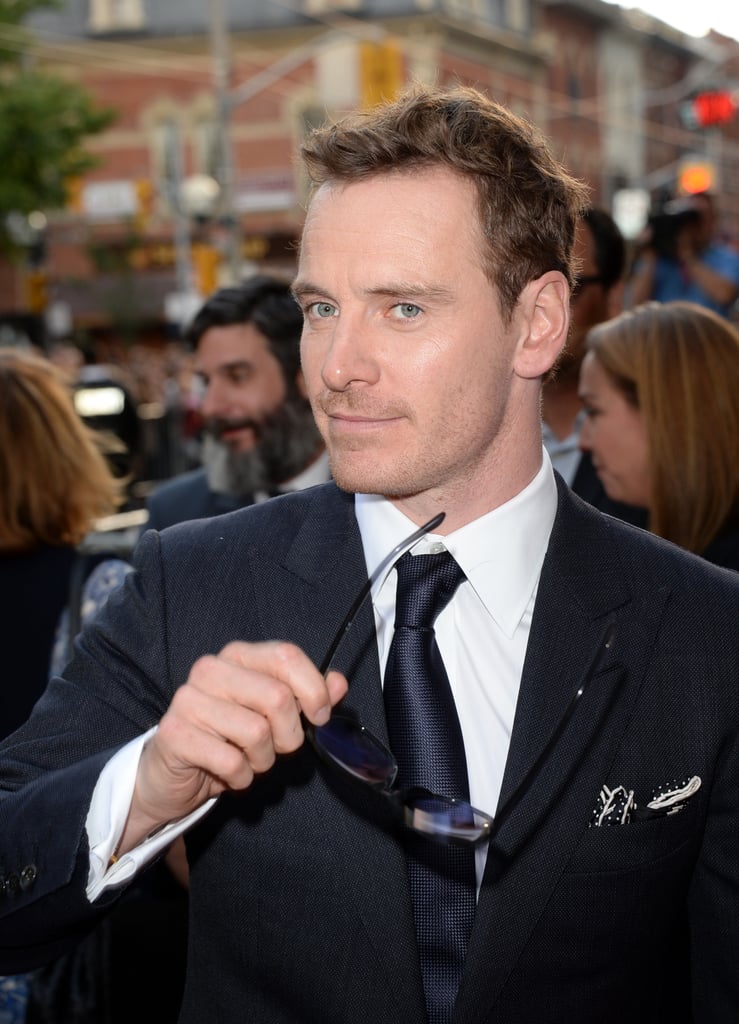 Exhibit A.
He's a Proud Ginger
Despite having blond locks in X-Men: First Class, Michael said he's proud to be a ginger [26].
He's Multicultural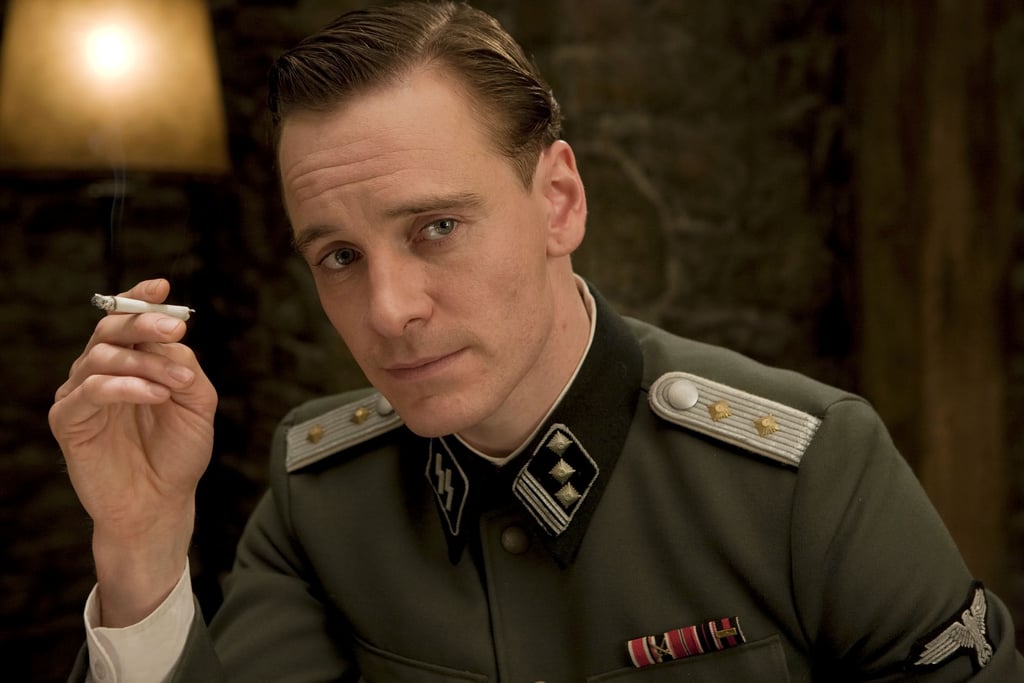 With an Irish mom and a German dad, not only does Michael have a sexy Irish accent, he also speaks fluent German. He showed off his German skills in both Inglourious Basterds and X-Men: First Class. And he even sang an Irish song on Jimmy Fallon [27].
He's Red Hot on the Red Carpet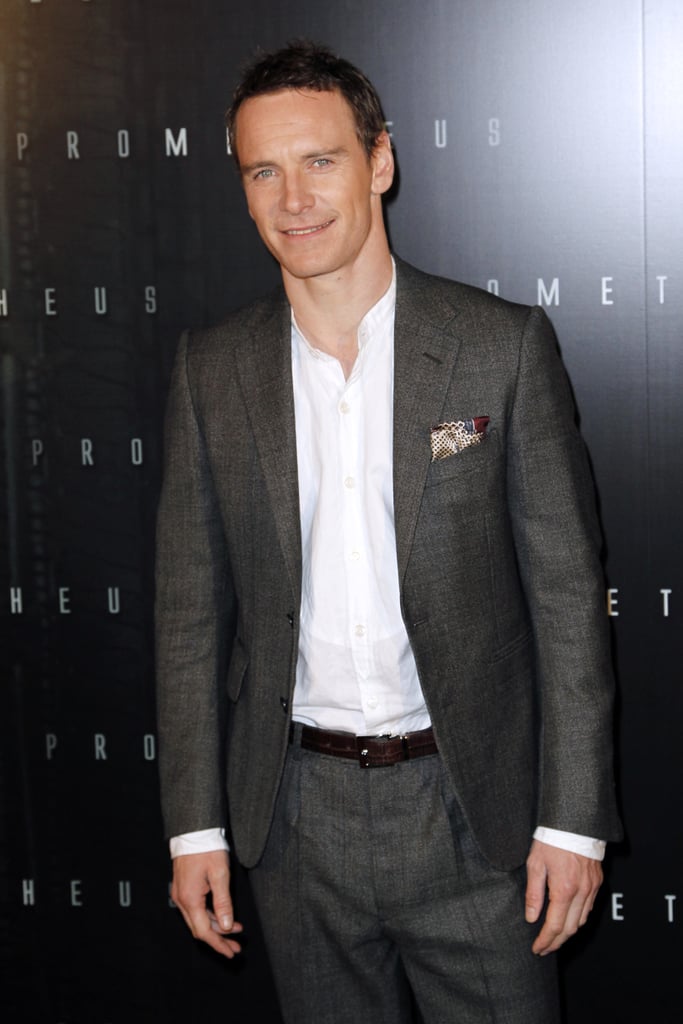 The man knows how to work a suit, and we'd even go as far as to say he may be just as smokin' suited up on the red carpet as he is shirtless [28] on screen . . . well, almost.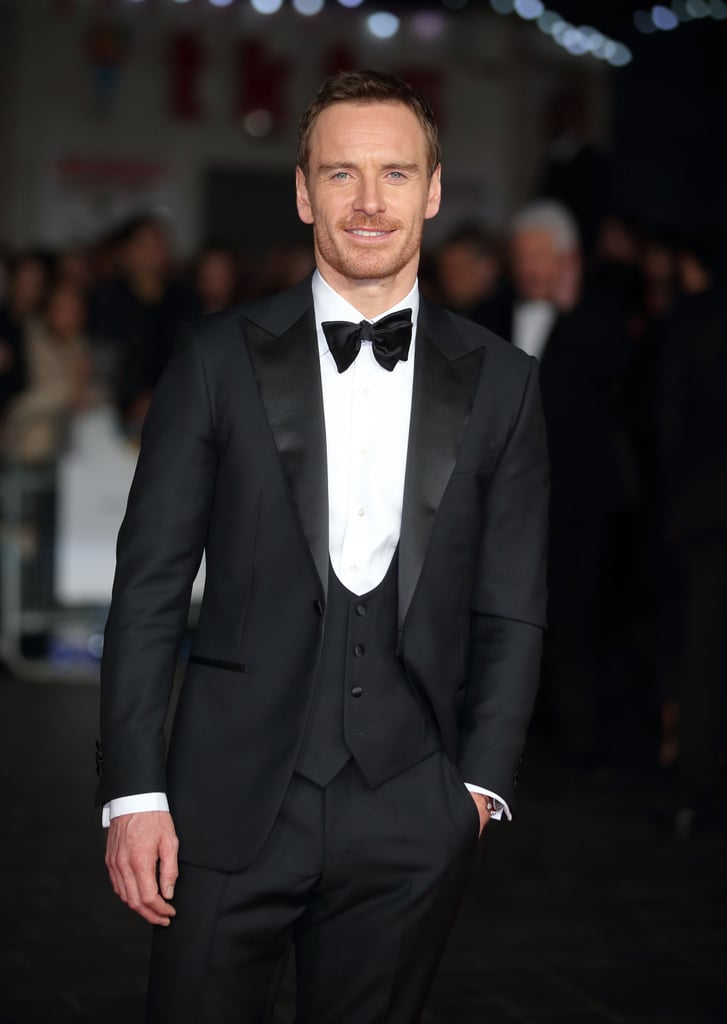 lle uk
Liiiiiiiike, hello.
He's Got Friends in Hot Places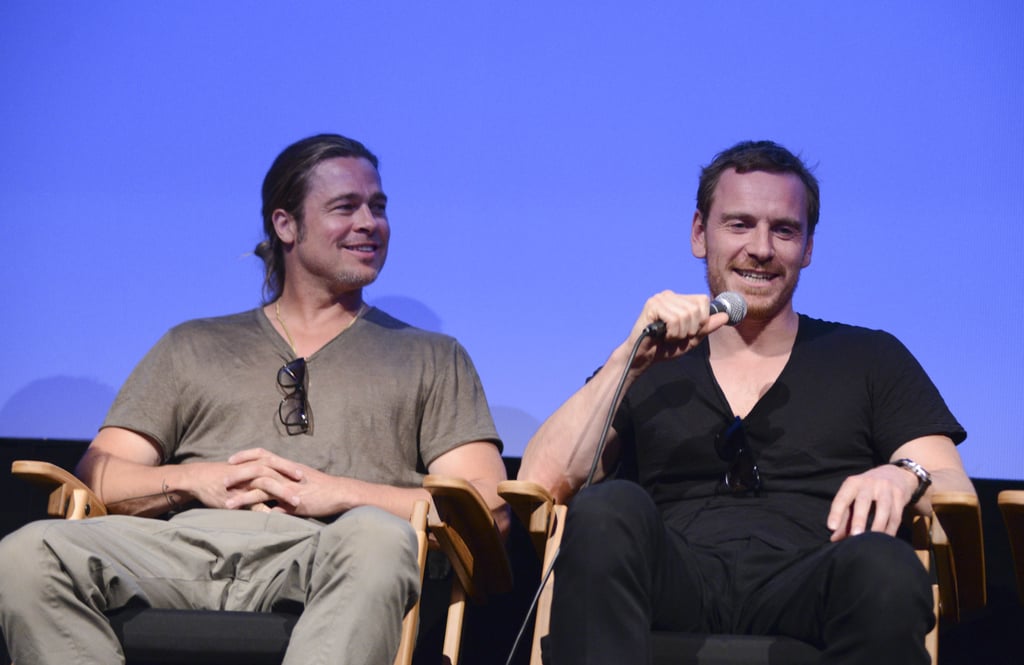 After teaming up with Brad Pitt [29] in Inglourious Basterds, Michael had two big flicks with the fellow heartthrob: The Counselor and 12 Years a Slave, the latter of which won a best picture Oscar. Michael even admitted he has a crush on Brad [30]: "Brad is a wonderful human being who has a generous soul. I have a lot of reasons to thank him. He has always been a real champion for me." He then said, "I've been following him ever since. I'm trying to get involved in any film he's doing so I can be with him!"
He's a Gentleman in the Bedroom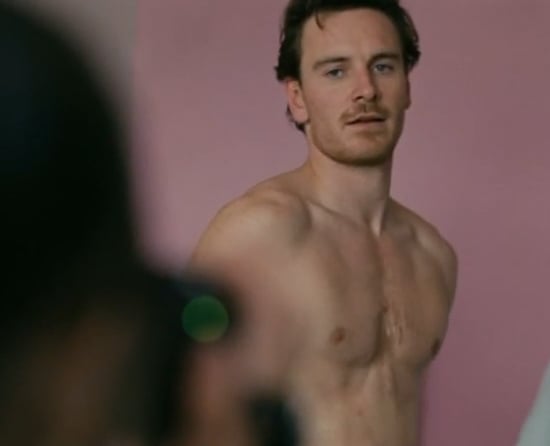 Even though he's done his fair share of sex scenes — between Fish Tank, A Dangerous Method, and Shame — Michael has admitted that sex scenes are awkward [31] and that he tries not to "get a free feel."
He's Devoted to His Craft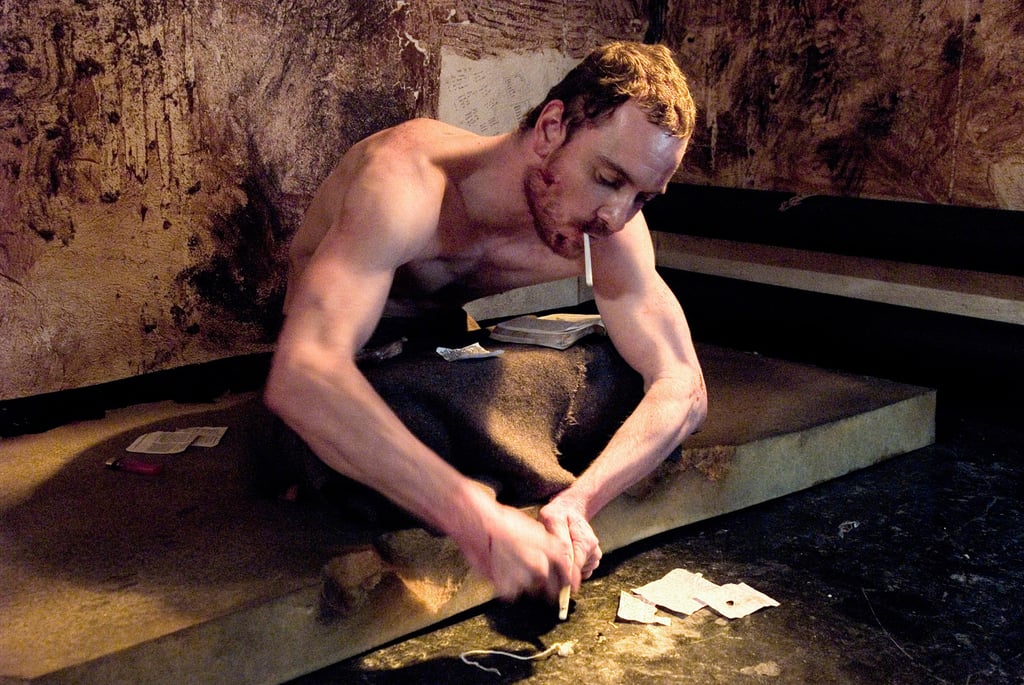 In order to play Irish hunger striker Bobby Sands in Hunger, Michael lost more than 30 pounds in 10 weeks! And to understand sex addict Brandon in Shame, he talked with real sex addicts about their lives as well as reading the script multiple times a day, every day, for the weeks leading up to the first day of filming.
He's a GQ Man of the Year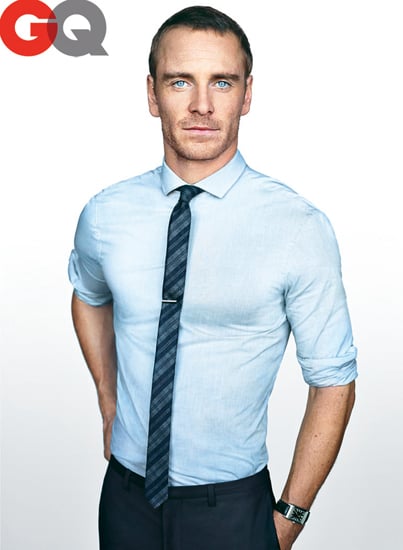 Michael was the breakout star in GQ's 2011 Men of the Year [32] rankings. And in 2012 he earned the actor of the year award at the GQ Men of the Year Awards. Um, can you say baby blues?
He's a Good Sport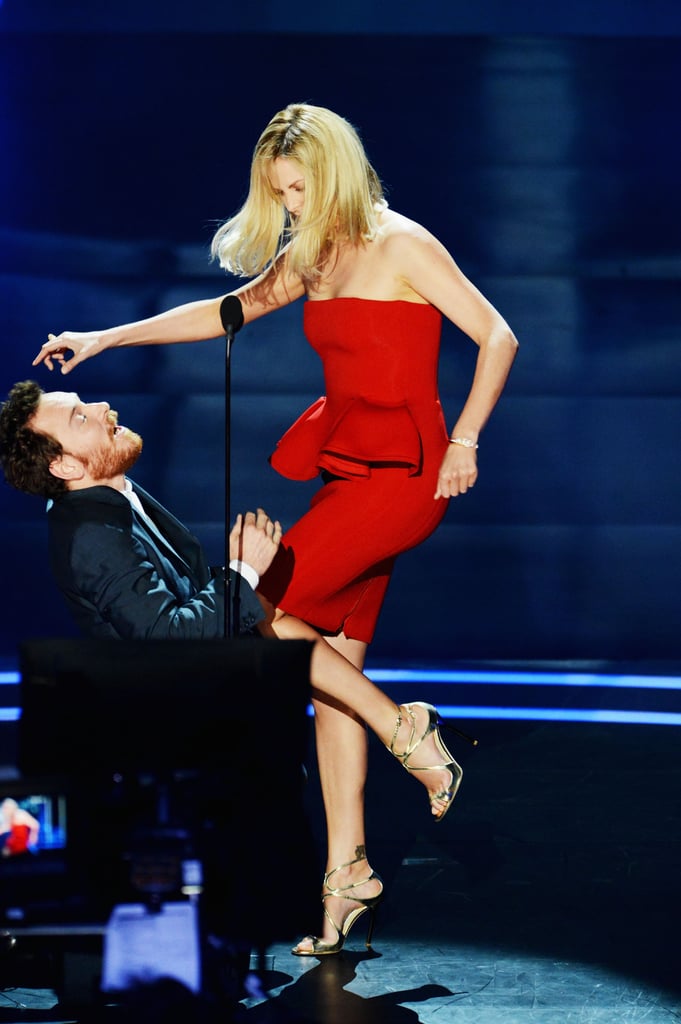 Not only did he let his Prometheus costar Charlize Theron [33] give him a beat-down on the stage of the 2012 MTV Movie Awards, he's got a great attitude when it comes to all the attention his member has received since Shame. He told GQ [34]:
"It's fun to a point, and after a certain point you worry that it kind of detracts from the movie. But there's nothing I can do. I just have to laugh it off. I can. Pretty much. Because I take my work seriously but I can't take myself too seriously. I'm in such a crazy privileged position — sh*t, this is the pinnacle of the dream when I was 17. Nobody wants to hear really how difficult it is."
He Can Pull Off Robots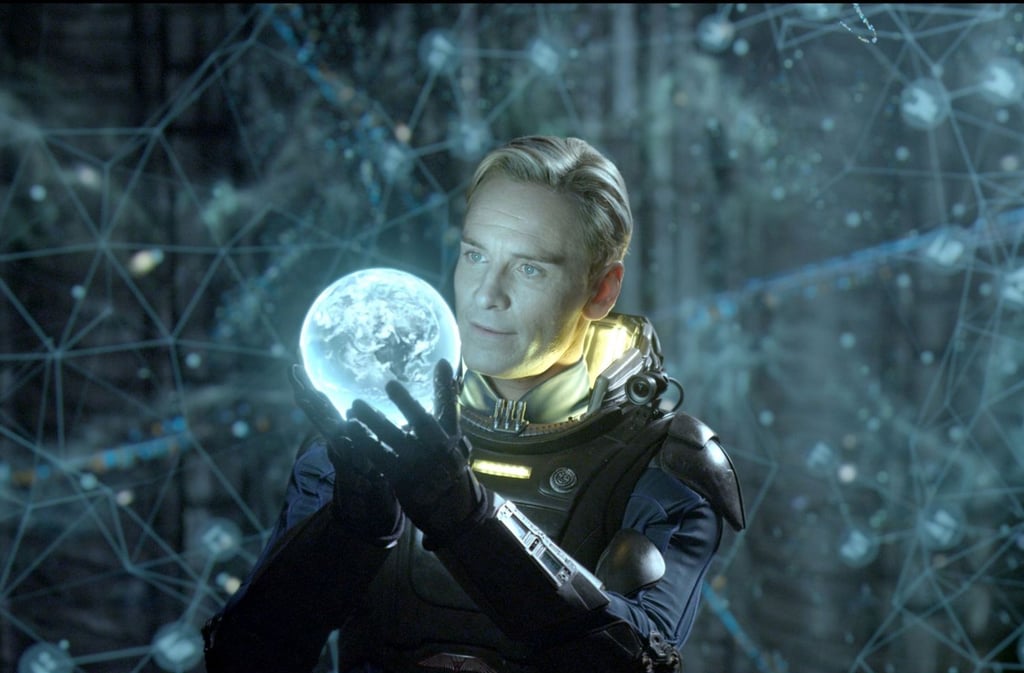 In Prometheus, Michael Fassbender plays a robot [35], proving that he can be sexy even when trying to be creepy. But I think it's high time he started playing sexier roles again, amiright?
He Posed With Oprah and Emma Thompson
Michael Fassbender took a selfie with awesome ladies Oprah and Emma Thompson [36] at the BAFTA Awards. So adorable!
He's Even Hot in a Giant Papier-Maché Head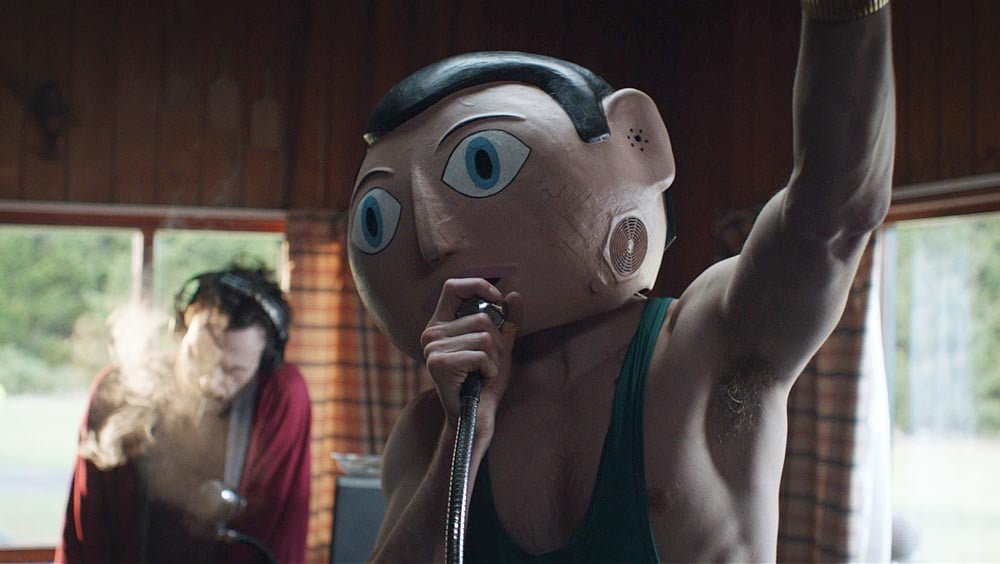 Michael may have a huge fake head throughout the dark comedy Frank [37], but he still manages to make it sexy with those muscles . . .
He's Bromantic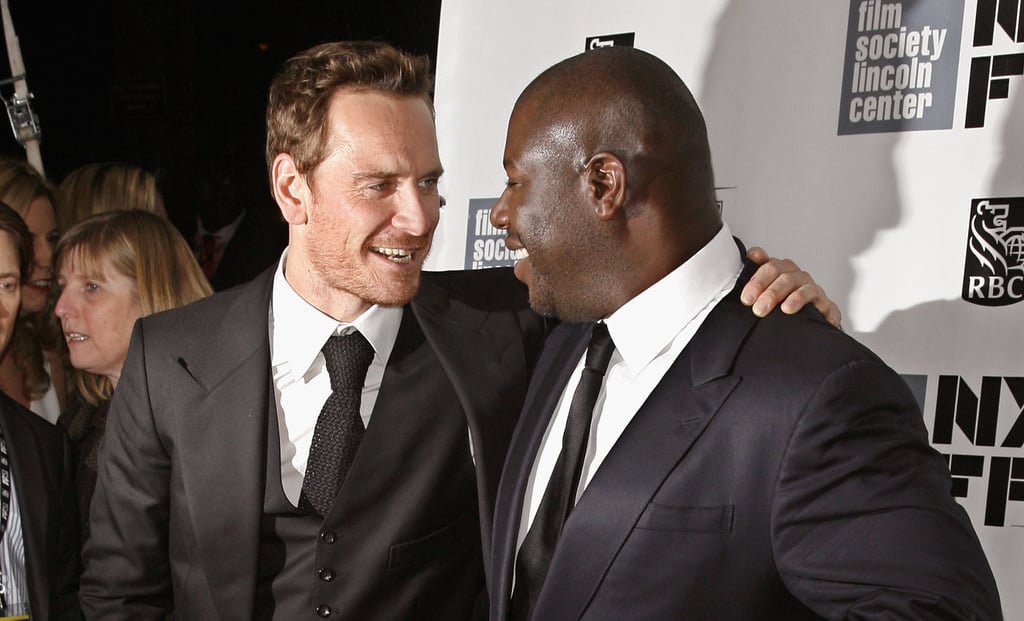 Michael and his Hunger, Shame, and 12 Years a Slave director, Steve McQueen, are constantly singing each other's praises (clearly they love working with each other). Michael hadn't even read the script before signing on to Shame, and Steve told Indiewire [38] that Michael was his ideal choice for the lead, saying, "We love each other."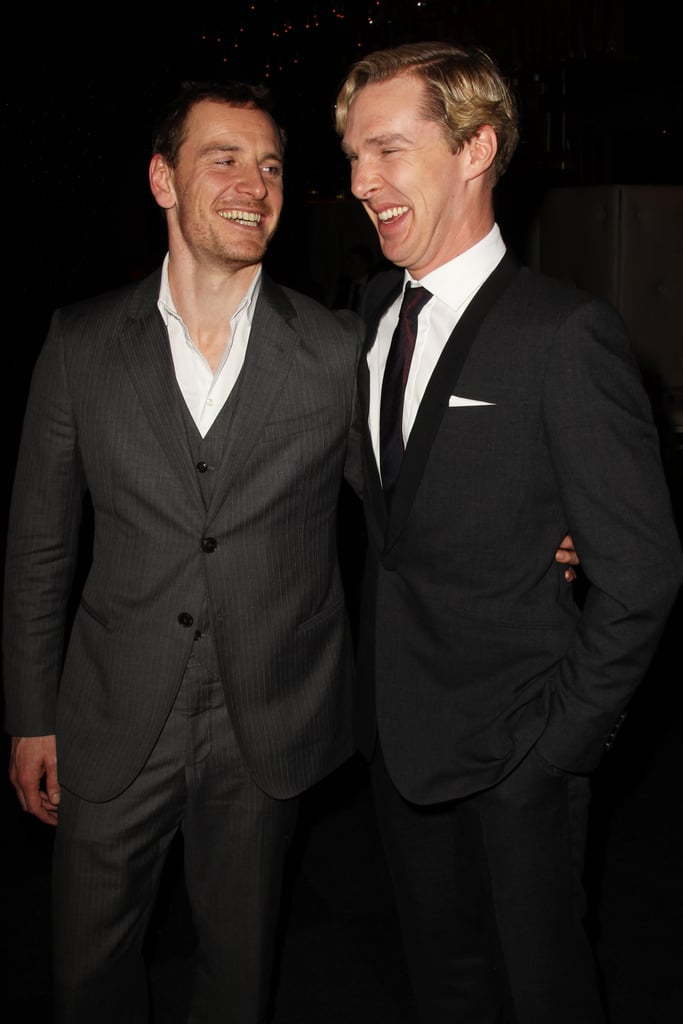 Then there's that awesome time he had a dance-off with Benedict Cumberbatch [39].
That Smile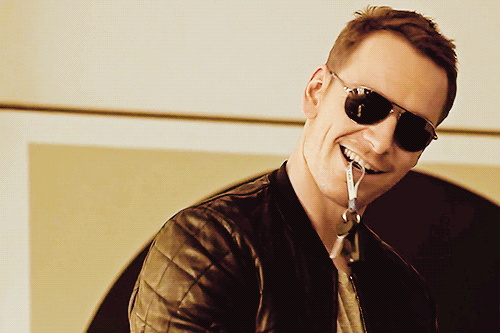 Is there really anything sexier [40]?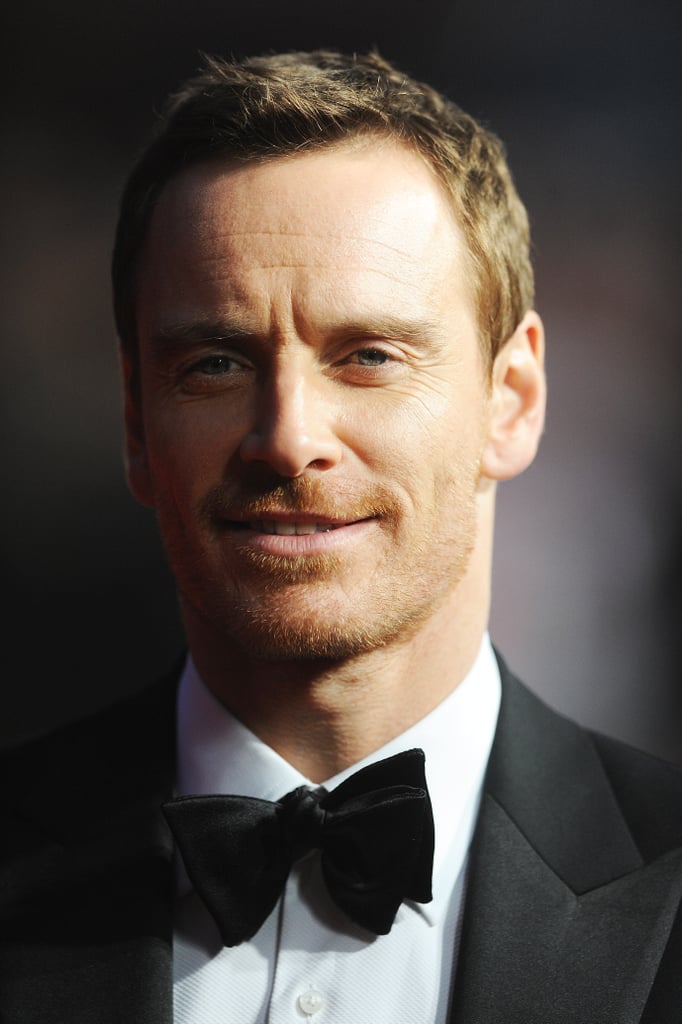 It's unreal.