First dates: we've all had them. Sometimes they are truly horrifying. Sometimes they lead to true love. And sometimes they result in a lasting relationship despite being disastrous. I asked 23 men and women for their most memorable first dates — the good, the bad, and the "I literally ran out the restaurant door" ugly — and they dished out these unforgettable tales of love and awkwardness. Read these best and worst first date stories now, and share yours in the comments!
Source: Shutterstock [1]
Kate's Fateful Pillow Fight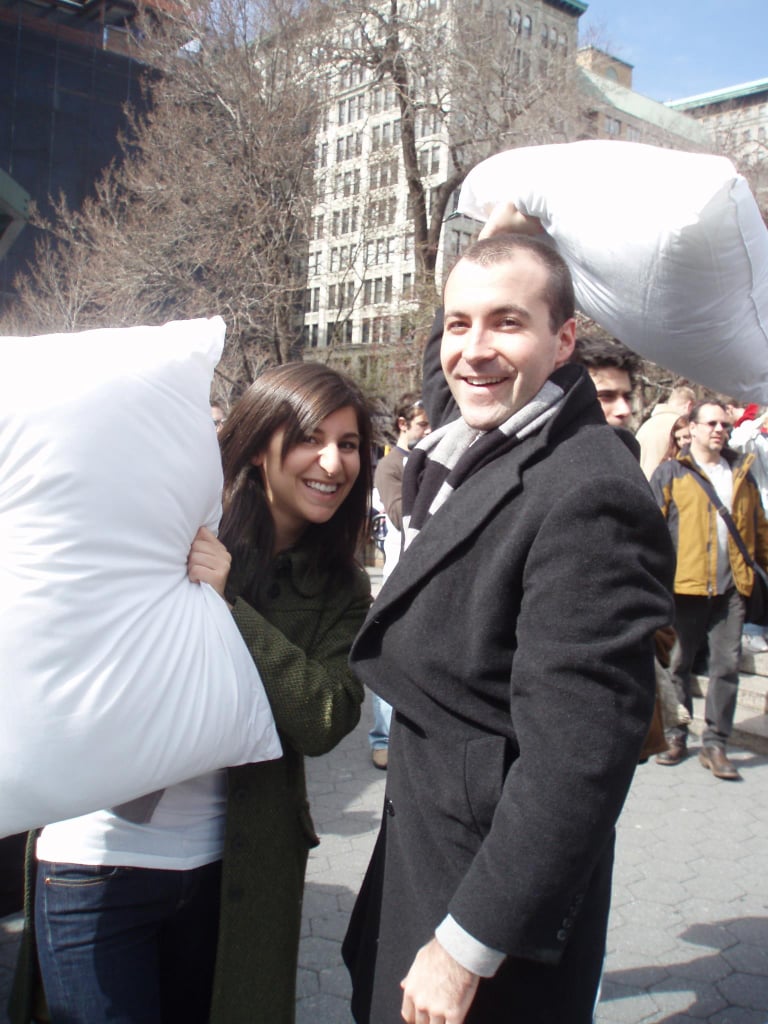 I met my now-husband Matt in 2008 at an Oscar-night watch party hosted by a mutual friend, but it wasn't until a month later that we went on our first date. We met at the Museum of Natural History, where I will never live down the moment I grabbed a paper map and asked where the "You Are Here" sign was (I was nervous, I swear!) and where Matt will never live down that he wouldn't take me to the Butterfly Conservatory because it "costs extra." Then, Matt — in what seemed like an odd and inappropriate gesture at the time — took me to Filene's Basement to buy pillows. Turns out, they were for the International Pillow Fight Day in Union Square. (It still holds the record for the world's largest flash mob to date, with 5,000 New Yorkers pummeling one another with feather downs.) It was a pretty good day. We got married four years later in the Armenian church where I grew up. It's perhaps fated that the traditional Armenian wedding [2] blessing is, "May you grow old on one pillow."
Nancy's Social Media Snafu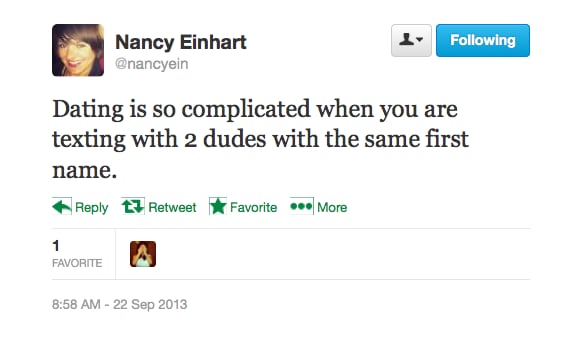 I recently went on a date with a guy who I met on Tinder (let's call him Brent). Days before the date, I composed a tweet that said "dating is so complicated when you're texting 2 dudes with the same first name."
This dude didn't even know my last name so I never expected him to find me on Twitter. But apparently he did. Because after a very boring date — which I made an excuse to abandon after an hour — he texted me asking for another date. I told him I wasn't really interested, and guess what he wrote back? "I guess I am the inferior Brent." Busted.
Laura's Bald Encounter
My now-husband and I met through friends during our junior year of college, and after hanging out with the group a few times, he asked me to go to dinner one night. I remember being really, really nervous and picking out at least five different outfit options with my roommates before putting on a fashion show and finally settling on one. There were all these butterflies, and about an hour before Radley was supposed to come pick me up, he texted me, saying, "Warning: I accidentally buzzed a bald spot in my hair." It was hilarious, and when he picked me up, he was so shy and sweet about the whole thing. I found it pretty adorable, and the giant, four-inch-by-two-inch bald spot on the top of his head totally broke the ice. Four years later, we were married, and we've been together six years now. Oh, and for the record, he hasn't buzzed his hair since.
This photo is from about a week after our first date. Not pictured: the bald spot.
Angelica's Sexist Rendezvous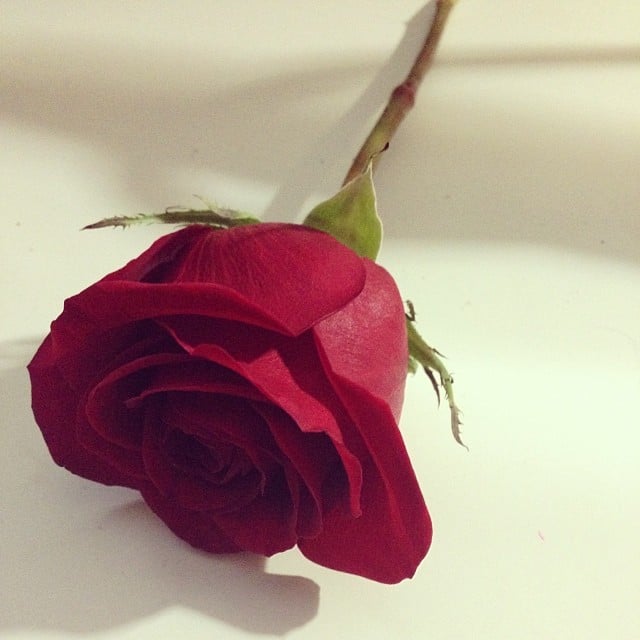 One time, my date showed up for our first date with two wrapped presents. In the likely case that you've never received wrapped presents from a practical stranger, let me tell you: it's a little uncomfortable. The first was a bottle of wine and an opener, which was reasonable and appreciated because the restaurant was BYOB. But, as he opened the bottle he proceeded to tell me he didn't like wine and I'd have to drink it myself. The second package had a red rose tucked in it and revealed an inch-thick, stapled printout of Oprah's online guide to starting a book club "because every woman loves Oprah, right?" Cue long sexist rant about things women like. Every moment that followed felt like an SNL sketch. I guzzled wine while I learned the man's spirit animal is a half lion, half turtle, and someday, when he's in better shape, he's going to get a tattoo across his stomach and chest. He did not receive my final rose.
Source: Instagram user _neyita [3]
Molly's Early Brush With Fame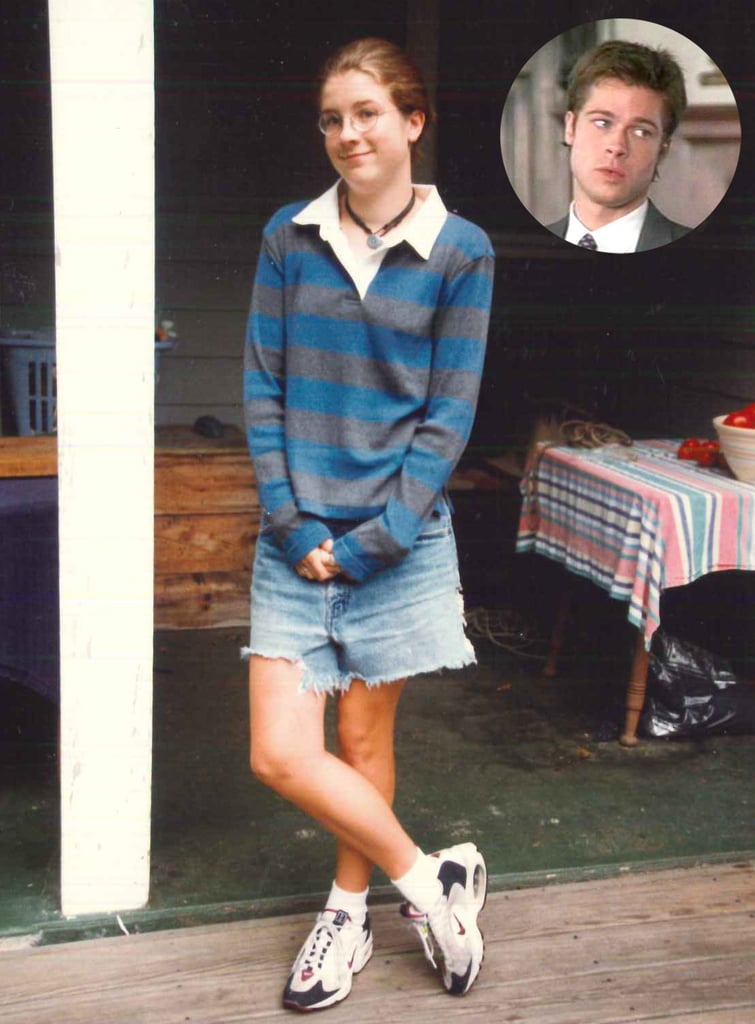 I have Brad Pitt [4] to thank for my first "real" date. I have quotes around the word real because, looking back, he may not have thought of it as a date, but oh was it ever to 13-year-old me. It was the Summer of 1996, and my crush on Brad Pitt was in full swing. One night I was doing what I did the majority of Summer nights: wandering the aisles of Blockbuster with my best friend deciding what movie to rent. As usual, I was loudly weighing the pros and other pros of every Brad Pitt movie. Only this time, a woman came up to me and said, "You have a crush on Brad Pitt? My son, J, is an actor and just made a movie with Brad called Sleepers. They worked together, you should call him!" After grilling this middle-aged stranger for every detail about Brad Pitt she knew (almost none), I took the number home.
Cold calling a boy I didn't know wasn't my style. I was shy and self-conscious. I wasn't the girl that boys wanted anything to do with quite yet. But I had the number of someone who had met Brad Pitt, and nothing was going to stop me. I called, his mom answered, and she passed the phone off to J. After some weird getting-to-know-you pleasantries over the phone, we made a plan to meet at the closest T stop to my house and go see a movie. He wanted to see A Time to Kill since he had also "worked with Sandy" in another movie (of course I immediately rented that movie; I think he had one line).
I brought along my best friend, and J brought along his. I tried to play it cool about the whole Brad Pitt connection, but it was futile. As if you couldn't see this coming, the afternoon was pretty painfully awkward, but I was on cloud nine. I barely cared that he had only met Brad Pitt once or twice, and they didn't share any scenes — I was with a boy in a movie theater when a preview for his own movie came on. He was sitting next to me, and he was on the big screen, and Brad Pitt was there, too.
This did not lead to me accompanying J to the world premiere, where I would meet Brad Pitt and somehow steal him away from Gwyneth Paltrow [5]. In fact, J and I only had a few more stilted phone conversations and never saw each other again. I still have a soft spot for him, though, and have cheered for him from afar through every other role I've seen him in through the years. The next year, I got my first real boyfriend and my love of Brad Pitt became more of an afterthought to real life, but I'll never forget that moment when I was one degree of separation away from my first love, Brad, and there was a nice young man sitting next to me in a movie theater giving me my first date.
Anna's Summer Romance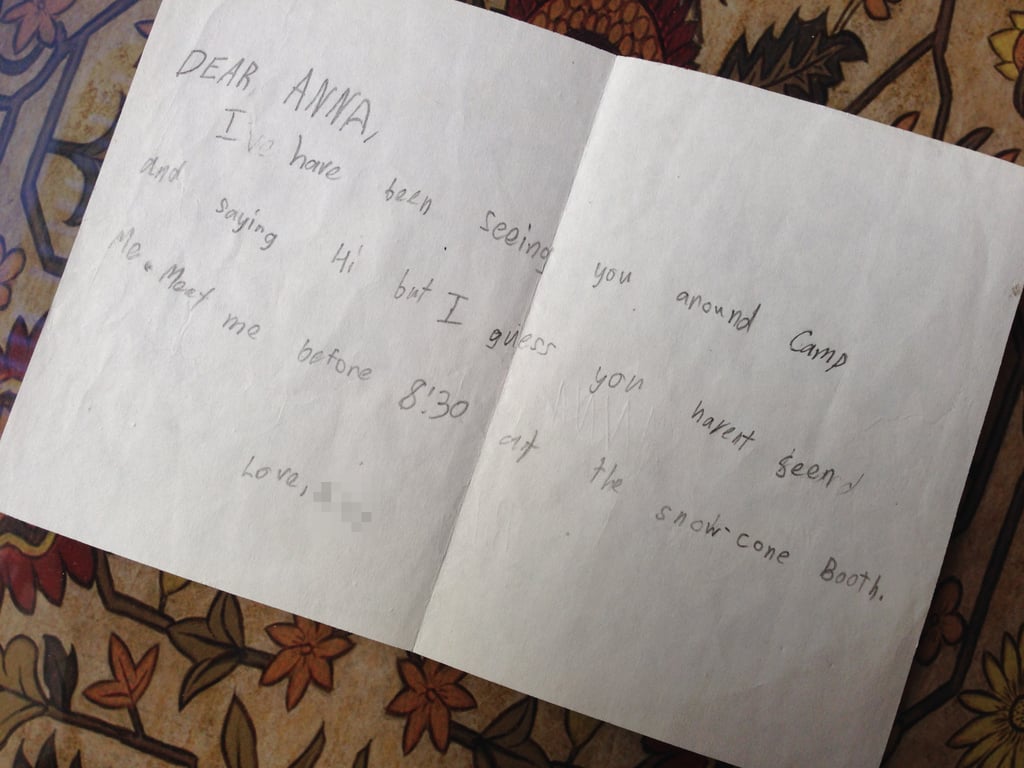 When I was 9 years old, I went to camp for the first time. The big thing was to get asked to the carnival. My crushed asked me via a letter. During our date at the carnival, I was mortified when he asked if I wanted to play this Twizzler-marshmallow game. Each person races to eat their side of the Twizzer to reach the marshmallow in the middle. However, it was basically an excuse to have a Lady and the Tramp-style kiss. I was too embarrassed to play that game, but he took it as I wasn't interested. (Yeah, even at 9!) We parted ways, but I thought about him all year — until the following Summer. Sadly, the next year, he asked one of my friends to go to the carnival. Woe is first love!
Mandy's Check Conundrum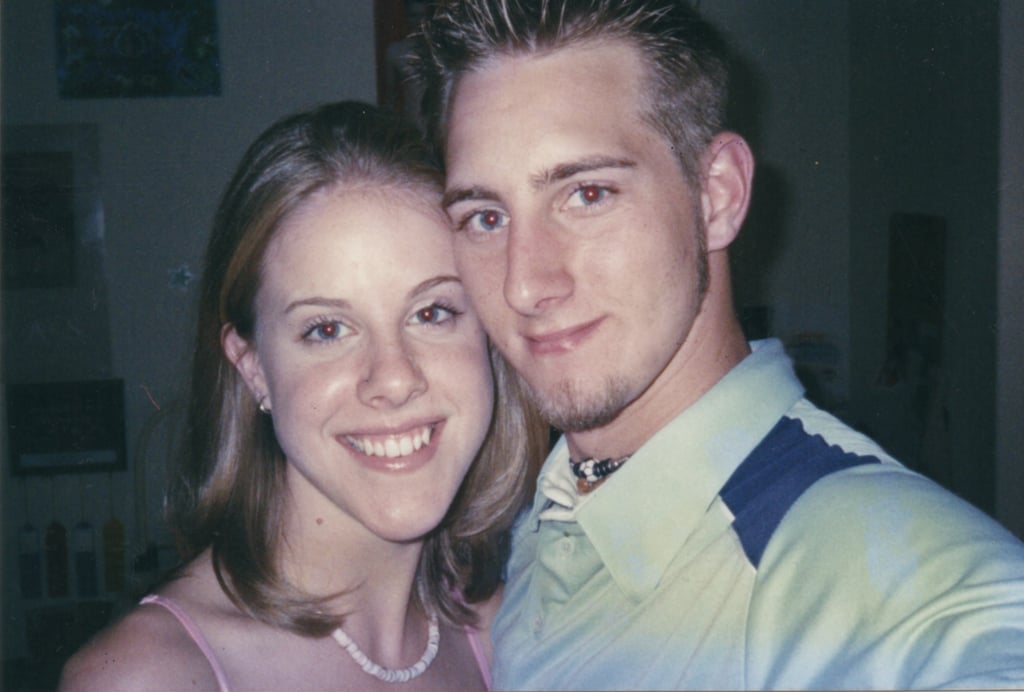 My now-husband and I have been together since we were 16, so the beginning of our dating life was a little unorthodox. Remember, when you're 16, "dating" doesn't always mean "going out on dates together." So we technically "dated" for a while (i.e., hung out at each other's houses, made our coupledom known around campus) before we actually had our first night out together as a twosome. Finally, on our first Valentine's Day together, we headed out to a local Mexican restaurant. I was nervous, it was fun, and we felt very adult and romantic. Until the time came to pay the bill, and we both stared at each other in a panic — neither of us had thought to actually bring our wallets.
We called my dad, he arrived with cash in hand and saved the day, and our date was semi-salvaged, although we were both humiliated. First date: somewhat disastrous. The 15 years since then: pretty damn good.
Maria's OKCupid Date Disaster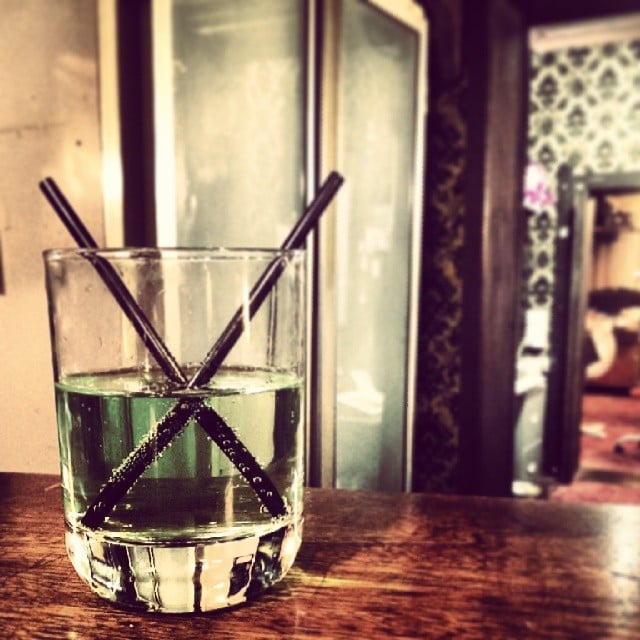 My first OKCupid date is probably to this day the worst date I've ever been on. I had the guy meet me two doors down from the bar I was working at in case it went terribly/he was a total freak. He showed up to the moderately nice restaurant in a t-shirt and baggy jean shorts, was about three inches shorter than his profile claimed he was, and didn't make eye contact with me the entire time, choosing instead to play with the candle on our table. To make matters worse, there was an issue with our food, and mine came out 20 minutes before his did. The whole date was so awkward and awful that I literally jumped into a cab to get away from him at the end of the night, had it drive me around the block, and then went to the bar to drink away the anguish with my co-workers.
Source: Instagram user christinaar302 [6]
Janice's Turnaround Date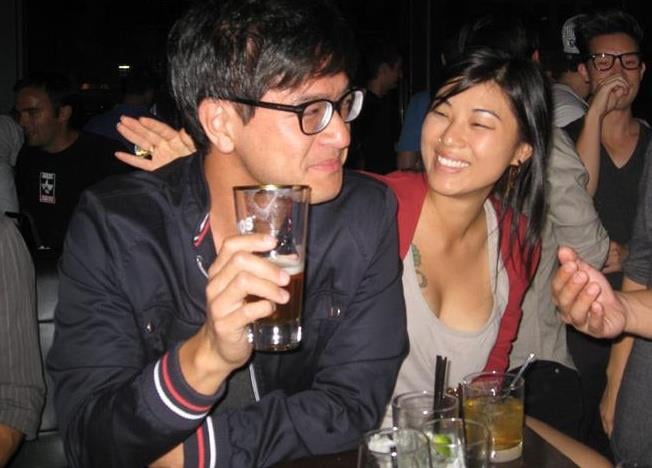 I was newly single on our first date. I picked the dinner and the after plan in case it went terribly. Within two minutes of sitting down together, he told me about his daughter. While it made the first 20 minutes of the night rather awkward, I grew more and more open to the idea. I thought to myself, I love kids, he's honest, why not? After dinner, I planned to go to a club within walking distance, where my friends would be, so they could either meet him or I could ditch him if I wasn't having fun. Needless to say, by the end of the night we were holding hands and inseparable.
We moved in with one another two months later (which is the first man I've ever wanted to live with in my then-30 years), and we are now happily ever married. One of the things I fell in love with are his dance moves and how amazing of a father he is. Two of the things he sprung on me on our first date.
Maggie's Sex and the City Moment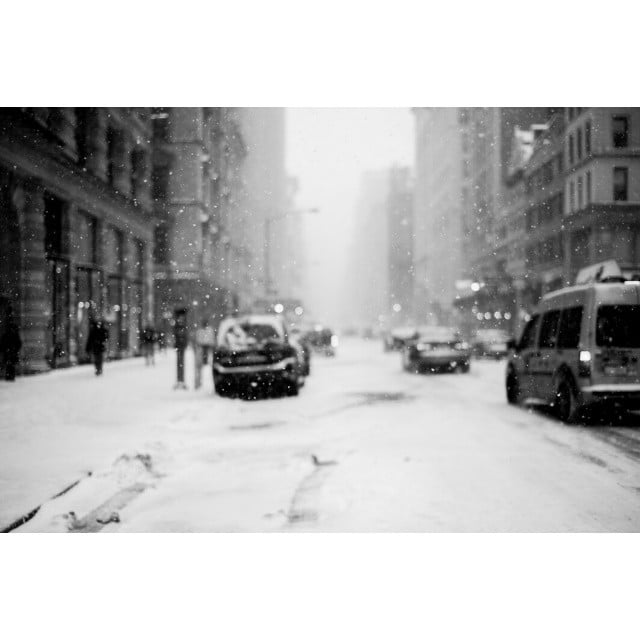 I should preface this by saying we eventually broke up, but I'll always remember my first date with my ex. We were hanging out with a bunch of mutual friends and he kept staring at me, so I asked him why. He hesitated, then confessed, "I'm staring at you because I think you're pretty." No one had ever been that up-front with me before, and I was totally done in. We split off from the group and went to dinner alone. It was two weeks before Valentine's Day, and the restaurant was decked out in holiday decorations. It was awkward and perfect at once, and by the time we left the restaurant, it had begun to snow. He literally dipped me and kissed me on a snowy New York street corner. It was probably the closest to Sex and the City I've ever been.
Source: Instagram user dashadare [7]
Nancy's Last-Minute Prom Date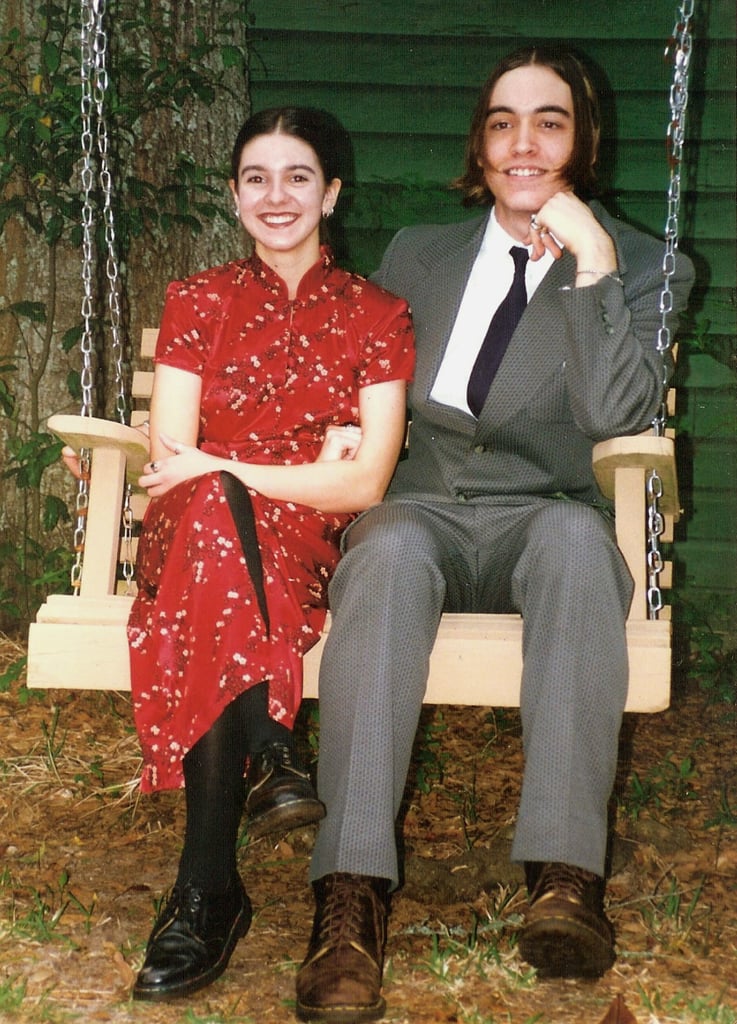 My best first date was the first date I went on with my high school boyfriend. We went to different schools and had only met once or twice. But when I decided to go to the prom with only one day's notice, I called him the day of the event to see if he wanted to go with me. I hardly knew him, but he said yes. The prom itself was pretty lame, so we spent most of the night talking outside then left on the early side and went to a 24-hour diner to drink coffee. It was a pretty awesome first date, especially since it was the start of a two-year relationship.
Krista's Office Birthday Love Connection
I was in NYC on a work trip during my 23rd birthday and didn't know a single person in town. One of my New York-based colleagues who I did not really know very well organized a birthday party for me with several of the people from the office. Turns out he had a secret crush on me, and he's now my husband of almost 10 years!
Stephanie's Foodie Romance
The best first date I went on is with my current boyfriend. He invited me over to his place and cooked up some delicious eggplant parmesan! I had mentioned in passing that I don't eat a lot of meat, so he chose the perfect dish. I ended up helping him cook, making the experience a fun team effort. He still cooks for me on occasion, but he definitely won extra points for planning that for our first date.
Hedy's Cheesy Pickup Line For the Win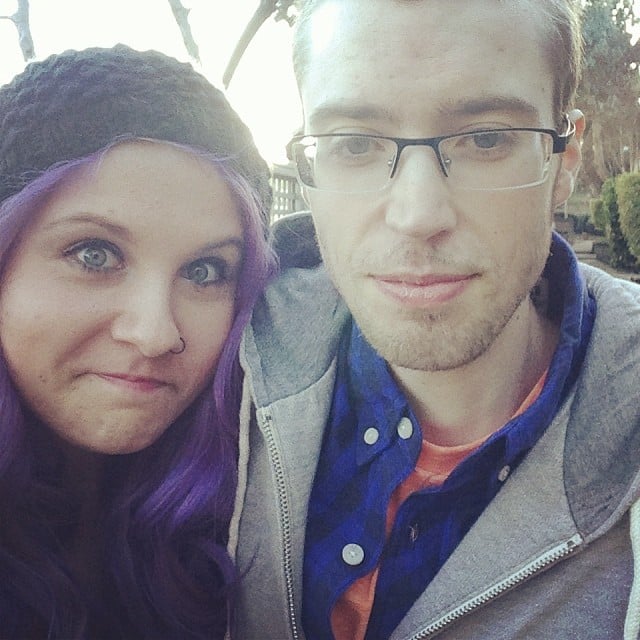 Mike and I met at a grocery store for our first date so that we could get food to make dinner together. We walked around the store, and I don't think he ever stopped talking. (I later learned that this is how he always is.) We couldn't settle on anything to have for dinner, so we just got ice cream. But then when we were waiting in line to check out, he said to me, "Someone once told me that if two people have the same color eyes, they're a match made in heaven." I, of course, asked him what color my eyes were, and he said, "Same color as mine — I guess we're a match!" It was almost three years ago that I fell for that cheesy line, and now we're engaged!
Grace's OKCupid Switcheroo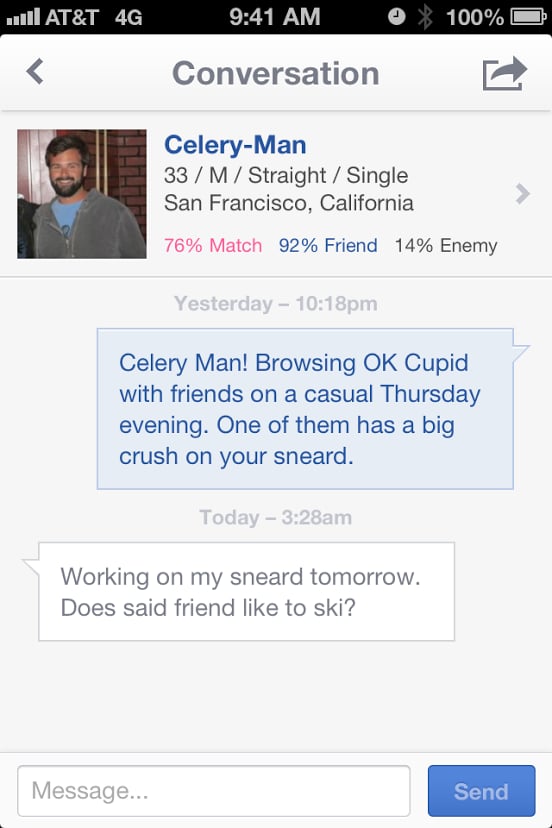 I was at a girlfriend's house helping her shop for new OKCupid boyfriends when a handsome, bearded profile pic caught my eye. His profile was hilarious and intelligent, and I could tell he was taking the whole thing much less seriously than all the guys posting shirtless [8] mirror selfies. His photos included one of him doing a wedding [9] dance floor split and another with a beard full of snow captioned, "Sneard." Since I didn't have a dating profile of my own, my girlfriend ended up sending him a message on my behalf, mostly to be silly. He responded to her out of curiosity and eventually she slipped him my gmail address. We exchanged a few emails, then met on a blind date. (My first and hopefully last.)
The restaurant was awful and in a part of town that we both loathe, plus it felt like an informational interview since we knew nothing about each other. He was jaded from the online dating world, recovering from a recent catfishing incident, and I was scared of being murdered by an Internet stranger. His beef slider tasted like fish. Did I mention he was late? It's the stuff romance novels are made of. Despite the circumstances, something really clicked, and it wasn't long before we were absolutely smitten with each other. We've been inseparable since our second date and are in the process of moving into our first apartment. That first date was awkward, weird, and a bit scary, but was by far the best first date I've ever had.
Lisette's Theme Park of Horrors
I was in high school and had met a guy briefly before we decided to go to Magic Mountain for our first date. Worst. Idea. Ever. He was superloud and obnoxious and yelled at the ride workers when his seat belt was too tight. Lucky me had to spend the entire day with him. Obviously we couldn't go to a bar or anything, but I should've stuck to ice cream or something that offered an easy exit for a date gone bad. Lesson learned.
UPDATE: Lisette just spotted her not-so-magical date on the The Millionaire Matchmaker as yes, the millionaire.
Source: Instagram user naadja_b [10]
Tara's Midnight-Showing Surprise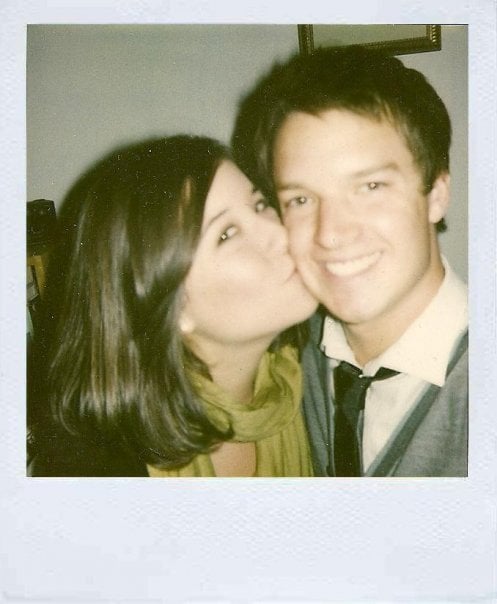 So Ryker and I met in college but didn't really like each other. Full disclosure: I was seeing one of his best friends at the time. Soon after that guy ended things at graduation, one of our mutual friends invited us along with a group to a midnight showing of Pirates of the Caribbean: At World's End where we surprisingly hit it off. In fact, once we sat down next to each other at the movie, our friend leaned over to him and said, "you guys are definitely getting together." She would later share that story during her bridesmaid speech at our wedding [11]!
This photo is from our first "official" date as a couple several months later.
Matt's Coming-Out Miscommunication
Erika and I had been very close all through college; at one point she dated one of my best friends. After they broke up, it became clear to me that she had become interested in being more than just friends with me. And considering I was struggling with coming out of the closet at the time, I thought this was my one last chance of trying to make it work with a girl. I even brought her home to my family in hopes that they would find something wrong with her. Of course they loved her, and it freaked me out. I didn't do anything to pursue it — I was still pretending that she and I were just friends. But a few short months after that, I realized I had to end this. I had already come out to some other people, so I needed to come out to her, too. So we go to dinner and literally at the same time we say, "I have something to tell you." Then she goes, "You go first." And I say, "I'm gay." And she cries, but like happy cries, and she says she's so happy for me. But when I ask her what she was going to tell me, she says it wasn't a big deal.
I found out that she had been planning on giving me a letter confessing her love for me, and years later she gave me the letter at Christmas. But it ended happily; I was at her wedding [12] when she married an amazing man, and we're still friends.
John's Hairy Situation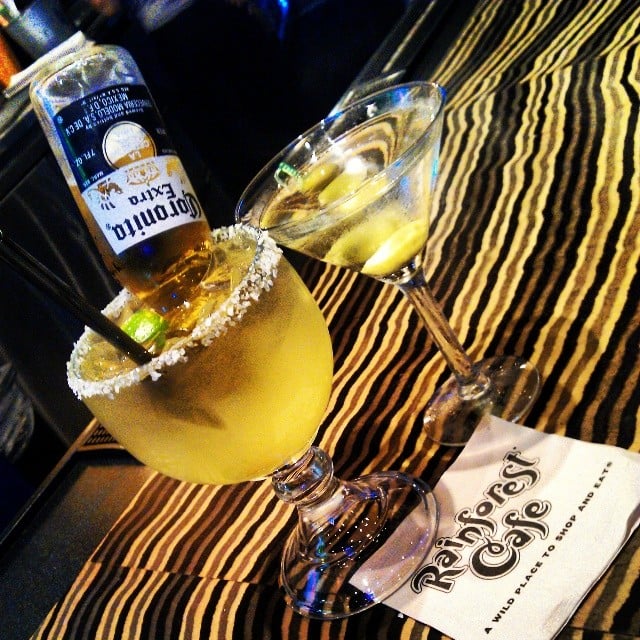 One of my most memorable dates was in high school. I went on a double date with a girl Kristen, and we set up my friend Keith with her friend Karen. Dinner was at the Rainforest Cafe, and the girls ordered salads. Karen was trying a new salad and ate about half of it until she realized it wasn't exactly to her liking. We asked if she wanted something else or part of our meals. She said, "No, that's OK, I've done this before, I'll have it taken off the menu." Karen proceeds to pick up a large forkful of salad, plucks a long hair off the top of her head, and wraps it around the salad on her fork. "Waiter, waiter, there is hair in my salad!" Karen yelled across the restaurant. Not only did they take her meal off the check, but we didn't pay for any of our meals that night. Now it may sound like Karen was the crazy one, but two weeks later I ended up dating Karen and not her friend, Kristen, my original date for the evening. 
Source: Instagram user 22ness [13]
Heather Finds Out That Love Is Blind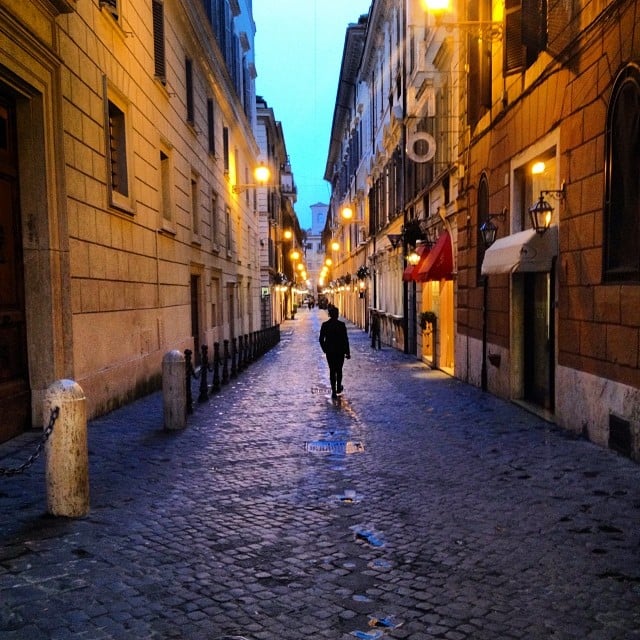 I spent the Summer going into my senior year of college studying in Rome. Abroad with my best girlfriend, we spent the days in museums and the nights in bars. On our second night out, we got picked up by a cute pack of Italian boys. We paired off, and I spent the night using my broken Italian and figuring out his fractured English. After a few fun nights out, I decided he was more trouble than he was worth, so Stefano and I "broke up."
My BFF still continued to see her guy, and at the end of our time in Rome, he offered to drive us to the airport. Awkward, my "ex" was in the backseat to accompany us to the airport. (This took place when you could still wait at the terminal with loved ones at the airport.) We all waited for our flight, looking at magazines and books in the terminal gift shop. Sarah and I were on one side of the shop, Stefano and Daniele on the other side. This is when I noticed that Stefano was holding a magazine up VERY close to his face sort of examining/reading? I turned to Sarah and said, "Don't you think it's a little strange how close Stefano is holding that magazine?" My question was received with uncontrollable laughter, like I was not in on the joke. "Heather, soo, yeah — Stefano, is blind. Not like blind blind, but like can't see out of his left eye and can only make shapes out in his right eye." Yeah . . . so the blind guy wanted to date me.
Source: Instagram user loserishhh [14]
Lisa's Vacation-Turned-First-Date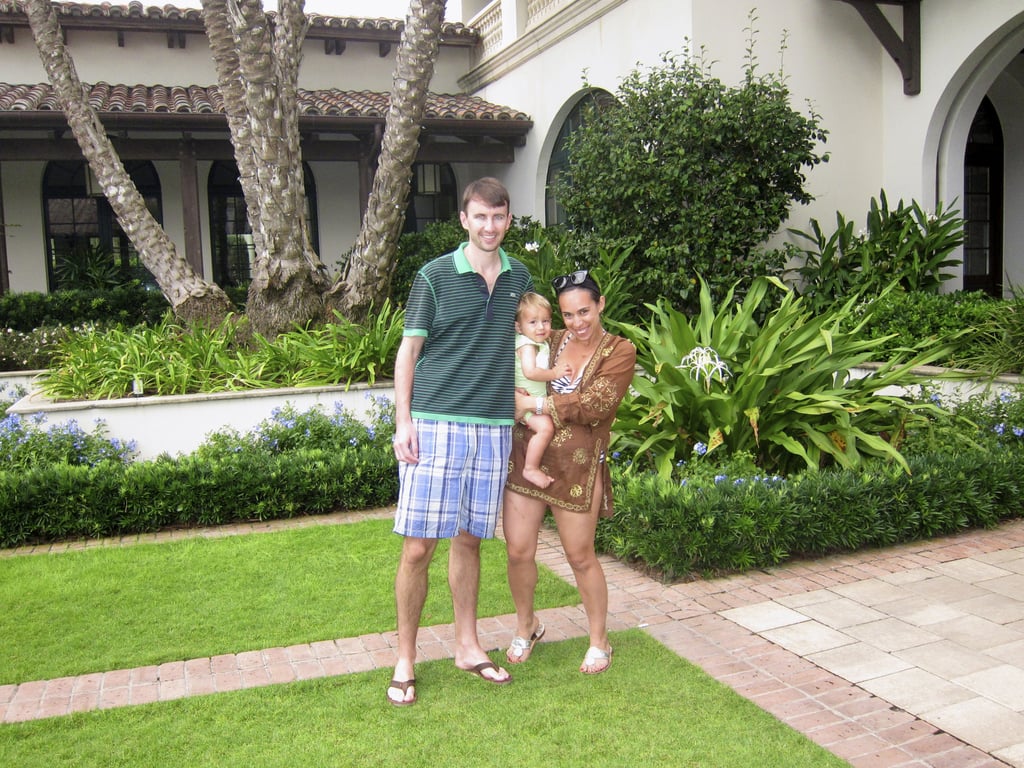 John and I had been casually seeing each other during our senior year in college at the University of Richmond, but thanks to a big group of mutual friends, our time together was rarely of the "serious date" variety. The week before graduation, John invited a group of our friends to his family's beach house on the coast of south Georgia. For one reason or another, everyone else bailed but not me! What could have been an awkward disaster of a getaway ended up being one of the most memorable and fun weeks either of us had ever had (and that's including two nine-hour road trips there and back!).
Here we are nine years later — back at the "scene of the crime" (plus one)!
Charlie's Little White Lie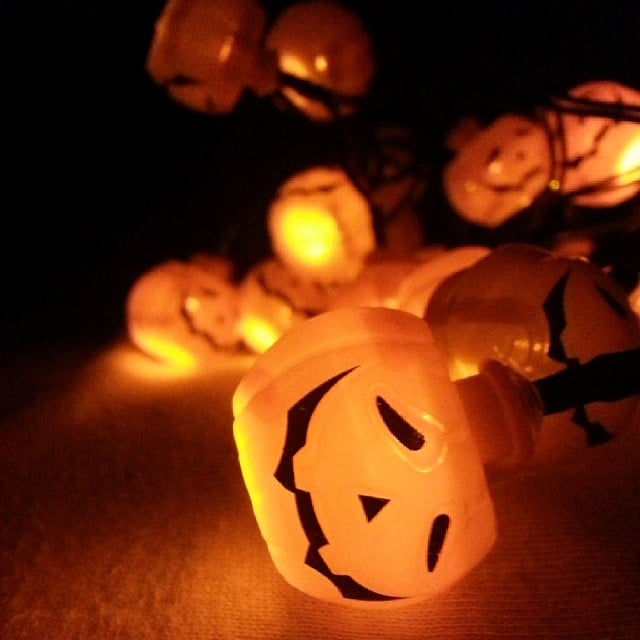 So I met this guy on Halloween [15]. I don't remember what he was dressed as, but I was in a full '70s-inspired ski suit, like something Farrah Fawcett would have worn if she was on the slopes. After a few drinks I agreed to a date with him. I don't know how to say, "No, I'm not interested." He was a very nice guy, very, very nice guy. Supersweet. I just wasn't ready for any sort of commitment. So then he called me the next morning and was like, "Can't wait to see you." We were texting, making plans for the date all day, and then I was just thinking I can't do this. But instead of saying I can't make it, I said my aunt died and that I had to fly home to Kentucky. He was very caught off guard.
A couple years later we reconnected on Facebook — I don't know why — and I agreed to meet him for a drink. And he said, you know when you said your aunt died I didn't believe you and thought you were trying to get out of the date. And I was like, "No, she did die. It was horrible." I just pray to god that nothing will happen to my real aunt thanks to my lie.
Source: Instagram user kerenlin [16]
Katie Learns Some Tinder Dating Lessons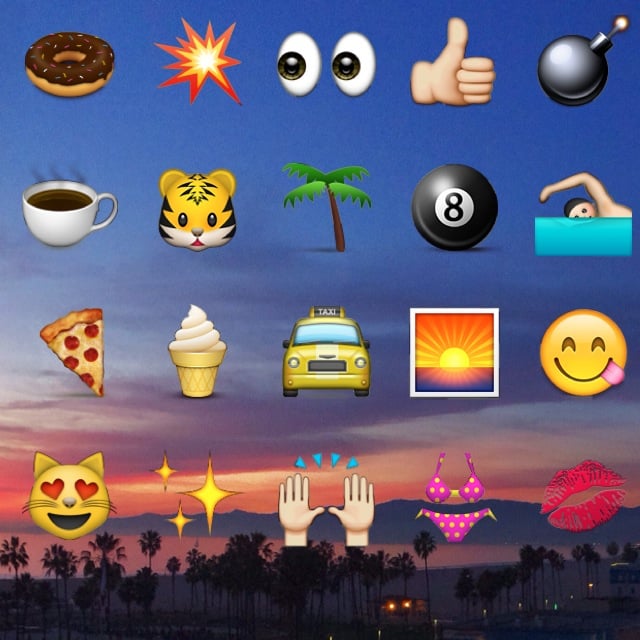 If you're single and own an iPhone, you've likely downloaded Tinder — who hasn't? Is it for everyone? No. Was it for me? Nope, but there was one exception. From the start, I was inundated with messages that ranged from extremely cheesy to overtly obnoxious. So, when I noticed a simple, "Hi, Katie!" it was refreshing. Debating over the perfect reply I responded with, "Hi!"
Adorable texts were traded back and forth for a few months. Yes, months. I would occasionally tell friends about the "Tinder guy" and they would all reply, "Wait you still haven't gone out?" Me: "Ummmm . . . no." After two months, a close friend got wind of "Tinder guy" and pulled me aside to set me straight. His advice: be aggressive. Me, aggressive?! Fine, what do I have to lose? Guess what: it worked. We set a date.
But now there's a problem: after three months of texting, what do we talk about on our first date? We'd already covered the basics: work, family, and Miley Cyrus [17]. Cut to the day of the date. We decide to meet up for drinks . . . at his house. Editorial note: don't do this. In hindsight I realize the entire scenario screams murder. What in the world would we talk about in person, face-to-face? Duh, Katie, the same things you text about. I was really overthinking it. Conclusion: it was the easiest date ever. If you've already exchanged emojis with someone, sharing a bottle of wine should be a breeze. Or you could just make out for a few hours and avoid talking . . . that happened, too.