Pics of the Day!
Like us on Facebook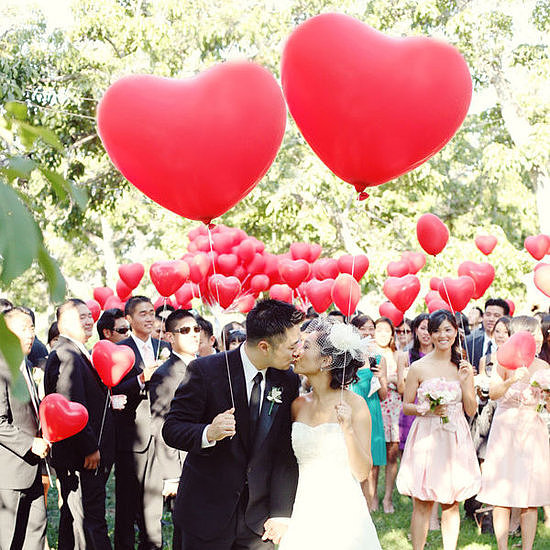 View as One Page

Pics of the Day!
Heart Felt
Whether you're a bride-to-be, bridesmaids, or guest, check out our ultimate wedding guide to catch up on all the I do content you need to know this wedding season!
Bicycle Made For Two
Newlyweds from South Korea rode a tandem bike through Prague's Old Town Square.
Gothic Princess
A woman in vampire makeup attended the traditional park picnic on the first day of the annual Wave-Gotik Treffen or Wave and Goth Festival in Leipzig, Germany.
Barbie Girl
Protesters demonstrated against materialism and female stereotypes outside the Barbie Dreamhouse Experience — a life-sized Barbie house — in Berlin, Germany.
Bottle Shock
Donning traditional attire, a woman broke a glass bottle against the front of a replica of the "Prince Vladimir" combat boat from the IX-XI century. Ukrainian and Russian historians spent a decade researching the specifics to re-create the historical vessel.
Painted Lady
Sitting atop a horse, a traditionally dressed Japanese woman took part in the procession of the Aoi Festival at the Imperial Palace in Kyoto, Japan.
Purple Haze
Hand-balancer Danik Abishev performed his part of the LIMBO circus show, a part of the London Wonderground festival.
Seeing Red
Prince Harry posed for a photograph with a red-headed family during his visit to Mantoloking, one of the areas affected by Superstorm Sandy.
Harry Hunter
Fox traffic reporter and producer Kacie McDonnell held up a sign that read "When Harry Met Kacie" during Prince Harry's visit to Mantoloking, one of the areas in New Jersey affected by Superstorm Sandy.
Profile Picture
A woman admired artwork on display at the Walk through British Art at Tate Britain in London.
Red Room
Madame Lynn whipped a voluntarily submissive woman at a dungeon party during the domination convention, DomConLA, in Los Angeles.
The Blues
Two women took a smoke break at the 50th Hemsby Rock 'n' Roll Weekender in Hemsby, England. The festival celebrates rock 'n' roll, rockabilly, and Americana with fans dressing up in clothing from the 1940s and 1950s to relive the era with live music and dancing.
All Aglow
President Obama delivered a speech about the Affordable Care Act at the White House.
Walk of Honor
Prince Harry participated in a ceremonial wreath laying at the Tomb of the Unknowns during the second day of his visit to the United States at Arlington National Cemetery.
Hearts of Gold
Prince Harry stood with First Lady Michelle Obama during an event honoring military families at the White House. Harry is on tour in the US taking part in charitable events, specifically those that support injured service personnel.
Bottle Head
Glass shapes were displayed at the Collect art fair at Saatchi Gallery in London.
Megawatt Smile
Michelle Obama waved to guests at an awards ceremony at the White House. The first lady presented the 2013 National Medal for Museum and Library Service to 10 institutions.
Hail the Monarch
A Monarch butterfly hung from its cocoon during the first day of the "Butterflies and Blooms" exhibit at the Conservatory of Flowers in San Francisco's Golden Gate Park. It features more than 20 species of North American butterflies.
Bright Idea
A woman snapped a pic of a light-bulb themed art installation in Beijing, China.
Lost and Found
Gina DeJesus's missing sign was surrounded by balloons outside her family's home in Cleveland, OH. Gina was one of three missing women who were kidnapped and held captive for more than a decade and managed to escape.
Who's That Queen
Donning white fur and a glittering crown, Queen Elizabeth II arrived at the state opening of Parliament at the Houses of Parliament in London.
Crowning Glory
An Indonesian woman donned an ornate traditional costume during the 2013 Arabian Travel Market exhibit in Dubai.
Snapped
A woman took a photo of an elderly woman in a poppy field at Showa Memorial Park in Tokyo, Japan.
Cold Open
People sprayed water on a woman in the Ukrainian city of Lviv to celebrate "Clean Monday" aka "Wet Monday," a Christian tradition that takes place the day after Orthodox Easter.
Mellow Yellow
Two women soaked up the sun during a heat wave in central London.
Mission of Love
A Dutch soldier gave a farewell kiss before departing to Afghanistan from the airport in Eindhoven.
Little Flippers
Little girls wore inflatable dolphins during the Stilton Village Festival cheese rolling competition in Stilton, England.
Bikini Mob
Bikini-clad women took part in the sixth Mass Bikini celebration at the Chimelong Water Park in the Guangdong Province of China.
Cap and Gown
Students listened during President Barack Obama's commencement address to the graduating class of The Ohio State University in Columbus, Ohio.
Step Up
A girl danced in traditional Mexican attire during a Cinco de Mayo parade in Denver, CO.
Tiny Star
Betty, a Teacup Chihuahua, showed off her Princess Leia costume during Sci-Fi London.
I Thee Mud
A couple dressed as a bride and groom took part in the Maldon Mud Race in Maldon, Essex, a tradition that began in 1973.
Birds of a Feather
People relaxed in deck chairs on Brighton Beach in Southern England during a warm spell.
Hurt So Good
A woman made a face as she got tattooed during the 14th International Tattoo Expo Roma in Rome, Italy.
Heart to Heart
Vice President Joe Biden comforted family members of American Foreign Service Association members who died while serving overseas during a ceremony at the US State Department.
Two Sides
A Turkish woman traveled on a ferry between Karakoy and Uskudar in Istanbul.
Iron Woman
Princess Victoria of Sweden held up a hammer as she opened Victoriahuset at Lacko castle in Lidkoping, Sweden.
Deep Dive
Rebecca Welke of Australia dove into the water to start the Women's 50 metre breaststroke during day seven of the Australian Swimming Championships.
Derby Style
A woman wore a derby hat during the morning training for the 2013 Kentucky Derby at Churchill Downs in Louisville.
Dutch Babies
Princesses Catharina-Amalia, Ariane, and Alexia looked adorable waving with their newly crowned parents, King Willem-Alexander and Queen Maxima of The Netherlands as they left a brunch at the Royal Palace.
Number One
A woman put her hand in the air during the "workers' day concert" to celebrate May Day in Rome's Piazza San Giovanni.
Big Day
Anna and Fran Simon became the first same-sex couple to be issued a civil union license at a midnight ceremony in Denver, CO.
Jet Setter
Artist Princess Tarinan von Anhalt worked on a piece of art using the air flow coming from a jet engine at Signature Flight Support in West Palm Beach, FL.
Twinkle Toes
Women auditioned at Radio City Music Hall for a spot with the Rockettes in New York City.
Queen For a Day
A person dressed up as Queen Beatrix of the Netherlands to celebrate the inauguration of King Willem Alexander of the Netherlands as the queen officially abdicated the throne.
Painting Poetry
A woman wearing a kimono wrote poetry during a traditional festival in Kyoto, Japan.
Honoring Survivors
Bill Clinton and Holocaust survivor Elie Wiesel spoke at the United States Holocaust Memorial Museum's 20th anniversary tribute in Washington DC.
Stiletto Strides
During a high-heel race in Prague, a woman carried a glass of water while the crowd looked on.
Guest of Honor
President Obama enjoyed himself at the White House Correspondents' Dinner.
Wingardium Leviosa
Prince Harry, Kate Middleton, and Prince William held wands on the set used to depict Diagon Alley in the Harry Potter films during the inauguration of Warner Bros. Studios Leavesdenin London.
Red Solo Cup
A group of women attached red solo cups to a string of lights at the Stagecoach Country Music Festival at The Empire Polo Club in Indio, CA.
Bee's Knees
Campaigners dressed as bees gathered on London's Parliament Square to support the EU proposals to suspend the use of bee-killing pesticides.
Watch Me
A woman walked at the booth of Swiss watchmaker Swatch on the opening day of watch fair Baselworld in Basel.
Puppy Love
Prime Minister of Australia Julia Gillard greeted school girls and a puppy at the end of the commemorative service to mark the 98th anniversary of ANZAC (Australia New Zealand Army Corps) Day in Townsville, Australia.
Looking Up
Former first lady Laura Bush looked at the 360-degree LED high-definition video wall inside the Freedom Hall during signing ceremony for the joint use agreement between the National Archive and the George W. Bush Presidential Center on the campus of Southern Methodist University in Dallas, Texas.
Cloudy Skies
A model posed at the launch of the world's first interactive storm at Design Museum in London.
Close Quarters
In protest of Prague's crowded buses, 225 students of the Agriculture University broke the Czech record of the most crowded bus on in Prague-Suchdol, Czech Republic.
Spring Fling
A couple soaked up the Spring sunshine in Royal Victoria Park in Bath, England.
Royal Pet
Kate Middleton pet Henry the class pet during a visit to a primary school in Manchester, England.
Laid Backstreet
The Backstreet Boys celebrated their 20-year career with a star on the Hollywood Walk of Fame.
Moment of Silence
Women held an American flag outside the funeral for 29-year-old Krystle Campbell — one of three people killed in the Boston Marathon bombings — in Medford, Massachusetts. A moment of silence was observed a week from the tragedy at the time of the first explosion.
Field of Dreams
A woman walked through a tulip field in full bloom at the Tanto Tulip Festival in Toyooka, Hyogo, Japan.
Roman Holiday
Women belonging to historical groups danced during a parade to mark the anniversary of the legendary foundation of the eternal city in 753 B.C, in Rome.
Raise Up
A girl watched Modest Mouse perform at the second weekend of Coachella Valley Music & Arts Festival in Indio, CA.
Tulip Time
Women walked past a mural for the Istanbul Tulip Festival in Emirgan Park where 20 million tulips have been planted for the festival.
Baby Face
In New Dehli, an Indian woman held baby dolls — one of which represents Lord Rama — before taking part in a procession for Ram Navami, which marks the birthday of Hindu god Lord Rama.
Happy Harry
Prince Harry shared a joke with blind former soldier Ivan Castro at the launch for Walking with the Wounded South Pole Allied challenge at the Mandarin Oriental Hyde Park in London, England.
A Flutter
A staff member held two butterflies during the opening of the new insects section at the Bioparco in Rome, Italy.
Lock Down
Police monitored a locked down street as a search for the second of two suspects wanted in the Boston Marathon bombing.
April in Paris
A woman walked on a bridge over the river Seine near the Eiffel Tower in Paris.
Tearing Up
President Barack Obama and first lady Michelle Obama attended an interfaith prayer service for victims of the Boston Marathon at the Cathedral of the Holy Cross.
All American
Rwandan immigrant and genocide survivor Immaculee Ilibagiza celebrated after taking the oath of American citizenship at a naturalization ceremony in NYC.
Day of Mourning
Queen Elizabeth II leaves the ceremonial funeral of former British Prime Minister Baroness Thatcher at St Paul's Cathedral in London, England.
Team of Rivals
The outside of Yankee Stadium supported the victims of the Boston Marathon bombings before the game between the Arizona Diamondbacks the New York Yankees.
The Mask
A woman with a painted face celebrated the 65th anniversary of Israel's independence in Tel Aviv, Israel.
Somber Message
"We will find out who did this, and we will hold them accountable," said President Barack Obama at a press conference on the Boston Marathon explosions at the White House. At least two people were killed and 100 wounded when two bombings struck near the finish line of the Boston Marathon.
Beach Ride
Women drove motorbikes along the beach in Recife, Brazil.
Trust Fall
Meagan Duhamel and Eric Radford of Canada performed during day four of the ISU World Team Trophy in Tokyo, Japan.
Girl's Night
Actress and Oscar-nominee Quvenzhane Wallis arrived at the 2013 MTV Movie Awards at Sony Pictures Studios.
Rebel With a Cause
MTV Movie Award host Rebel Wilson performs at the show.
Dark Shadows
Music fans walked hand in hand at the 2013 Coachella Valley Music and Arts Festival in Indio, CA.
Blast From the Past
Fireworks and smoke bombs went off for the official re-opening of the Rijksmuseum in Amsterdam after a 10-year renovation. The museum's historic 19th-century building has been completely refurbished and will feature more than 8,000 works of art and artifacts spanning 800 years of Dutch history.
Catch Me If You Can
A lady tried to stop a Femen protester as she ran to interrupt a press conference by Tunisian President Moncef Marzouki in Paris.
Mirror Mirror
Teepees and palm trees were reflective on the water ahead of the Coachella Music Festival at the Empire Polo Club in Indio, CA.
Star Power
UN envoy Angelina Jolie spoke during a news conference regarding sexual violence against women in conflict at the Foreign Ministers G8 meeting in London.
Biggest Fan
Skier Lindsey Vonn watched as boyfriend Tiger Woods played the first hole during the first round of the 2013 Masters tournament in Augusta, Georgia.
Barack in Blooms
Barack Obama spoke on the budget in Rose Garden of the White House.
Biker Babe
A model rode a bike on the runway at the We Are Handsome show during Mercedes-Benz Fashion Week Australia Spring/Summer 2013/14 in Sydney, Australia.
Concrete Jungle
People soaked up the sun along the East River in lower Manhattan during warm weather in New York City.
Heart and Soul
Justin Timberlake smiled as Michelle Obama spoke during an interactive student workshop at the White House. The first lady hosted middle and high school students from across the country to take part in the workshop called "Soulsville, USA: The History of Memphis Soul."
Stiff Competition
The founder and Chairman of the Virgin Group Sir Richard Branson lifted his kilt to show underwear that reads "stiff competition" at Scotland's Edinburgh Airport before boarding the inaugural Virgin Atlantic Little Red flight.
Tattoo to Remember
A young woman wore a temporary tattoo of prisoner numbers on her arm as part of a Holocaust remembrance campaign in Tel Aviv, Israel. The temporary tattoos replicate the numbers tattooed onto the arms of the prisoners at the Auschwitz-Birkenau camp.
Pardon Me
Former interior minister Yuriy Lutsenko kissed his wife Iryna after President Viktor Yanukovych signed a decree to pardon him and five other prisoners.
Glitter Girl
A supporter of Venezuelan opposition presidential candidate Henrique Capriles Radonski wore glitter on her face during a campaign rally in Caracas.
Duck Face
Security block an attack on Russian President Vladimir Putin by a topless Femen activist during his visit to the industrial exhibition "Hannover Messe" in Hannover, Germany.
Bromance
Cohosts Luke Bryan and Blake Shelton hugged it out after Luke accepted the entertainer of the year award during the 48th Annual Academy of Country Music Awards at the MGM Grand Garden Arena in Las Vegas.
Pillow Fight!
A Mmass public pillow fight took place in London as part of the Urban Playground Movement which facilitates free, public noncommercial events.
In Flex
Indian yoga guru Baba Ramdev, applauded as a yoga student demonstrated different postures during a women's empowerment camp in Kolkata, India.
Skirt the Issue
Kate Middleton talked to a little girl who was pulling up her dress during a visit the Astute-class Submarine Building at BAE Systems in Barrow-in-Furness, United Kingdom.
Bond Girl
Queen Elizabeth II received an honorary BAFTA from actor and director Kenneth Branagh in recognition of a lifetime's support of British film and television — and for being the most "memorable Bond girl yet," thanks to her cameo in the Olympic Opening Ceremony.
Before Sunrise
A woman stood at a beach in the Yalong Bay area of Sanya, on the southern Chinese island of Hainan.
Bare It All
Activists of the women's rights movement Femen raised their fists during a topless protest near Tunisia's Embassy in Paris. The protest is in support of a young Tunisian woman who caused a scandal when she published photos of herself bare-chested on the internet in March.
Trashed
A woman walked past a pile of junk thrown away by people affected by a powerful storm that slammed and flooded La Plata, a city near Buenos Aires, Argentina.
In Focus
A woman walked past blooming cherry blossoms in Himeji, Japan.
Green Thumb
First lady Michelle Obama was busy planting the White House Kitchen Garden on the South Lawn of the White House in Washington DC.
Fun Fans
Prince William and Kate Middleton — known as the Earl and Countess of Strahearn in Scotland — sat in the stands as the 2014 Glasgow Commonwealth Games mascot Clyde ran around the track during their visit to the Emirates Arena in Glasgow, Scotland.
Bouquet Toss
Members of human rights organizations demonstrated outside the court in Guatemala City to support the 10 indigenous women who were victims of sexual violence during the internal armed conflict.
Lone Ranger
A woman wearing a traditional costume rode a horse to entertain the gods during the Mitsuyama Taisai Festival of Itate Hyozu Shrine at front of the Himeji castle in Himeji, Japan. The festival has been held once every 20 years since 1593.
Wind Blown
A model posed on British Airways' new Boeing 777-300ER aircraft in Sydney, Australia.
Wife to Wife
First Lady Michelle Obama spoke at the start of a student workshop with Rachel Robinson, widow of Jackie Robinson, and the cast and crew of the film 42 at the White House.
Peace Out
Yoko Ono attended a World Autism Awareness Day celebration at the Empire State Building.
Yankee Doodles
Yankee fans enjoyed baseball's opening day in New York.
The Wave
Japanese women performed odori, a traditional dance during the Mitsuyama Taisai Festival of Itate Hyozu Shrine.
Good Humor
Women laughed during the Humorina carnival in Odessa, Ukraine. Thousands of people take part in the annual festival of humor, in honor of April Fools' Day, since 1973.
Cold Shower
Young Slovak men dressed in traditional costumes poured a bucket with cold water over a woman as part of Easter celebrations in the village of Trencianska Tepla. The tradition is for Slovakia's men to splash women with water and hit them with a willow to evoke youth, strength, and beauty for the upcoming Spring season.
A-BO-Able
First Lady Michelle Obama smiled big next to a giant egg featuring the first family's dog, Bo, during the annual White House Easter Egg Roll in Washington DC.
Round 'n' Round
Brightly colored spiral staircases adorn shophouses along Bugis Village in Singapore. Southeast Asia is known for these unique buildings, built in the 19th and early 20th century with commercial uses on the ground level and homes on the the higher levels.
Red Rover
A model walked the runway in designs by Korean designer Shin Jang Kyoung from the Korean Designers' Collection show during Mercedes-Benz China Fashion Week in Beijing, China.
Pastel Paradise
Head chocolatier Chika Watanabe decorated a limited addition Easter egg called "Pastel Paradise" in the Melt chocolate shop in London's Notting Hill.
Holy Walk
A woman wearing the traditional Mantilla walked under the Macarena arch during Holy Week in Sevilla on Holy Thursday.
Rose Is a Rose
A woman held a rose after a section of the Berlin Wall — a major tourist attraction known as theEast Side Gallery — was removed to make way for a luxury apartments development despite protests by activists.
Face It
A woman got pink powder on her face during Holi festival celebrations in Siliguri, India.
Heart Felt
A same-sex marriage supporter had her forehead painted with rainbow colors as she took part in a demonstration in front of the Supreme Court in Washington DC. The court is hearing arguments for and against the federal Defense of Marriage Act (DOMA) that prevents gay couples who have married in the states where same-sex marriage is legal from enjoying the same federal rights as heterosexual couples.
Baby Biker
Cycling enthusiast and bicycle designer Dieter Senft rode his self-designed bike complete with a stroller holding Prince William and Kate Middleton's "baby" in Storkow, eastern Germany.
Shrinking Violet
An award-winning "Crocus Vernus" was displayed at the RHS Great London Plant Fair.
Bright Star
A wax figure of Emma Watson was unveiled at Madame Tussauds in London.
My Precious
A sand sculpture of Gollum from Lord of the Rings is a part of this year's Hollywood-themed annual sand sculpture festival in Weston-Super-Mare, England.
Down-Under Disguise
Fans posed as they waited for Ellen DeGeneres to appear on stage during the filming of her television show in Melbourne, Australia.
All American
New citizens took the oath of allegiance during a naturalization ceremony in the East Room of the White House, as the president presided over the ceremony.
Teddy Bear
Prince Charles attended the closing party of Wool House at Somerset House in London.
Egg Head
An apple tree has been decorated with 10,000 Easter eggs in Saalfeld, Germany, by a family who began the tradition in 1965. It's now an attraction that draws thousands of visitors and tourists to the garden of the family.
Sea Monster
A woman stood on a pier under an umbrella during a storm in a Russian Black Sea resort of Sochi.
Madame Butterfly
A woman stood near butterflies in the Sensational Butterflies exhibition at the Natural History Museum in London.
Holi Dance
Transgender Hindu devotees danced in pink powder during Lathmaar Holi celebrations in the village of Barsana, near Mathura, India.
Ice Cold
Giant Jim Beam cans filled the Bondi Icebergs Pool during the filming of a commercial in Sydney, Australia.
Think Pink
An Indian laborer dried colored powder, known as "gulal," to be used during the upcoming Holi celebrations. Holi is a Hindu Spring festival of colors that takes place on March 27 this year.
Tulip of a Kind
Dancers of South Korea's largest amusement park Everland handed out tulip flower pots to pedestrians during a street event in downtown Seoul.
Royal Underground
Prince Philip, Queen Elizabeth II, and Kate Middleton visited the Baker Street Underground Station to mark the 150th anniversary of the London Underground.
Icing on Top
A tree was topped with snow at the Imperial Ancestral Temple following heavy snowfall in Beijing, China.
First Wives Club
First lady Michelle Obama laughed with Irish Prime Minister Enda Kenny's wife, Fionnuala, during a reception in Washington DC.
Girl Time
Kate Middleton spent time with children during her visit to the offices of Child Bereavement UK in Saunderton, Buckinghamshire.
Welcome Party
Israeli children waved flags during a rehearsal for the arrival of President Barack Obama at the president's residence in Jerusalem, Israel.
Pope Pride
Argentinians celebrated at a vigil for Pope Francis outside the Metropolitan Cathedral in Plaza de Mayo in Buenos Aires, Argentina.
Hang Up
A gallery assistant at Bonhams adjusted "Chinese Girl" by Tretchikoff on March 19, 2013 in London. "Chinese Girl" is the most iconic work by Vladimir Tretchikoff and is said to be the most widely reproduced and recognizable picture in the world.
Camera Ready
US President Barack Obama and First Lady Michelle Obama greeted an audience of iPhones at the Women's History Month Reception at the White House.
Fly High
A young Afghan girl swung on swings near The Kart-e-Sakhi shrine in Kabul, Afghanistan.
Bear Kisses
Mama polar bear Cora bonded with her polar bear twin cubs for the first time in public at the Brno Zoo in Brno, Czech Republic.
Detail Oriented
A Sorb egg painter decorated an Easter egg at the annual Easter egg market in Schleife, Germany.
Lucky Lady
Kate Middleton accepted shamrock as her and her husband Prince William attended a St. Patrick's Day parade by the 1st Battalion Irish Guards at the Aldershot Barracks in Aldershot, England.
Spoonful of Sugar
The owner of the Absinth Depot shop used an absinthe fountain to pour water through a sugar cube atop an absinthe spoon in Berlin, Germany. The highly alcoholic drink absinthe was banned in much of Europe during World War I, and only in recent years became once again legal.
Pull My Ear
Prince William had his ear pulled by a friend as Kate looked on at the Cheltenham Festival at Cheltenham Racecourse.
Match Pope
Souvenirs showing the new Pope Francis were sold in Rome.
Fit for Princess
The Victor Edelstein midnight blue velvet gown worn for a State dinner at the White House when Diana danced with John Travolta was on display before being auctioned off.
Spring Has Sprung
About 20,000 Japanese plum trees of different varieties were in full bloom on Ayabeyama, a mountain now open to the public.
Egg-cellent
Model and singer Nil Karaibrahimgil walked the runway in an egg-themed outfit at the Red Beard by Tanju Babacan show during Mercedes Benz Fashion Week Istanbul.
Lead the Way
Myanmar opposition leader Aung San Suu Kyi toured the area of a Chinese-backed copper mine project in Monywa northern Myanmar.
Pope Press
A woman held a newspaper with a picture of the new pope Jorge Mario Bergoglio of Argentina, now Pope Francis, in St Peter's Square at the Vatican.
Small Stature, Big Smile
Jyoti Amge, 19, the world's shortest woman sat with her parents as well as Brahim Takioullah, who has the largest feet of the world according to the Guinness Book of Records, during an event in Kuwait City.
Duchess Dish
Camilla, Duchess of Cornwall, spoke with a woman at a Springboard women's self-development program in Doha, Qatar.
Holy Smoke
People showed emotion as white smoke rose from the chimney on the roof of the Sistine Chapel indicating that the College of Cardinals have elected a new Pope in Vatican City, Vatican.
Smoke Out
Black smoke billowed from the chimney on the roof of the Sistine Chapel indicating that the College of Cardinals have failed to elect a new pope.
Cheers
New York City Mayor Michael Bloomberg held up a large cup as he spoke about the health impacts of sugar. A state judge on Monday blocked Bloomberg's ban on oversized sugary drinks, but the mayor plans to appeal.
Royally Amusing
At Buckingham Palace, Queen Elizabeth II held a audience with John Agard, winner of the the Queen's Gold Medal for Poetry.
Red Head
Canadian cardinal Marc Ouellet was photographed by media as he left the final congregation before cardinals enter the conclave to vote for a new Pope in Vatican City.
On a Boat
A boatman waits for tourists in Manasbal, the Summer capital of Indian administered Kashmir, India.
Dance Dance
Dancers from Ballet Revolucion performed on stage at the Peacock Theatre in London.
Hail the Queen
Egyptians waved a flag bearing the portrait of Queen Nefertiti while marching in downtown Cairo for International Women's Day.
Rock 'n' Roll
A woman jogs past the installation "Rock on Top of Another Rock," in London's Hyde Park.
Fire Fly
All India Peace and Solidarity Organisation (AIPSO) members launched sky lanterns during International Women's Day in Hyderabad.
Mirror Images
Hanae Tsuji viewed a section of papyrus belonging to Nesmin on display at the Cairo to Constantinople: Early Photographs of the Middle East, exhibition in Edinburgh,Scotland.
Sketchy
A woman sketches on the streets of Tegucigalpa, Honduras.
Doll Face
Wei Hai Ming of the Taiwan Guoguang Opera Company performed scenes from the "Flowing Sleeves and Rouge" as part of the Taiwan International Festival of the Arts.
Snow Day
A llama sought shelter next to an abandoned school bus in Centreville, Virginia, after a Winter storm hit the area.
White Out
A White House staffer walked to the West Wing during a snow storm in DC.
Bright Lights, Big City
The San Francisco-Oakland Bay Bridge was lit up for the Bay Lights exhibition, now the world's largest LED light sculpture.
Jury Duty
Martha Stewart testified in Manhattan Supreme Court after Macy's Department Store sued J.C. Penney and Martha Stewart Living Omnimedia when plans to launch Martha Stewart boutiques in J.C. Penney stores were announced in 2011.
Sunny Day
Spring flowers bloomed inside the Norman Foster-designed Great Glasshouse at the National Botanic Garden of Wales that contains the largest single span glasshouse in the world.
First Mate
Kate Middleton, aka the Duchess of Cambridge, sat next to a dummy of the Ship's Mate at the Skipper's Table during her tour of the National Fishing Heritage Centre in Grimsby.
Get Cheeky
Mayoral candidate Councilman Eric Garcetti kissed his wife Amy Wakeland after they voted at Allesandro Elemantary School in LA.
Swan Lake
Water dripped from the beak of a Bewick's Swan in Regents Park in London, where they're having warm Spring weather.
Pint-Sized Protesters
Young Indian women posed during a protest against a proposed 6,000 MW nuclear power plant proposed at Jaspara-Mithi Virdi village in Bhavnagar district.
Cast Your Vote
A Maasai woman had her finger marked with a permanent marker after voting during the Kenyan elections. Kenyans have been waiting in long lines to vote in the first election since the post-poll violence five years ago that led to more than 1,100 people being killed.
Banksy Bombed
A Banksy mural in Bristol, England, has been defaced by blue paint bombs. The Twentieth Century Society has launched a campaign to save some of the UK's best known post-war murals that have been destroyed or defaced.
Petal Pusher
A young woman walked past a banner made out of flowers that reads "Russia Forever!" to mark the first anniversary of Russian President Vladimir Putin's election to a third term in central Moscow.
Back in Action
Queen Elizabeth II thanked a hospital staff member as she left London's King Edward VII Hospital after being admitted for gastroenteritis.
Writing on the Wall
A woman wrote on a part of the East Side Gallery, a remaining section of the Berlin Wall that is being removed for a housing construction project.
Say a Little Prayer
Palestinian women prayed together outside Jerusalem's al-Aqsa mosque in solidarity with hunger-striking Palestinian prisoners held in Israeli jails.
Jump, Jump
First lady Michelle Obama danced with kids during the debut of her school new exercise program Let's Move Active Schools in Chicago.
Holy Cow
A woman prepped beauty pageant cows hoping to win the "Miss" title at the 40th Show of the Best agricultural exhibition in western Germany.
Glow Girl
A woman admired a piece of work entitled "Illusive Elusive" during London's Kinetica Art fair, which is dedicated to kinetic, robotic, sound, electric, and new media art.
Homecoming
Soldiers from Headquarters Company 1st Battalion The Scots Guards returned to their English base at Bourlon Barracks following their recent deployment to Afghanistan.
Touched
President Barack Obama touched a statue of Rosa Parks during an unveiling ceremony to honor the late civil rights activist in Statutory Hall of the U.S. Capitol.
Prince Charming
Pince Harry met with teenage orphans partially sighted children at St Bernadette's Centre for the blind in Lesotho.
Time to Say Goodbye
Pope Benedict XVI waved to the faithful as he arrived in St Peter's Square in the Popemobile for his last weekly public audience.
Land Down Under
Ellen Degeneres fans gathered at Crown Riverwalk in Melbourne, Australia, where the TV host will be taping her show in March.
Moving Parts
President Barack Obama spoke on the impact the sequester would have on the defense industry and its workers during a visit to Newport News Shipbuilding in Virginia.
The Recruit
Female Marine recruits prepared for a swimming test during boot camp at MCRD Parris Island, South Carolina
Costar Cuties
Jennifer Lawrence pointed at her Silver Linings Playbook costar Bradley Cooper at the Oscars.
Girl Power
Quvenzhané Wallis and Halle Berry went in for a hug at the Oscars.
Golden Boy
A woman put a finger mustache on the Oscar statuette as it arrived at the Oscars in Hollywood.
Snow Bunnies
Men and women wearing only underwear and panties rode sleds in the annual naked snow-sledding competition in Altenberg, Germany.
Kick Start
A dancer performed a high kick during the 29th All Scotland Irish Dance Championship, one of the world's largest Irish dancing competitions.
Caught in the Middle
A visitor looked at the art on display at the exhibition "Martin Kippenberger Sehr Gut / Very Good" at Berlin's Hamburger Bahnhof museum for contemporary art.
Heart Attack
A model walked the runway at the Agatha Ruiz de la Prada show during Mercedes Benz Fashion Week in Madrid, Spain.
Wave Your Flag
A woman took part in a demonstration to mark the second anniversary of Arab Spring in Rabat, Morocco.
Law and Order
Oscar Pistorius appeared for his bail hearing in Pretoria, South Africa. The double-amputee Olympian has been charged with murdering his girlfriend Reeva Steenkamp on Valentine's Day.
The White Rose
A Madame Tussauds wax figure of Sophie Scholl has been put on display at Ludwig Maximilian University in Munich, Germany. Sophie was a Munich University student known for distributing anti-Nazi pamphlets for The White Rose anti-Nazi resistance movement during World War II. She was executed by the Nazis on February 22, 1943.
Fan Girls
Australian Prime Minister Julia Gillard spoke in Adelaide, Australia, about the decision by the Greens party to end their alliance with the ALP.
Daddy's Girl
Mitch Winehouse wore a waistcoat with the image of his late daughter, singer Amy Winehouse, to the Brit Awards in London. The article of clothing will be auctioned off in March with all proceeds benefiting the Amy Winehouse Foundation.
Cold Heart
A woman walked past a snow-covered heart-shaped bouquet in chilly Hefei, China.
Good Impression
A woman looked at "Paris Street; Rainy Day, 1877" by Gustave Caillebotte in the exhibition Impressionism, Fashion, and Modernity at the Metropolitan Museum of Art in New York.
Red Eye
A model walked the runway during the Paul Smith show at London Fashion week.
Mum in Training
Mom-to-be Kate Middleton spoke to children at Hope House, an Action on Addiction women's treatment center.
Pretty Face
A visitor looked at a Lichtenstein bust during a preview of "Lichtenstein, a Retrospective" at the Tate Modern in London.
Hug It Out
President Barack Obama comforted Mary Jo Copeland before giving her a 2012 Citizens Medal during a ceremony at the White House.
Tree of Life
A woman stood amongst Buddhist blessing tablets with wishes for the new year hanging from sacred tree at the Dongyue Temple in Beijing, China.
Giddy-Up
The "Naked Cowgirl" posed on a fake heated beach in New York City's Times Square.
Big Head
A model walked the catwalk during the Fyodor Golan show during London Fashion Week.
Question Time
House Minority Leader Nancy Pelosi answered reporters' questions during her weekly news conference at the US Capitol.
Prince Chuckles
Camilla, Duchess of Cornwall laughed as Prince Charles, Prince of Wales tasted some olive oil during a visit to Borough Market in London.
Laughing Matter
Former Secretary of State Hillary Clinton laughed during a ceremony at the Pentagon.
Peace Out
Japanese artist Yoko Ono flashed some peace signs during the opening of her exhibition "Half-A-Wind Show" in Frankfurt, Germany.
Pretty in Pink
Roses were on display at a flower market in Sydney, Australia on Valentine's Day.
Birds of a Feather
An African Penguin held a Valentine's Day card at the California Academy of Sciences in San Francisco.
All Hands
A model prepared backstage at the Giulietta Fall 2013 fashion show during New York Fashion Week.
Ashes to Ashes
A toddler had his forehead marked with a cross of ash during the celebration of Ash Wednesday in Bogota.
Be Mine
Madame Tussauds launched the new George Clooney waxwork ahead of Valentine's Day on London's Carnaby Street.
Love in Bloom
Supermarket Asada created a portrait of Prince William and Kate Middleton made entirely out of the supermarket's Valentine's Day flowers.
Lit Up
The US capitol was lit up ahead of President Obama's state of the union address.
Speaking Out
An Egyptian woman lead other protesters in chants during a march against sexual harassment in Cairo.
Bloody Billboard
Alan Cumming posed for photographers during the Broadway marquee installation for MacBeth.
Lady in Red
Actress Juliette Binoche posed for photographers as she attends the Camille Claudel 1915 Photocall during the 63rd Berlinale International Film Festival.
Ready to Go
President Barack Obama walked down the colonnade at the White House hours before his state of the union adress.
Let the Good Times Roll
Actress Mariska Hargitay rode in the 2013 Krewe of Orpheus Mardi Gras Parade in New Orleans.
Honorable Mention
Barack and Michelle Obama greeted family members of fallen soldiers after a medal of honor ceremony in the White House.
Ice Queen
A woman wore a carnival costume during a snowstorm in Venice, Italy.
Sweater Weather
A woman touched the knitted fabric covering a tank in front of the Museum of Military History in Dresden, eastern Germany.
Runaway
A standard poodle competed in the 137th Westminster Kennel Club Dog Show in New York City.
Face Time
A woman tried on a mask during Chinese Lunar New Year of Snake celebrations in Beijing, China.
Arrivederci, Roma
Souvenirs showing Pope Benedict XVI and Pope John Paul II were displayed in a shop near the Vatican after it was announced Pope Benedict XVI will resign.
Surprise!
Lena Dunham seemed to surprise Taylor Swift at the Grammys.
Girls' Night
Katy Perry and her date, Girls star Allison Williams, arrived at the 55th Annual Grammy Awards
Après-ski
Princess Mary of Denmark and Princess Josephine of Denmark smiled for the press after skiing in Verbier, Switzerland.
Pink Lady
Dame Helen Mirren attended the BAFTA Awards with a new pink hairdo.
Snake Charmer
Crowds watched the New Year parade in London, as the city's Chinese community celebrated the start of the year of the snake with traditional dancing, music, and fireworks.
Boxed In
Models took a break at Lincoln Center during New York Fashion Week.
Snow Happy
A woman reacted to the snow after opening her front door in Boston.
Stare Down
A holy woman from the Juna Akhara sat inside her tent during the Maha Kumbh festival in Allahabad.
Just Chillin'
A woman walked her dog in the snow in Boston as the Northeast prepared for a massive blizzard.
Something Sweet
Girl Scouts sold cookies as a Winter storm moved in to New York City.
Here Comes the Snow
A man walked across the Brooklyn Bridge in the snow and sleet in the early hours of a major Winter storm. New York City and much of the Northeast is expected to get a foot or more of snow, with possible record-setting blizzard conditions expected in Boston.
Seeing Red
Vintage ads were displayed during the opening of an exhibit on vintage beauty ads at the Gadagne Museum in Lyon, France.
On the Banks
A Hindu woman prayed on the shore of the confluence of the Yamuna and the Ganges river at the Sangam during the Maha Kumbh festival in Allahabad.
Feeling Blue
Women celebrated the launch of Carnival in Düsseldorf, Germany.
Along For the Ride
A mom and child attended the first day of the Andean Carnival in Oruro, Bolivia.
All Made Up
A model prepared backstage during New York Fashion Week.
Golden
Jane Fonda attended the 63rd Berlin International Film Festival in Berlin, Germany.
Furry Friend
A Russell Terrier attended a press conference kicking off the 137th Annual Westminster Kennel Club Dog Show in NYC.
Up in the Air
Acrobats performed during the Sochi 2014: One Year to Go ceremony at Bolshoy Ice Dome in Sochi, Russia.
Tiara Twins
Miss Universe Olivia Culpo and newly crowned Puteri Indonesia attended a press conference at the Sheraton hotel in Yogyakarta, Indonesia.
Superslick
A model was prepped backstage at the Todd Snyder Fall 2013 fashion presentation during New York Fashion Week.
Heart to Heart
Celebrities including Minka Kelly, Kendall Jenner, Kylie Jenner, Toni Braxton, Kelly Osbourne, and Gabby Douglas posed after walking the runway for The Heart Truth in NYC.
Living on a Prayer
First Lady Michelle Obama and President Barack Obama stood during the National Prayer Breakfast at the Washington Hilton.
Watch Out
Israelis visited a multimedia art exhibition entitled Van Gogh Alive featuring the work of painter Vincent van Gogh in Tel Aviv.
On Golden Pond
A woman worked in a pond during the Orchid Festival in the Princess of Wales Conservatory at the Royal Botanic Gardens in London.
Winter Wonderland
US Marines deployed from Hawaii joined South Korean Marine soldiers during a joint exercise in Pyeongchang-gun, South Korea.
Sweathearts
Models Candice Swanepoel and Lily Aldridge attended a pre-Valentine's Day event in NYC.
Oath of Office
US Secretary of State John Kerry was sworn in by Vice President Joseph Biden as his wife, Teresa Heinz, looked on.
Animated Character
Sarah Silverman attended the Meet the Filmmakers event for Wreck-It Ralph at a Apple store in London.
Painted Lady
A model was made up backstage at the Degen presentation during Mercedes-Benz Fashion Week in New York.
Speaking Out
Actress Amanda Peet spoke at a news conference hosted by Mayors Against Illegal Guns. She was joined by other artists and activists pushing for mandatory background checks for gun purchase.
Seat Fillers
Heads on sticks were laid out for camera blocking at the Royal Opera House ahead of the BAFTAs.
No Snail Mail Saturday
In DC, Postmaster General Patrick Donahoe announced that the US Postal Service will stop Saturday mail delivery beginning in August.
Picture-Perfect
A photograph of French actress Catherine Deneuve was displayed in London's National Portrait Gallery.
The Red Lantern
Red lanterns were hung in Beijing, China, ahead of the Lunar New Year.
Queen of Hearts
Queen Elizabeth II was welcomed to Queen Elizabeth Hospital in King's Lynn, England, with flowers.
Royal Wave
Princess Letizia of Spain waved to cameras while out and about in Madrid.
Smiling Eyes
President Obama smiled during a press conference at the White House.
Flip Out
Members of the Salisbury Cathedral Choir practiced flipping pancakes in England, a week before Shrove Tuesday.
Stamp of Courage
The US Postal Service unveiled a Rosa Parks commemorative stamp on the birth date of the late Civil Rights icon.
Next Slideshow
Celebrity Couples: The Relationship Status Updates You Need to Know
Latest Love