Plotless Porn Wins the Day
Like us on Facebook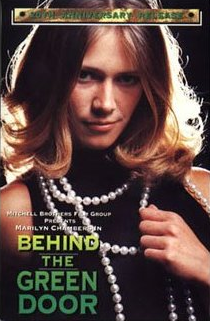 I'm not a big porn-watcher, but if I did watch porn, I wouldn't watch it for the plot. (I'm kinda like a dude that way.)

Well, it turns out if I started watching porn now, I'd be in luck. The pendulum has swung back to plotless porn, in part due to competition from the Internet, where porn scenes are short, relatively plotless and dialogueless, and which cut to the action more quickly. "On the Internet, the average attention span is three to five minutes," said Steven Hirsch, co-chairman of Vivid Entertainment. "We have to cater to that."

In the '70s, during the so-called golden age of porn, when actresses still had pubic hair and actors sported porn 'staches, movies like Behind the Green Door were practically feature films — only with lots of sex. Then cheap, hand-held video cameras ushered in a generation of pornographers who bypassed plot so that the leading lady could quickly get down and dirty with the pool boy. Plot rolled back into porn the '90s with the popularity of DVDs. Big studios, said Paul Fishbein of AVN Media Network, wanted to appeal to women, hoping that couples would watch the films at home.

But we're back again to plotless porn. What's replaced plot? Themes, like New Sensations' Girls 'n Glasses, which stitches together scenes of women having sex in their glasses. Porn actress Savanna Samson laments the falling away of plot. "I used to have dialogue," she said, and used to get excited about scripts. "Getting it on in one hardcore scene after another," she continues, "just isn't as much fun."

So here's a question — if you watch porn, do you prefer yours with a plot or plotless?