Rubberboy Shows Off His Flexibility
It's a Dude in a Box!
ADVERTISEMENT ( more slides)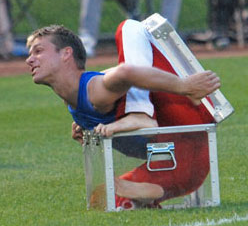 This is one hellavuh halftime show! Meet Daniel Browning Smith. Unsurprisingly, the Guinness Book of Useless Records has named him the World's Most Flexible Man. Rubberboy here stretches himself this way and that and up and around and inside and out for fans at sporting events. Cuz, let's be honest, seeing a man nearly shove his head up his arse is more exciting than any old singer any day. This dude is freak flag fly.