It all started in 1984, when Madonna [1] rolled around on stage performing "Like a Virgin." Since that very first time, we've seen Britney Spears [2] strip, Beyoncé and Jay Z go crazy in love, and Lil' Kim get felt up by icon Diana Ross. Then, of course, in 2006, Justin Timberlake [3] brought sexy back all over again. But we know it never really went away, especially when twerking came into the picture (thanks, Miley). In honor of the VMAs tonight, we decided to highlight some of the steamiest and most scandalous moments in the award show's history. We can't wait for more!
— Additional reporting by Tara Block
Source: Getty / Andrew H. Walker [4]
The Act That Kicked It Off
Dressed as a sexed-up bride, Madonna [5] did not hold back at the first Video Music Awards in 1984. Her "Like a Virgin" performance made not only MTV, but all award show history. She popped out of a giant cake, rocked a wedding [6] dress, and rolled around ooh-ing and aah-ing all over the stage. The VMAs had officially arrived!
Very Little Black Dress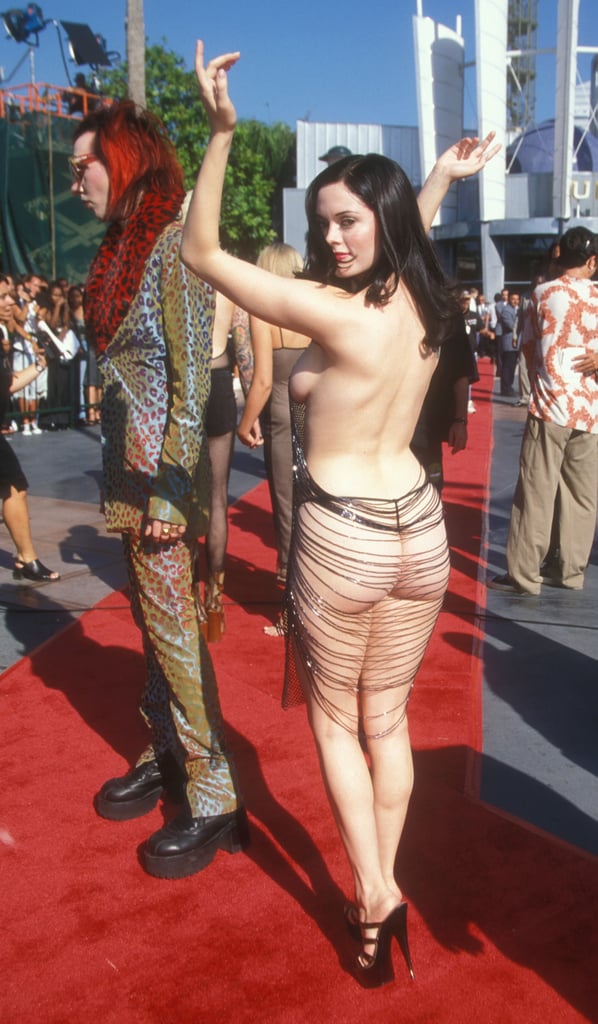 No butts about it, Rose McGowan was anything but shy at the 1998 VMAs with equally edgy then-boyfriend Marilyn Manson at her side.
I'm Coming Out
At the 1999 awards, Lil Kim took a risk wearing a purple wig and matching pasty. But it was Diana Ross who took things to the next level when she gave Lil' Kim's shell-covered ta-ta a bounce for good luck.
Oops! She Did It Again
During her 2000 performance of "Satisfaction" and "Oops I Did It Again," Britney Spears [7] proved she's not that innocent. Coming out in a tailored sparkly suit, Britney soon bared all in two seamless rips.
Britney Hangs With a Python
The next year, Britney heated things up again with her "I'm a Slave 4 U" performance at the 2001 VMAs. The combination of that giant python and Britney's scantily clad, smokin' hot bod got everyone's temperature rising.
The Real Slim Shady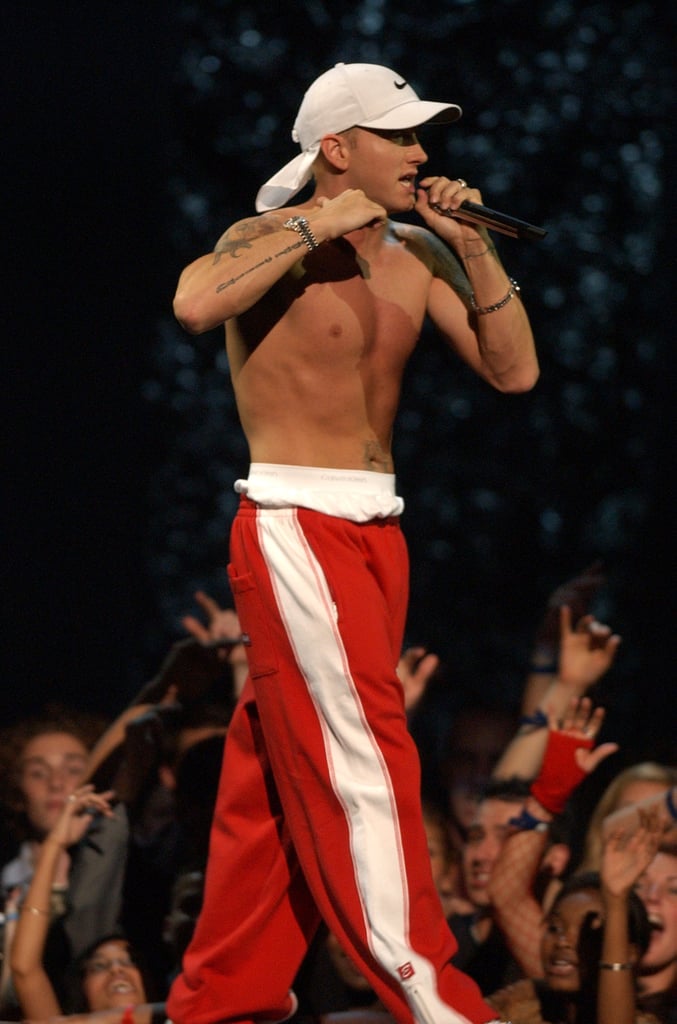 Eminem [8] started off his 2002 performance all suited up. But he soon was stripped down and showing his muscles and tattoos.
The Kiss
If you were alive and breathing in 2003, you heard about this girl-on-girl action at the VMAs. During Britney and Christina Aguilera [9]'s hot rendition of Madonna [10]'s 1984 "Like A Virgin" performance, Madonna came out on stage dressed as a groom and, of course, soon kissed her two brides. Yes, Britney is totally dominating this list.
These Two Are "Crazy in Love"
They may have been overshadowed by Britney and Madonna [11]'s epic kiss that night, but Beyoncé and Jay Z's performance was a force to be reckoned with. Although they didn't come out as an official couple for some time, it looked like they were already crazy in love at the 2003 VMAs. There's no disputing their chemistry.
Dirrrty
Christina Aguilera [12] did her best to channel over-the-top sexy during her Xtina stage. That meant a double performance during the 2003 VMAs. After opening the show with the Madonna-Britney threeway, Christina performed "Dirrrty" and "Fighter." Guitarist Dave Navarro joined her on stage for a hot jam session.
Bringing Sexy Back
Sexy was back and in action at the Radio City Music Hall when Justin Timberlake [13] performed his Summer hit "Sexy Back" during the 2006 VMAs. His full album FutureSex/LoveSounds was released a few days later. During his performance a dressed-up JT showed off some impressive dance moves that got the ladies screaming in the crowd.
OMG
Usher [14] put on a light spectacle at the 2010 VMAs with the choreography to back it up. He also had the support of a tough gang of hot-looking dancers.
The Kiss "No One Thought Would Last"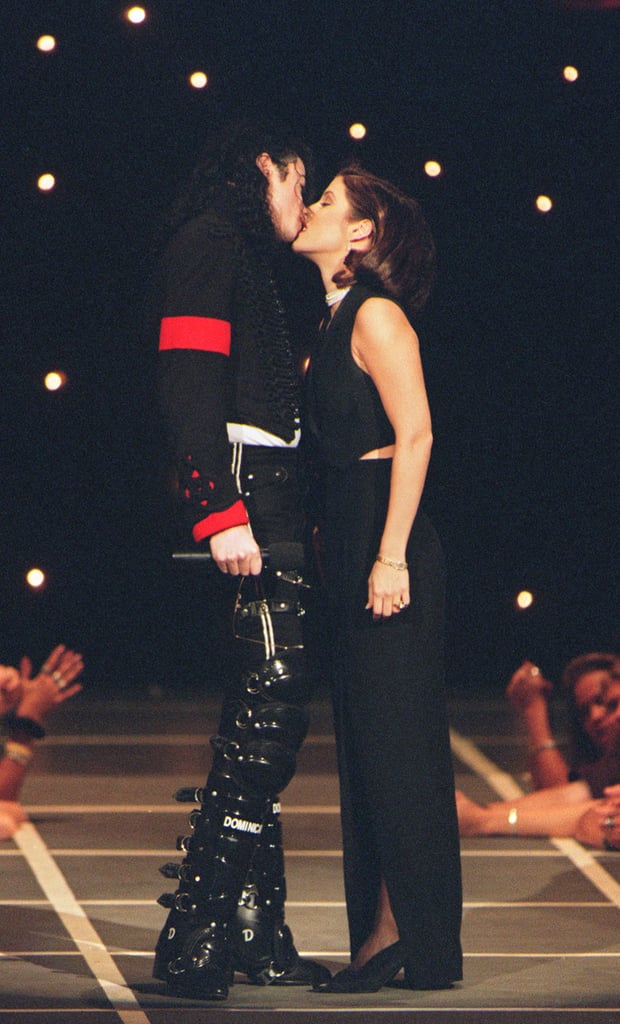 In 1994, Michael Jackson [15] and then-wife Lisa Marie Presley introduced the show hand in hand. Before the kiss — which not everyone described as sexy, exactly — that made VMA lip-locking history, Jackson said, "Just think, nobody thought this would last." Their marriage lasted four years, which is like 40 in celebrity years!
Turn Back Time
At the 2010 show, Cher presented a meat-clad Lady Gaga [16] wearing the outfit from her "Turn Back Time" video. She noted, "Back in the day, I used to get thrown off MTV for wearing things like this that seem so tame now."
Sexy Spice
The Spice Girls zigazig aahed at the 1997 VMAs, showing lots of of legs, midriff, or a combination of both.
Crazy Sexy Cool
Keeping close and smiling wide at the 1995 VMAs, TLC showed some skin and love for each other. Nothing sexier than that.
Lady Gaga's Gender-Bending Moment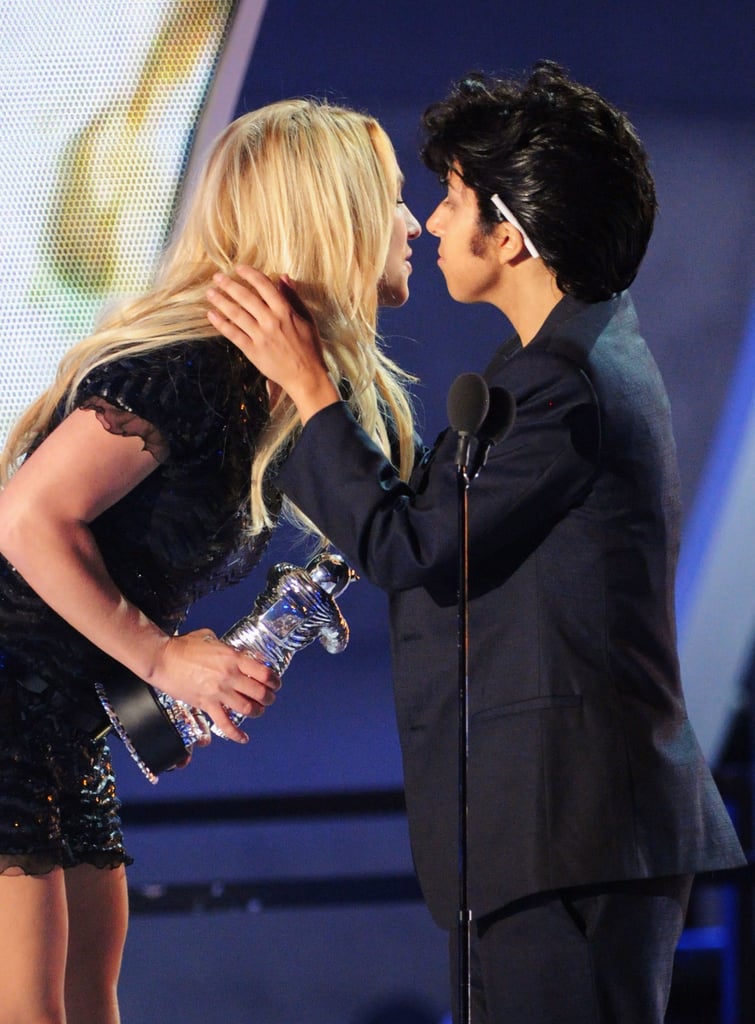 At the 2011 VMAs, Lady Gaga flirted with Britney Spears [17] as her male alter ego, Jo Calderone, saying that he used to be turned on by posters of the pop princess on his bedroom wall. Despite Jo's teasing for another onstage girl-on-girl kiss, Britney turned him down, saying, "I've done that already."
Rebel Gets Rebellious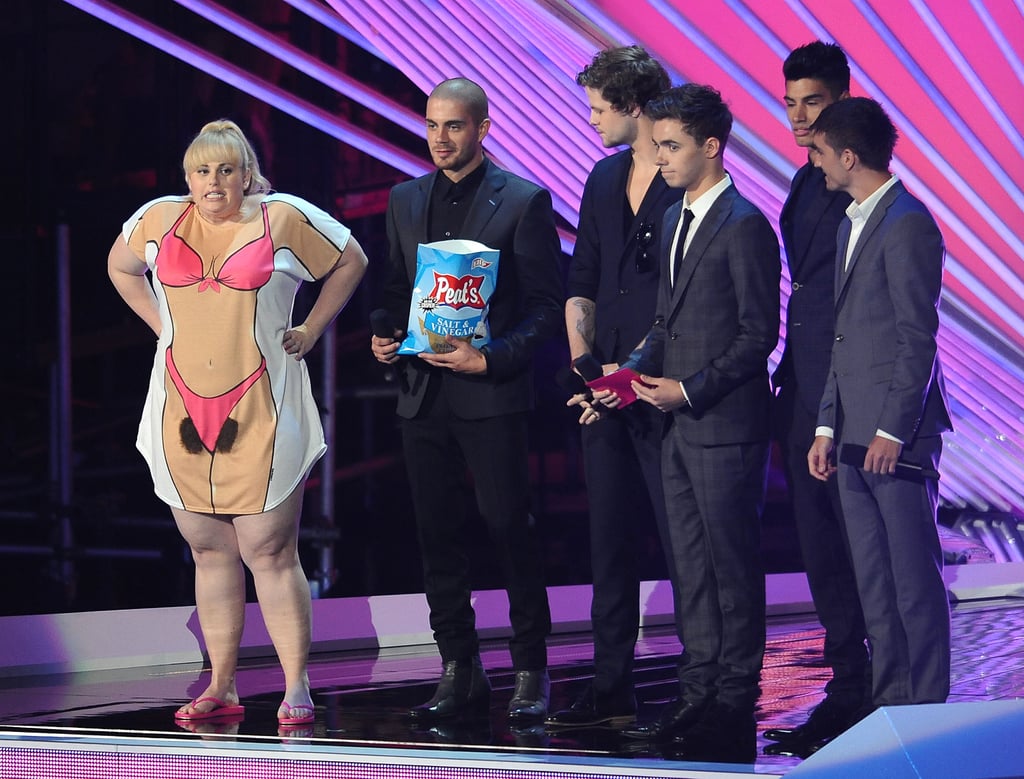 Funny lady Rebel Wilson bared her bush, well, sort of, in a revealing bikini shirt while she was on stage with British boy band The Wanted at the 2012 VMAs. She then attempted to take them all home with her so "everybody wins!"
Miley's Twerk-tastic Performance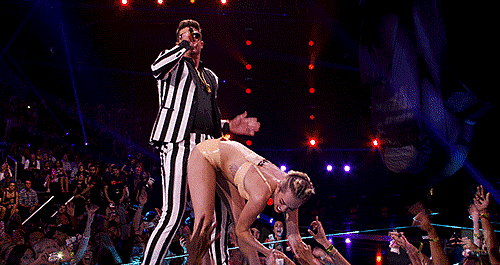 There were several sexy moments [18] at the 2013 VMAs, but none were quite as shocking as Miley Cyrus [19]'s naughty performance with Robin Thicke.