Forget Cupids with arrows and saccharine red on pink color palettes; having a Valentine's Day-inspired engagement shoot or wedding [1] can be whimsically romantic when done creatively and with a sense of humor. With just the right amount of sweet and some big, red hearts tossed in the mix, these inspiring wedding [2] pics (several from my own wedding [3]) will have you in the mood for love in no time. 'Cause when all else fails, just put a heart on it!
Quirky Shoes For the Bride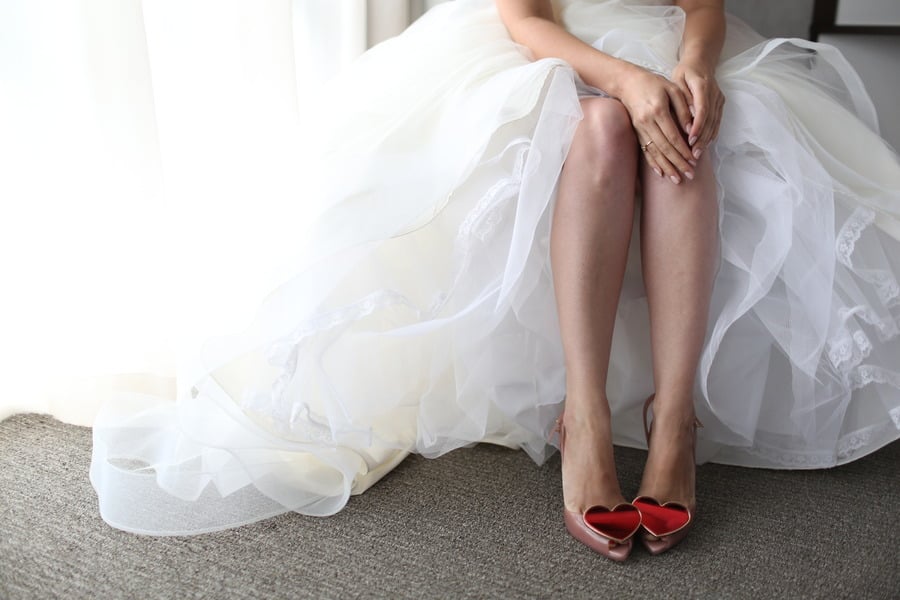 These funky, red-heart-adorned pumps by Vivienne Westwood couldn't be more aptly suited for the February holiday.
Dessert Table Marquee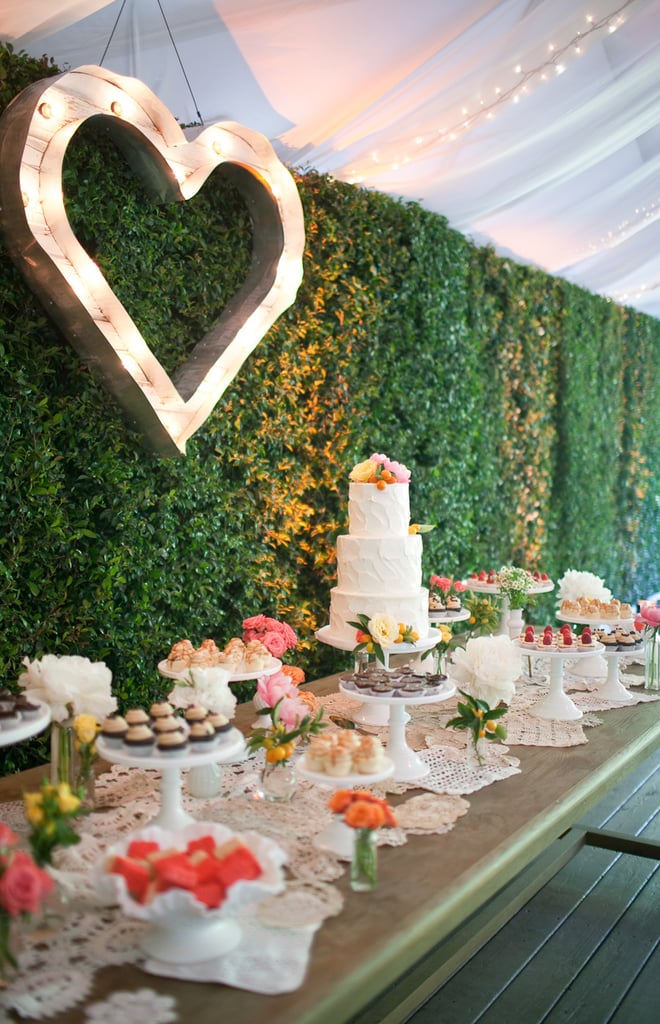 Love the rustic look of this heart marquee over the dessert table. It's especially stunning at night!
Bridesmaid Heart Balloons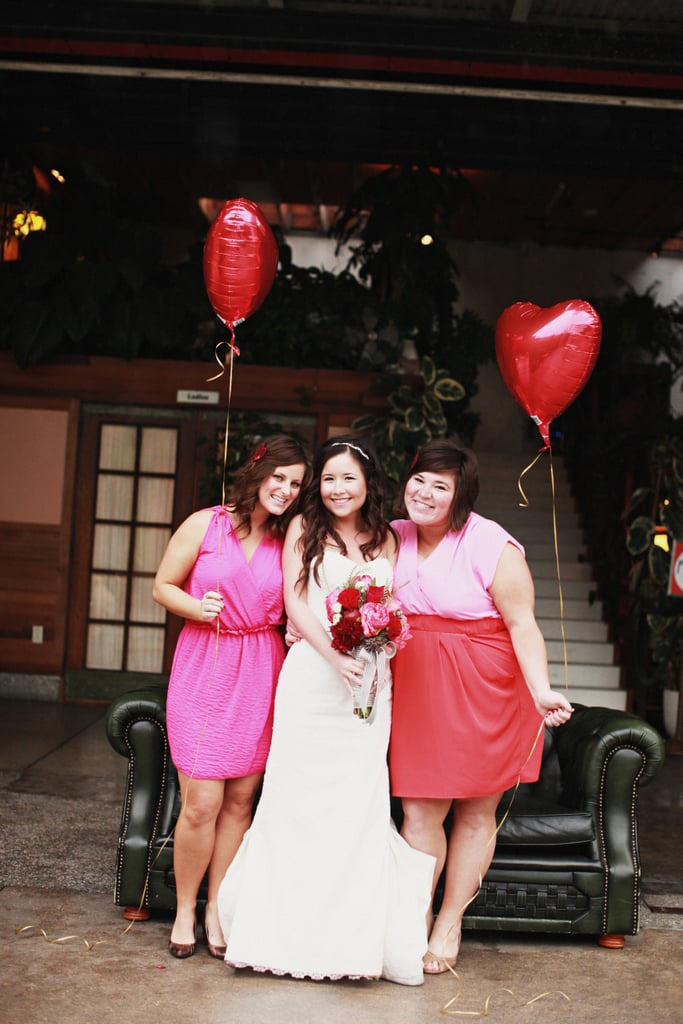 Instead of bouquets, have your bridesmaids walk down the aisle with heart balloons.
Heartfelt Vows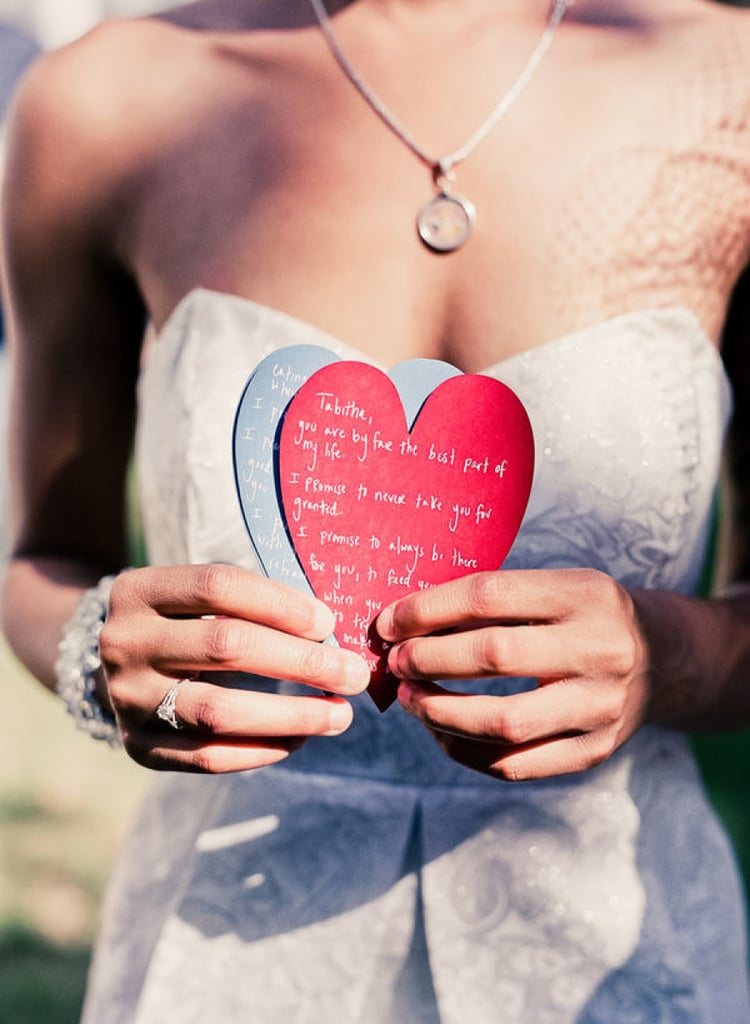 How sweet is it to have your vows written on paper hearts?
Heart Sunnies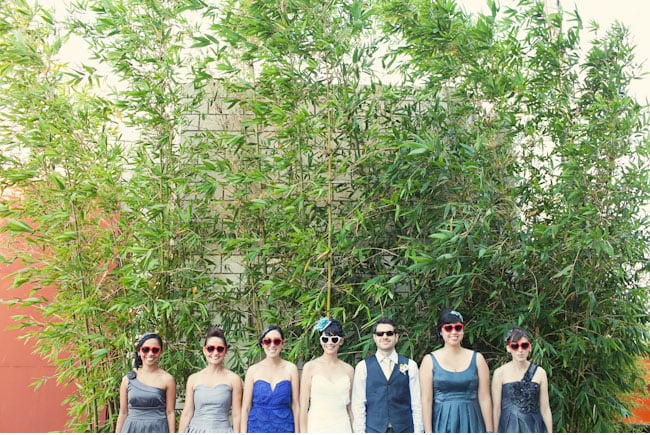 Keep the bridal party cool with heart-shaped sunglasses.
Origami Heart Escort Cards
Learn how to make these DIY origami heart escort cards [4] for a fun seating chart twist.
Striped Heart Piñata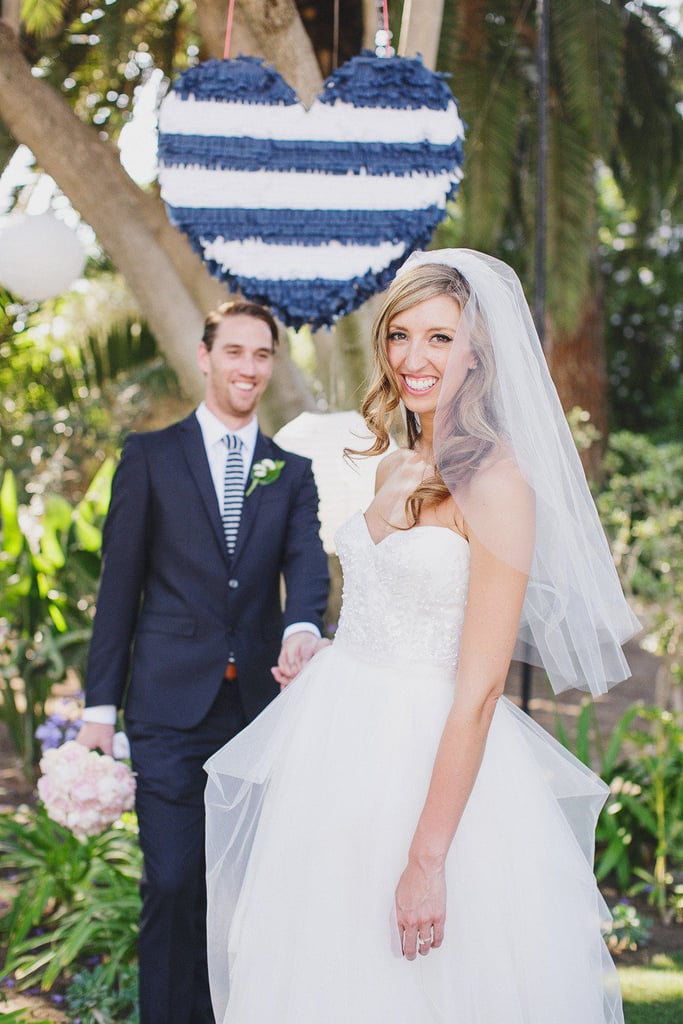 Not only is a huge heart piñata a great photo op, it's a fun activity for your guests, young and old.
Heart Drink Labels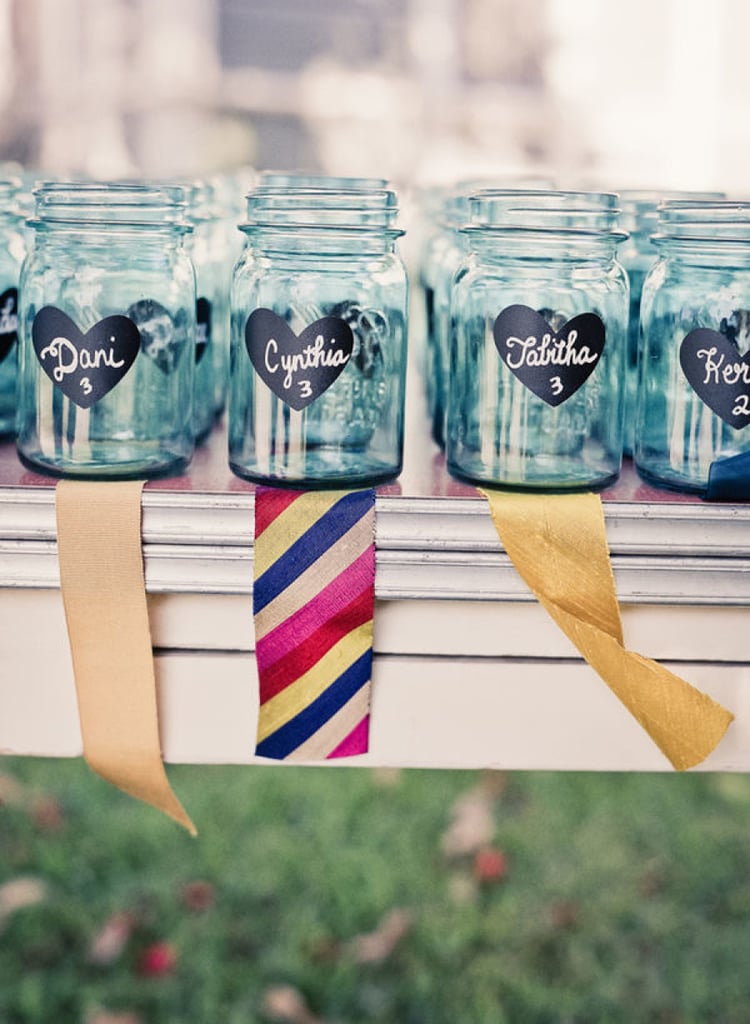 Affix some adhesive chalkboard hearts to mason jars for helping guests keep their drinks straight and find their tables. It's like triple-duty drinking!
Secret Heart Cake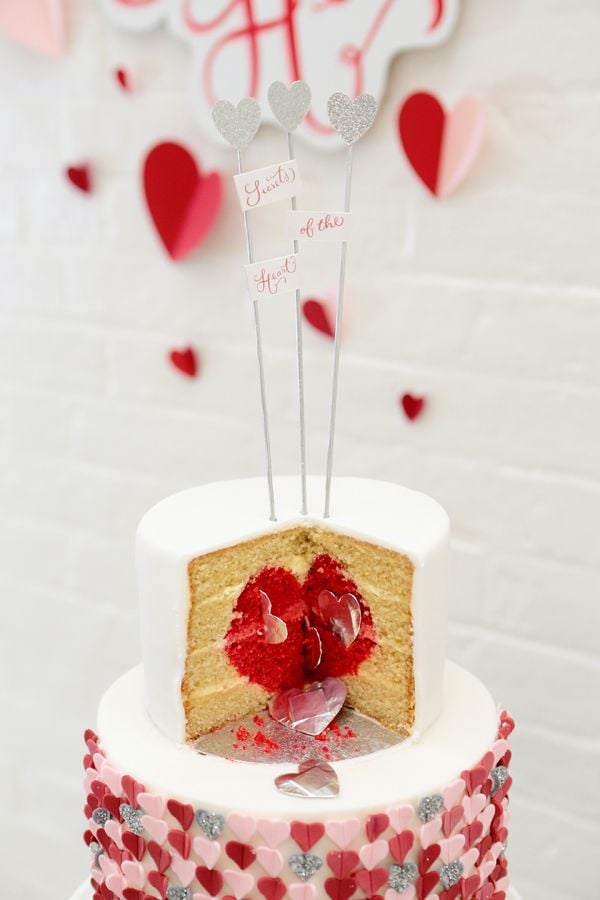 This is such a cute idea! Have secrets about the couple folded into little paper hearts in the cake, so as guests eat they learn more about the newlyweds.
Ceremony Props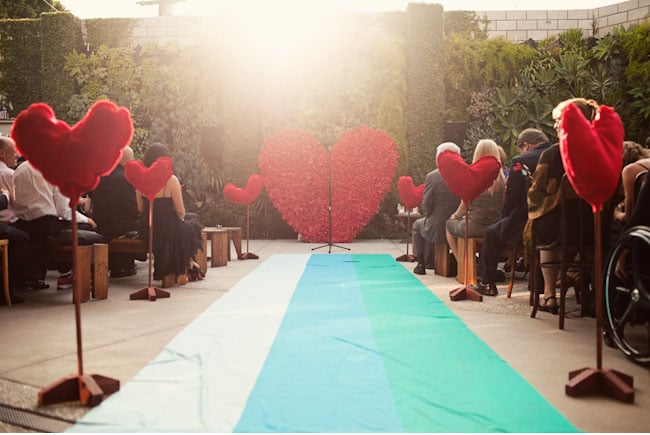 A huge heart makes the perfect backdrop for "I dos," and stuffed hearts flanking the aisle add even more whimsical panache.
Save-the-Date Details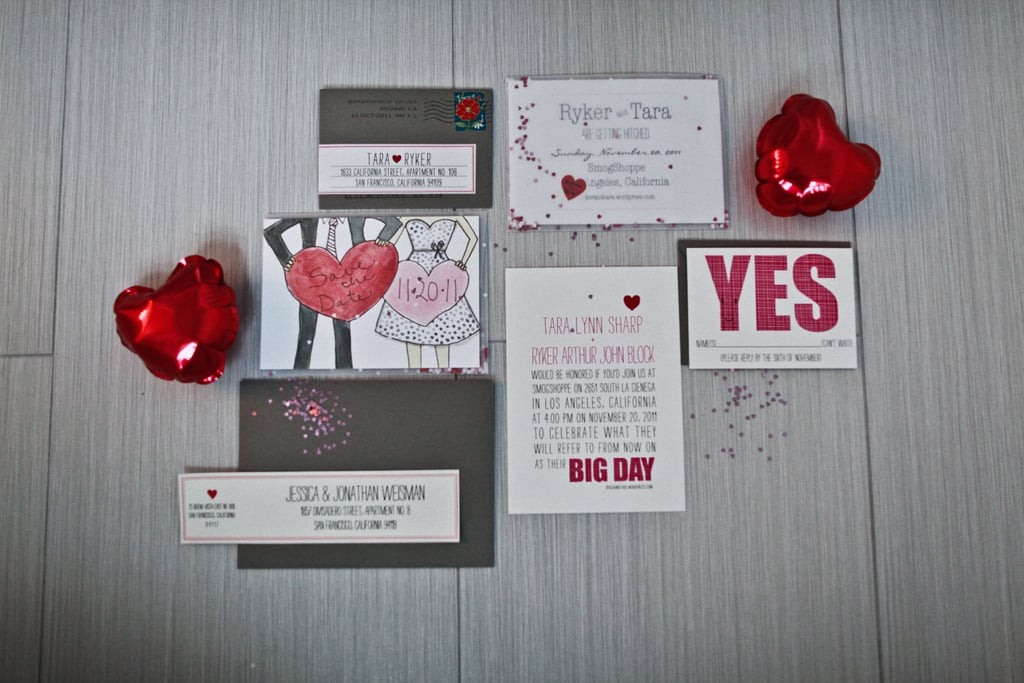 For added flair with your save-the-date cards, fill clear envelopes with heart confetti and a heart sticker for people to mark the date on their calendars.
Photo-Booth Props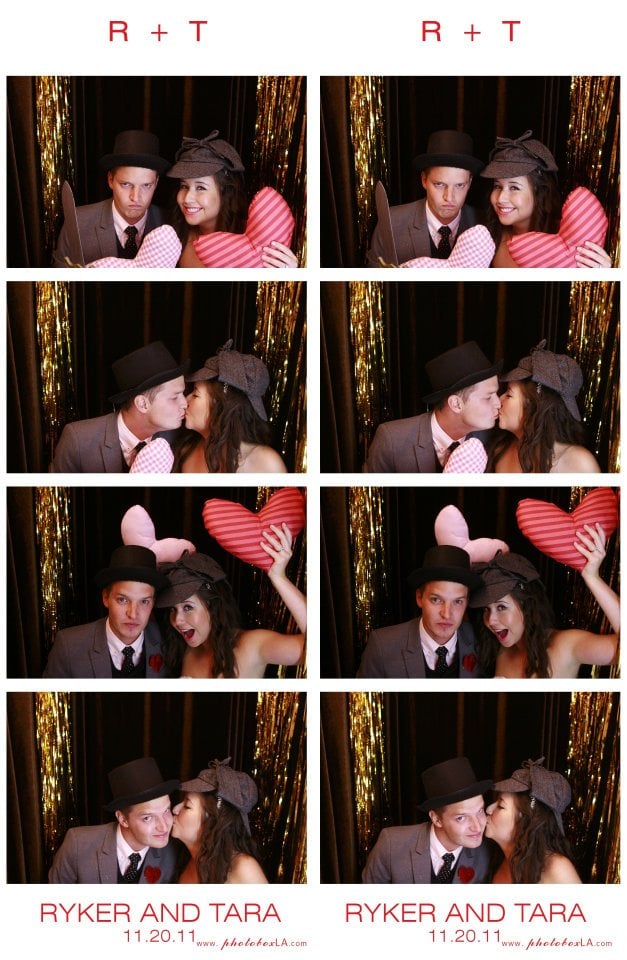 Photo booths are a huge wedding [5] trend, but make yours special with some handmade heart-shaped pillow props!
Straw Flair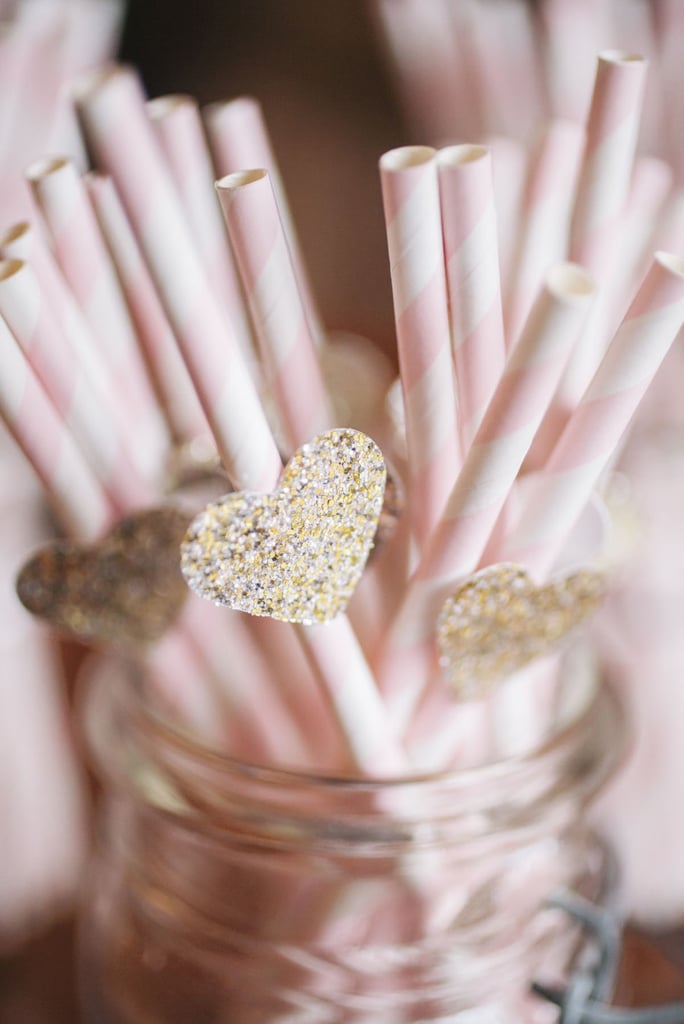 Sweet, little, glittery hearts add sparkle to reception straws.
Lit-Up Ceremony Heart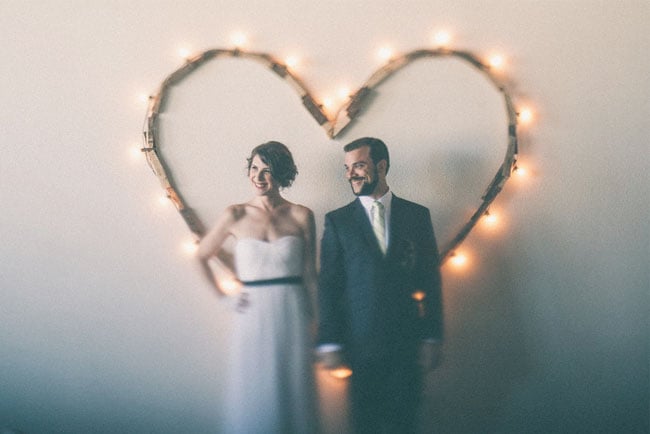 A handcrafted lit-up heart makes a romantic statement during the "I dos."
Ombre Heart-Topped Cake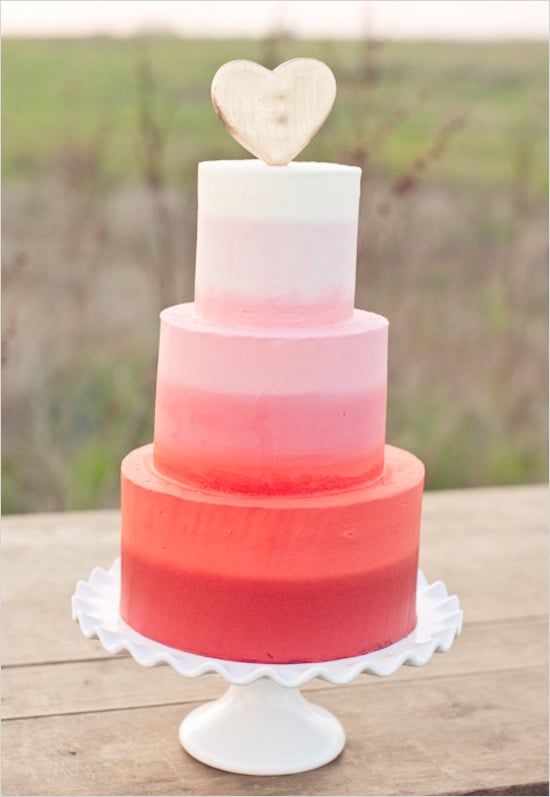 The ombre colors and heart topper give a traditional cake style some modern flair.
Heart Garland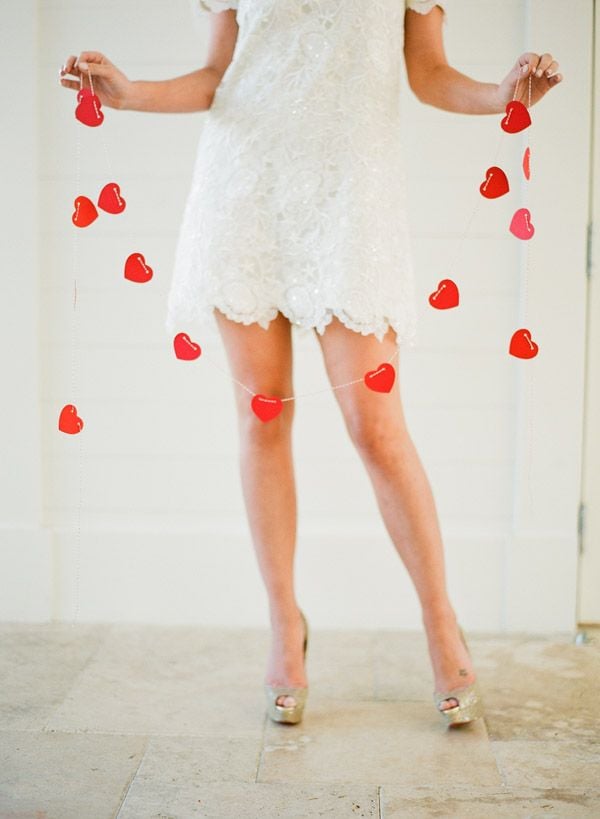 DIY [6] heart-shaped paper garlands bring you back to the days of sweet, handmade Valentines. They also make perfect budget-friendly decorations.
Rope Decor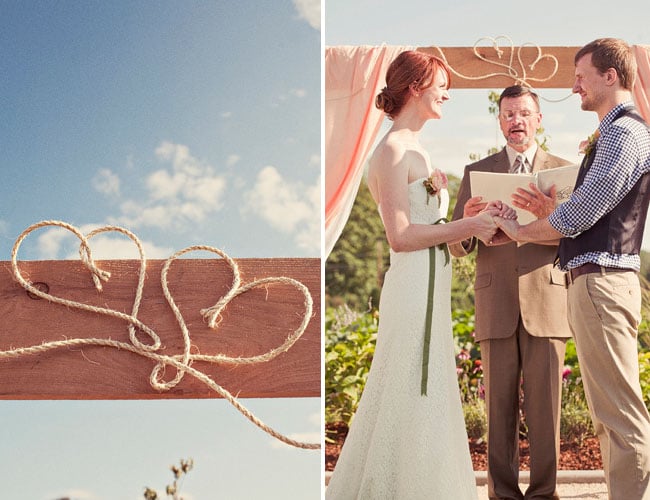 Subtle rope hearts take center stage above the altar.
Rustic Signage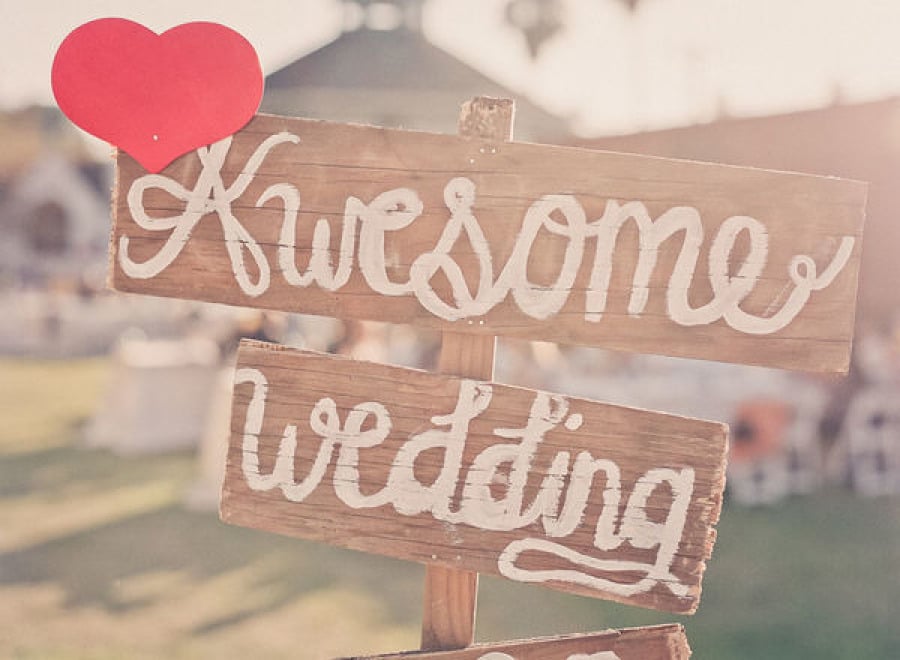 Cute meets rustic with heart-adorned, hand-painted, wooden signage.
Sequin Heart Boutonnieres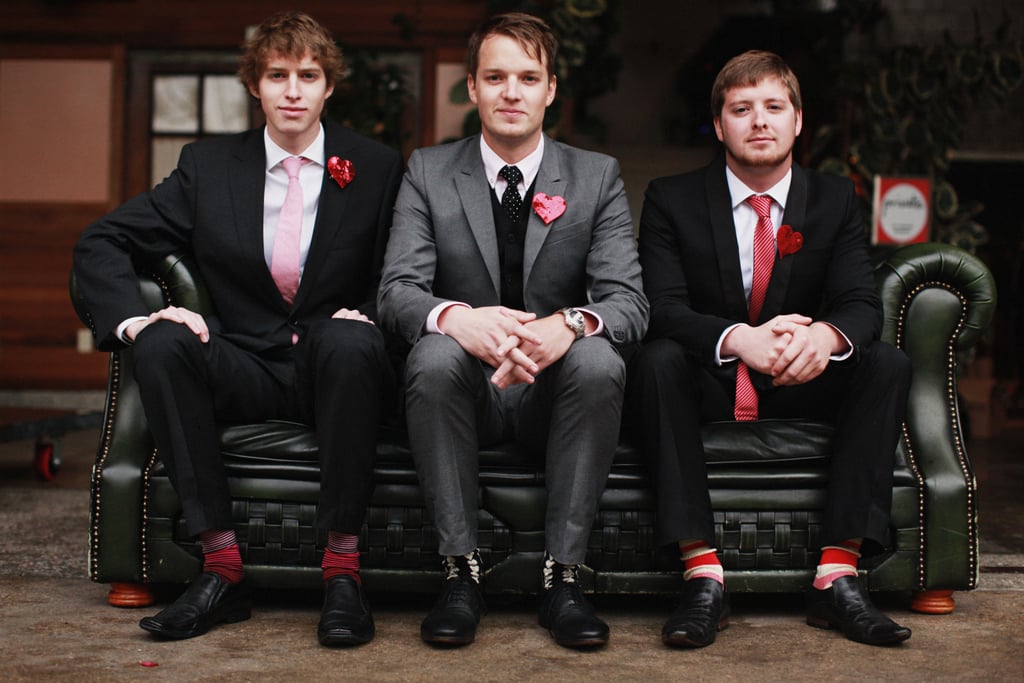 Swap out boring boutonnieres on your groomsmen with Ban.do sequin hearts [7].
Drink Decor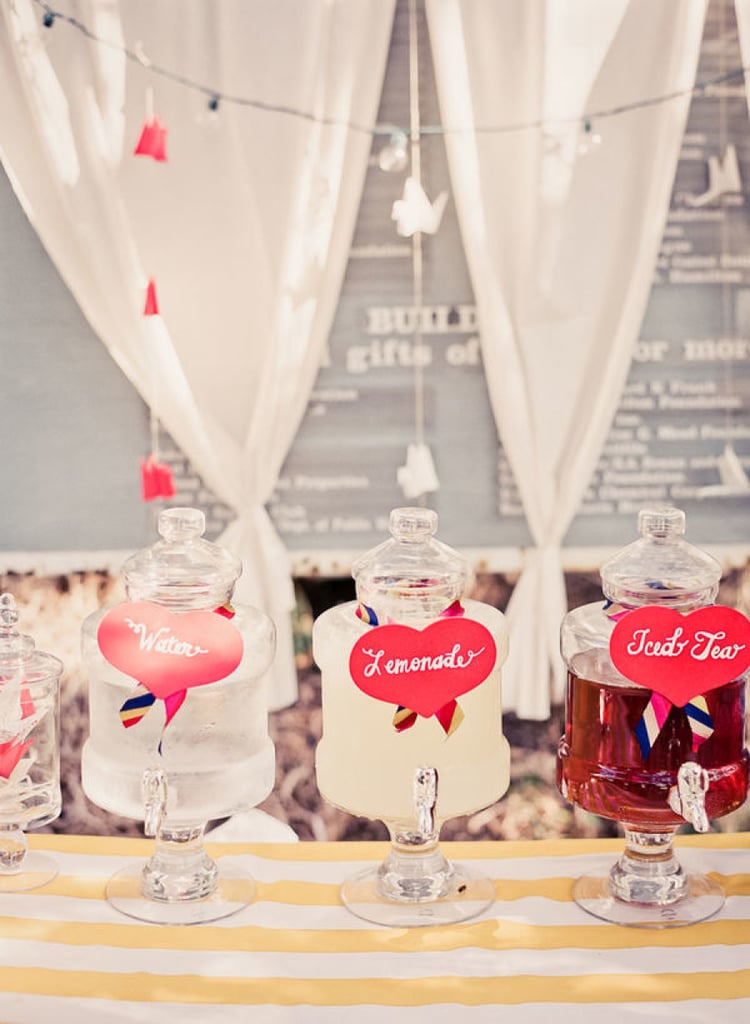 Label your beverages with red paper hearts for a whimsical way to guide your guests.
Magnetic Favors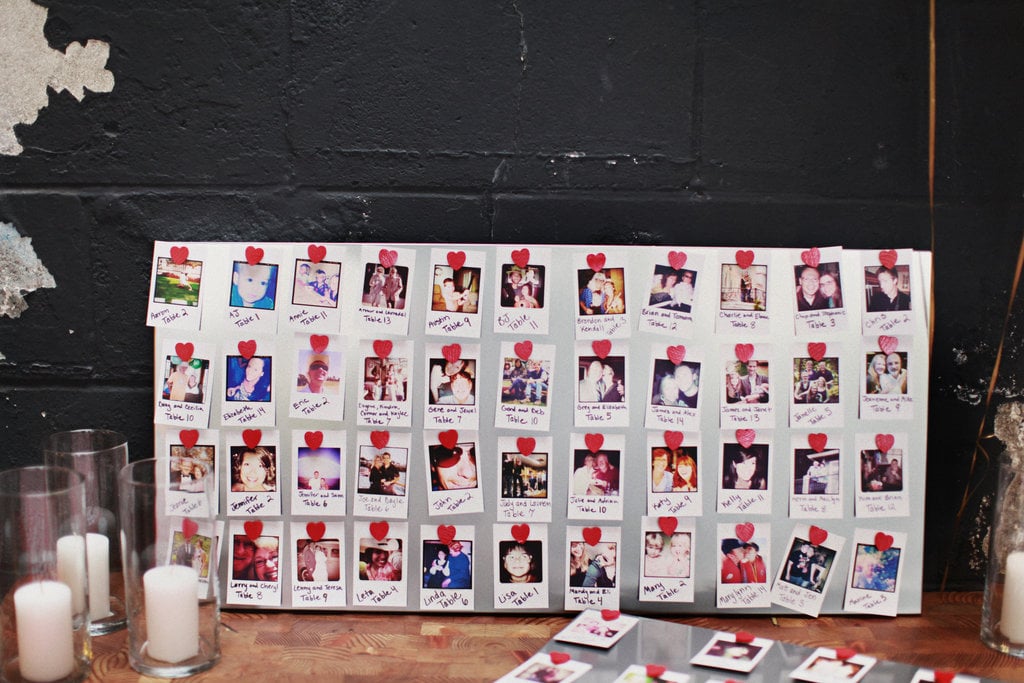 See how I made these DIY heart magnets [8] for my wedding [9] seating assignments. They also doubled as favors!
The Love Story in Hearts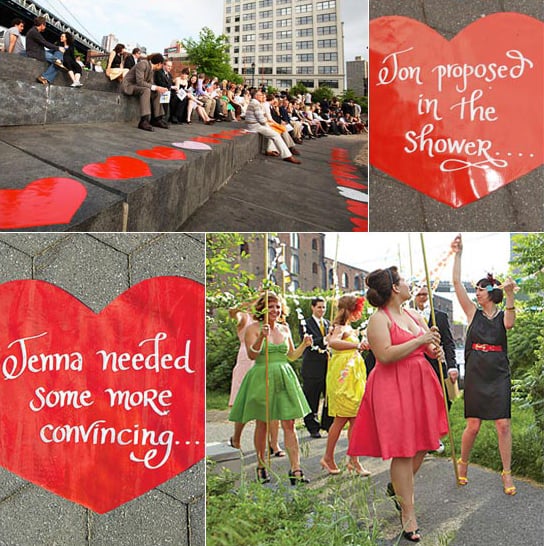 Not only do these giant sticker hearts direct the guests and provide seating, they tell the couple's love story along the way!
Heart Flags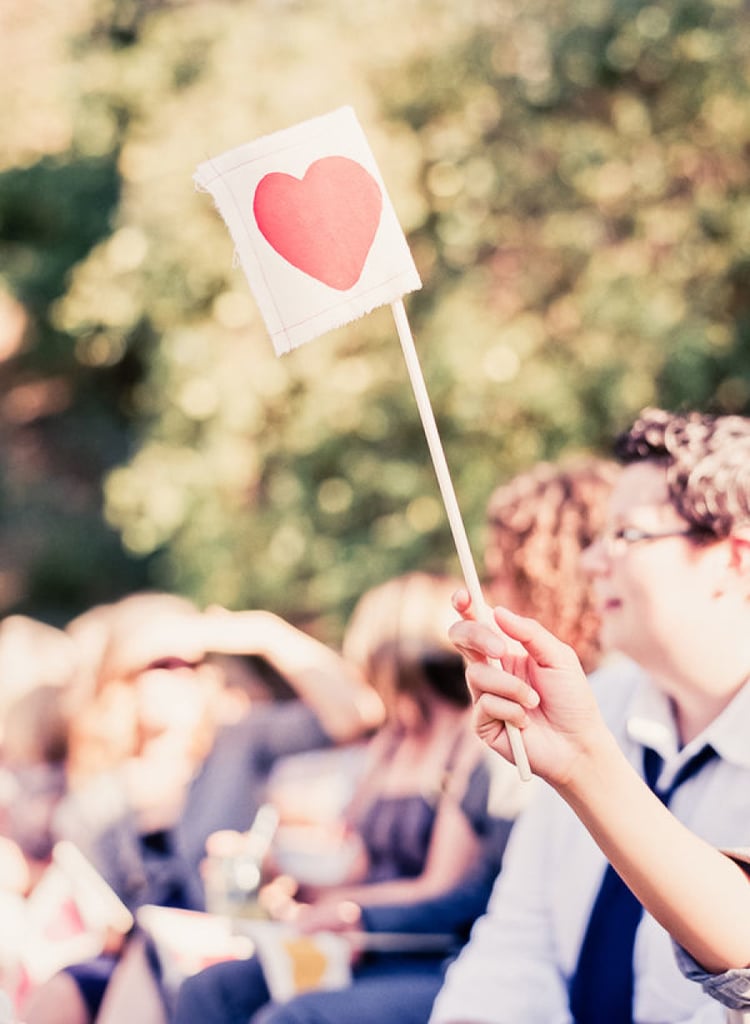 Hand out heart flags for your guests to wave as you return down the aisle.
Heart-Filled Ceiling Decor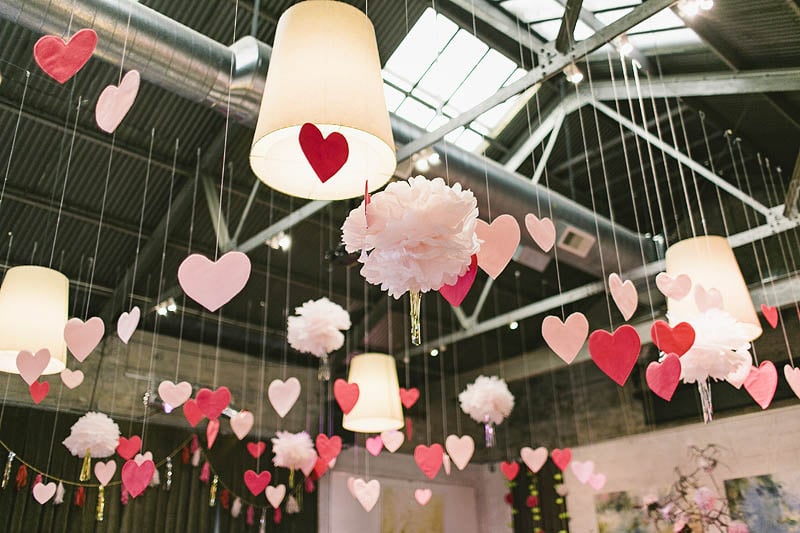 Fill the space above your guests with hearts!
Stained-Glass Ceremony Heart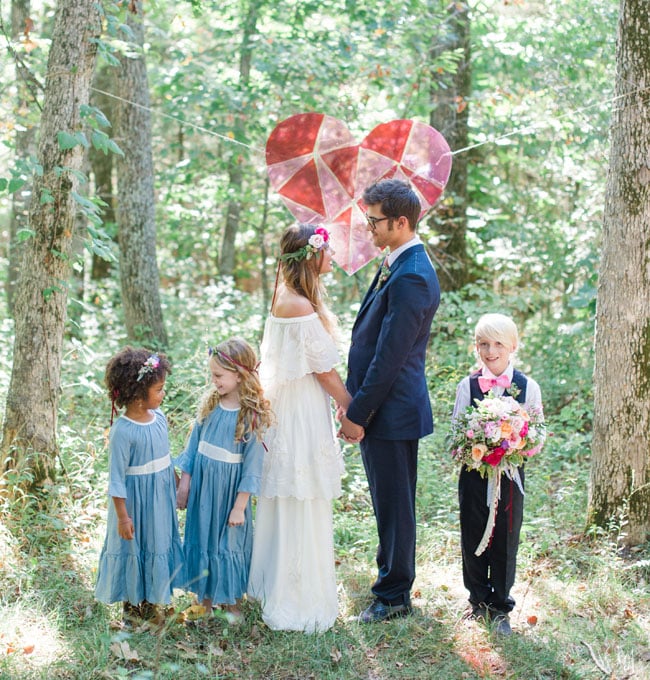 A stained-glass-inspired heart makes a stunning ceremony piece.
Ring Pillow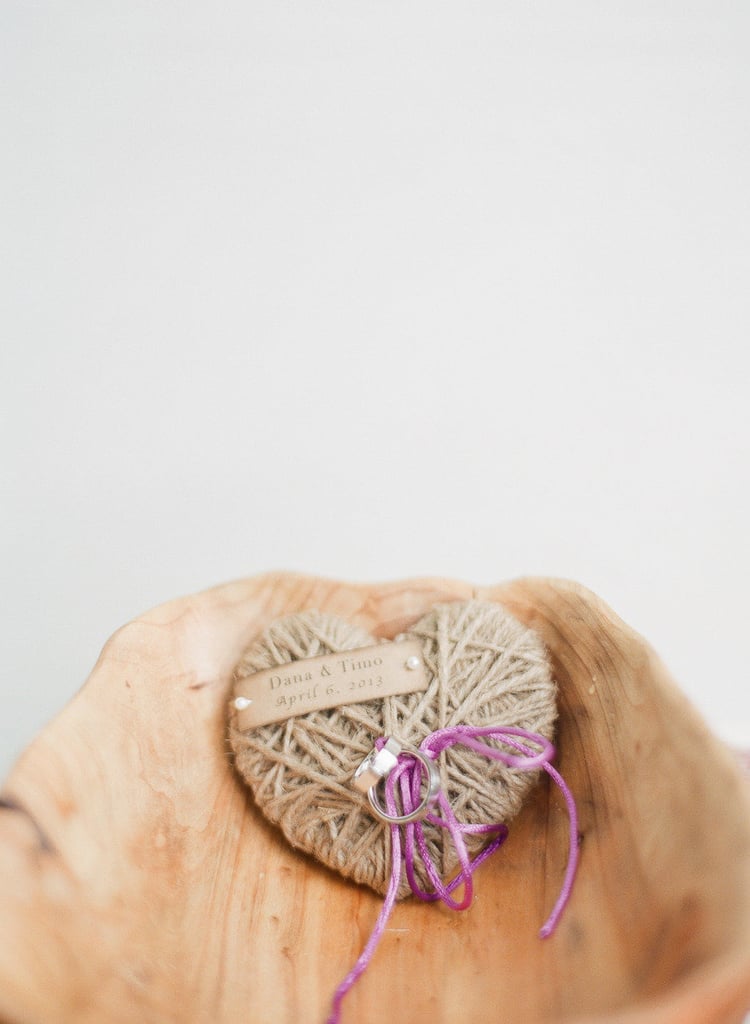 This natural-looking ring pillow is a heart in disguise.
Hearty Footwear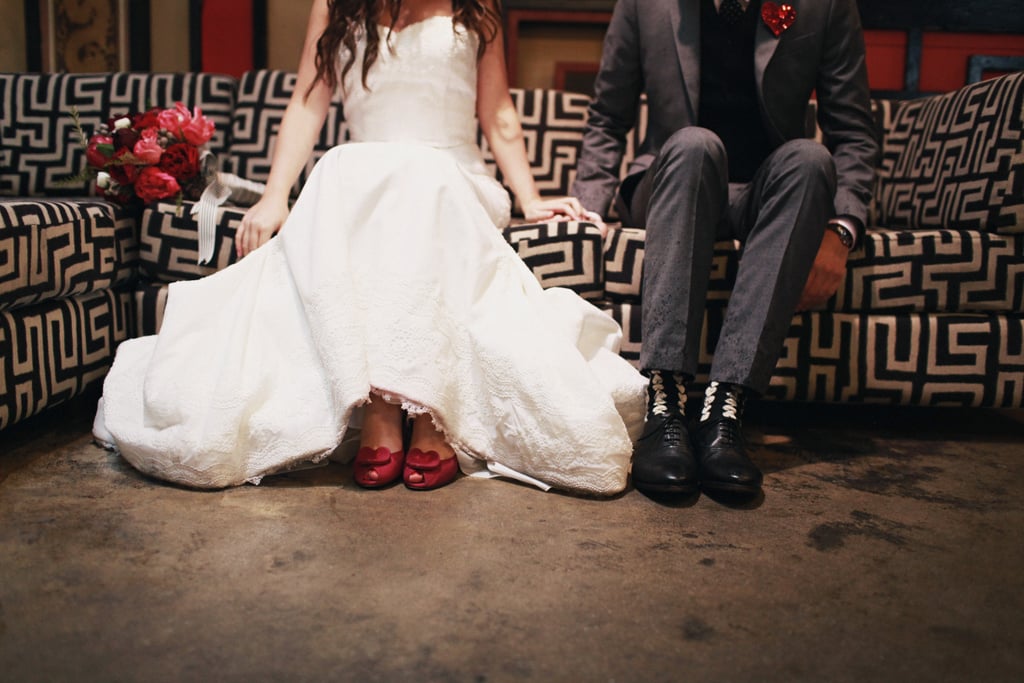 Hearts on the bridal shoes is one thing, but get your groom in on the fun with heart socks for him.
Doughnut Doilies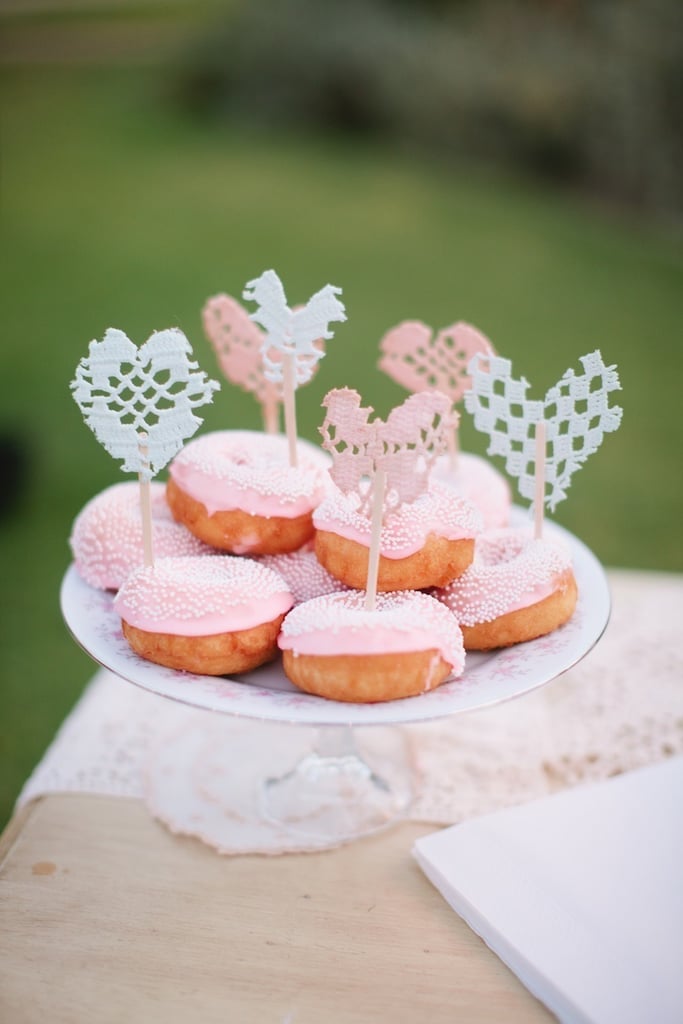 Doughnuts get a romantic touch with delicate doily hearts.
Glitter Cake Toppers
Make your wedding [10] sparkly with these easy-to-make heart cake topper.
Heart Sparklers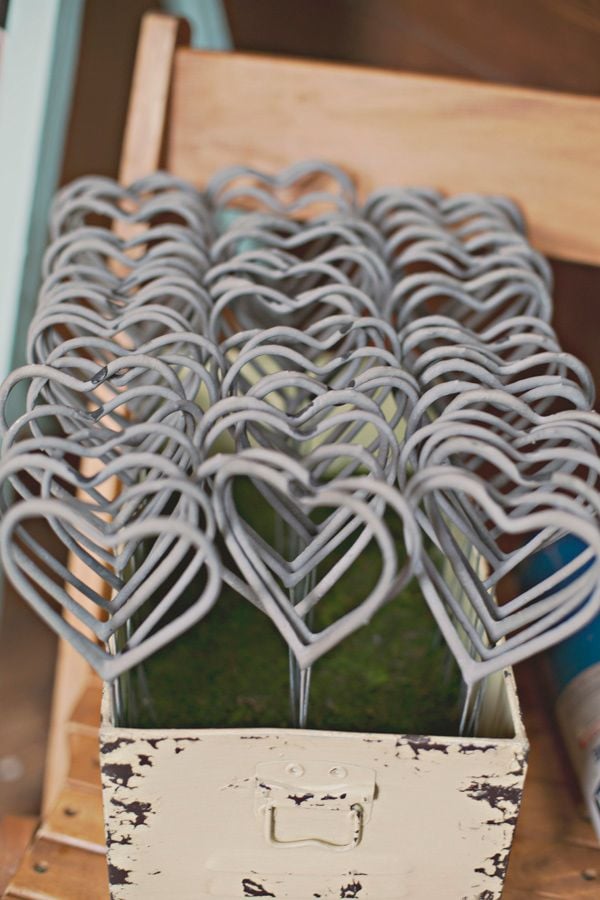 Hearts give regular sparklers added cute factor.
Soda Favor Tags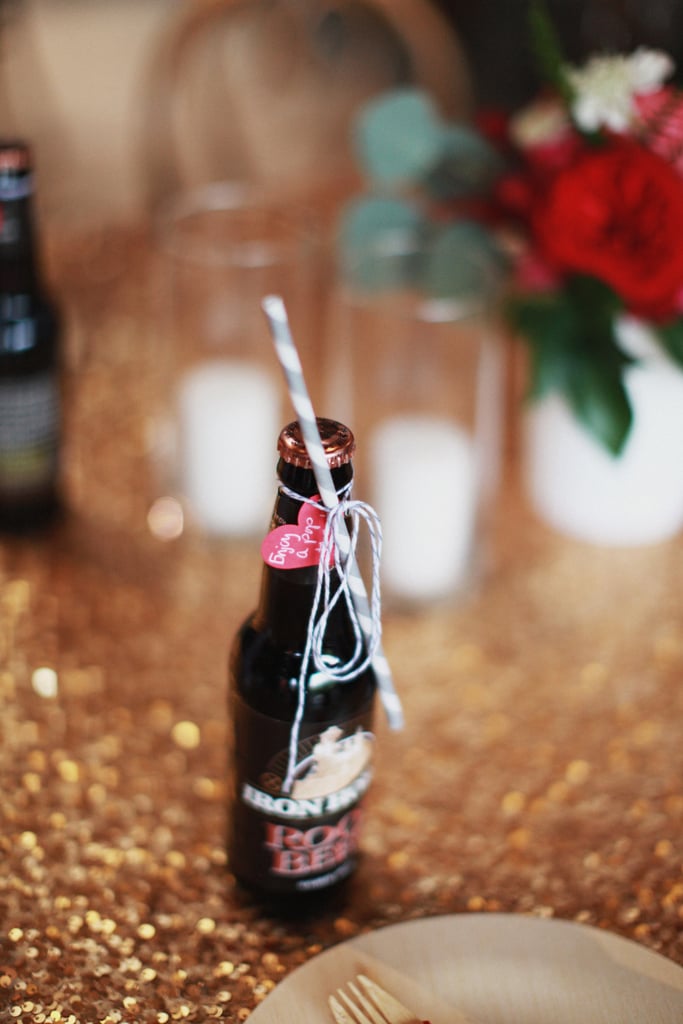 Punch a hole in paper hearts to string on a thank-you message to your favors.
Heart-Shaped Hand Pies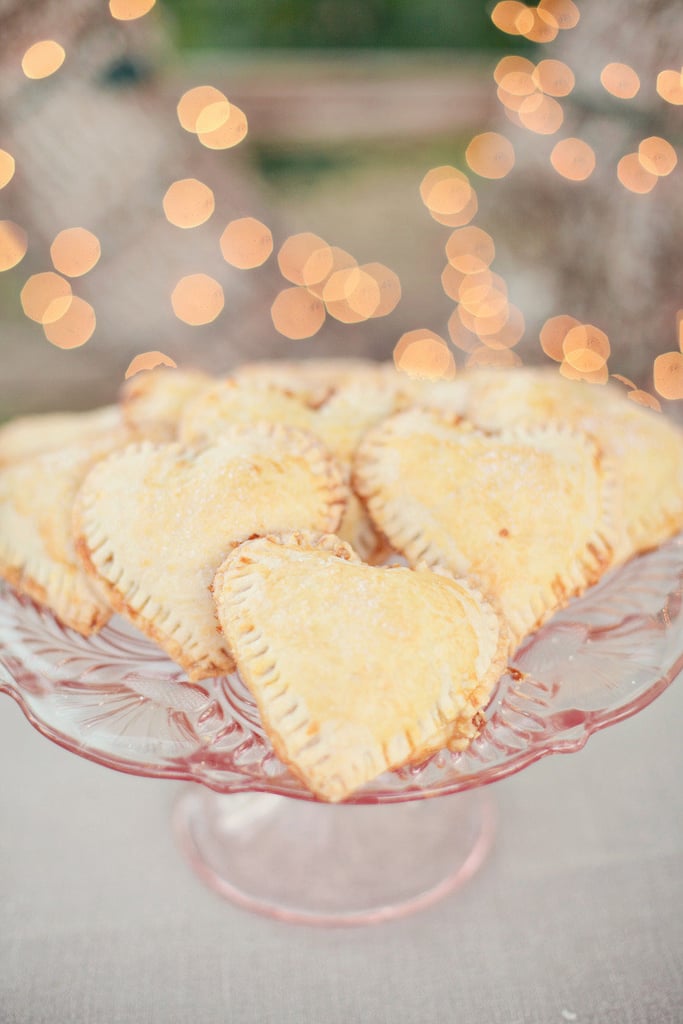 Sweeten up dessert with heart-shaped mini pies.
Table Menus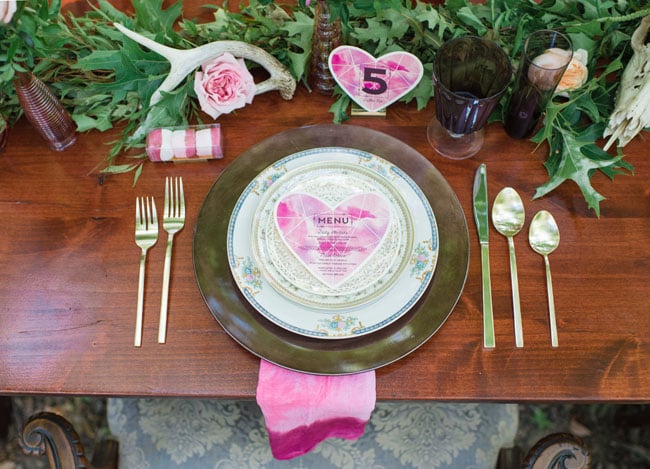 With its mix of geometric shapes and watercolor design, these heart menus are modern and beautiful.
Cheese Labels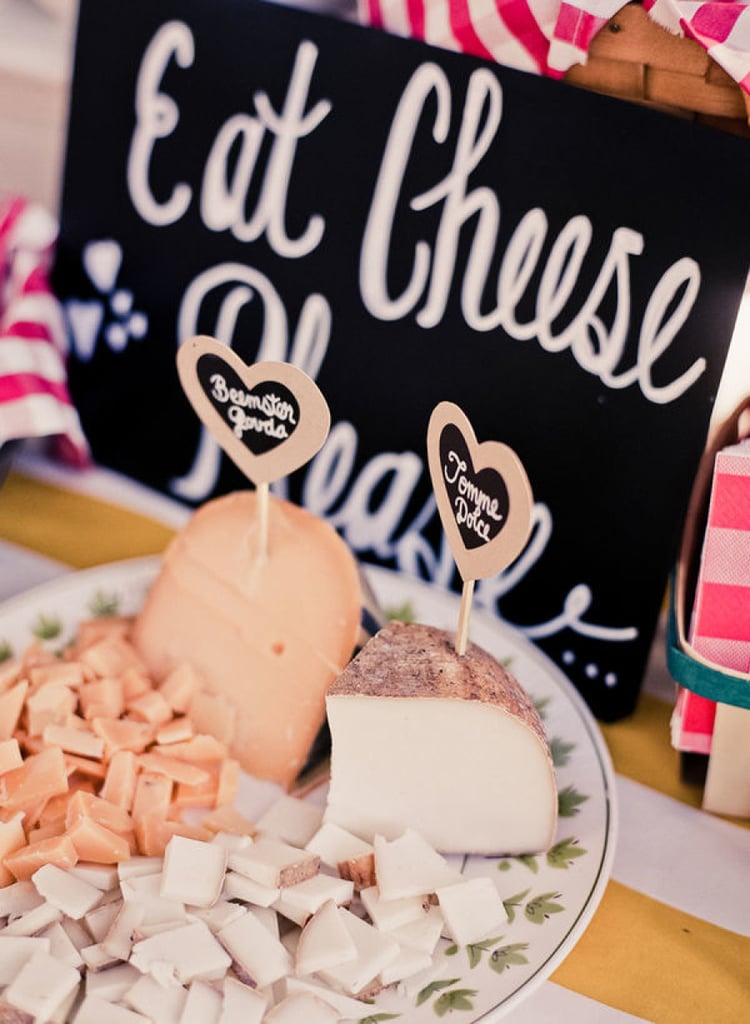 Cheese is awesome enough, but add heart labels and it's even cheddar!
Mustached Heart Boutonniere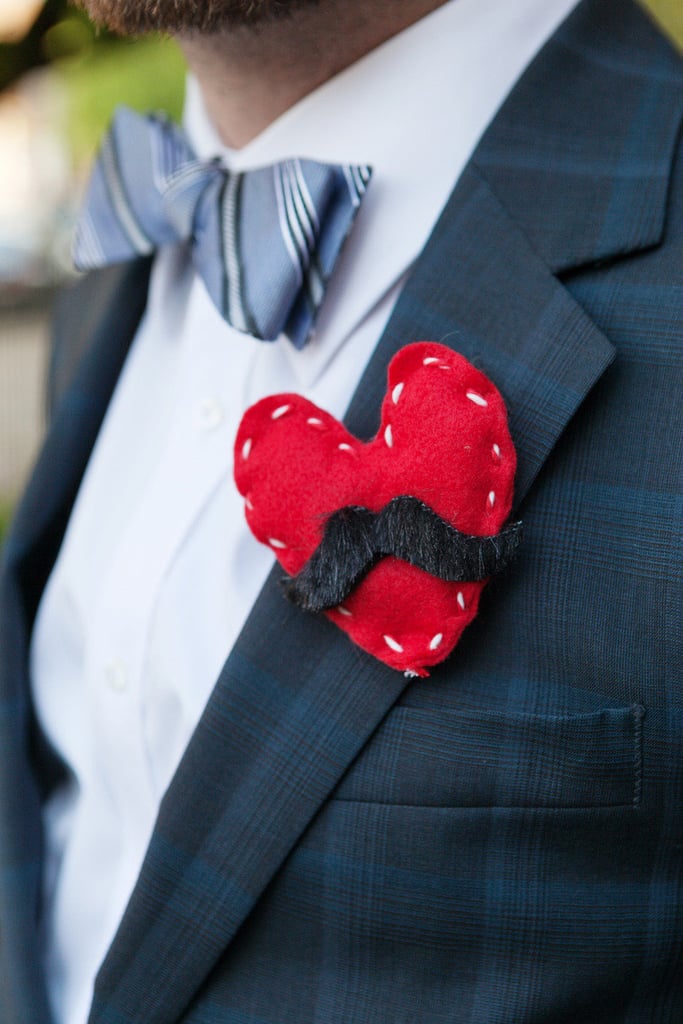 For the debonair groom with a bit of a quirky side.
Seating Chart Heart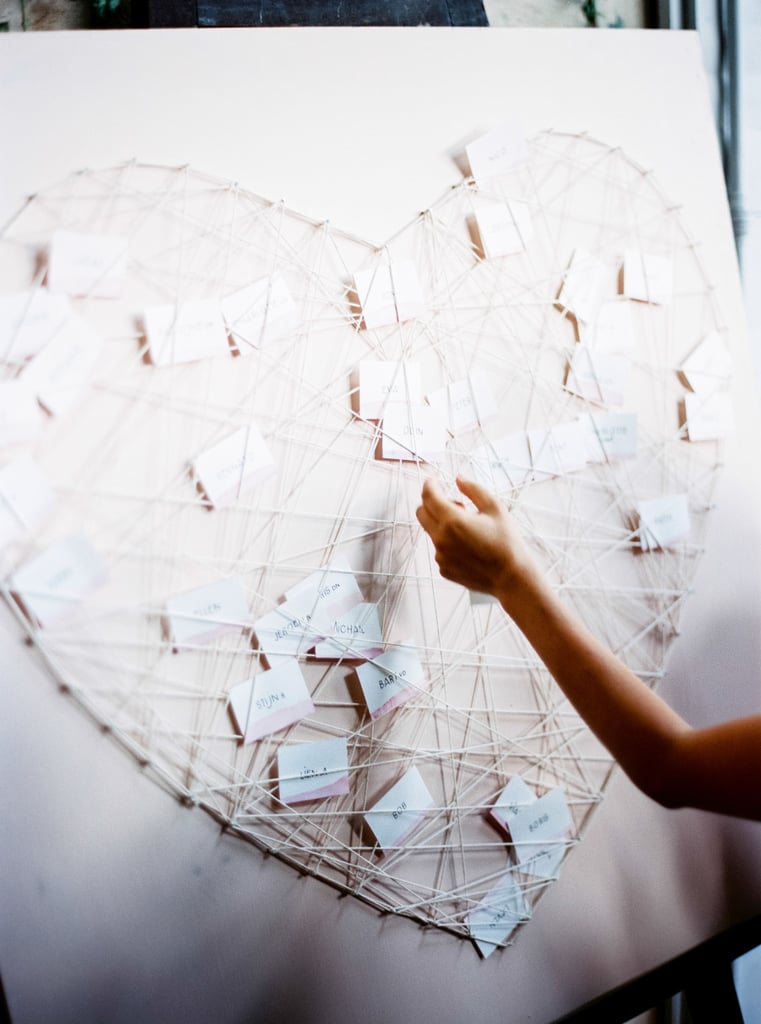 Create a string-filled heart to hold all the seating cards.
Ceremony Chair Hearts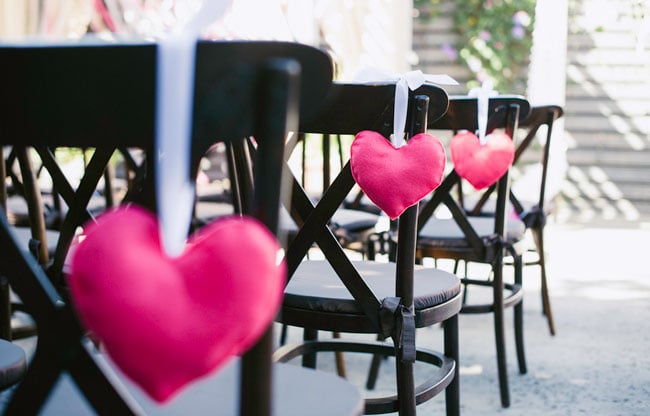 Swap out traditional flowers for cute stuffed hearts along the ceremony aisle.
Napkin-Ring Hearts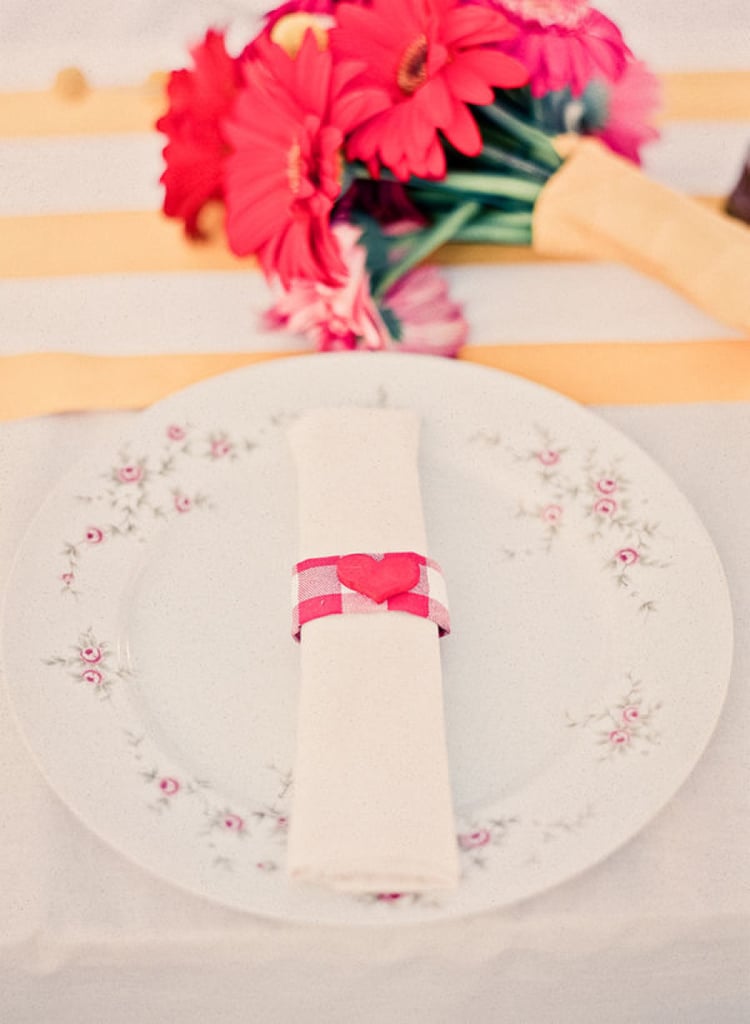 Little wooden hearts dress up casual napkins.
Confetti Love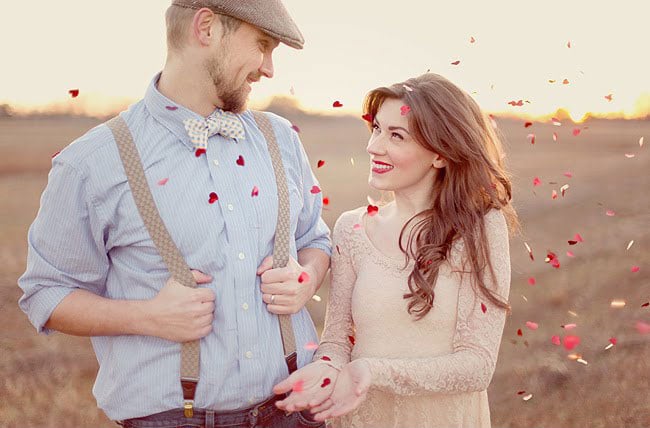 Whether it's for an engagement shoot or to toss at the newlyweds during their postwedding exit, heart confetti is a little detail that packs a punch.
Vintage Valentines For Dessert Flair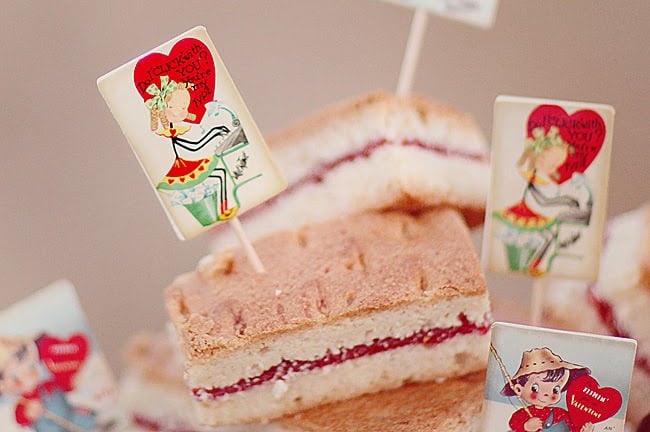 Color-copy vintage valentines to add a touch of retro romance to the dessert table.
Matchbox Favors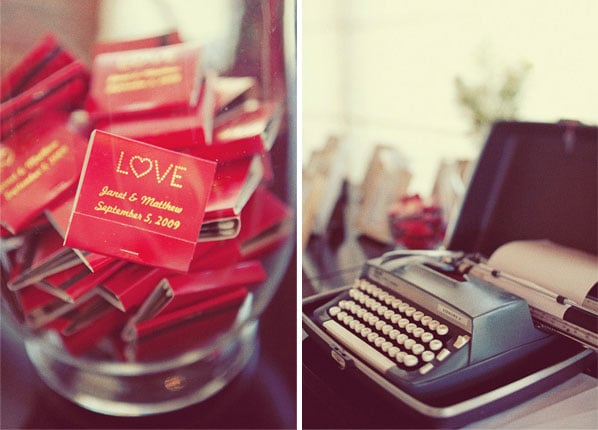 Personalized "love" matchboxes are inexpensive, cute, and practical — the ultimate wedding-favor trifecta.
A Big, Inflatable Heart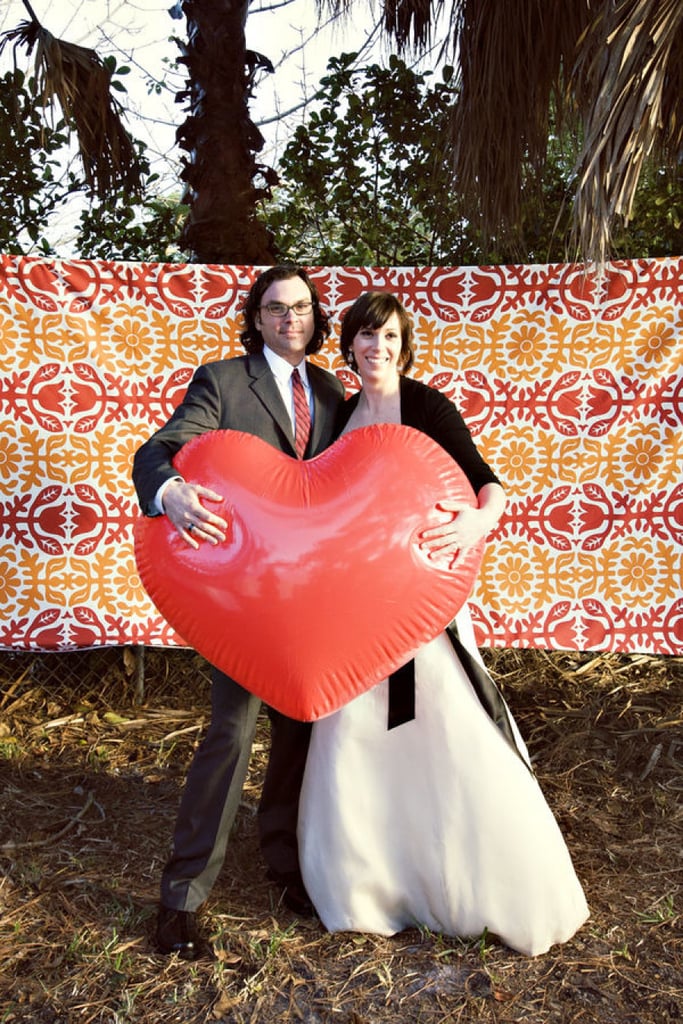 A huge, inflatable, red heart says you know it's a kitschy holiday, but you're embracing it in all its glory.
Reception Wall Art
A massive, shimmering gold heart on its own is festive and fun without being too prom-y.
The Perfect Match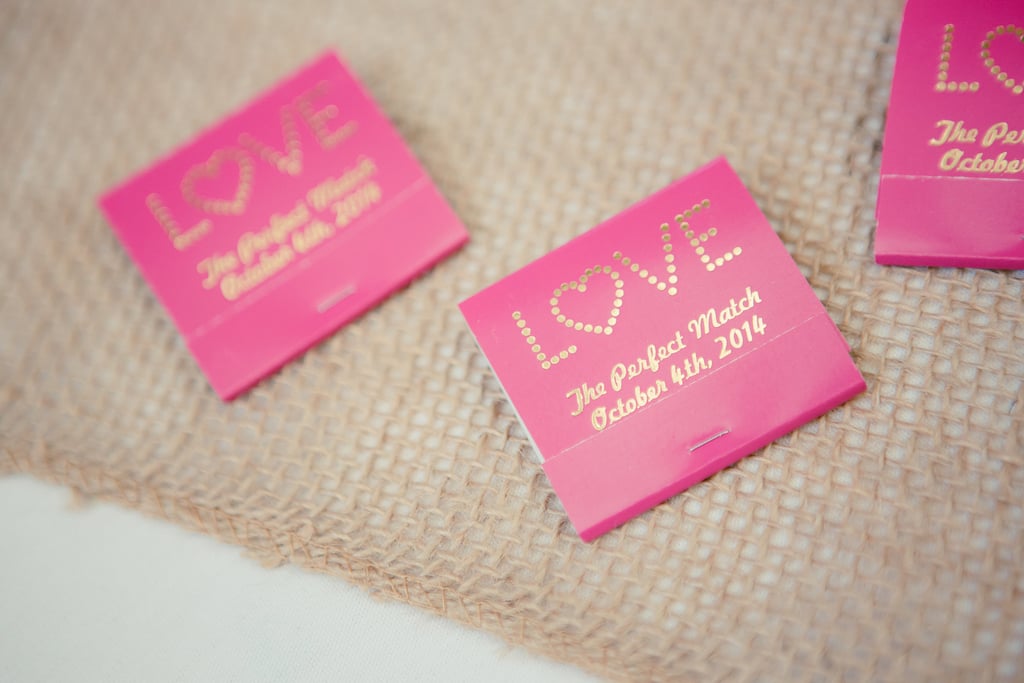 Matchboxes with metallic gold lettering will have your guests oohing and ahhing — we're particularly obsessed with the heart-shaped "O"!
Bohemian Vibes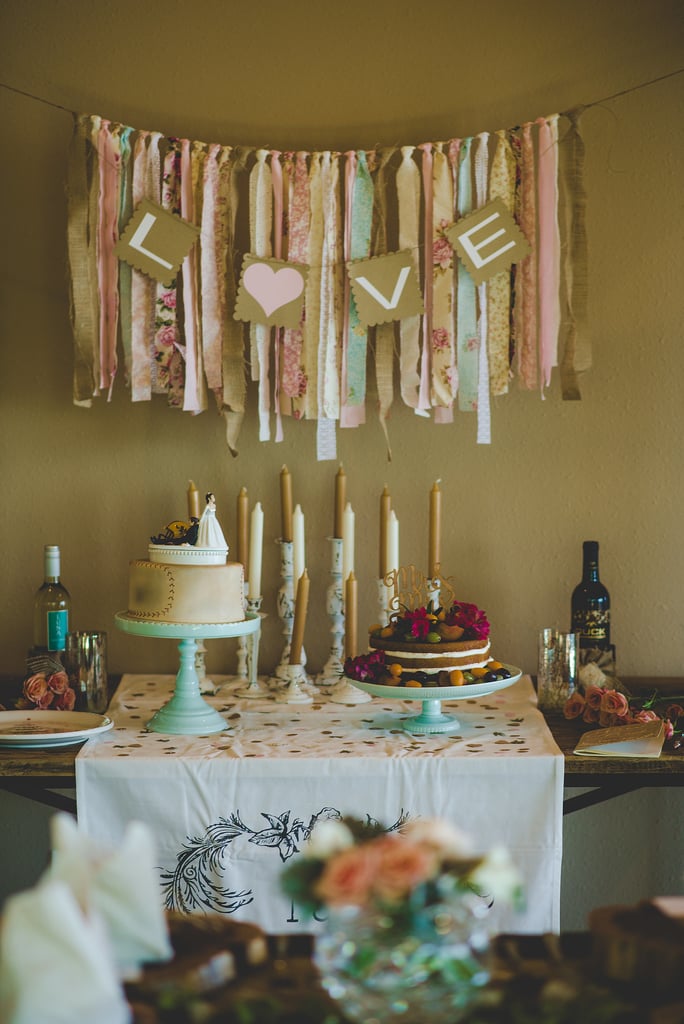 Give your wedding [11] a bohemian spin with colorful cloth strips hanging from twine. The "LOVE" over the top makes it extra special!
Lovely Cup Sleeves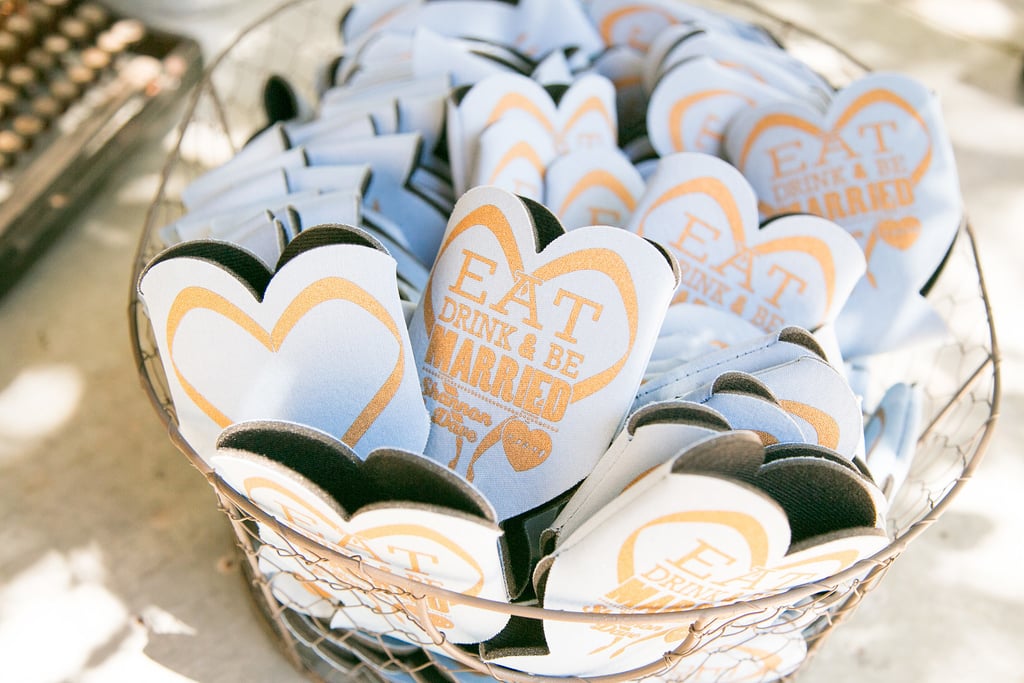 These "Eat Drink & Be Married" cup sleeves are PERFECT for dolling up drinks.
S'mores For Everyone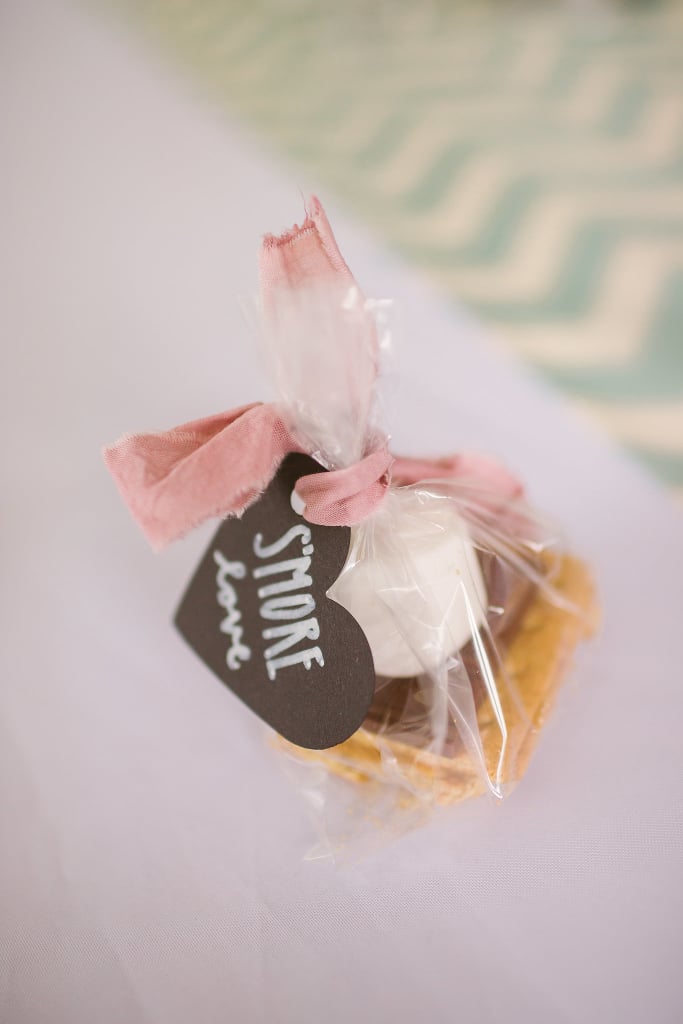 Your guests will adore getting s'mores as a party favor. Delish!
And They're Off!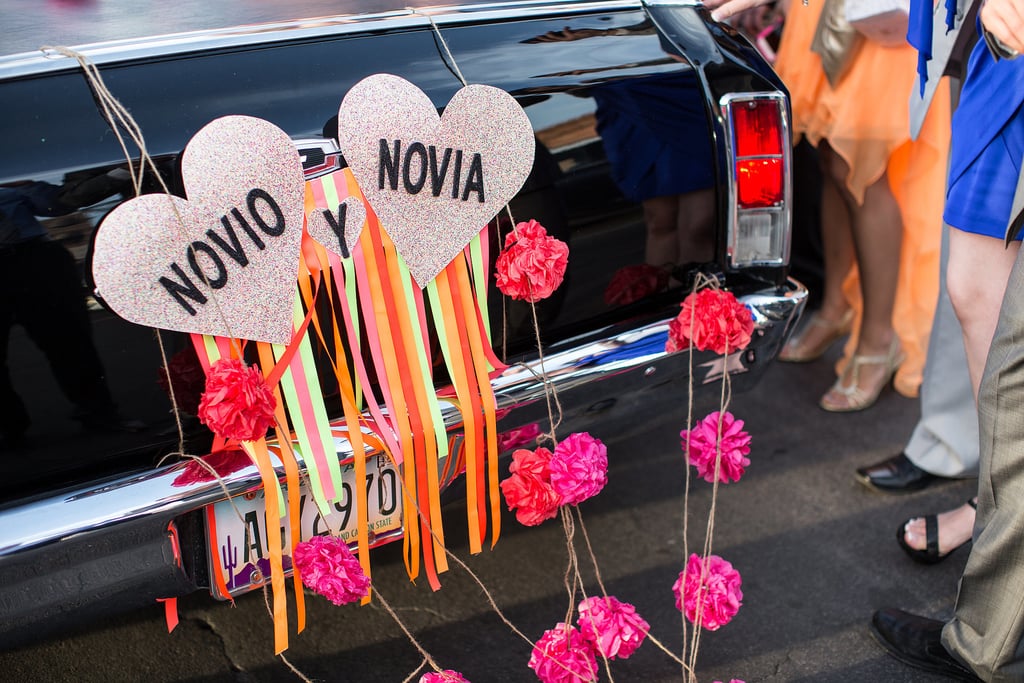 Be sent off as newlyweds in sparkly style.
Heart-Shaped Birdseed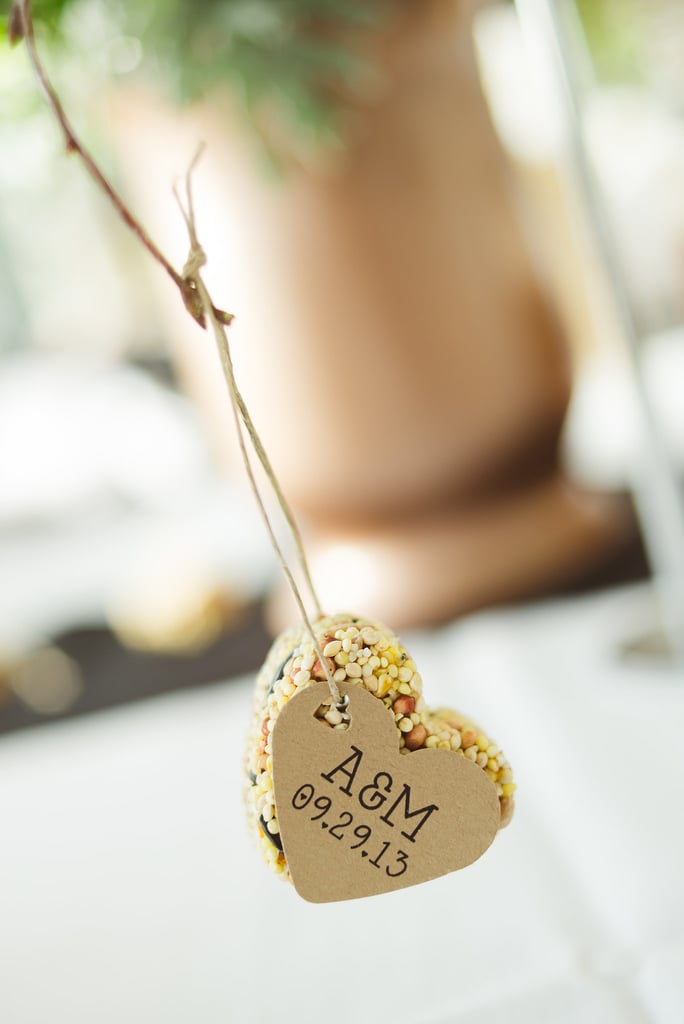 At an outdoor wedding [12], give the birds some love with these sweet seeds.
Mason Jar Decor
Guests can sip their drinks from mason jars with felt heart accents.