Victorian Courtship and Flirting
Victorian Courtship: Flirting With a Fan — Only!
Like us on Facebook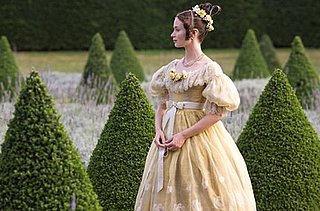 If you were a young woman following Victorian dating rules by the book (and there was a book!) then you did not flirt. "It is only the contemptible flirt" — wrote John H. Young in 1882's Our Deportment, or the Manners, Conduct, and Dress of the Most Refined Society — "that keeps an honorable man in suspense for the purpose of glorifying herself by his attentions in the eyes of friends." So I guess it was OK to flirt with a dishonorable man!
Of course, where there are pointless dating rules, there are women with fans. And Victorian women used fans to convey their intentions because courtship was serious business, and there was no time to waste on Sir Right Now. As we wait for the premiere of The Young Victoria, see if you can decode the fanned messages that all the honorable men were expected to read.
Victorian Courtship: Flirting With a Fan — Only!