As we soak up the warm weather and daydream in our offices about diving headfirst into the refreshing waters of an ocean, lake, or pool, take advantage of the skin-baring season with vintage Summer ads for bikinis, cold beverages, sunscreen, and more. Check out how women back in the day enjoyed their hot Summer days. Pointy-chested bikinis and innocent Summer flings ahead.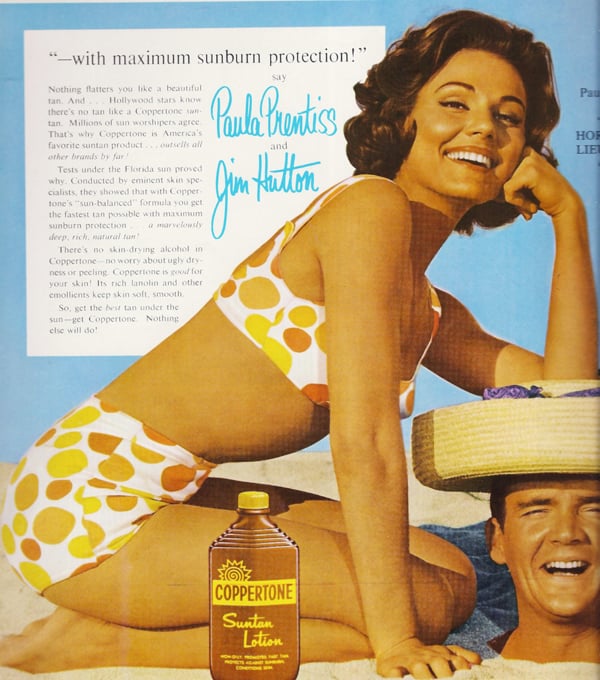 Wear Coppertone tanning lotion, since, after all, "nothing flatters you like a beautiful tan."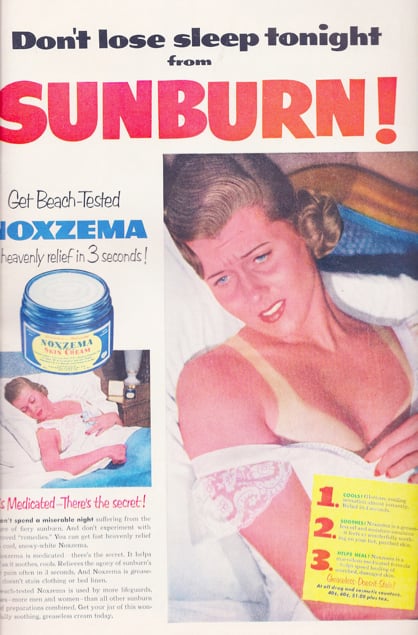 Don't get too much sun!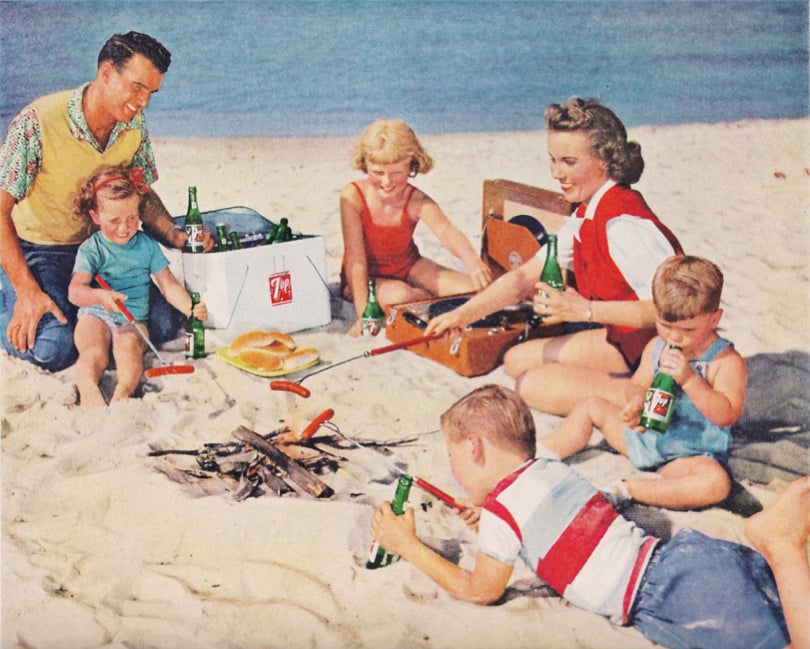 Just an all-American family enjoying dogs on the beach.
Pointy boobs were all the rage.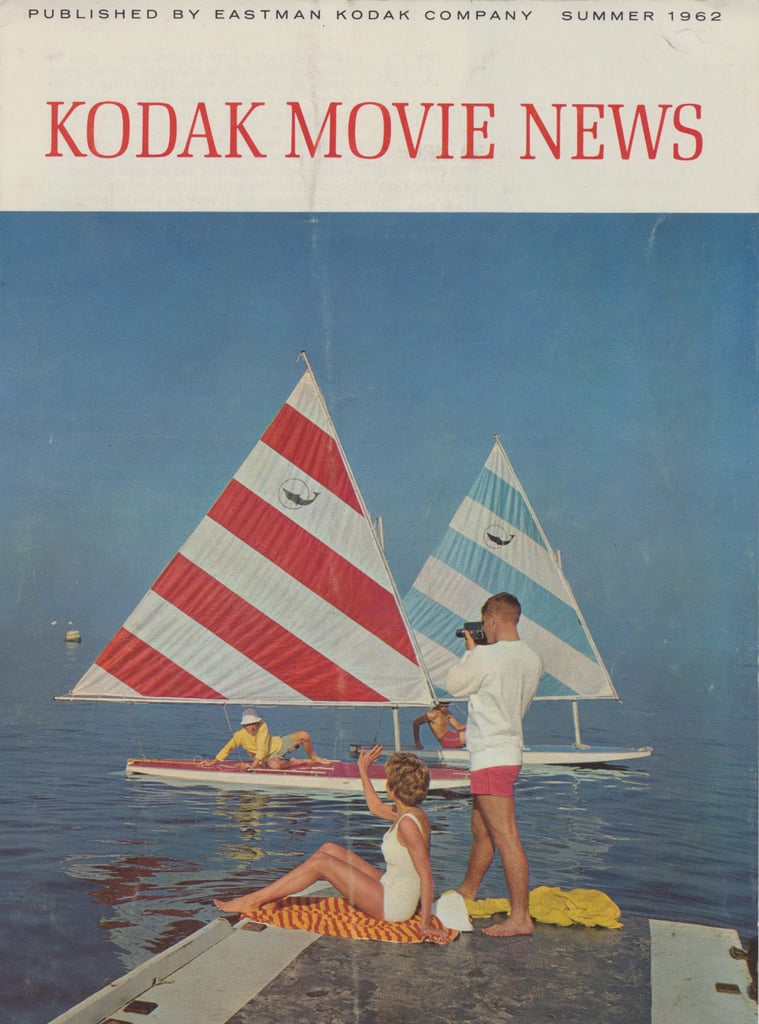 Enjoy the Summer by watching the boats go by.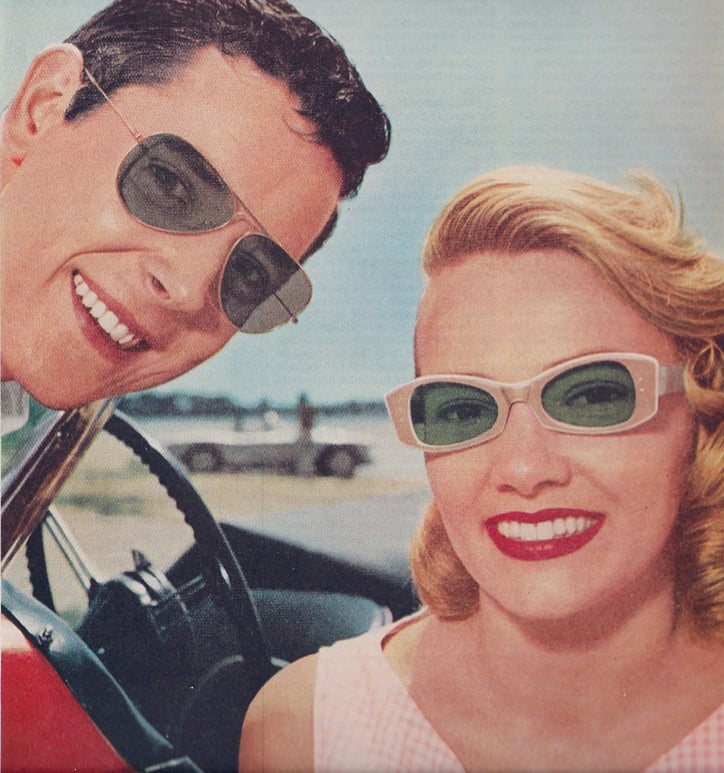 This vintage Ray-Ban ad is still in style.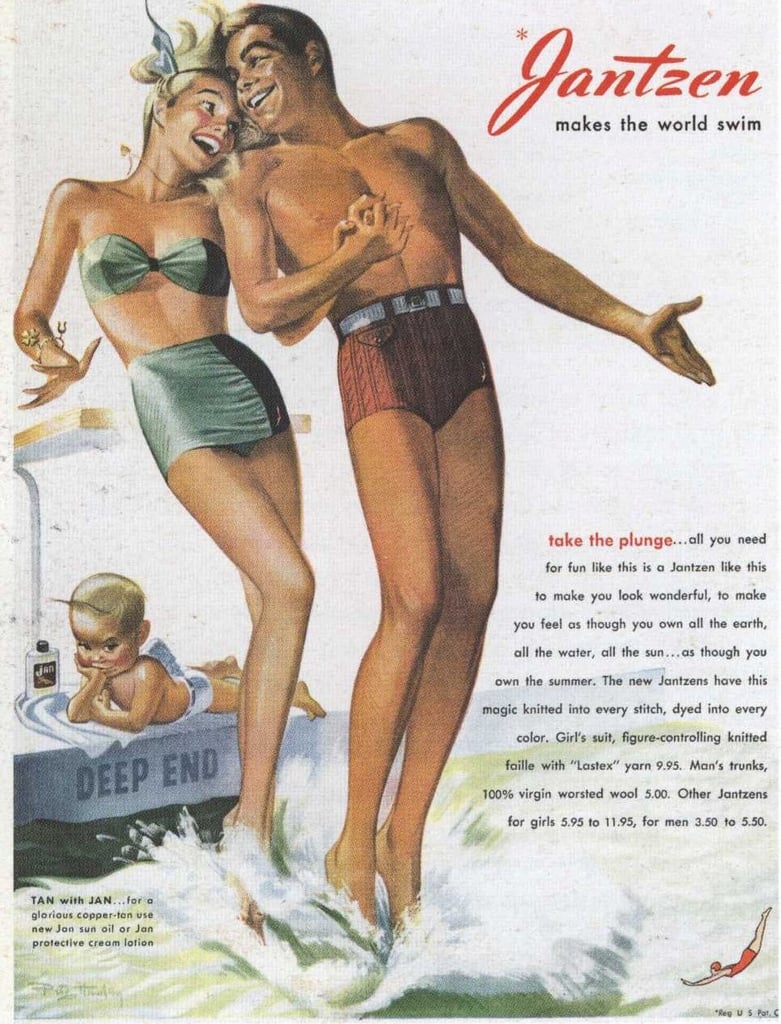 What's up with the creepy kid?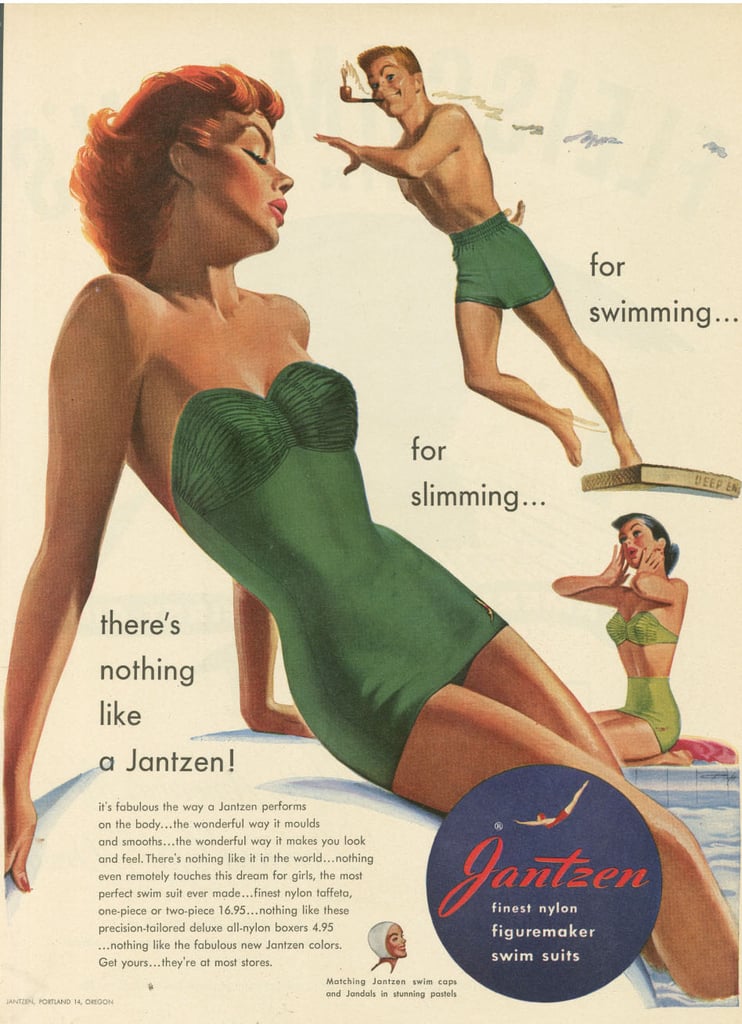 Hey, don't we all want a swimsuit that does double duty?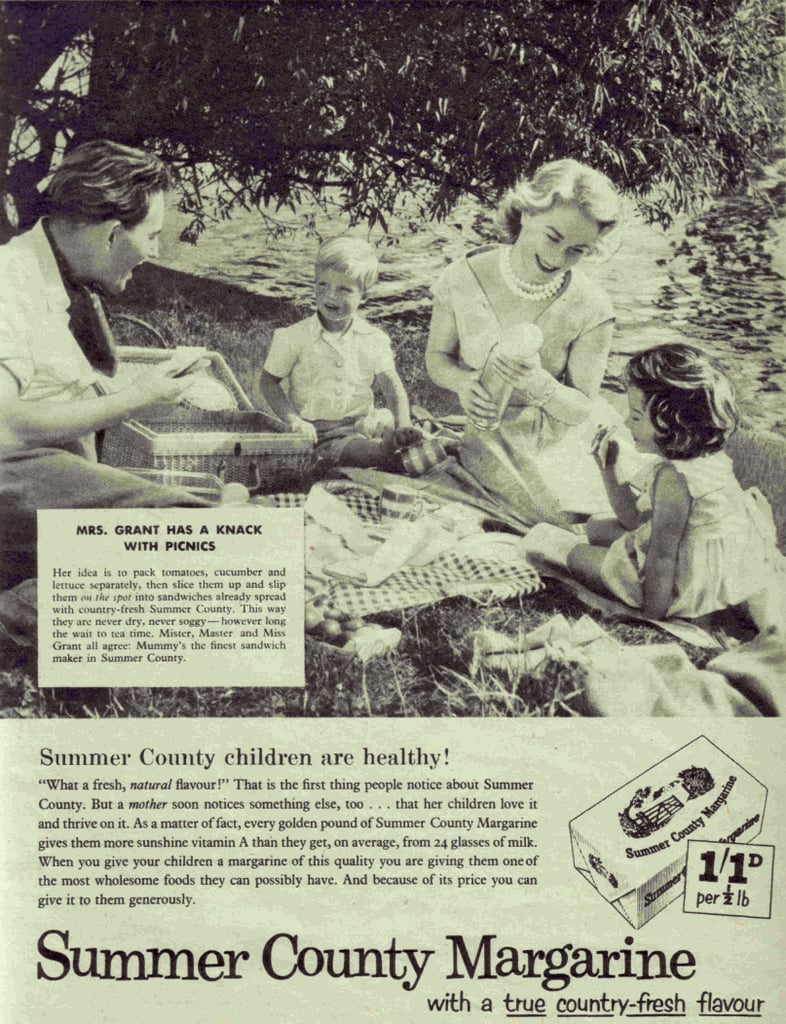 Margarine is healthy for kids! If you say so . . .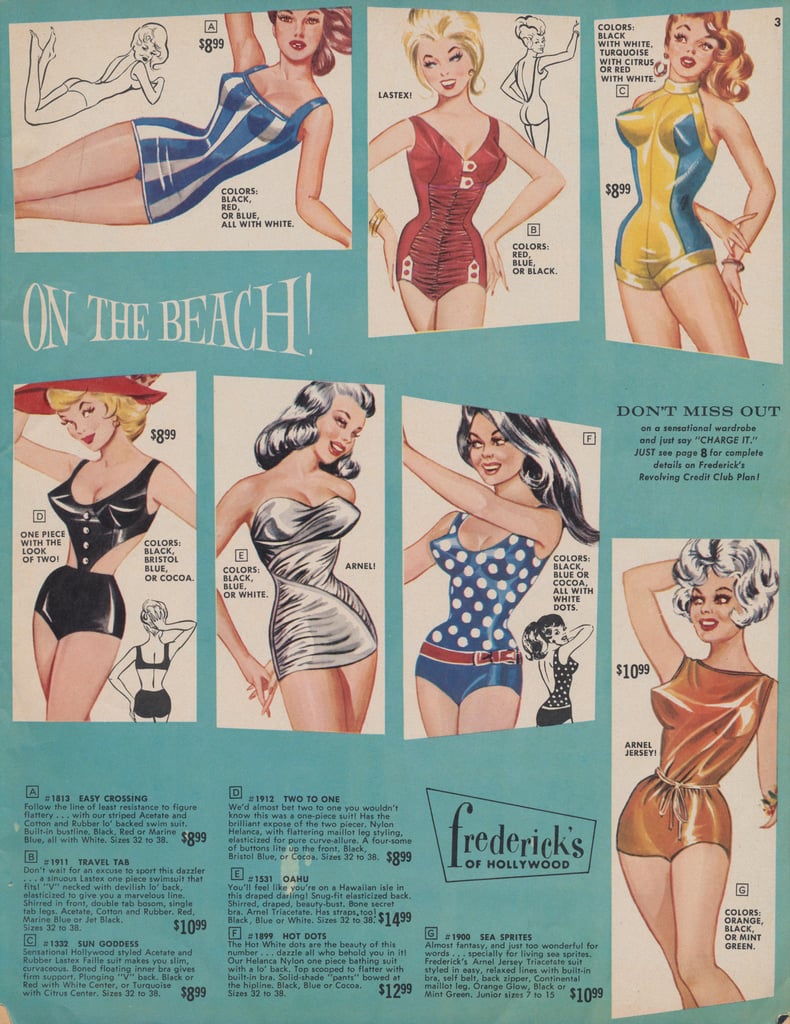 Can't afford a fashionable new suit? That's OK — "Just say 'CHARGE IT!'"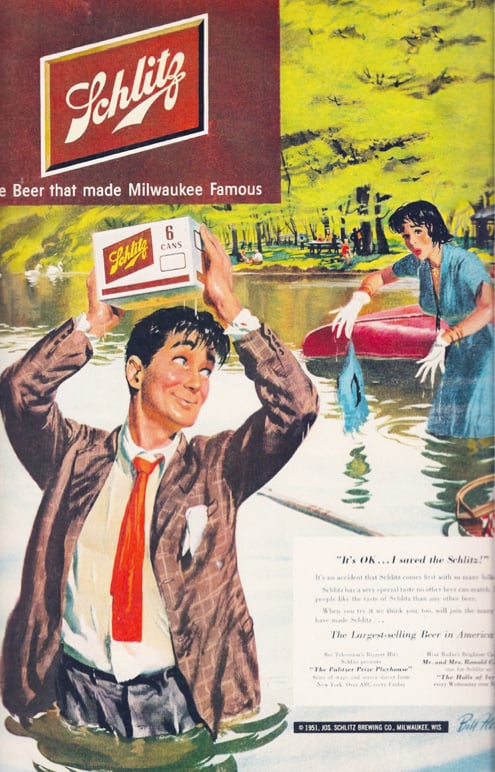 Forget the girlfriend; save the beer!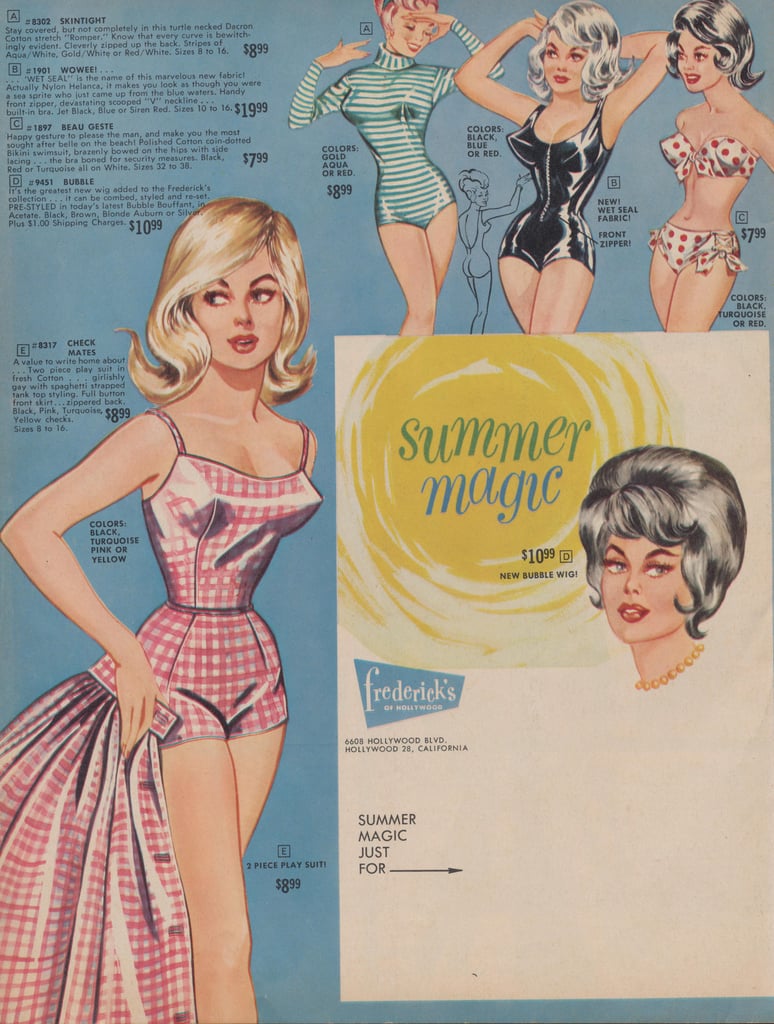 Nice swimsuit train!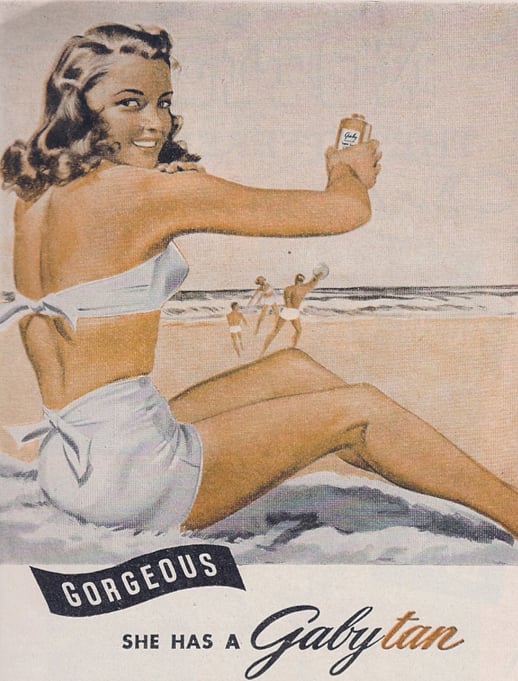 It's all about the tan.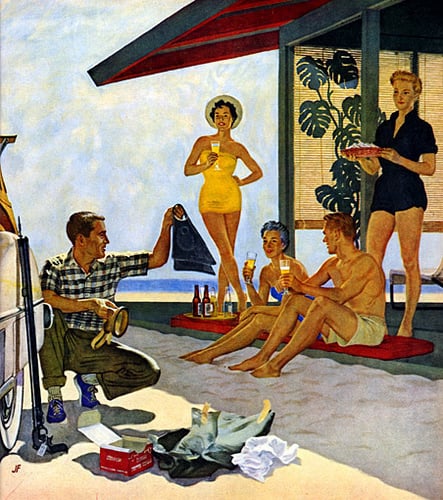 Enjoying the beachside brewskis.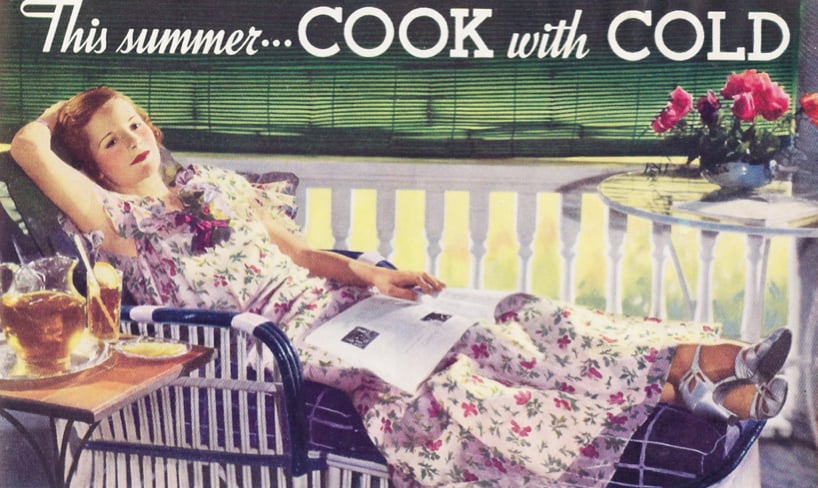 Hmmm . . . cook with cold?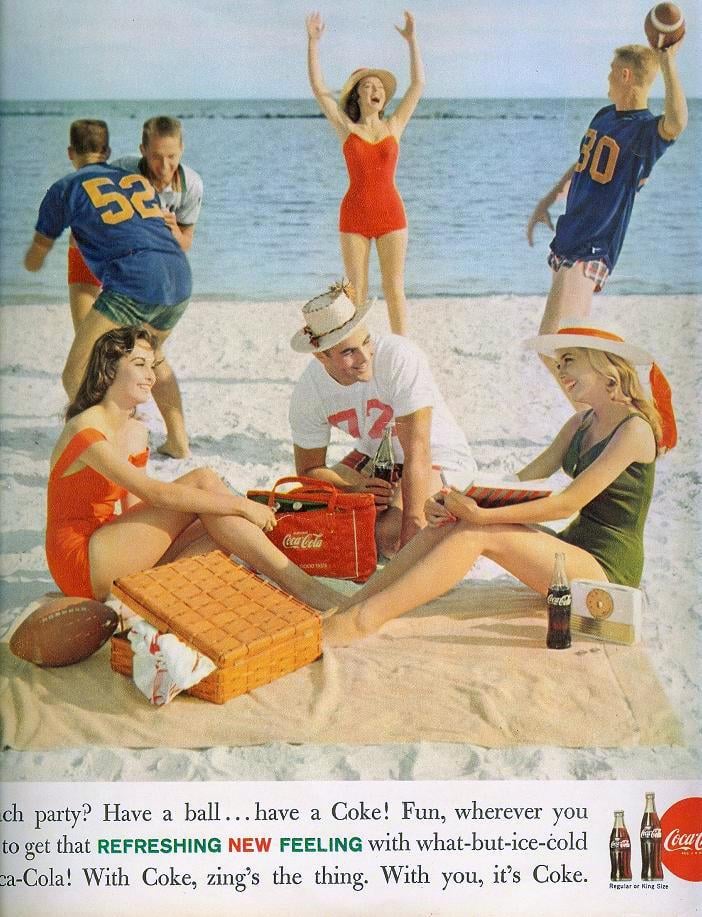 I think he's throwing that ball a little too close. I sense a broken nose in her future.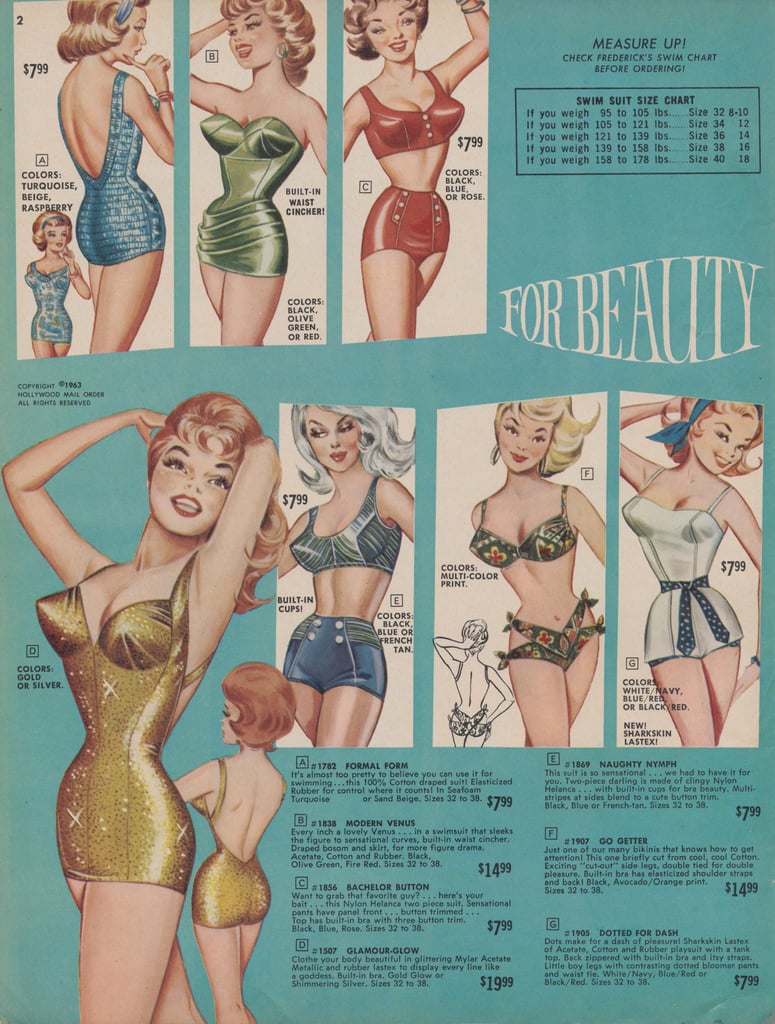 These suits aren't for the beach; they're "for beauty."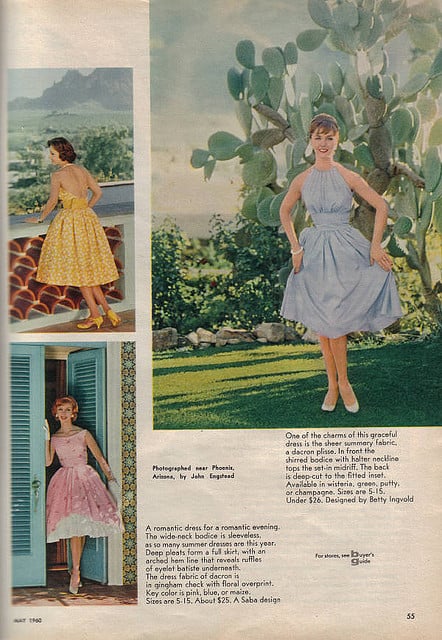 I'd wear one of these sweet Summer dresses.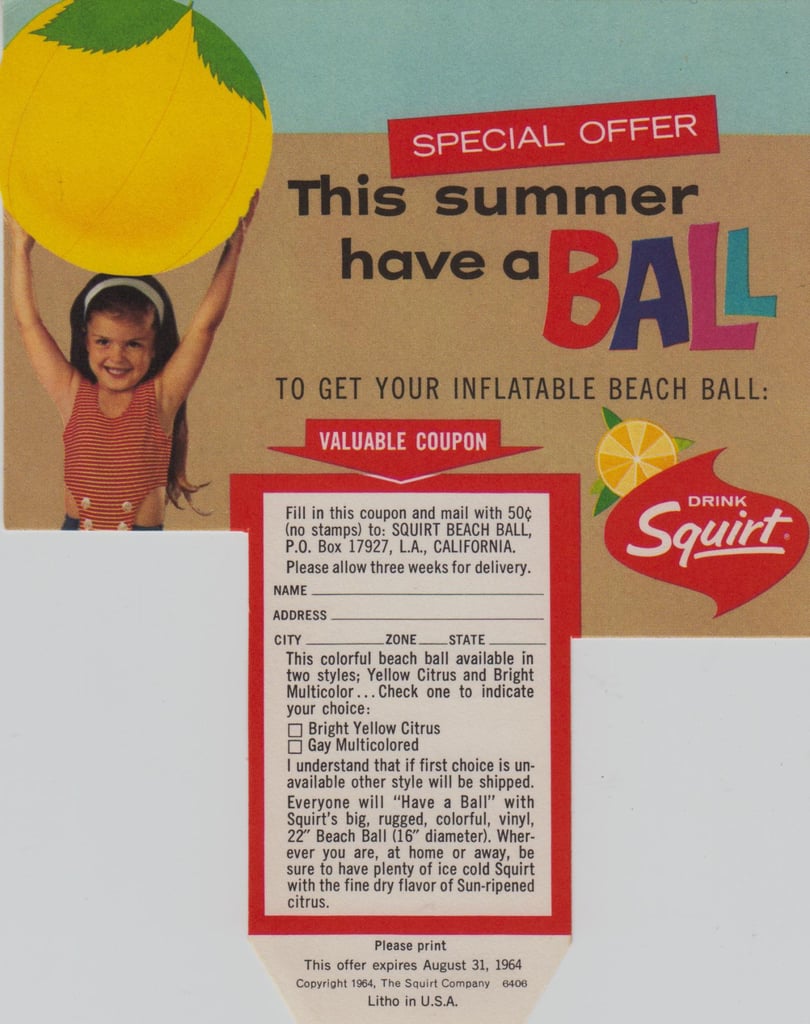 That ball's as big as she is!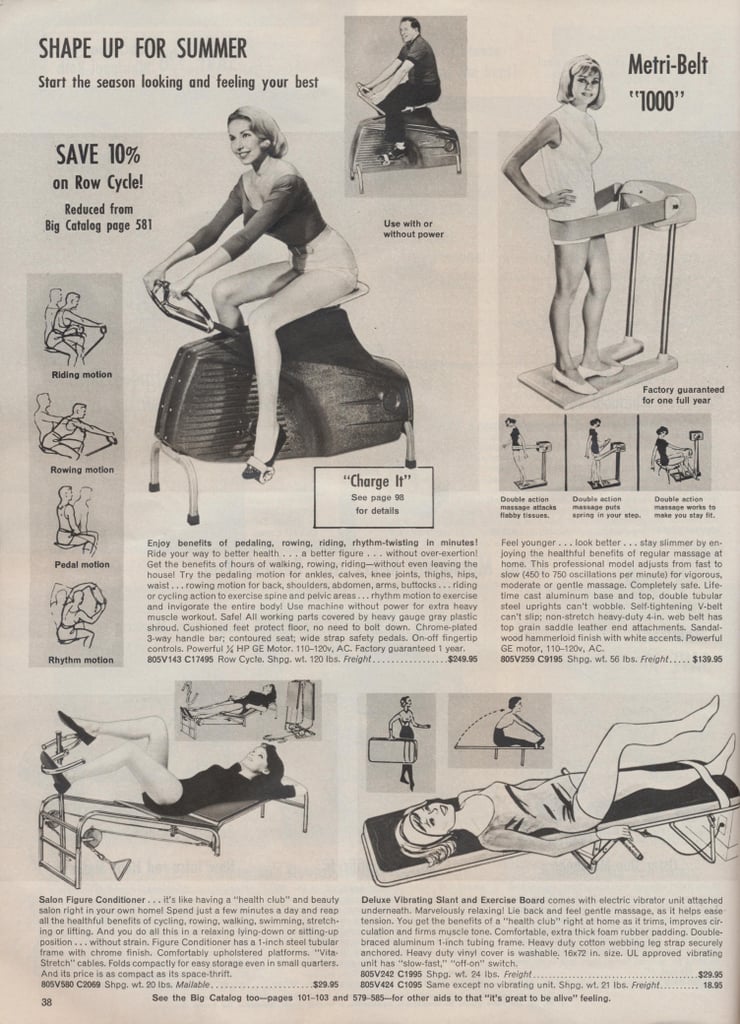 Use these funky workout machines to get in shape for Summer. They're sure to probably (but not likely) work.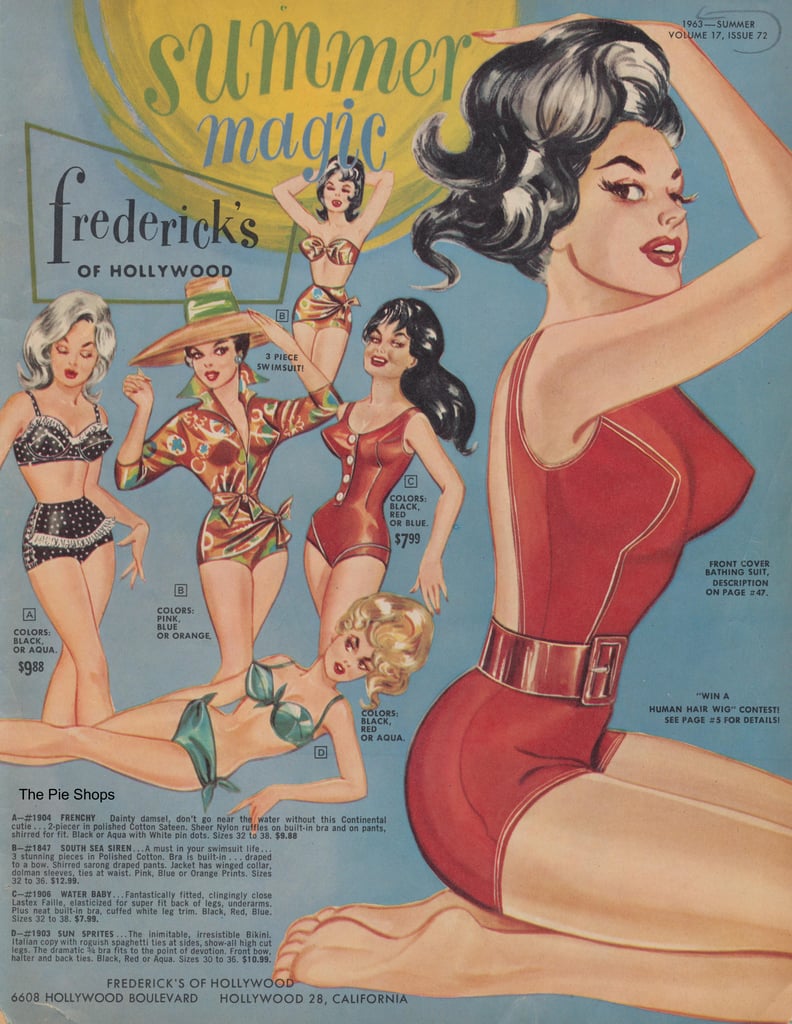 "Dainty damsels," Frederick's has a suit for you!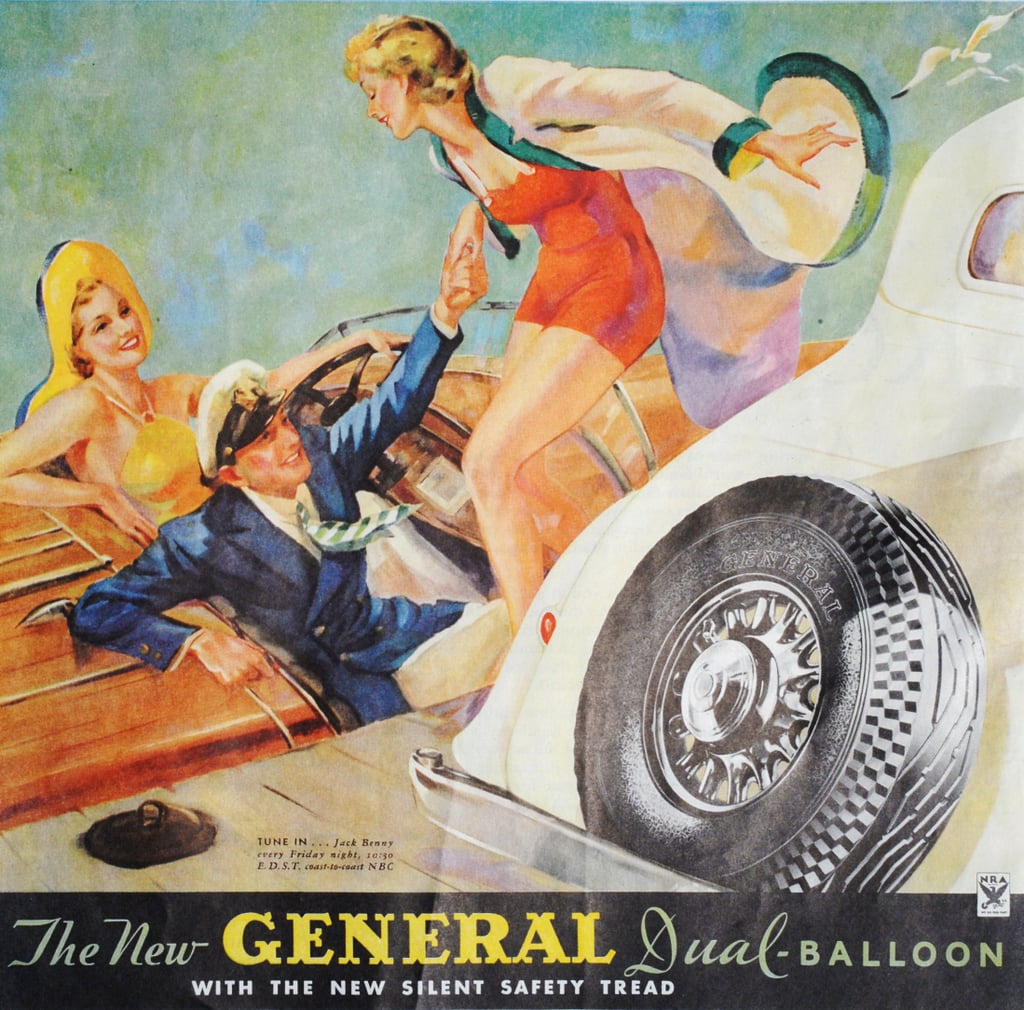 Time to hit the high seas.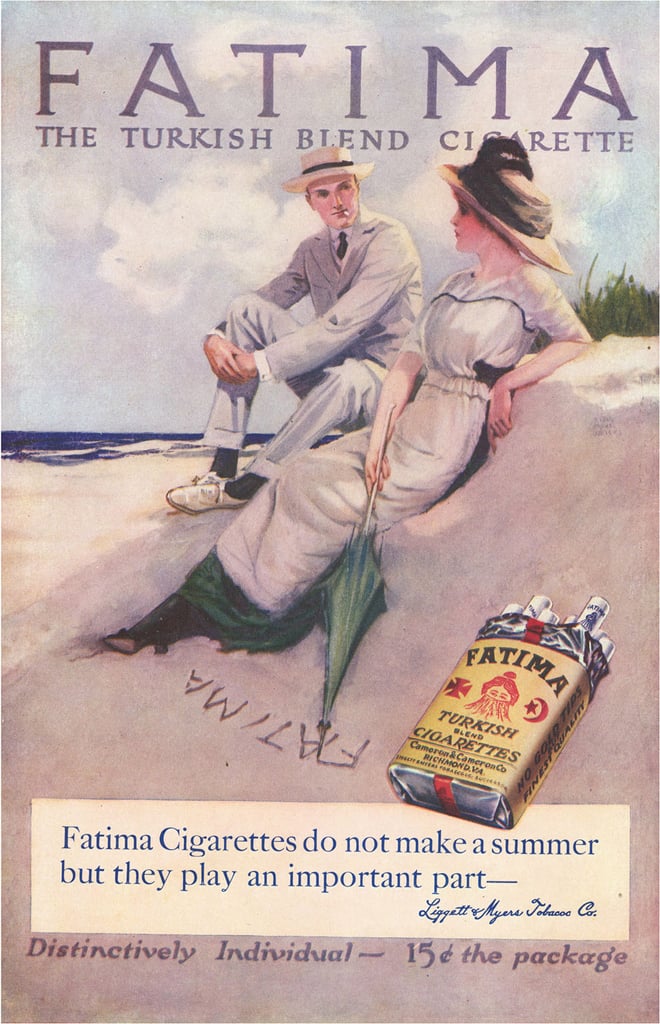 How nice. Are you writing my name in the sand? Oh, it's just the brand of your cigarettes.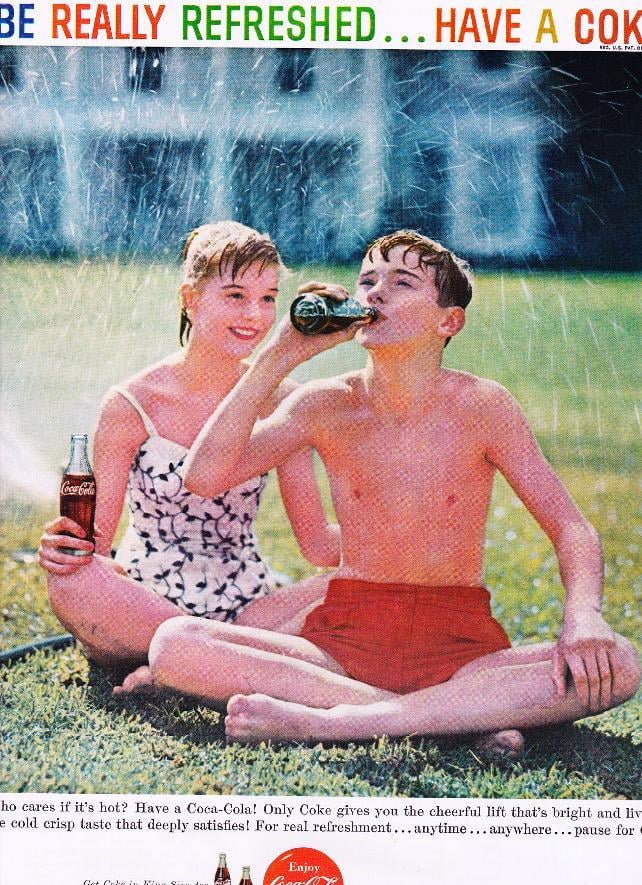 Ah, young love.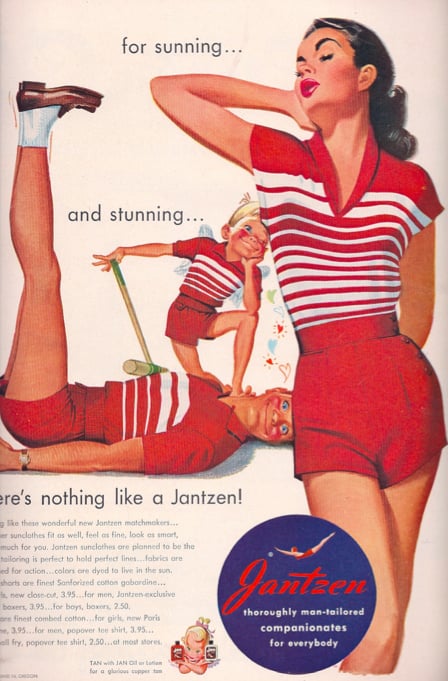 OK, I know he's supposed to be Cupid, but isn't he a little young to be ogling hot chicks?
This Summer, "give your skin a bloom" with Avon makeup.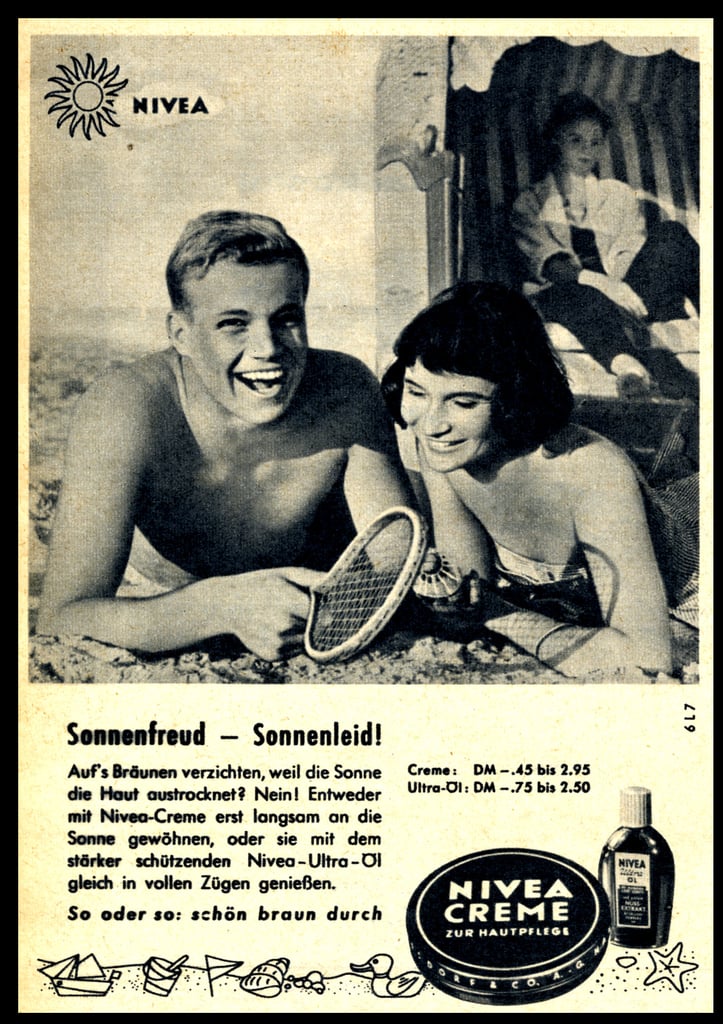 I think she likes the badminton rack more than the guy!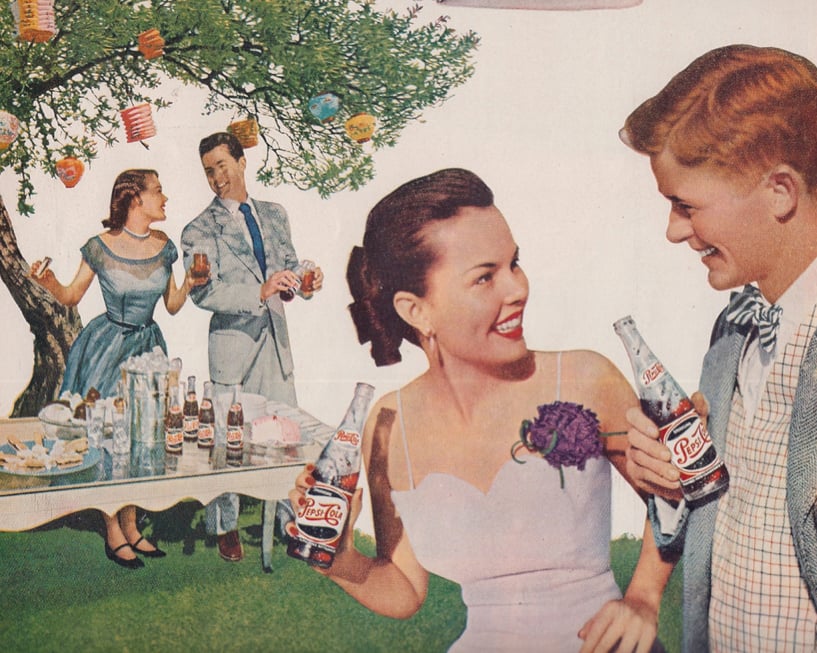 A Summer party isn't complete without a Coke!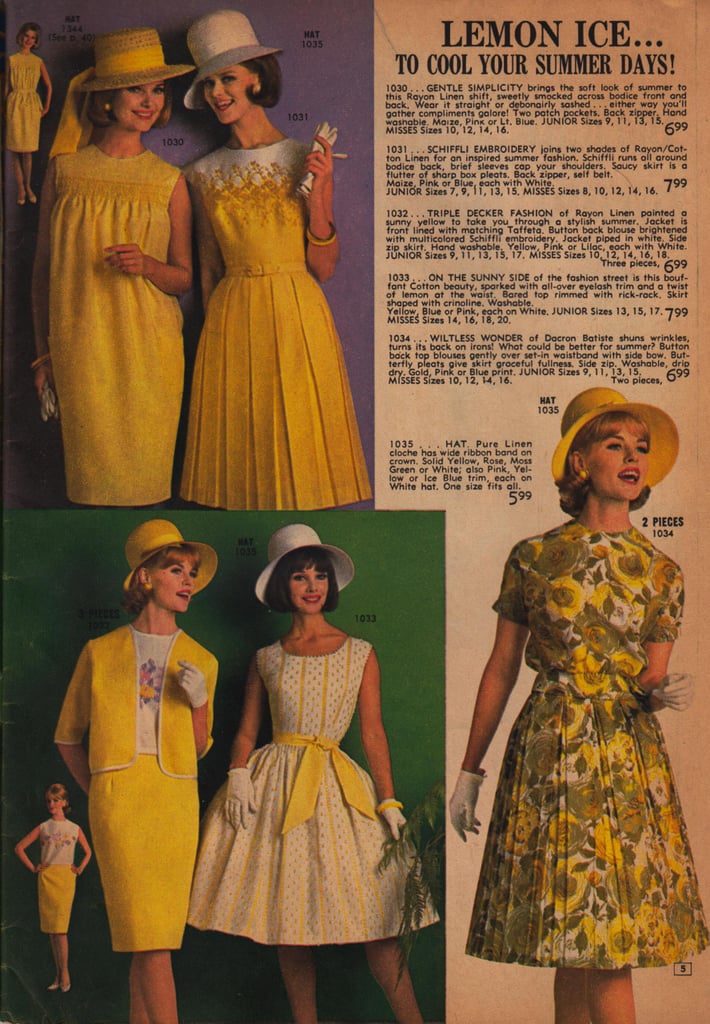 Cool off in lemon-yellow frocks.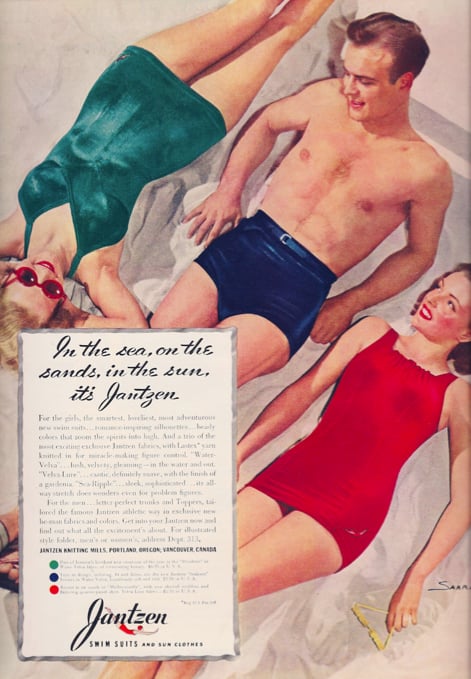 It's a two-for-one deal.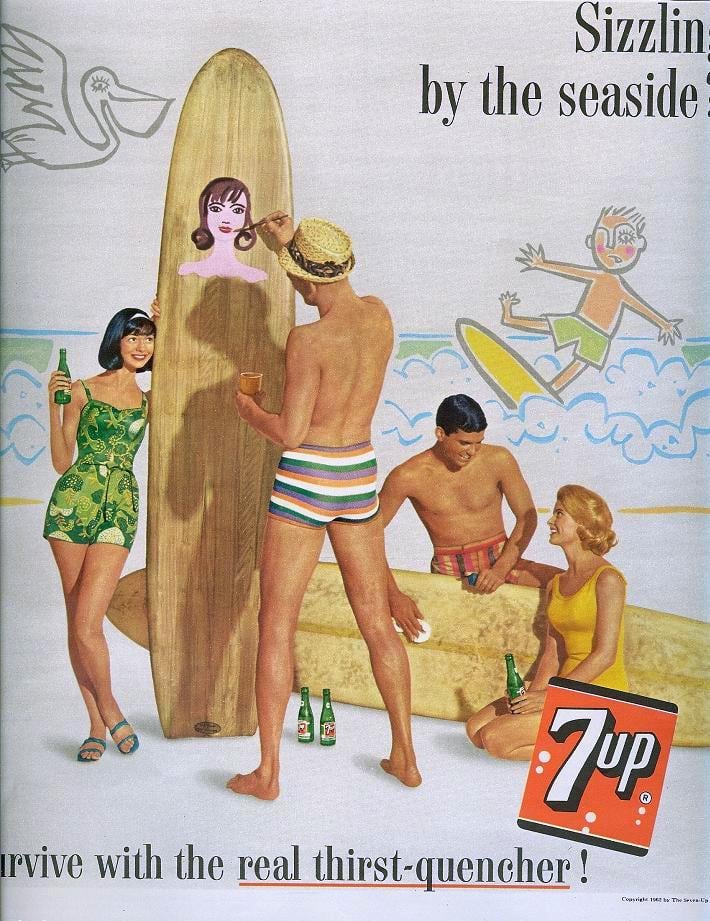 He's no Picasso, but he'll do for a Summer fling.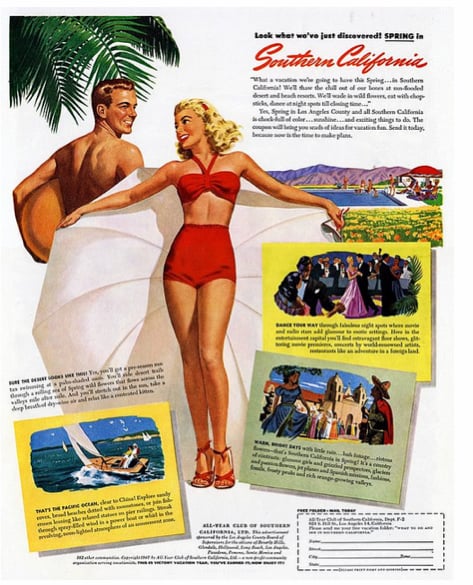 Just posing over here in front of this umbrella.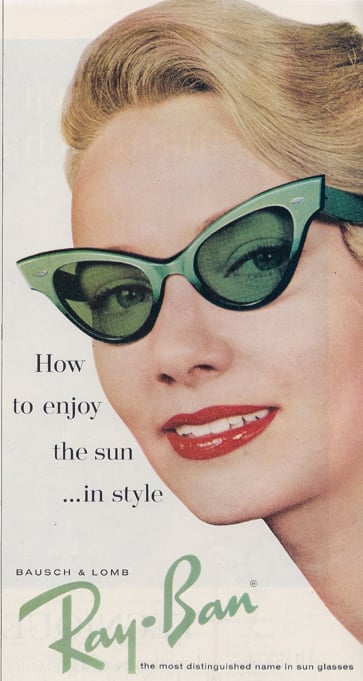 Cat-eye sunnies are a classic.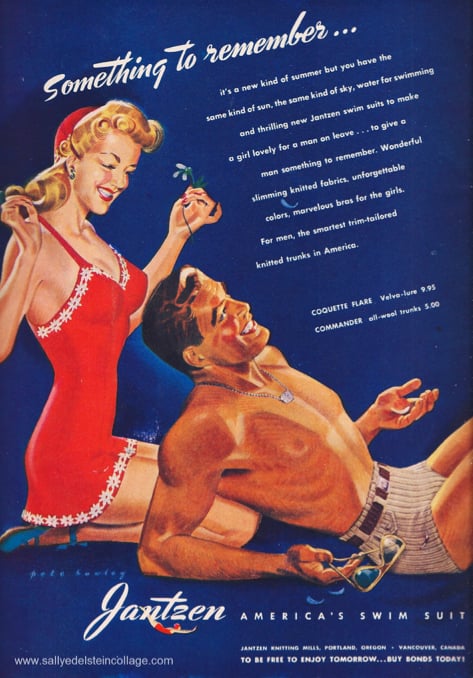 That guy seems a little out of proportion. His lower half is tinier than hers!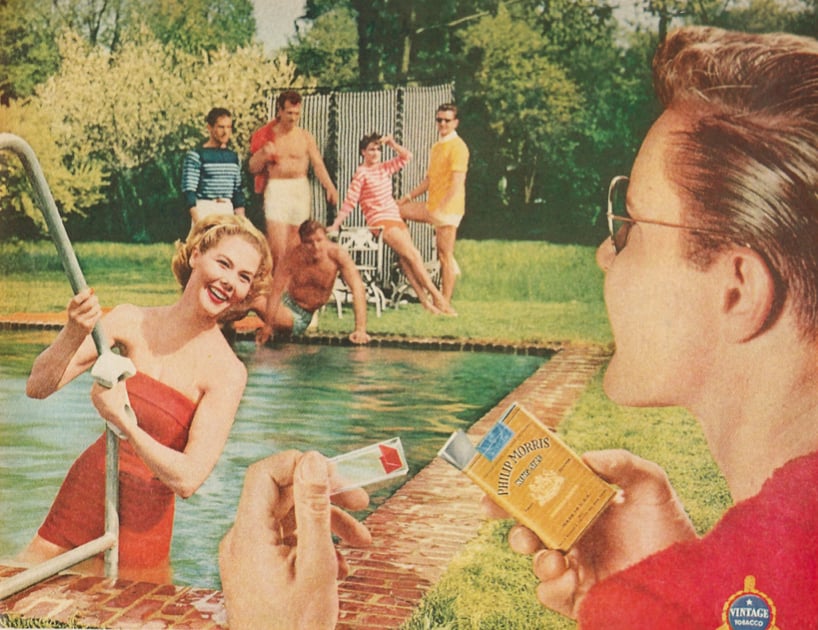 Sorry, but these ciggies aren't waterproof.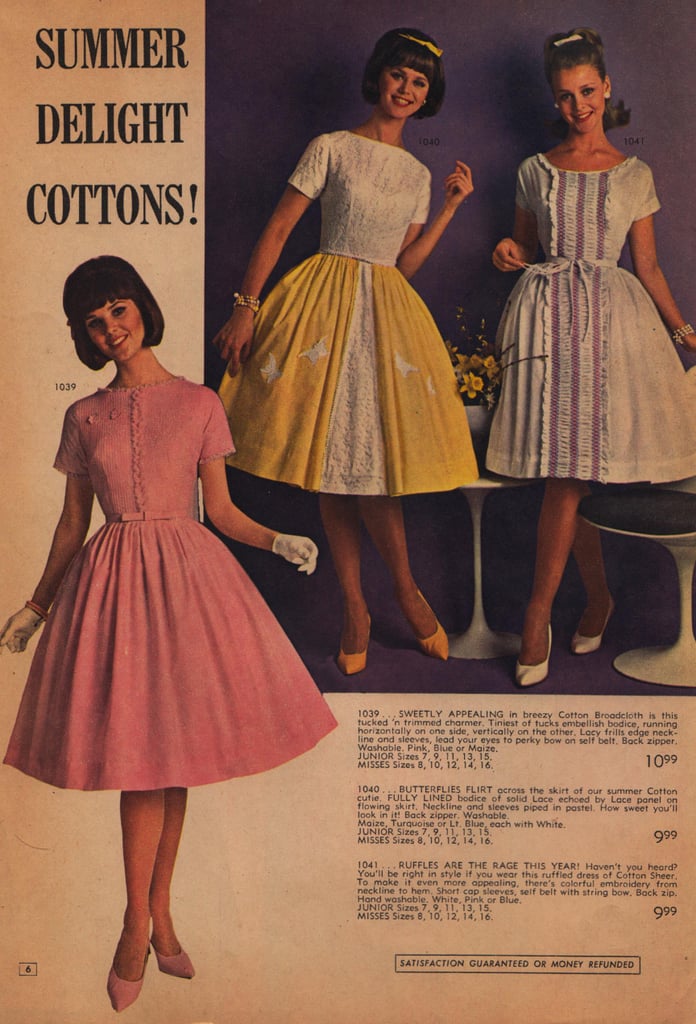 "Ruffles are the rage."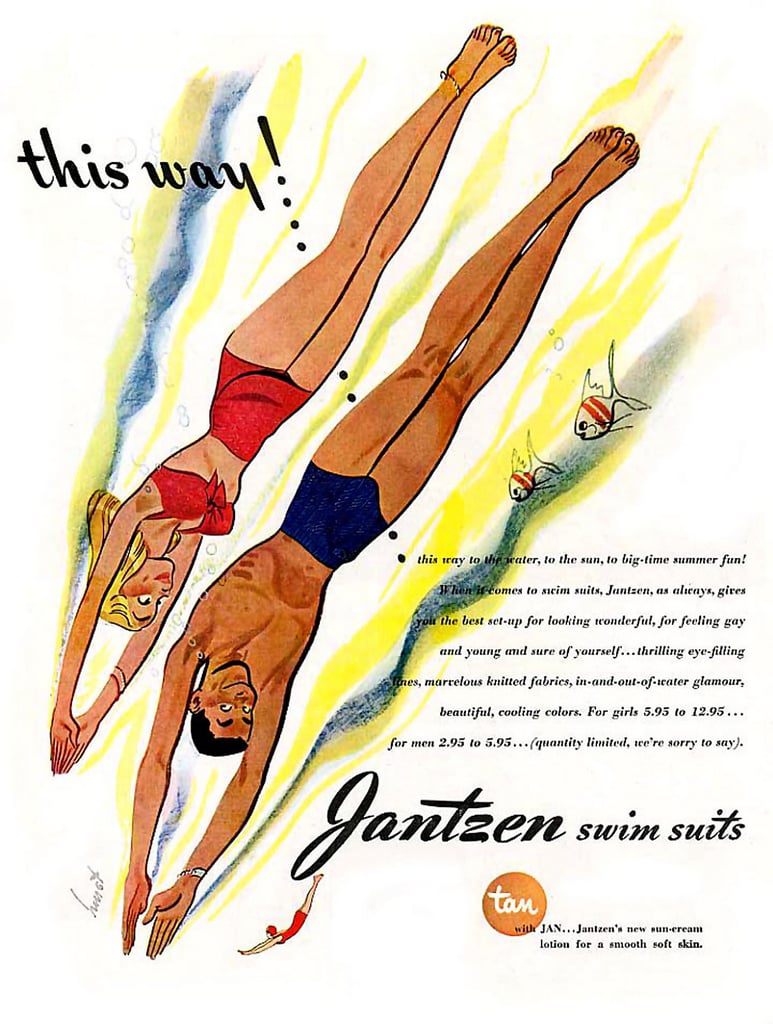 These swimsuits are for "feeling gay."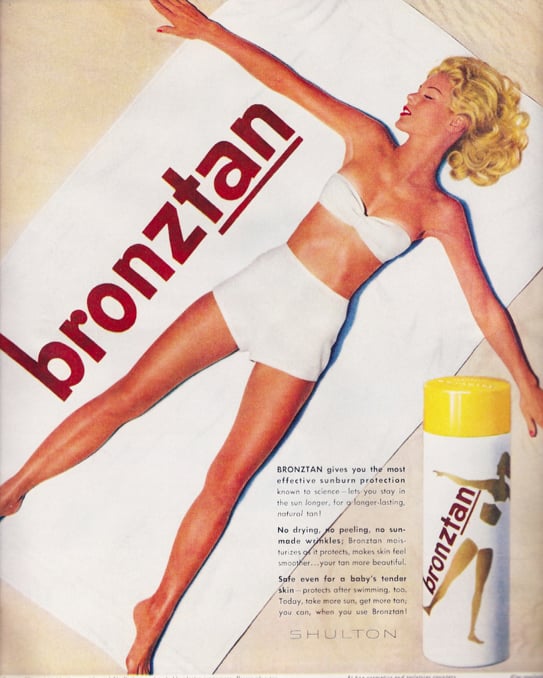 Safe enough for baby's skin . . . so you can take some parenting tips from "tanning mom" and sunbathe with your kid!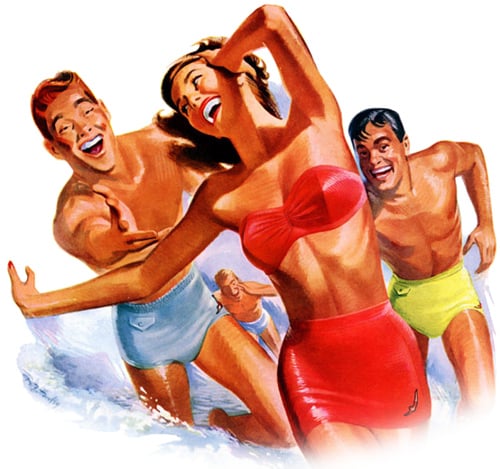 It's all fun and games until you get tackled by a bunch of creepy guys at the beach.
Ooh, look at how non-sun-damaged his hair is! That's the first thing I notice about a guy too.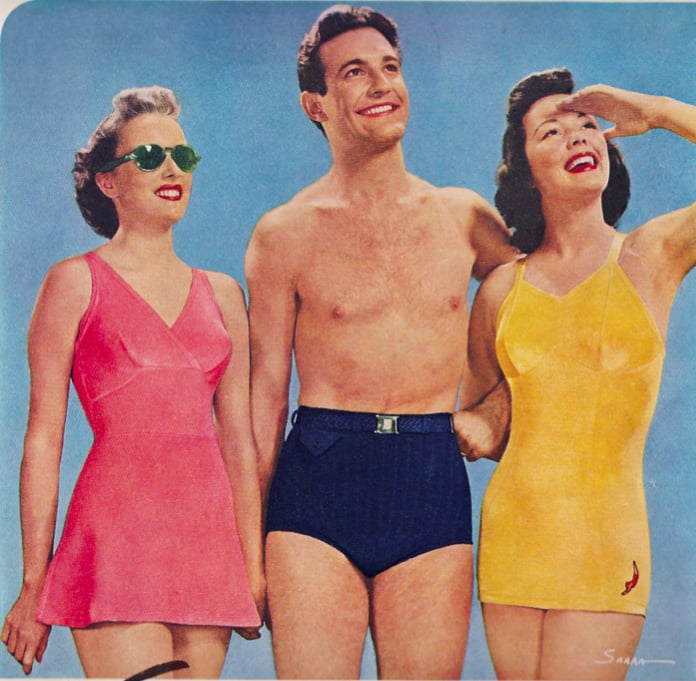 Um, Ken doll, anyone?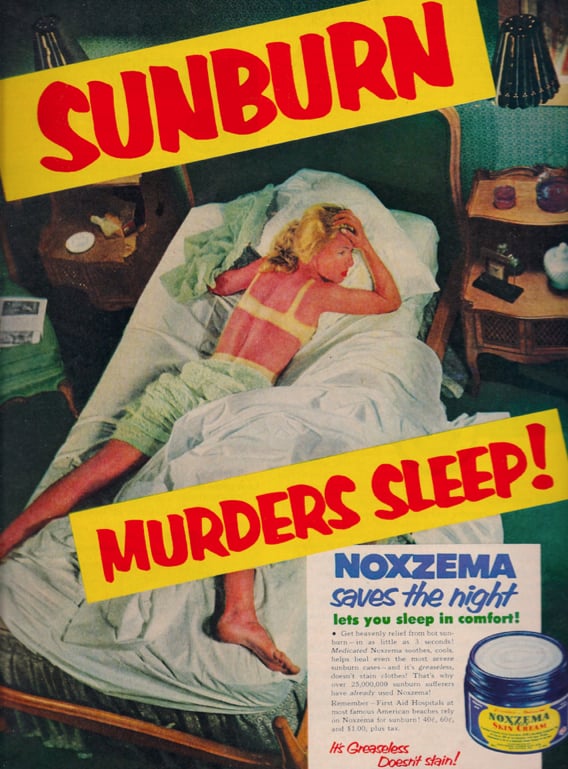 Ouch!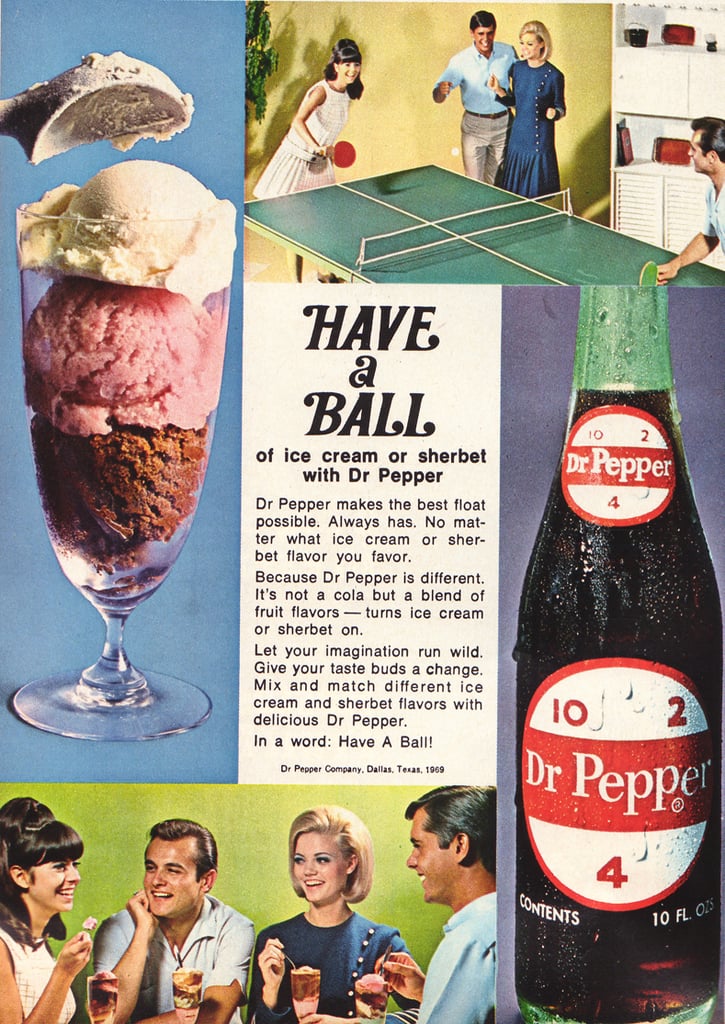 Dr. Pepper floats and ping-pong — sounds like an awesome Summer day to me!
They may be hideous, but they work (says Tex and Jinx).
I would think real surfers don't need to using tanning lotion to tan.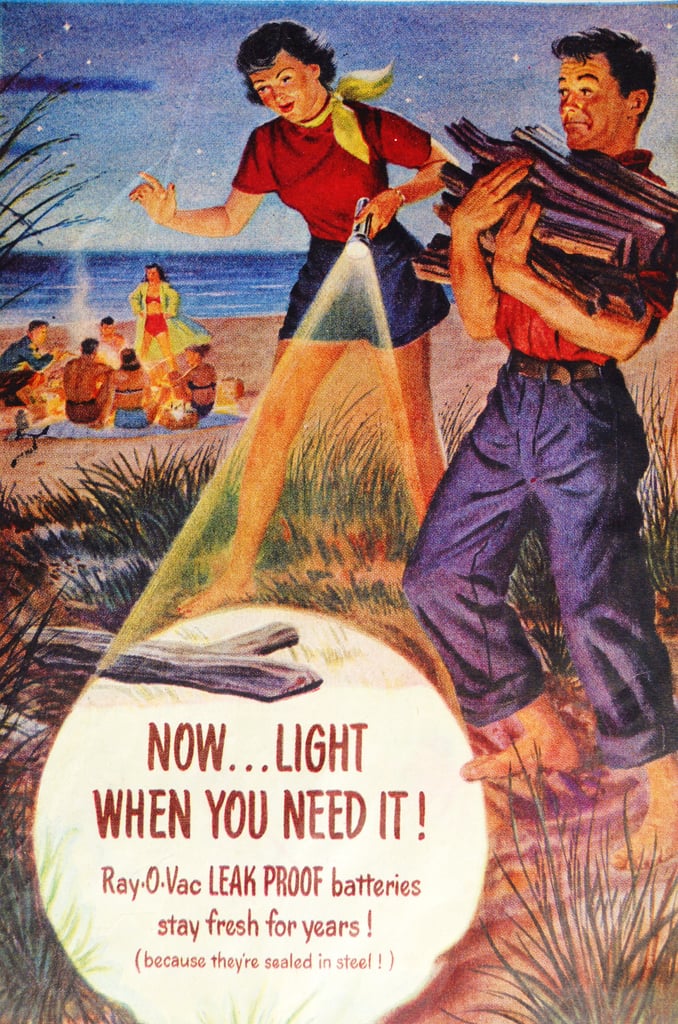 This looks like a Nancy Drew book cover, don't you think?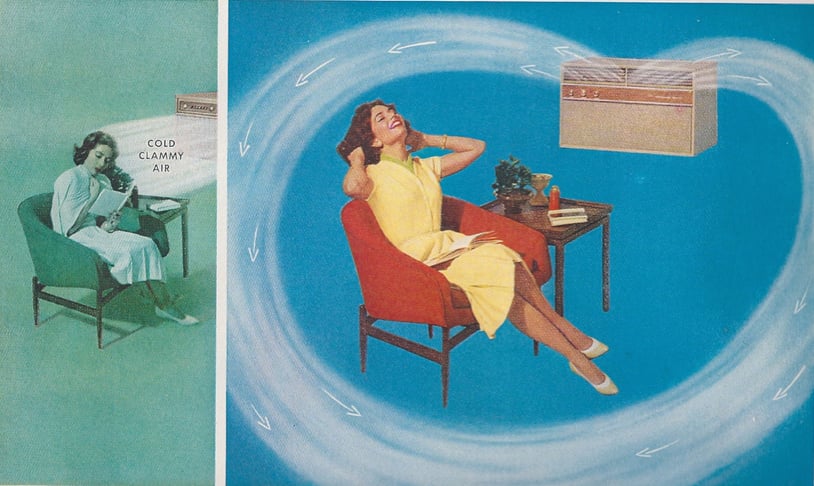 Air conditioners are sexy!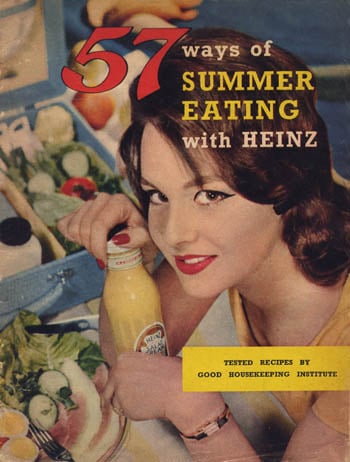 Stay away from this lady's condiments.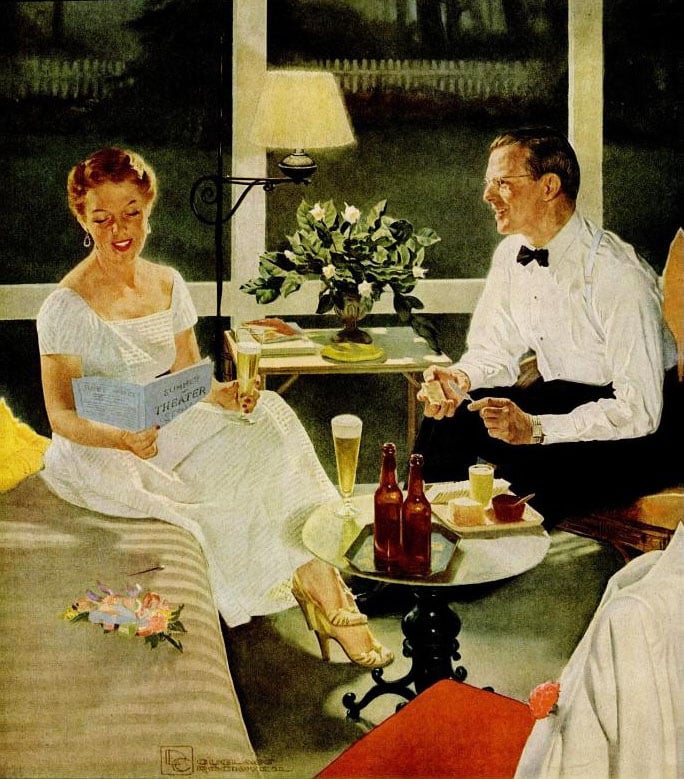 Ah, darling, wasn't the theater just grand?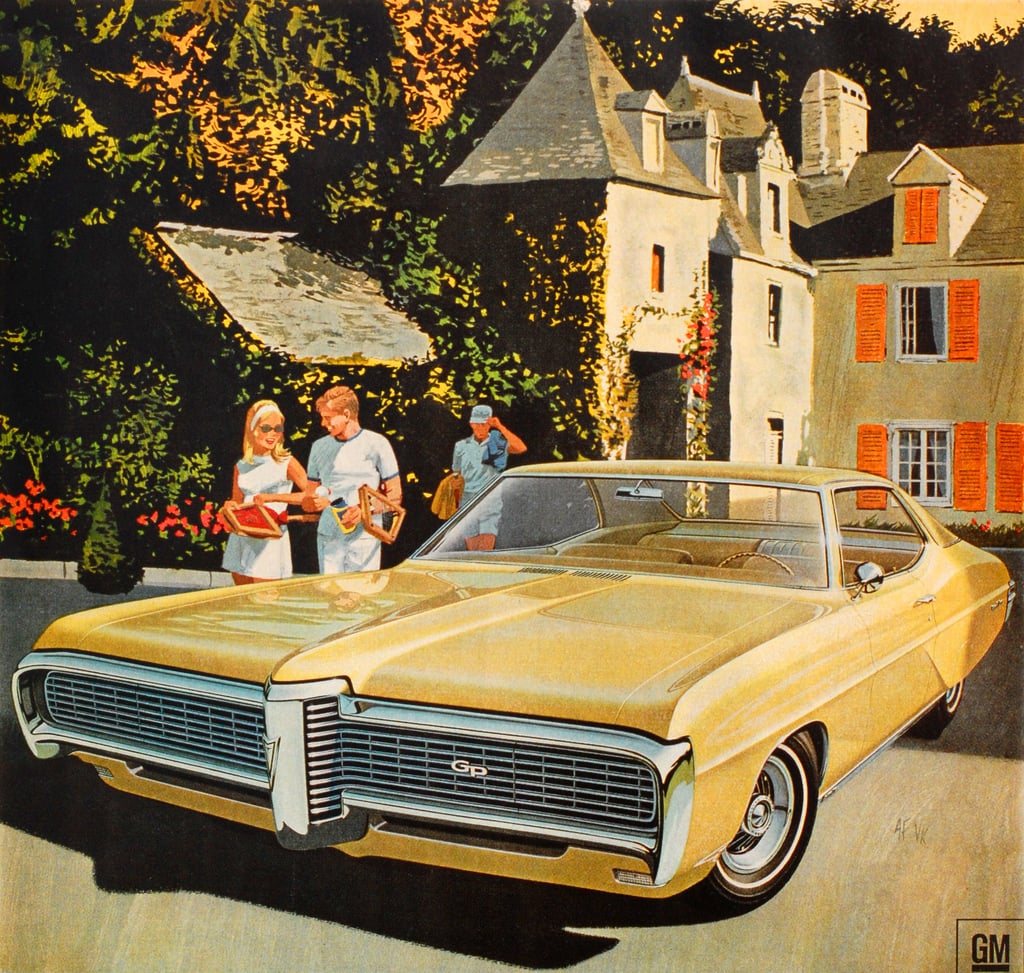 Every Summer trip starts with a car.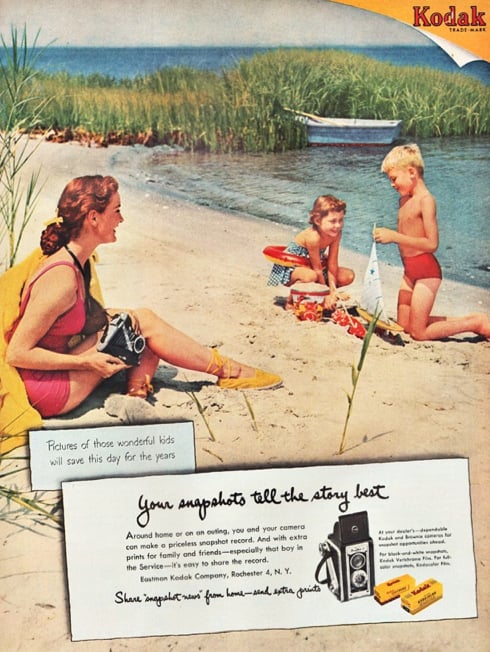 If you have "wonderful kids," then you'll want photos of them.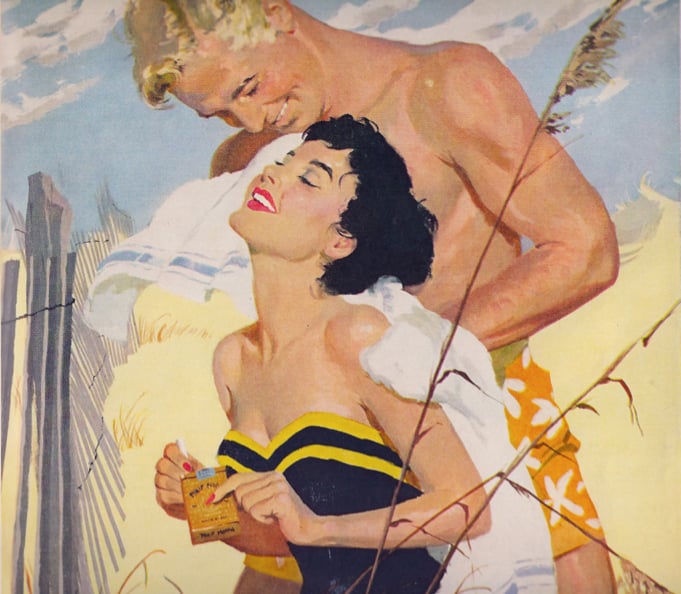 This back rub looks like it's going to lead to something.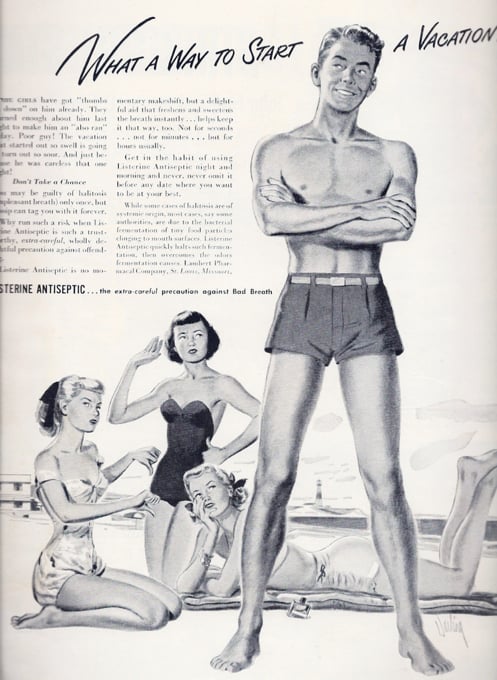 Watch out! Bad breath will ruin your Summer vacay.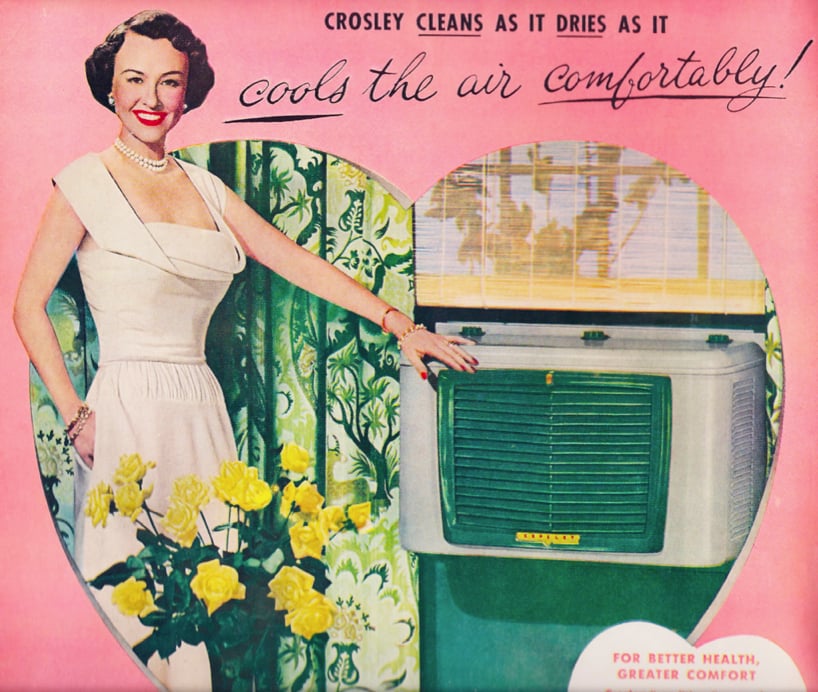 And it's so discreet!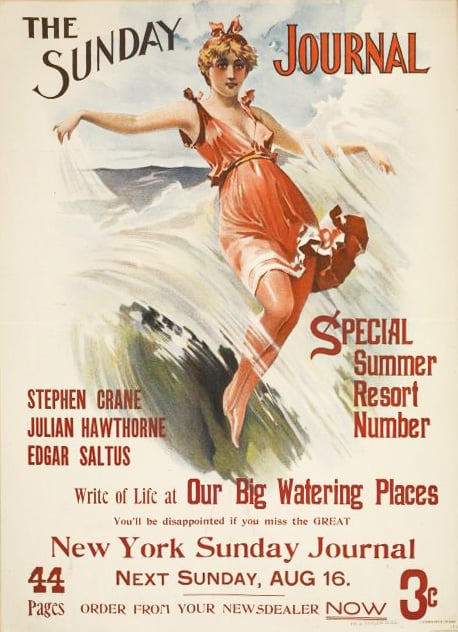 Is she surfing without a surfboard?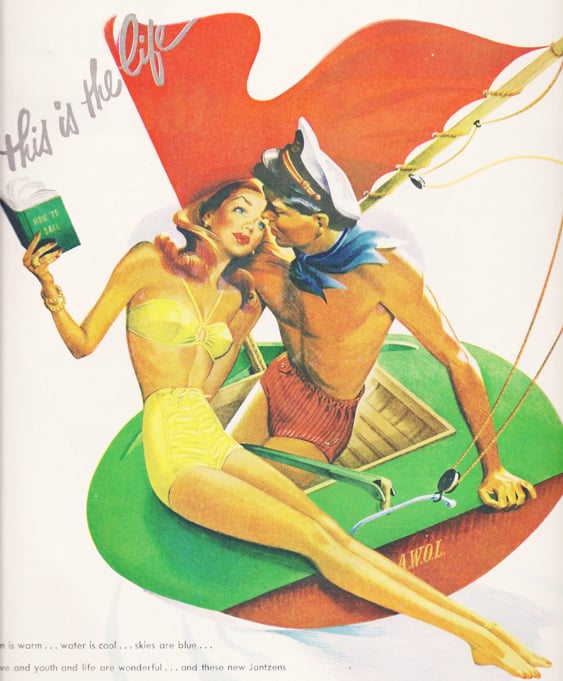 I really should be reading this "How to Sail" book . . . Oh. Nevermind.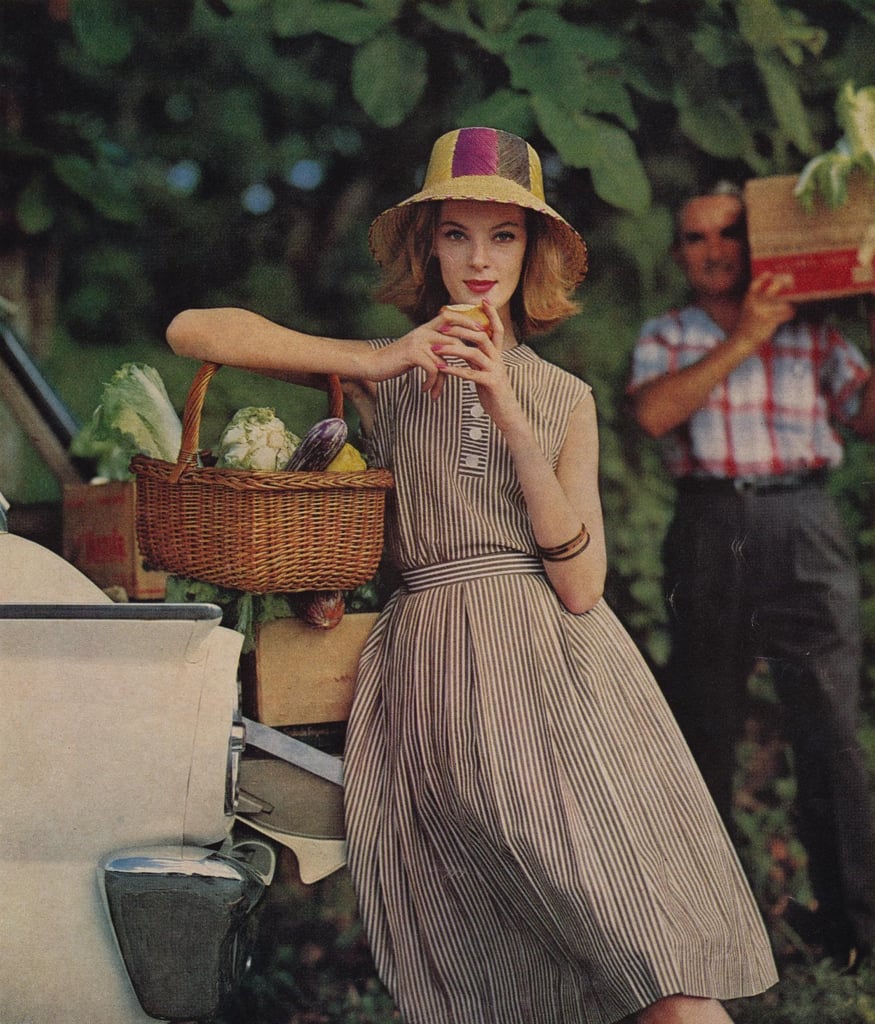 Hey, stop posing for a second and help me with these veggies.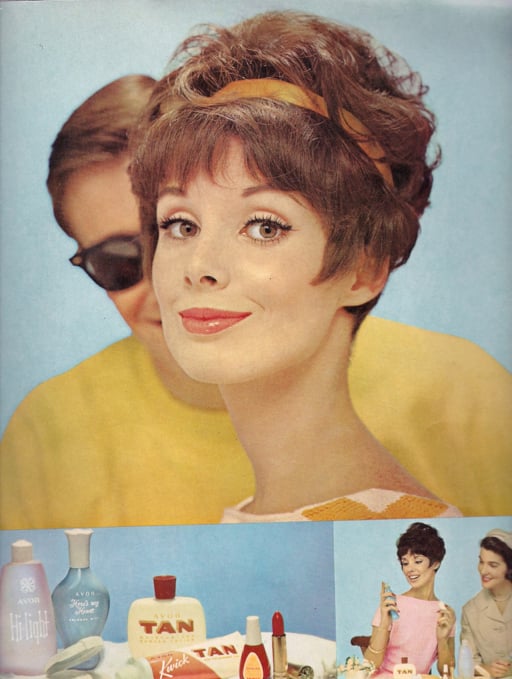 What? Yes, everything's just peachy.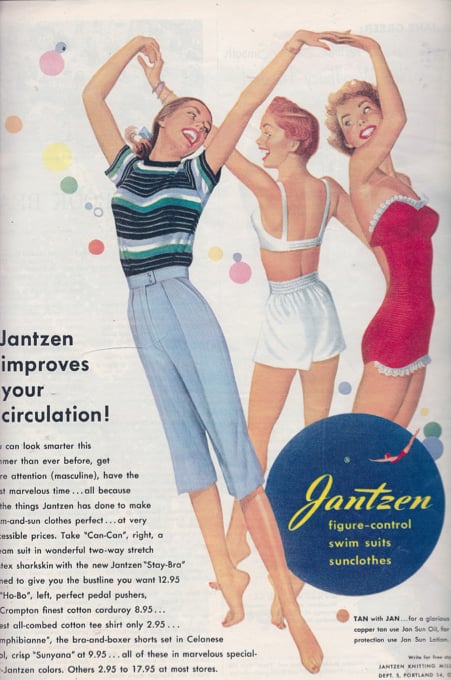 "Jantzen improves your circulation!" So that you can dance around in a circle with your friends in your underwear.

Wear a dress this Summer with a "harmony of colors."
Summer is for staring at sand castles.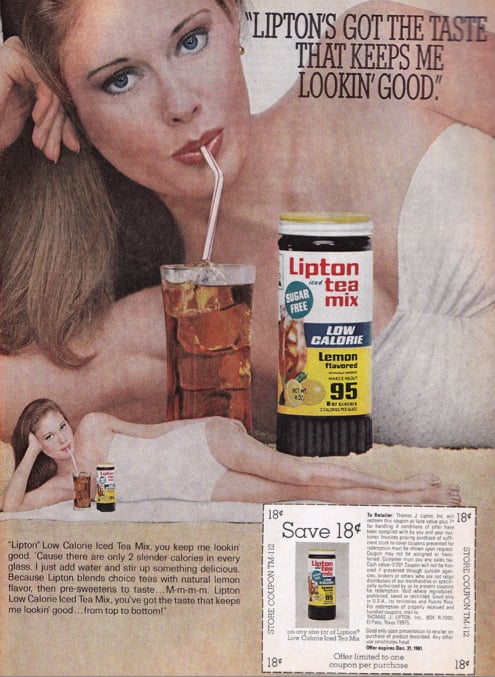 This tea will keep you skinny, because there are only "two slender calories" in each glass (as opposed to overweight calories).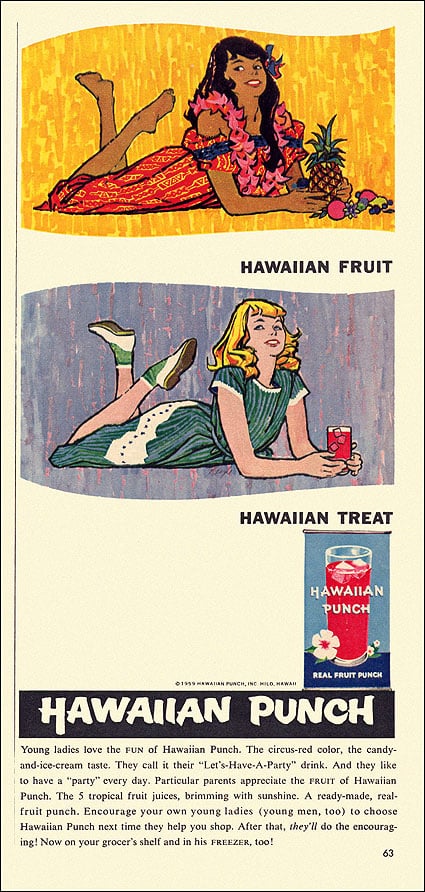 Didn't you know the kids these days are calling Hawaiian Punch the "let's have a party" drink?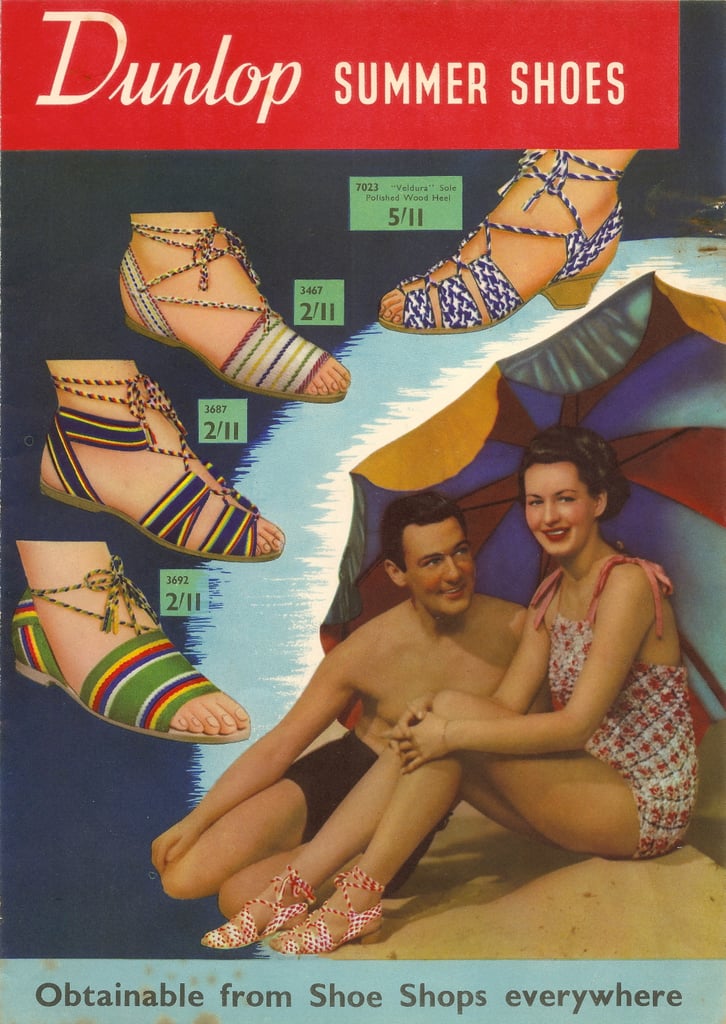 I'd wear 'em!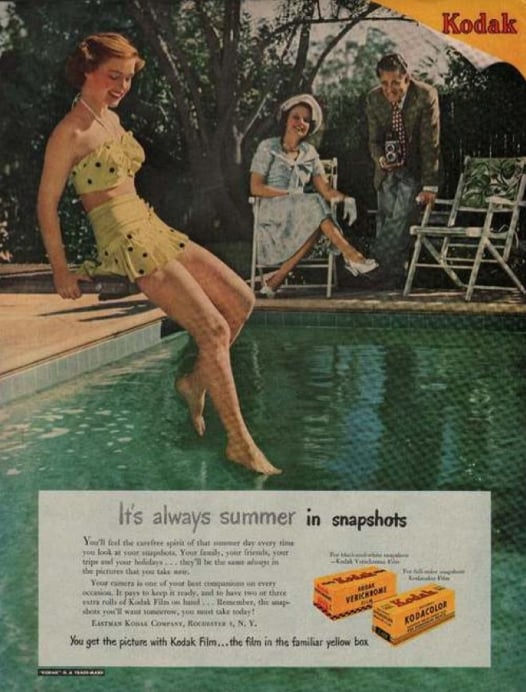 Relive your Summer days with snapshots.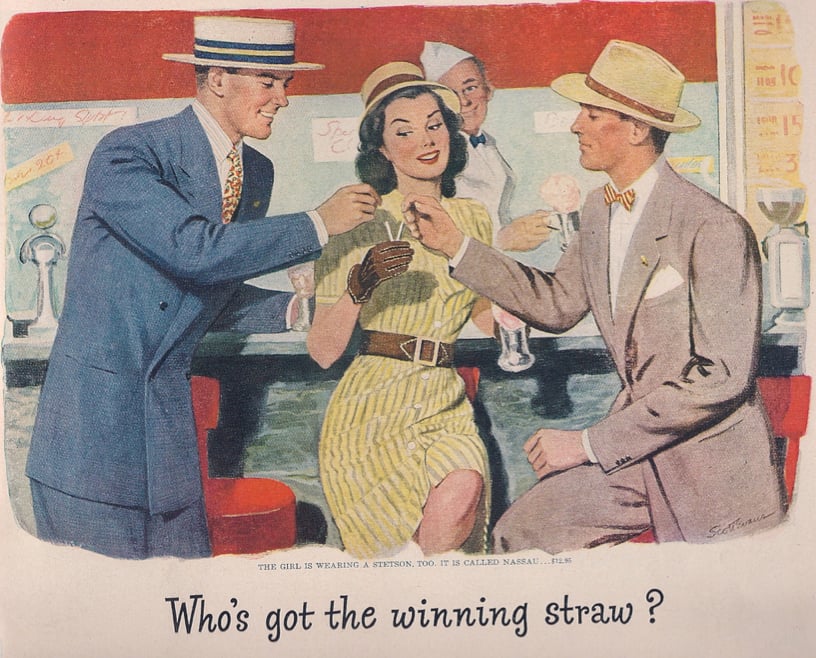 Who gets to take me home? Let's draw straws.