Wedding [1] expert Abby Larson, editor and founder of Style Me Pretty [2], knows the ins and outs of what makes a fabulous big day. And she's sharing her expertise with us with tips and tricks for tying the knot. She helped us out with advice on recycling your wedding [3] and gave us ideas for wedding favors that give back [4]. Now Abby shares projects to get your bridesmaids in on the DIY [5] fun minus the stress. "Tedious tasks give being a bridesmaid a bad rap, so I thought of a few ways to make those to-dos a bit more fabulous," says Abby. "Think bubbly, PJs, and lots of inside jokes — with a few DIYs that will dazzle on the side." Check out her bonding project ideas now!
Invite Assembly-Line Party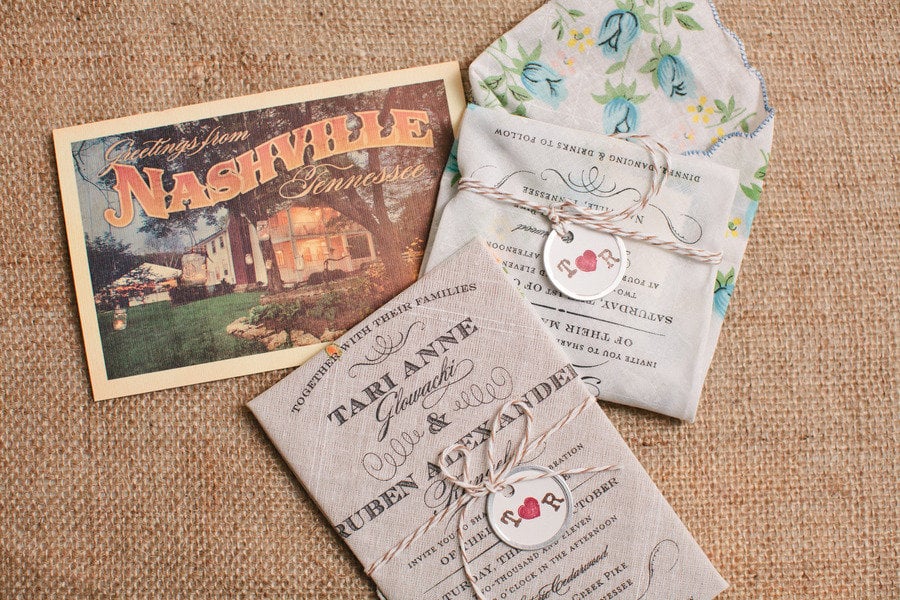 Assembling your invitations can be a daunting task, especially when there are more than 100 and several different elements to fold, tie, and stamp. To speed things up and make it fun for the gals, Abby recommends inviting your bridesmaids over for a little (not too much!) Champagne and an invitation assembly-line party!
Signature Cocktail Tasting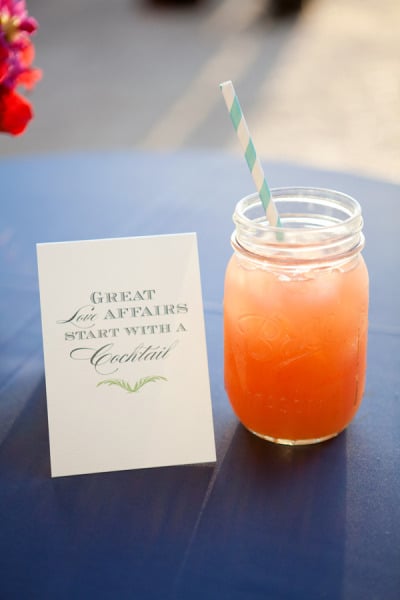 Cocktails plus your besties? It's a match made in wedding [6] planning heaven. "Getting your favorite pretties involved in this oh-so important decision is sure to make for not only a great cocktail hour, but some fabulous memories as well," says Abby.
Bouquet Brunch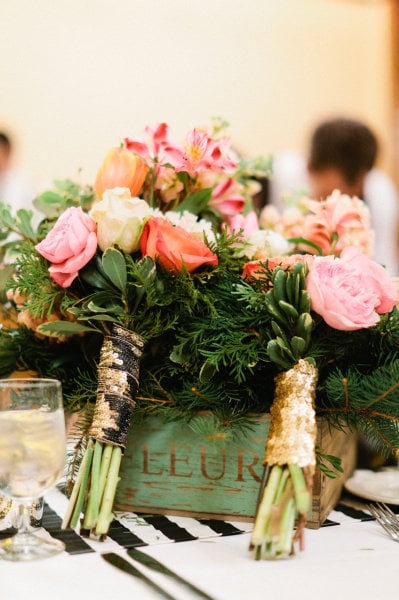 Are you a DIY [7] bride with a green thumb? Abby warns that if you're tackling your bouquets yourself, the morning of your wedding [8] will be more hectic than you can plan. She says, "So grab your maids and make it a working brunch. Mimosas are fabulous payment for their floral services!"
Accessory Assembly
The ultimate in bridal craftiness is taking on your own bling, and having a jewelry-making party with your ladies will save money and make for a bonding experience. "We LOVE the idea we've been seeing of personalizing your wedding-day jewelry with one-of-a-kind pieces you can't find anywhere else," says Abby. "It's sure to make for a conversation piece, and let your bridesmaids reflect their style as well!"
Favor Creation
Once you've come up with an idea for cute-as-can-be personalized wedding [9] favors, the assembly is the easy but time-consuming part. Abby says, "Don't feel like you have to print the tags, cut them, tie the bows, and assemble them all yourselves — you have a team of lovelies that we promise want to help!"
A Wow-Worthy Backdrop
Abby admits that backdrops make her swoon, whether they're used for your ceremony, photo booth, or dessert table. And they are a great way for your artsy gal pals to use their creative skills. Abby says, "From über-elaborate to simple and chic — the options are endless and totally doable! Get creative, grab your gals, and make a statement-worthy piece that makes you proud to stand in front of!"
Photo Prop Party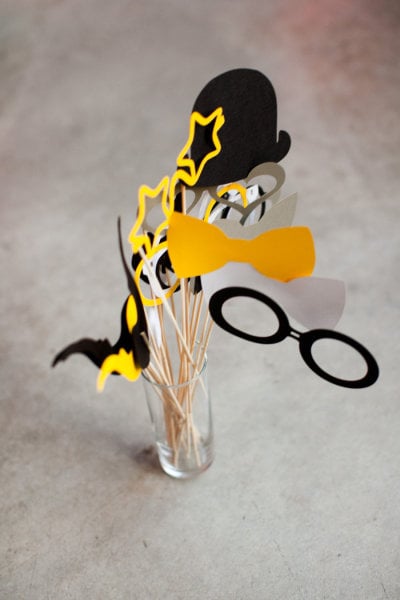 Photo booths are a must have at modern weddings, but what really jazzes them up are personalized props that show what you and your man are into. Abby adds, "So have your ladies embrace their inner Martha Stewart [10] and host a craft night . . . and maybe throw in a rom-com for fun!"
Farewell Streamers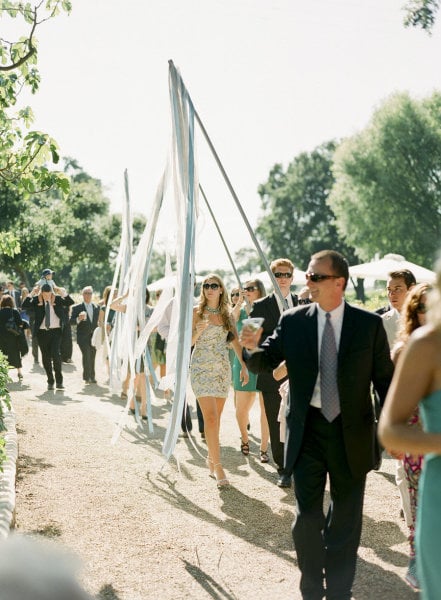 Not only are farewell streamers an out-of-the-box alternative to throwing rice or lighting up sparklers, they're a foolproof project to do with your bridesmaids. Abby breaks it down: "Easy? Check. Pretty? Check. An excuse for you to get together with your lovelies? Check. Check. Check."
Drink Stirrers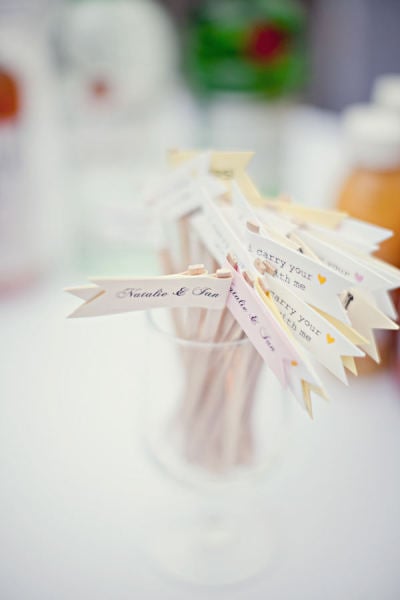 The best part of making decor for your drinks with your bridesmaids? Testing them out, obviously! Abby says, "When making drink stirrers, cracking open a bottle of bubbly is 100 percent required. Don't look at us, we don't make the rules!"
Wrap It Up
From programs to favors to invitations to welcome bags — bows are just everywhere, says Abby. "Instead of getting overwhelmed with all the pretty ribbon or twine or string, call the ladies you love the most to lend a hand," she recommends. "Your wedding [11] will be wrap up in no time."