As a self-proclaimed Wes Anderson junkie, I was so excited that his latest film, The Grand Budapest Hotel [1], won big at the Golden Globes [2] last night. In what's sure to be another classic from the famed director, the romance between lobby boy Zero (Tony Revolori) and Saoirse Ronan's Agatha is reminiscent of the young sweethearts in 2012's Moonrise Kingdom [3]. Set in the '60s on a New England island, Moonrise follows Suzy and Sam, troubled preteens who write love letters to each other before deciding to run away together. The young star-crossed lovers at the center of the camp-themed coming-of-age film really just melt your heart.
Wes's films always incorporate a romantic coupling, exes, or a love triangle, and the characters involved are usually full of witty advice and observations on relationships. Let's look back at the couples and ex-couples from Wes movies along with their lines on love's redeeming, disappointing, and confusing qualities.
Source: Fox Searchlight [4]
On Acceptance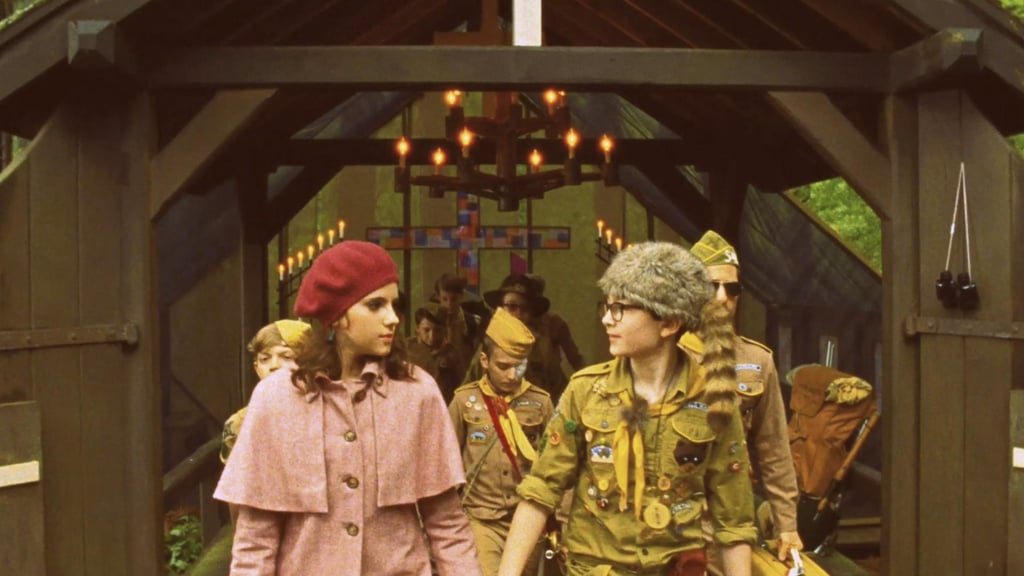 In the camp-set film Moonrise Kingdom, Sam and Suzy are preteen kids in love who run away from their troubled life situations to be together. In one scene, Suzy (who doesn't get along with her parents) laments that she wishes she were an orphan like Sam sometimes, because all her favorite literary heroes are. His response is great.
Line on Love
Sam: "I love you, but you don't know what you're talking about."
On Exes
The prologue to The Darjeeling Limited, Hotel Chevalier, gives background on Jack Whitman's (Jason Schwartzman [5]) relationship with his ex-girlfriend (Natalie Portman [6]). In the short film, Jack is staying at a hotel in France, and his ex surprises him with an international booty call, of sorts.
Line on Love
Ex-girlfriend: "Whatever happens in the end, I don't wanna lose you as my friend."
Jack: "I promise, I will never be your friend. No matter what. Ever."
On Apologizing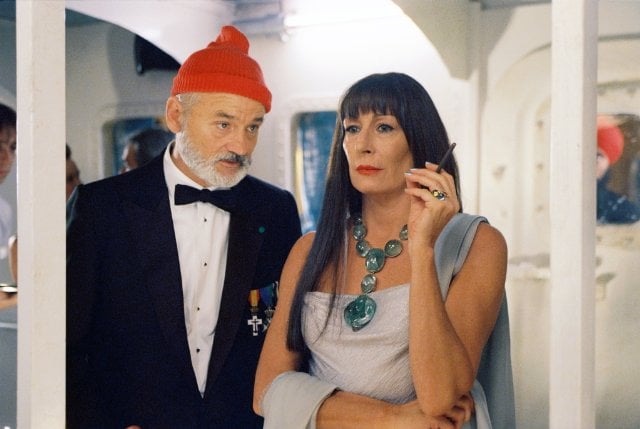 In The Life Aquatic With Steve Zissou, Steve Zissou (Bill Murray [7]) and his wife, Eleanor (Anjelica Huston), have a rocky relationship. But despite the arguments and Steve's fleeting interest in journalist Jane, they really do seem to "get" each other.
Line on Love
Steve Zissou: "You know I'm not big on apologizing. So I'll just skip it if it's all the same to you."
Eleanor Zissou: "OK."
Steve Zissou: "Anyway, I'm sorry."
On Honesty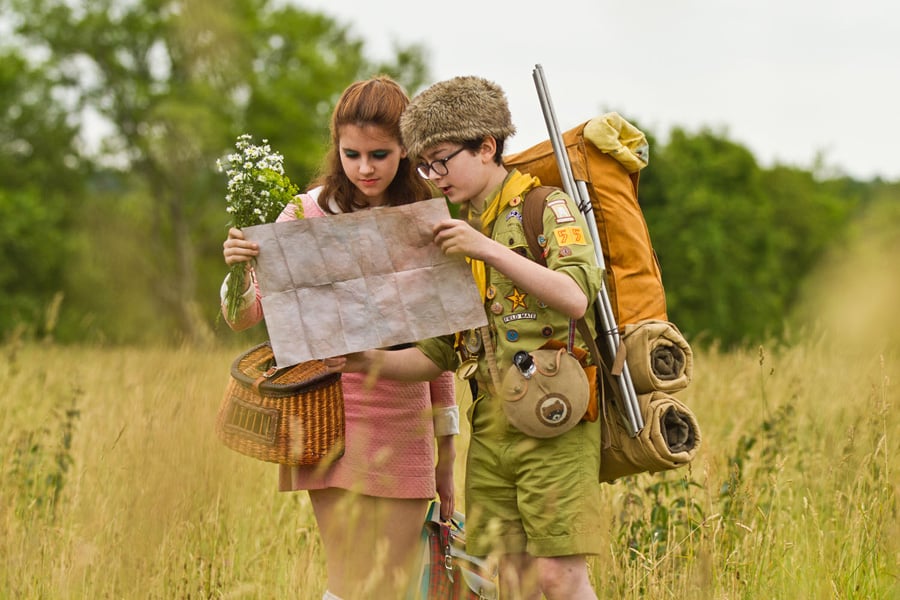 While Moonrise Kingdom' Sam and Suzy are hiding out in a tent, Sam decides to put it all out there, sharing an embarrassing fact about himself. See, sometimes it's OK be honest about your flaws.
Line on Love
Sam: "It's possible I may wet the bed, by the way. Later, I mean."
Suzy: "OK."
Sam: "I wish I didn't have to mention it, but just in case. I don't want to make you be offended."
Suzy: "Of course, I won't."
On Age Differences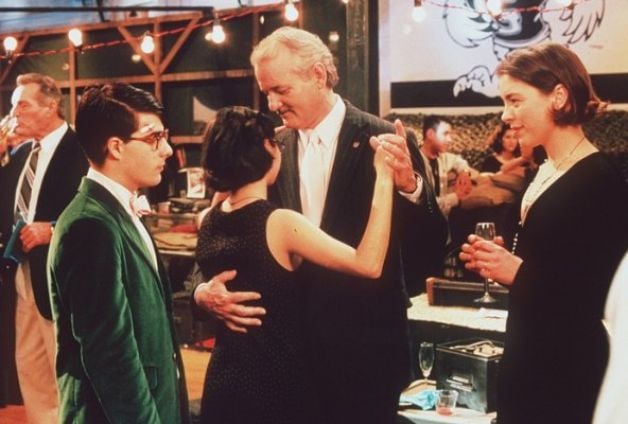 At only 15, Max Fischer (Jason Schwartzman [8]) falls in love with elementary school teacher Rosemary Cross (Olivia Williams), involving himself in a love triangle with his older friend Herman Blume (Bill Murray [9]) in Rushmore.
Line on Love
Rosemary Cross: "Has it ever crossed your mind that you're far too young for me?"
Max Fischer: "It crossed my mind that you might consider that a possibility, yeah."
On Forbidden Love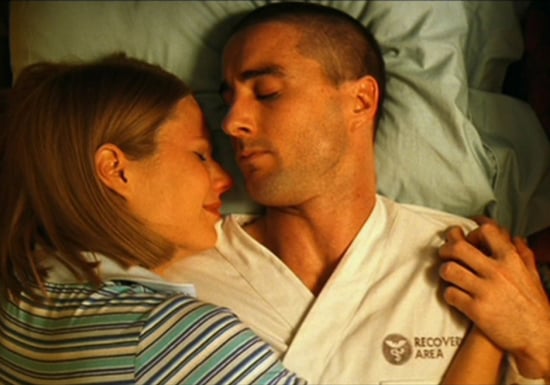 In The Royal Tenenbaums, Margot Tenenbaum (Gwyneth Paltrow [10])'s father, Royal, never let her forget growing up that she was adopted. So it's no wonder she falls in love with her brother Richie (Luke Wilson [11]). After all, they aren't blood related. Their love story is actually really sweet, despite it being slightly incestuous. And you can't help but get teary eyed when Margot comforts Richie after he attempts suicide.
Line on Love
Margot: "I think we're just gonna have to be secretly in love with each other and leave it at that, Richie."
On Deal Breakers
In The Life Aquatic With Steve Zissou, pregnant journalist Jane Winslett-Richardson (Cate Blanchett [12]) joins Steve Zissou's (Bill Murray [13]) crew to do a profile on the renowned oceanographer. But things get complicated when both Steve and his son, Ned Plimpton (Owen Wilson [14]), fall for her.
Line on Love
Jane Winslett-Richardson: "You're too old for me, Steve."
Steve Zissou: "Yeah, well, you're pregnant."
On Marriage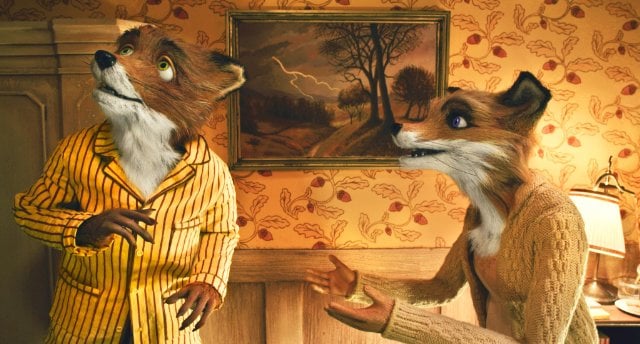 The Fantastic Mr. Fox's Mr. and Mrs. Fox have their disagreements along the way, but they really do love each other. While Mrs. Fox has some sweet lines about her trouble-making husband, she can also be brutally honest.
Line on Love
Mrs. Fox: "I love you, but I should have never married you."
On Tough Love
Suzy's parents in Moonrise Kingdom, lawyers Walt and Laura Bishop (Bill Murray [15] and Frances McDormand), aren't doing such a great job as parents, and their marriage is a mess too. In this scene, Walt knows that Laura has been having an affair but not that she's actually ended it.
Line on Love
Walt Bishop: "I hope the roof flies off and I get sucked up into space. You'd be better off without me."
Laura Bishop: "Stop feeling sorry for yourself."
On Proposals
In The Royal Tenenbaums, accountant Henry Sherman (Danny Glover), who's only had a professional relationship with Tenenbaum matriarch Etheline (Anjelica Huston) before approaching her with his feelings, chooses his words carefully when proposing marriage to her. It takes a while — and she has to deal with her jealous ex-husband trying to sabotage the union — but she eventually accepts.
Line on Love
Henry Sherman: "Apropos of my question regarding I-40 slash I-9 adjustments, um, it would probably be advantageous for your marital status to be legally established as single in light of the circumstances."
On Opening Up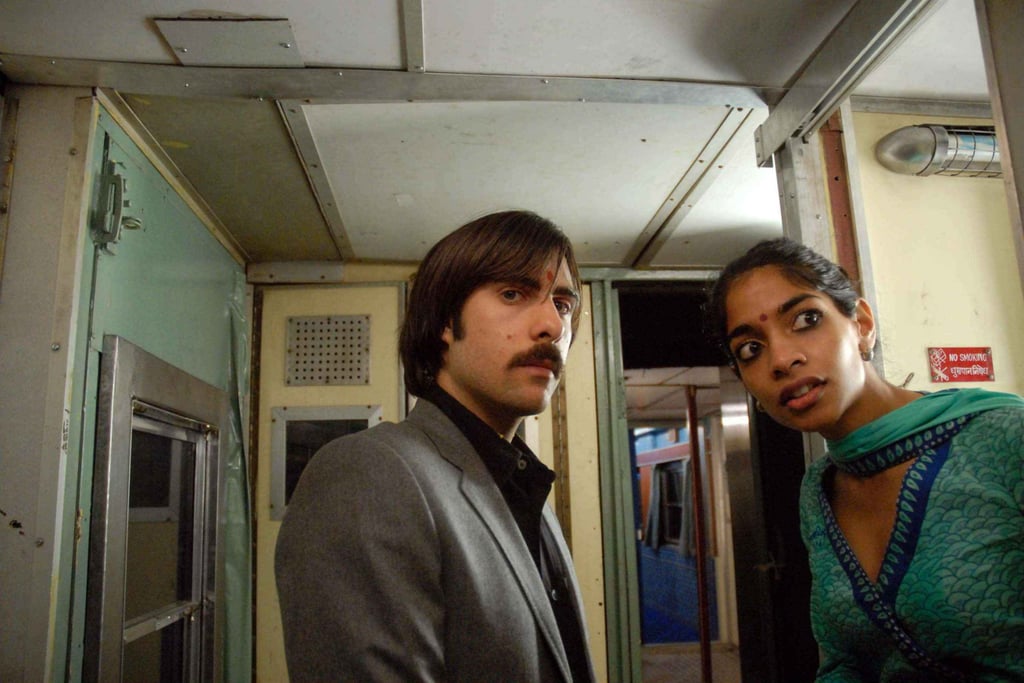 While not many words pass between them, The Darjeeling Limited's Jack (Jason Schwartzman [16]) falls for train attendant Rita (Amara Karan) while taking a trip through India with his two brothers. The star-crossed lovers share a steamy moment, but she's promised to another man. Jack is clearly still dealing with emotional scarring from his ex, so you've gotta love Rita's bluntness.
Line on Love
Rita: "What's wrong with you?"
Jack: "Let me think about that. I'll tell you the next time I see you."
On the Heart of the Matter
After the star-crossed lovers of Moonrise Kingdom are found by the adults and separated, Suzy's mom asks her daughter, "Why is everything so hard for you?" Suzy responds plainly . . .
Line on Love
Suzy: "We're in love. We just want to be together. What's wrong with that?"
On Compliments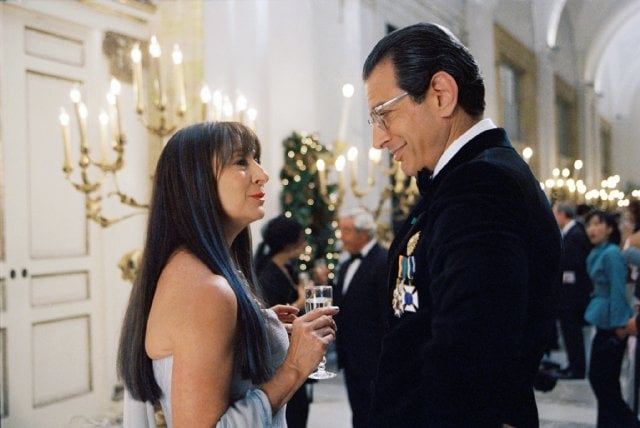 In The Life Aquatic With Steve Zissou, Eleanor's (Anjelica Huston) "part-gay" ex-husband, Alistair Hennessey (Jeff Goldblum), still knows how to compliment a lady. But he really just enjoys making his nemesis — Eleanor's current husband, Steve Zissou (Bill Murray [17]) — jealous in the process.
Line on Love
Alistair Hennessey: "You're the most ravishing creature that I've ever seen in my life."
On Sex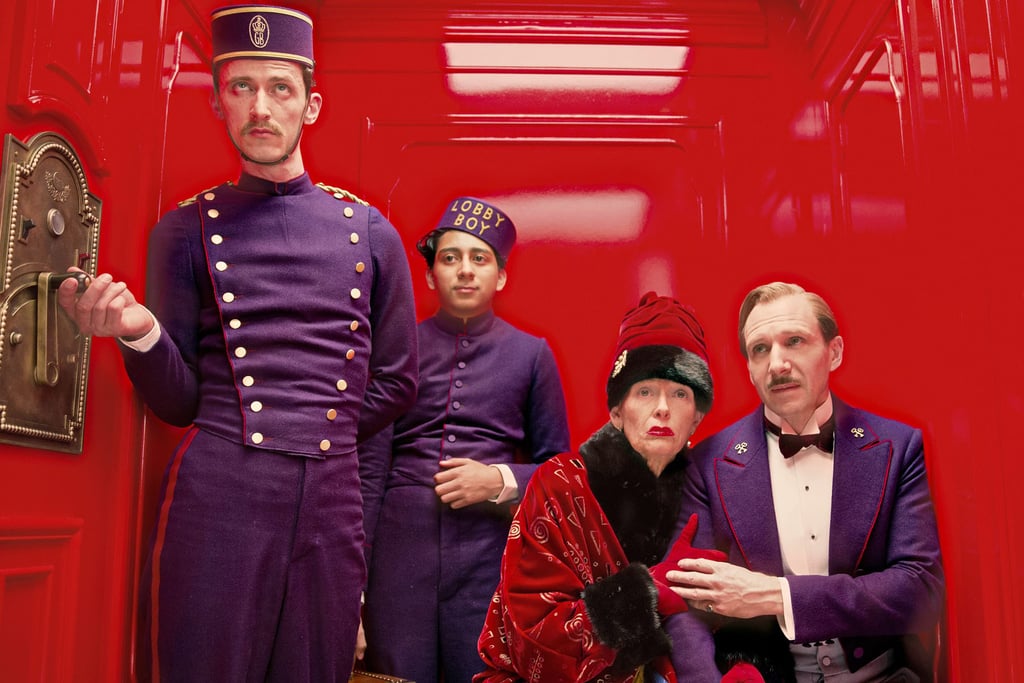 In The Grand Budapest Hotel, M. Gustave (Ralph Fiennes [18]) is suspected of murdering his much-older girlfriend, Madame D. (Tilda Swinton), but despite the large age difference, he stands by his devotion and sexual attraction to his late lover.
Line on Love
M. Gustave: "She was dynamite in the sack, by the way."
Zero: "She was 84 . . . "
M. Gustave: "Mmm, I've had older."
On Love Notes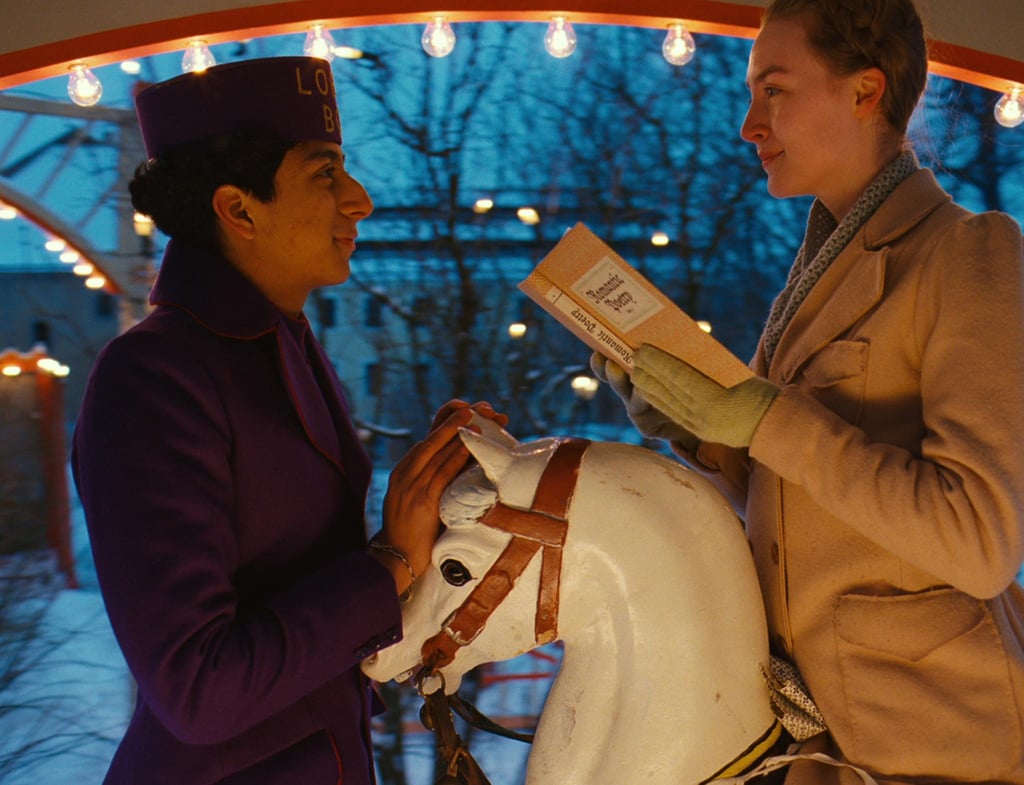 In The Grand Budapest Hotel, Zero (Tony Revolori) gives a book to his love, Agatha (Saoirse Ronan), with the sweetest inscription.
Line on Love
Agatha (reading what Zero wrote): "For my dearest darling, treasured, cherished Agatha whom I worship. With respect, adoration, admiration, kisses, gratitude, best wishes, and love from Z to A."