Xanax the Number One Prescribed Psychiatric Medication in 2009
Are We More Anxious? Or Just Popping More Pills?
Like us on Facebook
Feeling anxious? You are not alone. Antianxiety drug Xanax is the top-popped pill among psychiatric drugs in the US, according to IMS Health's list of the 25 most prescribed psychiatric medications in 2009. Antianxiety drug Ativan jumped from the number five spot in 2005 to number three last year. Interestingly, Xanax and Ativan prescriptions were up 29 and 36 percent since 2005, while Prozac and Zoloft were down.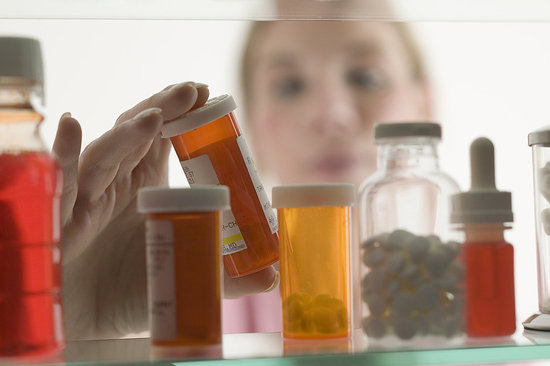 Are doctors more likely to prescribe anxiety drugs than they used to be? Or — I'm just gonna throw this out there — perhaps the recreational and/or casual popping of antianxiety pills helps propel them to the top of the list. Andrew on Kell on Earth was keen on handing Ativan out like candy, and he's not the only one.

This doesn't necessarily mean Americans are more anxious than we are depressed. For more insight and to see the full list,

.

Antidepressants Lexapro, Zoloft, and Prozac still rounded out the top five most-prescribed meds, and for women in particular, depression may be the bigger problem. A story in today's Guardian, about yet another female author 'fessing up to depression, cites decades worth of studies indicating that women are diagnosed with depression at twice the rate of men, across economic brackets. From 1993 and 2007, the incidence of depression and anxiety rose by a fifth in women ages 45 to 64, but for men stayed the same.

With so many competing stats, it's hard to know what's contributing to the rise in antianxiety drugs or the rise in depression. Better diagnoses, more medicating, or a fundamental shift in women's mental health? Tell me what you think — especially if you've taken any of these meds. Here's the full list of the top 25 psychiatric drugs:


Xanax (anxiety)
Lexapro (depression, anxiety)
Ativan (anxiety, panic disorder)
Zoloft (depression, anxiety, OCD, PTSD, PMDD)
Prozac (depression, anxiety)
Desyrel (depression, anxiety)
Cymbalta (depression, anxiety, fibromyalgia, diabetic neuropathy)
Seroquel (bipolar disorder, depression)
Effexor XR (depression, anxiety, panic disorder)
Valium (anxiety, panic disorder)
Amphetamine salts (attention deficit disorder)
Risperdal (bipolar disorder, schizophrenia, irritability in autism)
Vistaril (anxiety, tension)
Bupropion (depression, stop smoking)
Abilify (bipolar disorder, schizophrenia, depression)
Concerta (attention deficit disorder)
Celexa (depression, anxiety)
Buspar (sleep, anxiety)
Vyvanse (ADD)
Zyprexa (bipolar disorder, schizophrenia)
Adderall XR (attention defecit disorder)
Wellbutrin XL (depression)
Geodon (bipolar disorder, schizophrenia)
Strattera (attention deficit disorder)
Pristiq (depression)