Zombies in Pop Culture
4 Reasons Zombies Will Overtake Vampires in 2011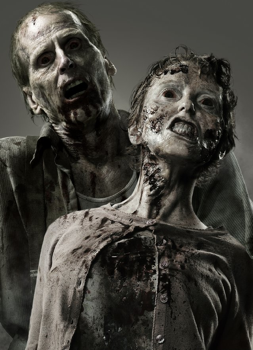 Between Twilight, True Blood, and The Vampire Diaries, the good-looking undead have had their moment. While I don't expect them to retreat to their coffins in 2011, I do think we're headed for a supernatural shift. After years under the glamour of vampires, zombies are overtaking every outlet of pop culture.
TV: Buzz readers love AMC's new zombie-centric show, The Walking Dead, which gained Mad Men-like traction during its short first season. It's been renewed for a full, 13-episode season two, so you'll only be hearing more about in 2011.
Books: Banking on the success Pride and Prejudice and Zombies found by mixing literature and the undead, there are more zombie-literature concoctions in the pipeline. Look for I Am Scrooge: A Zombie Story For Christmas, Alice in Zombieland, and (my favorite) The Adventures of Huck Finn and Zombie Jim. Other notable titles include a cookbook (Zombie Cupcakes), a right-wing rant (Obama Zombies), a children's book (Attack of the Zombies, Spongebob Squarepants), and so many more.
Movies: Stuck in a few years of planning, Pride and Prejudice and Zombies is expected to finally start filming, but there are plenty of other zombie flicks to come, including Bollywood Zombie, World of the Dead: The Zombie Diaries, and Zombie Hamlet.
Art/fashion: Last week Australian artist Jonathan Zawada re-imagined the hottest runway looks for 2011 as zombie drawings.
Education: This goes back to last Fall, but you can enroll in a zombie class — Zombiemania: 80 Movies to Die For — at the University of Baltimore.
Are you dreading it?