In the midst of the dog days of Summer, the last thing we want to do is slave away in a hot kitchen. Skip the stove, skip the oven, and serve up one of these easy, heat-free meals instead. We've rounded up 30 kid-friendly, tasty, and healthy no-cook dinners to satisfy your family right through the end of August. Home-cooked without the hassle — what could be better?
And if you need a little something sweet to end the night with, we've got 45 ideas for no-bake Summer desserts [1] — yum!
Vegetarian Spring Rolls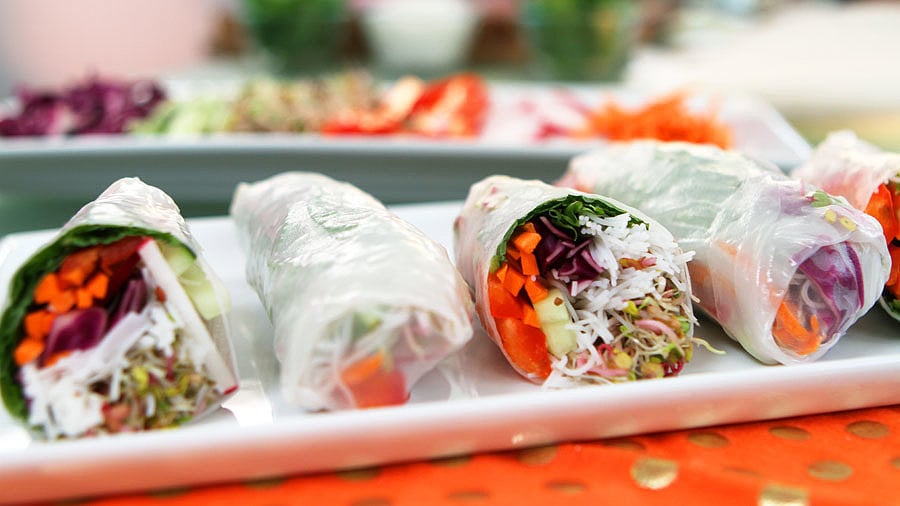 Contrary to what you may believe, spring rolls [2] are a cinch to make at home. Here, a rainbow of veggies, sprouts, and rice noodles makes for a bright (both in color and flavor) bite.
Source: POPSUGAR Studios
BLT Pita Pockets
Turkey bacon, fresh veggies, and a whole-grain pita lighten up these kid-approved BLT pita pockets [3] from Mel's Kitchen Cafe.
Source: Mel's Kitchen Cafe [4]
Quinoa, Black Bean, and Corn Salad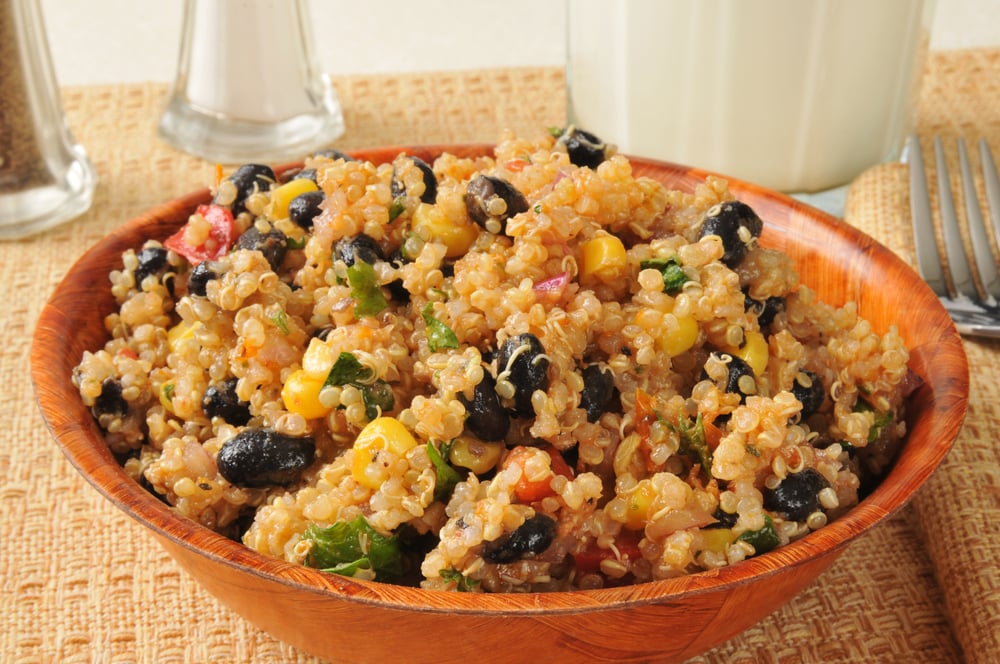 Use precooked quinoa to take the heat out of 11-year-old Haile Thomas's quinoa, black bean, and corn salad [5]. It tastes so good, it earned her a trip to the first Kids State Dinner at the White House hosted by the Obamas!
Yin-Yang Sandwiches
Real Simple's yin-yang sandwiches [6] take minimal effort on the chef's end but still pack in plenty of flavor.
Source: Anna Williams/Real Simple [7]
Roast Beef and Cheddar Roll-Ups
All it takes is a few fridge staples to throw together these roast beef and cheddar roll-ups [8] — quick and easy!
Source: Dana Gallagher/Real Simple [9]
Edamame Salad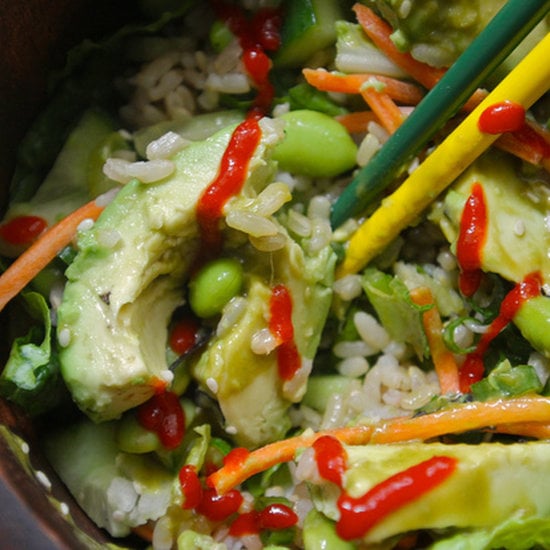 Mix edamame, corn, carrots, and rice for a tasty salad [10] that keeps kids going all day long.
Source: Rene' Montgomery [11]
Crab Rolls
No need to travel to the coast to indulge in this seasonal seafood favorite. These crab rolls [12] taste like Summer vacation!
Source: Marcus Nilsson for Real Simple [13]
Use Hummus as Your Base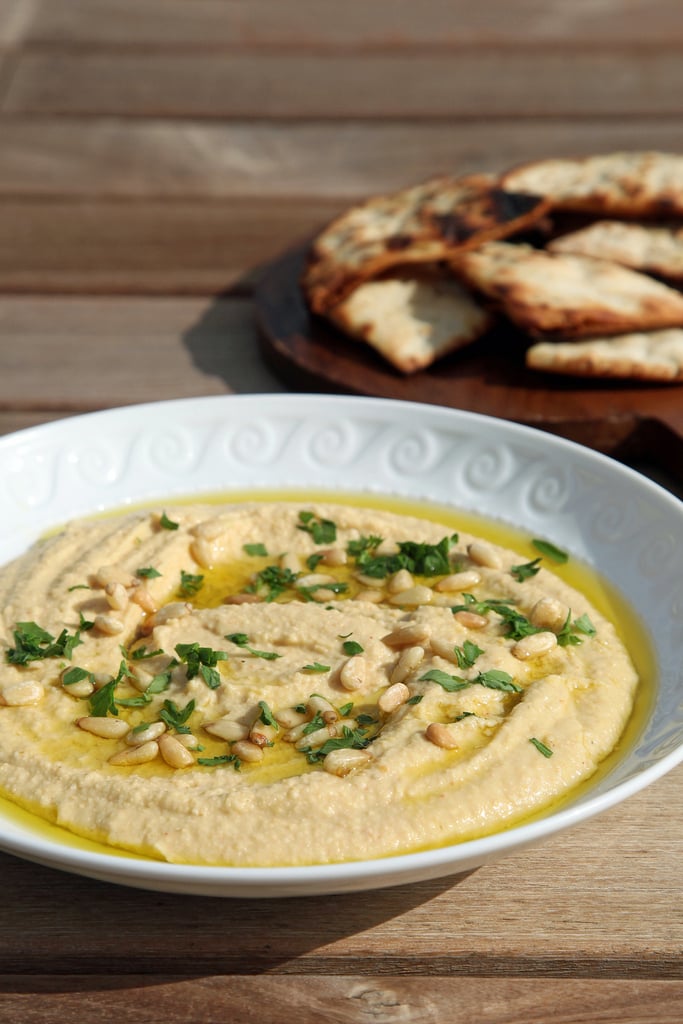 Forget store-bought hummus — the homemade version [14] is so much better, and it can serve as the base for a veggie or chicken wrap, sandwich, or dip.
Photo: Nicole Perry
Black Bean Salad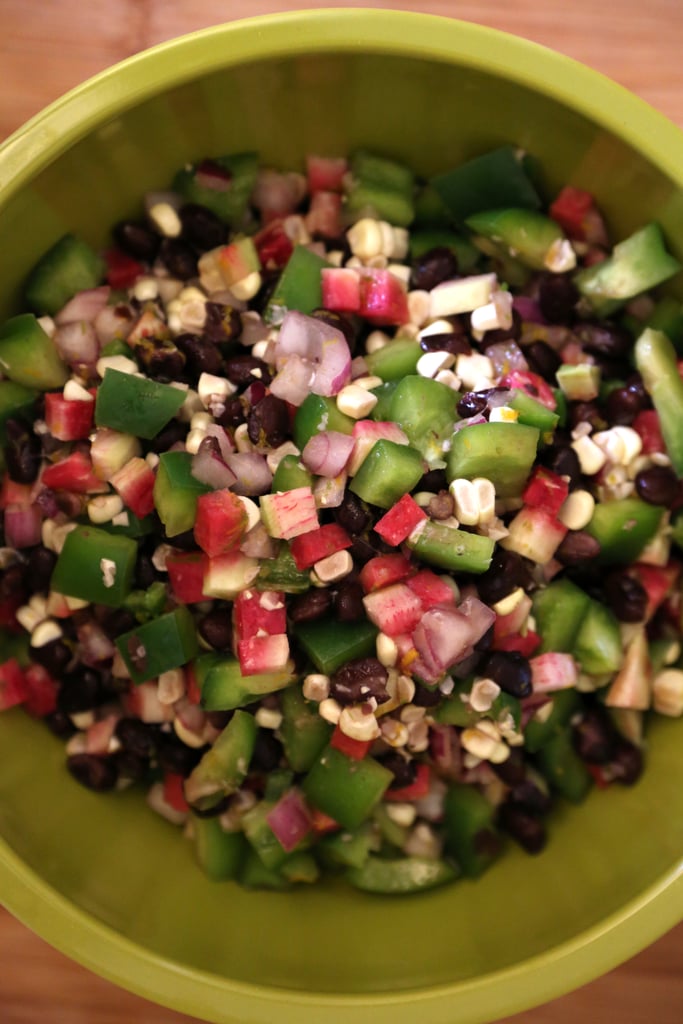 The beauty of this black bean salad [15] is that it can be customized with whatever veggies or protein you have in your fridge.
Photo: Anna Monette Roberts
Sunbutter Noodles
Sssshh! Don't tell the kids these noodles are actually strips of zucchini. These sunbutter noodles [16] will load them up with nutrients similar to a salad without looking like one. You can easily leave out the pepper flakes to decrease the kick, and serve up with a side of brown rice. Don't forget the fortune cookies!
Source: Oatmeal With a Fork [17]
Mummy's Pot Noodles
Ramen noodles are a kiddie favorite because they're quick and tasty, but the prepackaged versions aren't exactly healthy with all of that sodium loaded into their spice packets. Annabel Karmel says: "It only takes a few minutes to make your own [18], and it's fun to serve them in a cup. You can add different vegetables or chicken to make this more hearty. It would also make a good snack after school."
Source: POPSUGAR Moms [19]
5-Ingredient Pasta Salad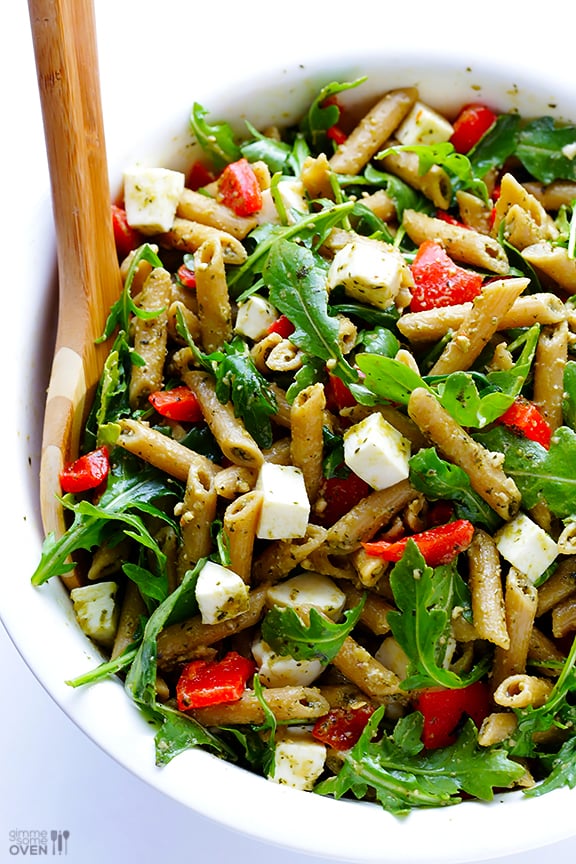 Everything you need to make Gimme Some Oven's simple salad [20] is probably already in your pantry and fridge.
Source: Gimme Some Oven [21]
Chilled Corn and Avocado Soup
Put some of your favorite Summer produce to work in this silky, chilled soup [22]. If your kids are down, top it with crabmeat (as shown here) for an added bonus.
Photo: Anna Monette Roberts
Whole-Wheat Pasta Salad With Feta and Peas
Make this kid-friendly pasta salad [23] on Monday, and enjoy the leftovers all week; it actually tastes better the longer it sits. The whole-wheat pasta is a filling option, and the pea shoots give it a nutritious crunch. It's a quick recipe you'll find yourself returning to throughout the Summer.
Source: The Clever Carrot [24]
Layered Taco Salad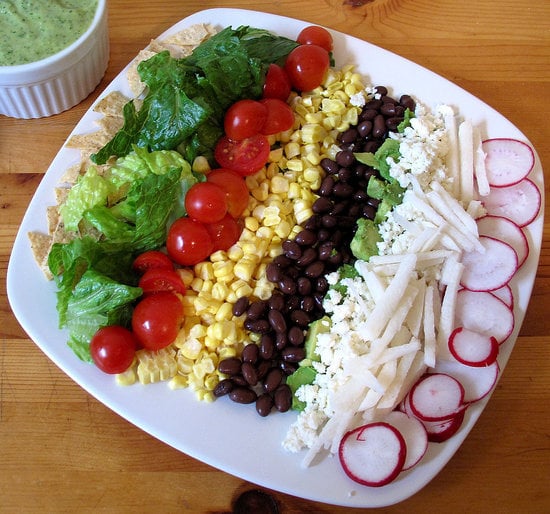 No stove is required to brown beef in this meatless taco salad [25]. Rather, it's chock-full of different textures and flavors, from crunchy jicama to salty queso fresco.
Photo: Susannah Chen
Peanut Butter and Jelly Banana Waffle Sandwiches
PB&J for dinner sounds kind of eh. But a PB&J banana waffle sandwich [26]? Now we're talking!
Source: Redbook [27]
Cold Peanut Sesame Noodles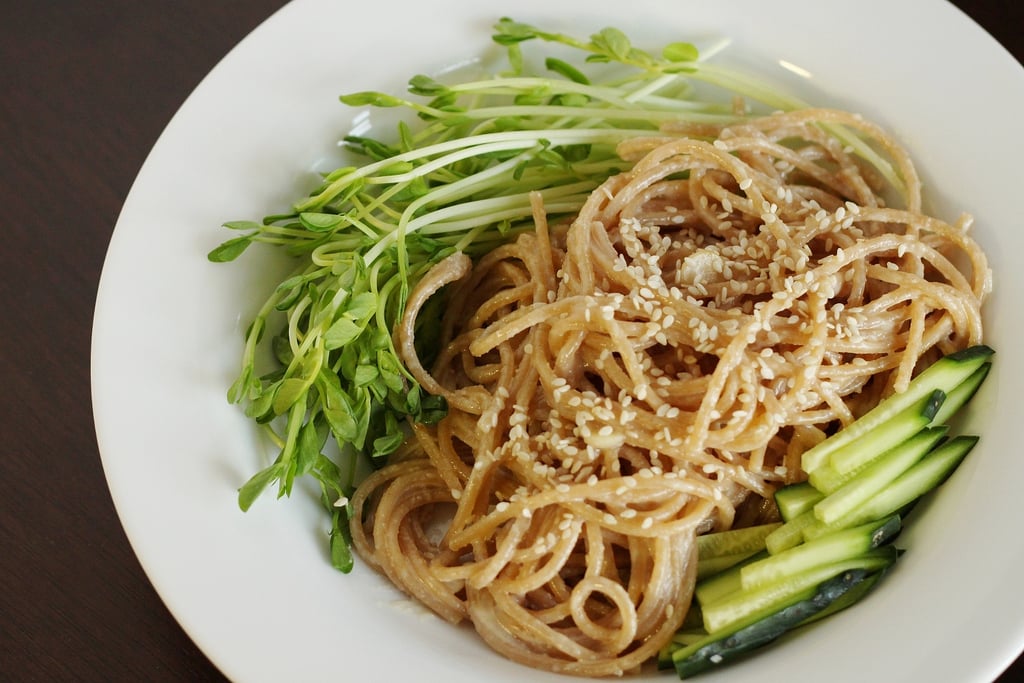 These easy peanut sesame noodles [28] aren't just good, they're flat-out addictive.
Source: Flickr user Stacy Spensley [29]
No-Cook Tomato Sauce
It's way too hot outside to serve traditional spaghetti and marinara sauce. Put a twist on the classic with this lightened-up, no-cook alternative [30] from POPSUGAR Food.
Photo: Susannah Chen
Creamy Gazpacho
The only power Jessica Seinfeld's gazpacho recipe [31] requires is a quick whir in your blender.
Source: Flickr user Anna Mayer [32]
Vegetable Sushi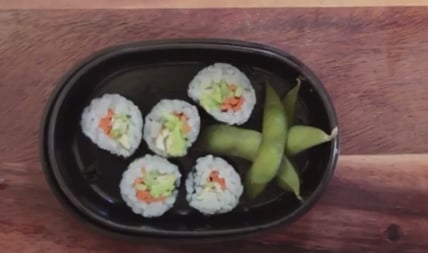 Filled with veggies and free of fish, Farm to Table Family's Japanese dish [33] is the perfect lunch for a hot afternoon. For an extra punch of protein, pack some edamame.
Source: YouTube user From Farm to Table Family [34]
Vietnamese Chicken Salad
A healthy Vietnamese chicken salad [35] makes a great light dinner or lunch for the whole family. Pick up a store-bought rotisserie chicken, and steer clear of the oven and stove. Chopsticks optional!
Source: Gen Y Foodie [36]
Rainbow Layered Salad (on the Go!)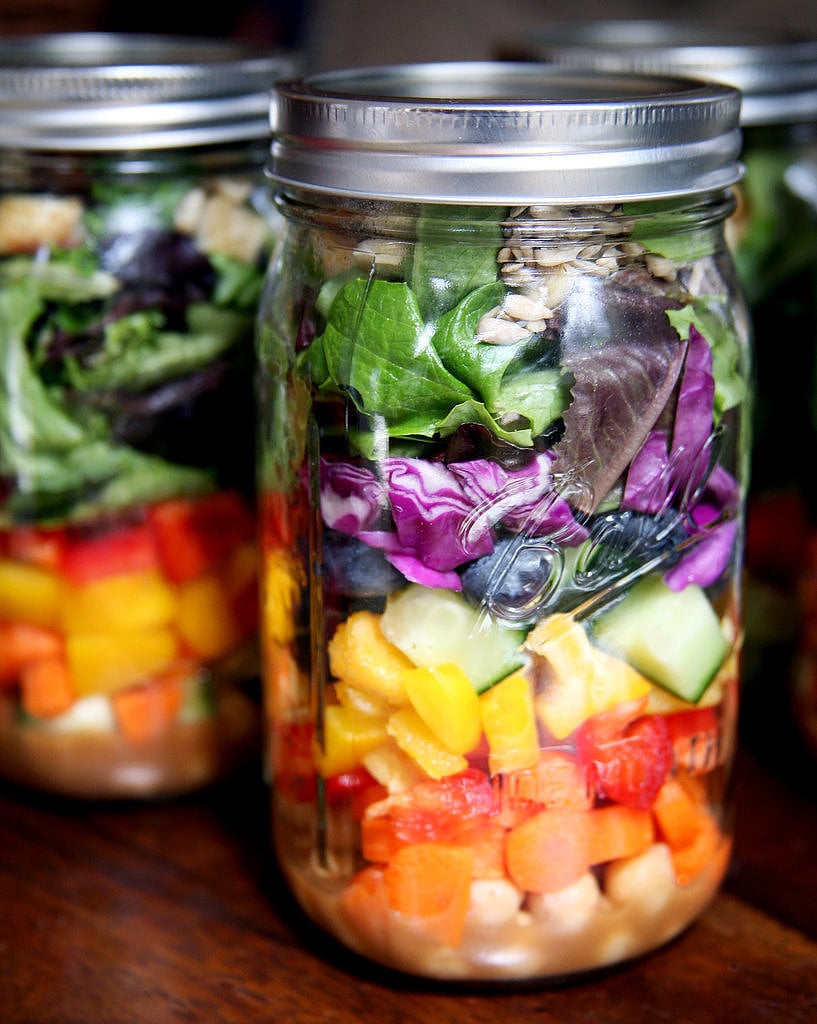 Eating a salad's never been this much fun. Our friends at POPSUGAR Fitness have perfected the method of packing a salad [37] to go, and your kids can play an active role in choosing what goes into theirs.
Photo: Jenny Sugar
Southwestern Pasta Salad
Packed with protein and veggies, Two Peas and Their Pod's fiesta-inspired salad [38] is great as a side dish or main course. To avoid a soggy salad, serve the dressing on the side.
Source: Two Peas and Their Pod [39]
Watermelon Tacos
These refreshing watermelon lettuce wraps (or "tacos") [40] let bright Summer produce shine and are an ideal light meal.
Source: POPSUGAR Studios
Smoked Turkey Cobb Wraps
Just a few thoughtful details elevate these cobb wraps [41] from basic to anything but. Yum!
Source: Mel's Kitchen Cafe [42]
Asian Noodle Salad Jars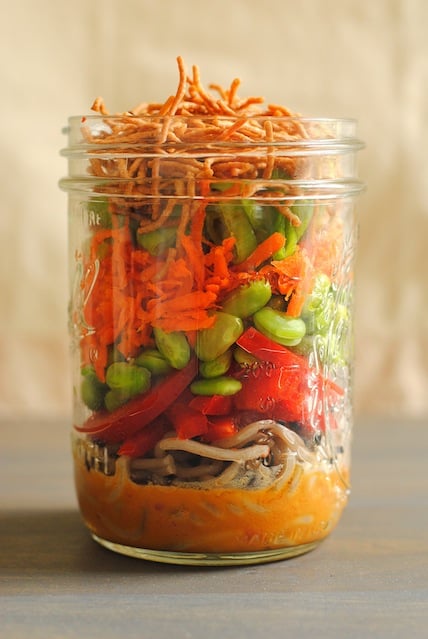 Yum! Foxes Love Lemons' noodle salad jars [43] are crunchy, peanutty, and healthy. Bonus points for eating yours with chopsticks.
Source: Floxes Love Lemons [44]
Sesame-Lime Chicken Salad
Real Simple's sesame-lime chicken salad [45] puts a healthy, Asian-inspired flair on a store-bought rotisserie chicken.
Source: Marcus Nilsson/Real Simple [46]
Barbecue Chicken Sandwiches
Skip the grill, and instead get your BBQ on with these yummy no-bake barbecue chicken sandwiches [47]. Make them mini by swapping in slider-size buns for little appetites!
Source: Yunhee Kim/Real Simple [48]