Argument For Disposable Diapers
Cloth Diapers? Not For This Mama!
Like us on Facebook
We're excited to share this post from our partners at BabyCenter! Every week, we will be bringing you the best parenting and lifestyle stories from the experts at BabyCenter, including this post from Stacie Lewis about her decision to use disposable diapers.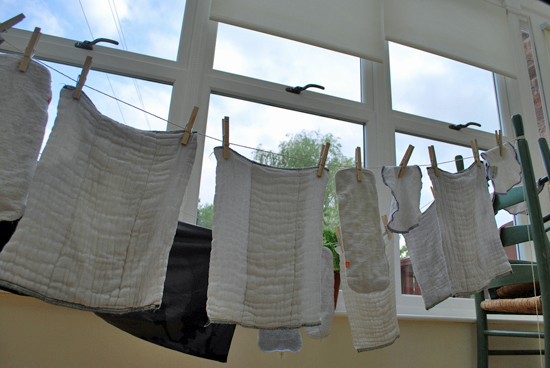 I use disposables. I believe they are easier, more convenient, faster and more hygienic than cloth. I like using them – at least, I like them as much as a parent can like a diaper. I have never considering changing. I have never tried cloth. Why would I?

Related: Sexist Gymboree onesies: Are they really so bad?

My husband and I had one conversation about cloth vs disposable, three years ago before our daughter was born. It went as follows:

Me: (opening discussion by using the universal family signal: pressing mute on the TV remote) Honey, have you ever thought about cloth diapers?

Him: What?!? What are you talking about?

Me: You know, diapers that you wash after each use instead of throw out.

Him: (look of total confusion on his face) You wash them? Like in the washing machine? All that poo, in the washing machine?

Me: (nodding without enthusiasm) Yeah.

Him: Why would we do that?

Me: (puzzled) Um, I'm not sure.

Him: Well, there you have it. (grabs remote and unpresses mute)

A splinter of doubt needled me after I wrote my last post. In the post, I explained how it is possible to pull onesies down after poo explosions. Besides many parents declaring it a "life-changing" idea — and think of that what you will — quite a few others used the opportunity to praise cloth diapers:

Keep reading to see what cloth diaper advocates had to say.

Catherine: Thankfully, with cloth diapers from the start this time (started at four months with the others) we have not had a single poosplosion.

Jen H: We cloth diaper too… a snappied prefold in a WAHM cover recently contained an impressive jumparoo poo.

jessika: Or, you could just use cloth diapers and not have any poosplosions to deal with. I'd rather wash crap out of a diaper than clothes/blankets/hair.

Well, I'm with you there jessika.

These three comments were far from the only ones. How is it possible that cloth diapers rock poosplosions?

Parents who cloth diaper, love their diapers. They love them so much, I'm (almost) tempted to try them. So, here is my proposal: convince me and I will try them out for a week.

Do you think cloth diapers rock? Convince me. (Also, what is a WAHM cover?)

If you are interested in cloth diapers, but want some support, turn to the Baby Center Community's Cloth Diapering group.

More great stories from BabyCenter.com:
Dreading the in-laws on Thanksgiving
My baby's naked butt is on Facebook
6 secrets to sticking to your budget on Black Friday
Fun, easy turkey crafts for kids to make
What to do with a mouthy kid

Source: Flickr User busbeytheelder