Ruffles and ribbons and lace galore! When it comes to planning a shower for a mom-to-be carrying a little girl, the sky seems to be the limit. While pink and lavender may take the cake when it comes to the most popular color schemes, we're seeing them used in new and unique ways these days. From tea parties to storybook-themed fetes to a pretty pink circus that has us drooling over the details, these 19 baby shower themes are our favorites for little girls!
A Little Pink Birdies Shower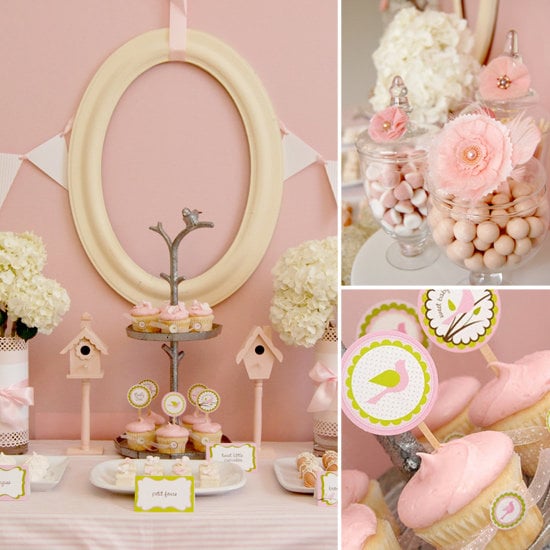 This Little Pink Birdies-themed baby shower [1] is packed with stunning details sure to inspire.
Source: Frog Prince Paperie [2]
A "G Is For Girl" Shower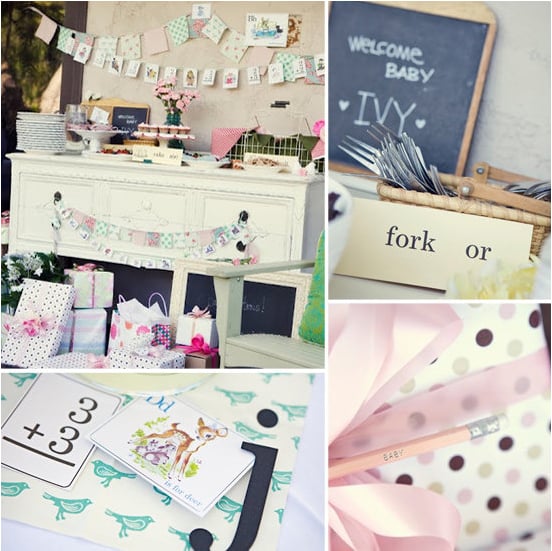 Throwing a baby shower for a mom-to-be who just happens to be a teacher? Get inspired by this absolutely beautiful, retro schoolhouse shower with a "G Is For Girl" theme [3].
Source: Sara Westbrook Photography [4]
A Springtime Sprinkle Shower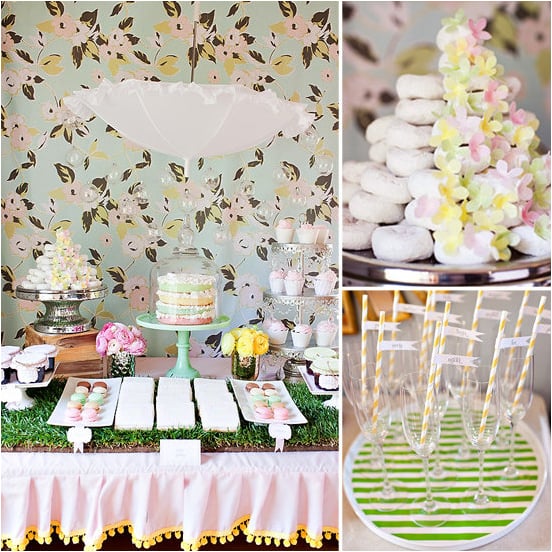 Just because a shower is small in size doesn't mean it can't be big on design. This springtime "sprinkle" [5] for a friend's second baby featured a pastel palette — perfect for Spring!
Photography by: Carly Taylor Photography [6]
A High Tea Shower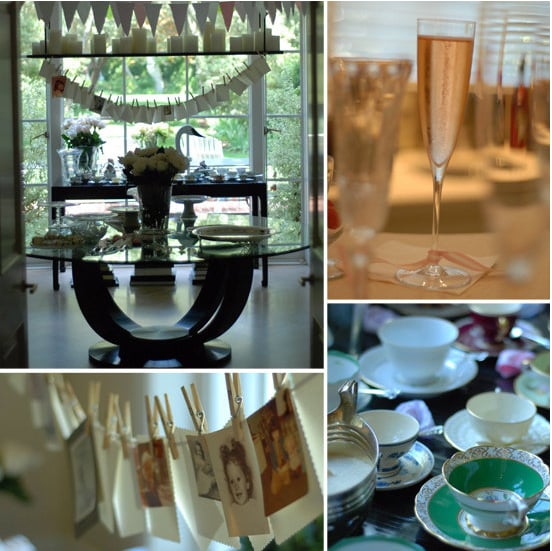 The classic British tradition was the inspiration for this classic high tea shower [7].
Source: Après Fête [8]
A Pink Ruffles and Ribbon Shower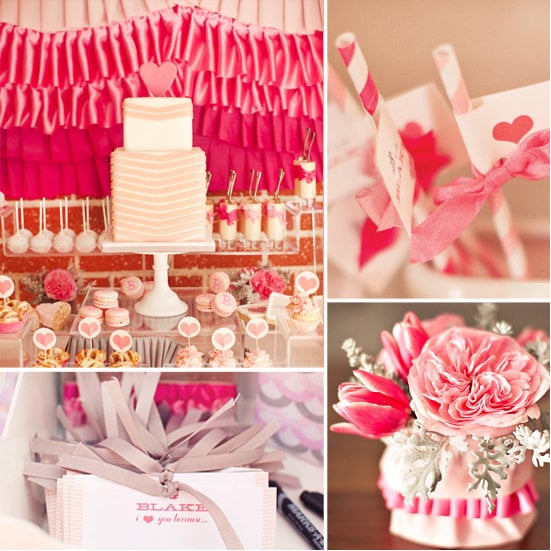 This ruffle- and ribbon-filled shower [9] thrown for a pastry chef just might take the cake in terms of cuteness.
Source: Gabriel Ryan Photographers for Hostess With the Mostess [10]
A Lavender Shower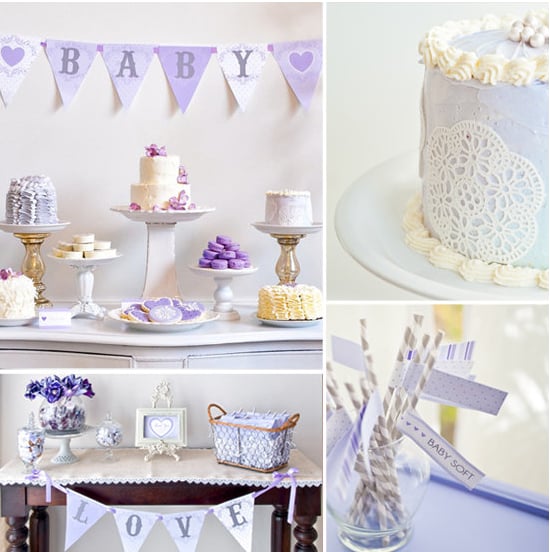 This Baby Love shower [11] had not one, not two, but five inspirational cakes, lavender bouquets, and sweet paper details to celebrate a baby girl!
Source: John McLaughlin for Frog Prince Paperie [12]
Bright and Cheerful Baby Girl Shower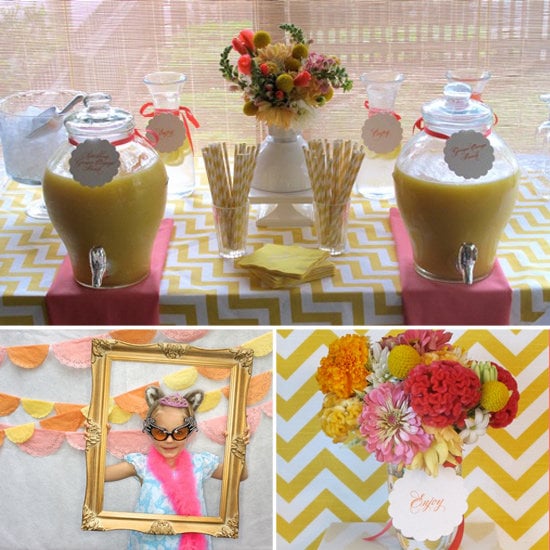 While a hurricane and a earthquake (seriously!) threatened to derail this beautiful baby shower, the party prevailed! The lucky mom-to-be, Courtney of Merriment Events [13], was honored with a bright, beautiful affair in shades of pink, yellow, and orange. Click here [14] to see all of the picture-perfect details!
Source: Merriment Events [15]
A Luxe Gold and Pink Circus Baby Shower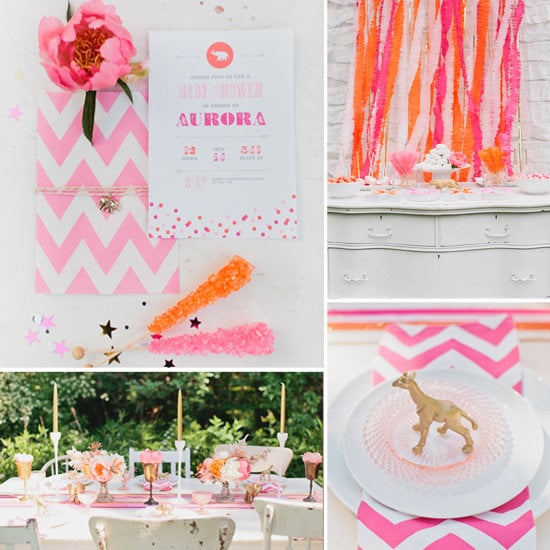 Maddy Hague of Somewhere Splendid [16] put together this showstopping baby shower inspiration shoot with gorgeous invitations; a bold, modern color scheme; and some seriously awesome details (gilded animals, confetti notebooks, metallic balloons with fringed streamers!). Click here [17] for all the inspirational details.
Source: Canary Grey Photography for Somewhere Splendid [18]
An Exotic Moroccan-Inspired Baby Shower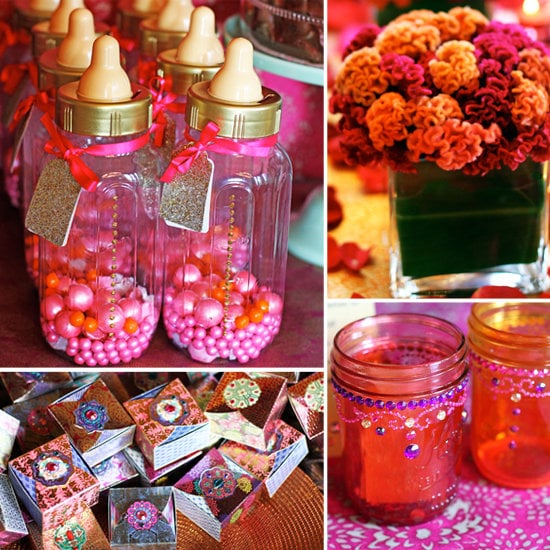 When Jessie of Lilyshop [19] started planning a baby shower for a close friend, she knew she had to think beyond the typical carriage-shaped cookies and onesie-decorating games. Instead, Jessie took her inspiration from Morocco, creating a global, girlie evening shower complete with fab flowers, rich shades of orange, pink, and gold, and even a henna tattoo artist! Click here [20] to check out all the beautiful details.
Source: Lilyshop [21]
A Ready-to-Pop Baby Shower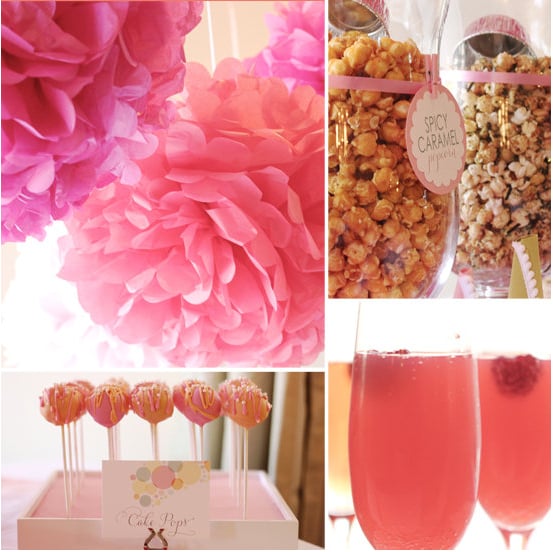 This pink- and pop-filled baby shower [22] is packed with creative "pop" ideas ranging from mini Champagne bottles to popcorn to the ever-popular cake pops. It has high impact, but — the part we really love — it's pretty easy to re-create!
A Welcome-to-the-World Sip-and-See
We're completely enamored with this sip-and-see's Welcome-to-the-World [23] theme. A host of stylish vintage maps and globes, hanging map mobiles and garlands, colorful globe centerpieces, travel-stamped suitcases, and a beautiful handmade guest book covered in a world map — not to mention the gorgeous venue — are just a few of the details we're loving.
Source: Allyson Wiley for A Little Savvy Event [24]
A Bun-in-the-Oven Shower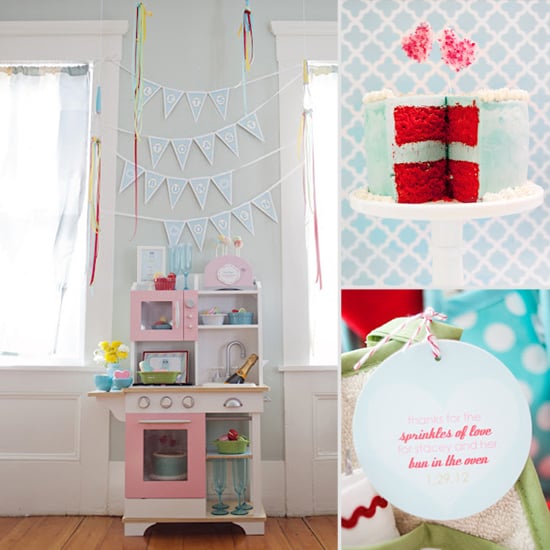 Using a vintage toy kitchen (a gift for the baby-to-be) and full-size baking tools as shower decor; adorable and cleverly worded paper goods; and a sweet aqua-and-red color scheme that translated beautifully into an aqua red velvet cake, this bun-in-the-oven shower [25] is perfect for the lil baker in your life. While this shower totally makes sense for a professional baker, we think it would work equally well for any mom-to-be who loves baked goods — in other words, pretty much every mom-to-be!
Source: Meredith Nelson Photography for Lil Hoot [26]
Tea Party Full of Girlie Frills
This gorgeous, sophisticated tea-party shower [27] may have taken place in the countryside in Portugal, but that doesn't stop us from thinking how we can re-create it here at home. The decor included the natural colors of sweet orange, green, and pink, and the table was embellished with the girliest of lace and roses.
Source: Chic Up Your Party [28]
A Classic Storybook Shower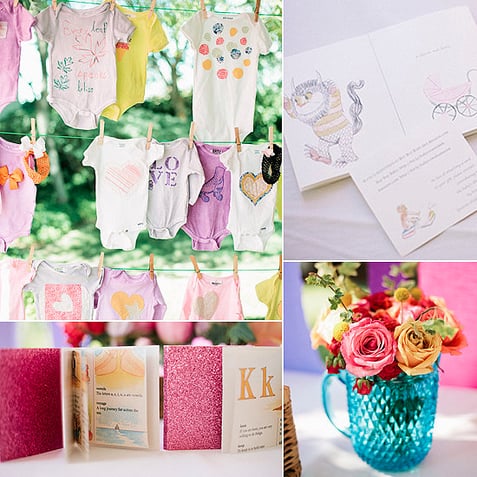 Classic children's books seem to have a knack for inspiring adorable baby showers, and this storybook shower [29] proves it! We love how this shower put a modern spin on classic kids books by incorporating glitter, girlie colors, and even a DIY [30] onesie decorating station. Check out all the storybook-perfect details.
Source: Katrina Louise Photography [31]
An Animal-Themed Baby Shower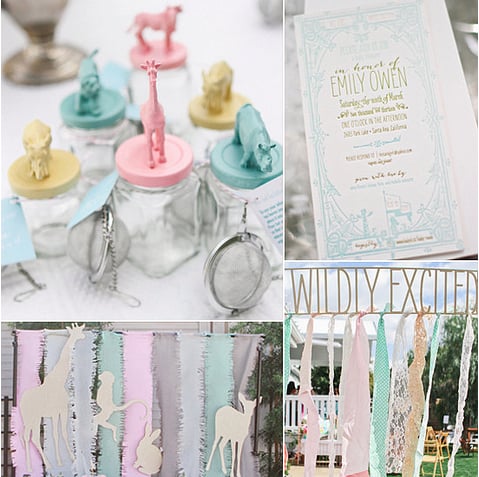 This vintage-style party [32] is great for anyone who absolutely adores animals. It's full of fun activities — the mom-to-be wasn't a "shower game" person — so there were interactive stations such as the tea bar and a DIY [33] mobile station. There are so many inspirational elements of this shower, including a gorgeous backdrop, laser-cut animals, and of course, the awesome Wiley Valentine invitations.
Source: Wiley Valentine [34]
A Light and Airy Outdoor Baby Shower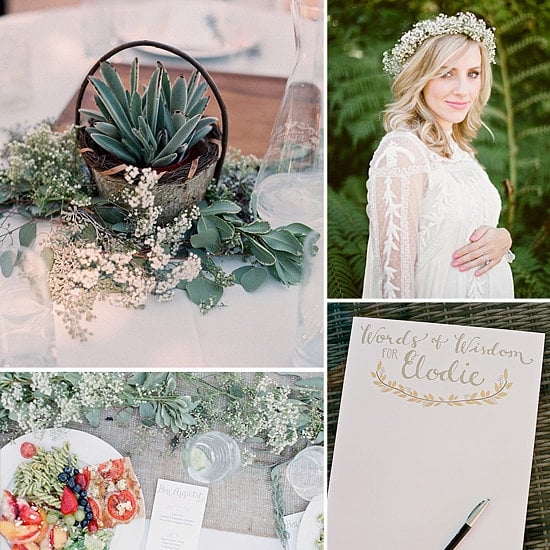 This outdoor baby shower [35] from beauty blogger Taylor Sterling is the antithesis of your typical pin-filled party. Succulents, a gorgeous display of sweet and savory eats, and even a bar filled with girlie cocktails were just some of the highlights of this gorgeous shower.
Source: The Glitter Guide [36]
An Old-World, Glam, Sparkling Baby Shower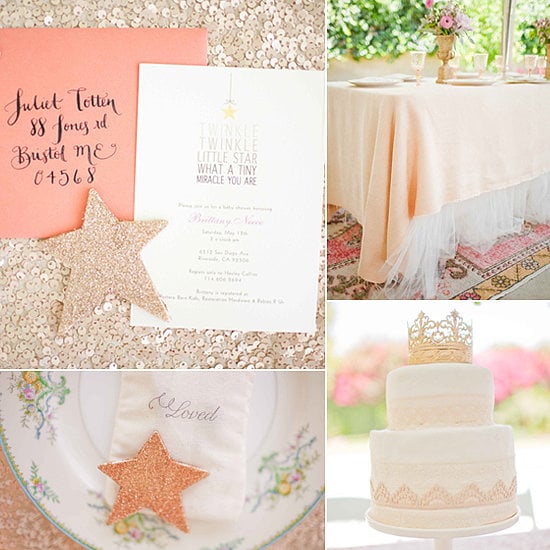 Talk about a glittering affair; this sparkling baby shower [37] was full of tulle and sequin table linens, antique Persian rugs, and gorgeous blooms. A sweet and savory biscuit bar and a gorgeous cake made by the grandma-to-be were two more must-see elements at this baby shower.
Source: Grey Likes Baby [38]
A Woodland Forest Baby Shower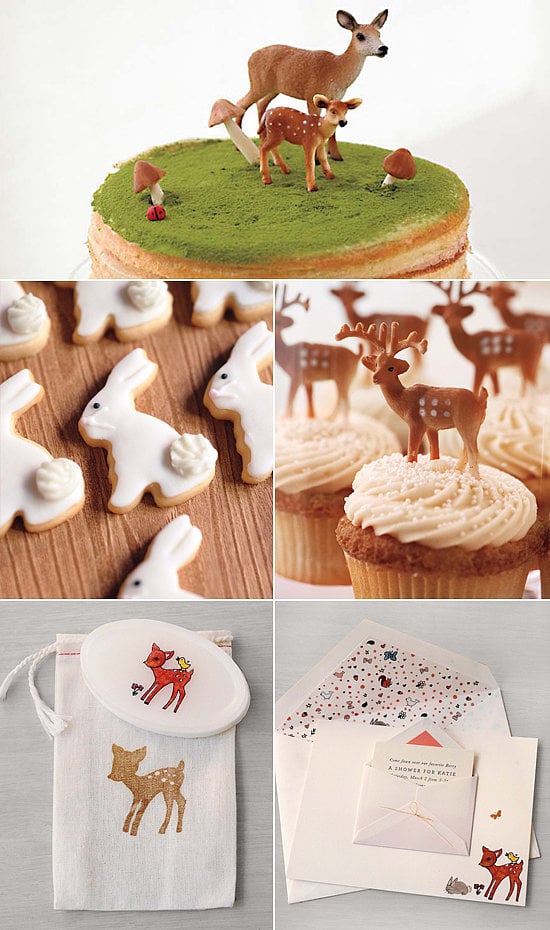 When Martha Stewart Living editors get together to fete one of their own, you know it's not only going to be a beautiful party but one filled with tiny details we'll be drooling over. That's exactly what happened when Martha Stewart Weddings celebrations expert and editorial director Darcy Miller got to work planning a baby shower [39] for her magazine's creative director, Kate Berry. Knowing that the mom-to-be, a San Francisco transplant to New York City, has a love of nature, Darcy easily selected a theme that would reflect the guest of honor's style — a "woodland-chic-meets-Bambi" baby shower, where bunny rabbits, deer, and other woodland creatures could be found on everything from the cookies and cake to the soap favors.
Source: Charlotte Jenks Lewis [40]
A Vintage Baby Shower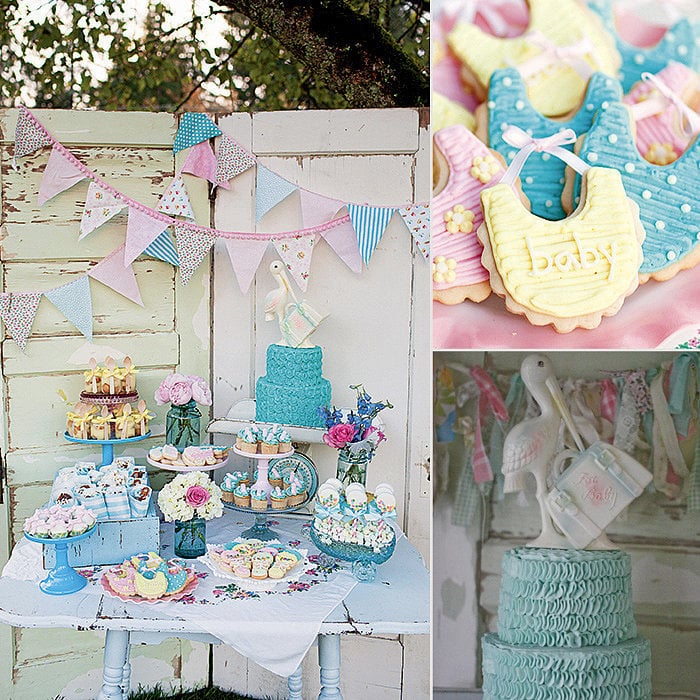 There isn't much that Seattle-based Jenny Keller touches that doesn't turn to gold. The baker and event designer behind Jenny Cookies [41] is known for filling blank spaces with gorgeous sweets to meet just about any theme. Jenny filled this adorable vintage-themed baby shower [42] with all sorts of antique baby items she found at secondhand stores, flea markets, and estate sales.
Source: Jenny Cookies [43]