We're all about seeking out new trends when it comes to hosting a stylish baby shower, and over the past few years, cake pops and cupcakes have ruled the scene. But sometimes a party calls for a good old-fashioned cake — the kind that needs to be cut with a knife. If the mom-to-be who you're honoring is more of a traditionalist than a trend follower, then serve her up a sweet slice of one of these 25 beautiful baby cakes!
The Birds and the Bees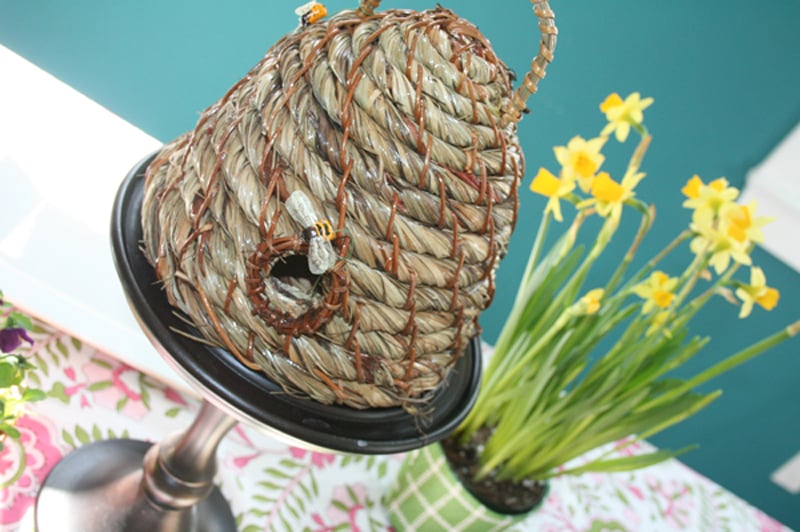 An elaborate beehive cake [1] was apropos for a "birds and bees" tea for a mom-to-be!
Source: Cakes Likes a Party [2]
In the Moo-d For Mod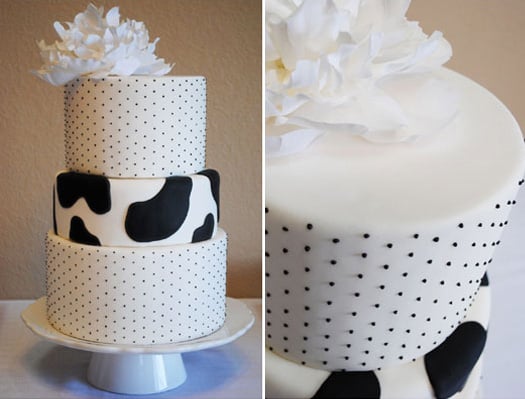 When the shower has a "milkaholic" theme, a cow cake [3] is just what the doctor ordered. This one was sophisticated, not silly.
Source: Carrie Sellman of Half Baked [4]
Campfire Cake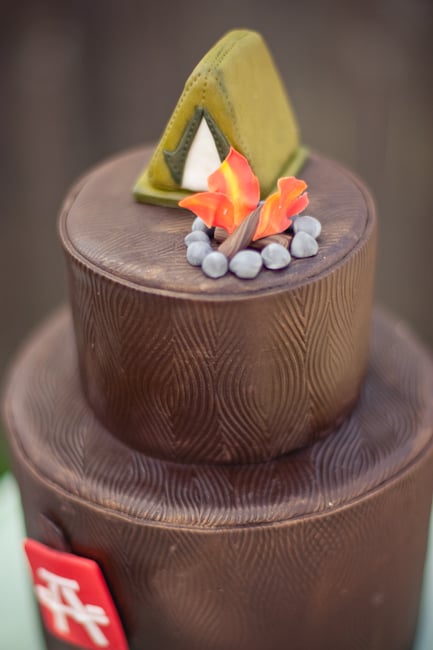 This rustic campfire cake [5] went perfectly with the clever theme of a camping shower.
Source: Jesi Haack Design [6]
A Velveteen Rabbit Silhouette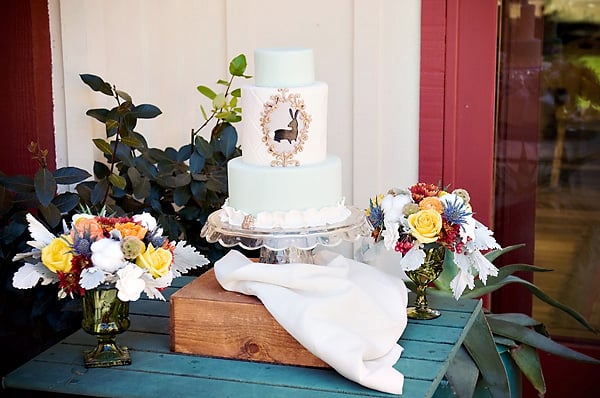 This elegant Velveteen Rabbit cake [7] was a tasteful approach to the shower's sweet theme.
Source: Krista Mason on Hostess With the Mostess [8]
Start Simple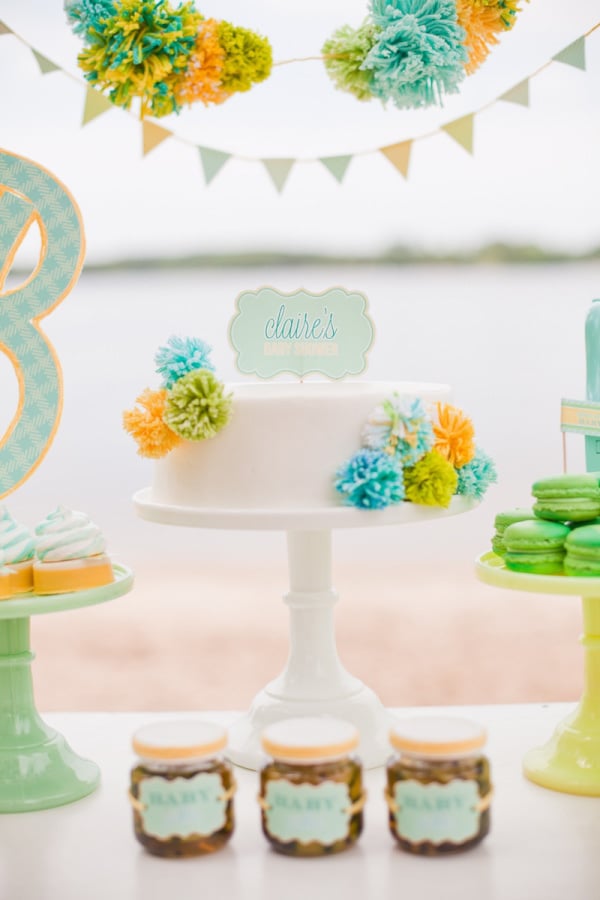 A $12 plain white Target cake was accented with mini yarn poms (kept in place with toothpicks) and topped with a printable flat label from Anders Ruff's baby shower printable collection [9].
Source: Anders Ruff [10]
Whoooo's That on Your Cake?
The two-tiered cake at a flower- and owl-themed shower had a most fitting topper.
Source: TomKat Studio [11]
Mod Dots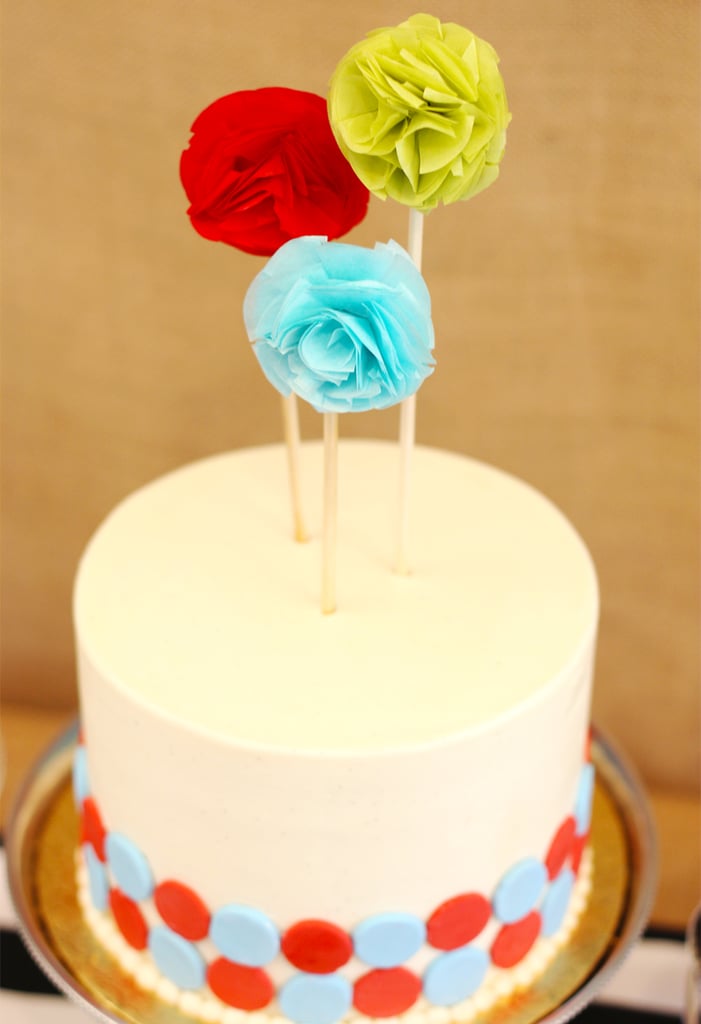 A mod pop-art theme was perfect for this gender reveal party [12], and this fun unisex cake wasn't spilling the beans!
Source: Le Partie Sugar [13]
If You Mustache . . .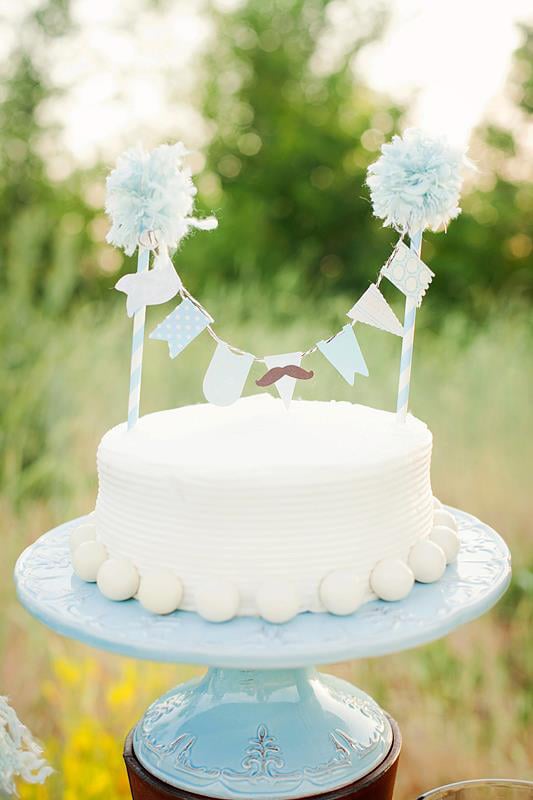 This mustache party cake topper [14] ($17) from Etsy's Quilted Polka Dot is a subtle way to carry out a masculine theme.
Source: Quilted Polka Dot [15]
Twice the Fun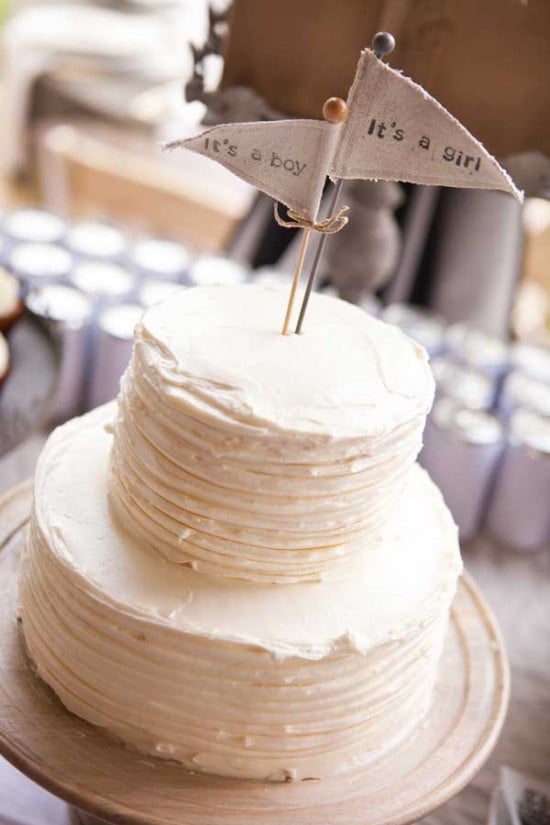 Sweet pennant cake toppers were appropriate for the theme of this vintage newsprint shower [16].
Source: Tara Rochelle for Layla Grayce [17]
That's Amore!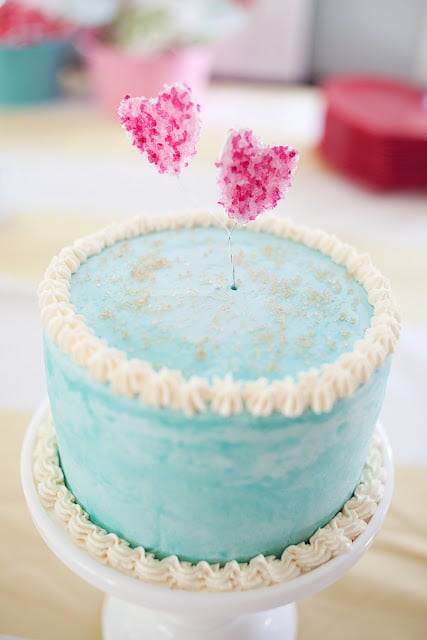 Pickwick Baking Co. [18]'s red velvet cake with aqua frosting and heart accents is sweet for a baby boy or girl's shower.
Source: Meredith Nelson Photography for Lil Hoot [19]
Hooray For Baby!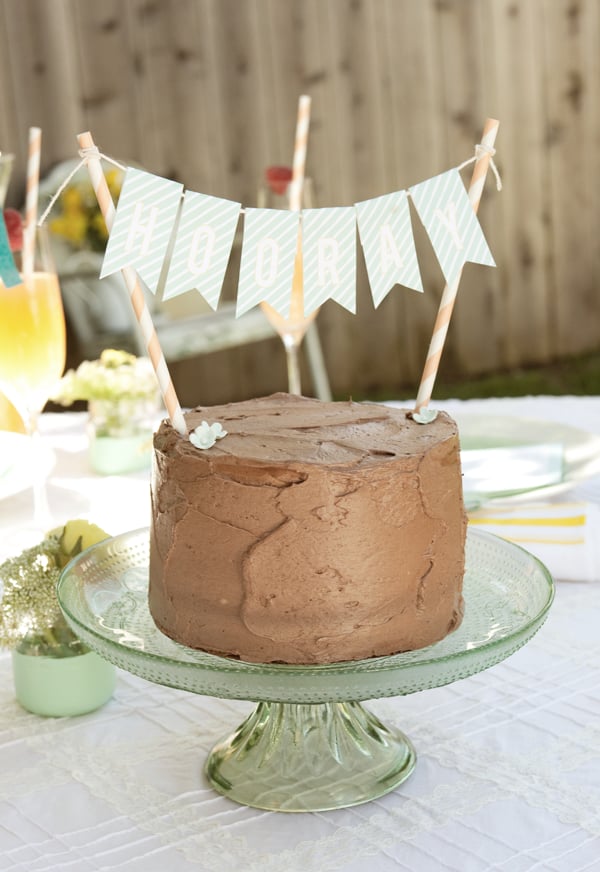 A simple chocolate cake was made extraspecial with the addition of "Hooray" bunting flags [20] ($8) from Etsy's Cake Events.
Source: Cake Events [21]
The Prettiest Pennants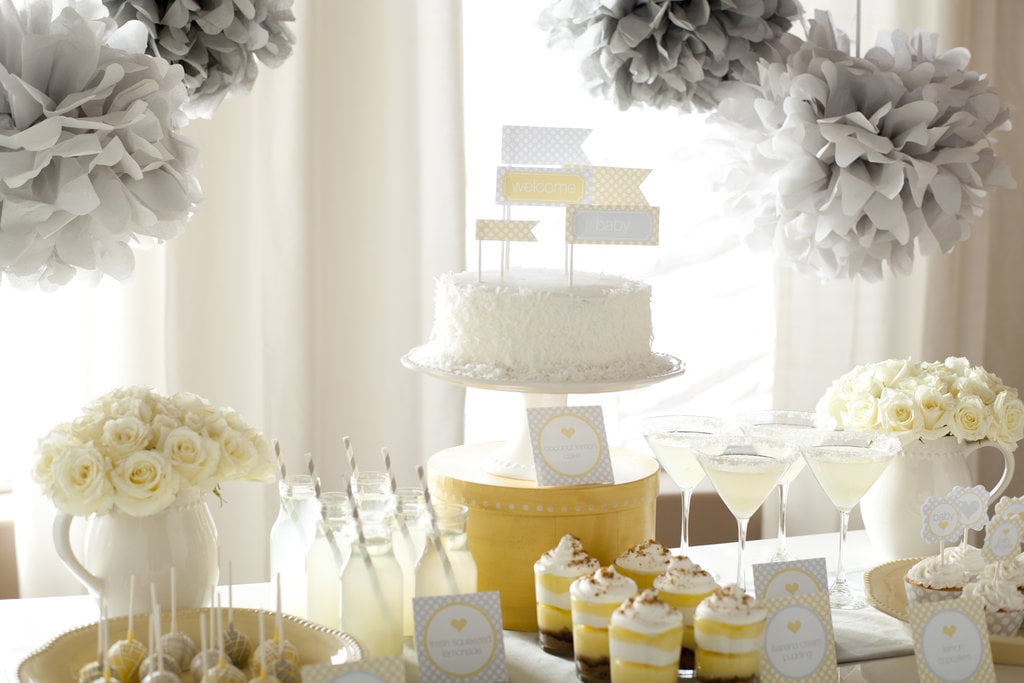 Toppers can transform even the simplest of cakes, as in this example from a Pottery Barn Kids [22] staged shower.
Source: Pottery Barn Kids [23]
Set the Stage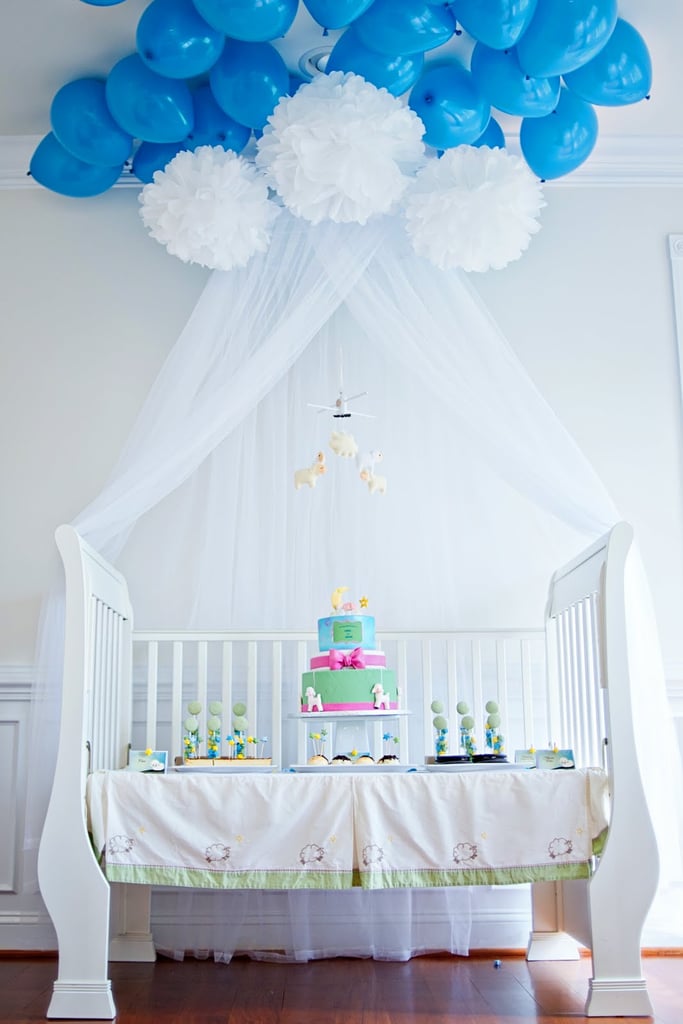 If a crib mobile is part of the expectant mom's stash of loot, then put it to work during the shower. Hanging a mobile above a tiered cake gives it another level of dimension.
Source: Rebecca Watkins Photography for Pure Joy Events [24]
The Trick's in the Technique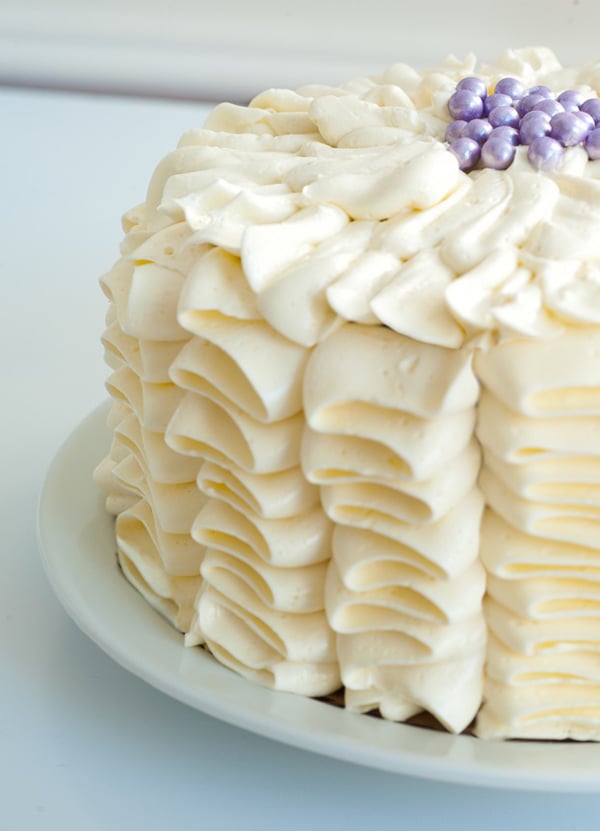 Elegant icing [25] and edible fondant pearls transformed this cream-colored cake from ordinary to outstanding!
Source: John McLaughlin for Frog Prince Paperie [26]
A Rainbow Layer Cake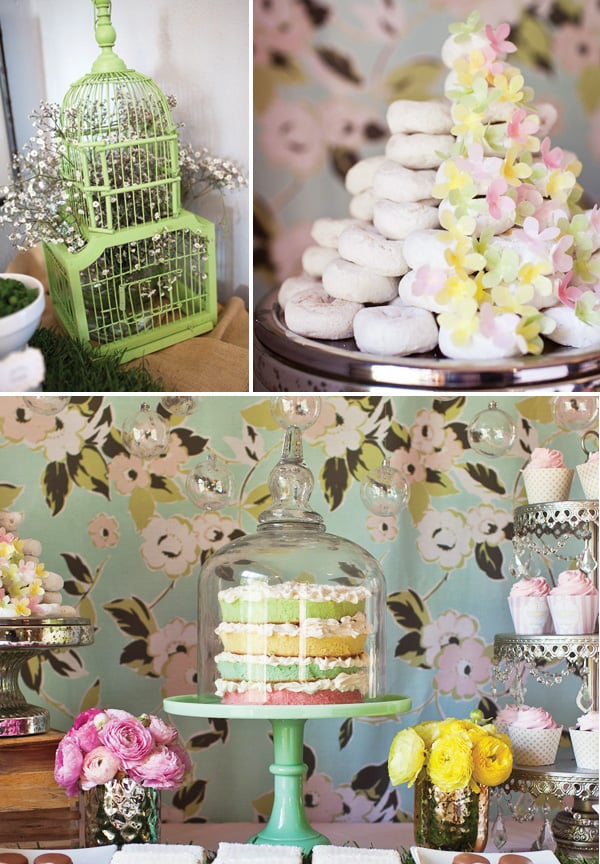 The hostess of this springtime "Sprinkle" made the rainbow layer cake [27] herself and said it was easier than it looks, since it didn't require allover frosting.
Source: Carly Taylor Photography [28]
The Swirled-Surprise Cake
For a vintage-themed shower [29] full of antiques (like the stork atop this cake), a simple, swirled ribbon cake was perfect. This cake, weighing in at 12 pounds, created a focal point for the party. But the cake was more than meets the eye. "The cake cutting definitely stands out as a memorable party moment," Jenny Keller shared. "Instead of your typical white cake, I secretly colored the cake batter blue to surprise party guests with the baby's gender. We called it the 'Blue or Pink, What Do You Think?' cake."
Source: Jenny Keller of Jenny Cookies [30]
The Gang's All Here!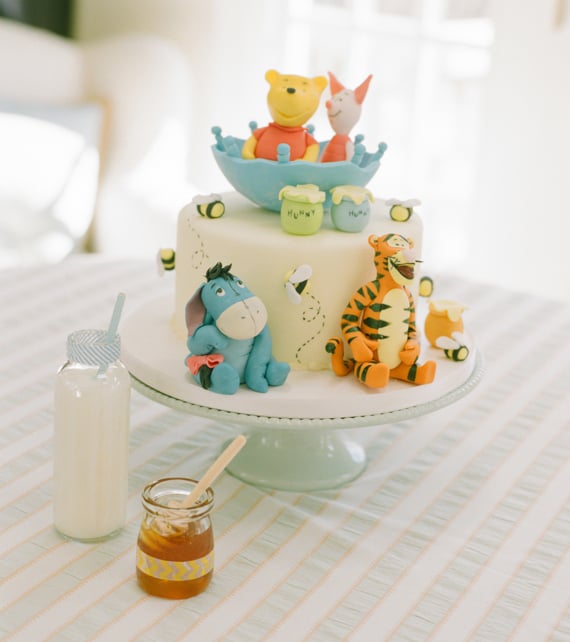 Rather than going cutesy for a Winnie the Pooh-themed shower [31], this fondant version with Pooh, Piglet, Eeyore, and Tigger made for the sweetest cake, flanked, of course, by milk and honey.
Photography by Abby Jiu [32] via 100 Layer Cakelet [33]
A Green Tea Mille Crepes Cake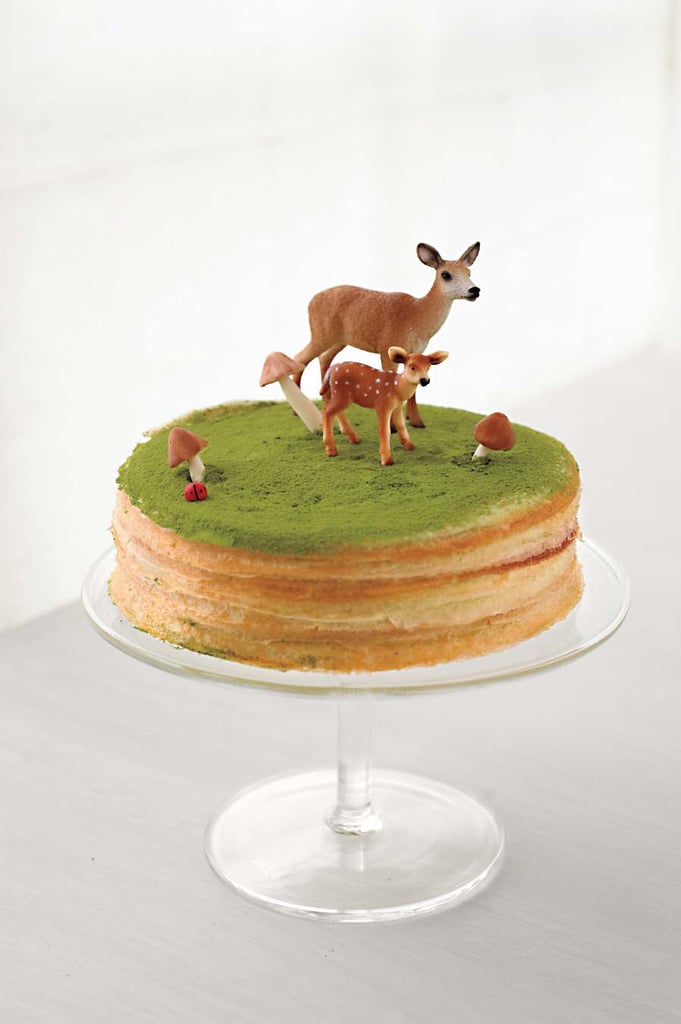 Forget a traditional chocolate or vanilla cake. For a woodland-animal-themed shower for a Martha Stewart Living employee [34], only a Lady M's Green Tea Mille Crepes Cake [35] ($45-$80) would do. The woodland scene was extended to the cake with some toy deer [36], sugar mushrooms, and ladybugs [37].
Source: Charlotte Jenks Lewis [38]
A Starry Night Cake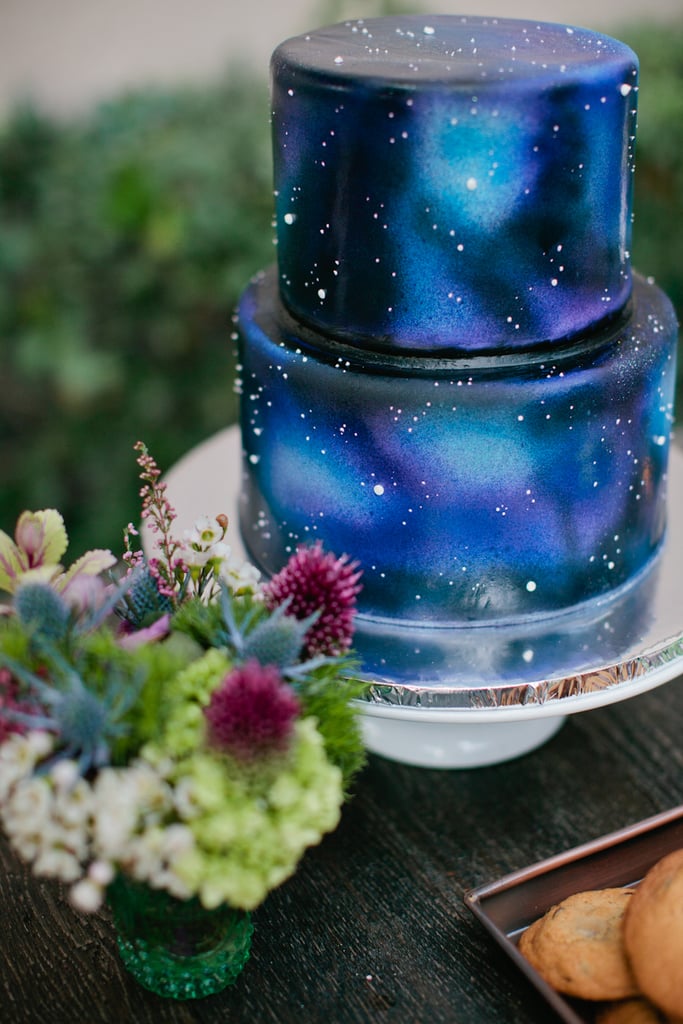 Pastels are usually de rigueur at baby showers, but for a nighttime Peter Pan-themed shower [39], Merely Sweets [40] crafted the galaxy cake, giving it a tie-dyed feel.
Source: Richelle Dante Photography [41]
Baby Lamb Cake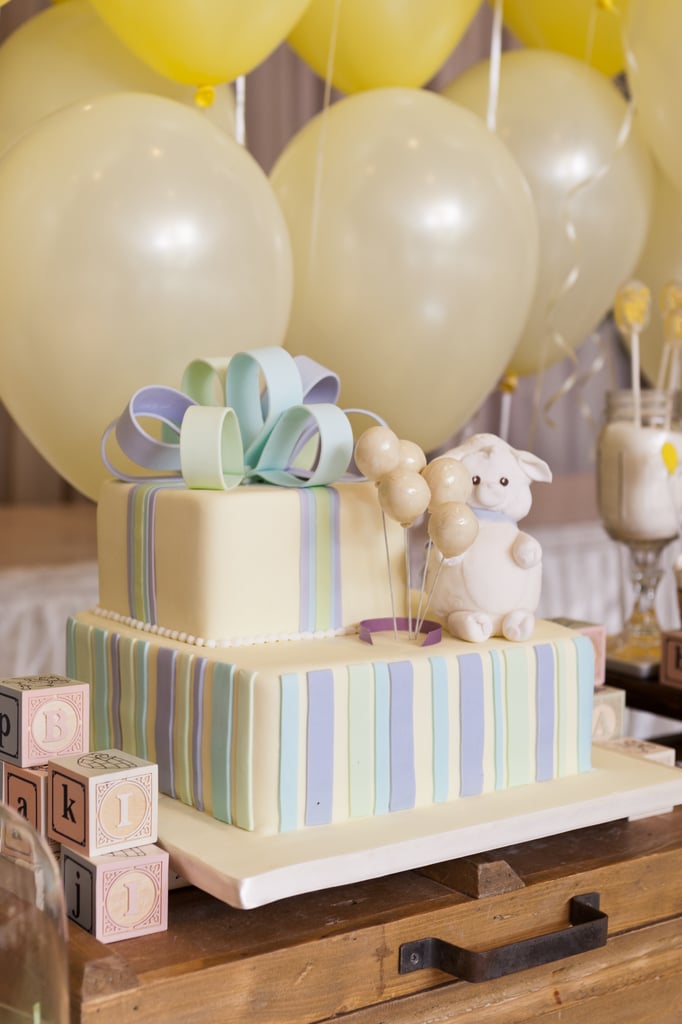 Patricia's Cake Creations [42] made this adorable two-tier striped cake with a baby lamb holding balloons for a lamb-themed shower [43].
Source: Truly Yours Planning [44]
A Semi-Homemade Cake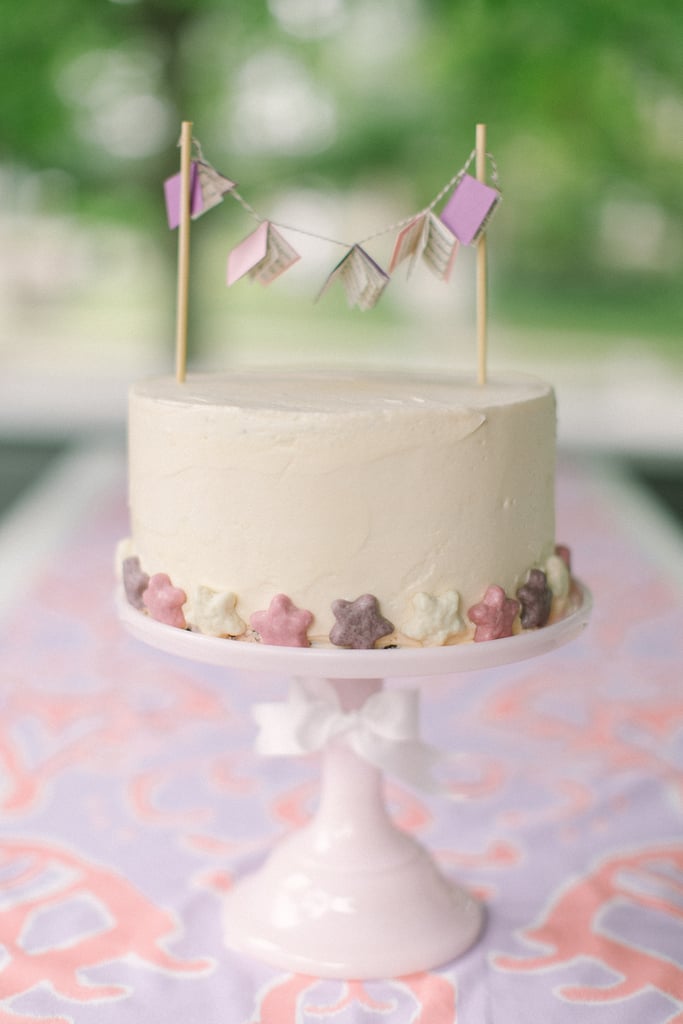 "The cake may just be my proudest achievement," Dina Holland says of her semi-homemade cake [45]. "This is just a standard grocery store cake that I customized with some yogurt-covered stars from Trader Joe's and a sweet garland of the tiniest little books."
Source: Honey & Fitz [46]
A Nautical Cake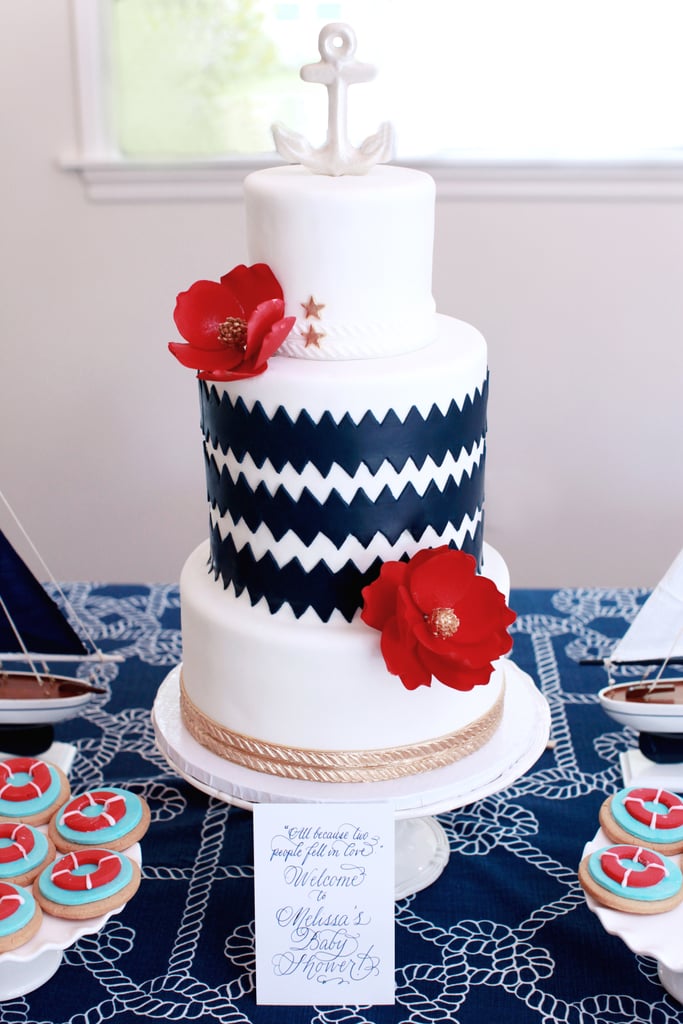 A close look at the Cake Studio LA [47] cake from a nautical baby shower [48] reveals an anchor topper and chevron and golden fondant rope.
Source: Fancy That! Events [49]
A Royal Cake
For an old-world glam shower [50], a crown cake topper made a royal statement. "My sisters and I have put my mom's cake skills to good use," Summer Watkins says. "She makes a tiered cake for every single shower (baby or wedding [51]) that we host at her house (which, with all of our girlfriends getting married and having babies, is several a year!). It's always special to have sweet handmade elements like that!" The gold crown cake topper is now a keepsake in the baby's nursery.
Source: Grey Likes Baby [52]
A Tiffany Cake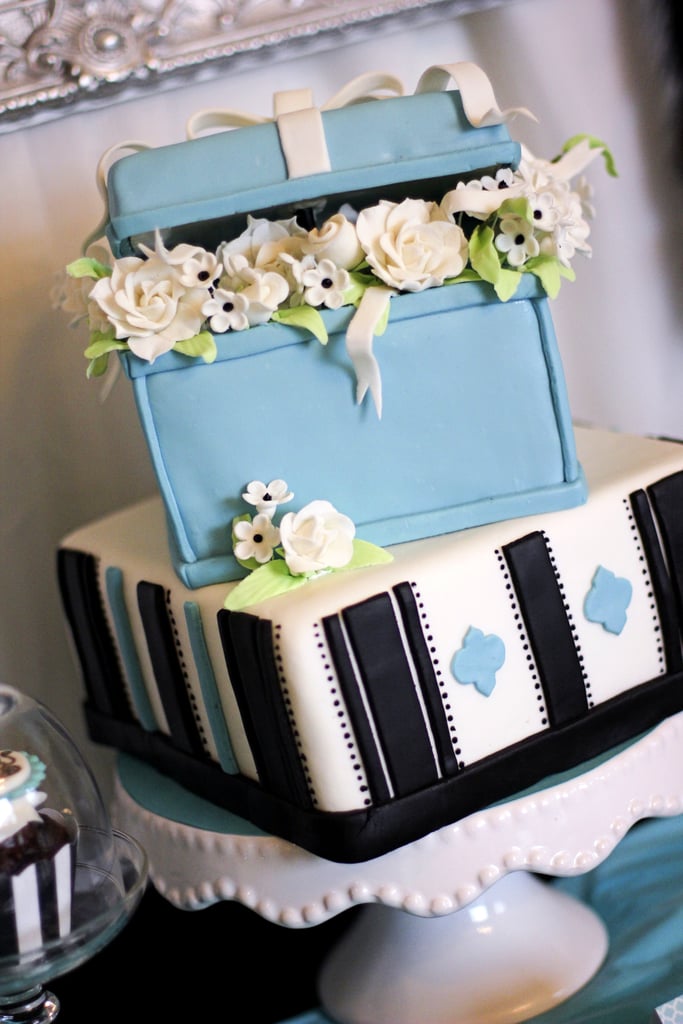 For a Tiffany-inspired baby shower [53], this Tiffany box cake by 4 Kids Cakes [54] was the main attraction.
Source: Banner Events [55]
Dessert Table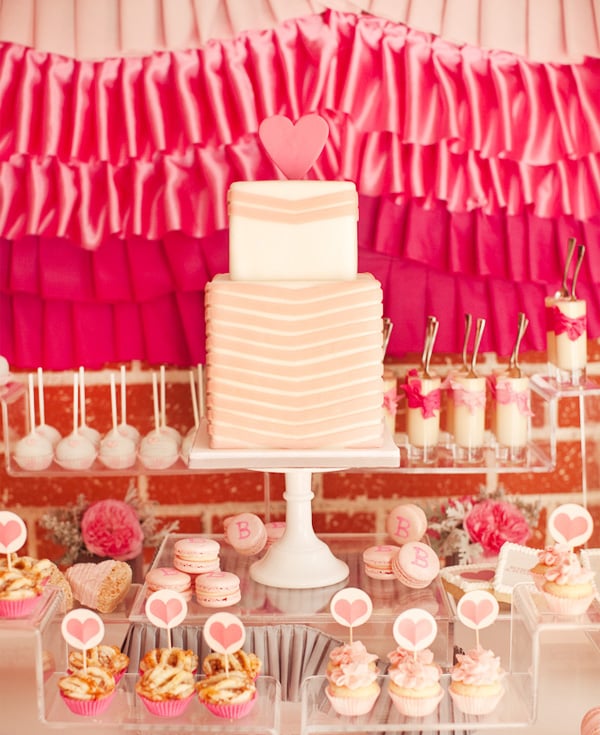 When the guest of honor is a pastry chef, you know the dessert table is going to be gorgeous. Mom-to-be Melody Brandon [56] created all the custom desserts for this pink-themed baby shower [57], including the stacked cake.
Source: Gabriel Ryan Photographers for Hostess With the Mostess [58]