It seems like everyone is baking up diaper cakes [1] these days! But there's a hot new trend in rolling and stacking the nappies [2] — the shaped diaper cake! Inventive moms are going beyond the one-, two-, and three-tiered creations by molding the Pampers into new structures from baskets to tricycles. We've rounded up 33 of our favorites that you can use as inspiration for your own inedible confections [3].
Diaper Baby Bottles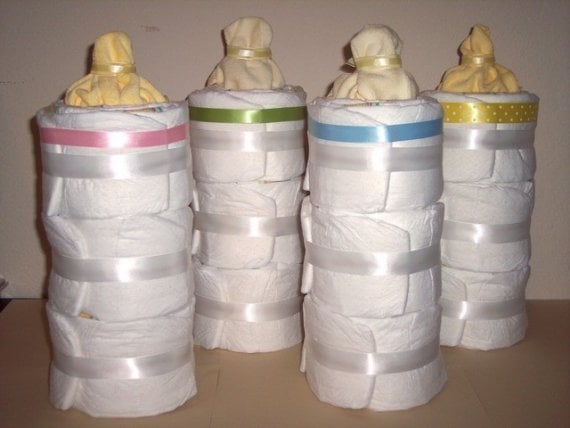 Pack 'em and stack 'em! Top an evenly tiered diaper cake with a washcloth to create a baby bottle [4] ($22).
Personal Diaper Cake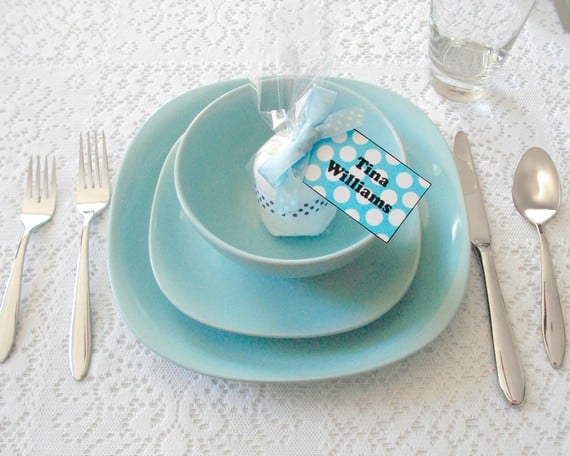 Each baby shower guest can enjoy their own personal cake and place card [5] ($20 for 20) made from a single Pamper.
Castle Diaper Cake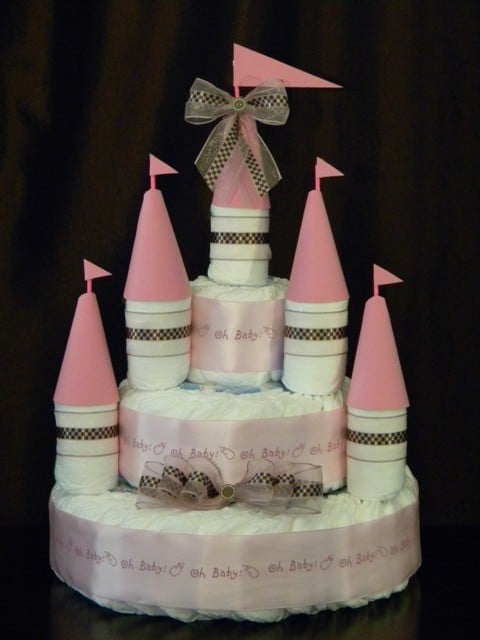 Fit for a prince or princess, this castle diaper cake [6] ($93) is capped off with five cones and waving flags for the full royal effect.
Diaper Basket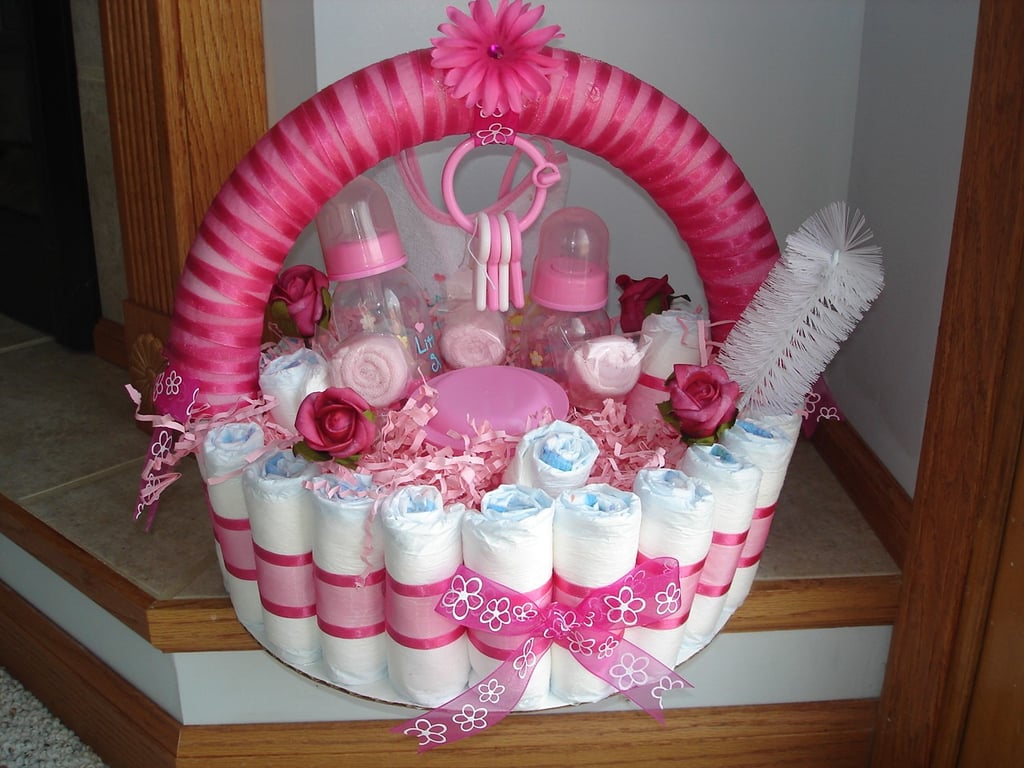 If building a cake isn't your thing, take some inspiration from this diaper basket [7] ($45). The actual basket is made from rolled-up diapers and filled with bottles, brushes, and more.
Diaper Half-Sheet Cake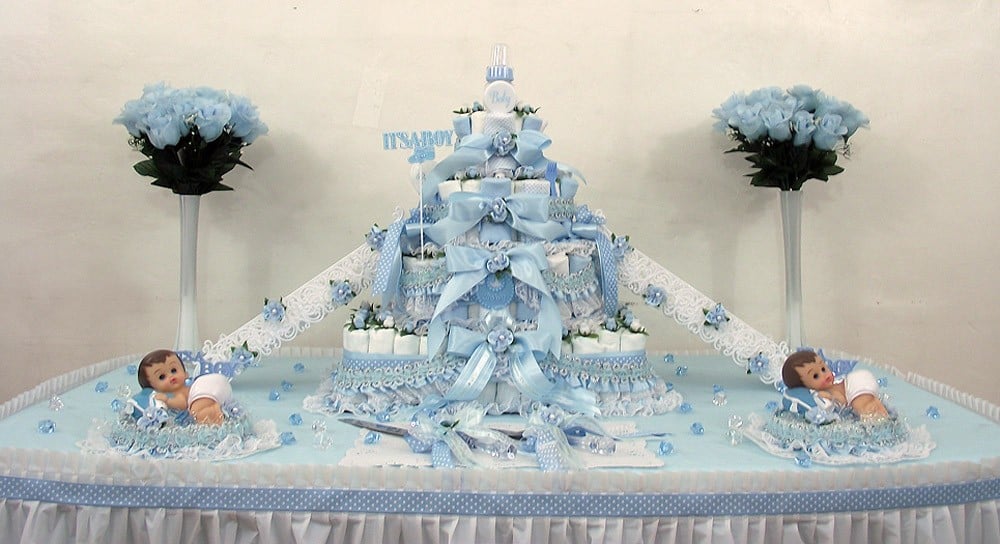 The half-sheet cake is a favorite of bakers, and this half-sheet diaper cake [8] ($225) uses the same size tray to keep everything in place.
Snoopy Diaper Cake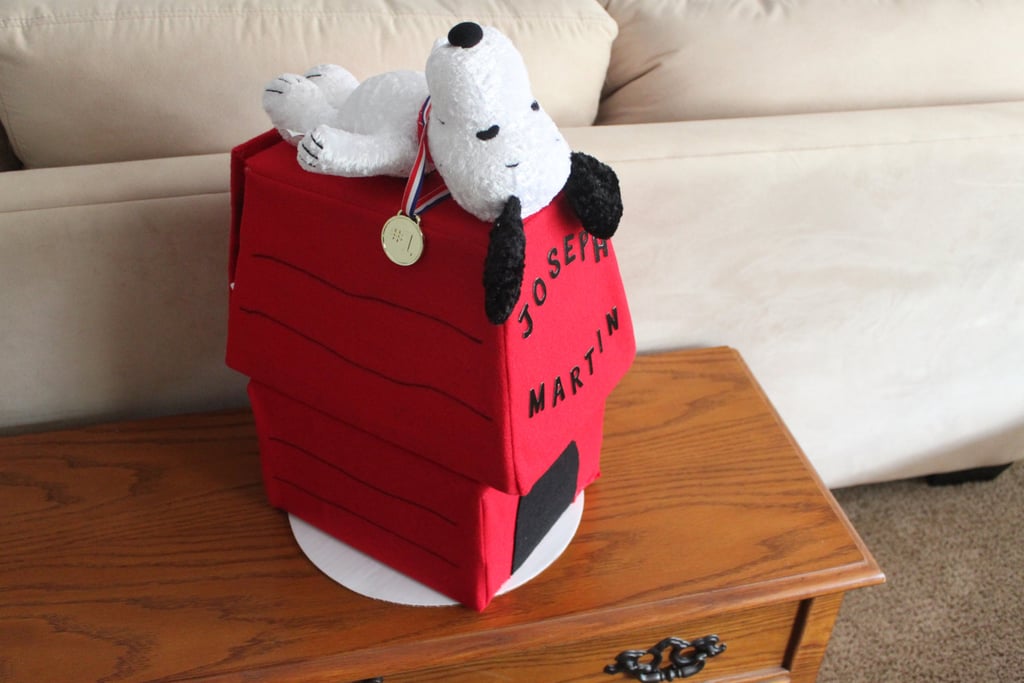 Peanuts fans will love this Snoopy Diaper Cake [9] ($75). The felt cover hides the folded-up diapers, giving it some more centerpiece appeal!
Rubber Duckie Diaper Boat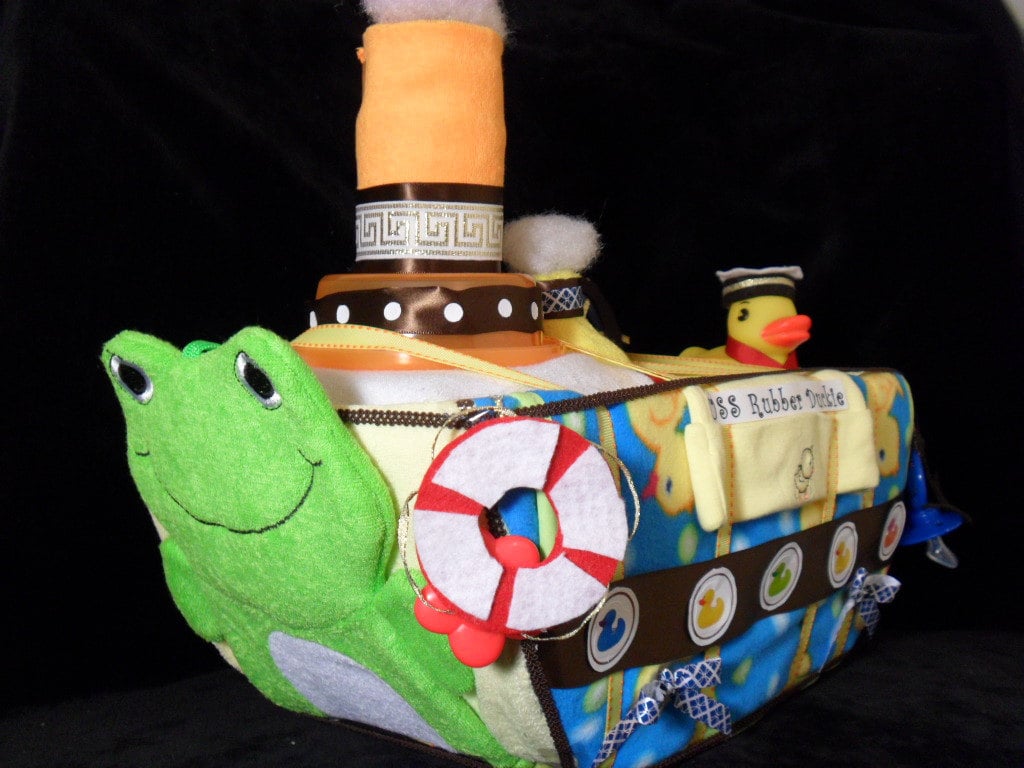 All aboard the rubber duckie steamboat! This diaper boat [10] ($79) is basically just a rectangle of rolled-up diapers surrounded by plenty of baby bath time necessities!
Monkey Tricycle Diaper Cake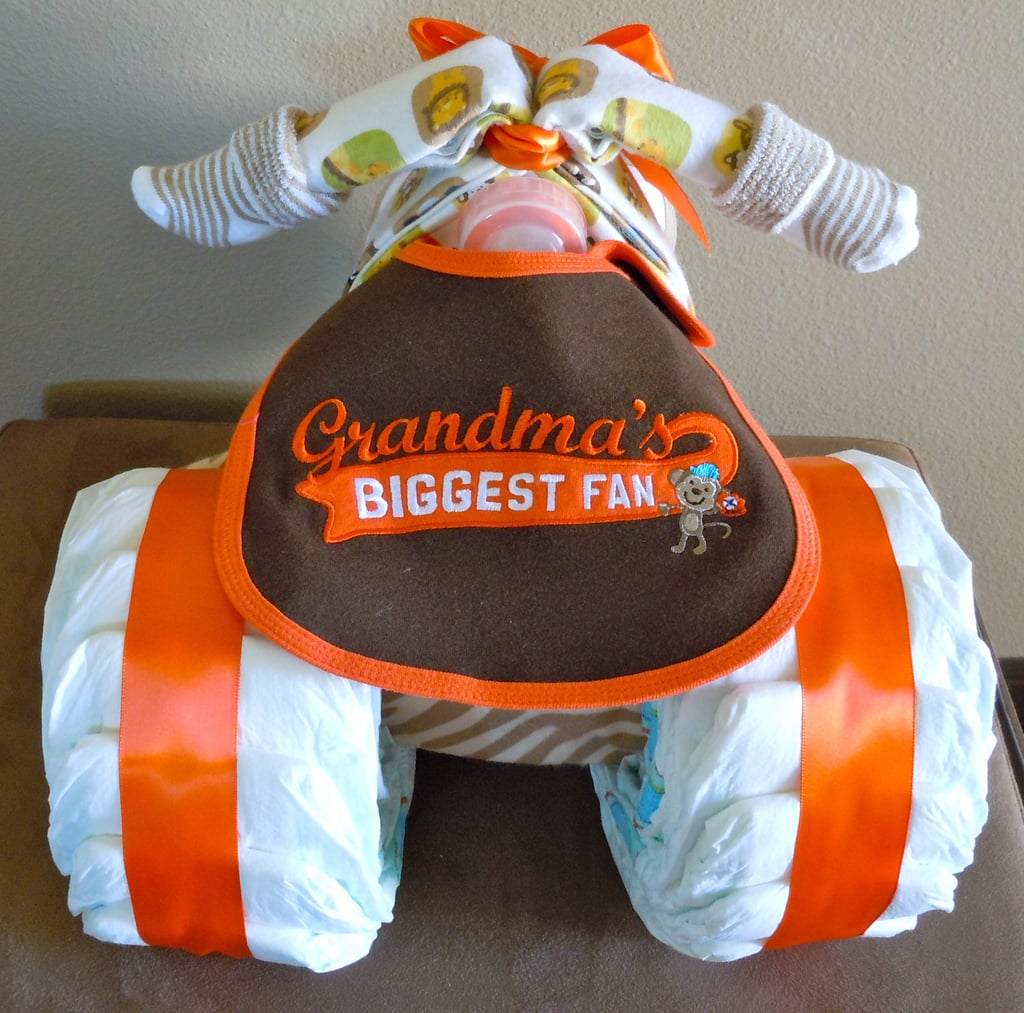 Baby's sure to turn into an easy rider with this tricycle diaper cake [11] ($60). Made by combining several diaper cake bases, it is sure to be a showstopper at the baby shower!
Camo Diaper Cake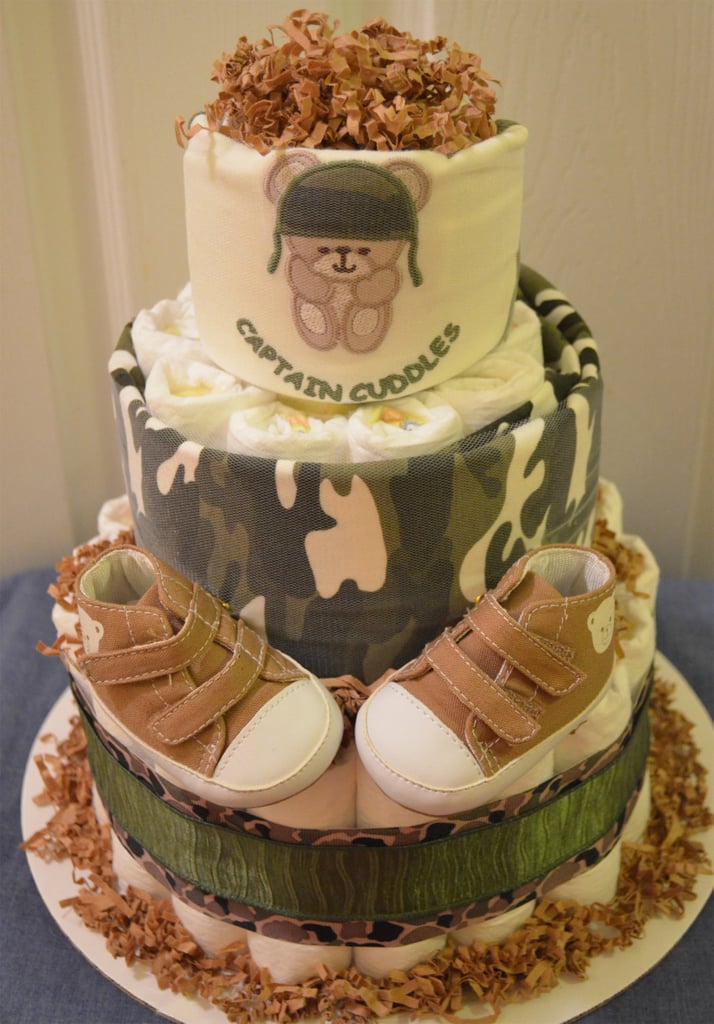 Camouflage doesn't always look sophisticated, but this Camo Diaper Cake [12] ($42) certainly does. Without overdoing the actual camo print, it makes a great addition to the party atmosphere.
Sushi Diaper Cake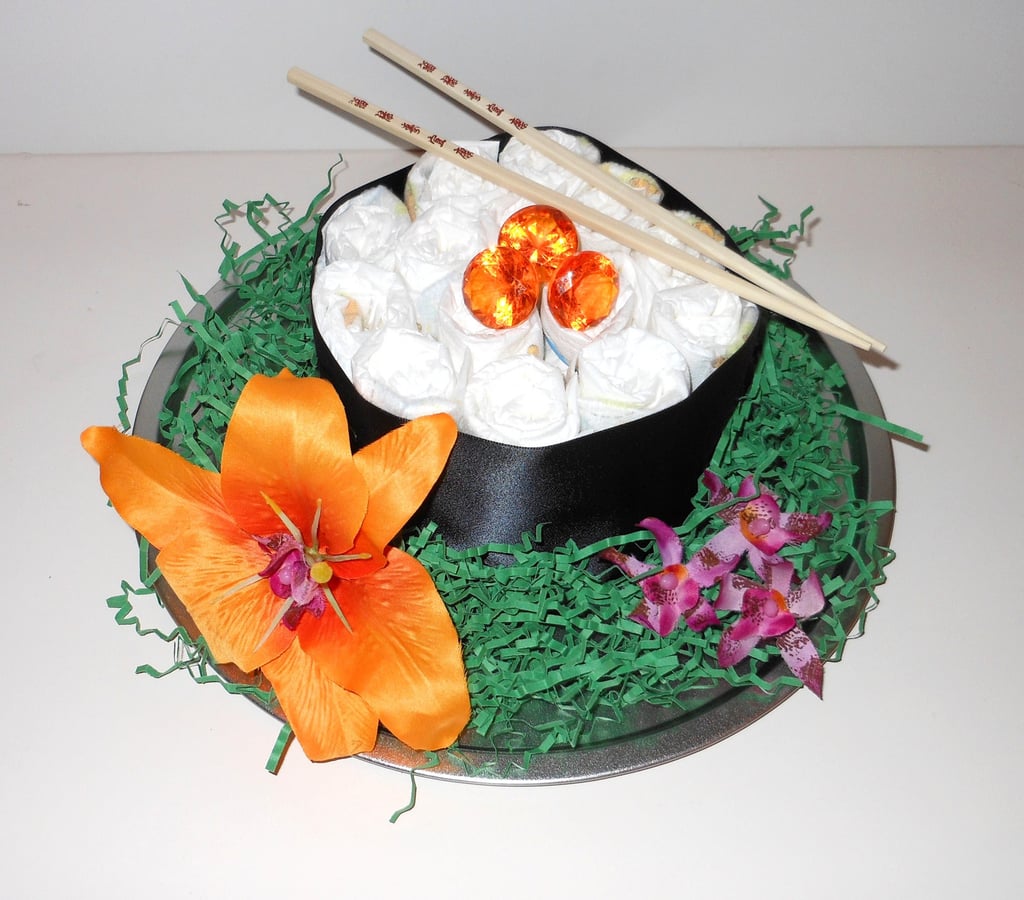 Mama may be staying away from raw fish during her pregnancy, but she'll gobble up this sushi-themed diaper cake [13] ($15). Re-creating it should be a breeze — it's all in the details!
Diaper Cake Car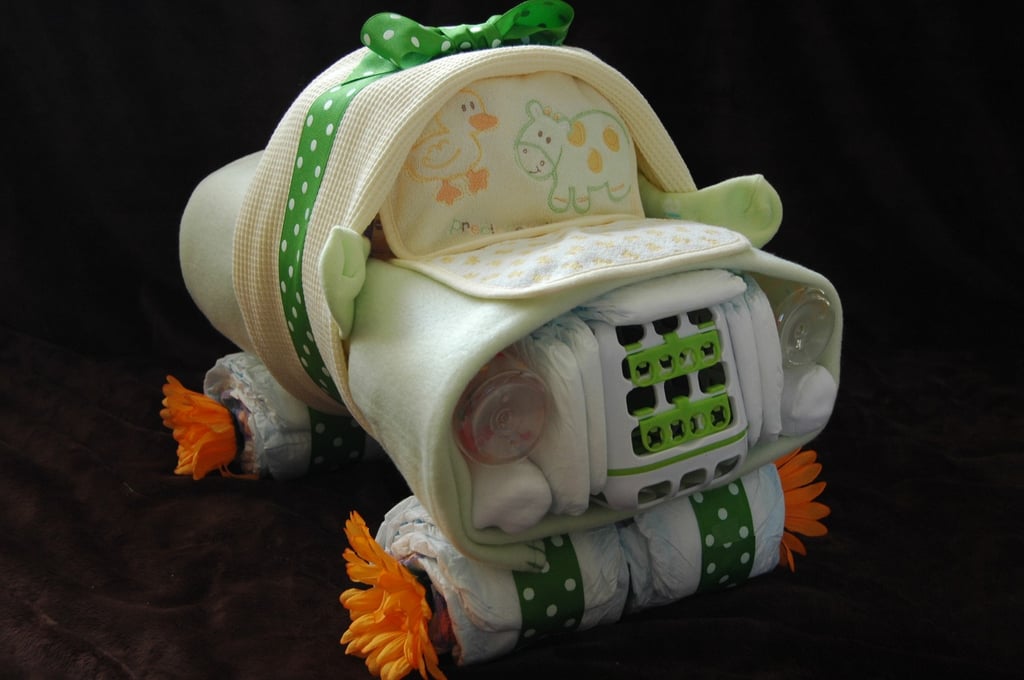 Vroom! Baby will be all set after the mom-to-be unwraps this diaper cake car [14] ($80). Filled with bottles, blankets, bibs, and socks, a dishwasher basket helps the car keep its shape.
Thing 1 Thing 2 Diaper Cake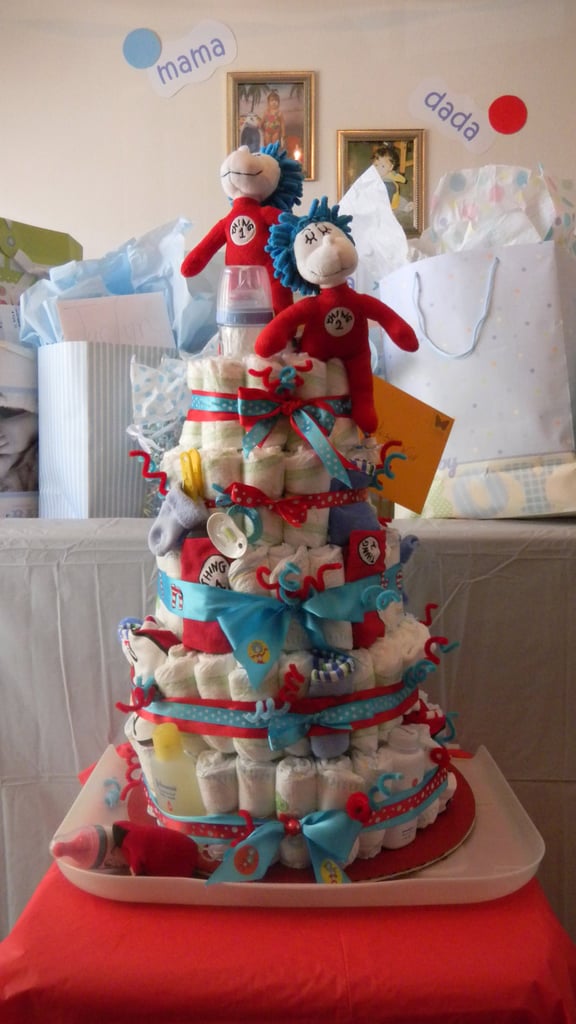 Everyone's favorite Dr. Seuss hooligans have never looked quite as fun! This Thing 1 Thing 2 Diaper Cake [15] ($200) is brimming with fun lil gifts for the baby.
Train Diaper Cake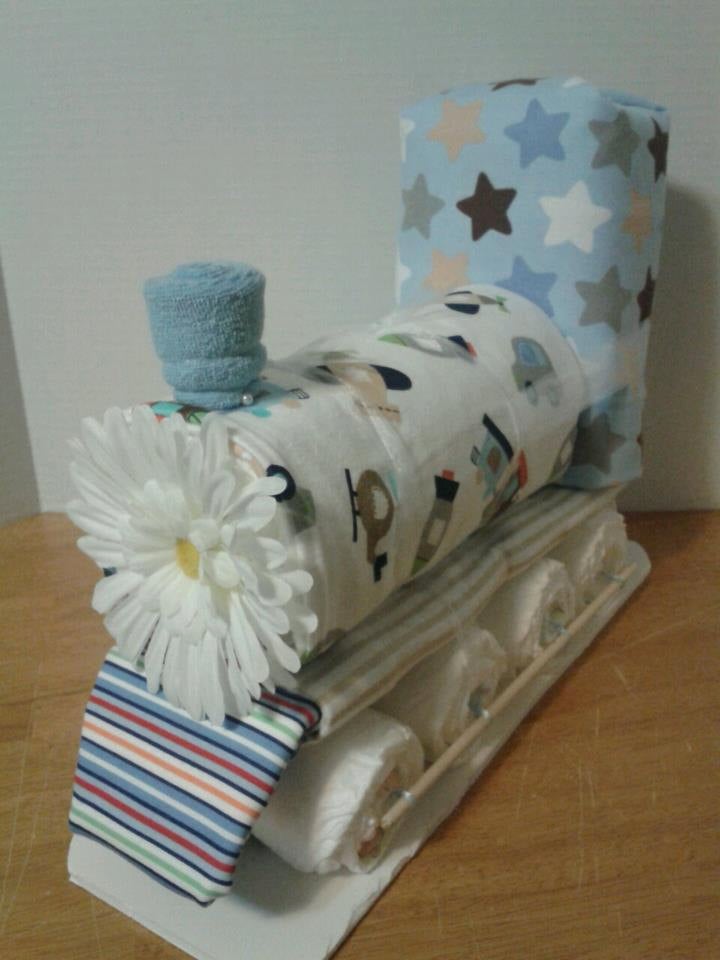 This cute train diaper cake [16] ($40) is just chugging along! Covered with receiving blankets and using a wash cloth to release steam, it looks easy to re-create!
Motorcycle Diaper Cake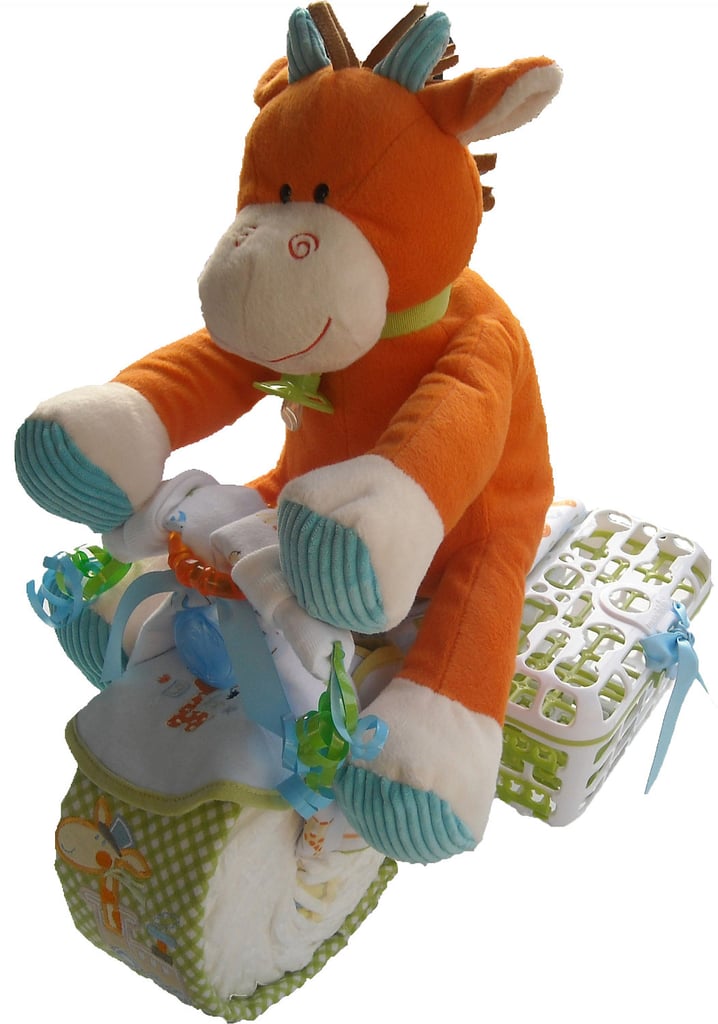 Can you say vroom? This motorcycle diaper cake [17] ($89) is not for amateurs, but it sure is impressive! We love how the dishwasher baskets are used as storage compartments for the bike!
Very Hungry Caterpillar Diaper Cake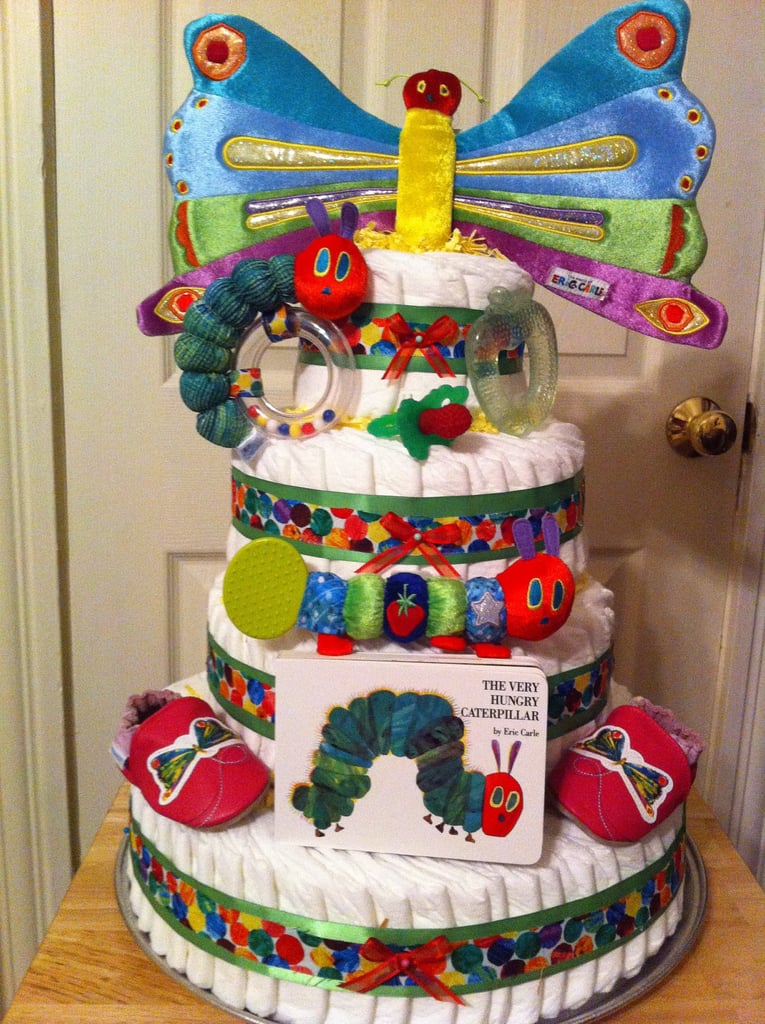 The literary classic gets a baby shower makeover with the Very Hungry Caterpillar Diaper Cake [18] ($200). Packed with gifts following the caterpillar theme, this cake is sure to please the Eric Carle fans out there!
Panda on a Chopper
This motorcycle diaper cake [19] may look complex, but trust us, we made it ourselves and it is easier than it looks. Just follow our step-by-step instructions!
Curious George Diaper Cake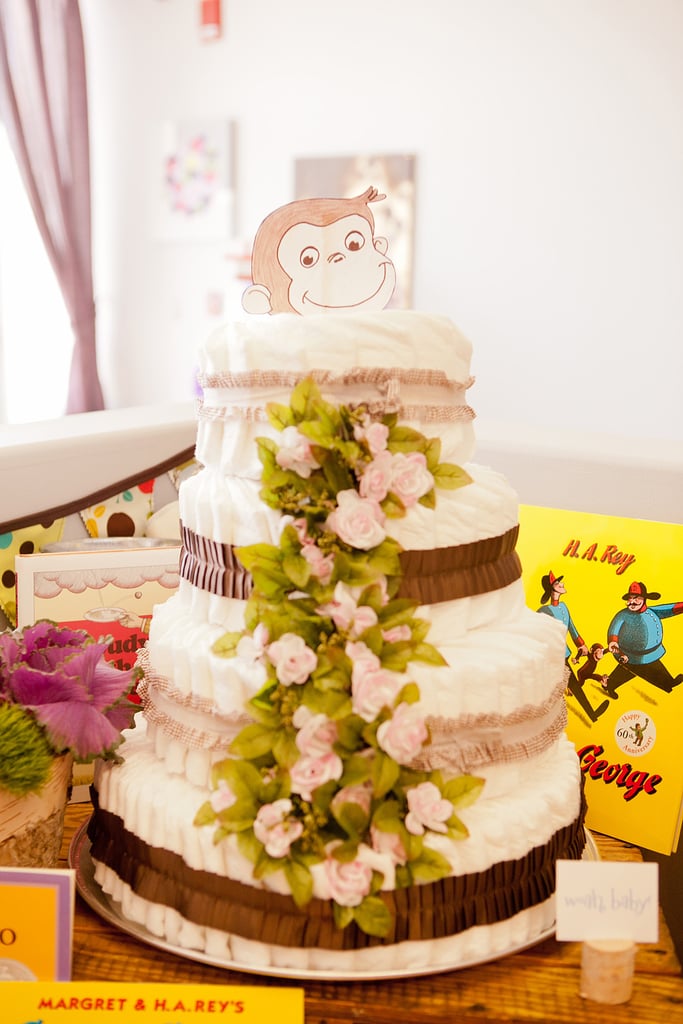 Curious George peeked out of the top of a flowery diaper cake.
Source: Kio Kreations [20]
Beehive Diaper Cake
Perfect for a baby shower or a gender reveal (what's it going to bee?), instructions for this beehive diaper cake [21] ($9) make it look easy!
Wishing Well Diaper Cake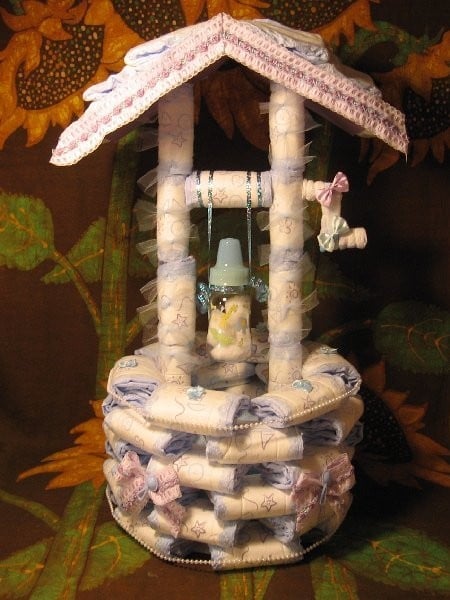 Talk about a scene stealer at your next baby shower. This wishing well diaper cake [22] ($9 for the instructions) is a true centerpiece for your fete.
Pot of Gold Diaper Cake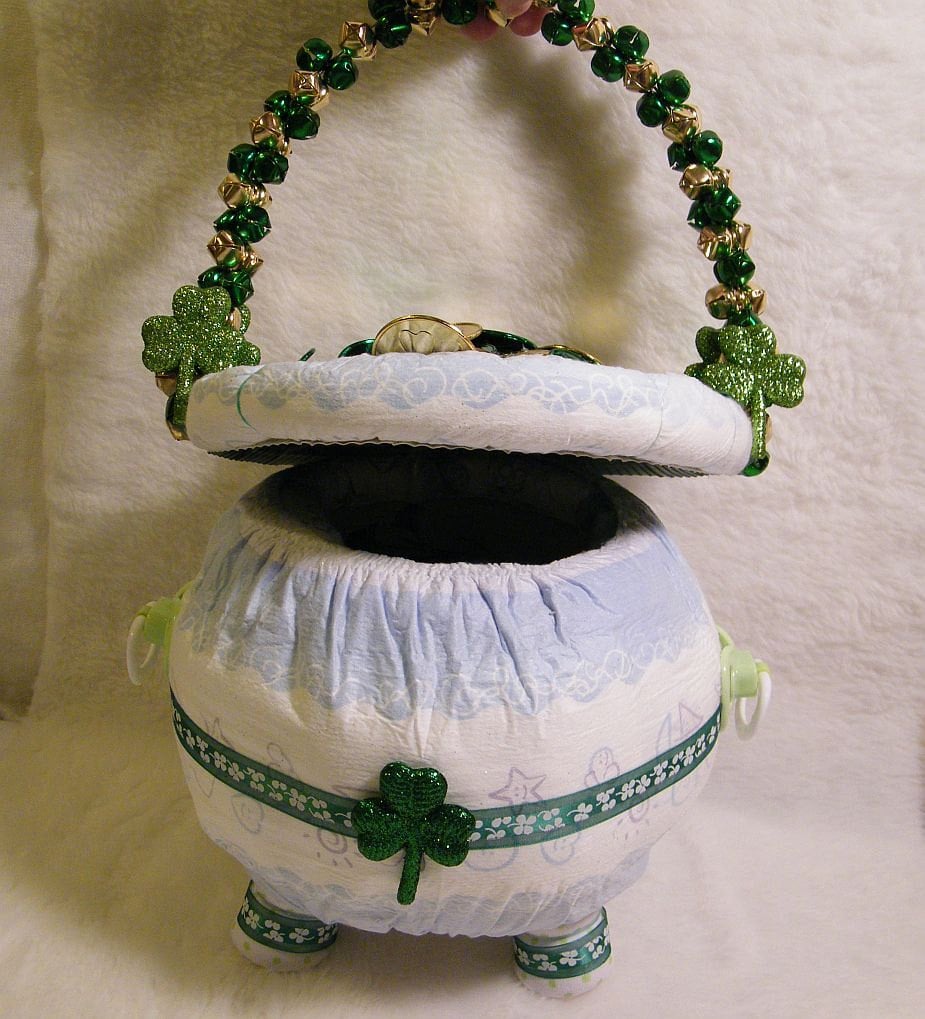 Luck be the baby whose baby shower includes this pot of gold diaper cake [23] ($9 for the instructions).
Nautically Themed Diaper Cake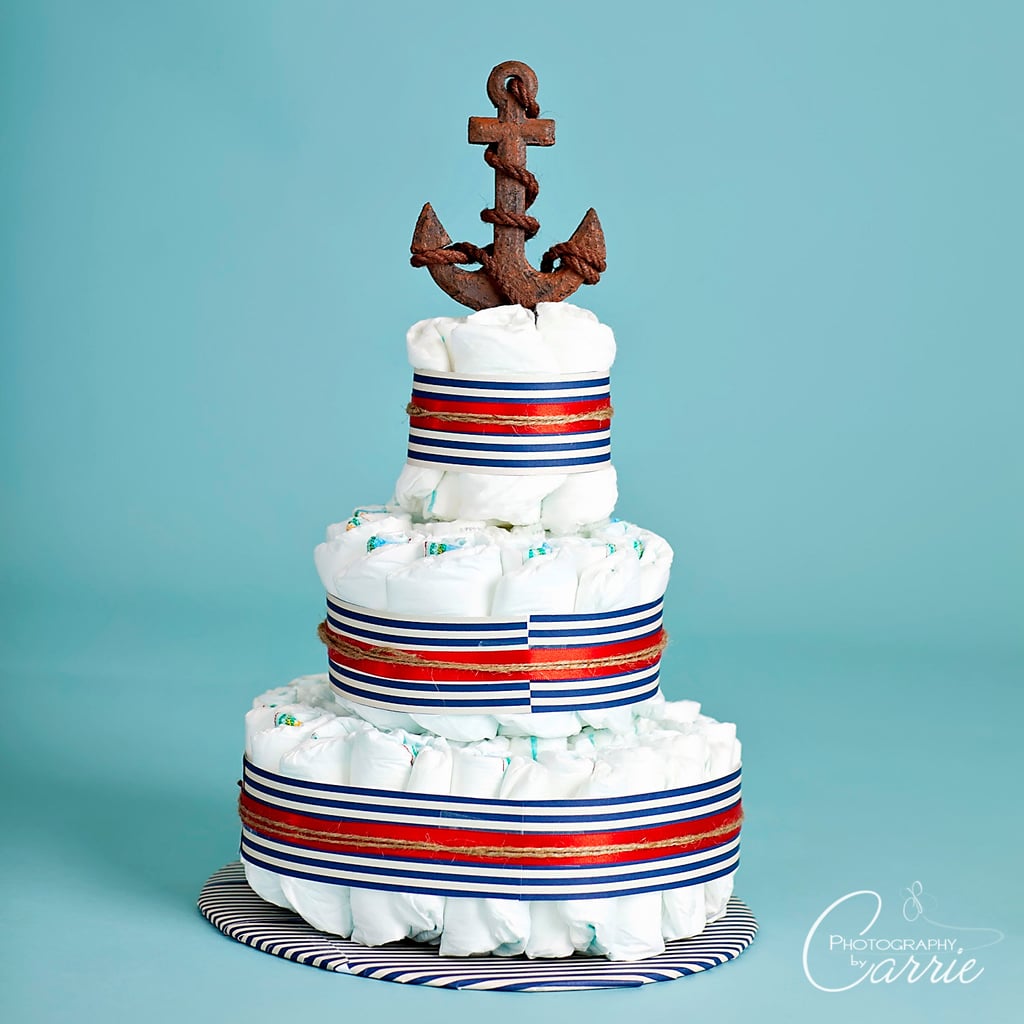 For the little sailor out there, this nautical diaper cake [24] is simple yet sweet on the center of the table.
Golf Clubs Diaper Cake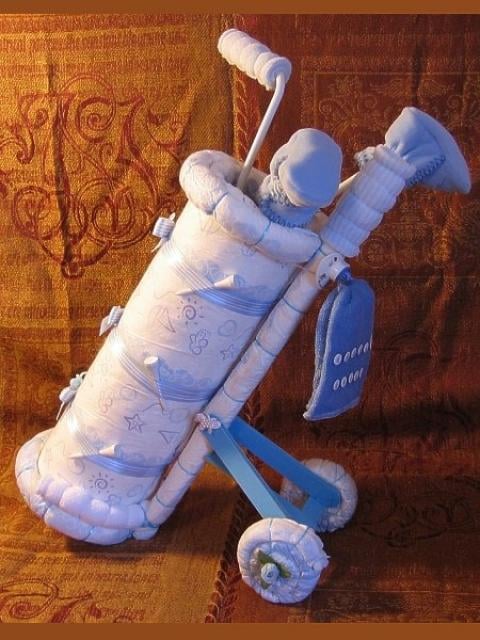 This amazing golf bag diaper cake [25] ($9 for the instructions) is so cute, you won't ever want to take it apart. Made from diapers, washcloths, baby booties, and other "secret crafting items," it is full of necessities for newborns.
Classic Diaper Cake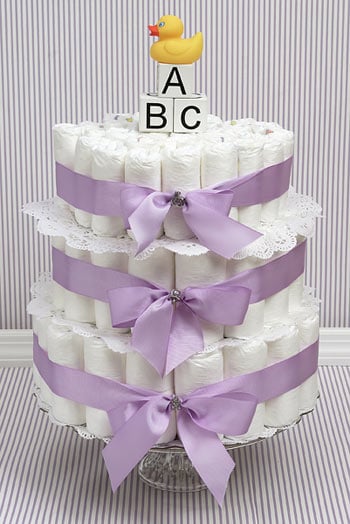 With all of the crazy diaper cake creations, it's nice to see a classic version [26] ($145) that looks just like a three-level cake when set out with doilies and ribbons.
Sophisticated Design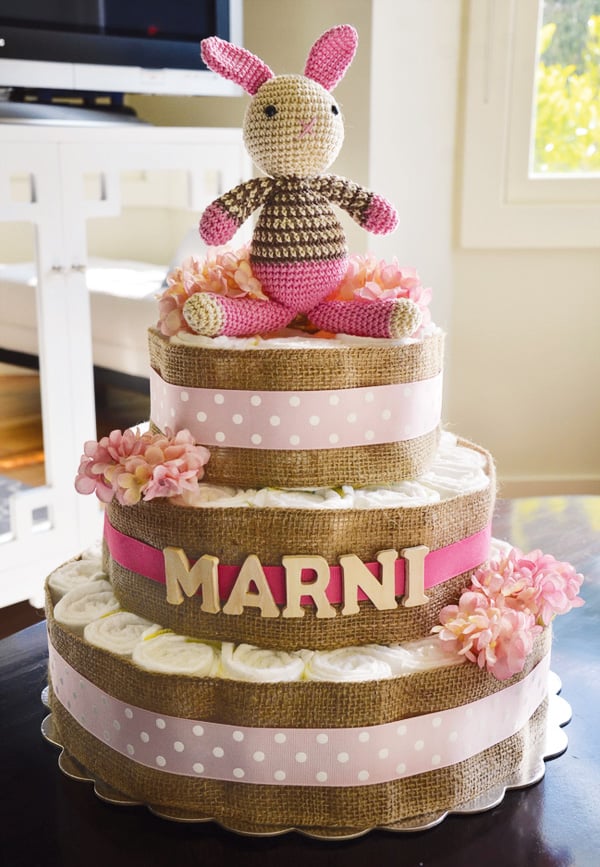 A prepurchased handknit bunny served as the centerpiece of this sophisticated, French-inspired diaper cake.
Source: Hostess With the Mostess [27]
Sparkly Tiered Confection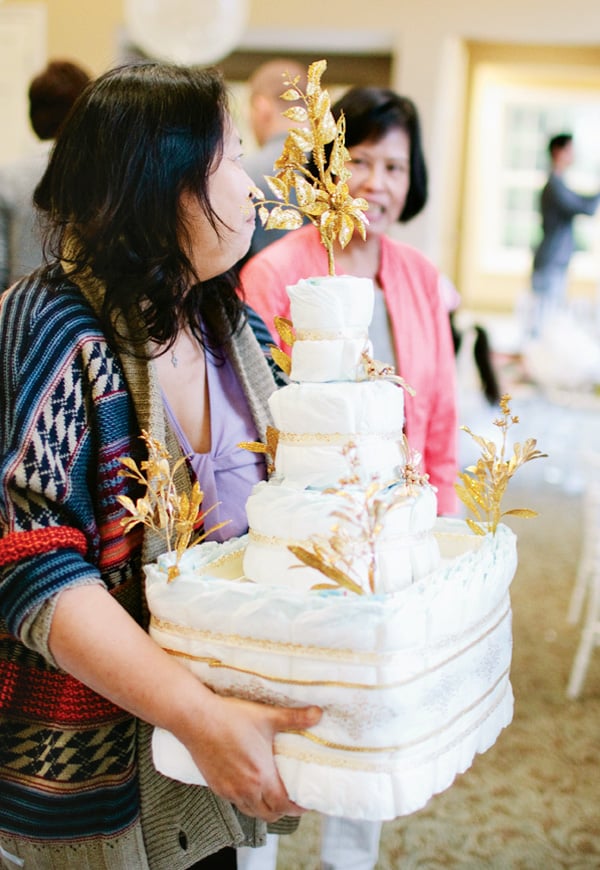 For a sprinkle sparkle shower, this tiered treat stole the show.
Source: Hostess With the Mostess [28]
Soccer Onesie Cake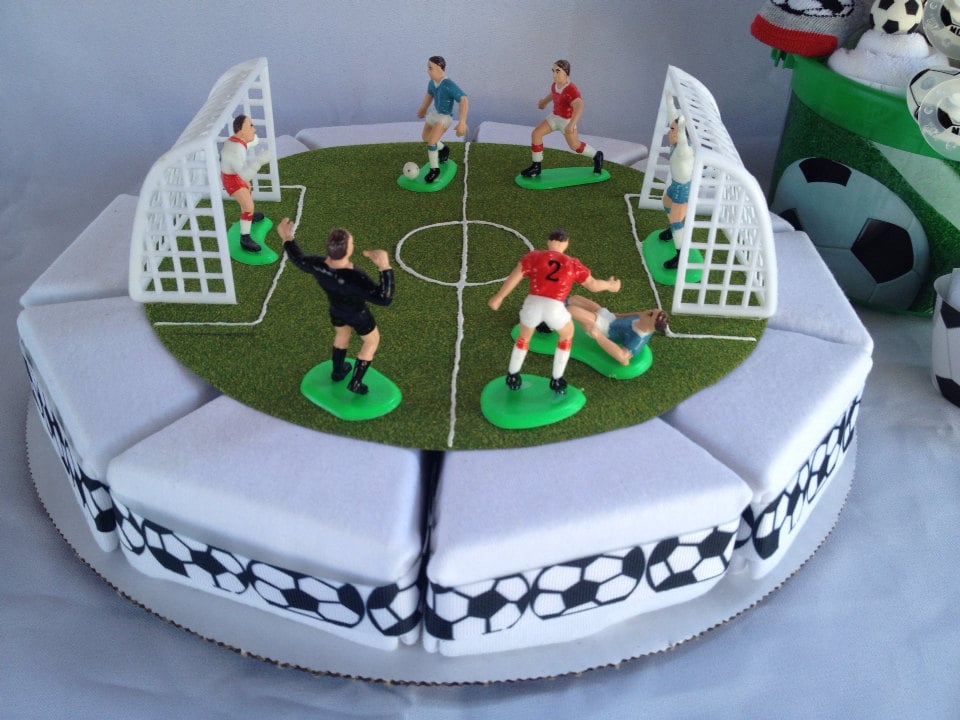 Forget diapers; this soccer-themed cake [29] ($50) uses onesies as its base!
Book-Themed Diaper Cake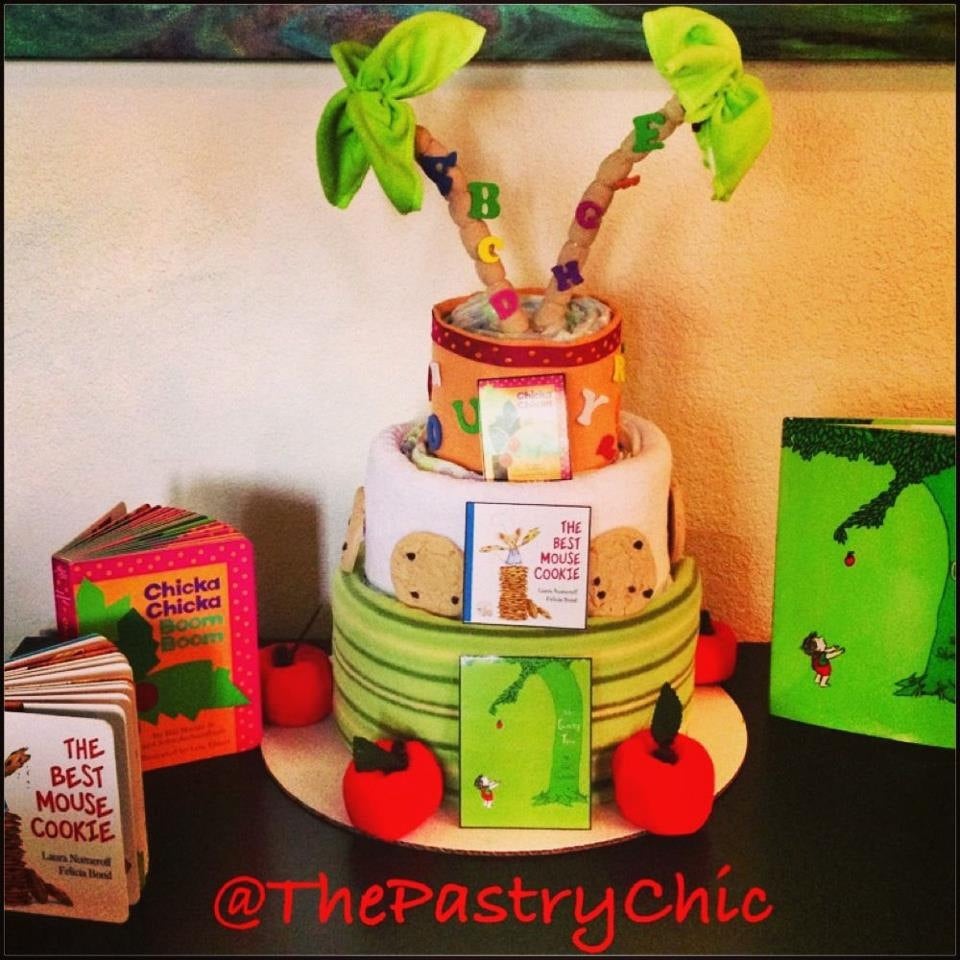 Each layer of this book-themed diaper cake [30] ($100) represents a classic baby book.
Rock Star Cloth Diaper Cake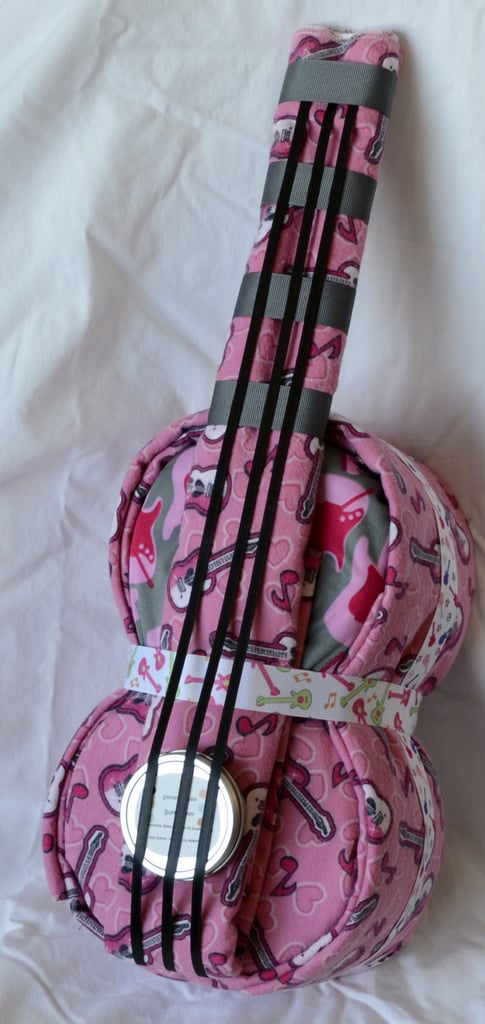 We love the fun cloth diapers that are part of this rock star guitar diaper cake [31] ($60).
Sailboat Diaper Cake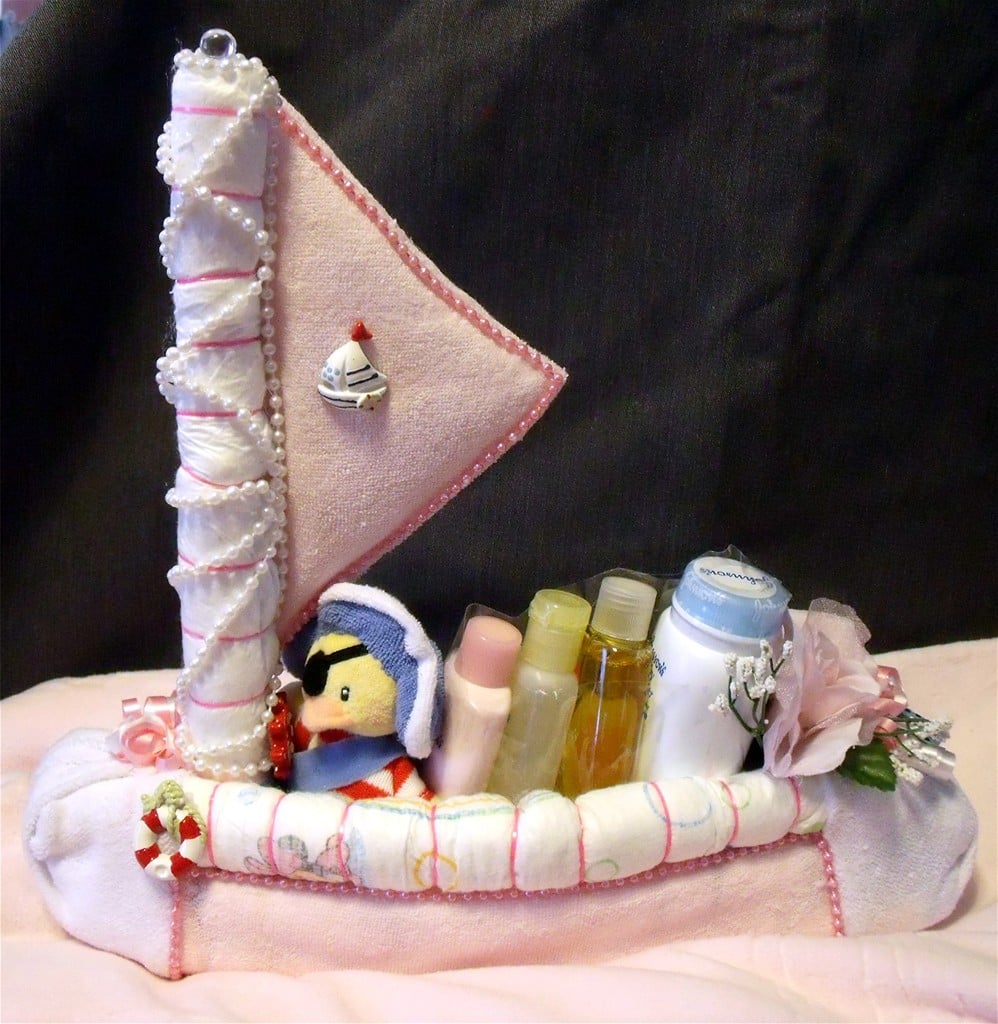 Perfect for a nautical shower or just if you want to give some bath products to a friend, this sailboat diaper cake [32] ($52) is a showstopper.
Santa Airplane Diaper Cake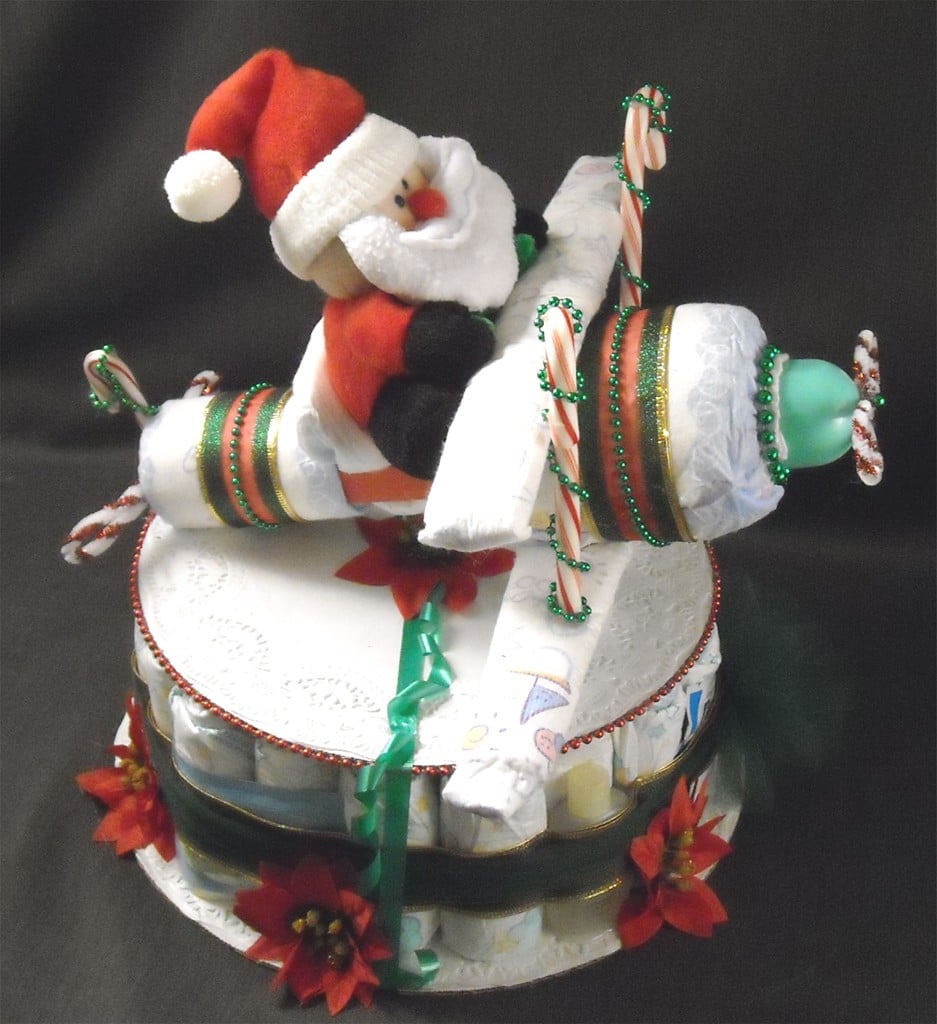 For the holiday baby, this Santa airplane diaper cake [33] ($48) does a great job of blending the two occasions.
Hot Air Balloon Diaper Cake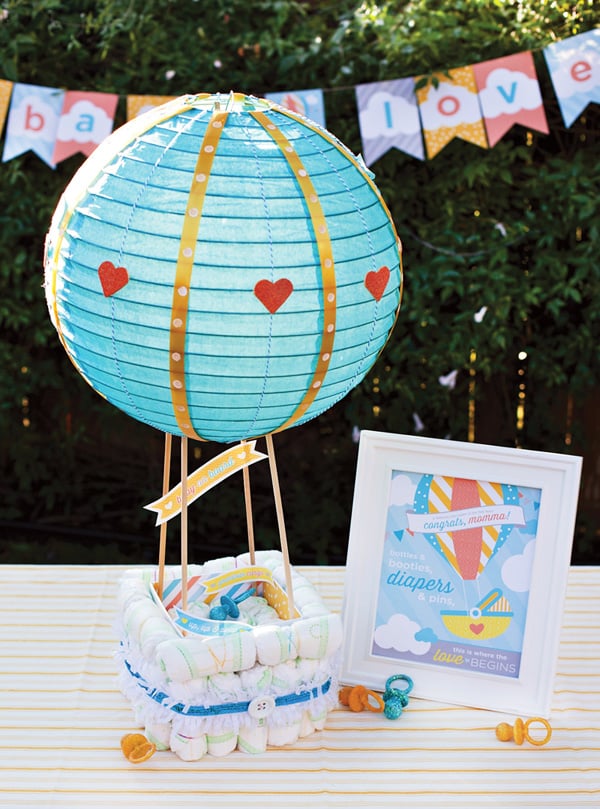 How sweet is this hot air balloon diaper cake [34]? It looks ready to fly away!
Source: Hostess with the Mostess [35]
Owl Diaper Cake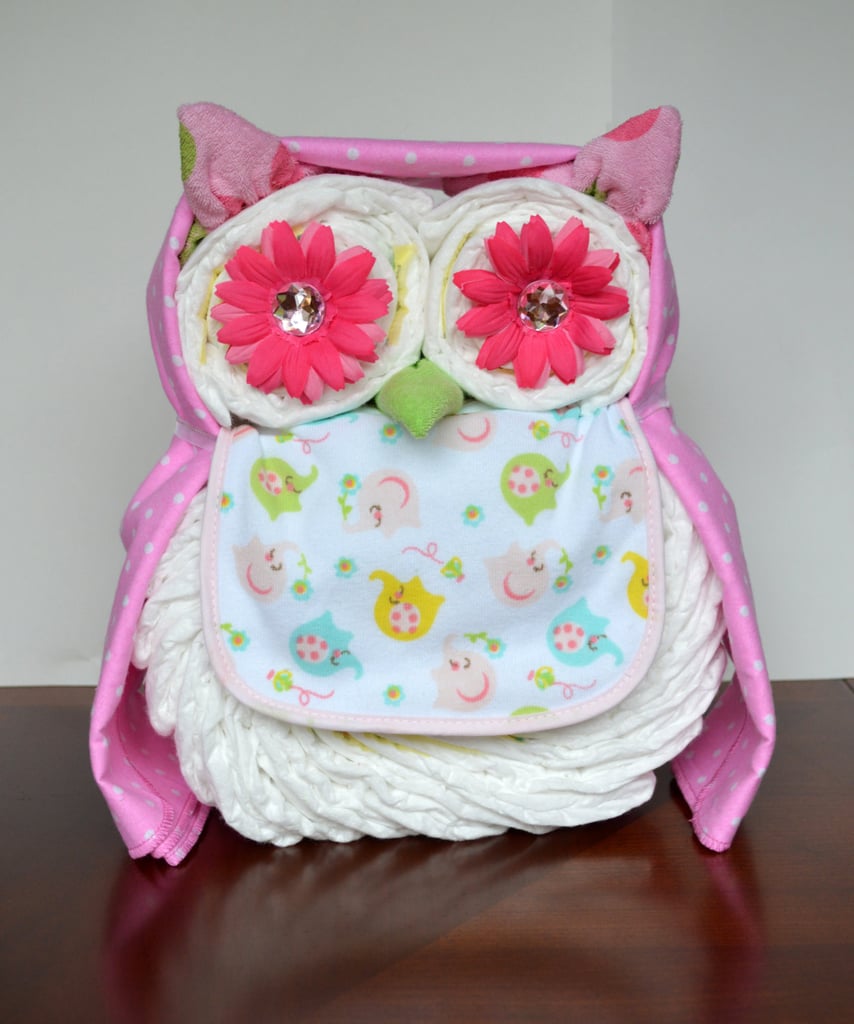 Who, who, who wouldn't love this owl diaper cake [36] ($38) for a shower?
Bee-Themed Diaper Cake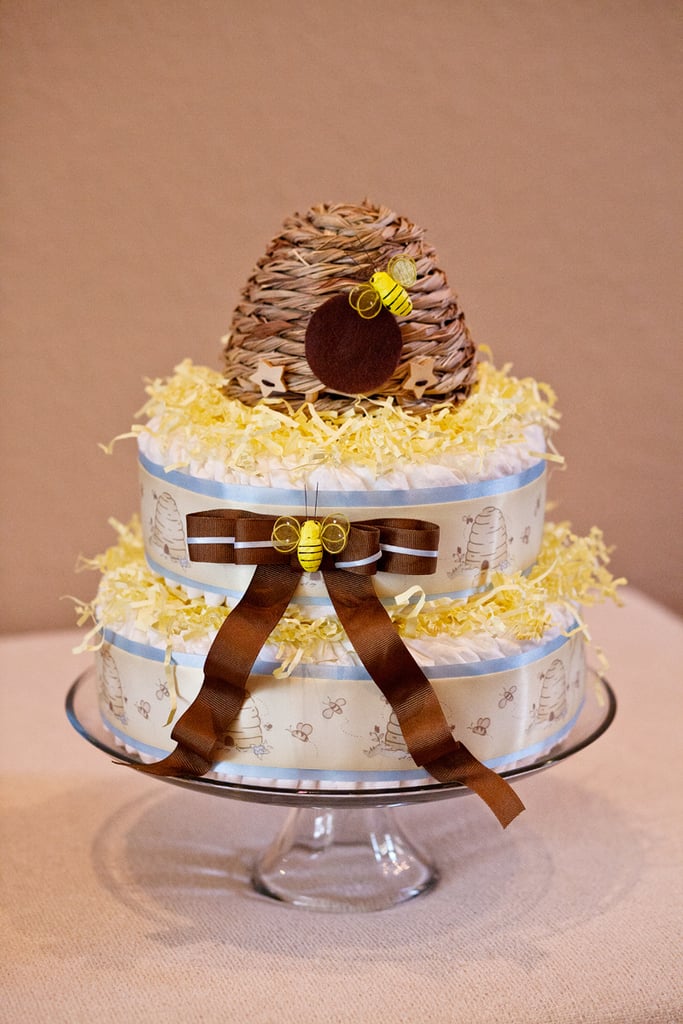 For a birds-and-the-bees-themed shower, this beehive diaper cake is perfect!
Source: Alyson Sivek Photography [37]