Baby Shower Drinks and Placesettings
Good Things Come in Small Packages: Beverages and Placesettings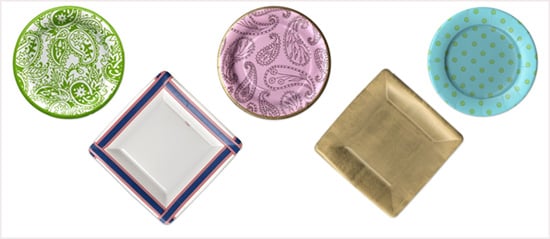 As the saying goes, "Good things come in small packages." I personally believe GREAT things come in small packages, which is why I love the idea of a "small" baby shower. From toothpick skewered veggies to tiny cupcakes, you won't have to serve your guests on platters but tapas sized plates instead!
To see how to sass up your shindig,
.


The dilemma every hostess faces is whether to use disposable or reusable plates and cups. Since this is a pint–sized party, you could do either. If you don't want to fret over the breakable dishes and your flatware, you could consider faux silver plastic forks and knives and smaller cheery paper plates. My rule is, If you're hosting less than a dozen people, stick with your own dining items as it adds a touch of sophistication to the event.
If you're all set with your dinner and flatware, one way you can spice up the table is to lay out spunky or personalized napkins. Plum Party has a plentiful selection to spruce up the spread with a stack of appropriately colored polka dot napkins. If you know the sex, you can have, "It's a boy!" or "It's a girl" embossed on the soft squares.
Of course as your guests arrive, you want to hand them a delightful refresher. Clearly you will need at least one non–alcoholic beverage for the mama–to–be. My Aunt serves the most delicious punch when she hosts baby/wedding showers. The recipe is quite simple:

Put it in a simple punch bowl and let the guests ladle it out at their leisure.
Also fabulous drink options are virgin and non–virgin Mimosas and Bloody Mary's. I like to set aside a jug of cold orange juice and Bloody Mary mix with the champagne and vodka iced separately. That way, guests can choose whether to spike it or not. To top off the drinks, place a glass full of celery stalks next to the tomato mix and a bowl of strawberries and raspberries next to the orange juice.
Again, if you're hosting a small group, stick with glass or crystal stemware. Otherwise, serve it up in clear plastic recyclable ones. Stay away from the plastic champagne glasses where you have to attach the stem to the base. They aren't stable and liquids often end up on the floor.
* Extra tip – I always put out plenty of water and rarely ever have any left over.