Since baby showers are frequently held in the midafternoon, your food offerings needn't be extensive or even a complete meal. Instead, focus on fun, easy-to-mingle-with finger foods that guests can enjoy at their leisure. Here, 22 fun ideas for making your shower offerings extraspecial. Don't forget the mocktails [1]!
Everything's Better on a Stick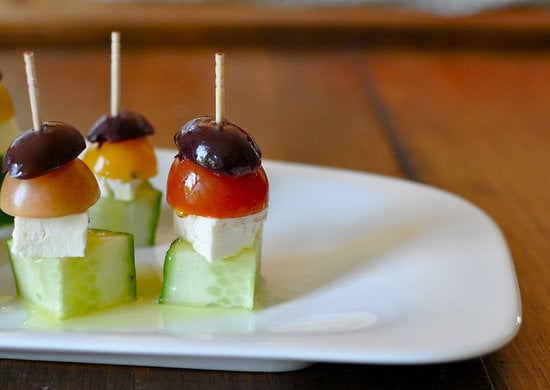 Put your toothpicks to the test [2] and see how many apps, salads, and sweets you can turn into finger food!
Source: Lauren Hendrickson
A Breakfast Bar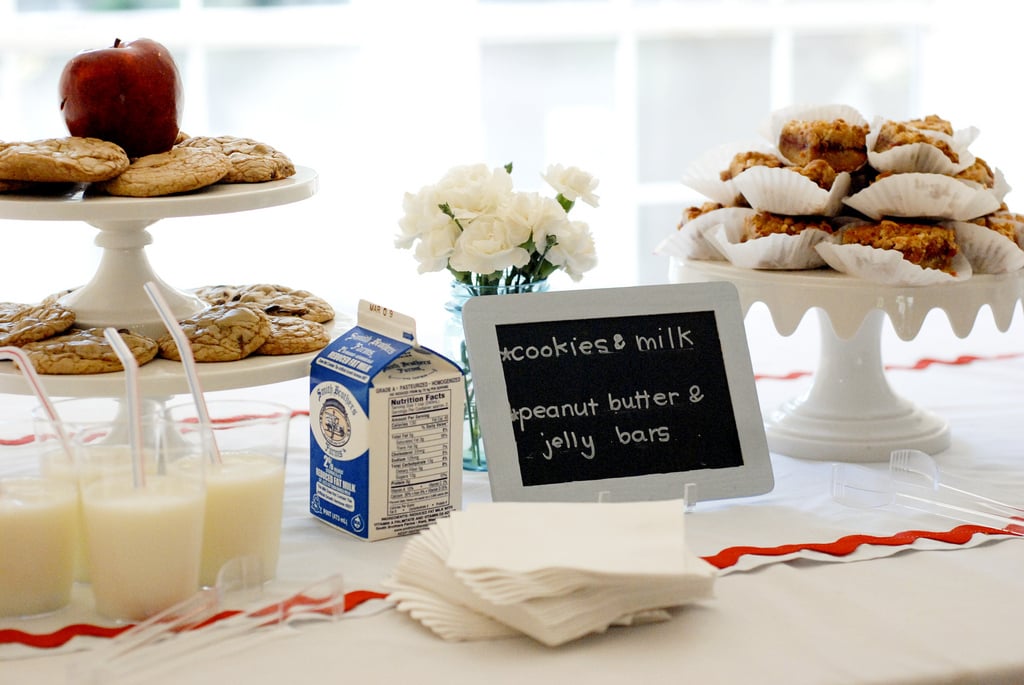 While a grown-up brunch may be the more expected meal of choice, a nostalgic breakfast bar is such a fun alternative. Think back to kiddie favorites (those little cartons of milk, oatmeal bars, whole apples), and put a sophisticated spin on their presentation.
Source: Craig and Whitney [3]
Pay Homage to the Family Tree
Celebrate the heritage of the little one on the way by serving food inspired by mom's and dad's backgrounds or ethnicities [4].
Source: Rebecca Watkins for Pure Joy Events [5]
Mocktails For Moms-to-Be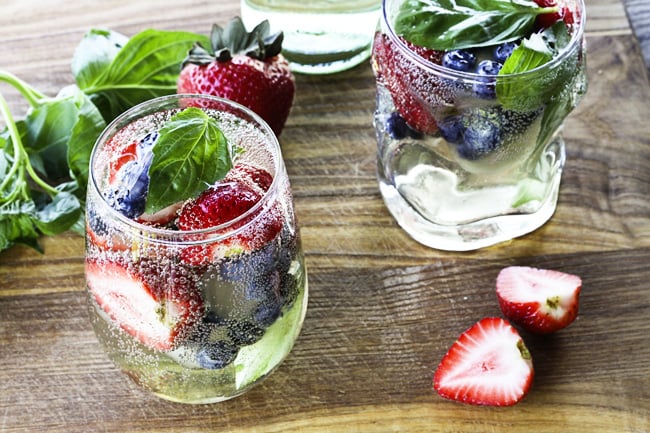 With mocktails as creative as these [6], none of your guests will miss the alcohol. Cheers!
Source: Foodie With Family [7]
Trend Spotting: Petite Pies
First there were cupcakes, then there were cake pops, and now minipies [8] seem to be the hottest trend in party food. Serve up savory or sweet little pies for an all-American treat.
Source: Peas & Thank Yous [9]
Takeout — to Stay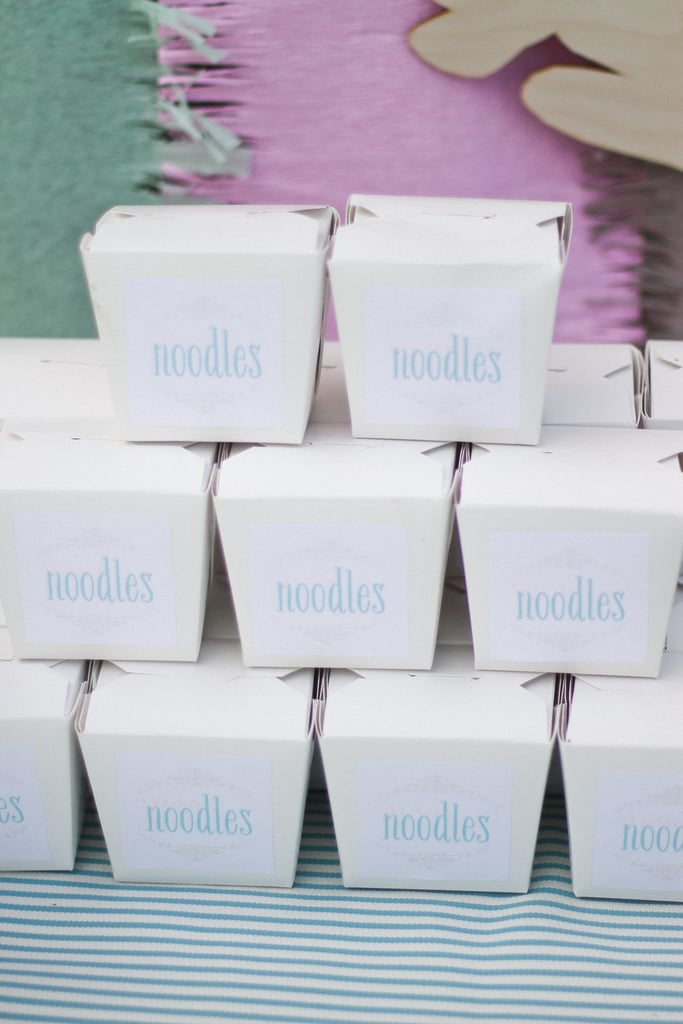 The inspiration may come from your favorite Chinese takeout joint, but white takeout containers [10] can hold any kind of cuisine. Personalize them with custom labels.
Source: Wiley Valentine [11]
A Lightened-Up Potato Bar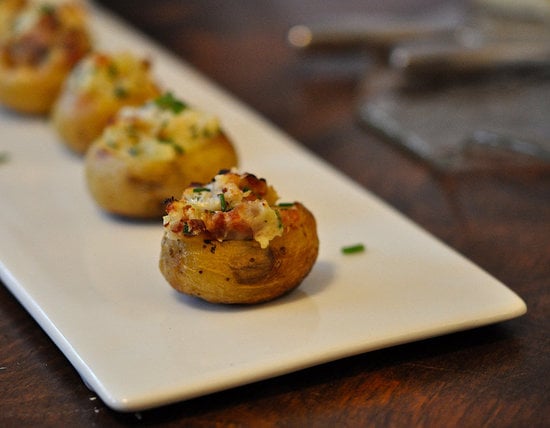 Mini potato skins [12] can be prepared ahead of time or scooped and served alongside a toppings bar so guests can make their own.
Source: Lauren Hendrickson
She's About to Pop!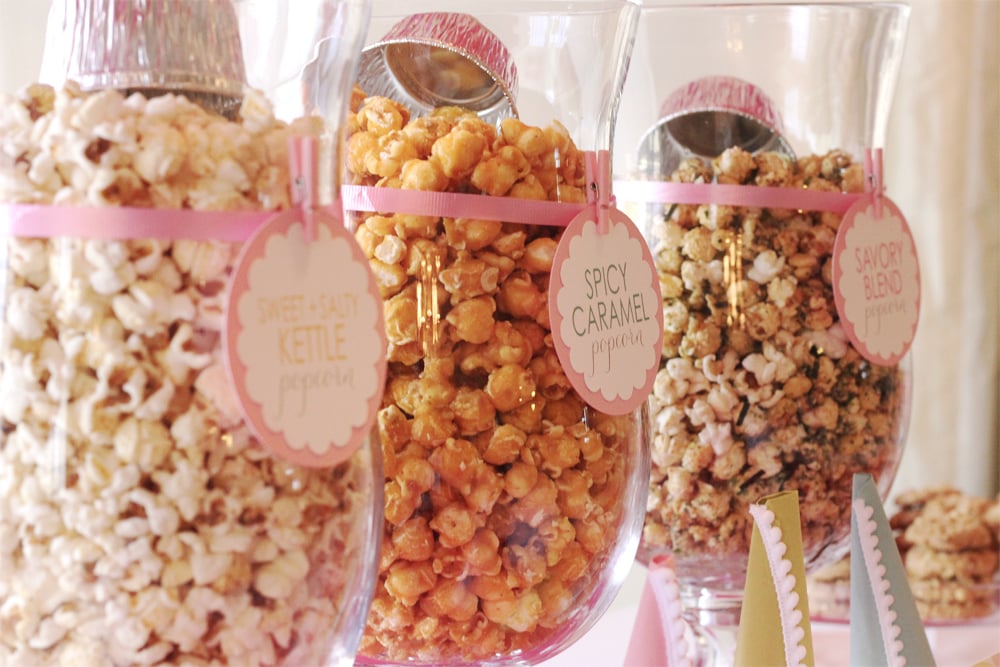 A popcorn bar [13] makes for fun grab-and-go party food.
Source: Le Partie Sugar [14]
Tea For Two
Ditch the trends for tradition, and serve up old-fashioned tea sandwiches [15] — perfect for a light midafternoon meal.
Source: Nancy Einhart
A Tongue-in-Cheek Treat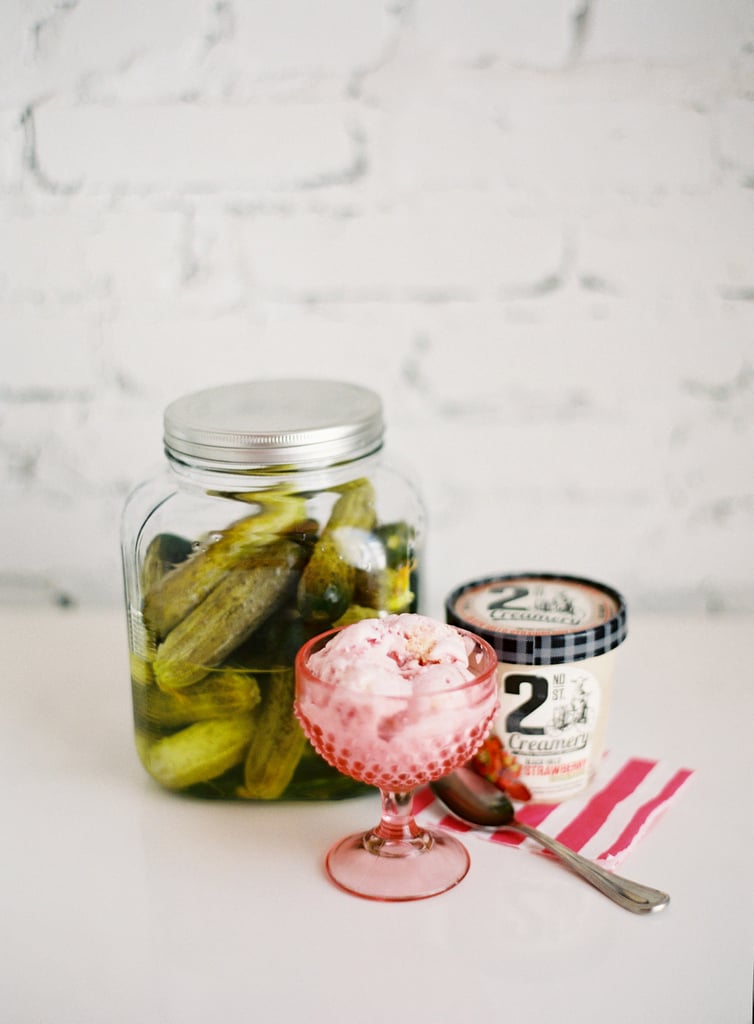 Give a nod to that old pregnancy-craving standby of pickles and ice cream [16] with a questionable but cute treat!
Source: Karson Butler Events [17]
Milk and Cookie Shots
Shots at a baby shower? If they're Dominique Ansel's much-talked-about milk and cookie shots [18], then absolutely! It may take a little extra effort on the part of the hostess, but your guests will be talking about this one for months to come.
Source: Instagram user dominiqueansel [19]
A Modern Take on the Tea Bar
This isn't your grandma's tea party. Set up a stylish tea bar with a variety of blends for your guests to choose from. Borrow an array of porcelain mugs from friends and family for an instant conversation starter.
Source: Wiley Valentine [20]
A Craving Station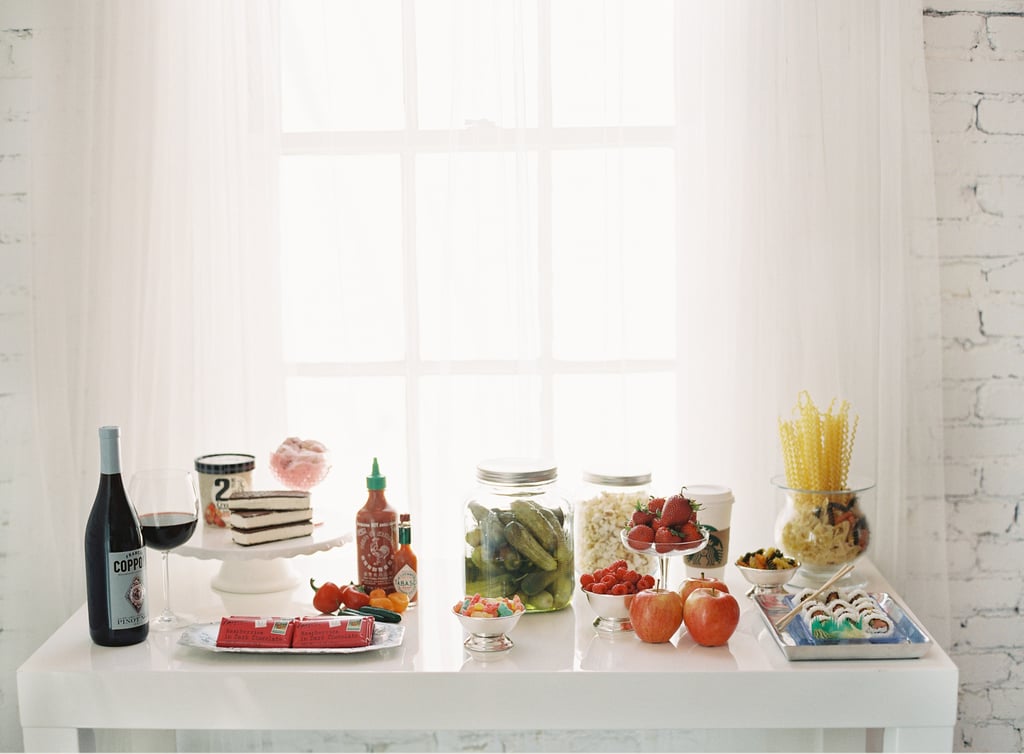 Put together a "craving station" where guests can rank the order of the items they think the mom-to-be will crave the most. Be sure to strike a reasonable balance between the humorous and foods that your guests will actually want to eat!
Source: Karson Butler Events [21]
A Dressed-Up Picnic
Picnic food lends itself so well to a crowd. Serve it up stylishly, and provide each guest with a printed menu for an elegant twist.
Source: Glitter Guide [22]
Mamma Mia!
Cookie cutters aren't just for cookies! Trim tea sandwiches into shower-appropriate shapes [23] — how great is the pregnant mama?!
Find New Uses For Muffin-Tin Liners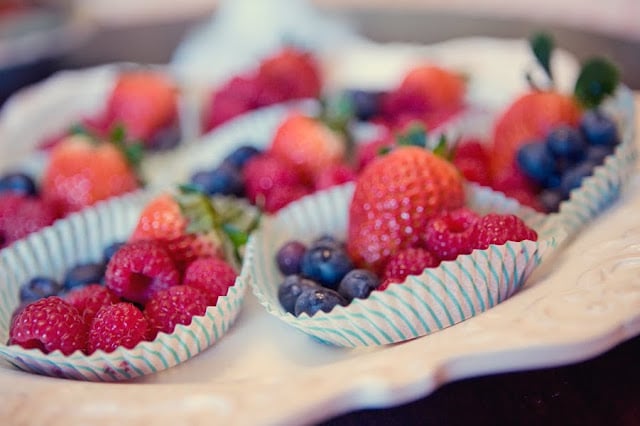 Muffin- or cupcake-tin liners can accommodate more than just sweet treats! Fill them with fruit for a healthy, party-friendly snack [24] or whip up a savory concoction [25].
Source: Sara Westbrook Photography [26]
Gluten-Free Desserts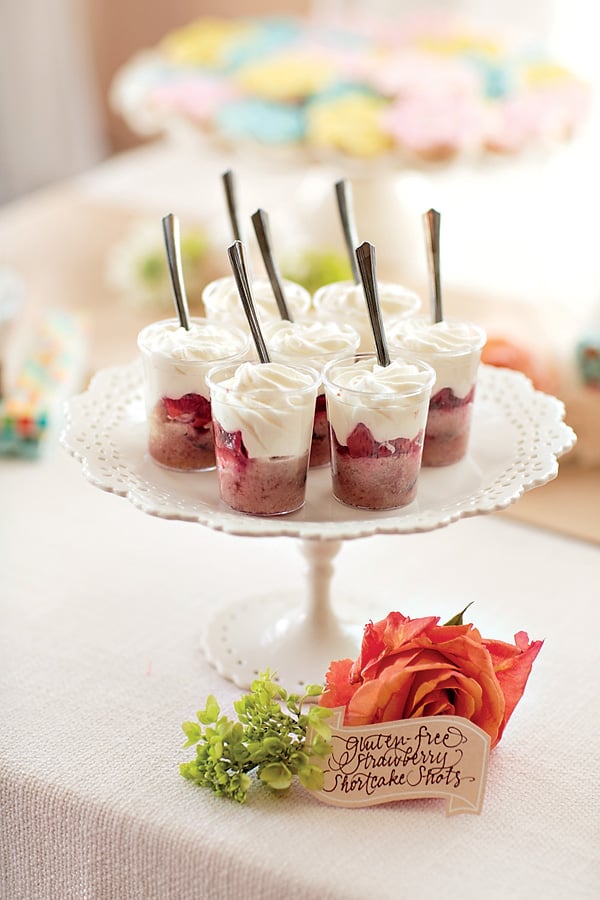 Gluten-free strawberry shortcake shots not only look cute, they're perfect for guests with gluten allergies!
Breakfast Baby Shower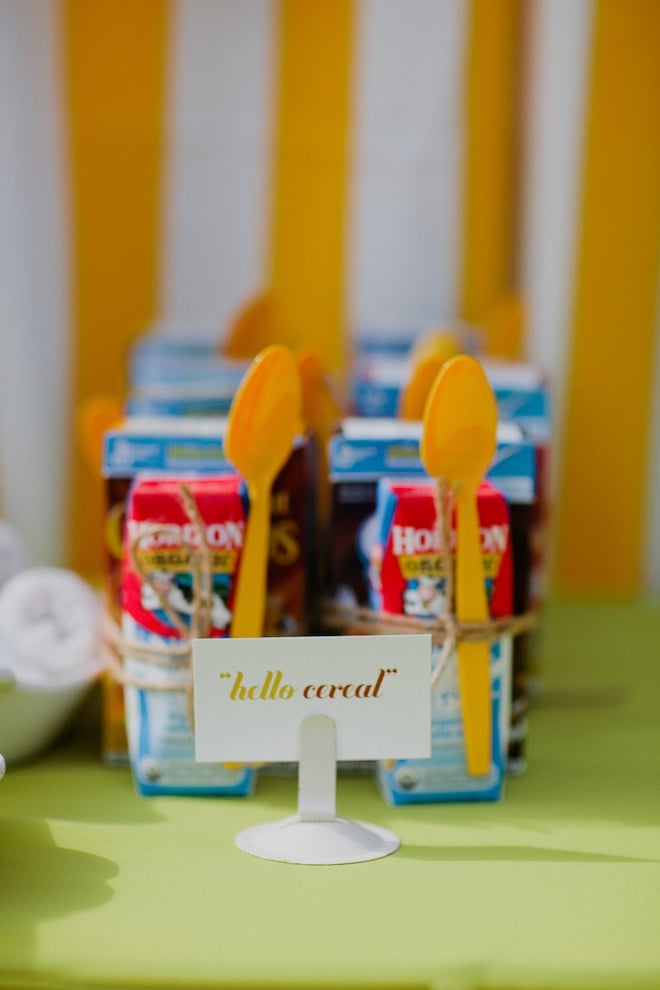 Baby showers tend to be afternoon affairs, but wedding [27] planner Jesi Haack [28] threw a breakfast baby shower [29] for a friend. Complete with an omelet bar and kid-friendly foods, an early morning shower is an unexpected idea and a great way to start the day.
Biscuit Bar Goodies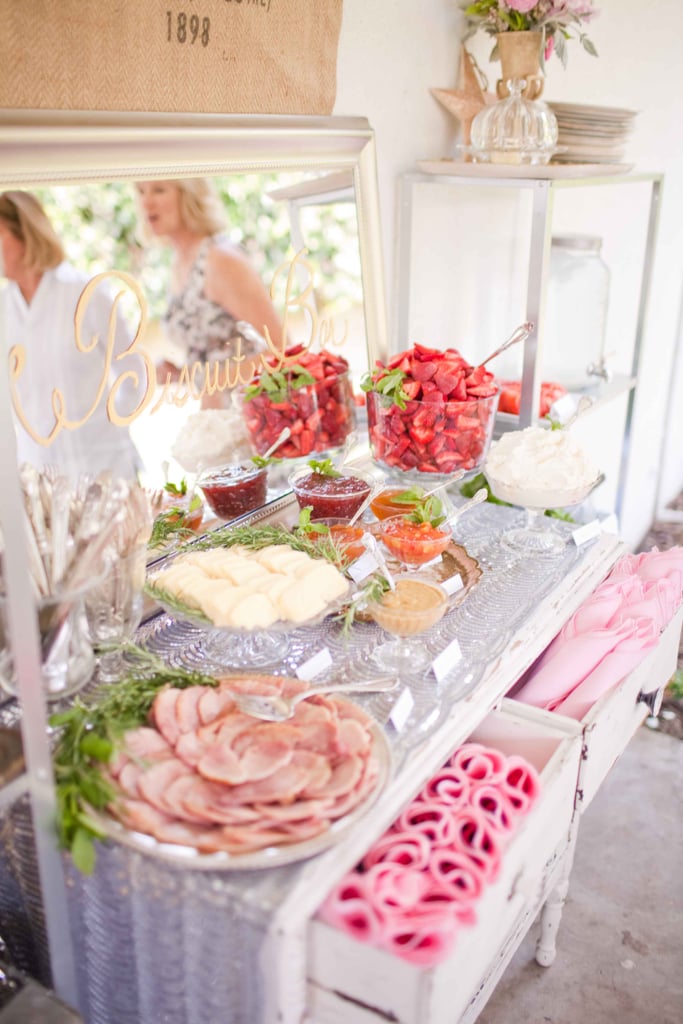 Forget a traditional dessert buffet, and try something more unique. Summer Watkins of Grey Likes Baby [30] traded in desserts for biscuits. "Along with crates of biscuits, we also served savory toppings such as ham, Havarti cheese, and German mustard. For sweet toppings, we included fresh strawberries, homemade whipped cream, and lemon curd," said Summer.
BLT Cups
How adorable are these mini BLT cups [31]? Made with a grape tomato, a small piece of crispy bacon, lettuce, and some chipotle aioli, these will definitely be the first snack to go.
Mini Grilled Cheese Sandwiches With Tomato Soup Shots
Who doesn't remember their mom cooking them grilled cheese and tomato soup? It's another kid-inspired, comfort-food classic that will bring a smile to guests' faces. When presented right, a mini grilled cheese sandwich complemented by tomato soup served in a shot glass immediately becomes a minisensation.
Spaghetti and Meatball Bites
Spaghetti and meatballs [32] are already a dinner favorite in many households, so we love the idea of turning them into bite-size hors d'oeuvres. Top each minimeatball with a twirl of spaghetti and a dollop of sauce, and get ready to impress your guests.