Have your kids surpassed the days of being satisfied by plastic squirters and rubber duckies? Kick up tub time a notch with these nine fun crafts and projects. From a rainbow full of bubbles to turning bath time into a full-on disco party, check out some of our favorite ways to make scrub-a-dub-dubbing an adventure!
Source: Thinkstock [1]
ABC Pop-Up Sponges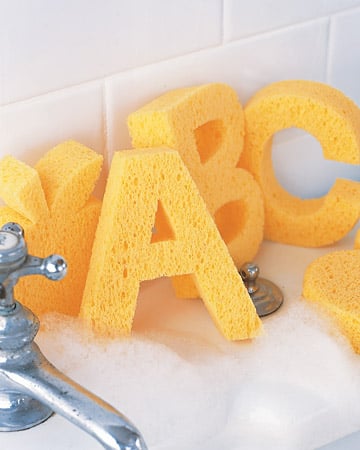 For a tub-time project that requires minimal effort for awesome results, check out Martha Stewart [2]'s tutorial for pop-up alphabet sponges [3].
Source: Martha Stewart Living [4]
Shaving Cream Paint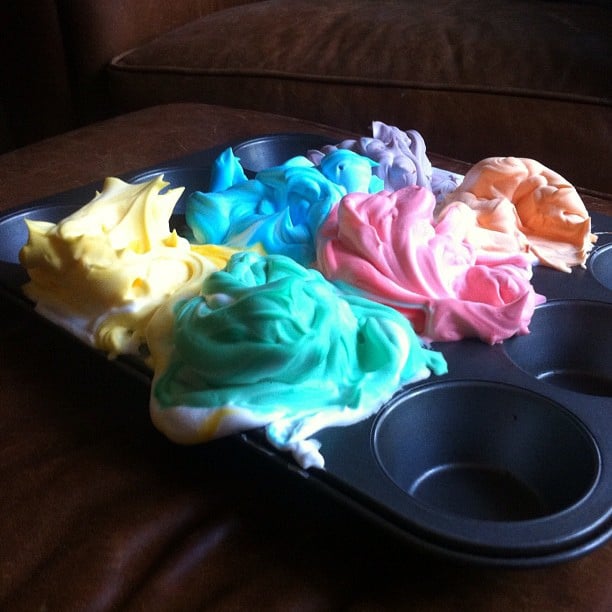 Fun to make, fun to play with, and easy to clean up, shaving cream paint [5] lets your pint-sized Picassos create their masterworks in the comfort of the bathtub. A muffin tin makes the perfect palette.
Source: Flickr user Sean Nash [6]
Bathtub Disco!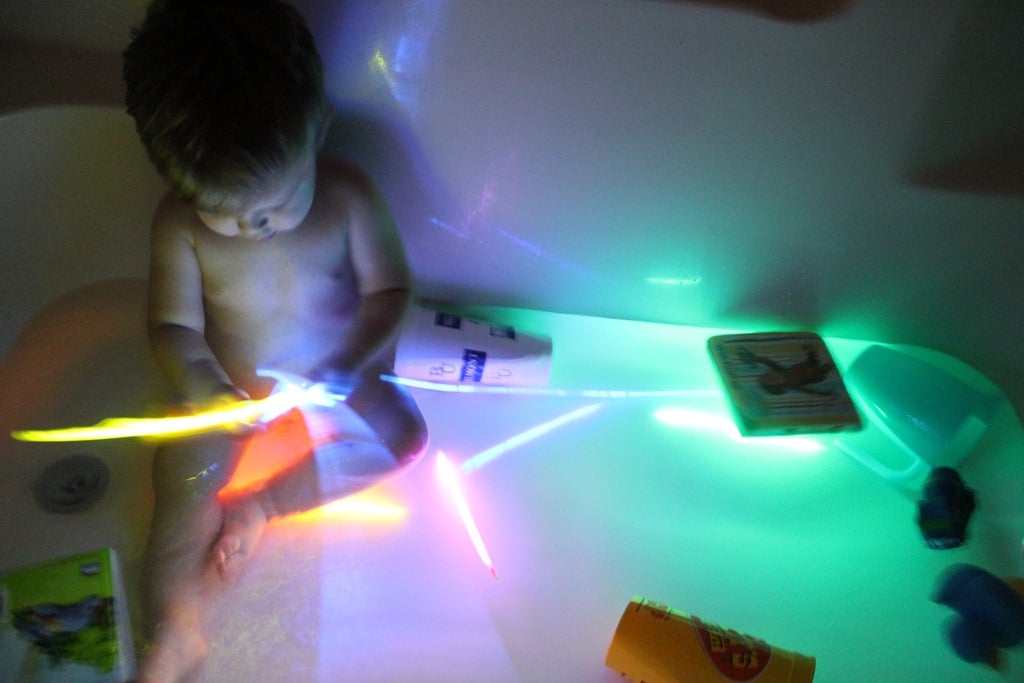 Not so much a craft as an easy trip to the dollar store, tossing a bunch of glow sticks or necklaces into the tub will literally light up bath time!
Source: Dirt and Boogers [7]
Shark Mittens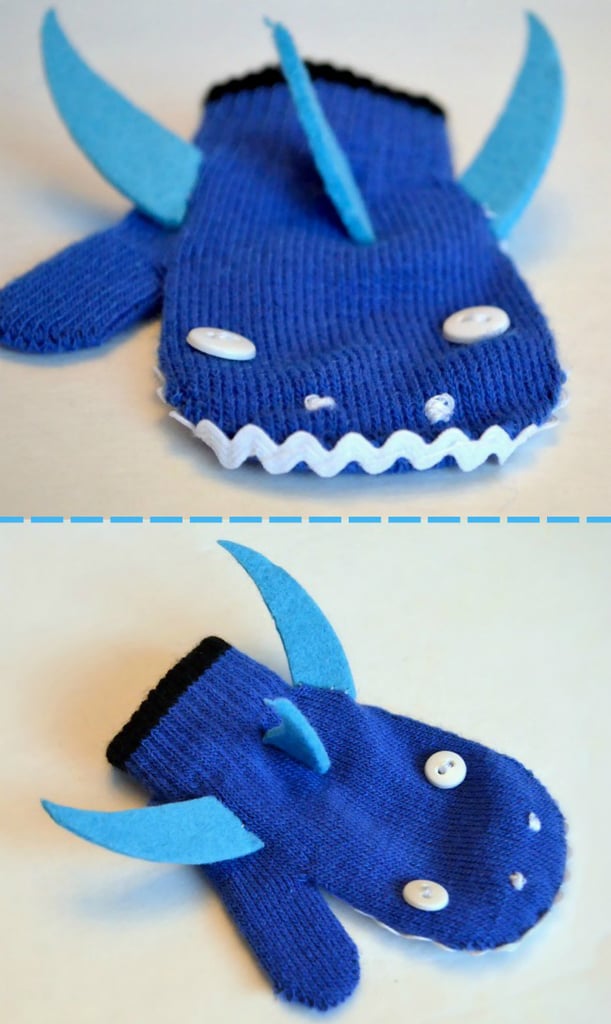 Take a trip under the sea with A Night Owl Blog's shark mittens [8] — they'll make the most fun puppet washcloths for your kiddos. If you don't have blue mittens, don't worry! Sharks can come in all colors and patterns.
Source: A Night Owl Blog [9]
Puffy Bathtub Paint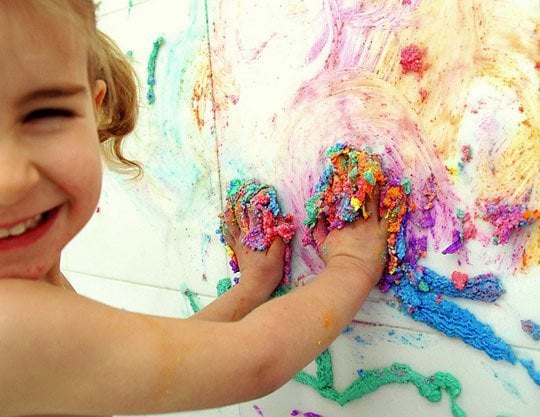 It takes just three ingredients (and a little bit of elbow grease with your cheese grater) to make this puffy bathtub paint [10]. Check out the full tutorial over at Chalk in My Pocket.
Source: Chalk in My Pocket [11]
Rainbow Bubble Bath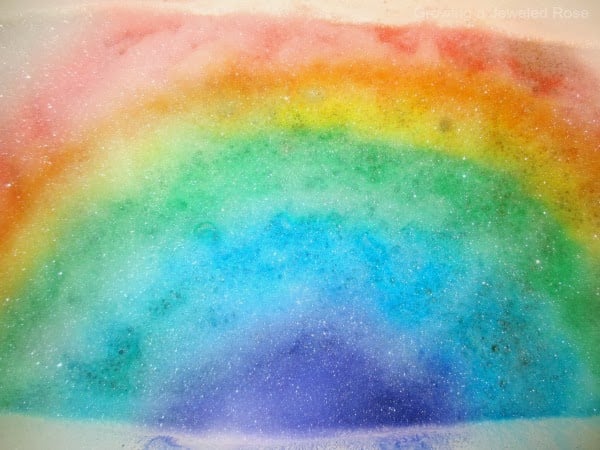 What kid wouldn't love the surprise of running in for bath time to discover a rainbow in their tub [12]?! Up the ante by following Growing a Jeweled Rose's idea of adding a "pot of gold" to the bottom of the tub, too.
Source: Growing a Jeweled Rose [13]
Ivory Soap Bath Crayons
Go ahead, let them scribble all over the tub and tile. These ivory soap bath crayons [14] are easy and fun to make (and perhaps more importantly, to clean up!)
Source: Kiboomu Kids Crafts [15]
DIY Bubble Bath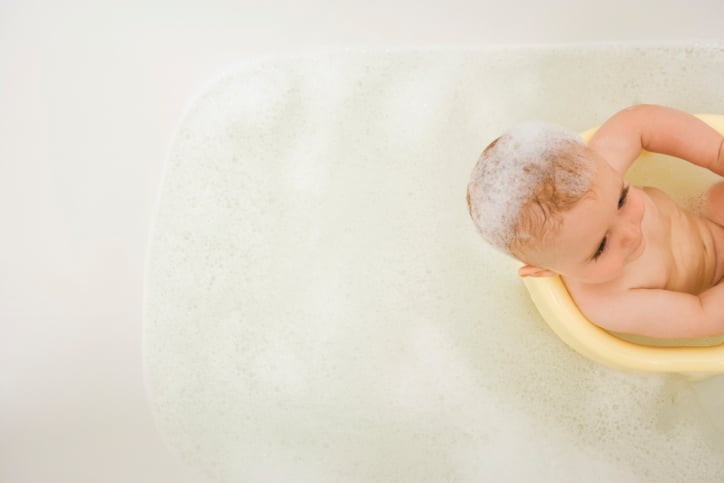 Skip the bath aisle on your next trip to Target or the drugstore, and instead make your own bubble bath [16] with ingredients you're almost guaranteed to have on hand at home.
Bath-Time Baby Doll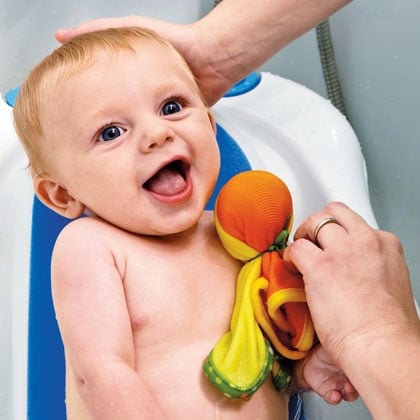 For little babes, transform a few washcloths into a DIY [17] octopus toy [18] for tub time!
Source: Spoonful [19]