When all goes according to plan, traveling with kids can be as thrilling an experience for parents as it is for the tots who are exploring new territory for the first time. But when you're surprised with an unexpected flight delay or lengthy layover, skipped naps, fast-food snacks, and general crankiness can send your plans (and moods) into a tailspin.
While we can't control air traffic control, we can provide a bit of guidance when it comes to the most desirable destinations to fly in and out of. Here, six of the country's best airports for families on the fly!
Source: Thinkstock [1]
Dallas/Fort Worth International Airport (DFW)
Three Junior Flyer Clubs, in Terminals B, C, and D, offer a safe place for tots to use up their preflight energy. The Club in Terminal B is the largest of the bunch and features a runway, roadway, airplane, and control tower, and a new play area in Terminal A is features an interactive screen that tracks kids' movements. The Skylink tram system is a fun way to ride around and explore one of the busiest airports in the country.
Source: DFW Airport [2]
Chicago O'Hare (ORD)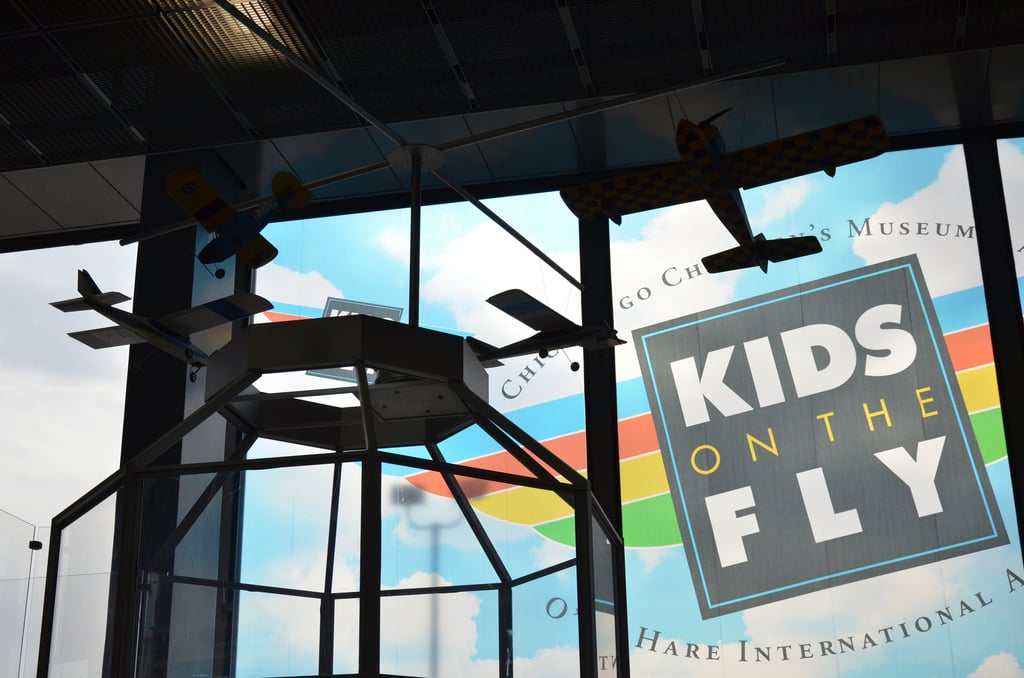 O'Hare boasts two play areas for traveling tots. In Terminal 2, Chicago Children's Museum's Kids on the Fly exhibit offers aviation-related educational activities. In Terminal 5, the Play it Safe exhibit, sponsored by the Chicago Fire Department and Chicago Children's Museum, teaches tots about fire and home safety. Both areas are completely handicap-accessible.
Got more time to kill? The Airport Transit System is a fun (and free) tram ride that connects terminals. Kids will also love checking on the 72-foot-long Brachiosaurus model in Terminal 1 and the replica World War II fighter plane in Terminal 2.
Source: Flickr user Michael Kappel [3]
San Francisco International Airport (SFO)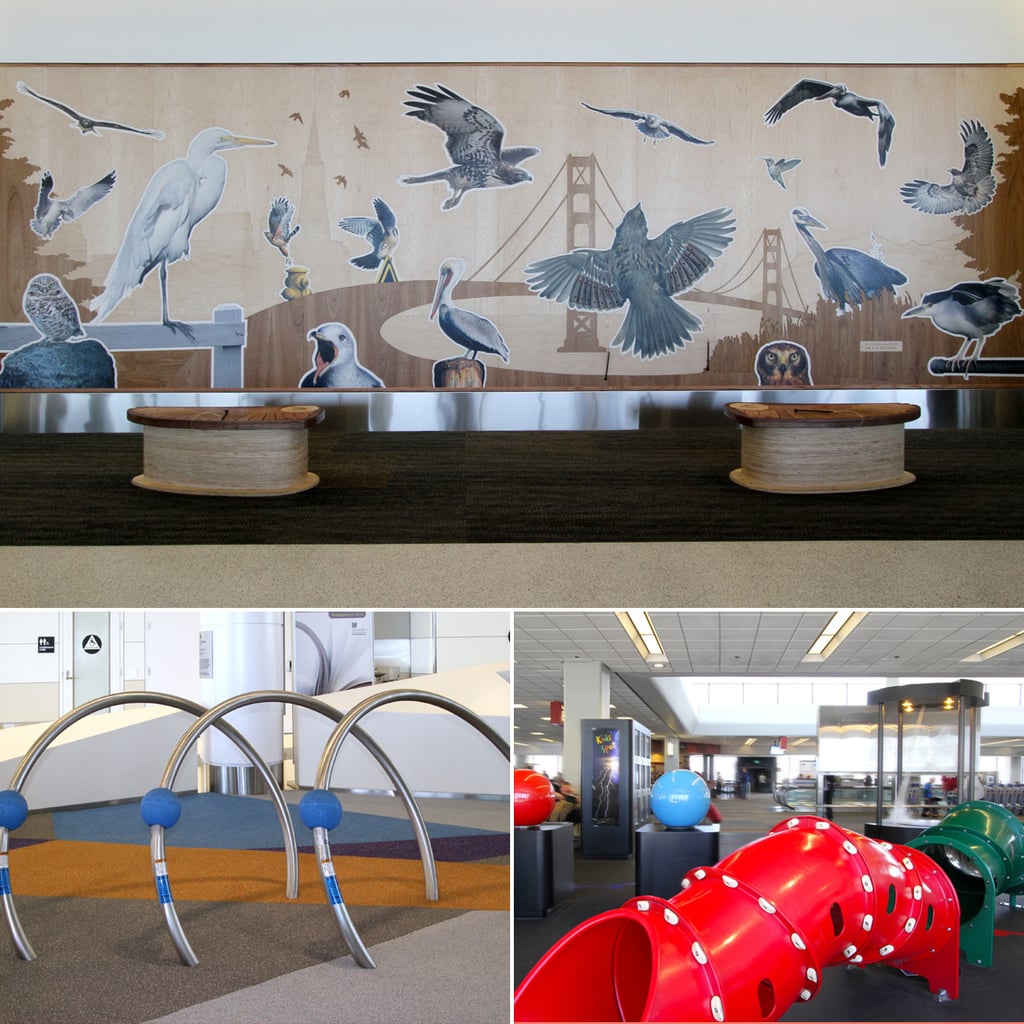 SFO boasts its very own museum, which is full of kid-friendly fun and includes displays in multiple terminals. In Terminal 3, Kids' Spot is presented in partnership with the city's Exploratorium and has a focus on weather-related interactive activities. There's a crawling apparatus and plasma wall that displays arcs of energized color activated by kids' sound and motion. The airport has its very own aquariums, and Terminal 1 features two galleries of children's artwork.
Source: Nan Park for San Francisco International Airport [4]
Boston Logan Airport (BOS)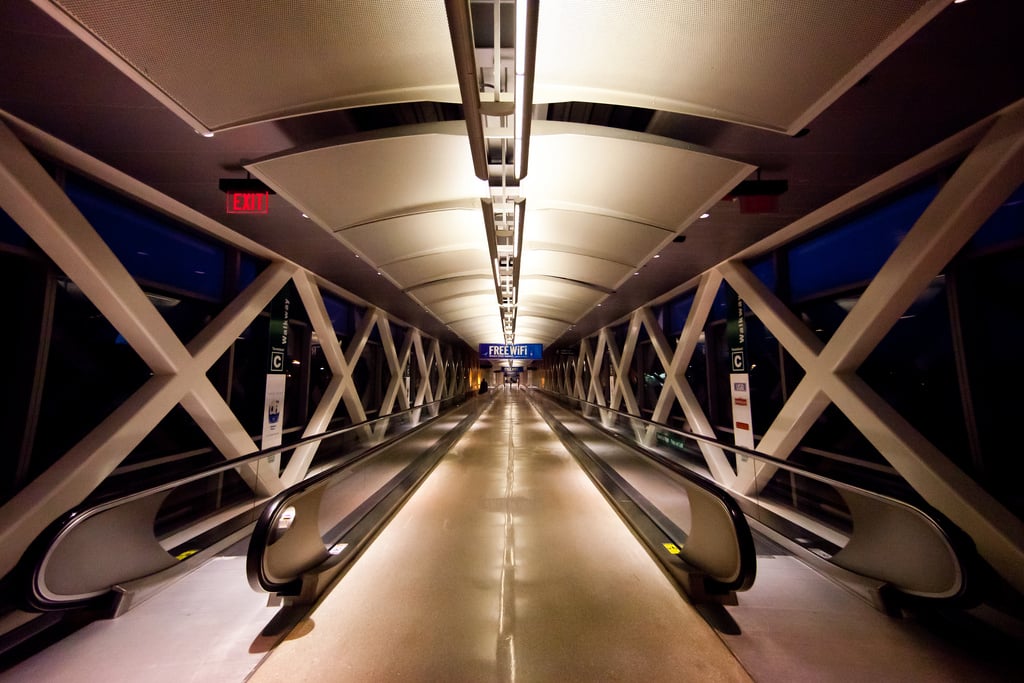 In Terminals A and C, Logan offers two play spaces. Dubbed Kidport, both are designed by Playtime LLC, a company dedicated to building safe, soft play areas for kids. The Terminal A Kidport includes a tot-size replica of the airport's actual control tower, slides, and more. In Terminal C, there's a carpet designed to look like an airfield, and a mural of the sky to give the feeling of being midair.
For parents traveling with babies, there are rocking chairs throughout the airport, plus rooms dedicated specifically to nursing mamas.
Source: Flickr user Thomas Hawk [5]
Minneapolis-St. Paul International Airport (MSP)
Two play areas (located in Terminals 1 and 2) feature kid-size airplanes, control towers, and slides. Seating for mom and dad is conveniently located near electrical outlets, so parents can power up while the kiddos play.
"Diaper Bag Basics" vending machines stocked with diapers, Band-Aids, formula, baby food, and other essentials are located near both play areas, and there are rooms dedicated specifically to quiet time for smaller children and nursing moms.
Don't miss a photo opportunity with the airport's signature Snoopy statue at the entrance to Terminal 1!
Source: Flickr user jpellgen [6]
Orlando International Airport (MCO)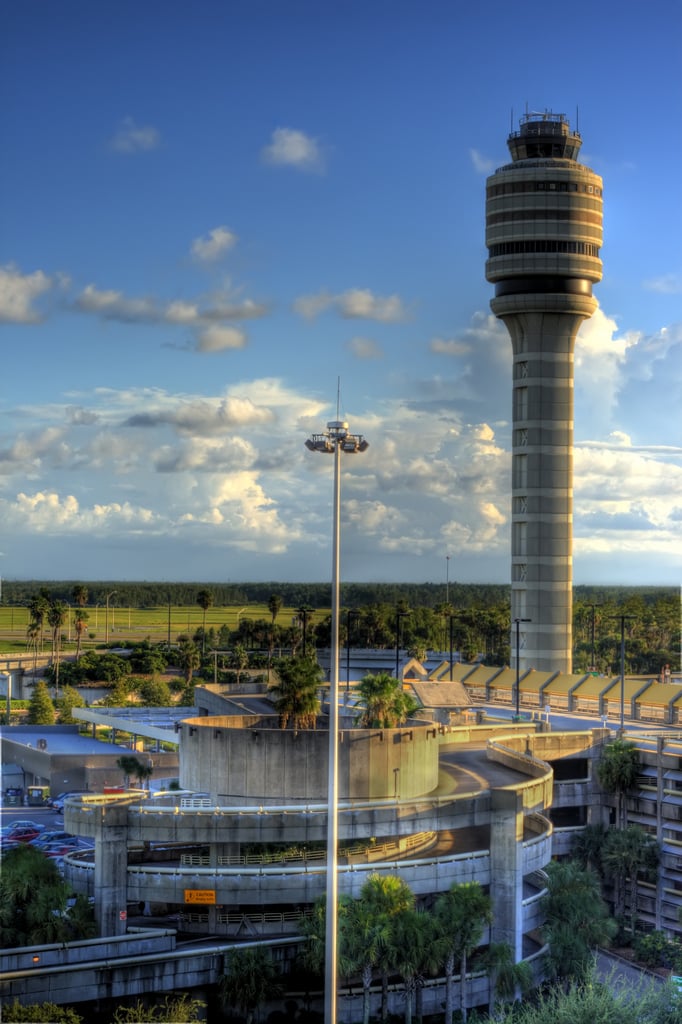 In case nearby Walt Disney World and Universal Studios aren't enough to excite your little travelers, there's plenty of fun to be had at the airport. The main terminal's food court features both the "King of Kong" arcade and a 3,000-gallon saltwater fish tank filled with some 100 aquatic specimens. There's also a piece of an actual asteroid from Mars in the Kennedy Space Center store that kids can touch, and MCO is home to Build-a-Bear's first-ever airport location.
Source: Flickr user Joshua Ryan Adelman/Honest Artistic Expression [7]