Whether you're looking for creative, noncheesy shower baby shower games or simple ways to dress up your sweets, there's a unique idea to suit any party style. Get the inspiration started by checking out these 36 tips and tricks to make your baby shower special for both you and your guests. Happy showers!
Wooden Baby Block Invitation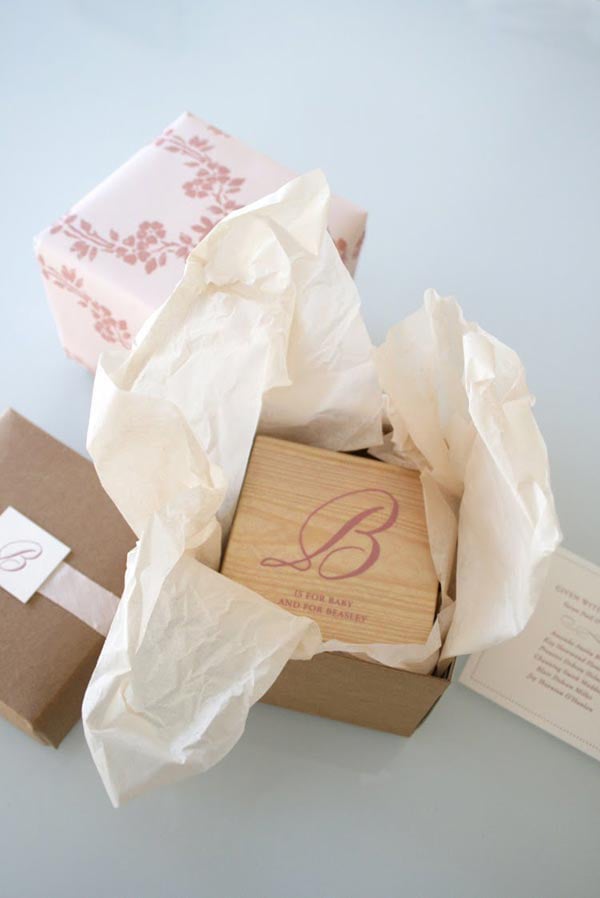 Request guests' company with a wooden block invitation [1], like this screenprinted pick made by Sideshow Press [2]. It's an invitation and favor in one!
Source: Sideshow Press [3]
Breakfast Baby Shower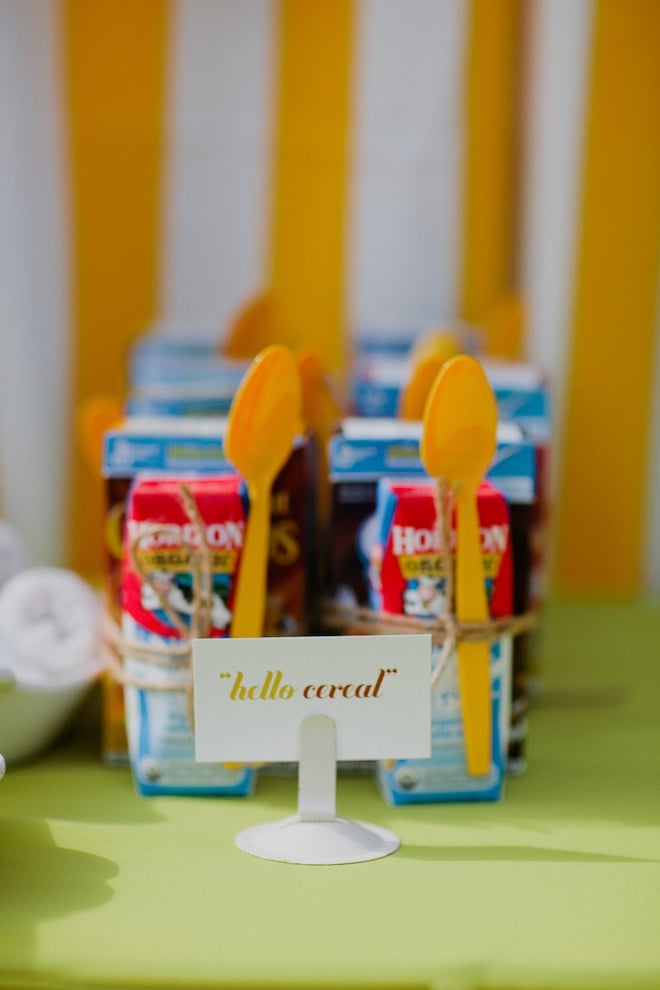 Baby showers tend to be afternoon affairs, but wedding [4] planner Jesi Haack [5] threw a breakfast baby shower [6] for a friend. Complete with an omelet bar and kid-friendly foods, an early morning shower is an unexpected idea and a great way to start the day.
Source: Jesi Haack Design [7]
Guess the Baby Game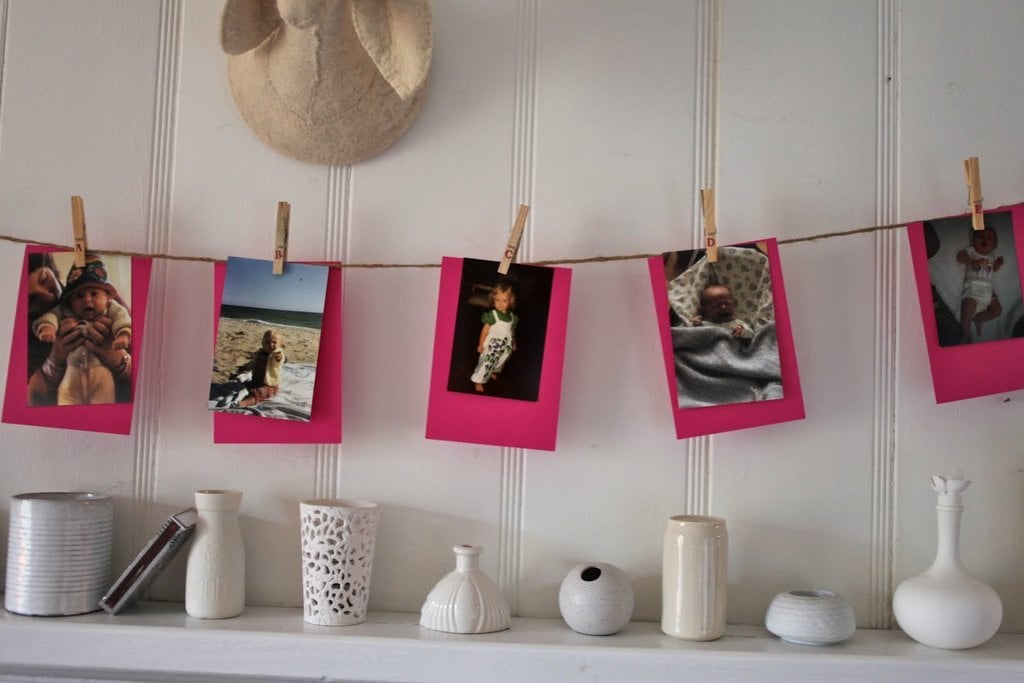 Get guests involved by asking them to participate in a Guess the Baby [8] game. Ask each person to bring a photo of herself as a baby, then display them at the shower and offer a prize to the guest who can identify the most people.
Source: Après Fete [9]
Drink Decanters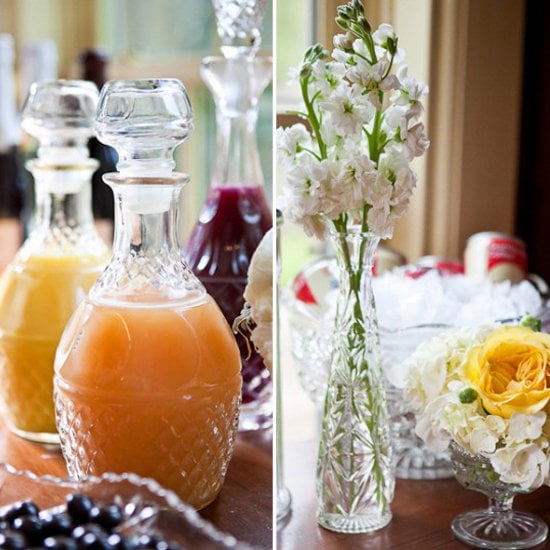 Using gorgeous glass decanters for drinks [10] is a simple way to step up the display and add a bit of sophistication to your party sips.
Source: Alyson Wiley for A Little Savvy Event [11]
Headband-Making Station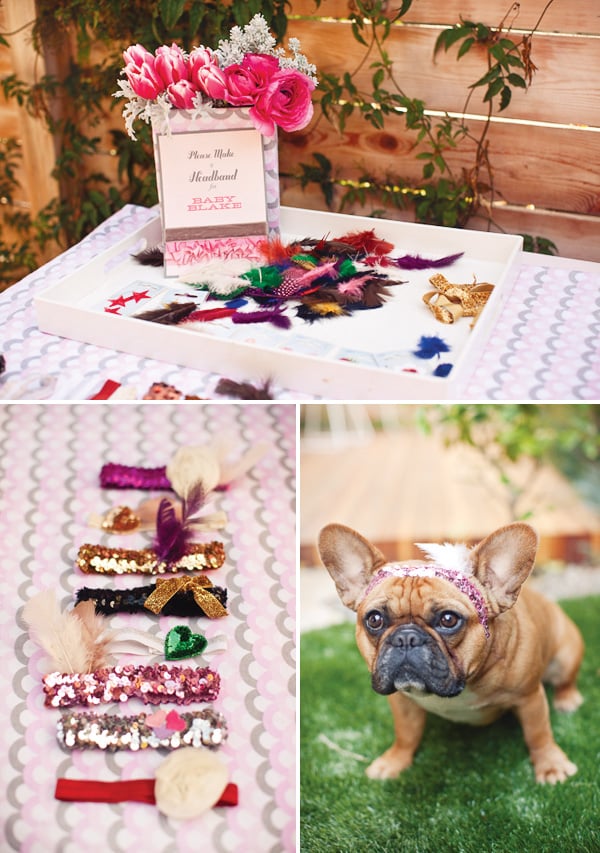 For a lil girl's baby shower, set up a DIY [12] headband-making station [13] inviting guests to get crafty throughout the day.
Source: Gabriel Ryan Photographers for Hostess With the Mostess [14]
Baby Bucket List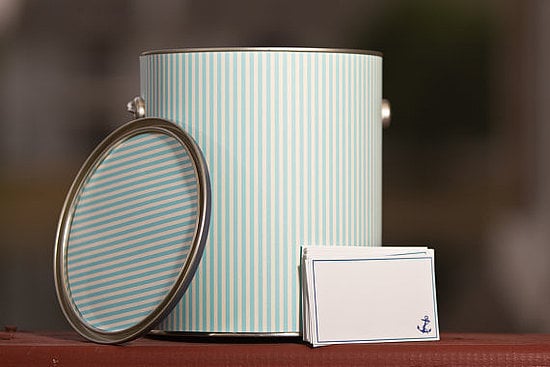 Gather the advice of friends and family by asking them to contribute to a baby bucket list [15]. Set out a cute paint can so guests can toss in their suggestions for making baby's first year extraspecial.
Book-Inspired Cupcakes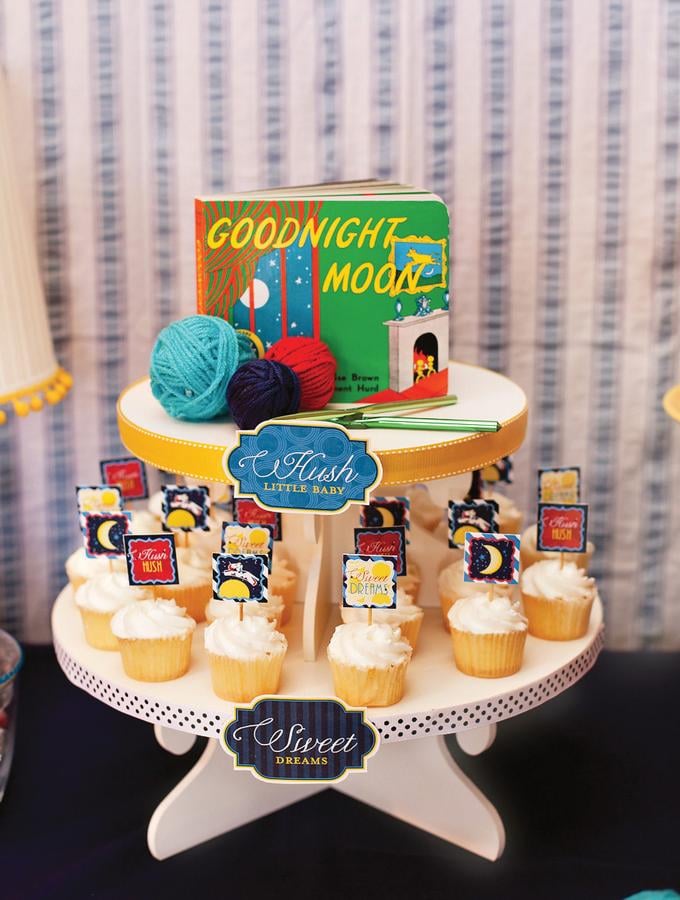 To create clever sweets like these Goodnight Moon cupcakes [16], top plain vanilla cupcakes with themed flags. Add a few props to the display to make it even more eye-catching.
Source: Hostess With the Mostess [17]
Creative Onesie Clothesline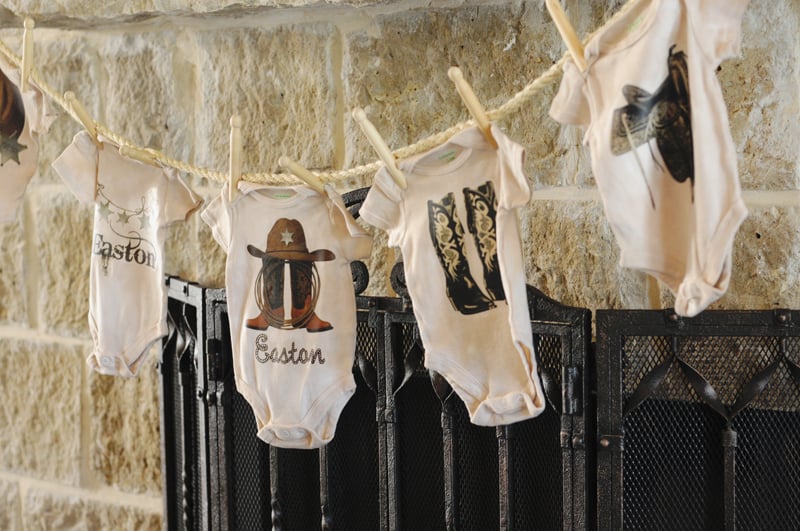 Go for unique, practical shower decor by setting up a onesie clothesline [18]. Use cute iron-ons to dress up plain onesies, which double as a gift postparty.
Source: Whimsical Printables [19]
Retro Invitations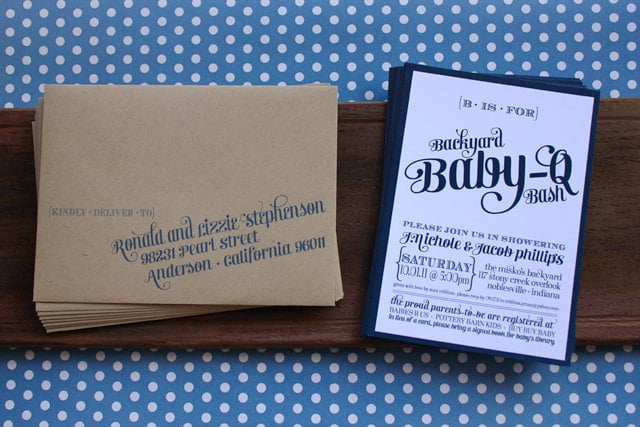 Hoping for a more casual get-together? Try a "Backyard Baby-Q" theme with these retro-inspired invitations [20] by Le Partie Sugar. For $95, you'll receive 25 invitations, envelopes fully addressed, envelope stickers, and the cards will even be mailed directly to guests!
Source: Le Partie Sugar [21]
Bubbly All Around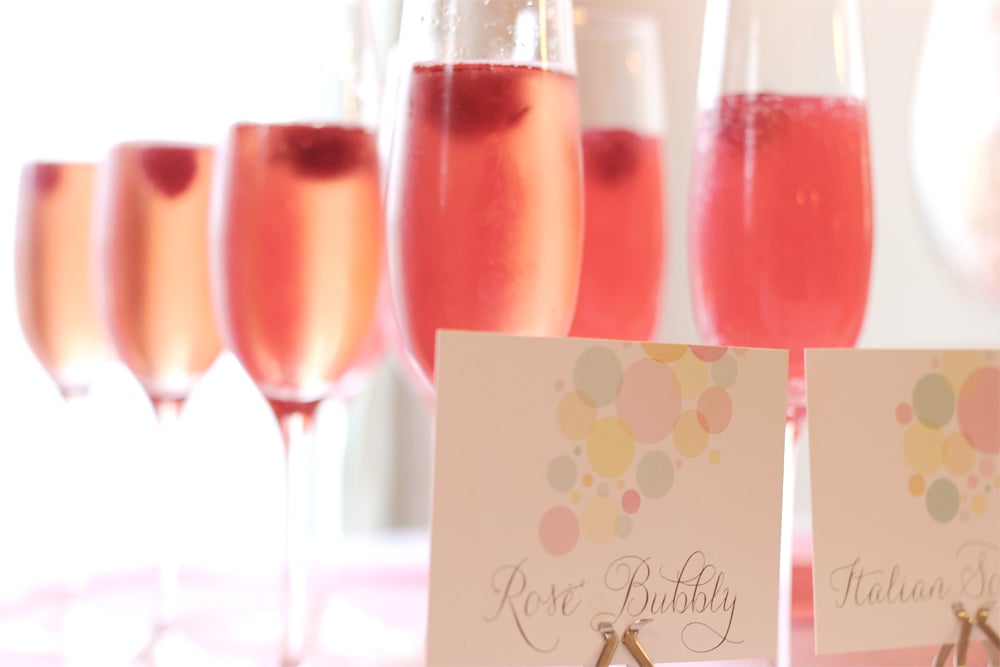 Establish a beautiful bubbly bar [22] to add some sparkle to the party. Pair a sparkling rosé with nonalcoholic Italian soda, then toss in fresh raspberries as a stylish, tasty accent.
Source: Le Partie Sugar [23]
Reveal the Gender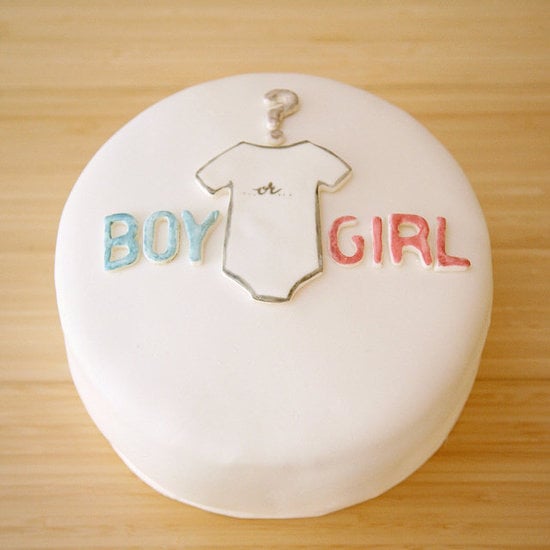 Make it a shower and gender reveal party all in one by baking a simple gender reveal cake [24]. Guests will love to be part of that special moment, and it's sure to perk up the party.
Source: Sweet Kiera [25]
Popcorn Bar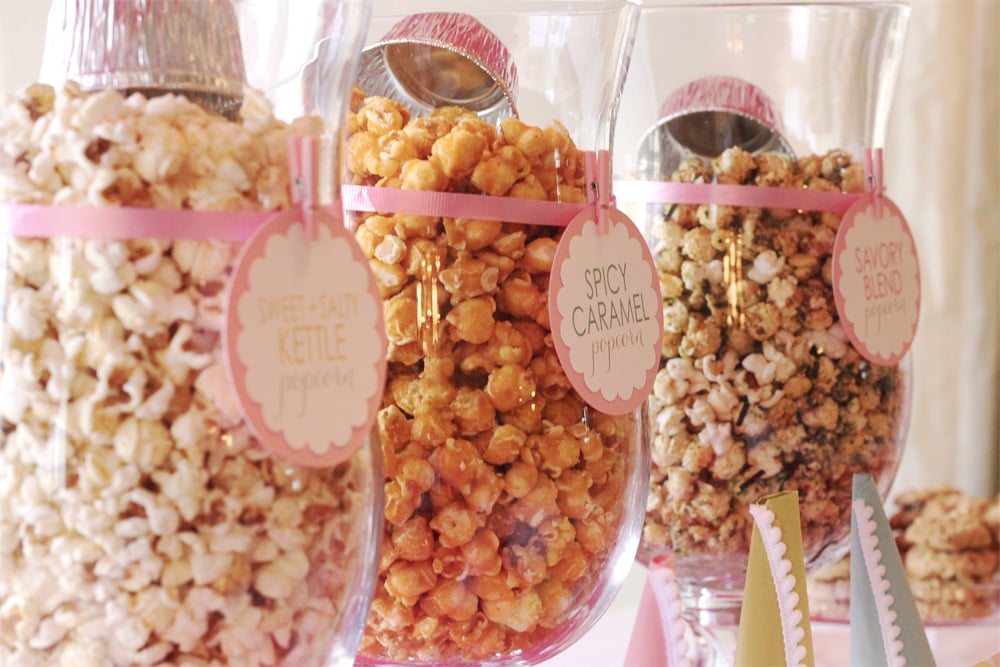 Simple to set up and easy for guests to navigate, a popcorn bar [26] is a great grab-and-go snack for friends to enjoy throughout the shower — or as a favor.
Source: Le Partie Sugar [27]
Bib-Decorating Contest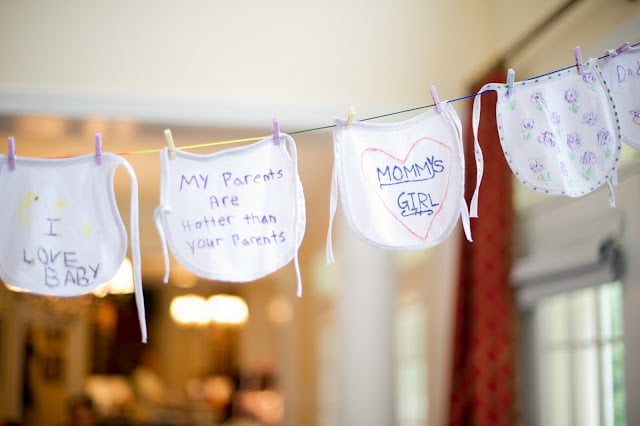 Let guests flex their creativity by putting together a bib-decorating contest [28]. Even better? The parents-to-be will have plenty of options once the baby arrives.
Source: Rebecca Watkins for Pure Joy Events [29]
Unique Dessert Display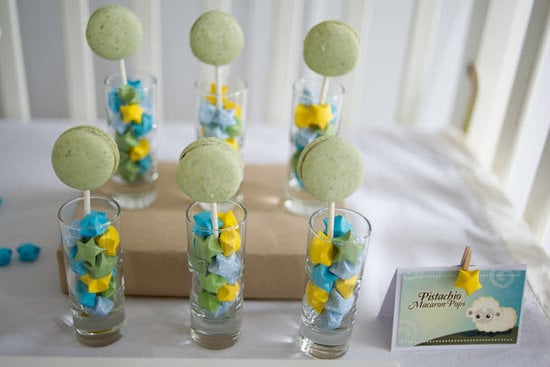 Skip the standard bowls and dress up your sweets table with a unique dessert display [30] like these pistachio macaron pops made by 6 Bittersweets [31], which were held in glasses with origami stars from Trinkets by Dana [32].
Source: Rebecca Watkins for Pure Joy Events [33]
"I'm Bored" Jar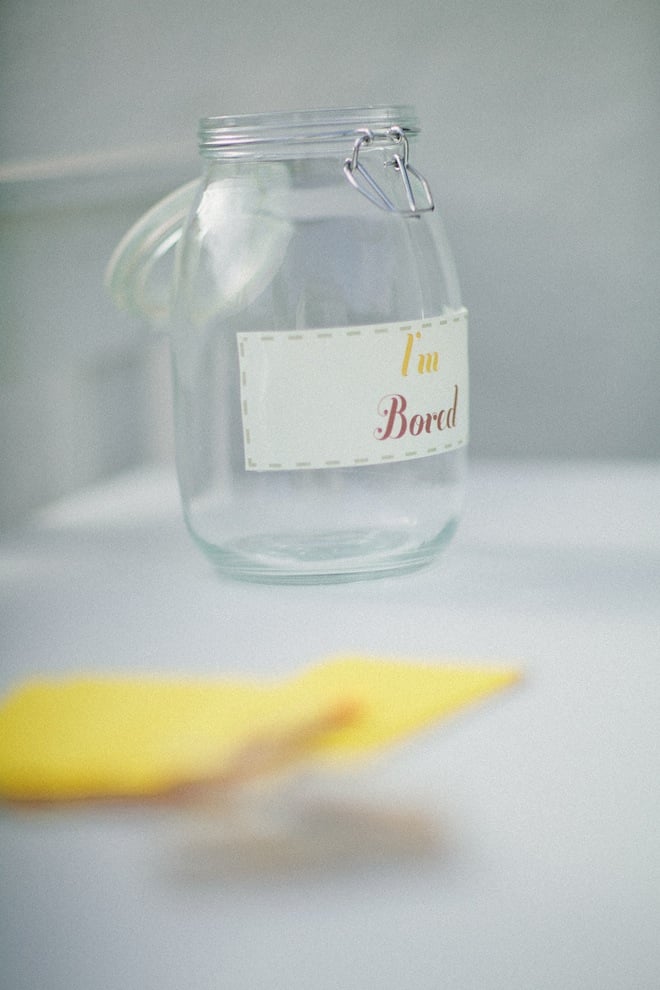 Pass around an "I'm Bored" jar [34] and ask guests to fill out a card with fun, kid-friendly activities to try when their baby needs to be entertained.
Source: Jesi Haack Design [35]
Gender-Neutral Sweets
Are the parents-to-be keeping the gender of their baby a secret? Whip up some gender-neutral cupcakes [36] by using white and yellow frosting plus pink, blue, and multicolored toppers.
Source: Flickr user clevercupcakes [37]
Wishes For the Baby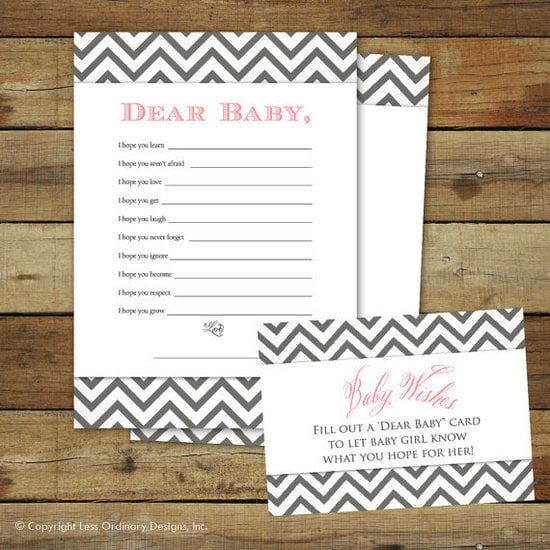 With these chevron printable cards [38] ($10), guests can offer their best wishes for the baby [39] — a special way for friends and family to give some heartfelt advice.
Striped Straw Cake Pop Sticks
Step up your standard sweets by using striped straws as cake pop sticks [40]. Mix and match colors to keep things fresh, then tie a coordinating ribbon for a sweet, simple touch.
Source: Seriously Daisies [41]
Baby-Themed Cookie Cutters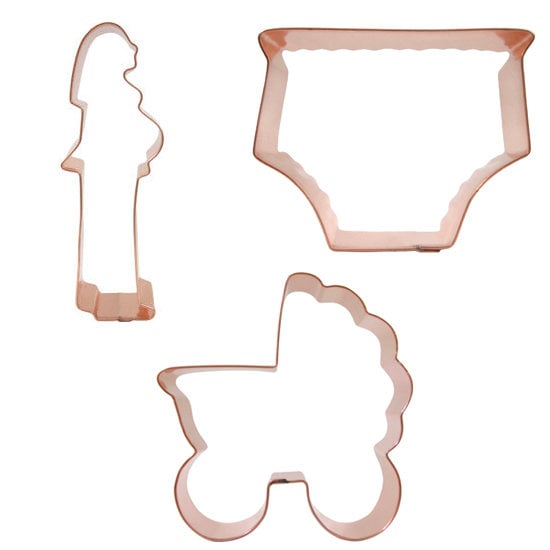 Keep costs down by purchasing festive baby shower cookie cutters [42] and making your own desserts.
Decorative Muffin Tin Liners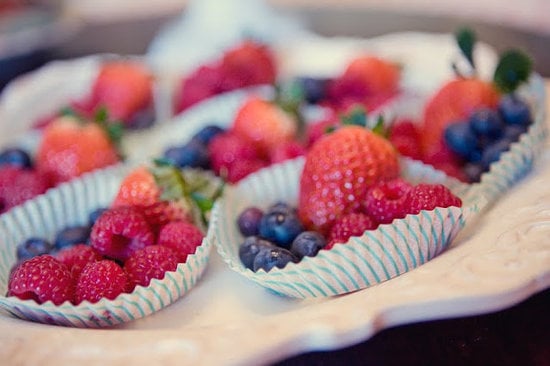 Easy but effective: Spoon fresh berries into patterned muffin tin liners [43] for a sweet treat that's delicious, decorative, and budget-friendly.
Source: Sara Westbrook [44]
Diaper Basket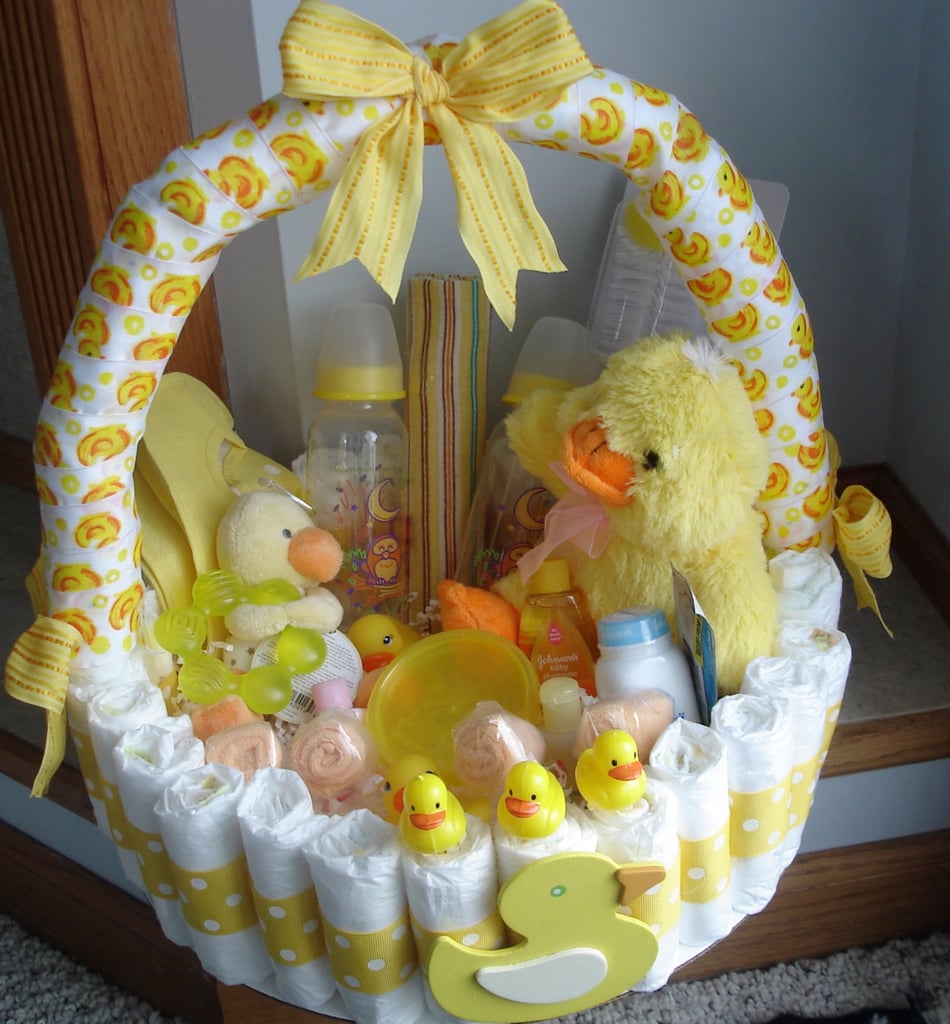 Not too keen on the diaper cake idea? Grab a diaper basket [45] like this diaper basket centerpiece [46] ($75) by Teresa Phillips to keep the tradition without lifting a finger.
Sweet Thank You Notes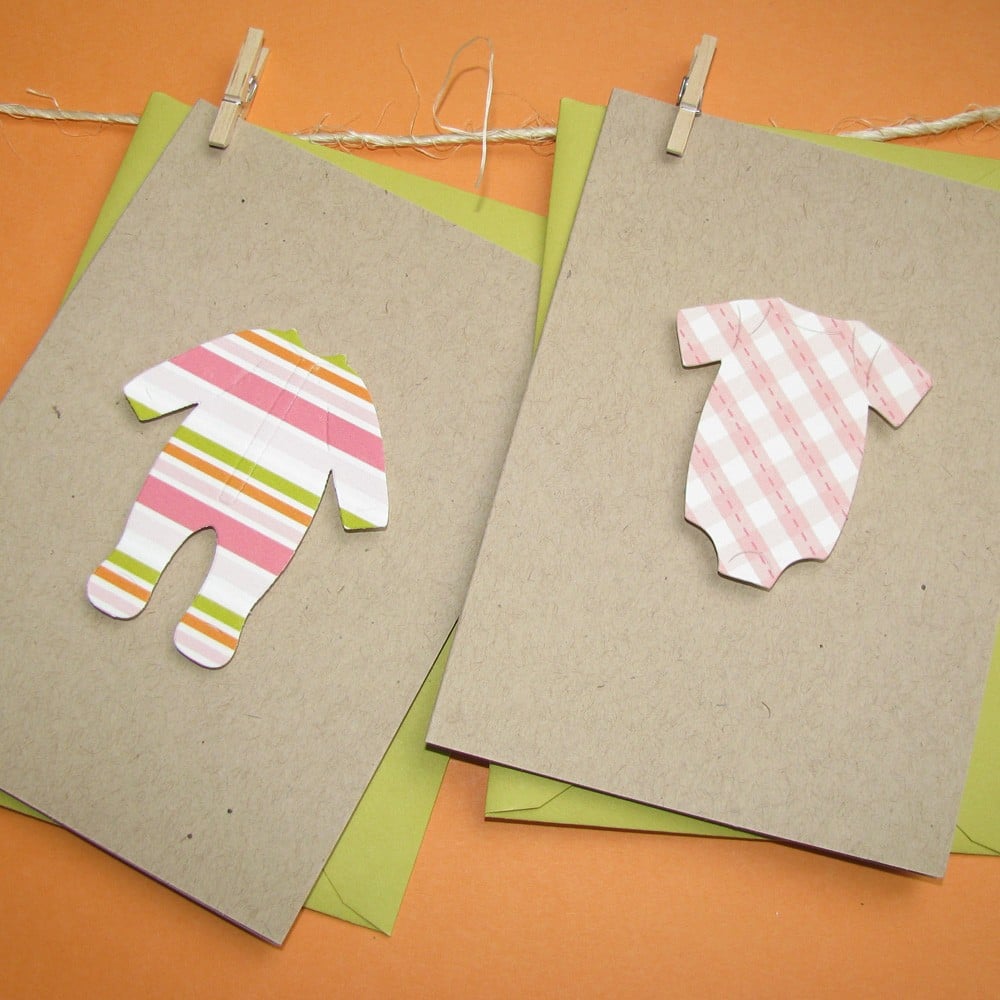 Pick up some adorable baby shower thank you notes [47], like these sweet side-fold cards [48] from Gracie Girl Notes made with 100 percent recycled kraft stock.
Create a Sweet Sculpture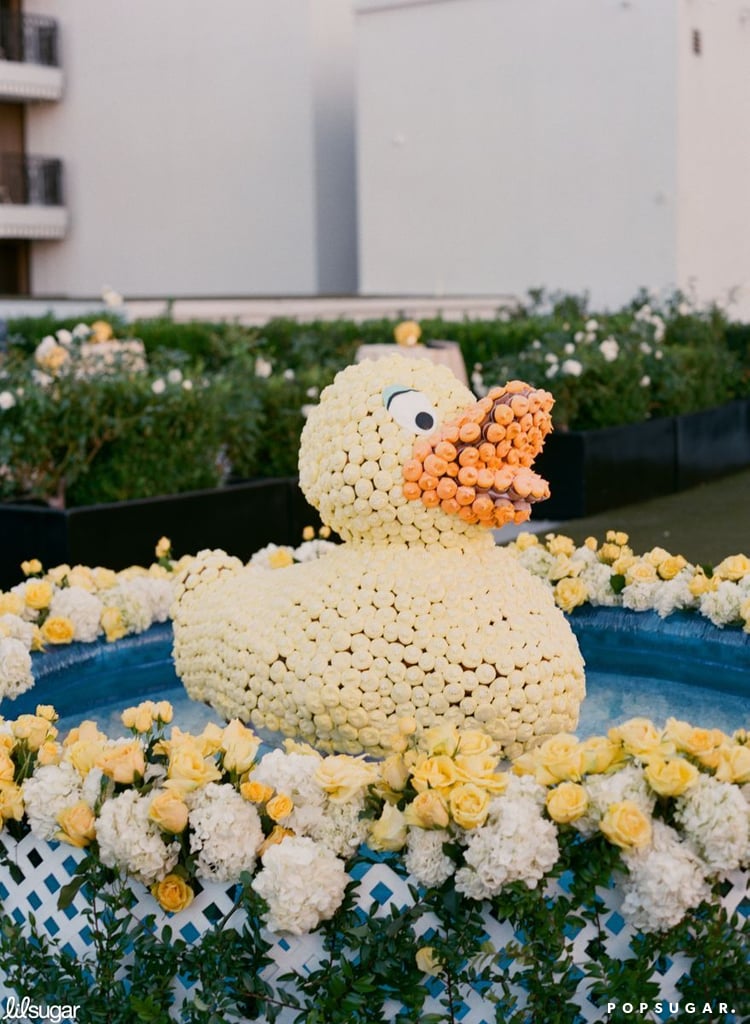 While this outrageous centerpiece made from 2,500 mini cupcakes is certainly over the top (it was made to celebrate mom-to-be Katherine Kallinis, the cofounder of Georgetown Cupcakes), a smaller sweet sculpture is sure to wow shower guests.
Source: Elizabeth Messina [49]
Make Headlines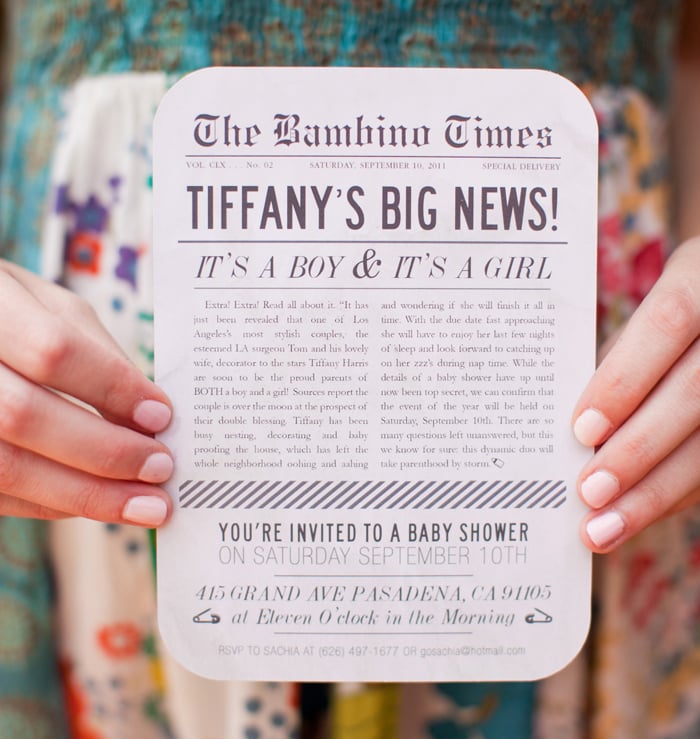 A headline-making invitation introduced guests to this vintage newsprint-inspired shower [50], and the theme was carried through the event with a typewritten welcome note, "Extra! Extra!" thank you cards, and vintage newspapers, which sat on each guest's plate and featured a baby-themed crossword puzzle and cleverly worded headlines.
Source: Tara Rochelle for Layla Grayce [51]
Biscuit Bar Goodies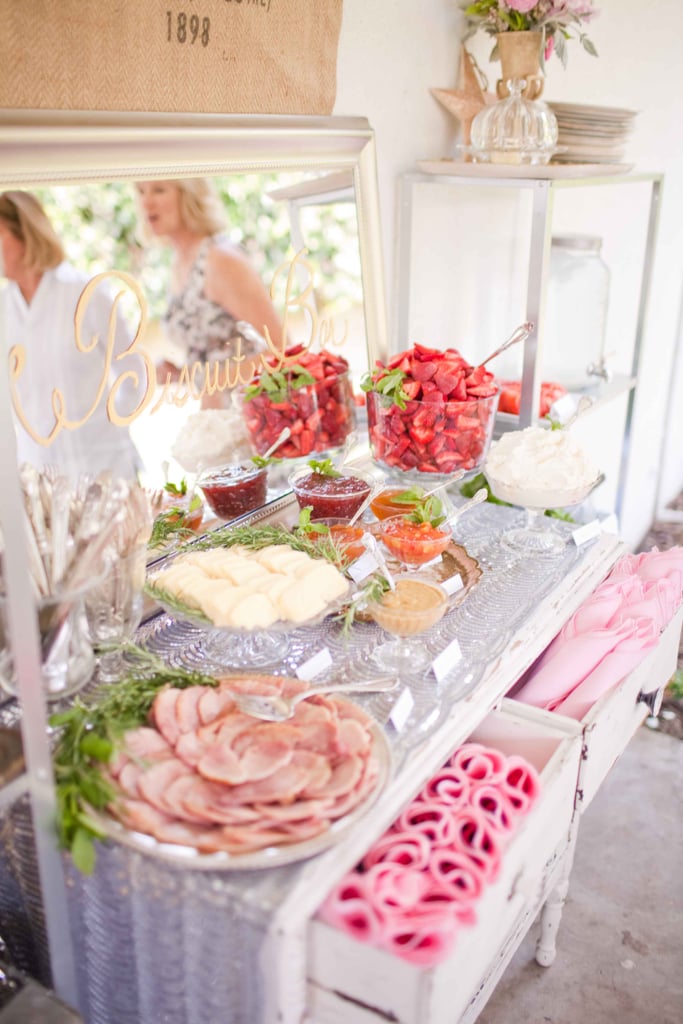 Forget a traditional dessert buffet, and try something more unique. Summer Watkins of Grey Likes Baby [52] traded in desserts for biscuits. "Along with crates of biscuits, we also served savory toppings such as ham, Havarti cheese, and German mustard. For sweet toppings, we included fresh strawberries, homemade whipped cream, and lemon curd," Summer says.
Source: Grey Likes Baby [53]
A Royal Cake Topper
Some cake toppers are edible, while others are cherished. Trade in the edible kind for one that becomes a family keepsake, like this gold crown.
Source: Grey Likes Baby [54]
Onesie Decorating Activity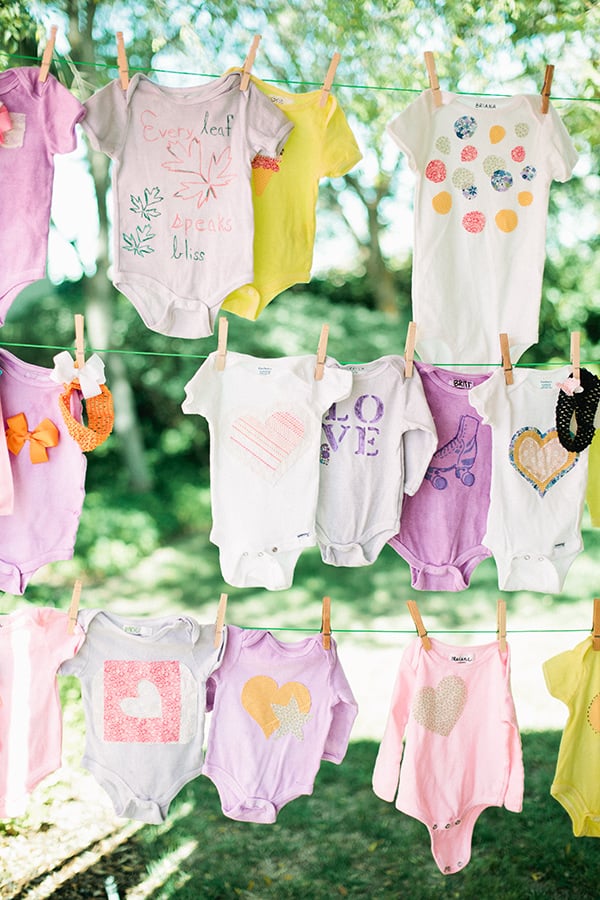 "I loved all the onesies that guests created for us. They got really creative," Katie Vowels of Katrina Louise Photography told us [55]. "We've loved taking photos of baby Rowan in the onesies and sending them on to the guests as another thank you. Each person put their name on the tag on the onesie, so we get to think of them every time she wears one."
Source: Katrina Louise Photography [56]
Celebrate the Mom-to-Be's Heritage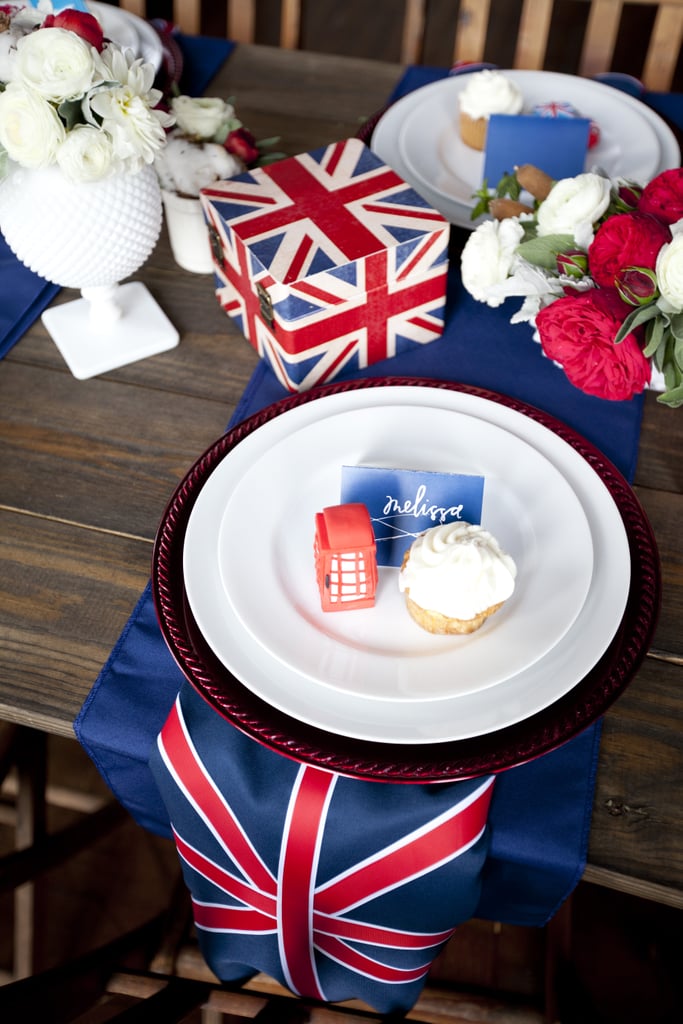 For a British mom-to-be, the Union Jack made a perfect theme. Union Jack-covered boxes held tea bags, while an Edible Details [57] fondant topper showed an iconic London telephone booth.
Source: Achor & Eden [58]
Make a Wish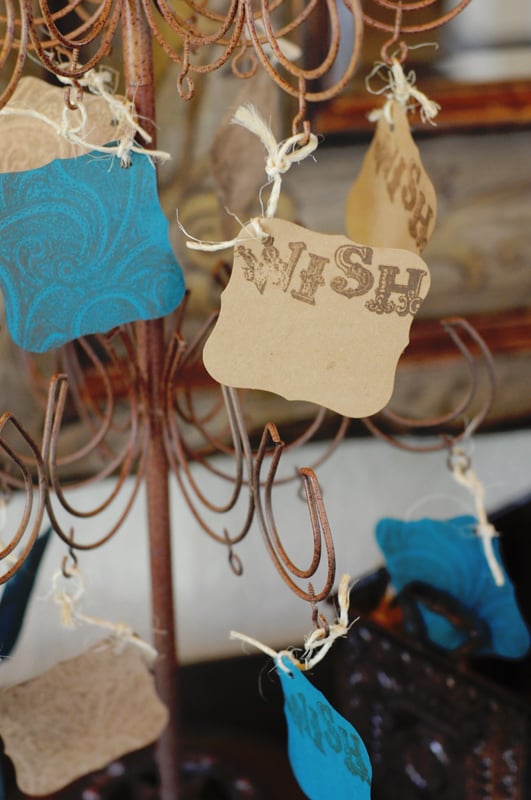 Have guests make a wish for the baby-to-be! The expectant mama will love reading them while she waits for her baby to arrive.
Source: Whimsical Printables [59]
A Long-Distance Baby Shower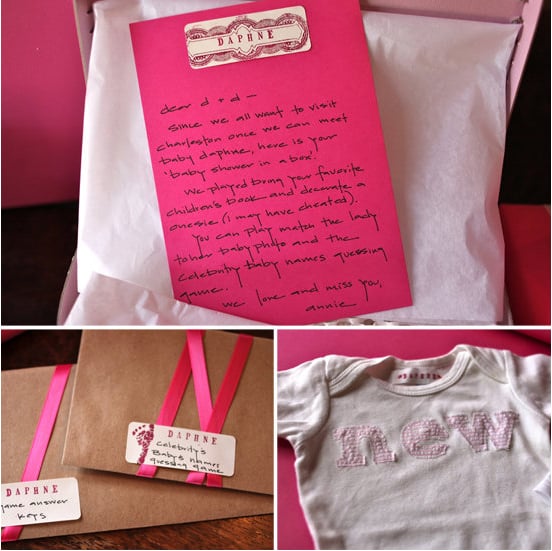 If hundreds of miles or expensive flights have ever kept you from celebrating a friend's special occasion, you're likely to love this Baby Shower in a Box [60] concept as much as we do.
Source: Après Fete [61]
A Nontraditional Dessert Table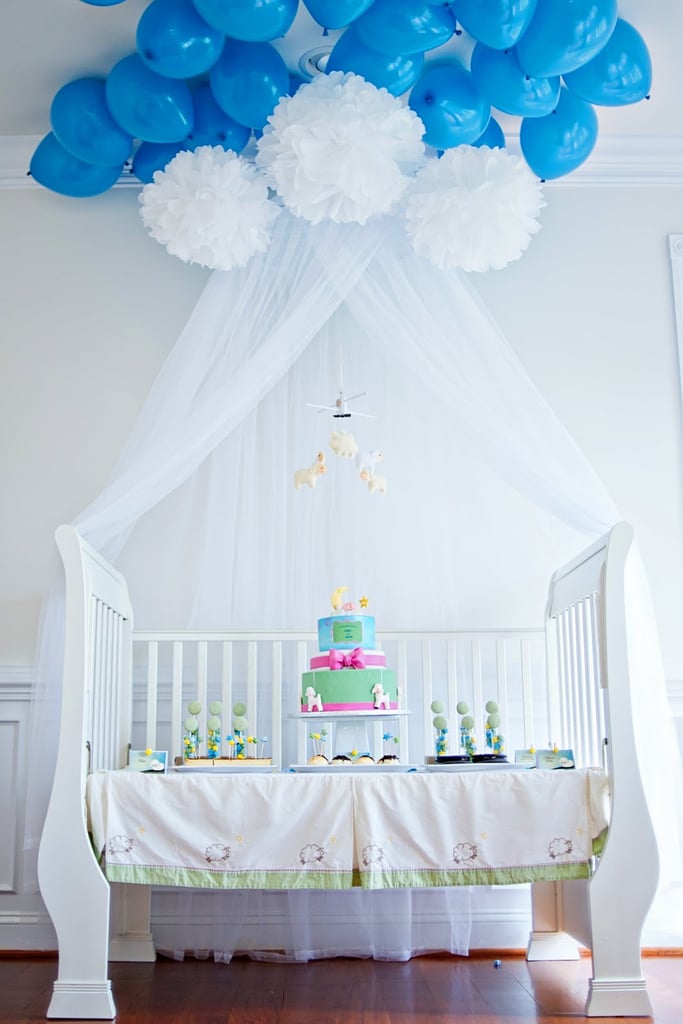 You don't have to use the dining room table to hold your food selections. For a lullaby-themed shower [62], Pure Joy events converted a crib into a table. "To carry out the theme, a sleigh crib with a coordinating crib skirt was used as the dessert table," Christine said. "White canopy netting, pom-pom clouds, and two dozen sky-blue balloons created a dreamy effect."
Source: Rebecca Watkins Photography for Pure Joy Events [63]
What Does Mom Crave Most?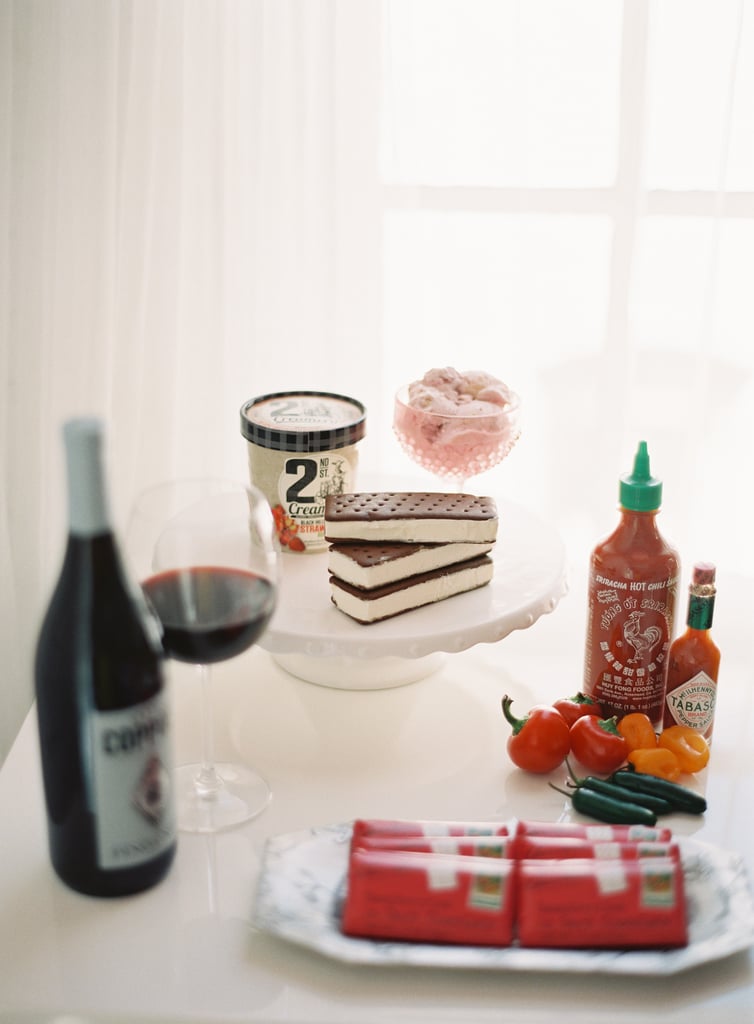 Why not make mom's cravings [64] the focus of a shower? Guests can guess the mom-to-be's biggest craving.
Source: Karson Butler Events [65]
Hanging Umbrellas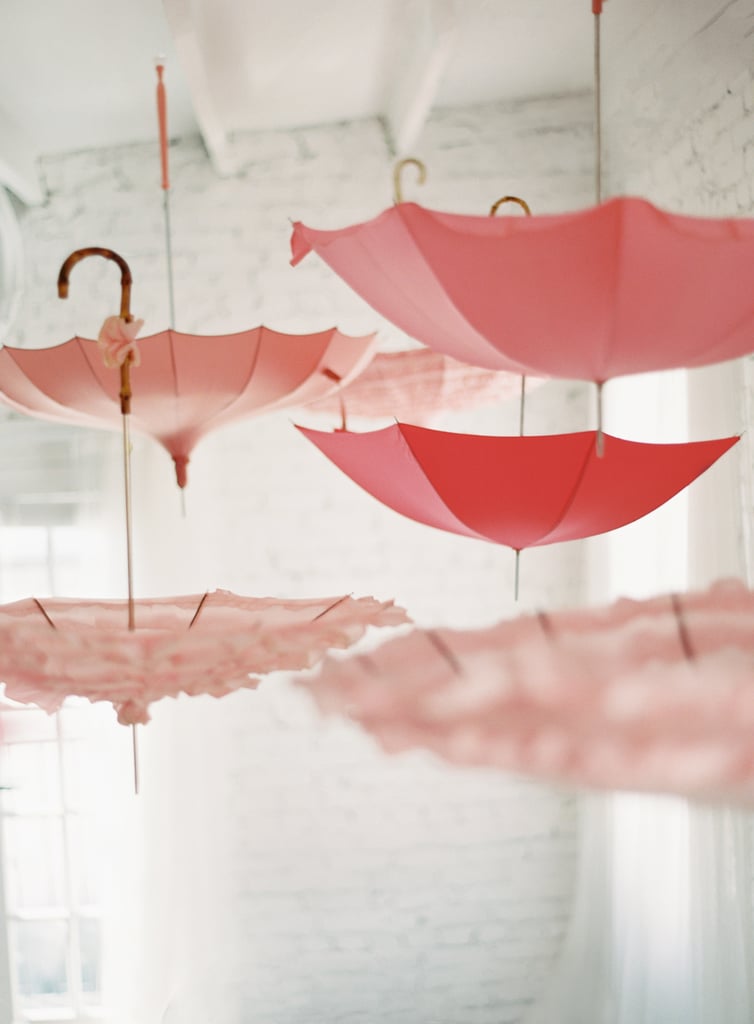 It is a shower after all, isn't it? We love this idea of hanging vintage umbrellas from Bella Umbrella [66] upside down for decor.
Source: Karson Butler Events [67]
A Veggie Centerpiece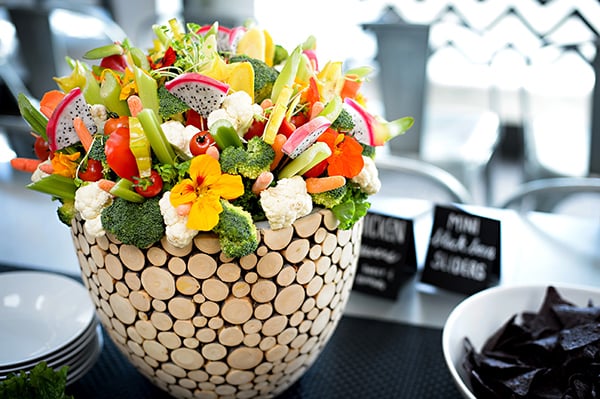 Proof that flowers aren't the only way to go when it comes to creating a beautiful centerpiece! A veggie-filled pot or bowl is a welcome change from flowers and sweets.
Source: HRM Photography Inc. [68]
Personalized Touches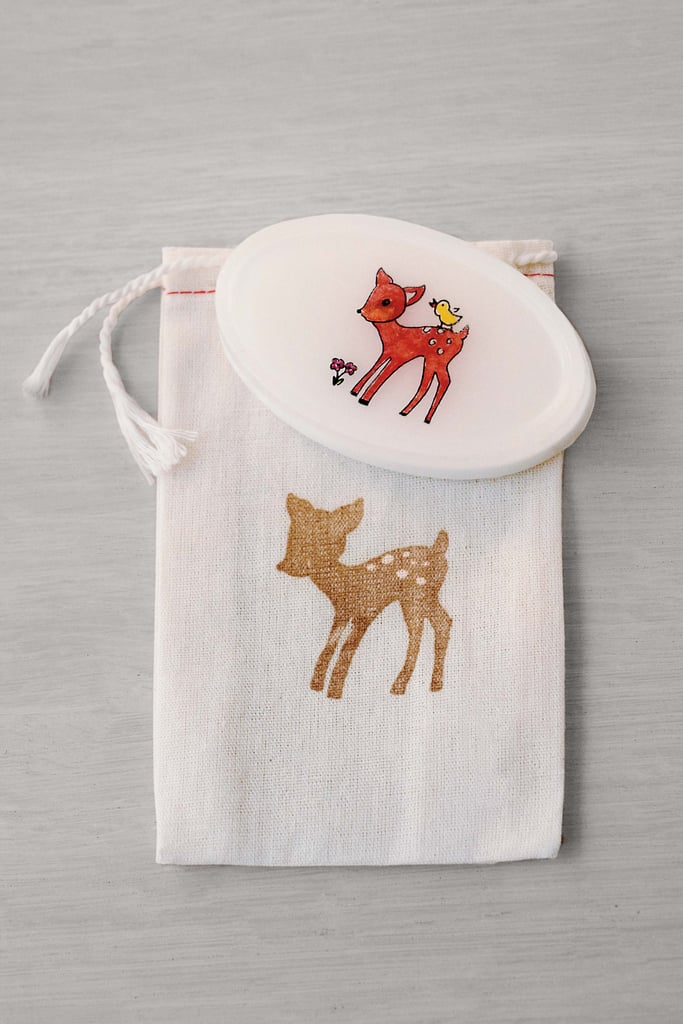 Scour Etsy, and you're sure to find someone who can create just about anything for you. For a woodland-forest-themed shower [69], Martha Stewart Weddings's Darcy Miller wanted to give the party some unique touches that would set it apart from all the other baby showers they've seen through the years. One way they did so was with custom soaps [70] created from images that Darcy sketched. As a big believer in custom goods, Darcy suggests going to the source to get exactly what you want for the party. She says, "Etsy is filled with vendors who will tailor products to your specifications."
Source: Charlotte Jenks Lewis [71]
An Evening Shower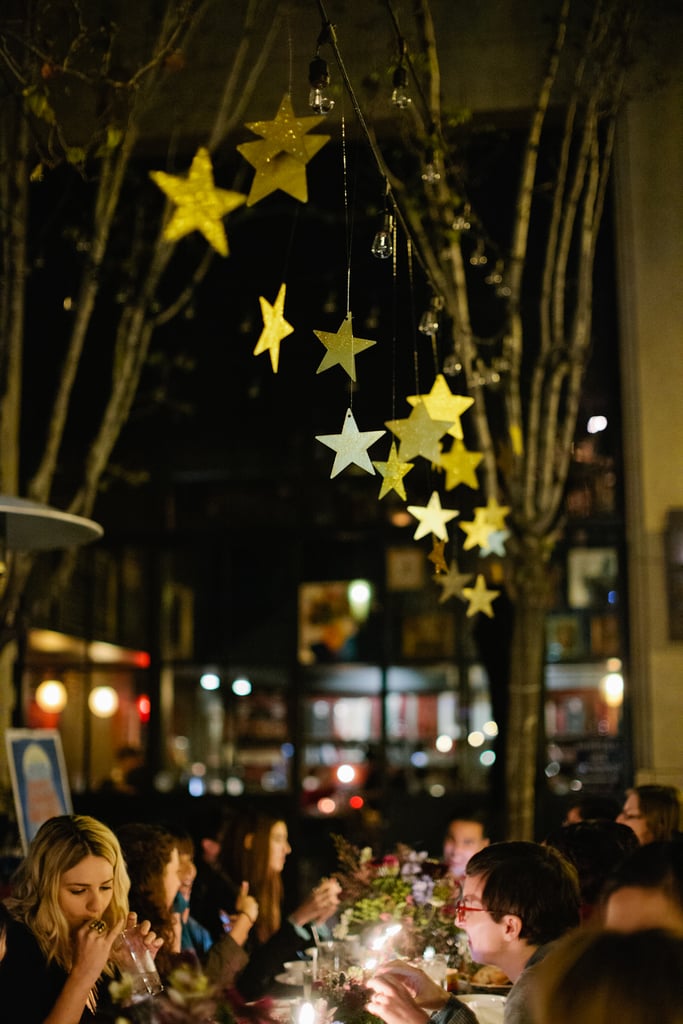 With so many baby showers taking place during brunch and lunch, an evening affair is a fun way to shake things up. For this "Off to Neverland" shower [72], an evening sky provided some needed darkness. "We figured doing it at night would help the effect be more prominent," Aasim of Sugar & Fluff [73] said. "It turned out to be a hit, and everyone loved the idea of having a shower at nighttime!"
Source: Richelle Dante Photography [74]