We've seen so many fantastic birthday party ideas [1] for kids, but we have to admit, some of our favorites have been thrown for the girliest of girls. Some are traditional — full of lots of pink, princesses, mermaids, dolls, and tutus — while others have expanded our ideas of what a girl party should be, with glam-camping, superhero, and safari themes. If you need party inspiration for the little lady in your life, look no further: the following 51 parties are packed full of creative ideas for decor, sweets, favors, and more. Bring on the pink (and blue and aqua and gold)!
A Vintage Girlie Superhero Party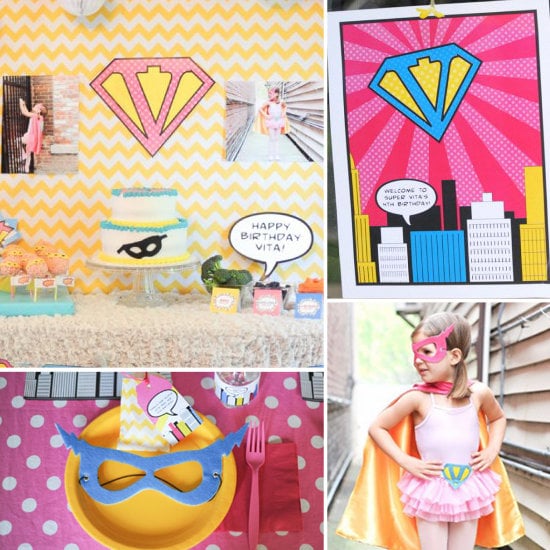 While we've never met Vita, the birthday girl who wanted to be a superhero for her party, we're kind of in love with her. Not only does she rock a cape and mask with serious style, but she inspired this amazing vintage-girlie superhero party [2]! Keep clicking for all of the details, including amazing printables from Anders Ruff [3]; a cape from Annie of Kid Kapers [4] (the birthday girl's aunt); and amazing photography from Molly B [5], Vita's mom. Vita, can we come to your next party?!
Source: Anders Ruff [6]
A Modern Hello Kitty Birthday Party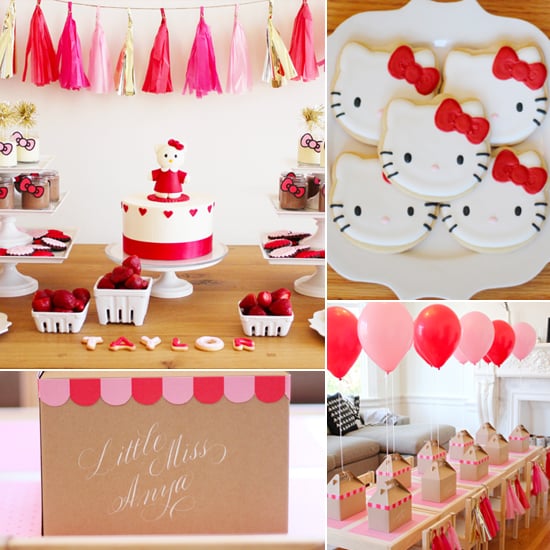 Regardless of whether you're a Hello Kitty fan or not, we're betting you're going to love this birthday party, thrown by wedding [7] and event planner Gloria Wong [8] for her daughter Taylor's second birthday.
Although the famed cat features heavily at this party on top of the cake, on cookies, and through the use of her iconic bows (guests were each given one to wear as a headband or bow tie; can you say "adorable?"), Gloria's stylish take on the theme feels totally modern — think of it as kiddie minimalism. Click here [9] for more sweet details.
Source: Gloria Wong Design [10]
A Brave Birthday Party
Inspired by her daughter Ella's love of Disney film Brave, Hana Lynch — a mom, blogger [11], and photographer [12] — created a whimsical fifth birthday party that appeals to the inner rebel-princess in all of us. "I wanted the party table to evoke a sense of being within the enchanting forest that Merida encounters during her adventure," Hana says. "I created this feeling using natural elements like moss and tree stumps to display the food. The light-up 'wisps' gave it a magical touch." Add in an incredible cake; gender-neutral activities including a "haggis" toss, archery, and design-your-own coats of arms; and one adorable birthday girl — and you have one adventurous birthday bash! Click here [13] for all the incredible details.
Source: The MomTog Diaries [14]
A Dreamy Under-the-Sea Birthday Party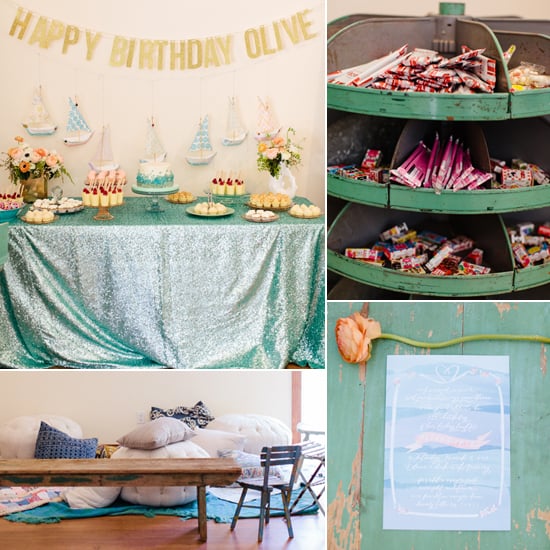 What do you get when you put together an event planner mama (Angel Swanson of Love & Splendor [15]), the Korean tradition of a Dol (an over-the-top first birthday celebration), and a whimsical under-the-sea party theme? Party perfection! This party, thrown for little Olive, has something for everyone: a baby lounge, kid-friendly entertainment including an amazing bubble show, plenty of sweet treats, and gorgeous decor in shades of mint and pink. Click here [16] to check out all the details of this dreamy party!
Source: Love & Splendor [17]
A Pink and Blue Sleeping Beauty Party
We've seen our fair share of princess parties inspired by Disney. But while Sleeping Beauty — aka Briar Rose, aka Princess Aurora — is one of our favorite classic Disney princesses, she hasn't popped up on the kid party circuit much . . . until now (though we're guessing she'll get more popular with next year's release of Maleficent [18])! Suzanne Olvey of Fanciful Events [19] used the cursed princess as an inspiration for her daughter's lovely birthday party, full of rose-topped sweets, a cake fit for royalty, and an awesome design-your-own-tutu station. "I wanted to incorporate the famous pink vs. blue fight between the fairies," Suzanne says. "The party turned out really special and so magical." Click here [20] for all the princess-perfect details!
Source: Fanciful Events [21]
A Safari Birthday Party For an Animal-Lovin' Little Lady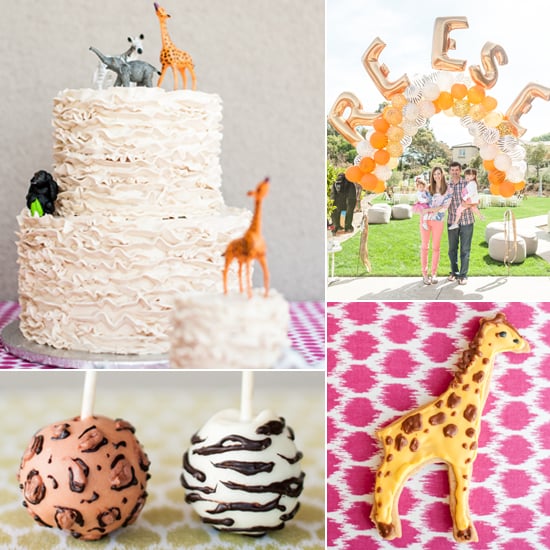 We see a lot of adventurous birthday party themes for little boys, but who says girls can't also get in on the action? For little Reese's first birthday bash, her parents decided a safari theme was the only way to go.
"Reese loves animals," says Kelly McLeskey-Dolata of A Little Savvy Event [22], the party planners hired to execute the kiddie event. "The greatest activity of the day had to be the live safari animals. Reese loved seeing the snakes and baby alligators, and it added an unexpected and lively aspect to the day." Click here [23] to see all the sweet safari details!
Source: A Little Savvy Event [24]
A Cowgirl-Chic Birthday Party
This cowgirl-chic birthday party [25] has it all — a stitched-burlap invitation, a gorgeous ruffle cake, clever treats, and a petting zoo. So get ready to meet your inner cowgirl 'cause this party is going to bring her out! Hee-haw!
Source: Peas & Thank You's [26]
A Mermaid Birthday Party Fit For an Underwater Princess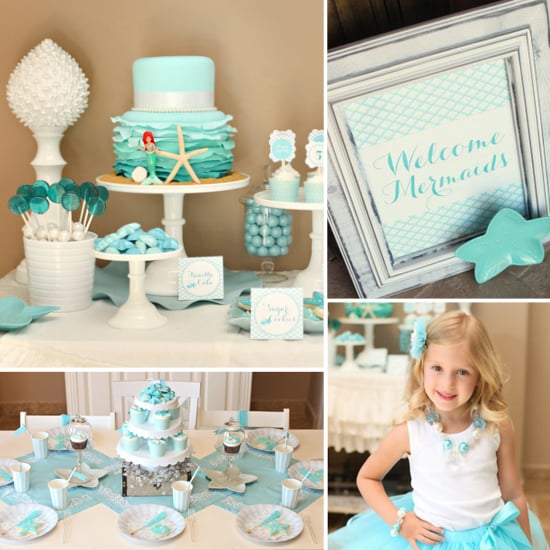 Kim Stoegbauer of The TomKat Studio [27] throws an abundance of inspired parties [28], but the mermaid bash she created for her daughter Kate's fifth birthday is one of our all-time favorites. Eight of Kate's friends attended the sweet party, full of blue and aqua, pearl, and iridescent accents (all available through TomKat's shop [29]), one of the prettiest cakes we've ever seen, and of course, an appearance by Ariel. Click here [30] for all the undersea birthday beauty, captured by photographer Vicki Lynn [31]!
Source: The TomKat Studio [32]
A Strawberry Shortcake Birthday Party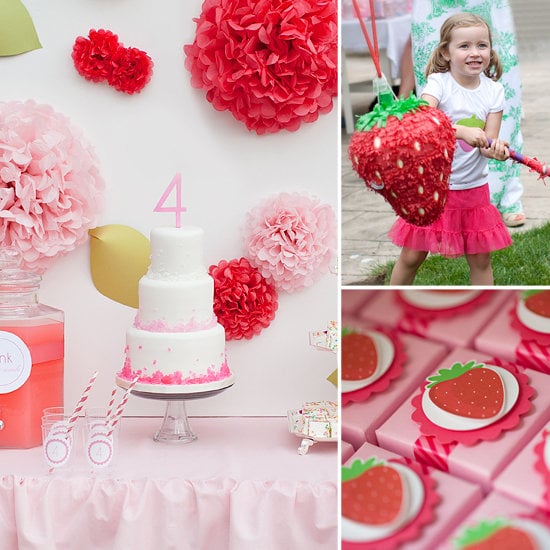 For her daughter Lou's fourth birthday party, Krista Salmon of popular design blog Kiki's List [33] was faced with a challenge: how to make Lou's requested theme — Strawberry Shortcake — appeal to both the birthday girl and her own superchic design sense. "I tried to incorporate as many tasteful strawberries as possible, but the overall theme tying everything together was pink. Perfect for a party full of 4-year-old girls," Krista says. Click here [34] for the adorable details!
Source: Kiki's List [35]
A Gorgeous Glamping Party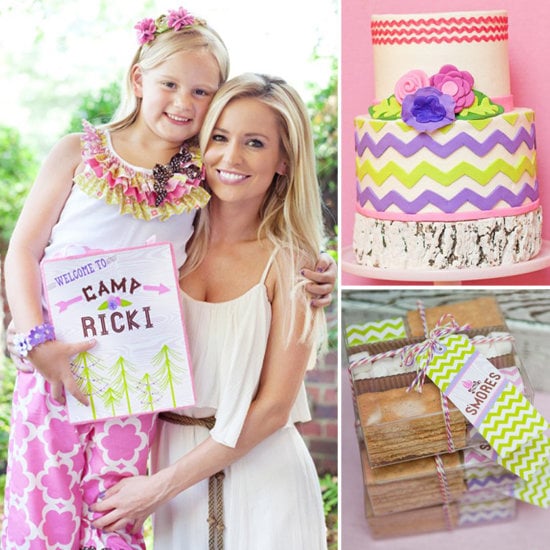 The Bachelorette's Emily Maynard is a supermom, and she didn't let her suddenly extremely public persona stop her from throwing an incredible, girlie camping birthday bash [36] for her daughter, Ricki. The talented gals of Anders Ruff [37] got together with Emily to create a creative, sweet glamping (that's glam-camping for those of you who haven't caught on to the trend yet) party. Complete with a gorgeous cake and on-theme sweets (the individual trail-mix containers and take-home s'mores are just two of many standout components), girlie paper goods from Anders Ruff's printable collection [38], and lots of stylish details (including, of course, an awesome tent), Ricki's party is positively lovely — and nope, there wasn't a rose in sight.
Source: Anders Ruff [39]
Sweet and Saucy! A Bow-Filled First Birthday Party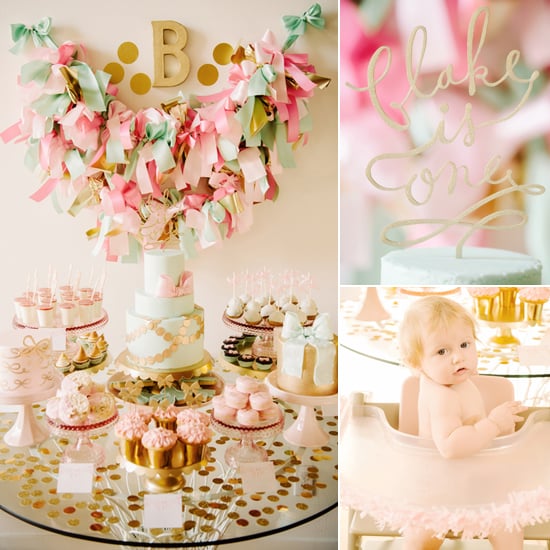 Pastry chef Melody Brandon of Sweet & Saucy Shop [40] has been the sugar-loving mind behind some of our favorite parties ever, so when Melody's little lady Blake celebrated her first birthday, of course she had to do it with sweet and saucy style!
"I have always loved putting bows and headbands on Blake since the day she was born, so I thought the 'Bows for Blake' theme would be fitting and lots of fun," Melody says.
Melody went big with the bow theme, enlisting her sister to help create an incredible bow backdrop, dressing up almost all of the amazing dessert selections with bows and, of course, putting a bow on Blake! Add in the pink-and-gold color scheme, a gorgeous photo display of Blake's first year, and one happy birthday girl, and you have one sweet party. Click here [41] to check out all the details.
Source: Sweet & Saucy Shop [42] photographed by Krista Mason [43]
An Elegant Princess-Themed Party
Hear ye, hear ye! A princess-themed birthday party [44] can be a simple and beautiful affair without having to be over-the-top fabulous.
Source: Branco Prata [45]
A Tween-Tastic Instagram-Themed Birthday Party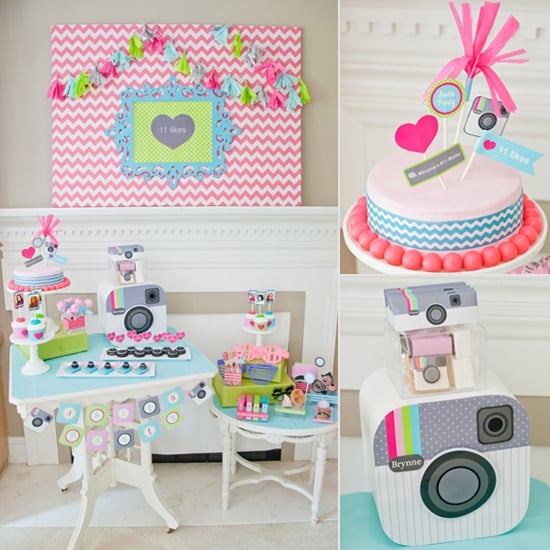 Like you, we're pretty obsessed with Instagram [46], so when we spotted this Insta-party from Anders Ruff [47], we knew we had to share. Designed for 11-year-old Brynne, the daughter of Anders Ruff designer Adria Ruff (who threw the party together in two days!), this tween bash took the famous Instagram icon and made it girlie in shades of pink, lime green, and baby blue. A cute store-bought cake was jazzed up with ribbon, gumballs, and printable Instagram icons [48], and voilà, you have one enviable, tween-approved Instagram party! Click here [49] for all the details.
Source: Anders Ruff [50]
A Too-Too Cute Tutus and Teacups Birthday Party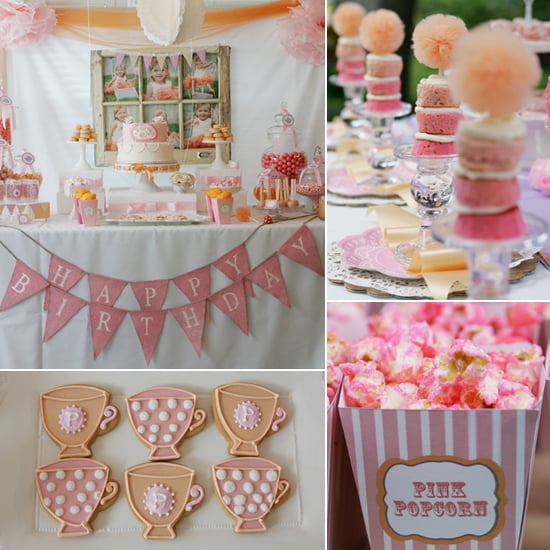 "I am a planner by nature and knew the day after my daughter's first birthday that I wanted to do a teacups and tutu theme using soft pinks and oranges for her second," says Johanna Saucier, mom to 2-year-old Presley.
"I incorporated teacups in the cake balls and printables and in real teacups purchased from the flea market and used for floral arrangements," she continues. "I also wanted subtle and sweet touches of tulle, including the pom garland, tutus for each little girl, and tulle wands." But the details don't stop there. From a DIY [51] dress-up closet and shabby-chic doily accents to a framed photo dessert table backdrop, the many ideas at this party made us want to steal them. Our favorite, though, has to be the tulle-topped ombré cakes that lined the party table. Simply "tutu" chic! Click here [52] to check out all the details of this inspired party.
Source: CN Photography [53]
A Girlie Lorax Party For Little Lou!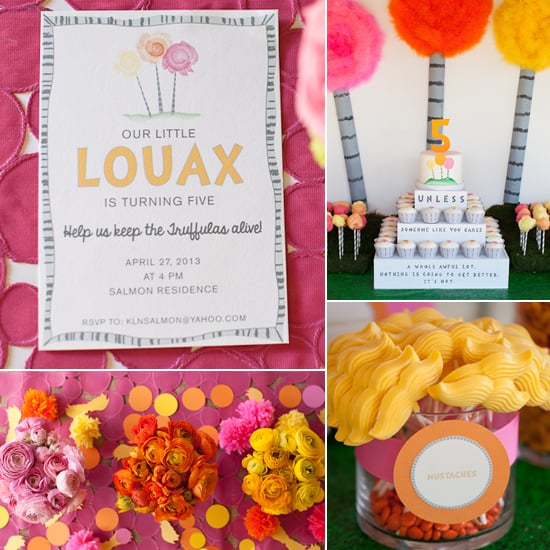 This isn't the first Lorax-inspired party [54] we've featured, but we love Krista's girlie, modern take on the theme. Truffula Tree cotton candy, the coolest cake, beautiful blooms, and mustache pops are just a few of the lovely details at this party, beautifully photographed by Ryann Colleen [55]. Click here [56] to check out all the details at little Lou's Lorax party!
Source: Kiki's List [57]
A Lovely, Whimsical Pink Circus Birthday Party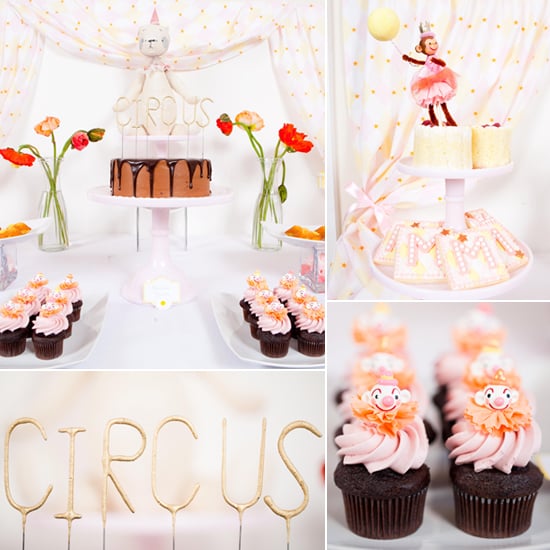 "The pink circus came to town for my daughter Marguerite's second birthday!" says Anne Ligeard Murat of New York-based children's party, paper, and gift site Clafoutis [58]. "My daughter is very mischievous. She is full of energy and always trying bold acrobatics at the playground. In French, we use the expression 'Marguerite fait le cirque,' meaning she is creating her own circus. She also loves pink, so voilà — we had our theme!"
While undoubtedly a kiddie affair, Anne put her stylish, sophisticated spin on the party, incorporating designer fabrics, a custom artwork, a beautiful cake topper, and vintagey tutus. Click here [59] to see all the chic circus details.
Source: Clafoutis [60]
A Sweet, Sprinkles-Inspired Party
Piper Jane has a notorious love of sweets, so her mom — Kirstin Gentry of Kojo Designs [61] — wasn't surprised when the 2-year-old requested "sprinkles" as the theme of her birthday party. "Her sweet tooth is renowned in these parts (second only to her mama's), so a sprinkle party is perfectly suited for her second birthday celebration," Kirstin says. What could have turned into a pretty straightforward party became super creative in Kirstin's hands. "Sprinkled" accessories, sweet signage (now available through Kojo Designs' Etsy shop [62]), fun and easy activities, and some awesome decor (confetti-filled balloons and yarn pom-pom garlands) are among all the gorgeous details. Click here [63] to see them all.
Source: Kojo Designs [64]
A Sweet Rainbow-Heart Birthday Party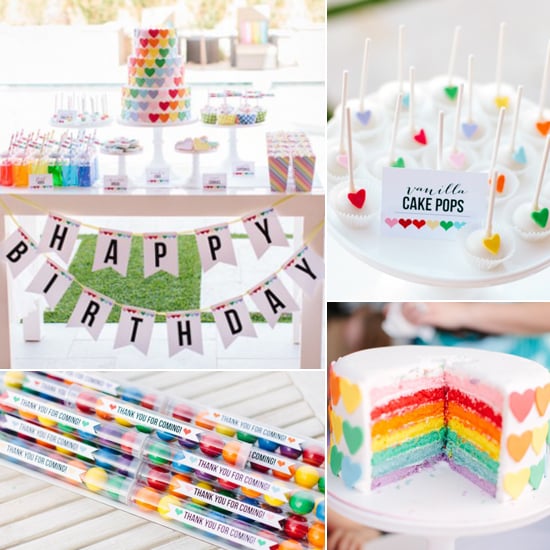 Kim Stoegbauer of The TomKat Studio [65] has thrown some of our favorite kid parties ever (remember her mermaid-themed fifth birthday party [66] for her daughter, Kate?). Kate just turned 6, and she celebrated the milestone with a party that was all about her two favorite things: rainbows and hearts!
Kim incorporated the theme throughout the outdoor party (beautifully photographed by Rennai of ten 22 studio [67]) with sweet treats including an amazing cake featuring rainbows inside and out, balloons, clever rainbow-colored drinks, and pool-perfect decor. Click here [68] for all the details.
Source: The TomKat Studio [69]
A Chic, Tiffany's-Inspired Birthday Party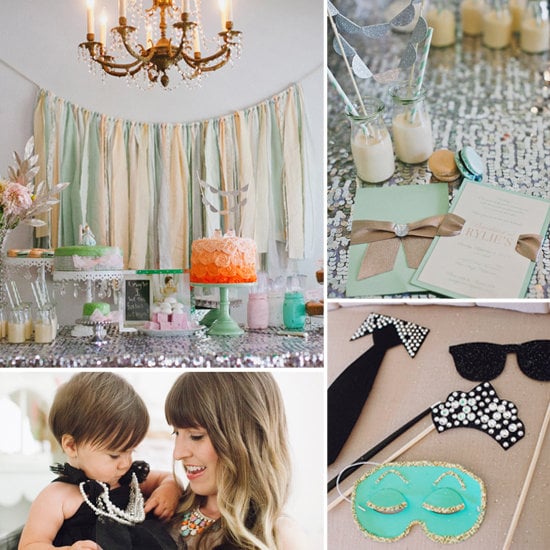 We've seen plenty of adorable little girls birthday parties in our day, but this Breakfast at Tiffany's-inspired party for 1-year-old Riley managed to be both girlie and chic, much like style icon Audrey Hepburn herself. "I wanted something that was ultimately fun and glamorous, and nothing was better than Breakfast at Tiffany's!" says Riley's mom, Cassidy Freitas. "Also the theme would combine two of my all-time favorite things: diamonds and breakfast." A stylish DIY [70] photo booth, a yummy breakfast buffet, and one scrumptious birthday girl dressed as Holly Golightly added to the appeal of this simply stunning party. Click here [71] for all the divine details.
Source: En Point Photography [72]
A Country-Fair-Themed Party
It doesn't get more chic than Jenni Kayne, fashion designer, founder of kid street-style site Ladys & Gents [73], and mom to two little ones. We recently featured Jenni's son Tanner's hip pirate birthday bash [74], and now it's her daughter Ripley's turn to party!
"Ripley absolutely loves pigs and bunnies, so a country fair for the ladies felt like the perfect theme," Jenni says of her daughter's second birthday party. "Not knowing exactly what my version of a country fair looked like, I was inspired by the different parties that I found on Pinterest and ran with it." Wildflower arrangements, homemade pies and cakes, fair games like a ringtoss and sack races, and of course, Ripley's much-adored farm animals all made an appearance at this old-fashioned party. Click here [75] to check out the most stylish country fair around!
Source: Rip + Tan [76]
An Over-the-Top Project Runway Party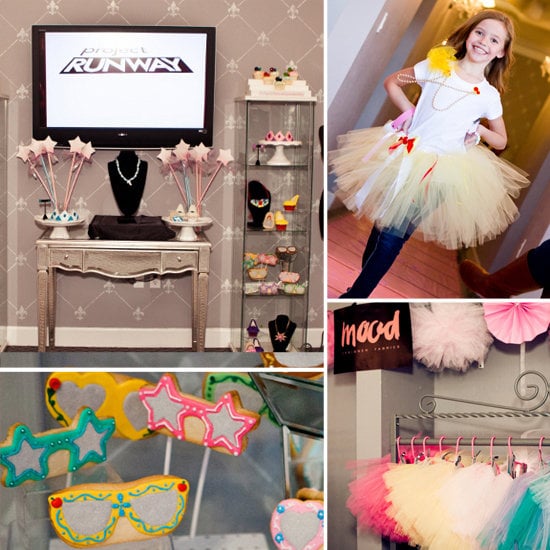 When her almost-4-year-old daughter, Charlotte, requested yet another princess birthday party, Nicole of Million Dollar Smile Celebrations [77] decided the old theme needed a new spin. "We watch Project Runway together, and she has quite the eye for fashion," Nicole says. "So when I suggested Charlotte's Royal Project Runway fashion show, I had her attention. When I told her the 'challenge' would be to create a look inspired by a princess to walk the runway, I had the judges' approval!" This inspirational Project Runway party [78] is so detailed and over the top that we're guessing little Charlotte will be talking about it for many birthdays to come. Make it work, birthday girl!
Source: Million Dollar Smile Celebrations [79]
A Create and Celebrate Birthday Party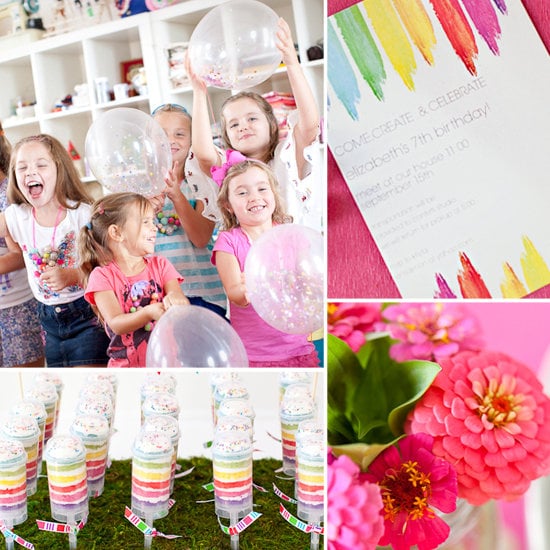 Krista Salmon of Kiki's List [80] took her soiree skills on the road for eldest daughter Elizabeth's create-and-celebrate birthday party. "We loaded up a van full of seven girls and headed to Confetti Studio [81] in Warrenton, VA," Krista says. Not only do we love the cool crafts — painted bead necklaces! paper garlands! — and happy faces that fill this party, but we also love how a simple (i.e., fairly easy for Mama) party can look just as special as one filled with the most over-the-top dessert table or decor. Click here [82] to check out all the creative details!
Source: Kiki's List [83]
A Bold, Candy-Colored First Birthday Party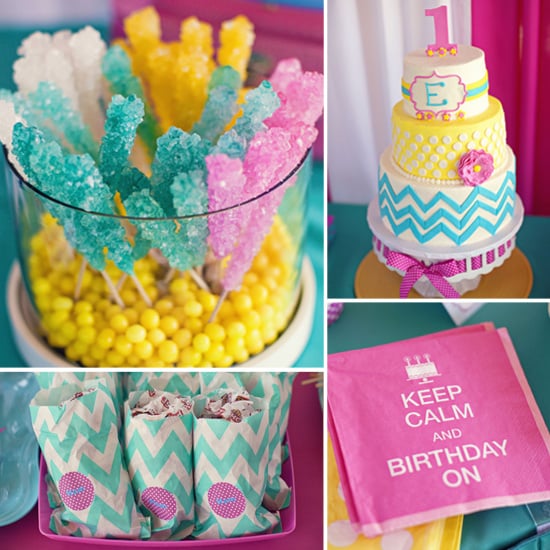 A summertime bash calls for bright colors and outdoor games, and this first birthday party didn't disappoint on either front. Full of candy colors and treats, bold patterns, and plenty of backyard fun, this is one party that's guaranteed to put a smile on your face. "I found my inspiration to the party when I spotted the invite on Etsy [84] and I instantly fell in love with the modern chevron pattern and color scheme," says the birthday girl's mom, Jill Hill. "This was my first time throwing a birthday party, so I just decided to have fun with it — make it bright with colors and fun with lots of kids activities." Click here [85] for all the bright birthday details!
Source: Wendy Updegraff Photography [86]
A Shabby-Chic Party Fit For a Princess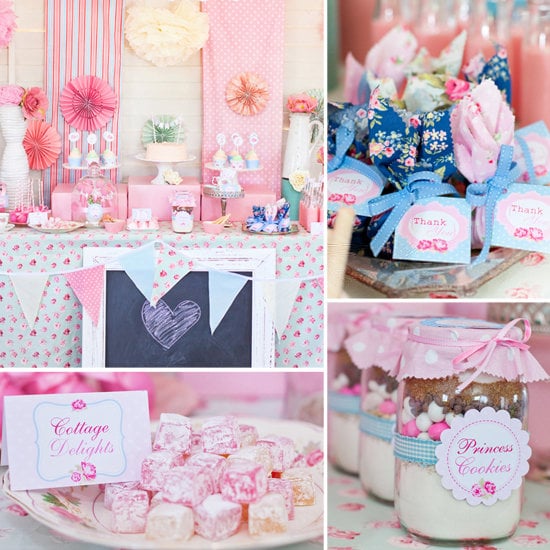 "Every little girl wants a princess party at some stage of their childhood, so we decided to put a twist to the traditional castle and crowns," says Louise Sanders of Sunshine Parties [87]. "We added a fresh take on a princess party by combining it with a vintage look." With florals, polka dots, stripes, frills, and lots of sweets, this shabby-chic birthday party [88] is fit for even the pickiest princess, and best of all, it's supereasy to re-create. "It was important to us that anyone could replicate this party," Louise says of the printable party collection [89]. "You just need to give yourself a little time to cut out labels and other elements as well as to make the pom-poms and paper fans. Otherwise, it's a piece of cake!"
Source: Sunshine Parties [90]
A Groovy Vintage Barbie Camping Party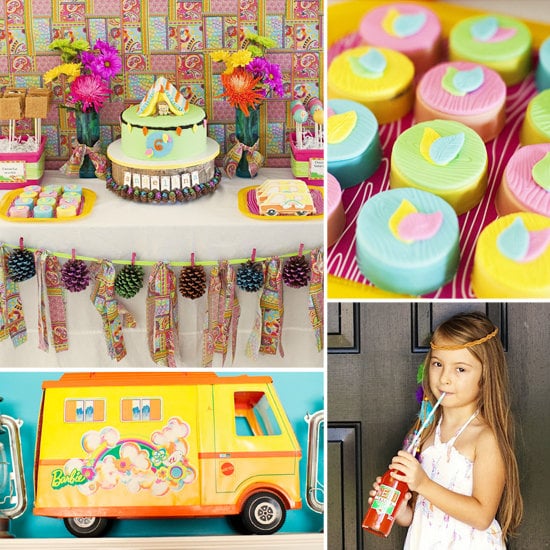 Maria of Love & Sugar Kisses [91] loves throwing a creative party, so when her daughter decided she wanted a Barbie-camping-themed birthday bash [92], she didn't go the typical pink route. "I decided to put a fun spin on the theme and went with a '70s vintage vibe. It all started with this great find, a 1971 Barbie Country Camper!" Maria says. Add in some far-out sweets and happening games, and you've got one groovy Barbie party.
Source: Love & Sugar Kisses [93]
A Puppy-Themed Party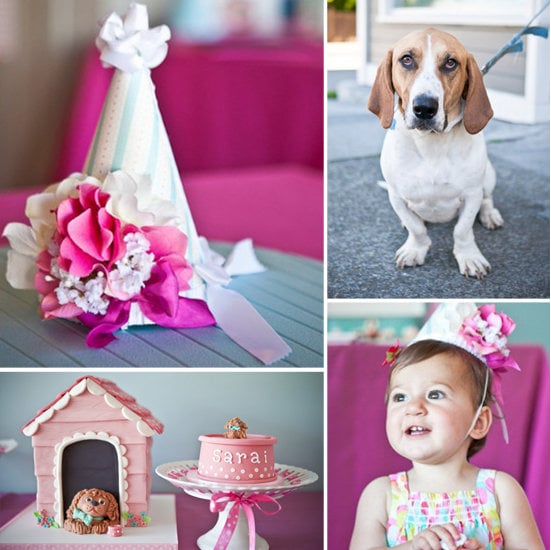 Bowwow, indeed! You don't have to have a pet dog at home to love them — but it certainly helps for the pictures! This puppy-themed birthday party [94] proves that puppy power is here to stay!
Source: Allyson Wiley for A Little Savvy Event [95]
A Pretty in Pink and Gold First Birthday Party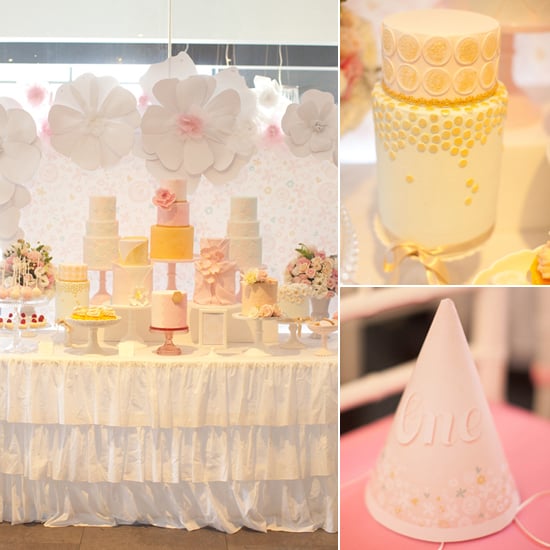 Sometimes "pretty" is enough of a birthday party theme, as proven by this gorgeous flower-and-cake-filled birthday party thrown by Leanne Ambrogio of Australian event company Sweet Style [96] for 1-year-old Mariette. "The color palette was soft pinks and blues with a hint of gold, which always look so elegant together," Leanne says. But the stars of this show (beyond the birthday girl, of course) were the nine — yes, nine! — gorgeous birthday cakes, all uniquely decorated with beautiful blooms. Click here [97] to find your favorite and check out all the other lovely details at this oh so sweet soiree.
Source: Sweet Style [98]
A Hello Kitty Party
Fans of Hello Kitty can't get enough of the sweet lil feline, and this Hello Kitty-themed party [99] that Tori Spelling [100] threw her daughter Stella has just the right amount of sweetness.
Source: Tori Spelling [101]
A Wizard of Oz Party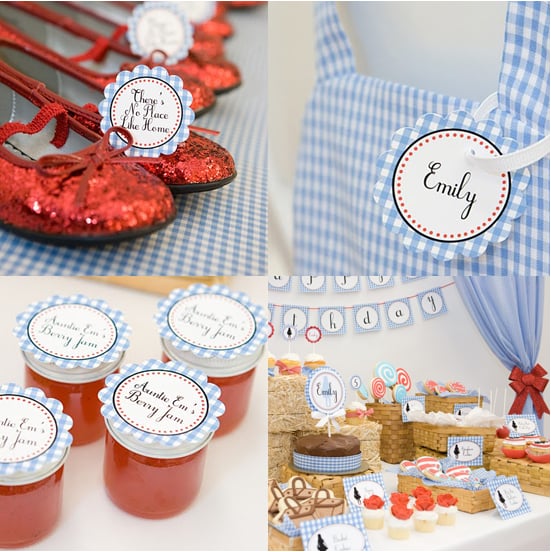 A trip to Oz and back was the inspiration for this beautiful Wizard of Oz [102] party. Each guest arrived to receive a pair of glittered ruby slippers, a handmade gingham apron, and plenty of treats (including a basket and yellow brick road cookies and poppy cupcakes). Throughout the party, the girls made their way from the farm, through Oz, and back home through a series of games and activities!


Source: Kate Landers Events [103]
An Alice in Wonderland Birthday Party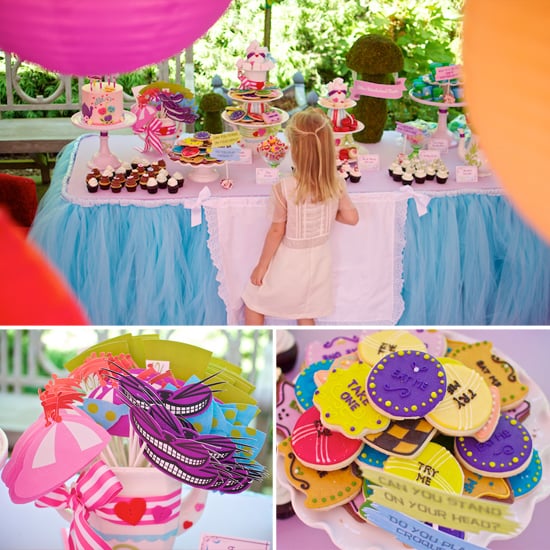 Fall down the rabbit hole and into this
Alice in Wonderland birthday party [104]! With Lewis Carroll's classic tale as your guide, a magical afternoon tea party in Wonderland will delight for your girl's next birthday celebration.
Source: Sweets Indeed [105]
A Sweet Girlie Birthday Bash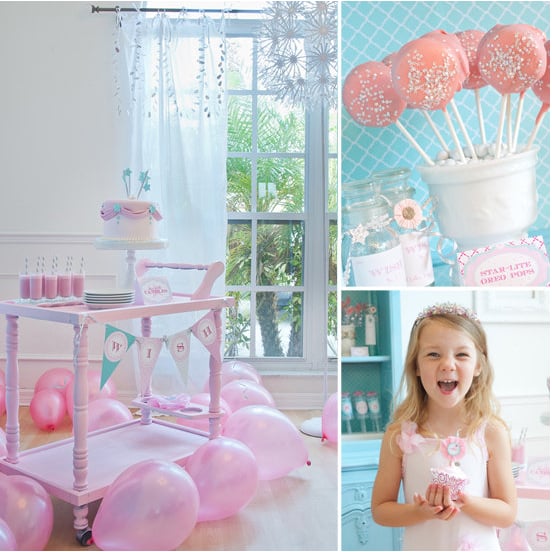 Birthdays seem magical when you're little, and for the lucky lil lady who celebrated her fifth birthday with this whimsical, sweets-filled bash [106], they probably always will.
Source: John McLaughlin for Frog Prince Paperie [107]
A Snow White Birthday Party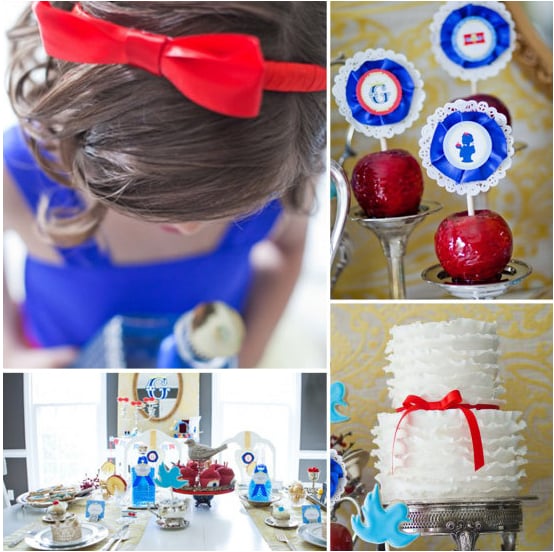 With "poisonous" candy apples, fairy-tale bluebird cookies, candy-gem-embellished cupcakes, a white ruffle cake, and make-your-own bejeweled mirrors, this royal Snow White birthday affair [108] is fairy-tale perfection.


Source: Becca Bond for Anders Ruff [109]
A Pretty Pony Party With Shabby-Chic Details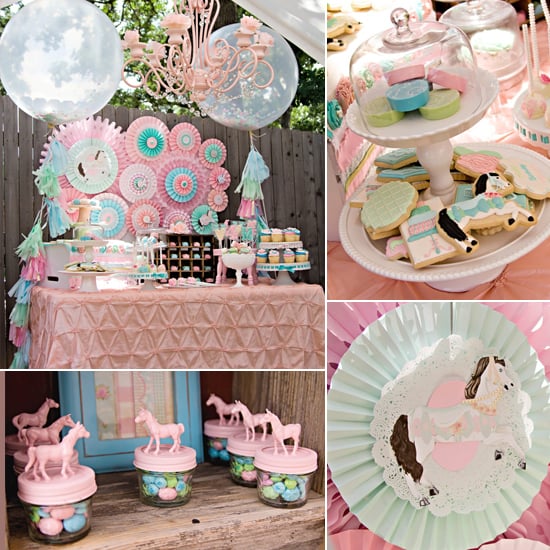 How do you turn a pony party into a girlie affair? Add lots of pink, lace, and satin — and voilà! "With so many pony parties [110] out there, I wanted to create something different," says Miranda Konieczny of Whimsically Detailed [111], who created the party to celebrate her daughter Mykayla's fourth birthday. "I wanted 'shabby chic' with lace, burlap, and satin in pink and turquoise. I knew that I wanted straw all over the floor with crates, mixed with all the pretty shabby decor." Add in pinwheels, a pink chandelier, lots of lovely pastel desserts, and some real ponies who stopped by to take the kid guests for a ride, and you have one pretty pony party! Click here [112] for all the details.
Source: Whimsically Detailed [113]
A Baking Party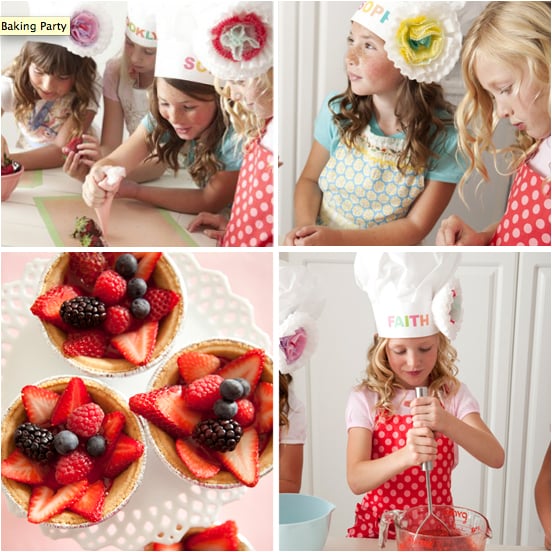 Guests at this adorable baking party [114] were put right to work after donning their custom chef's hats and aprons. Working their way through seven pastry stations, the guests made old-school treats, like strawberry tarts and chocolate-dipped strawberries.


Source: One Charming Party [115]
A Glitter-Filled, Silver-and-Peach Birthday Party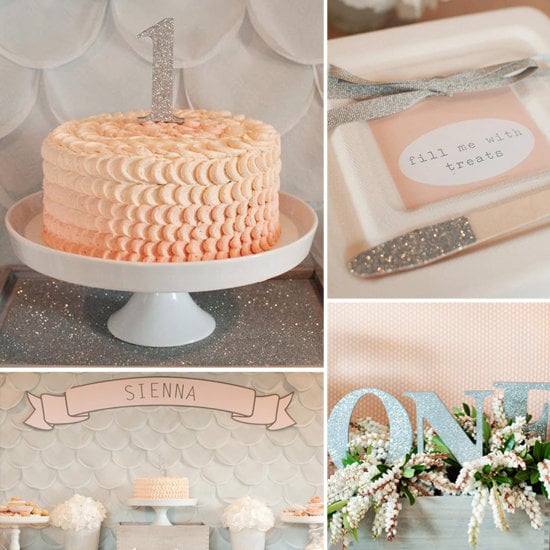 Melanie Holt of New Zealand-based event design company All the Frills [116] designs gorgeous, whimsical events for grown-ups, so it's no surprise her kids parties are equally lovely and elegant. That sophistication — combined with a heavy dose of sparkle — had us falling head over heels for the adorable peach-and-silver party Melanie planned for her 1-year-old daughter, Sienna. Click here [117] to see all the beyond-beautiful details, including the amazing DIY [118] scalloped backdrop.
Source: All the Frills [119]
A Cute Cowgirl Party in the City
When we featured this cowgirl party [120] last year, we thought about investing in some hats, boots, and rope and moving to a ranch, but after spotting this horse-wrangling shindig thrown by New York event planner Keren Precel [121], we've decided that cowgirls can live in big cities just as happily! Thrown at event, cooking, and catering space Freshmade NYC [122], this party is a little country, a little city, and all about the birthday girl's love of horses. In shades of bubblegum pink, blue, and red, Adelle's party proves that cowgirls (even ones that live in Manhattan!) know how to have fun! Click here [123] for all the details.
Source: Keren Precel Events [124]
A Floral Party
This flower-filled birthday party [125] is full of beautiful details like fabric rosettes, hints of burlap, and two beautiful food stations — one for brunch, one for desserts!
Source: Courtney Vickers for Party & Pigtails [126]
A Woodland-Fairy-Themed Birthday Party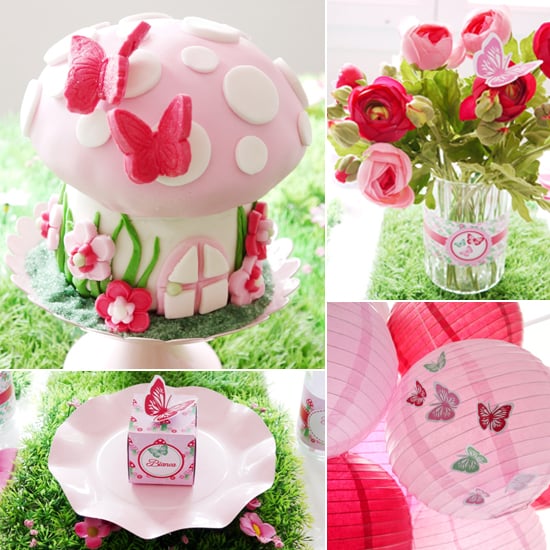 "Usually it takes me a good four months to plan a party from scratch (mostly because I'm a control freak who loves to DIY [127]), but for this fairy-tale birthday party, I wanted to incorporate simple decor ideas and create a magical ambience that anyone can pull together quickly and without much fuss," says Bird, a mom of two, a graphic designer, and the founder of party site Bird's Party [128]. Using her Pink Fairy party printables [129] — full of summery pinks, greens, and butterflies — a cool crafts table, and an amazing toadstool birthday cake, Bird created a whimsical party with decor that feels like an indoor garden. And true to her mission, it's super easy to re-create! Click here [130] for all the details.
Source: Bird's Party [131]
A Sweet Barnyard Birthday Party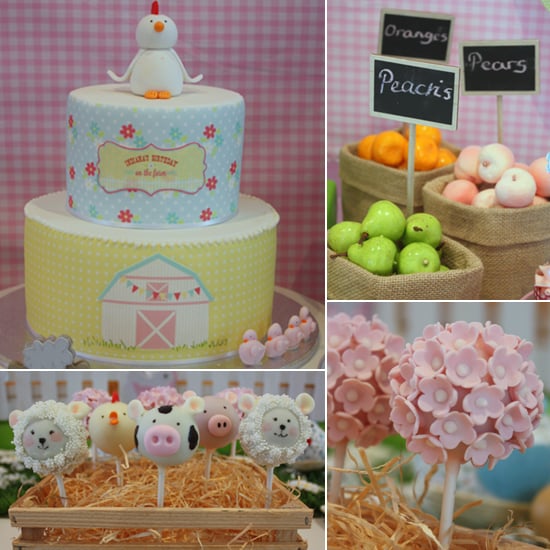 Kate Brown and Yolanda Cerra, the creative minds behind Aussie event company Kiss Me Kate [132], never cease to amaze us with their gorgeous parties, and this barnyard-inspired birthday bash for 2-year-old Indiana is no exception.
"Our client Megan approached us to design a dessert table," Yolanda says. "The brief was simple: a farmyard theme with a girlie bent. We achieved this look by incorporating sweet cottage flower prints and a pastel color palette throughout. The party was scheduled in the first week of Spring, so we drew inspiration from flowers, fabrics, and of course, assorted farm animals." Click here [133] to head down to the farm!
Source: Kiss Me Kate [134]
A Girlie Elmo Birthday Party
Finding a tot who doesn't love Elmo is like finding a needle in a haystack, and this girlie Elmo soiree [135] takes the Sesame Street party to a whole other level!
Source: Hostess With the Mostess [136]
A Blabla-Inspired Party
Blabla's adorable stuffed animals and dolls are among our favorite-ever kid finds [137], so we were instantly enamored when we discovered the Blabla-themed birthday bash thrown for 1-year-old Margot. Margot's mom, Lauren Overton, enlisted the help of her good friend Lucinda Newby [138], a photographer, to plan the pastel-popping party, dotted with Blabla dolls wearing birthday hats! We love the idea of taking a simple, already-on-hand inspiration point and running with it, and we bet you'll agree after you check out [139] this party's cute details.
Source: Portraits by Lucinda [140]
A Carousel and Chalkboard Tribute Party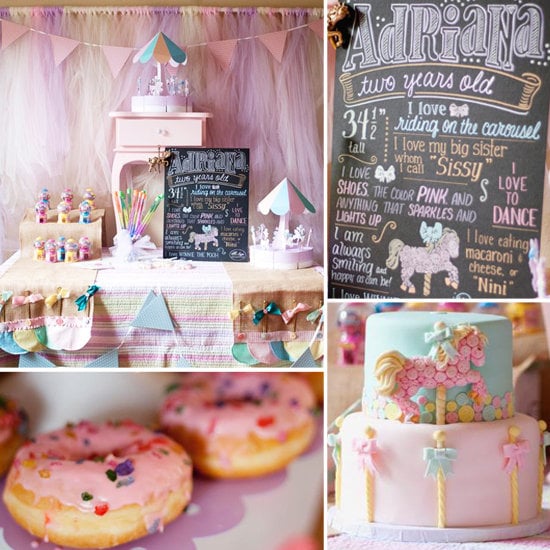 Suzanne Olvey of Fanciful Events sent us this jaw-dropper: a pastel carousel-inspired party [141] she dreamed up for her youngest daughter, Adriana. The amount of detail in this event is almost overwhelming, with gorgeous backdrops and table coverings, the sweetest desserts, and tons of thoughtful carousel-themed extras, but it's the custom-created birthday girl chalkboard [142] from Etsy's Moulage Collection that really put us over the edge.
Source: Fanciful Events [143]
A Royal Cinderella Birthday Party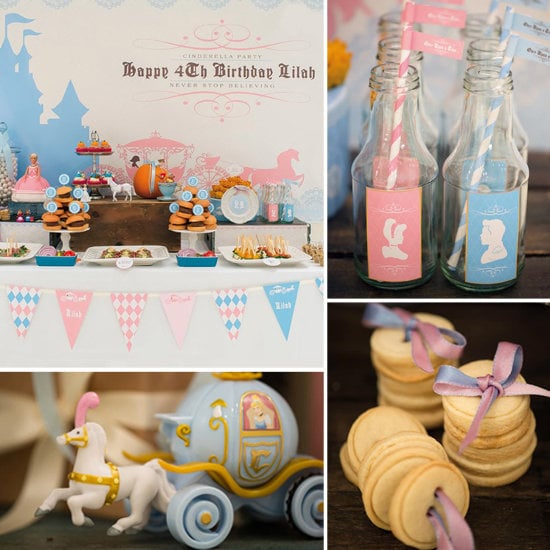 Event planner Keren Precel's [144] Cinderella-themed party [145], thrown for 4-year-old Lilah, goes beyond the typical Disney-purchased fare. "We wanted to create a Cinderella theme with our own designed elements, rather than using the obvious store-bought items," Keren says. "We started off by creating a one-of-a-kind, custom-made logo for the party: a pink princess carriage decorated with blue lace." Graphic elements, combined with a doll-topped cake, lots of little characters from the movie, a fairy godmother wishing tree, and some awesome frilly paper products make this one party Lilah will never forget!
Source: Keren Precel Events [146]
A Minnie Mouse Party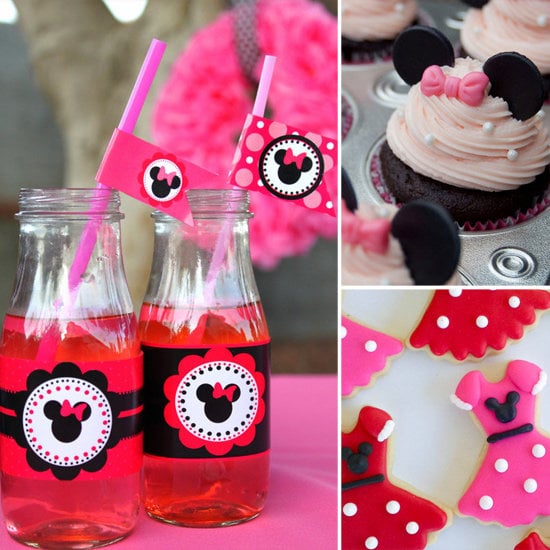 If mama's little girl is turning a year older and all she wants is a Minnie Mouse-themed birthday bash [147], then that's exactly what she'll get — and we've got some great party-planning ideas to get you started!
An Eloise-Inspired Hotel Birthday Bonanza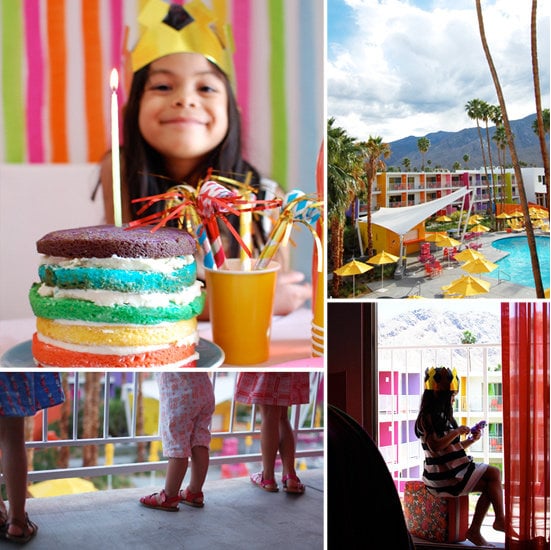 Fans of the rebellious lil Eloise don't have to travel to The Plaza to indulge their lil ones. This Eloise-inspired party [148] took place at a local hotel in the birthday girl's town with just a handful of friends.
Source: Cakies [149]
A Girlie Camping-Themed Birthday Party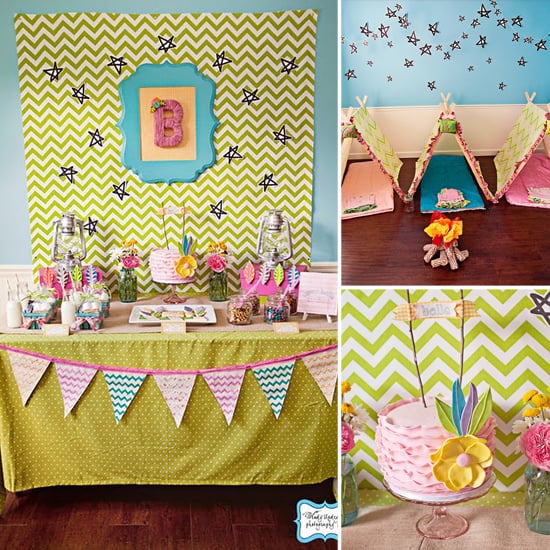 If your girlie girl has a romantic notion of camping, you don't want to miss this stylish girlie camping-themed birthday party [150]. It's the camping party little girls' dreams are made of!
Source: Wendy Updegraff Photography [151]
A Cute Doc McStuffins Party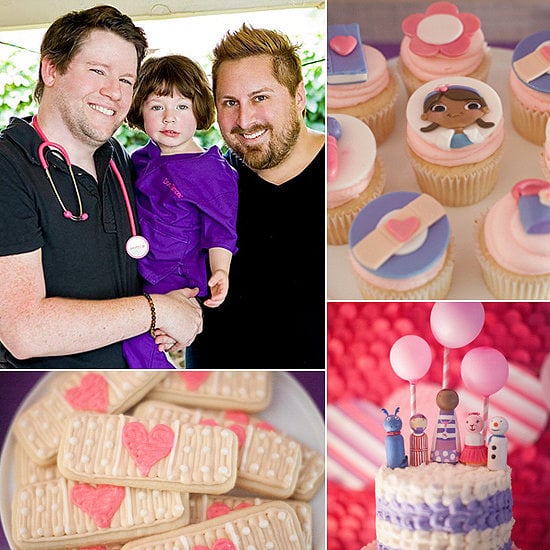 Just because you're basing a party on a cartoon character, that doesn't mean it has to look like you stepped into a Disney animation studio. Jenny Keller, the baker and event designer behind Seattle-based Jenny Cookies [152], proves that time and time again.
So when Bill Horn and Scout Masterson, aka the Guncles, started working with Jenny to plan their daughter Simone's birthday party around her favorite animated character, Jenny knew they could do it in a sophisticated way. "For [Simone's] third birthday, Bill and Scout chose a Doc Simone party theme based around Disney's hit show Doc McStuffins," Jenny said. "I'm normally not a huge fan of licensed character parties, but I knew we could pull this one off without too much of the cheesy character look. Doc and her gang are actually pretty adorable characters."
With a make-your-own-ID-tag crafting station and a fill-your-own candy prescription counter, not to mention a menu packed with items inspired by the show's characters, you have to see all of the sweet details Jenny, Bill, and Scout worked into this beautiful party! Click here [153] to check them all out.
Source: Jenny Cookies [154]
A Supergirlie First Birthday Party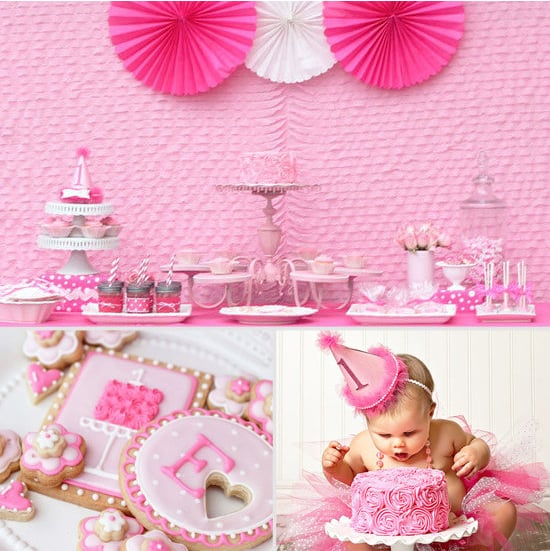 This beautiful birthday party is as girlie as it gets [155], with a sweet dessert table, the prettiest rose-covered cake, and one seriously adorable birthday girl.
Source: I Heart Nap Time [156]
A Rainbow Birthday Party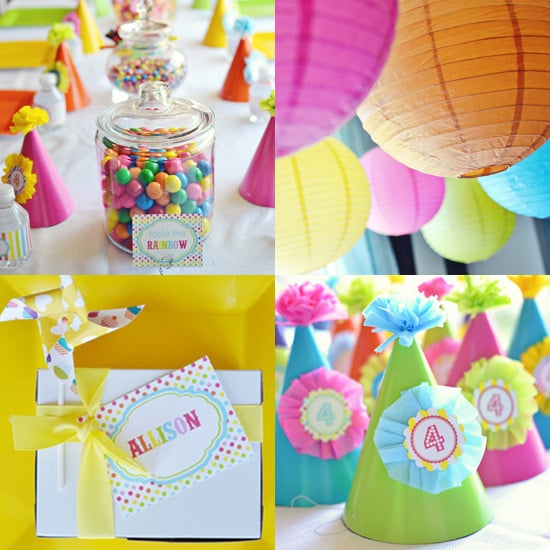 Perfect for a girl or a boy, a rainbow birthday party [157] is easy to plan and execute! Colorful decorative items — like paper lanterns and polka-dot pinwheels — and one-of-a-kind party hats make this party extra cheerful.
Source: Belva June [158]
Butterfly Garden Birthday Party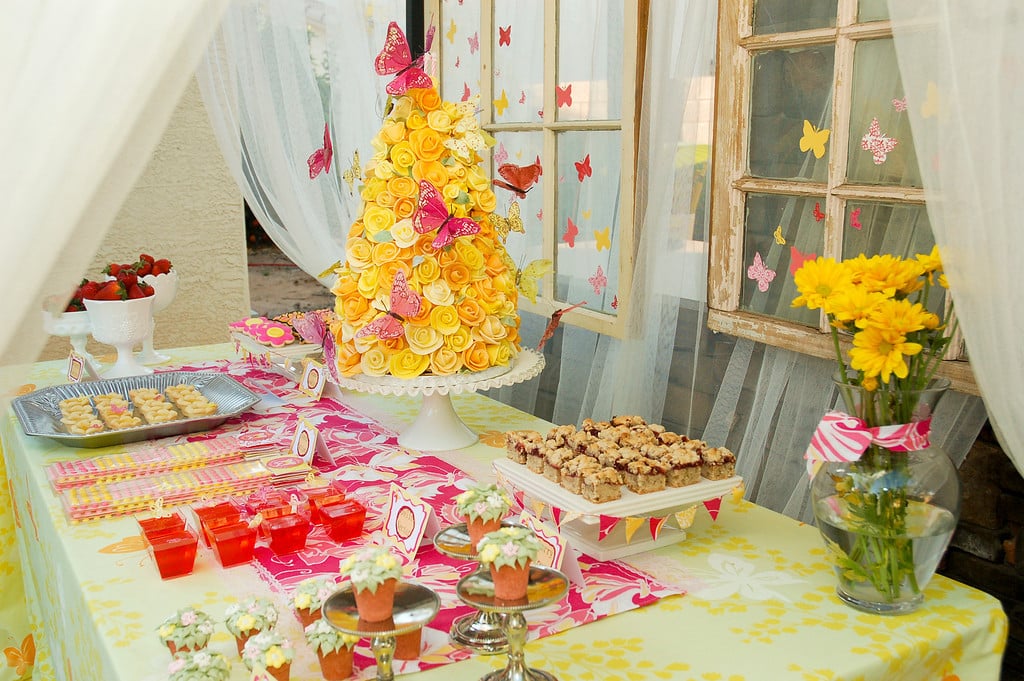 A little girl is never too young to host a garden party! This butterfly garden birthday party [159] featured a whimsical dessert table tent and lots of special handmade details for a second birthday celebration.
Source: Frog Prince Paperie [160]
Pink Princess Birthday Party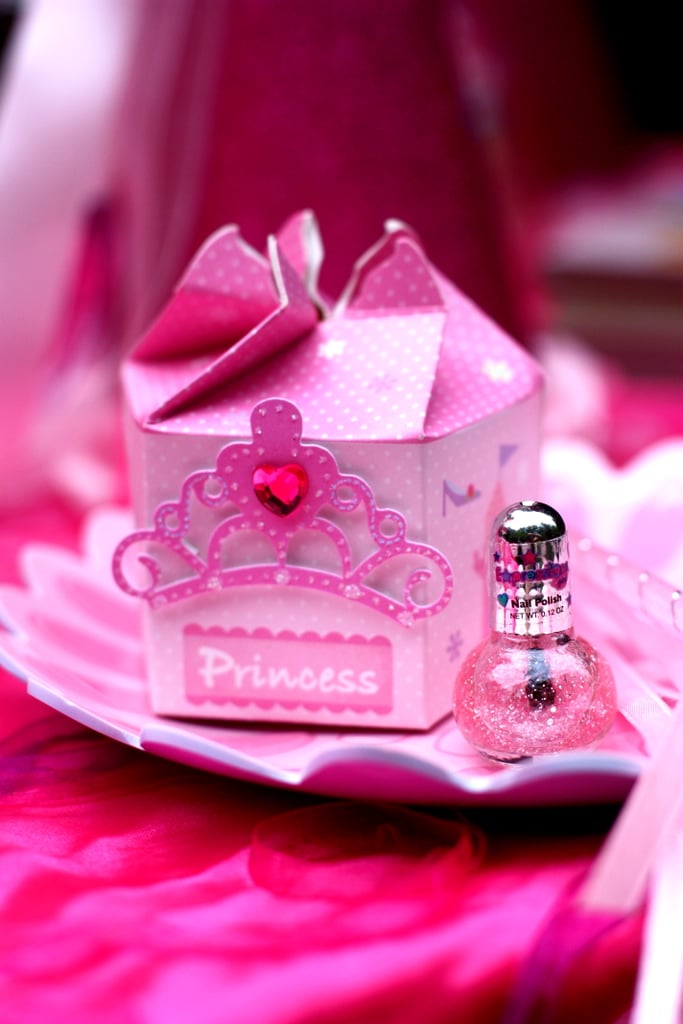 All little girls are princesses! If your little royal still hasn't decided on a theme for her upcoming birthday, a pink princess party [161] might be just what she wants. Dazzling details and sweet treats make this girlie birthday bash an affair to remember!
Source: Phronsie + Courtney for Pizzazzerie [162]
A Very Hungry Caterpillar Birthday Party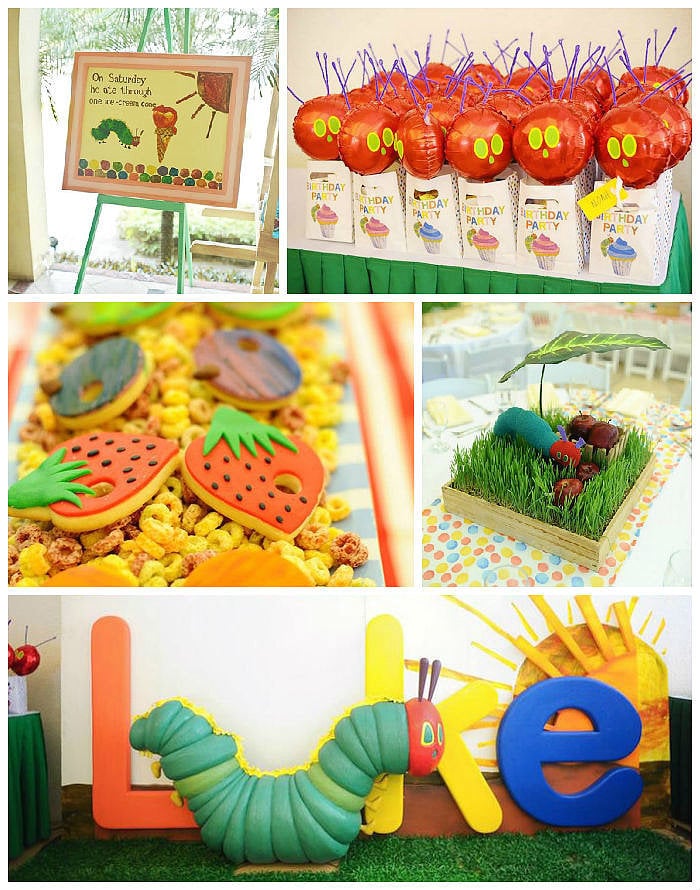 If you love the tale of The Very Hungry Caterpillar, then you will most definitely enjoy this Very Hungry Caterpillar party [163]! From the darling caterpillar cupcake cake to the fun caterpillar crawling through the grass table centerpieces, this party is so darling and is full of ideas that you could use!
Charlotte's Web Themed Birthday Party
Charlotte's Web is a classic story that's read to just about every girl and boy in school and at home. Your daughter would love a Charlotte's Web themed party [164]. centered around sweet treats and colorful decor.
Ice-Cream Birthday Party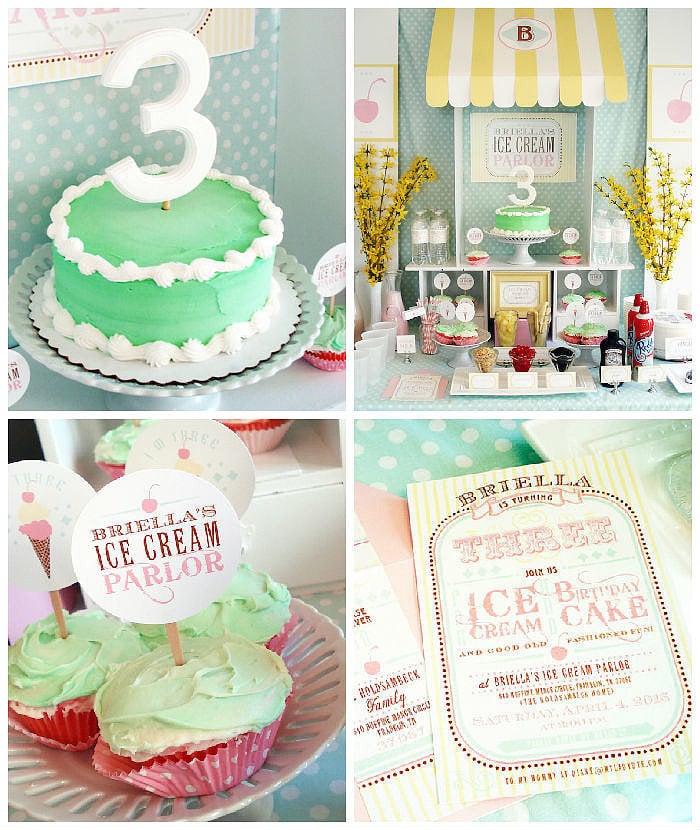 Oh my goodness, we are positively swooning over this ice cream parlor birthday bash [165]! The printables/stationery in it are just darling and we love the simple mint cake and matching cupcakes! This party is too cute and is sure to inspire many ideas!
Chanel Inspired Birthday Party
Scout Masterson and Bill Horn — the "guncles" to best friend Tori Spelling [166]'s kids — threw their daughter, Simone, a chic fifth birthday party [167] that she is sure to never forget! The black, white, and pink bash took place at the family's home in Los Angeles and was planned around the theme "Simone No. 5" (based on Chanel No. 5 — um, cute!), which included creating custom perfume, wearing beautiful fresh floral crowns, designing Parisian-themed necklaces, and eating the prettiest cookies and cupcakes from celebrity baker (and co-party planner with Scout!) Jenny Keller.
Woodland Themed Party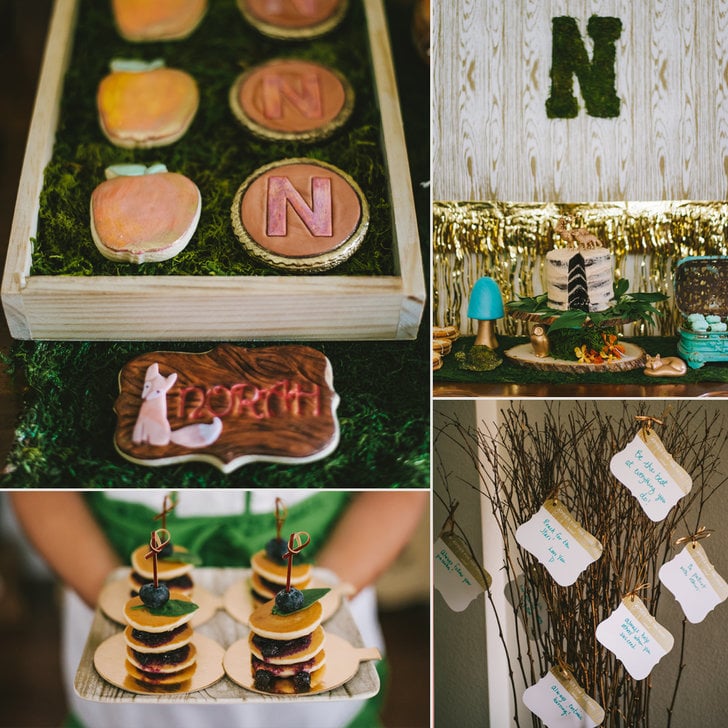 Though this beautiful woodland graduation party [168] was thrown for Norah, a very special elementary-school grad, it can easily work as a whimsical theme for any kids' party. It was originally inspired by the gold-gilded, faux bois (faux wood) invitation, and then all of the other details — fluffy moss, marshmallow toad stools in an antique box, DIY [169] wishing tree, and so much more — came together as a result.
Hot-Air Balloon Party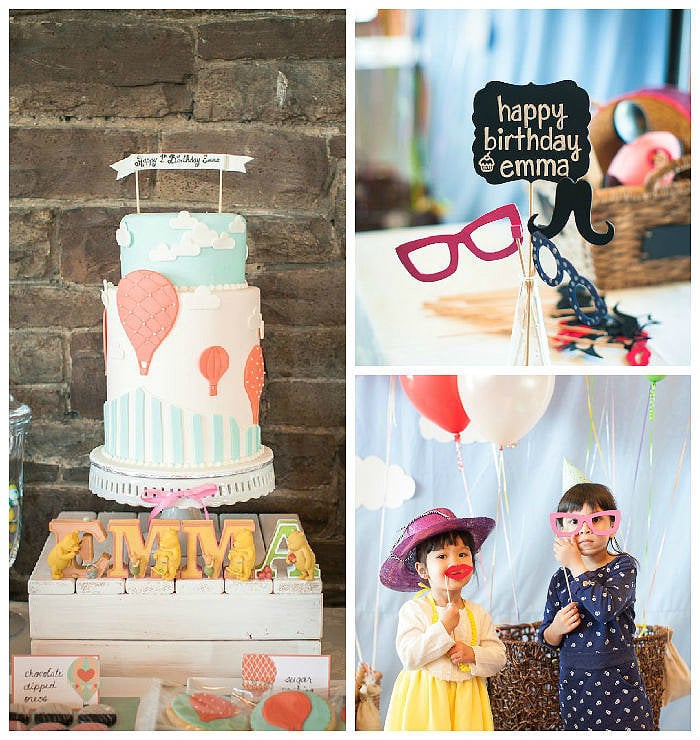 Up, up, and away! This hot air balloon party [170] is just precious! From the darling cake to the the cute stationery, this party is sure to impress!
A Curious George Circus Birthday Party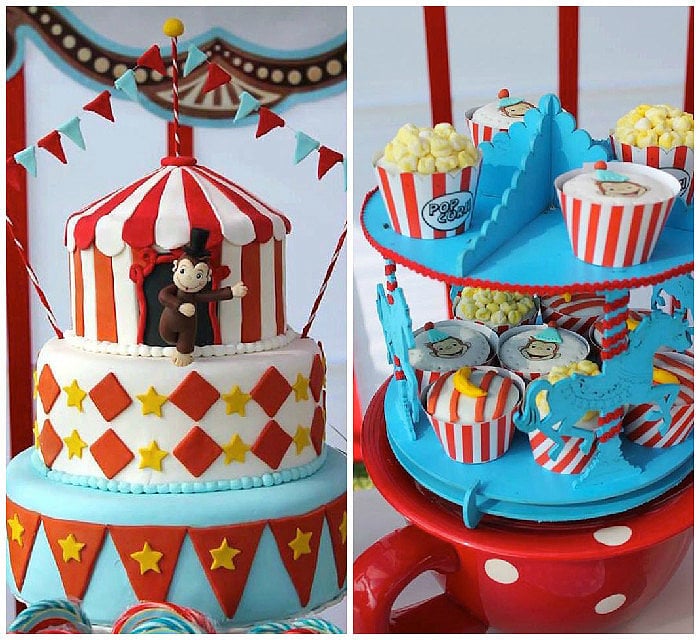 This Curious George circus theme party [171] is so cute! The combination of Curious George and the circus is so fun! The desserts are darling and the circus banners and backdrop really bring the party to life.