The parents of aspiring artists and crafty kids are always on the lookout for fun projects to keep their lil ones entertained, and if the output is something that they can proudly display, then that's even better! Here at LilSugar, we featured tons of arts and crafts projects throughout the course of the year — some were holiday-centric, some seasonal, and others were good for any old day. Here, check out our 12 favorite kids crafts of 2012 — what better way to keep your brood busy over Winter break?!
For Beating the Postvacation Blues: Memory Jars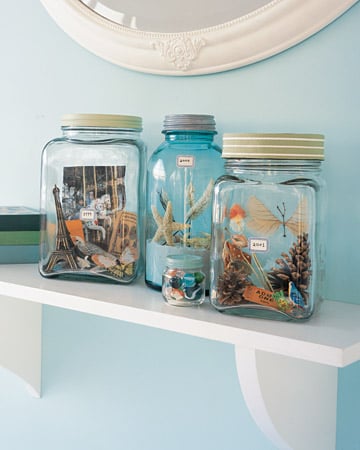 Nobody likes to say goodbye to their vacation, but there's an easy way to extend the joy of the trip. Whether created on a rainy day during the trip or once you're home, these vacation memory jars [1] help lil ones retain their favorite artifacts from their time away from home. Best of all, they can easily be transported to school for the obligatory "what did you do on Summer vacation or Winter break?" discussion.
Check out more fun boredom-busting kids crafts from our friends at Martha Stewart [2]!
Photo by Annie Schlechter. Courtesy of Martha Stewart Living [3]
For Easter: A Rainbow of Surprises
This Easter craft [4]takes a little extra time and effort, but your kids will adore cracking these eggs, which reveal hidden surprises!
Click here [5] for more Easter egg-centric crafts and activities.
For Christmas: Flapper Trees
Brittany Watson Jepsen of the blog The House That Lars Built created these sweet flapper trees [6] using papier-mâché cones, cool mint crepe-paper streamers, and adorable little toppers.
Looking for more Christmas tree craft inspiration [7]? We've got four other fun crafts that you can make with paper.
For Winter (and a Great Cause): Three Unique Flakes
Have you heard about the National PTA and Connecticut PTSA's initiative to have snowflakes from around the country sent to Sandy Hook Elementary School [8]? Kids and adults alike are encouraged to make the most creative snowflakes they can and send them to Newtown, CT, to be used in decorating the kids' new school. A great activity for even the youngest tots over their Winter break (you don't even have to explain why they are being sent there if your tots are too young to understand), snowflake creations can be sent to: Connecticut PTSA, 60 Connolly Parkway, Building 12, Suite 103, Hamden, CT 06514
These pretty flakes came from blogger Hayley at Life Is Sweet [9]. She shares folding techniques for creating three different snowflake designs — the results look much more intricate than they actually are!
Source: Life Is Sweet [10]
For Hanukkah: Bead Blocks
For a fun kid-friendly Hanukkah craft, consider using square beads to create a menorah.
Glue together nine square wood beads [11], holes up.
Top the center bead with a second bead for the shamash.
Hold the blocks together with a rubber band until the glue dries.
Cover the top half of the beads with masking tape. Paint the bottom halves [12]. Remove the tape and insert candles [13].
For more DIY menorah ideas [14], check out our suggestions from Jodi Levine of Martha Stewart Living.
For Any Time of Year: A Washi Tape Village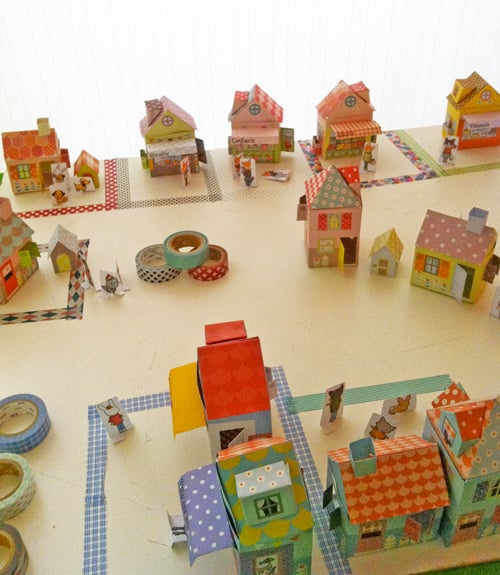 This adorable little village of paper-and-washi-tape houses is inspired by a book titled Mon Village by Delphine Doreau [15]. The beauty of the project is that kids can keep adding to the town as they acquire new tape.
Can't get enough of the washi-tape craze? We've got eight more kid-friendly washi-tape crafts [16]!
Source: Tambouille [17]
For Thanksgiving: Paper-Bag Turkey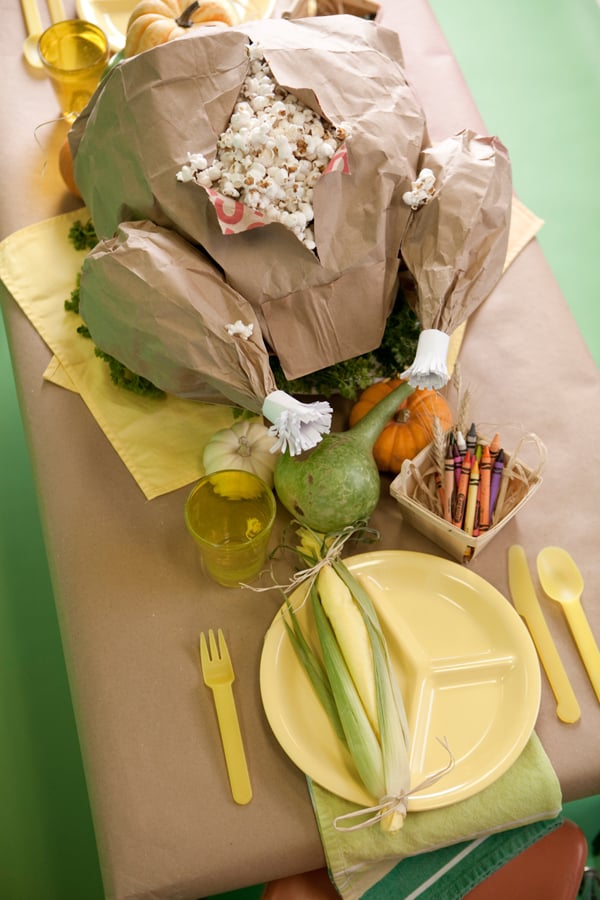 One Charming Party's paper-bag turkey [18] would make the perfect kids table centerpiece, with predinner snacks included!
Click here for more Thanksgiving craft ideas [19] that you can make with paper!
Source: One Charming Party [20]
For Fall: Salt Dough Leaf Prints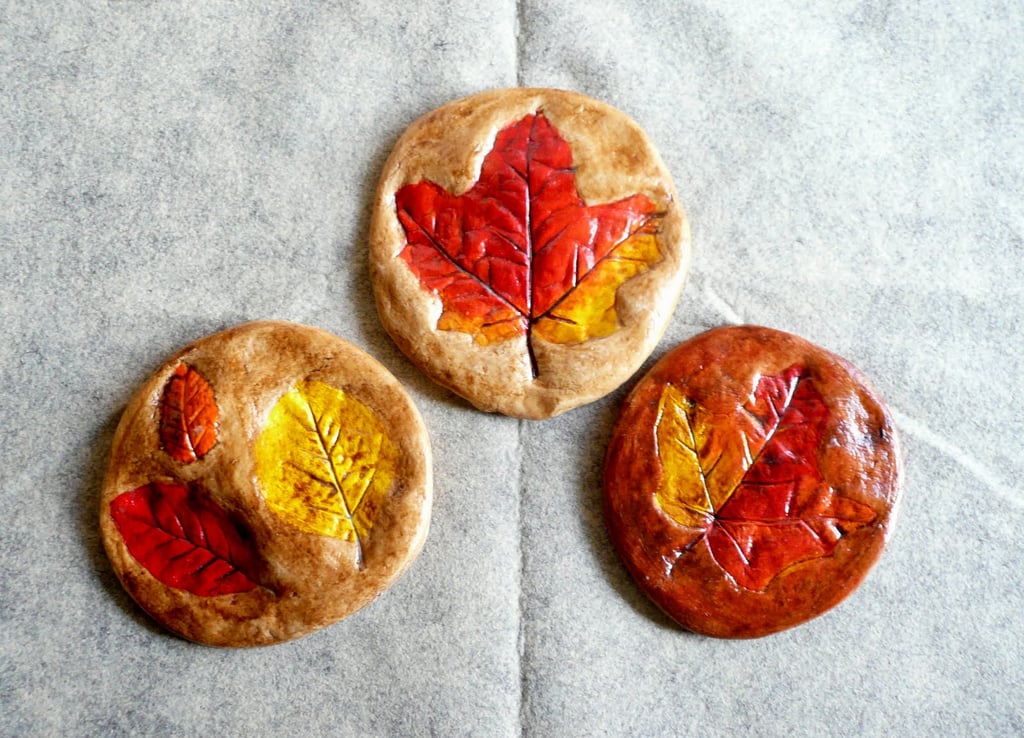 Kids love squishing and exploring with play dough [21], and this homemade salt dough is even cooler because you can let it dry and then paint it. Follow the simple directions for making these beautiful Fall leaf salt dough prints [22] that make lovely paperweights or table decorations.
Check out 19 other fun ideas for Fall Arts and Crafts [23] here!
Source: That Artist Woman [24]
For a Baby Shower: Panda on a Chopper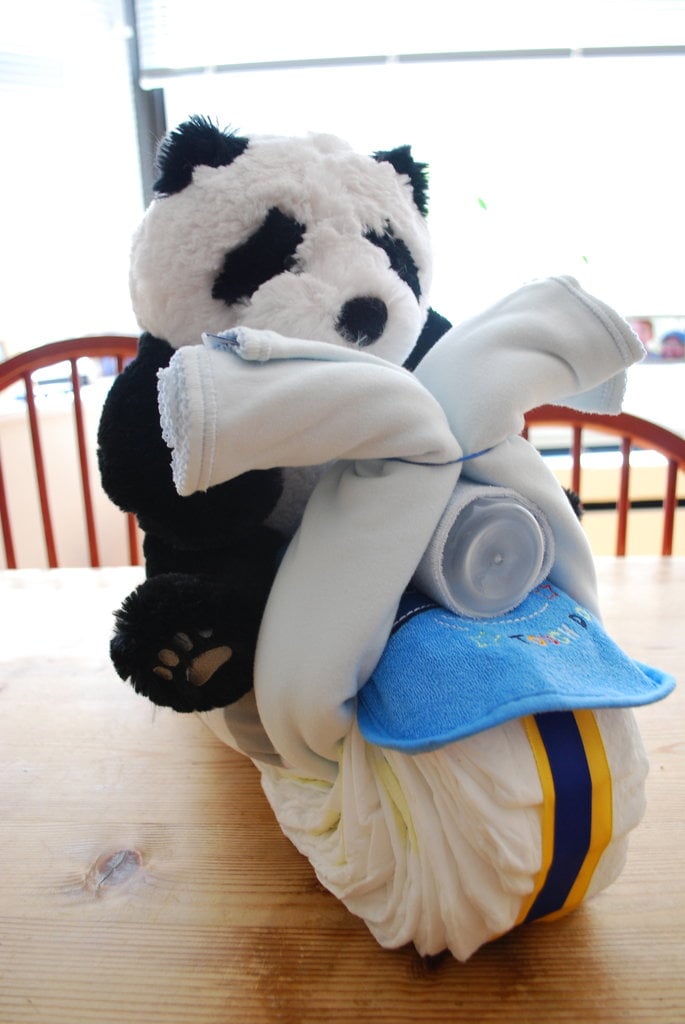 This motorcycle diaper cake [25] may look complex, but trust us, we made it ourselves, and it is easier than it looks. Just follow our step-by-step instructions!
We've got 15 more DIY diaper cakes [26] that you can make on our own or with your kids!
For Any Day Upcycling: Hanging Baby-Food Jar Vases
Baby-food jars are the perfect size to display small flowers, like pansies, and this tutorial [27] shows how easy it is to convert the jars into minivases.
Wondering what to do with all of those leftover baby-food jars [28]? We've got 20 great ideas!
Source: Good Housekeeping [29]
For July 4: Confetti Popper Rockets
Little ones will love these popper rockets [30] — they pack a serious "pow!"
For more July 4 crafts and projects [31], click here!
Source: Brenda Ponnay/Alphamom [32]
For Valentine's Day: Tic-Tac-Toe Heart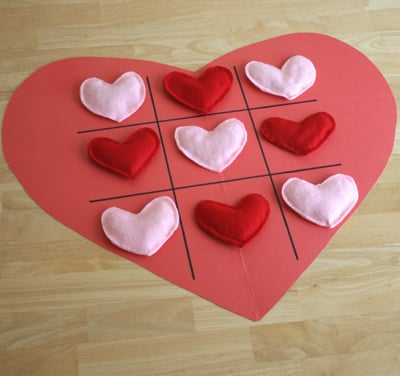 A large-scale Valentine version of the classic tic-tac-toe game is a fun way to pass the time — and it's supereasy to make!
For more Valentine craft inspiration [33], visit here.
Source: Alpha Mom [34]