Coming up with a creative answer to "Mom, what's for dinner (or lunch, or breakfast)?" day after day is one of motherhood's ongoing challenges. Accommodating discerning little taste buds, keeping things interesting, and working with food allergies are just a few of the daily requirements that could give even Supermom a run for her money.
We're always looking to bring you delicious, nutritious recipes that the whole family can enjoy together. Whether they come from our favorite food bloggers, celebrity chefs, or our very own kitchens, here are 50 of our very favorite recipes for keeping little tummies happy — morning, noon, and night!
Tangy Sloppy Joes
With only a few ingredients, these sloppy joes from Budget Gourmet Mom [1] are on the table and ready for noshing after a day of cooking slow and low, thanks to your Crock-Pot. And leftovers do double duty as lunch the next day.
Source: Budget Gourmet Mom [2]
Simply Super Salmon Teriyaki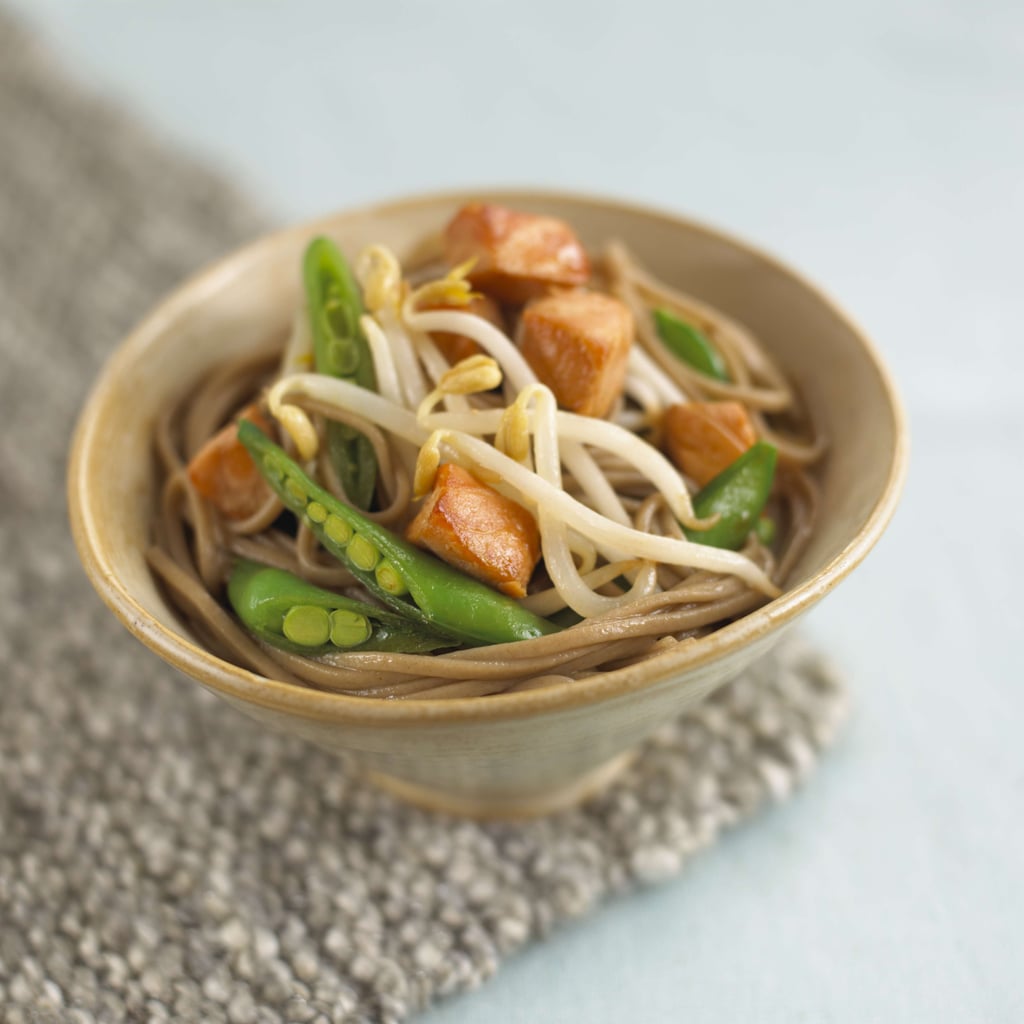 We can't stress the benefits of omega-3 fatty acids enough. The healthy fats — found in oily fish like salmon, trout, tuna, and mackerel — optimize messaging between nerve cells in the brain, keeping the brain functioning properly. Getting kids to eat the nutrient-rich foods isn't a fight when it is well seasoned. Annabel Karmel says, "My children and I all love Japanese food, and it is well worth investing in bottles of sake and mirin (sweet Japanese cooking wine), as you will want to make this salmon teriyaki [3] over and over again!"
Red, White, and Blue Strawberries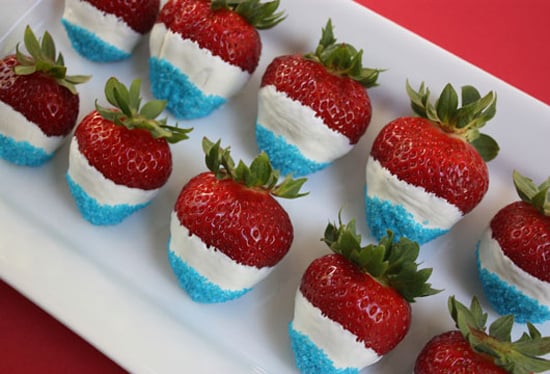 Strawberries [4] get a sweet holiday makeover with white candy melts and blue sugar.
Source: A Farm Girl Dabbles [5]
Green Morning Smoothie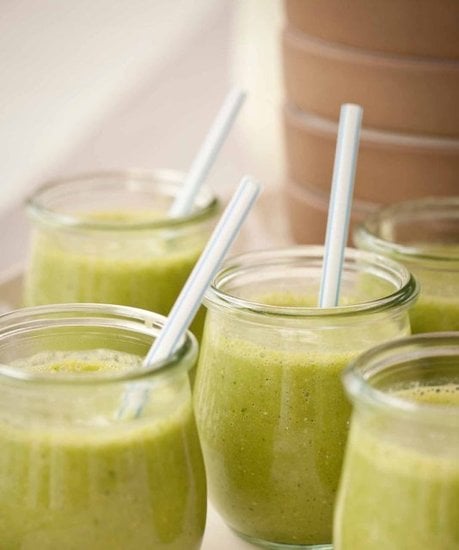 Start the day with a fun smoothie the whole family will love — even though it's green! From Melissa d'Arabian, this morning smoothie [6] is perfect for busy families who want a quick and healthy breakfast.
Photo copyright 2012 Ben Fin
Mango Orange Yogurt Popsicles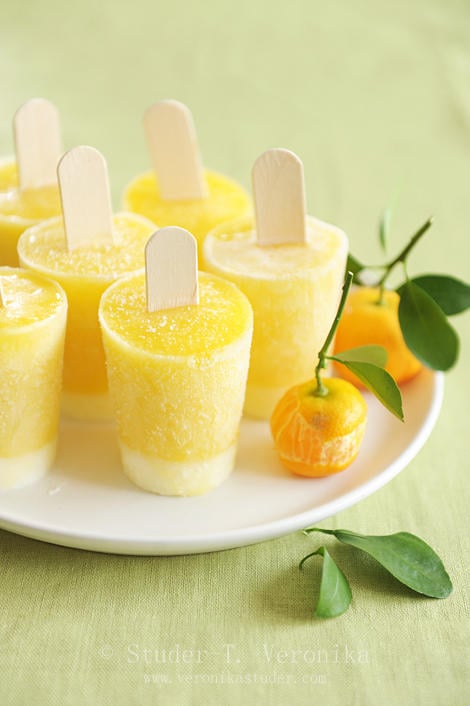 These Mango Orange Yogurt Popsicles [7] are an exotic take on the traditional Creamsicle.
Source: Studer T. Veronika for 6 Bittersweets [8]
Strawberry-Banana Popsicles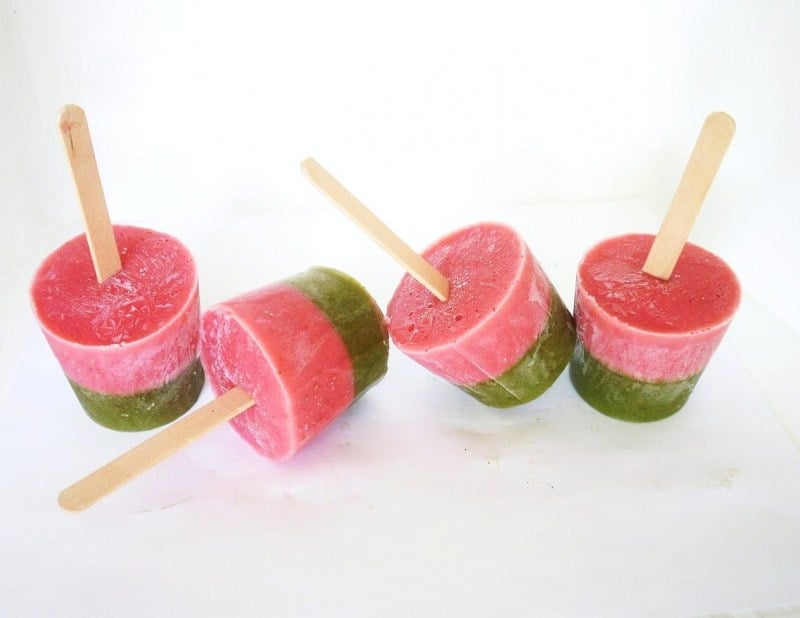 Wondering what's with the green layer? These Strawberry-Banana Popsicles [9] include a secret ingredient — spinach!
Source: Lost Garden [10]
Chicken With Pepperoni Marinara Sauce
This dish is guaranteed to be a crowd-pleaser. From Sweet Treats & More, this recipe [11] takes all the things your kids love — cheese, pepperoni, crispy chicken — and bakes them up in one dish in less than 30 minutes.
Source: Sweet Treats & More [12]
Rosemary Chicken Under a "Brick"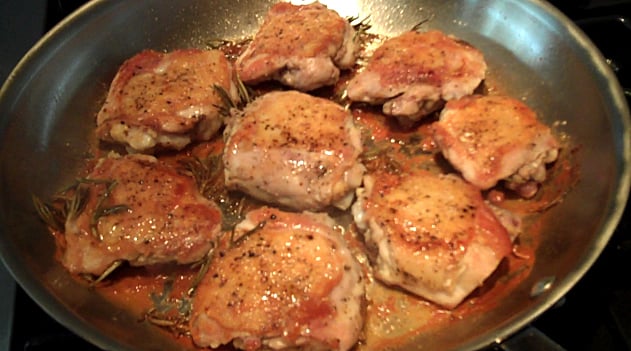 Skip the chicken nuggets and serve up some old-fashioned chicken thighs for dinner. Jessica Seinfeld says this rosemary chicken under a "brick" [13] is an all-time family favorite because it is "crispy on the outside, tender and juicy on the inside." We bet the kids will fall in love with the flavorful dish — Jessica says it's a mainstay in the Seinfeld household — and Mom and Dad will love that the whole dish only takes 25 minutes!
Source: Do It Delicious [14]
Flag Cake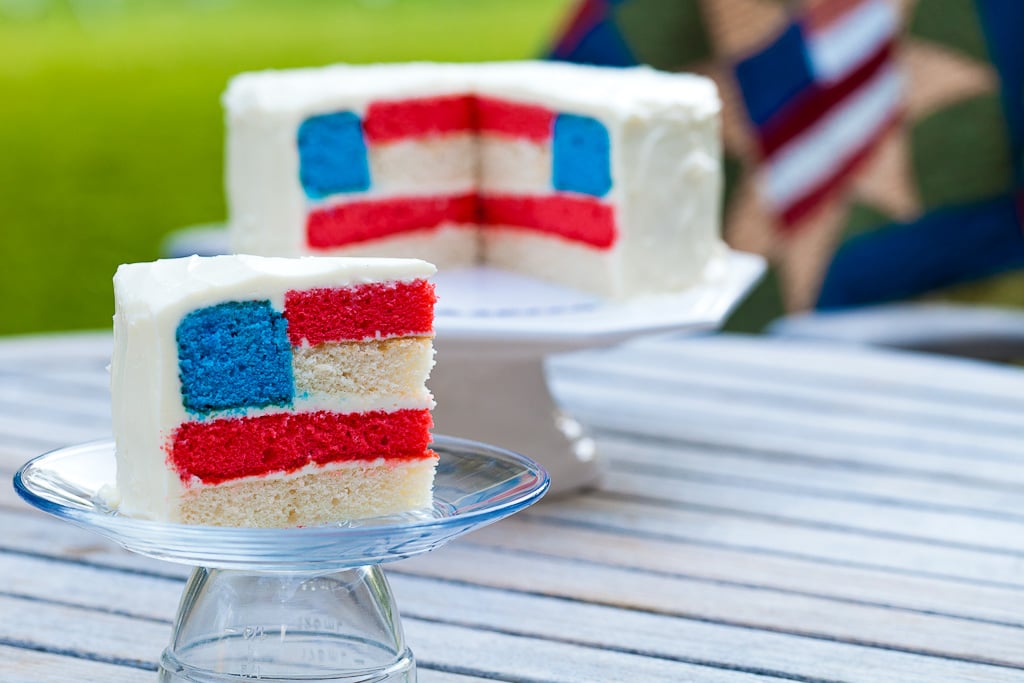 Create your own red, white, and blue flag cake by following these instructions [15].
Source: Secrets of a Chef's Wife [16]
Grilled Cheese Panzanella Salad
Toss things up with this grilled cheese salad [17] from Panini Happy that is both healthy and tasty. And your kids can get in the kitchen and help make this easy salad, which is perfect as a light vegetarian dinner or lunch.
Source: Panini Happy [18]
Panfried Chicken With Bell Pepper Ragout
This nice and light recipe from YumSugar [19] is easy to make and includes fresh and flavorful red peppers. Not sure if your kids will like it? Try pureeing the vegetables to create a tasty red sauce for drizzling over the chicken.
Photo: Lauren Hendrickson
Cheesy Chicken Taquitos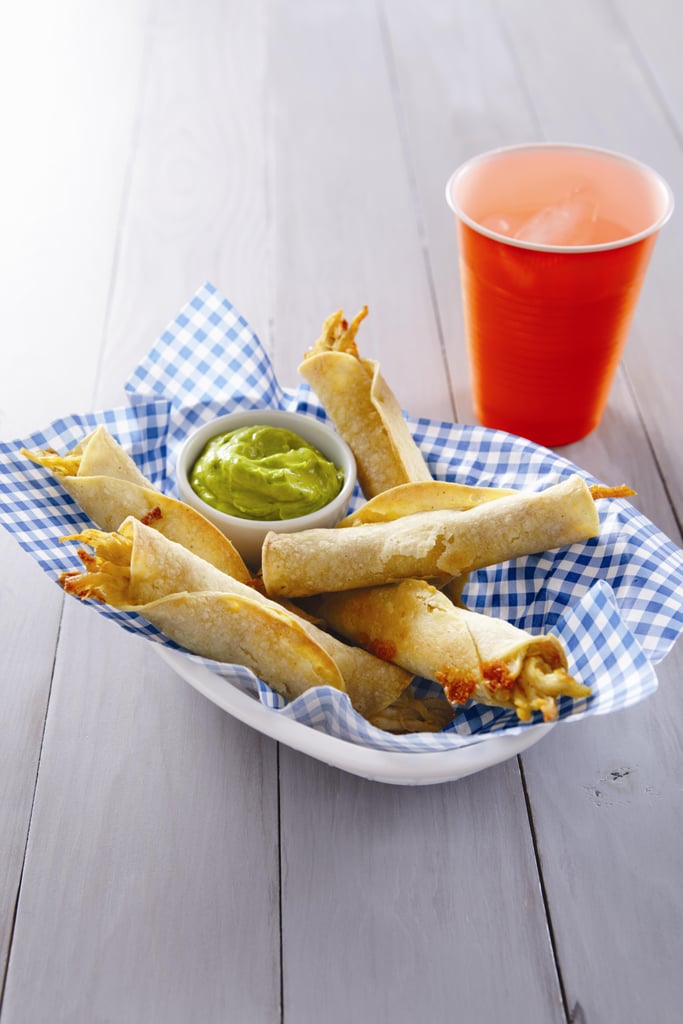 "I love taquitos, but most of the time when you find them, either at a fast food chain or your local Mexican restaurant, they're deep-fried to make them extracrispy and give them that great fried flavor," Weelicious's Catherine McCord says. "They're delicious, but I was intent on making an equally appealing yet healthier version." And that she did. In her Weelicious: One Family. One Meal [20], Catherine shares her cheesy chicken taquito recipe [21], which, when served up with an avocado sauce for dipping, is a healthy (and tasty) alternative to the frozen and restaurant versions.
30-Minute Italian Lemon Chicken Sauté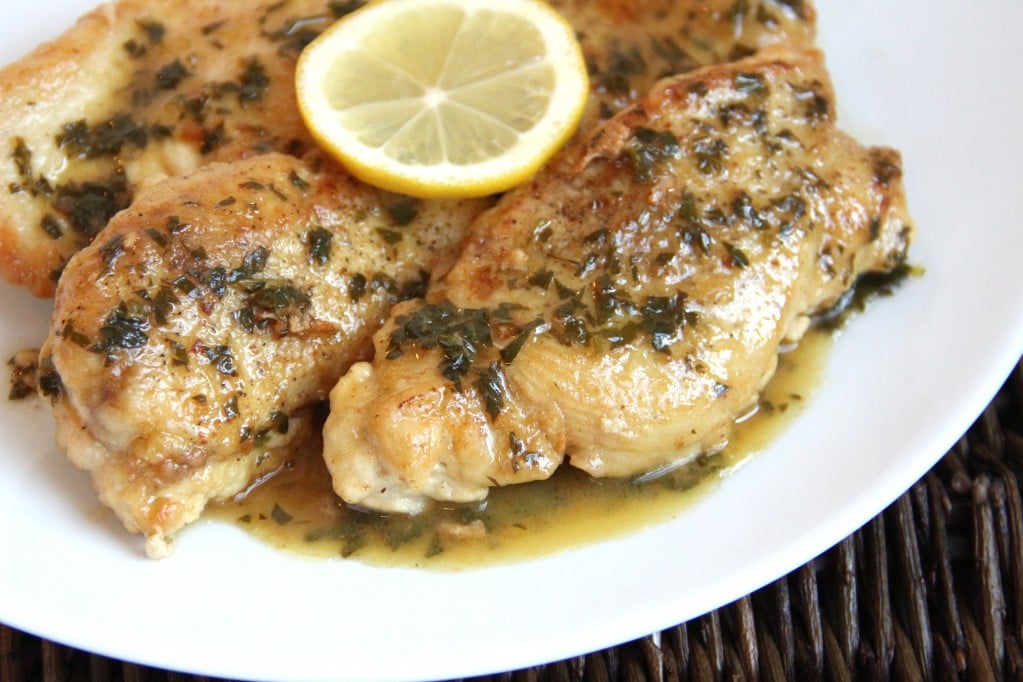 This quick, easy, and light chicken dish [22] from A Year at the Table is wonderfully versatile and can be served with rice or pasta. With lots of bright lemon flavor, this dish is a perfect dinner any time of year.
Source: A Year at the Table [23]
Couscous Salad With Chickpeas, Tomatoes, and Mint
On weeknights, every minute counts, and if Mom and Dad don't need to turn on the stove, that's precious moments saved! Jessica Seinfeld's couscous salad with chickpeas, tomatoes, and mint [24] doesn't require any oven time, as it simply uses hot tap water for making the couscous. Packed with protein and flavor, Jessica says, "it's also perfect the next day for a brown-bag lunch."
Source: Do It Delicious [25]
Breakfast Quesadillas
What kid wouldn't love the idea of Mexican food in the morning? Weelicious's Breakfast Quesadillas [26] require just three basic ingredients and are a great way to spice up the a.m. routine.
Stuffed Butternut Squash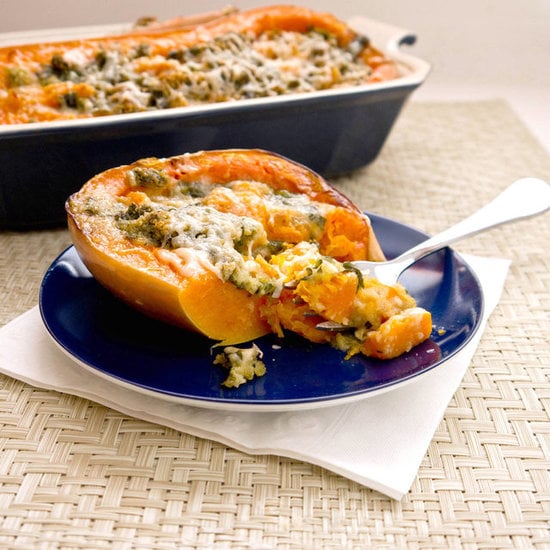 Here's a hearty dish that's stuffed with cheese and vegetables and topped with melty cheese. Stuffed butternut squash [27] is also a healthy and filling main dish.
BBQ Chicken Burgers
Instead of traditional ground beef, try this flavorful recipe for chicken burgers [28] from Eclectic Recipes. These burgers cook best on an indoor grill or a frying pan and are wonderfully tender and flavorful.
Source: Eclectic Recipes [29]
Spicy Citrus Grilled Shrimp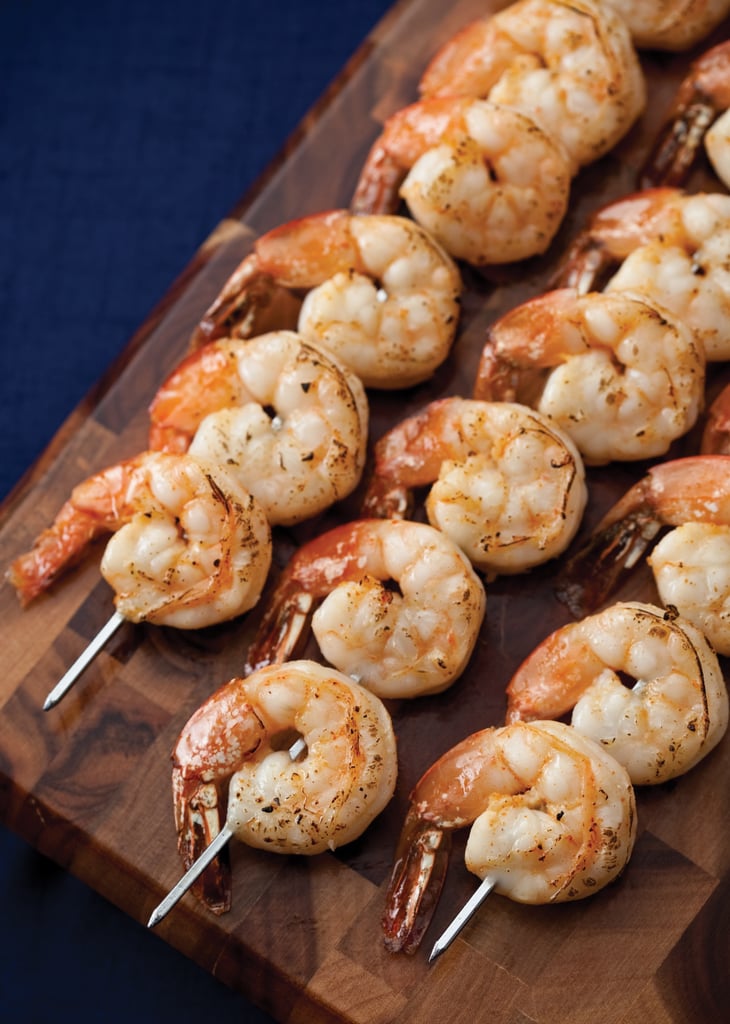 Kelsey Banfield's The Naptime Chef [30] specializes in quick and easy recipes that can be prepared in about as long as it takes a tot to nap. Her spicy citrus grilled shrimp [31] "can easily be prepared at any time during the day and grilled up in no time for dinner."
Dinner: A Love Story Peanut Butter Noodles
Taken from Dinner: A Love Story, these Peanut Butter Noodles [32] are a quick and easy way to get protein into your kids' diets and can easily be supplemented with grilled chicken, tofu, or veggies.
Source: Jennifer Causey
Lemonade Stand Popsicles
A little tart, a little tangy, Lemonade Stand Popsicles [33] take the classic Summer quencher up a notch.
Source: Somewhere Splendid [34]
Buckwheat Waffles
It's hard to believe that these buckwheat waffles are also vegan and gluten-free [35]. Top with bananas, berries, or peanut butter for a satisfying morning meal.
Mummy's Pot Noodles
Ramen noodles are a kiddie favorite because they're quick and tasty, but the prepackaged versions aren't exactly healthy with all of that sodium loaded into their spice packets. Annabel Karmel says, "It only takes a few minutes to make your own [36], and it's fun to serve them in a cup. You can add different vegetables or chicken to make this more hearty. It would also make a good snack after school."
Turkey Sliders With Baked Potato Wedges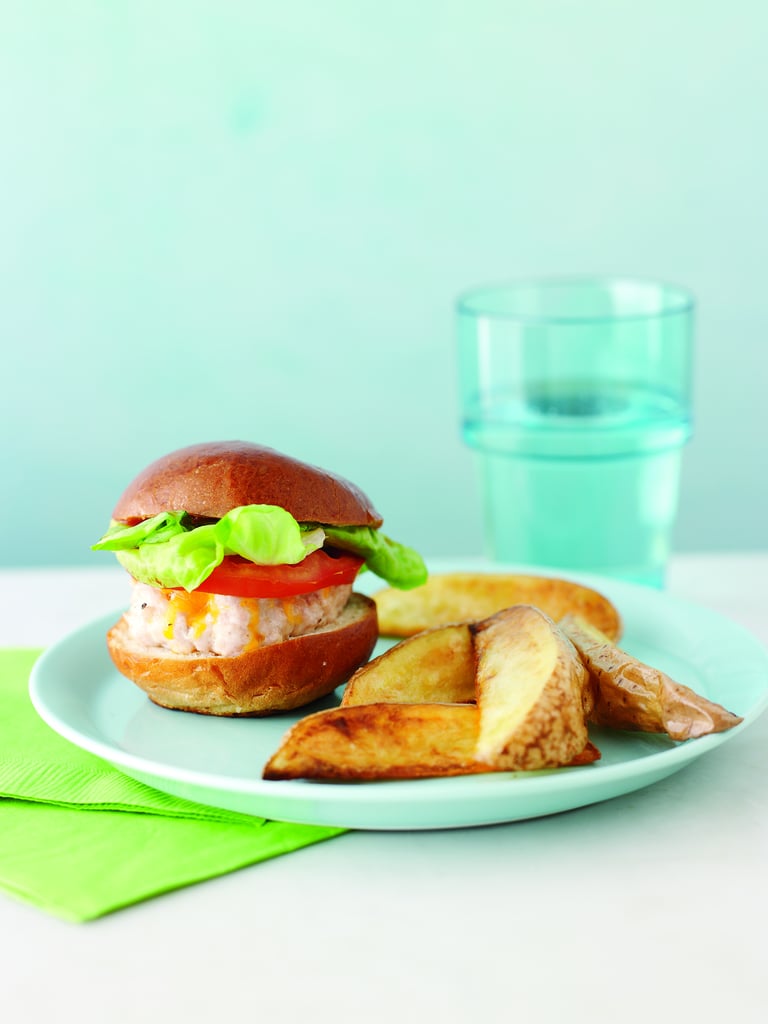 Dinnertime may be a rush, but it's a great time to bring kids into the kitchen. In this month's Everyday Food [37], Sarah Carey shares a recipe that kids can easily lend a hand in making: "Give burgers and 'fries' a healthier, more kid-friendly spin by baking them in the oven (no spattering grease!). Just make sure a grown-up handles the pans."
Source: Everyday Food [38]
Mango-Yogurt Smoothie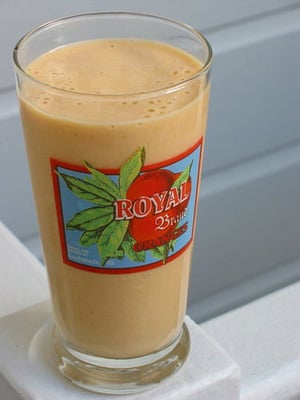 Turn the morning into a tropical treat with a mango smoothie [39] recipe that will have the whole family thinking that they're on vacation. Perfect for on the go or enjoying with a full breakfast.
Photo: Susannah Chen
Mexican Pizza Lasagna
Here's a fun spin on lasagna that offers a bit of Mexican flair. This recipe from Peas and Crayons for Mexican pizza lasagna [40] is seriously easy, which makes it a perfect recipe for inviting your child into the kitchen to help with making dinner.
Source: Peas and Crayons [41]
Stuffed Hatch Chili Burgers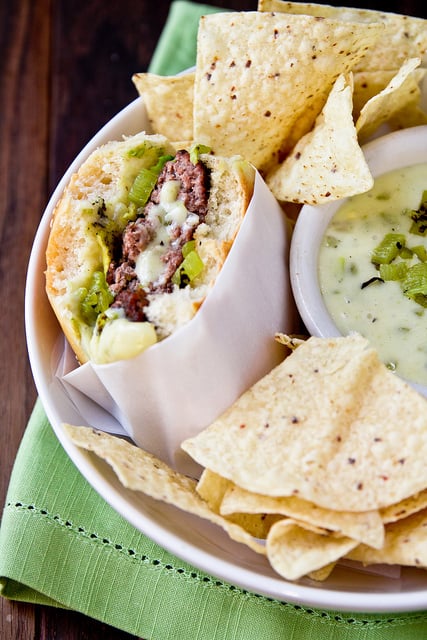 Why not double down on the cheese by stuffing your next burgers? Here's a recipe for stuffed cheeseburgers [42] from Confessions of a Foodie Bride that will have the whole family asking for seconds. If your kids aren't fans of green chilies, then you can swap them for red or green peppers.
Source: Confessions of a Foodie Bride [43]
Easy Chicken Nuggets
Chicken nuggets are a staple in many mamas' arsenals. They're easy, the kids like them, and they don't take much thinking — and that's a good thing, because you probably don't want to know what's in the store-bought version. Weelicious's Catherine McCord's easy chicken nugget recipe [44] only takes 15 minutes to prepare and 15 minutes to cook — and you know all the ingredients. She says she likes to "make a huge batch and keep them in the freezer for future meals, so not only do they save on the expense of boxed nuggets but also the time it takes to go to the grocery to buy them."
Source: Weelicious [45]
Mini Blueberry Lemon Muffins
For a light bite, The Kitchn's mini blueberry lemon muffins [46] are the perfect size to satisfy little bellies.
Source: Faith Hopler/The Kitchn [47]
Pumpkin Dessert (or Breakfast) Squares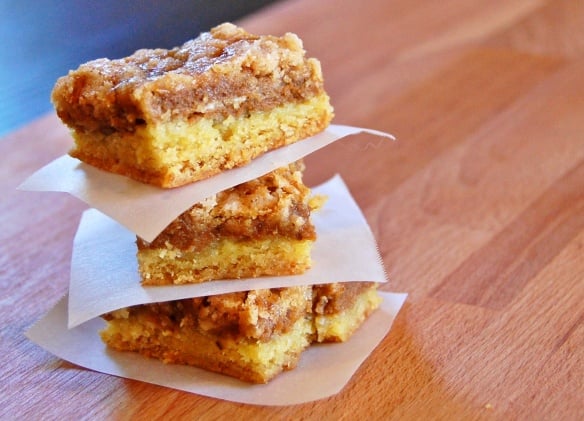 You won't be able to eat only one of these pumpkin dessert squares [48] from Wee Eats. And these treats are seriously easy to make.
Source: Wee Eats [49]
Pork and Mango Stir-Fry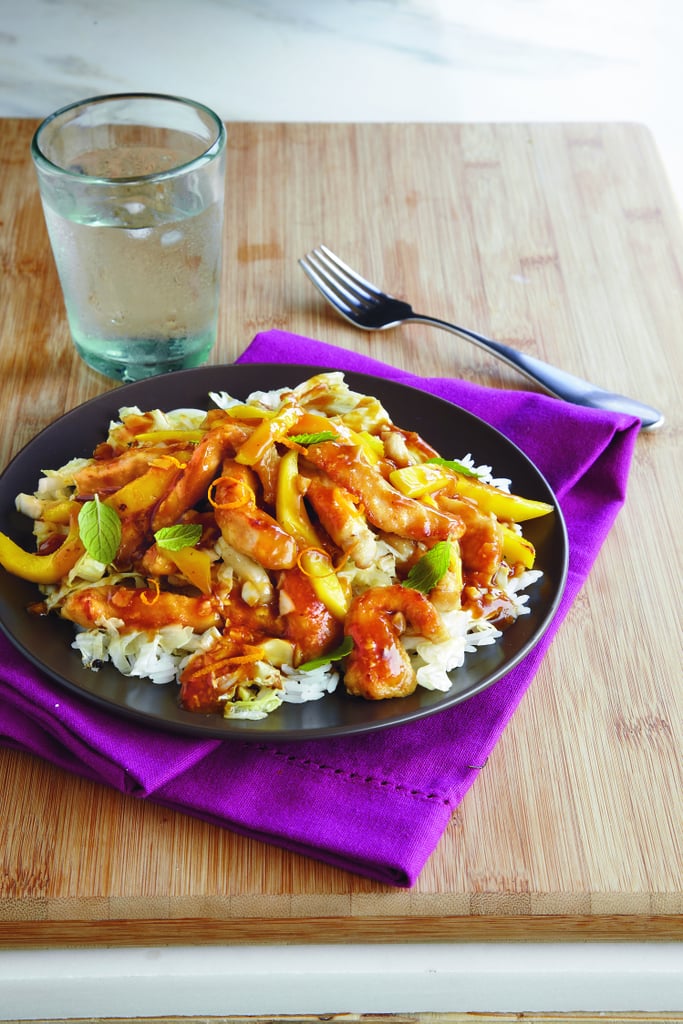 Meals that can be prepped in the morning and then quickly cooked at dinnertime are ideal for families juggling after-school activities. This pork and mango stir-fry [50] from Amanda Haas and Cooking Light — which can also be made with chicken breasts — can be prepped before everyone heads off for work and school in the morning and then cooked in just 10 minutes!
Pumpkin Chocolate Chip Oatmeal Bars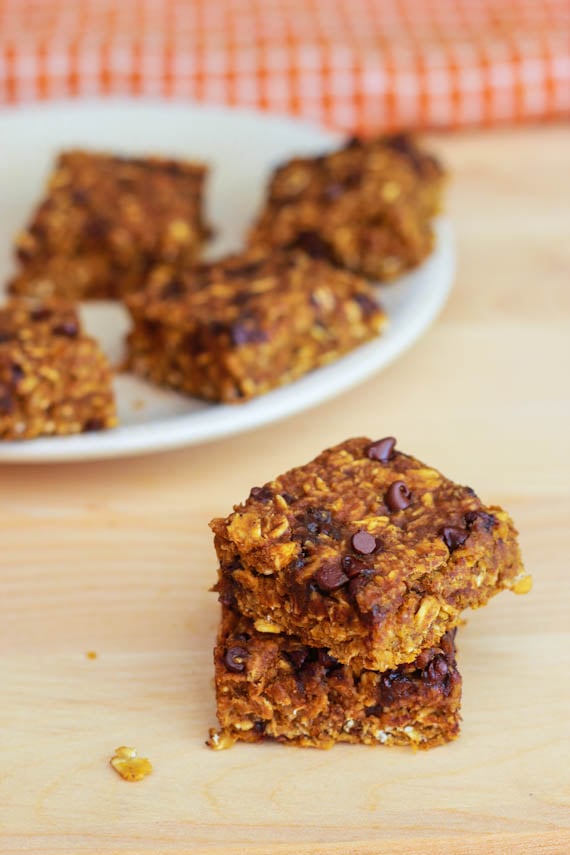 Here's a healthy and Fall-fabulous pumpkin recipe [51] from Sally's Baking Addiction that combines oatmeal and chocolate chips to create flavorful bars.
Source: Sally's Baking Addiction [52]
30-Minute Cheesy Chicken Pasta Bake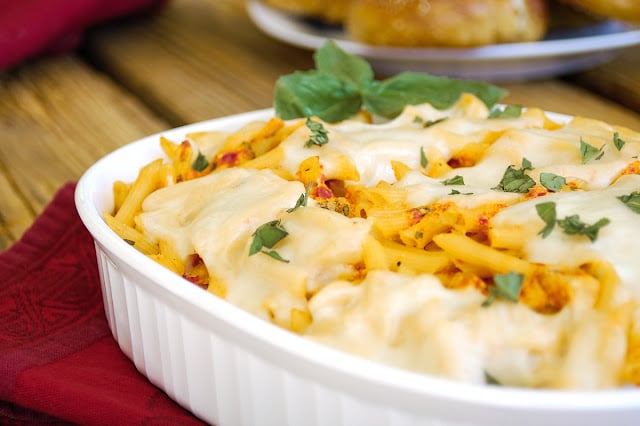 You might think there is no way this bubbling casserole [53] can be ready in 30 minutes, but according to The Slow Roasted Italian, the dish is ready to eat after a short prep and a quick 15-minute bake in the oven.
Source: The Slow Roasted Italian [54]
Corn and Potato Chowder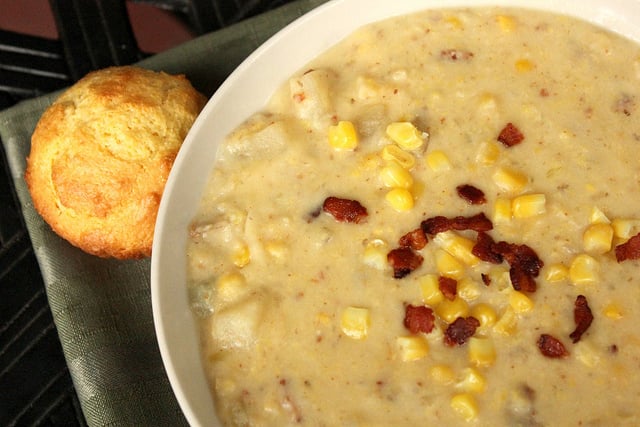 There's nothing more comforting than a thick bowl of potato soup, and this recipe for corn and potato chowder [55] from Mama Loves Food is guaranteed to really hit the spot. Add cooked, shredded chicken for extra protein, or serve with a big salad for a family-friendly Fall dinner.
Source: Mama Loves Food [56]
Teriyaki Chicken and Beef Skewers
Surprisingly simple to make, Teriyaki Chicken and Beef Skewers [57] can be prepared on the broiler or the BBQ. The sauce is also delicious on shrimp, salmon, and tofu!
Chile Colorado Burritos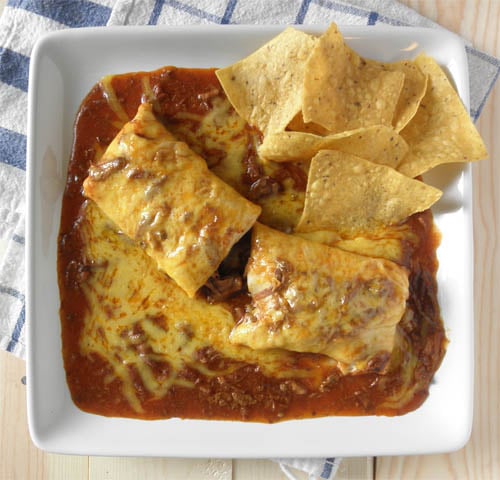 Feeling like Mexican? Here's a recipe for slow-cooker burritos [58] from Food Pusher that will definitely spice up any night of the week. Full of flavor and melty cheese, this recipe is sure to become a family favorite.
Source: Food Pusher [59]
Turkey Pineapple Meatballs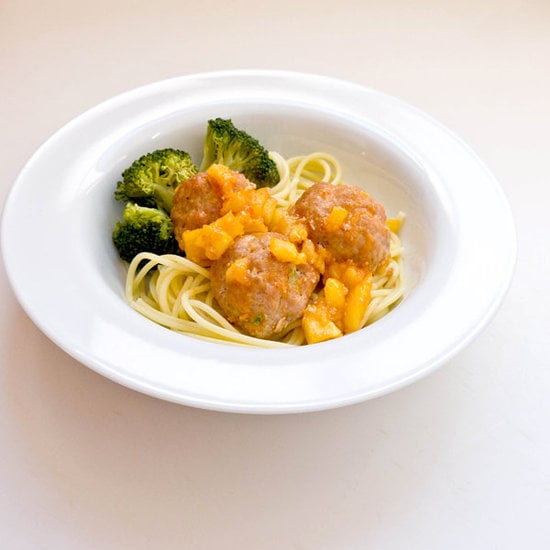 Toss in a different flavor beyond basic marinara with a tangy pineapple sauce. Your family will think they've been transported to a Hawaiian barbecue while enjoying this dish [60]. And the recipe is totally kid-friendly, so get the kids in the kitchen and start cooking!
Photo: Sarah Lipoff
Seitan Tacos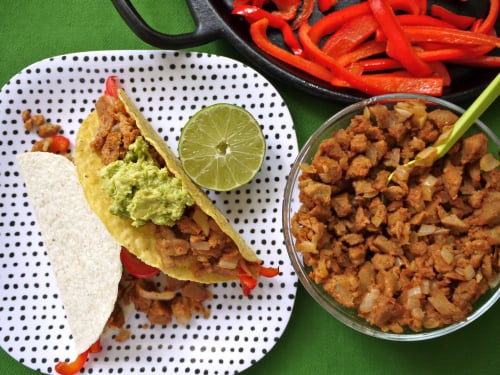 Whether you're part of a vegan family, you go with meatless Monday at home, or you're simply trying to get the kids to eat less meat, seitan is a great option. Made from wheat, it can be sautéed and crumbled up to look just like ground beef. Weelicious's Catherine McCord's seitan taco recipe [61] takes only 25 minutes to make, and "when mixed with spices it's pretty incredible — you may even fool some die-hard meat eaters you know!"
Source: Weelicious [62]
Hearty Roasted Tomato Soup
We know grilled cheese and tomato soup is just about the best food pairing ever, so why not put them together in the same dish? Amy's Cooking Adventures shares a hearty and healthy recipe [63] that will leave your family with empty bowls.
Source: Amy's Cooking Adventures [64]
Green Egg Muffins
These little egg muffins [65] are somewhere between frittatas and quiches, filled with healthy ingredients like kale and herbs, and are even gluten-free.
Source: FitSugar [66]
Chicken Lo Mein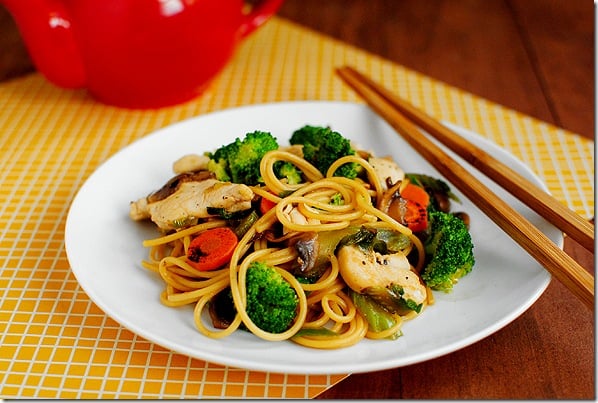 Here's a recipe [67] from Iowa Girl Eats that's wonderfully easy as well as tasty. Follow the simple steps for dinner success in less than 30 minutes. And you can totally invite your kids into the kitchen to help make this dinner.
Source: Iowa Girl Eats [68]
Sesame Chicken
There's nothing like a big plate of savory chicken that's full of flavor. This recipe for sesame chicken [69] from Big Bears Wife is on the table in less time than it takes to order takeout from your favorite Asian restaurant. And it just might taste better.
Source: Big Bears Wife [70]
Oven-Baked Eggplant Parmesan
You'll love how easy it is to make this quick and easy eggplant parmesan [71]. Instead of frying in a sauté pan, bake the eggplant in the oven for a healthy spin.
Lasagna-Stuffed Shells
Instead of using lasagna noodles, stuff shells with lasagna filling for a fun family dinner. Get the easy reinvented lasagna recipe [72] from Living Like the Kings.
Source: Living Like the Kings [73]
Marinated Beef With Vegetables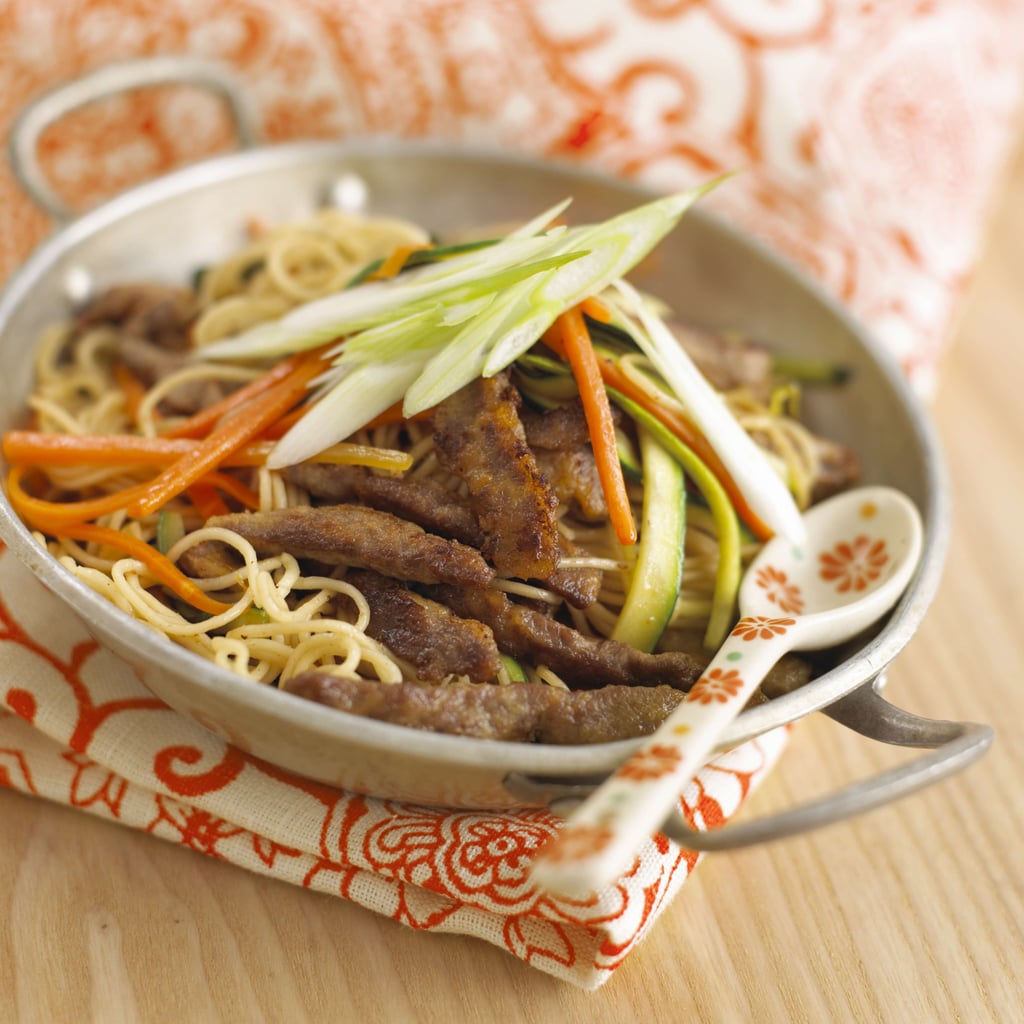 Beef doesn't have to be an all-day affair. Annabel Karmel says, "This delicious, quick, and easy-to-prepare beef stir-fry [74] is bound to become a family favorite. It makes a great all-in-one meal."
Turkey Chili
If cold weather blew in with the holiday, then Mama may want to warm everyone up with some turkey chili [75] to finish up the bird.
Source: Flikr user Nathan Y [76]
Soy-Ginger Flank Steak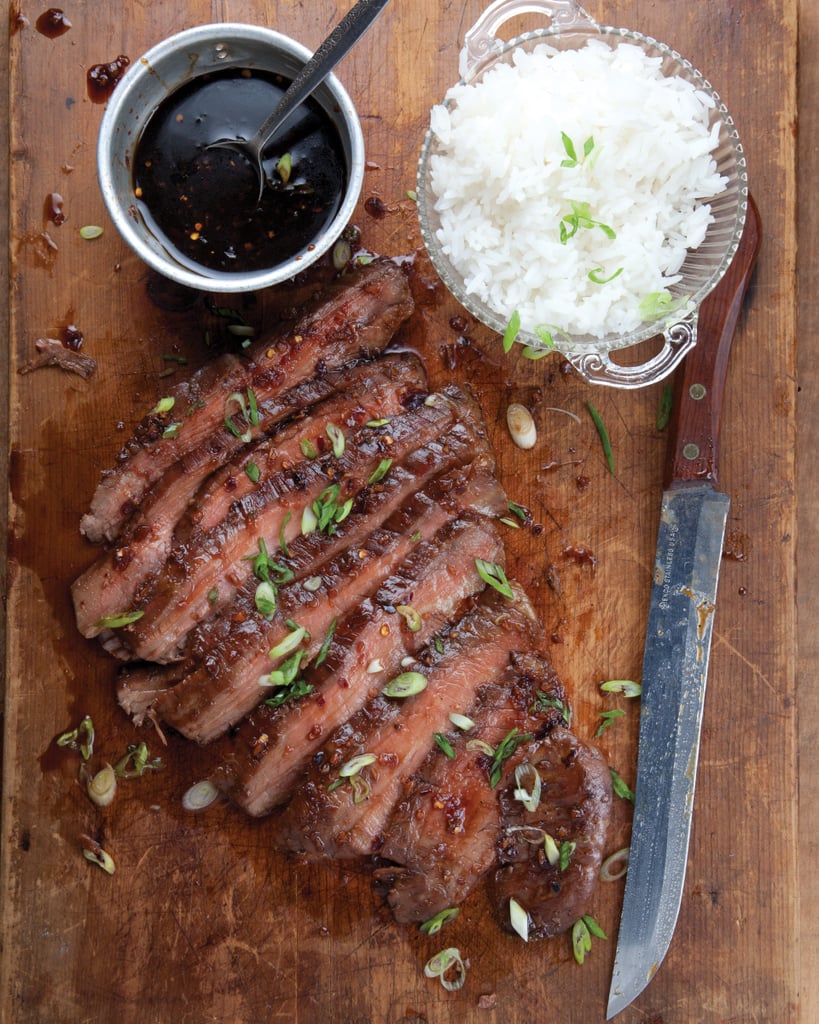 Serve your flank steak the way the pros do, and cut it diagonally instead of straight up and down. This recipe [77] is a crowd-pleaser for adults and kids alike!
Lasagna Soup
Transform lasagna into a savory soup that still has all the tasty ingredients. A Farm Girl's Dabbles shares a recipe for lasagna soup [78] that will have the whole family licking the bowl clean. Serve with a big, green salad and slices of French bread.
Source: A Farm Girl's Dabbles [79]
Cheesy Lasagna Rolls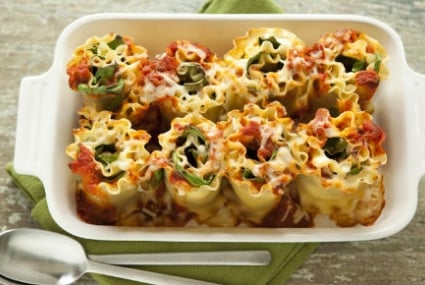 Instead of layering that lasagna, try a reinvented version by rolling the noodles around a cheesy filling. Check out the easy lasagna roll recipe [80] from YumSugar.
Source: YumSugar [81]
Pumpkin Parmesan Pasta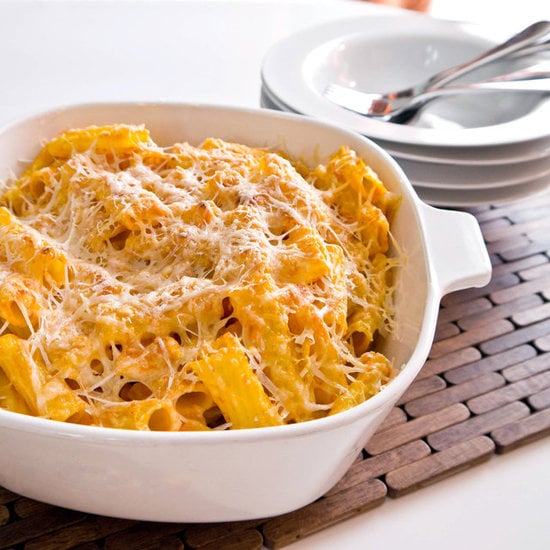 Bake pasta and pumpkin together in a main dish that's full of flavor and just a bit cheesy. And this is a great pumpkin recipe [82] to make with your child, really encouraging her to give it a try.
Slow-Cooker Mac and Cheese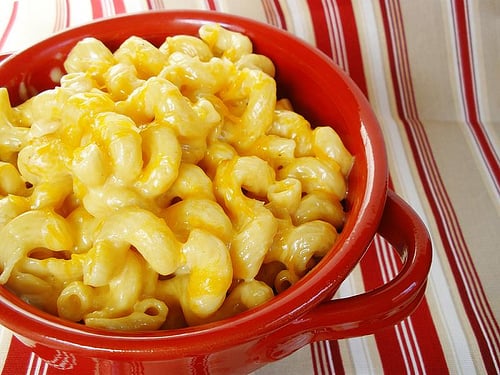 We know kids love creamy macaroni and cheese, which makes this seriously easy recipe from Culinary Cory [83] perfect for busy Fall days. Serve with roasted chicken and fresh steamed veggies for a complete meal.
Source: Culinary Cory [84]